The Keto French Toast Casserole of Your Dreams is HERE!
Upgrade your brunch with this keto French toast casserole made with Hero Seeded Bread!
The best keto French toast casserole starts with the best keto bread.
It doesn't get any better than keto French toast casserole. This recipe takes traditional French toast and simplifies the process so you don't spend all your time standing in front of the stove. You'll never go back to making regular French toast.
But the real star of this show is Hero Seeded Bread. If you haven't tried Hero Bread yet, you're missing out! Quite frankly, it's the best keto bread I've ever had and it actually tastes just like regular bread. I'm not even exaggerating! I got hooked on their white bread and their new Seeded Bread has me coming back for more.
And you can save 15% off your order with our coupon code H2KBREAD15, valid now until 11/30!
How do you make keto French toast casserole?
Don't let the decadence fool you — this casserole is super easy to make. It's definitely easier than making individual pieces of French toast. You slice the Hero Seeded Bread into cubes, let it soak in an egg mixture (kind of similar to making bread pudding), top it with pecans and a homemade caramel sauce, and then bake it. That's it!
And don't forget the cinnamon. This casserole has the perfect amount of cinnamon flavor.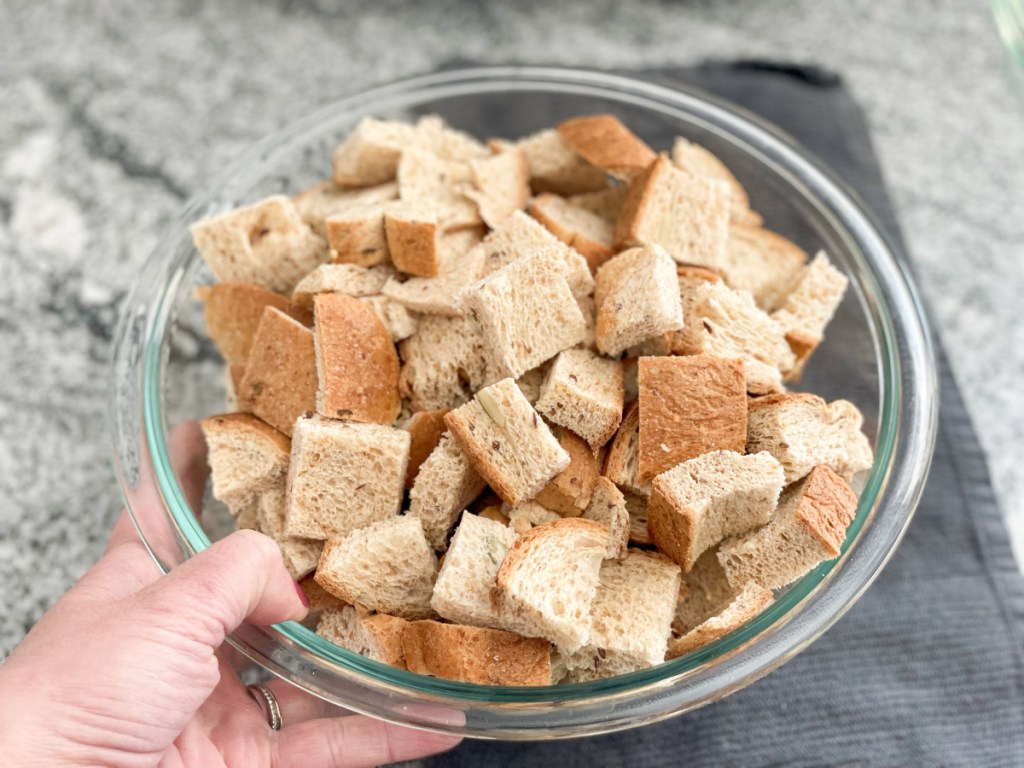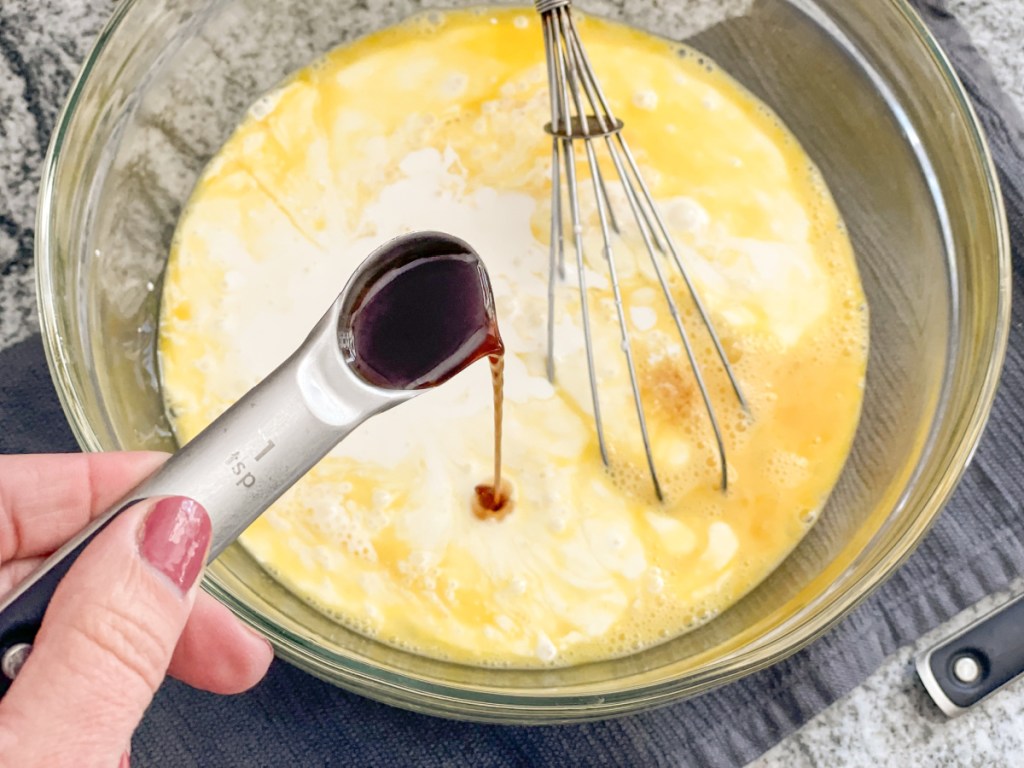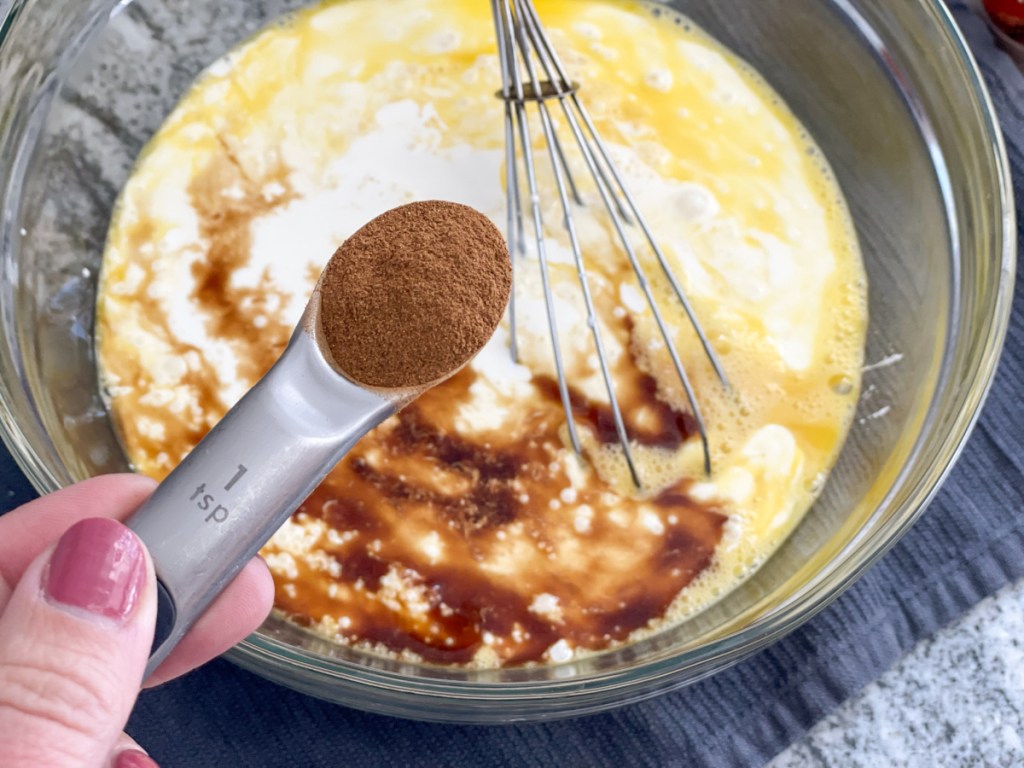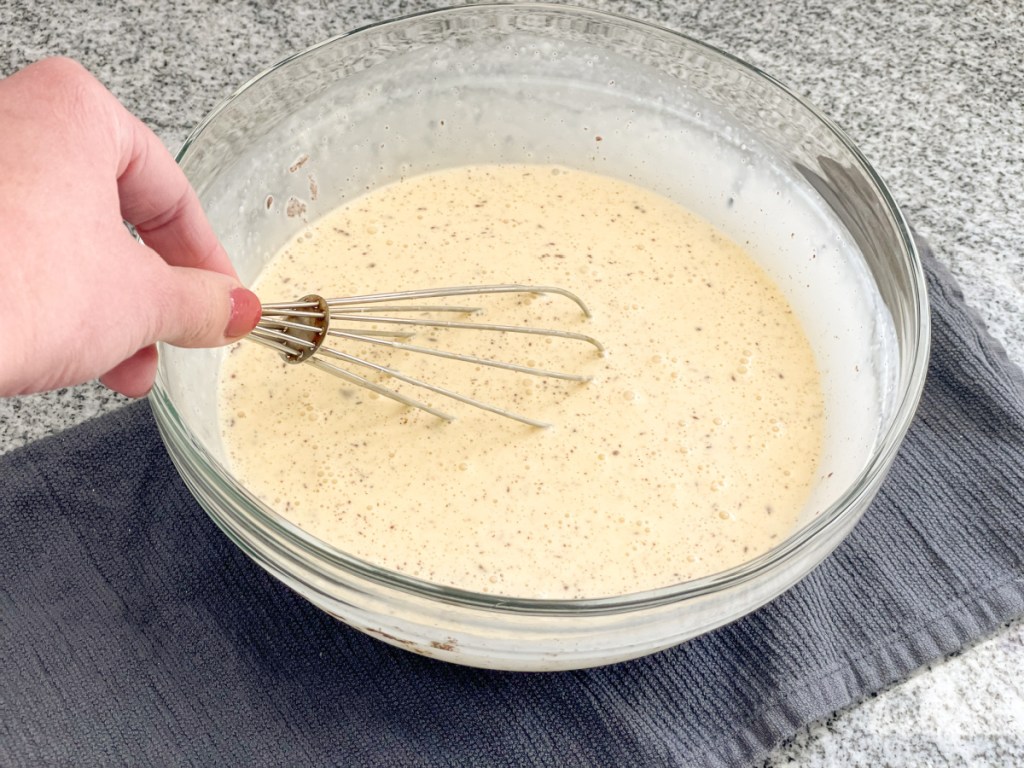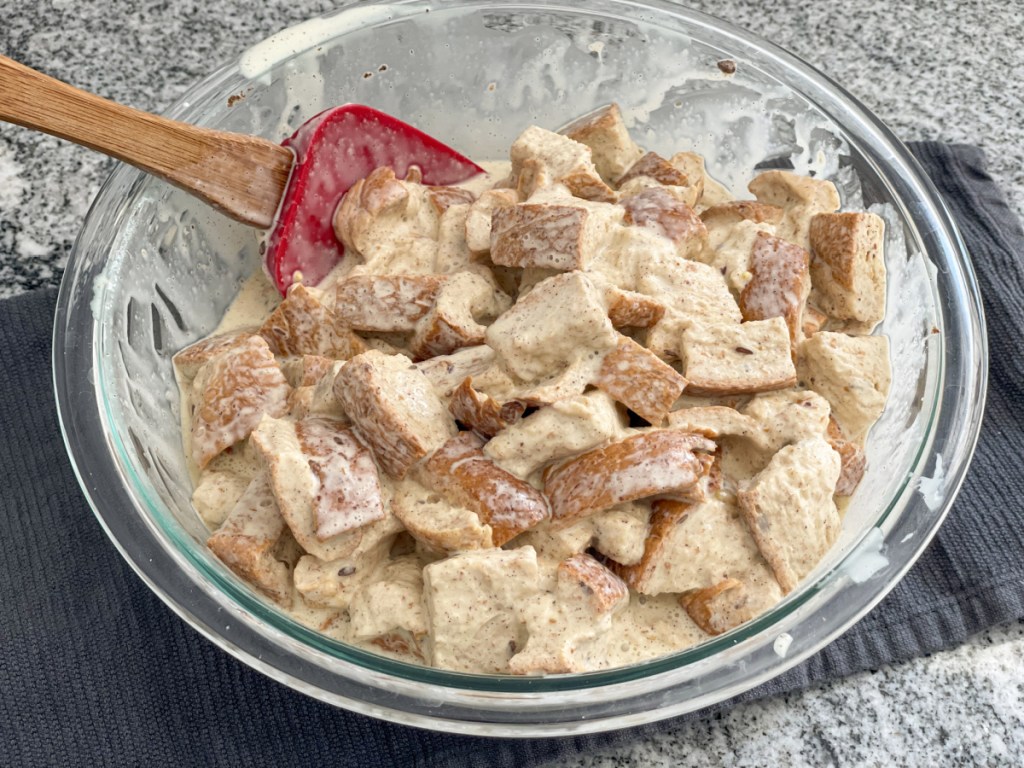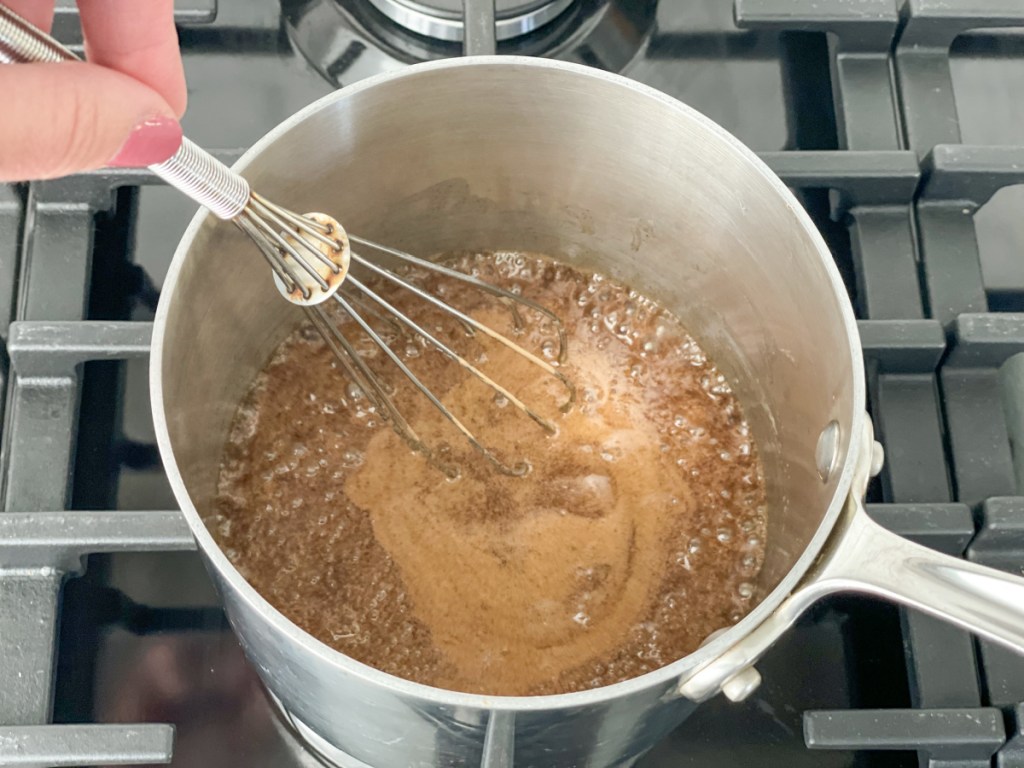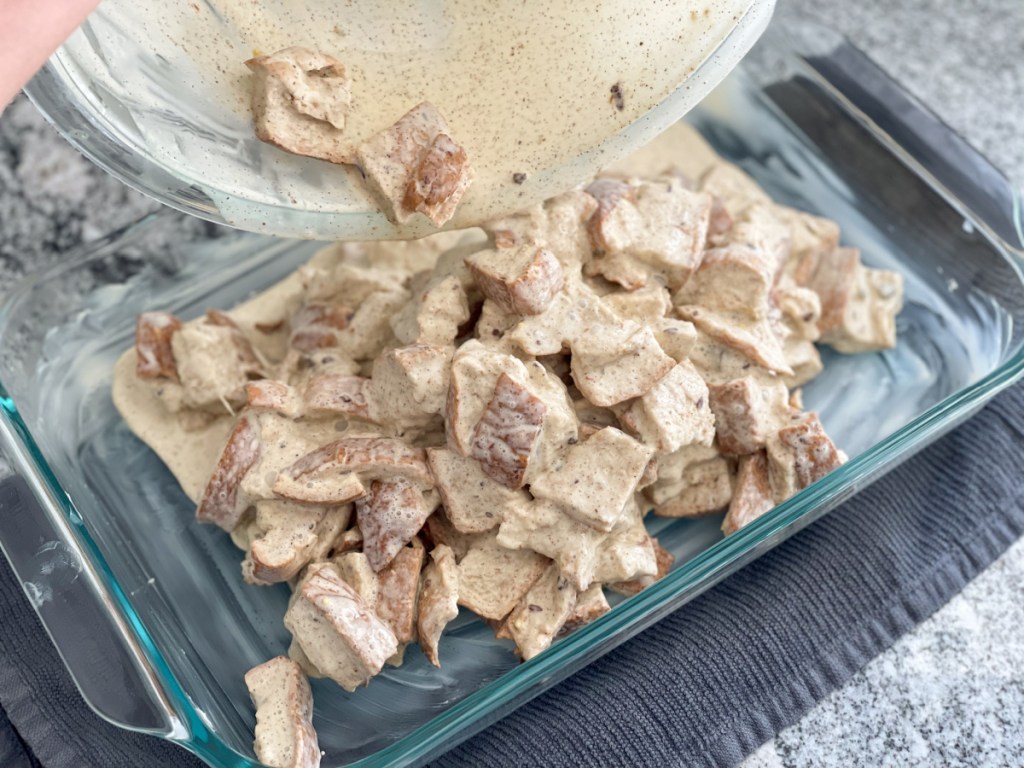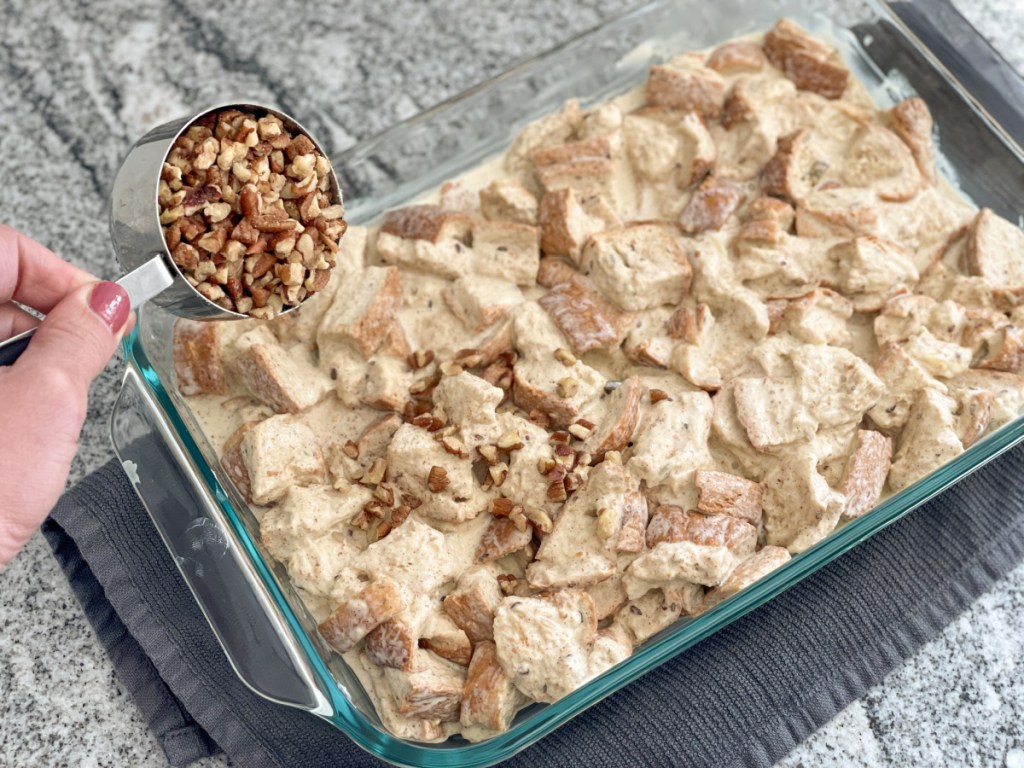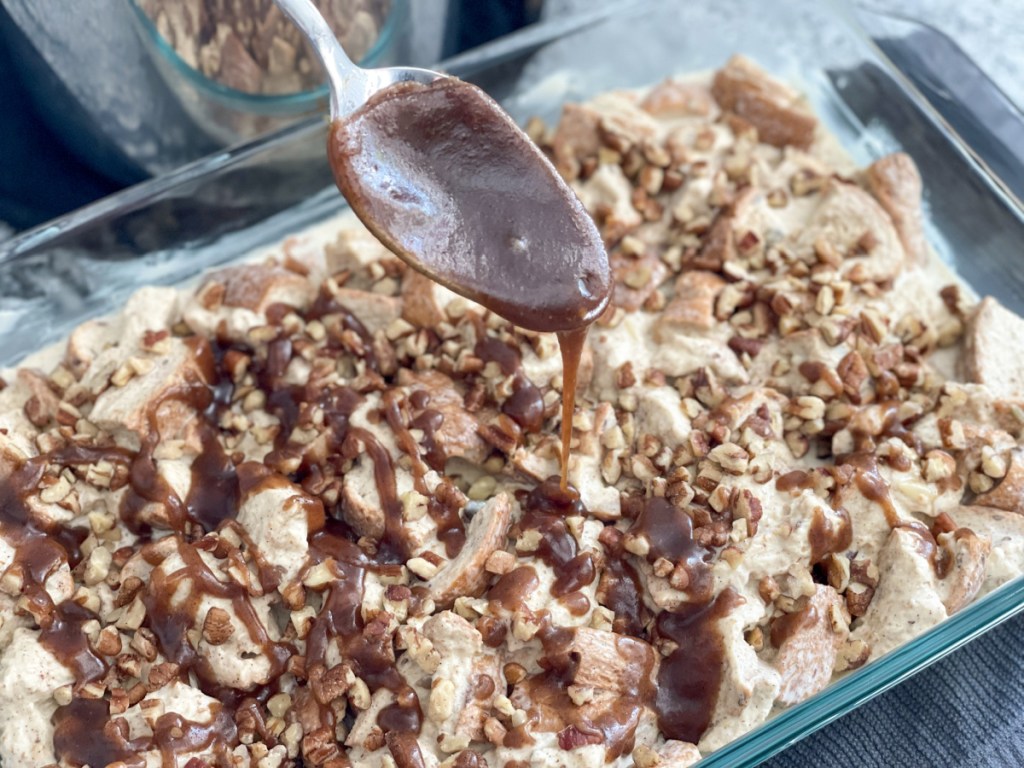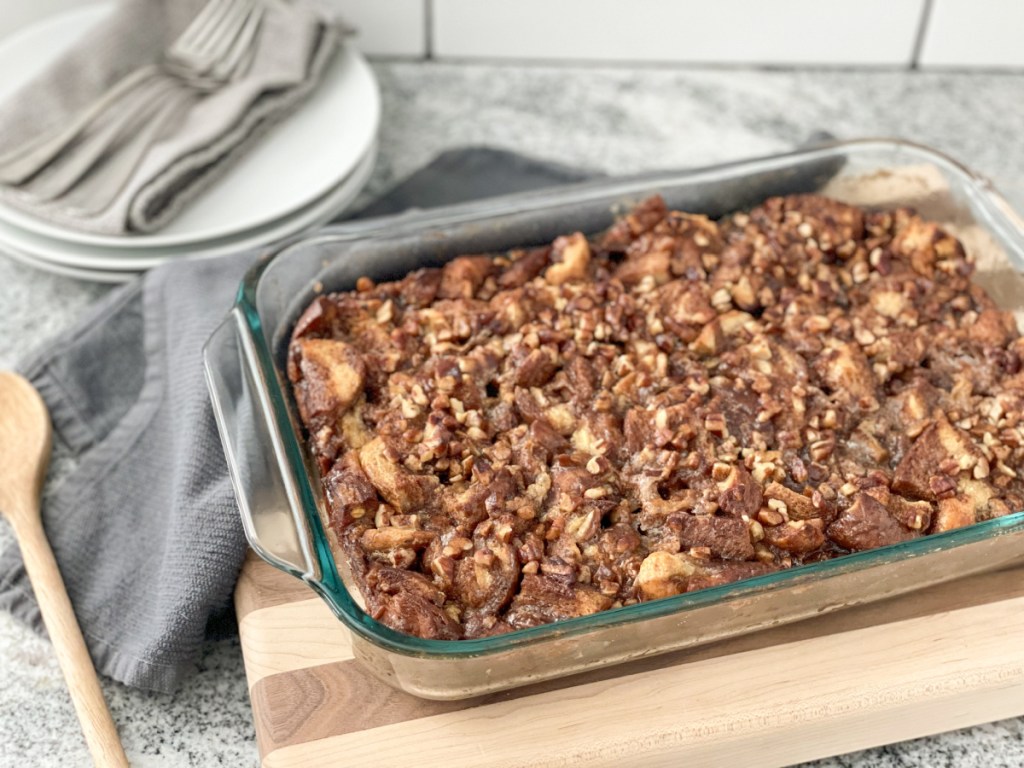 ---
Print
Keto French Toast Casserole
yield: 8 SERVINGS
prep time: 15 MINUTES
cook time: 35 MINUTES
total time: 50 MINUTES
Cinnamon-baked French Toast topped with pecans and caramel sauce.
Ingredients
6 eggs
2 cups heavy whipping cream
2 teaspoons vanilla
2 teaspoons cinnamon, divided
3/4 teaspoon salt
1/2 cup (1 stick) butter
1/2 cup chopped pecans
Directions
1
Preheat oven to 375 degrees. Butter a 9x13-inch baking dish.
2
Slice the loaf of Hero Seeded bread into 1-inch cubes. Place the bread cubes into a bowl.
3
In a seperate medium bowl, whisk together eggs, heavy whipping cream, vanilla, 1 teaspoon of cinnamon, and salt. Pour the egg mixture over the bread cubes and gently toss to fully coat the bread. Let the egg mixture soak into the bread cubes for about 10 minutes.
4
While the bread cubes are soaking, make the caramel topping.
Melt the butter in a small saucepan over low to medium-low heat and then add in the keto brown sweetener and cinnamon. Whisk until the mixture starts to simmer. Let simmer for a minute and then remove from heat.
5
Pour the soaked bread cubes into the buttered baking dish. Sprinkle the pecans over the top of the bread cubes. Drizzle with the homemade caramel sauce.
6
Bake for 35 to 38 minutes until just golden brown and starting to get crisp on top. Remove from oven and let cool for about 10 minutes before serving. Top with maple syrup or keto confectioners sweetener. Enjoy!
Nutrition Information
Yield: 8 servings, Serving Size: 1 serving
Amount Per Serving: 527 Calories | 49.2g Fat | 38.5g Total Carbs | 23.6g Fiber | 0.8g Sugar | 12g Sugar Alcohol | 16.9g Protein | 2.9g Net Carbs
---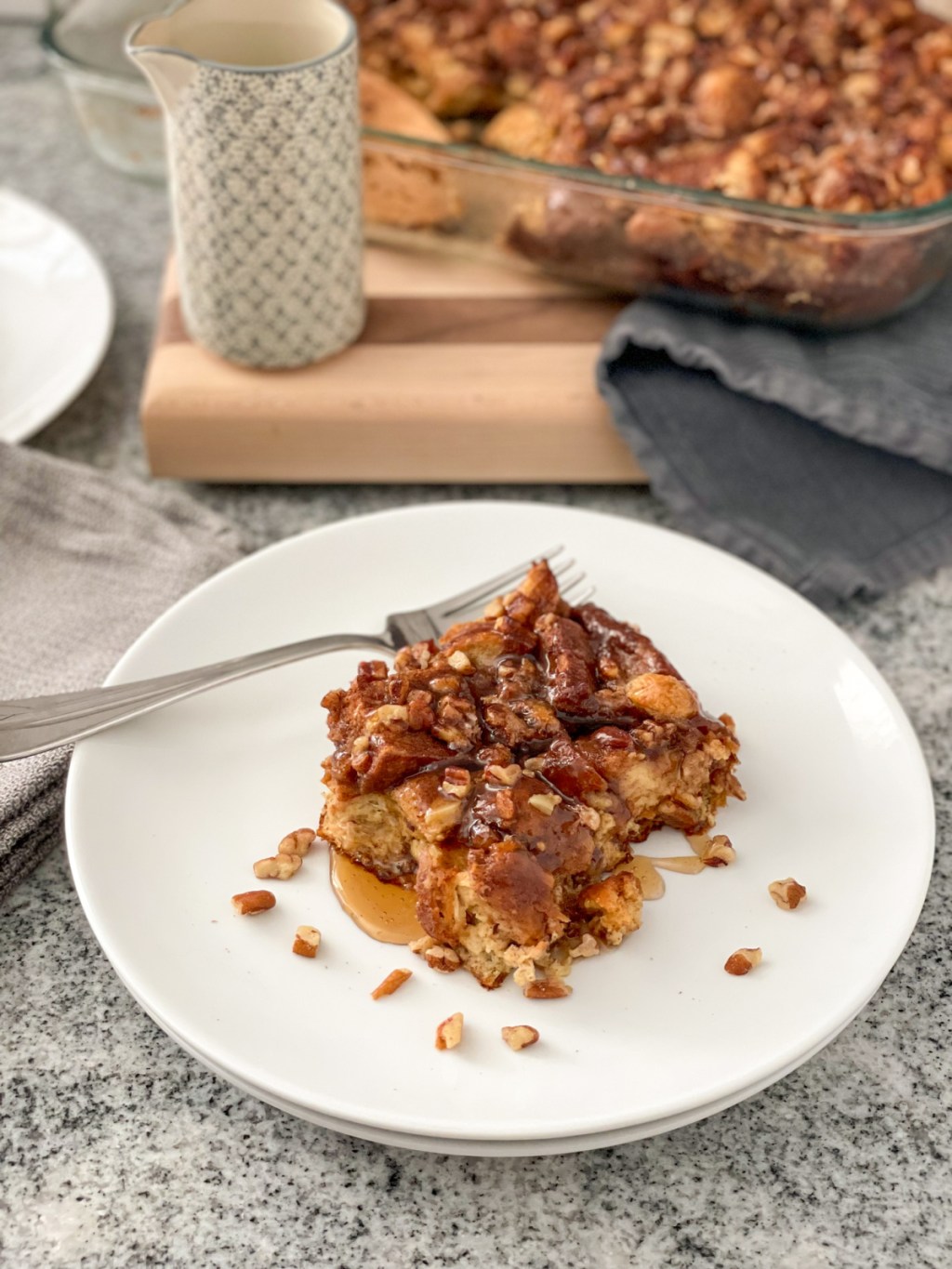 Tips for making the best keto French toast casserole:
This recipe can be made a day in advance. Let the bread soak in the egg mixture overnight and then make the caramel topping right before you're ready to bake it.
Mix up the recipe by adding in berries, bacon, a variety of nuts and seeds, or dollops of cream cheese.
If you have leftovers, the casserole will keep on the counter for three days, in the fridge for five days, or you can freeze it for up to three months.
Head over to Hero.co to save 15% off your order of Hero Seeded Bread when you use our exclusive code H2KBREAD15 at checkout!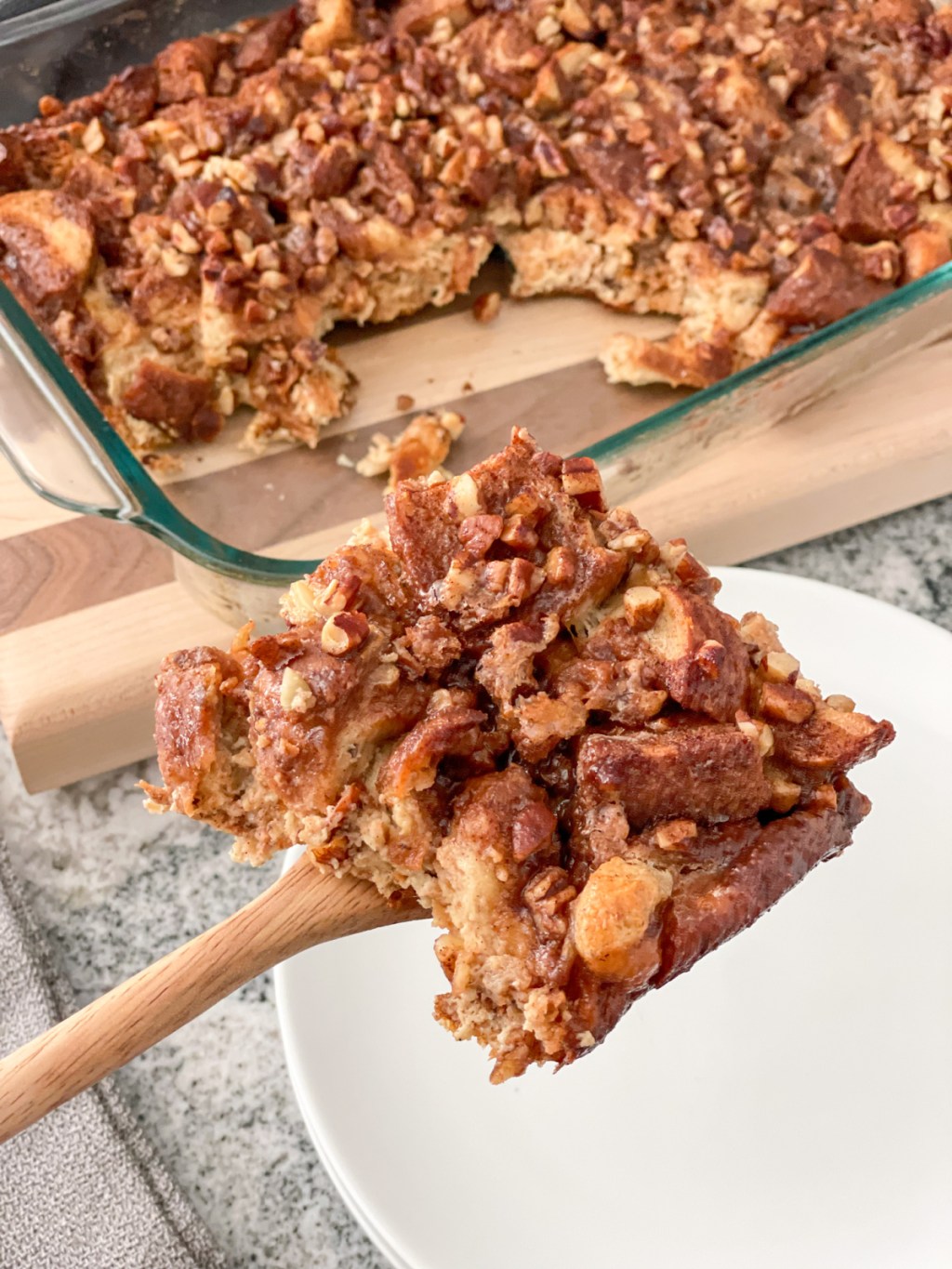 The most delicious brunch!
Eat this keto French toast casserole on its own or serve it with eggs and bacon. Each slice of bread has 6 grams of protein, so it's pretty filling. I like it best with keto maple syrup!
I hope you enjoy it as much as my family did!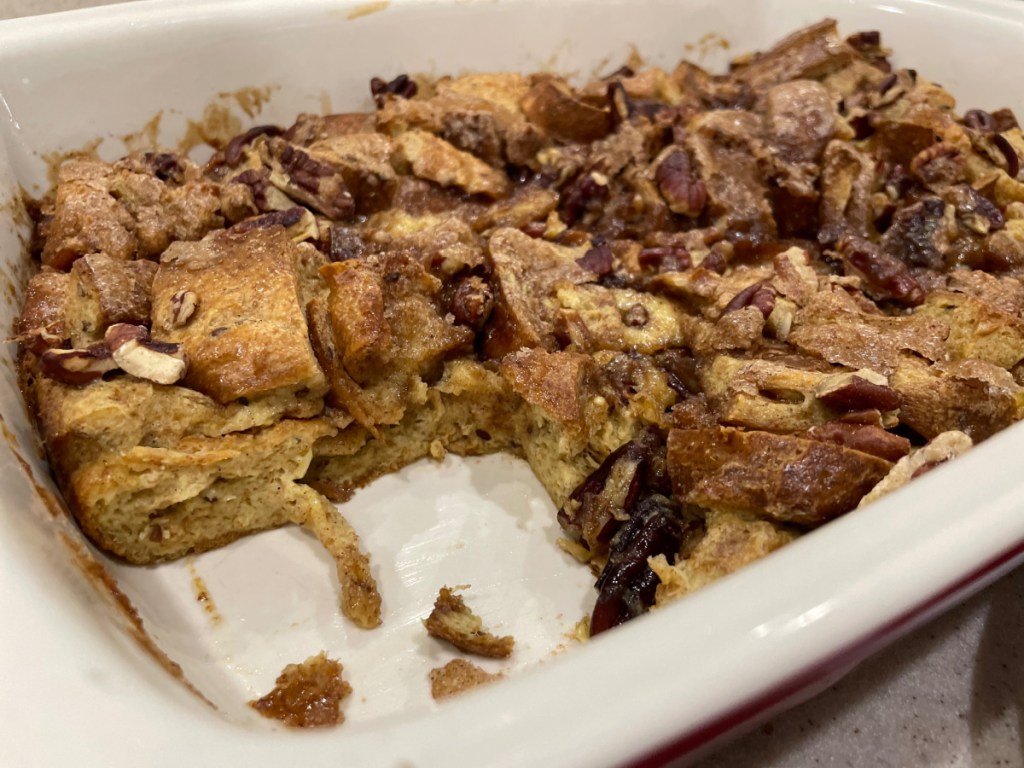 Here's what my Hip sidekick Erica had to say about this keto French toast casserole with Hero Seeded Bread:
"This was TRULY by far the most amazing breakfast I have ever had in my entire life! FOR REAAAAALLLL. The flavor is so AMAZING and you will be so shocked at how easily it comes together! We had a big family day planned to set up and get ready for Christmas and this was the BEST start to our day. It will make your home smell so YUM! This is a great dish to make any time of year but it really hit the spot with the holidays so near!"
---
Have you tried Hero Tortillas? Check out this recipe for making a loaded keto steak fajita quesadilla!