This Keto Dairy-Free Monkey Bread is a Must-Try Recipe
This keto dairy-free monkey bread recipe will knock your socks off!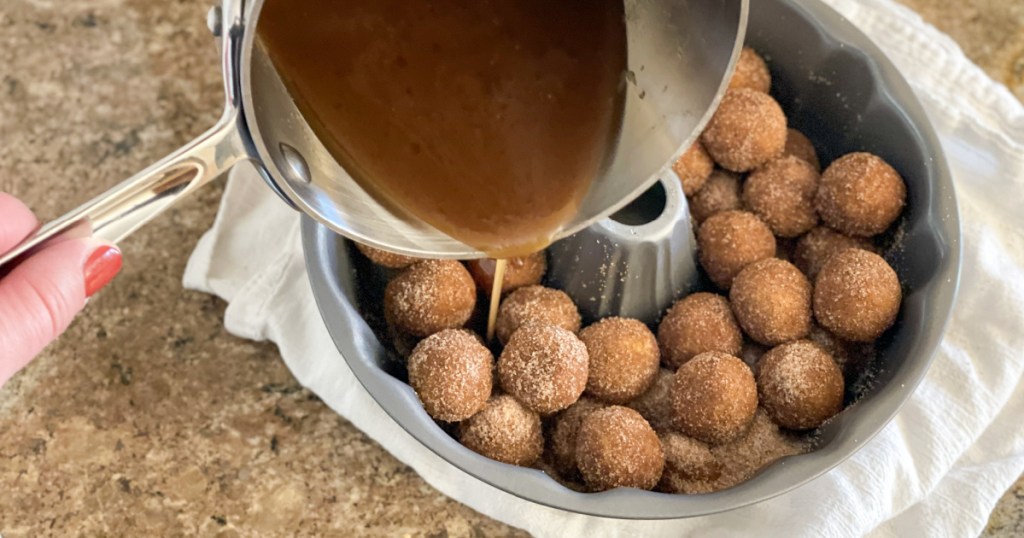 Say "hello" to the ultimate weekend keto breakfast!
Monkey bread brings back memories of childhood sleepovers and lazy Saturday mornings. I used to love eating the gooey, cinnamon dough balls until my stomach hurt! But not so much since going keto… the sugar high from the original recipe is not worth the splurge. 😬
But with this keto dairy-free monkey bread recipe, I'm all in!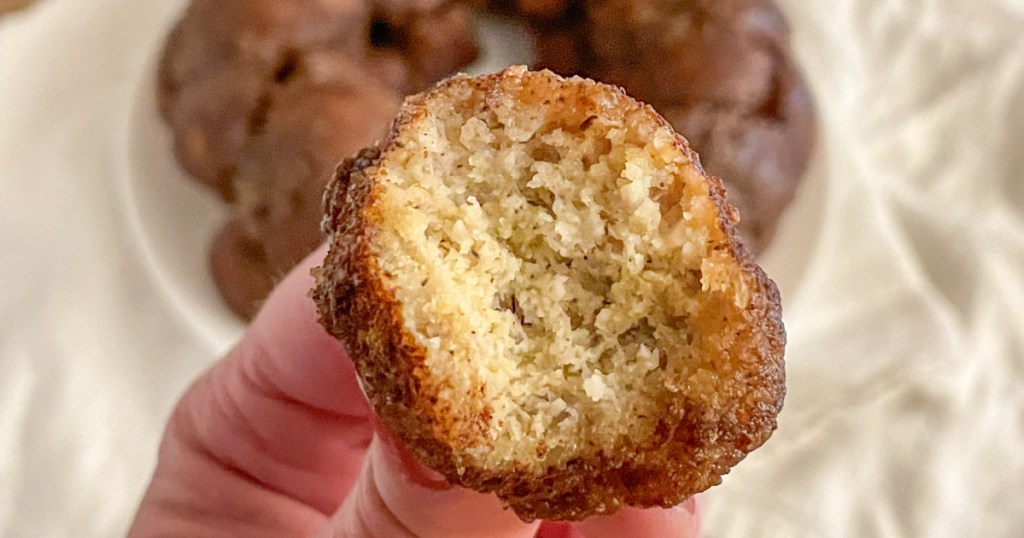 Is this truly better than the real thing?
It's safe to say you'll probably like this recipe better than the sugar-filled version. It's still plenty sweet, believe me, even without traditional sugar! The recipe uses a blend of keto confectioners, granular, and brown sweeteners and the combination is perfection.
Better yet, the dough for this recipe is light and airy!
It's a good contrast to using a fathead dough as we did in this recipe. And it's nice to have a dairy-free option for this sweet breakfast recipe, too.
Tips for making the best keto dairy-free monkey bread:
Yes, this recipe does have 8 eggs, but it makes a lot of monkey bread! I wanted to make sure the bundt pan was full. A serving is 4 pieces and this recipe makes enough for 12 people, but feel free to half the recipe if you want to serve a smaller amount.
Make sure you let the dough rest. This step is critical and helps the coconut flour and psyllium husk absorb moisture to give the bread structure.
Also, make sure you add in hot water (hot water from the tap is fine). The hot water helps the psyllium husk and coconut flour absorb moisture better, too.
You can use psyllium powder in place of psyllium husk if you can't find it. Just use half as much, so a 1/4 cup. If you can't find psyllium husk or powder, substitute flaxseed meal. The recipe calls for 1/2 cup psyllium husk so you'll use 1/2 cup flaxseed meal. That's what my sidekick Erica used when testing the recipe.
The coconut oil in the sticky sauce might separate from the other ingredients. Don't worry if this happens. Just whisk the sauce really well before drizzling it over the dough balls. The sauce will also thicken as it cooks and then cools, so don't worry if it looks thin.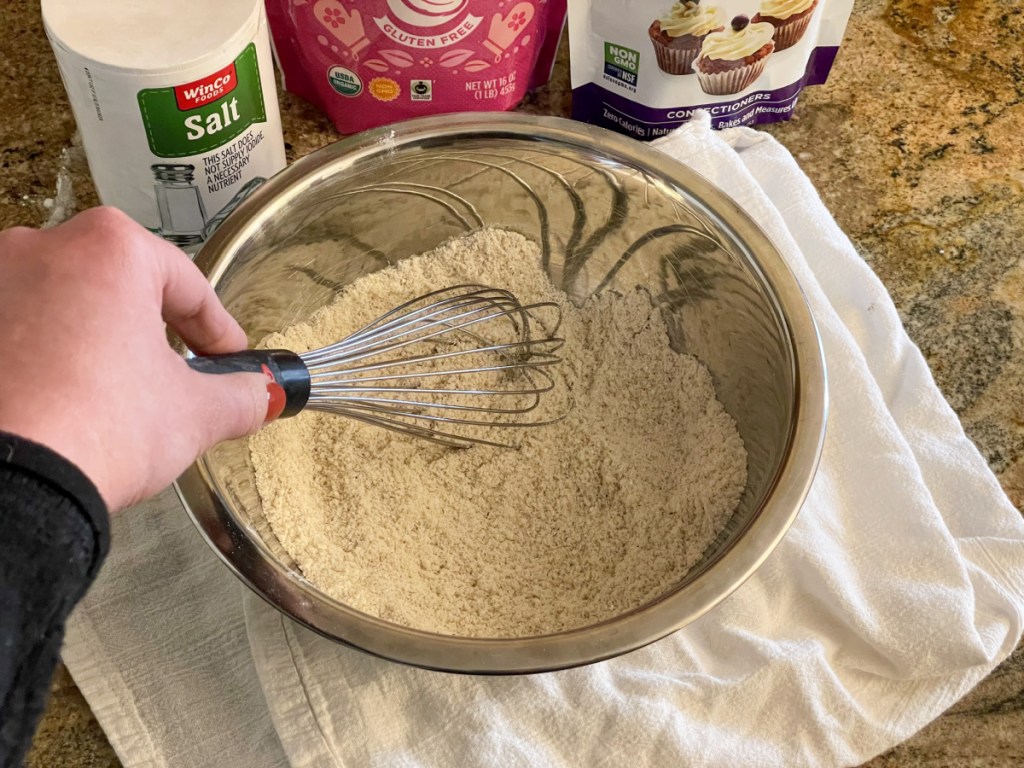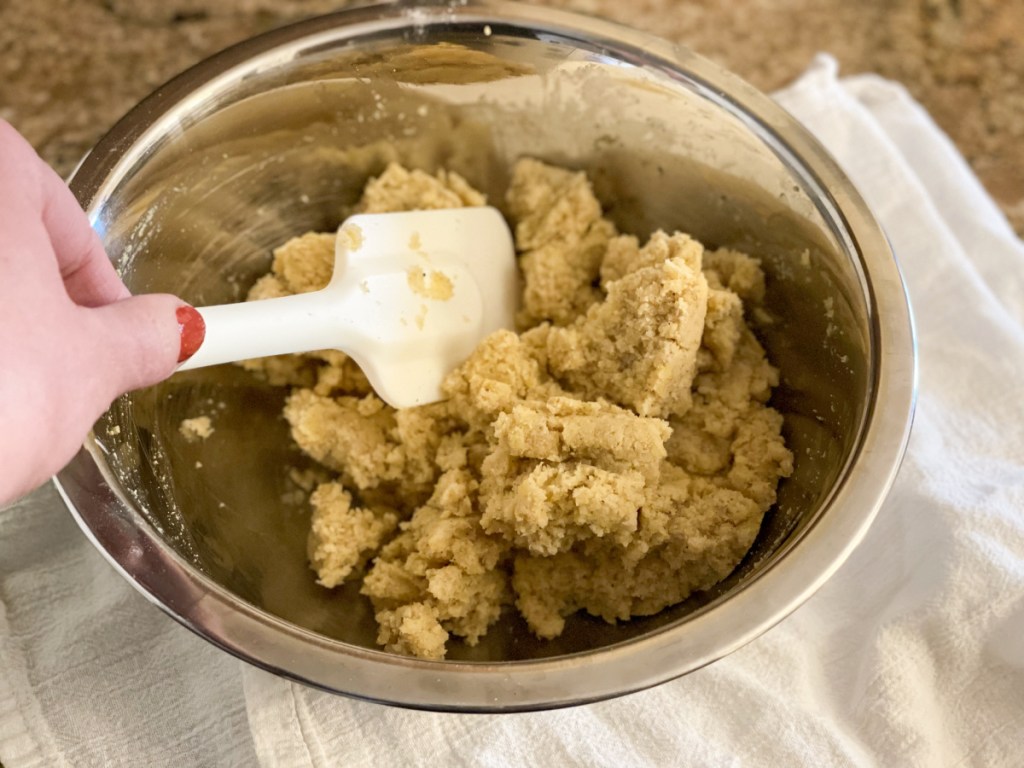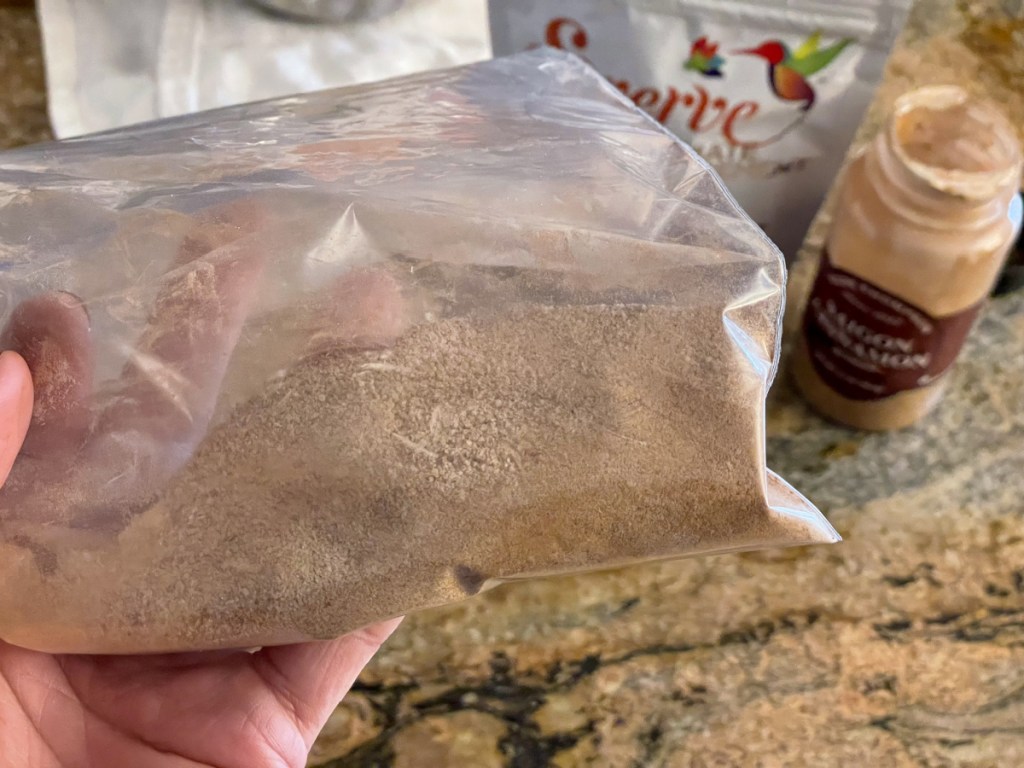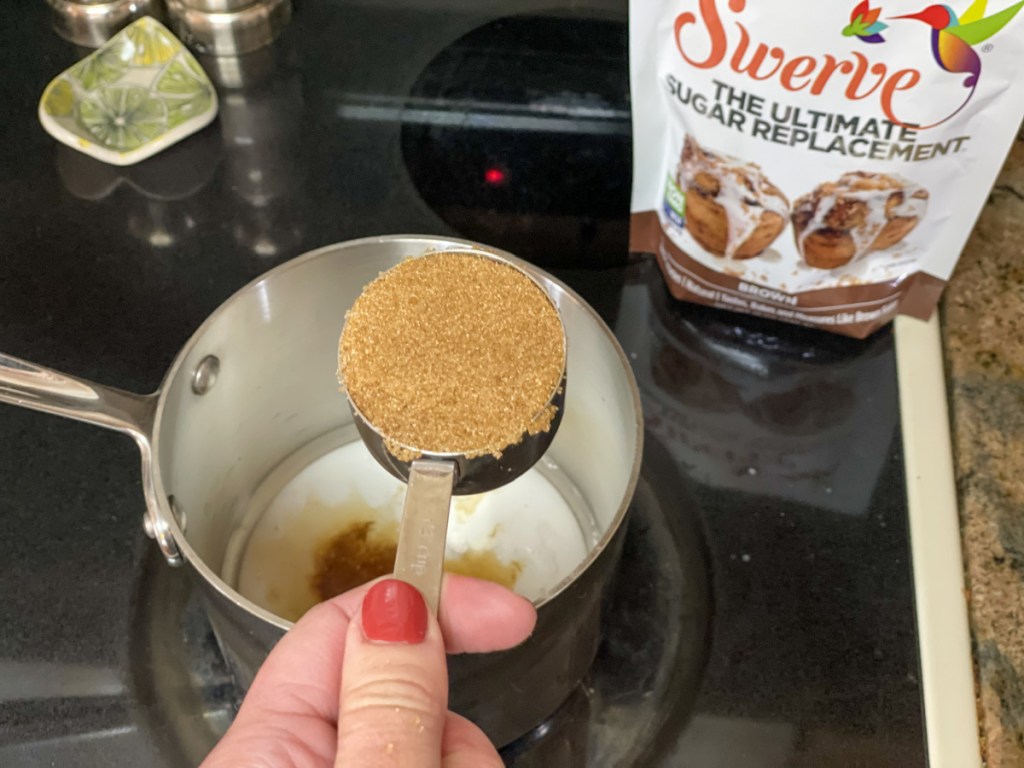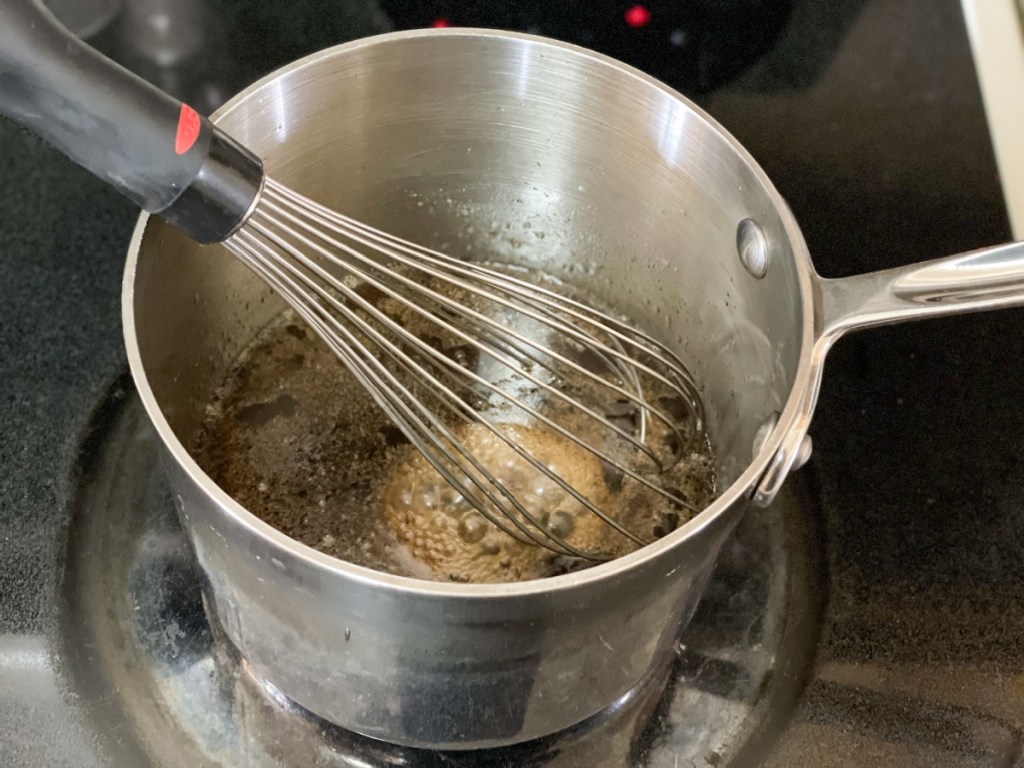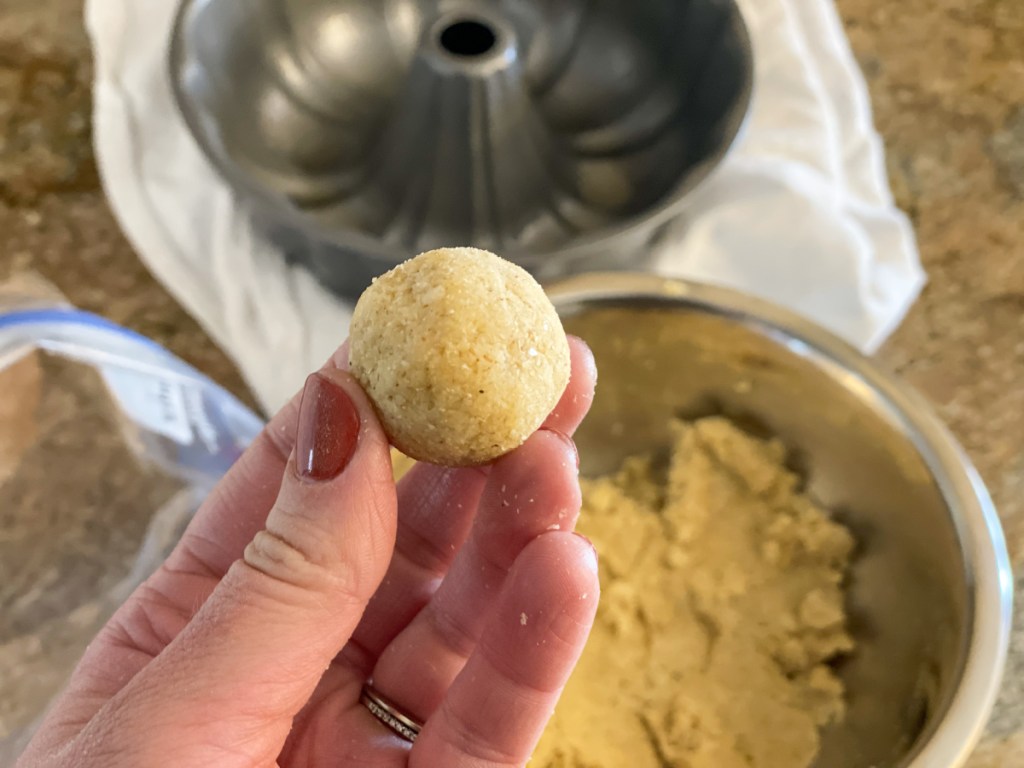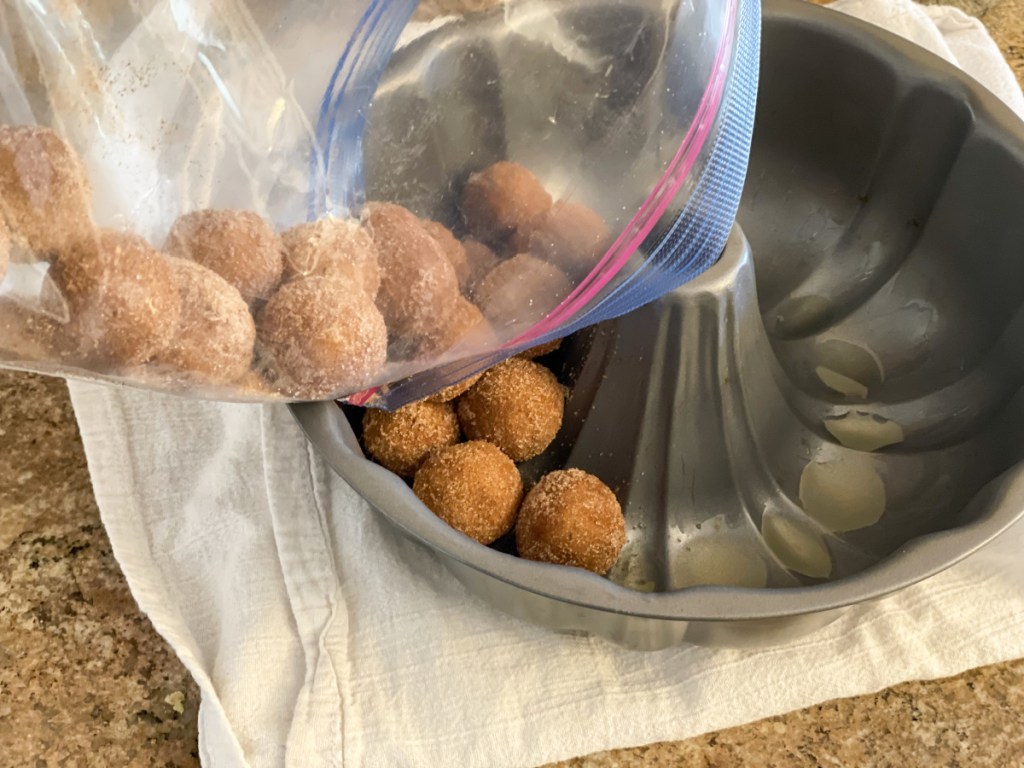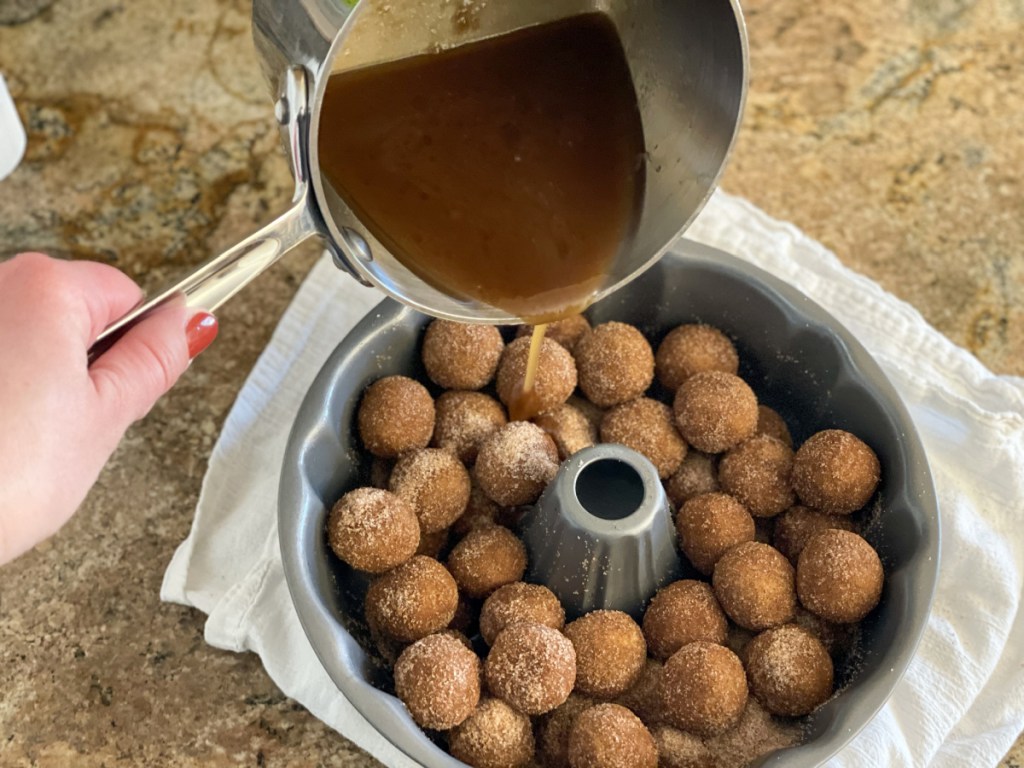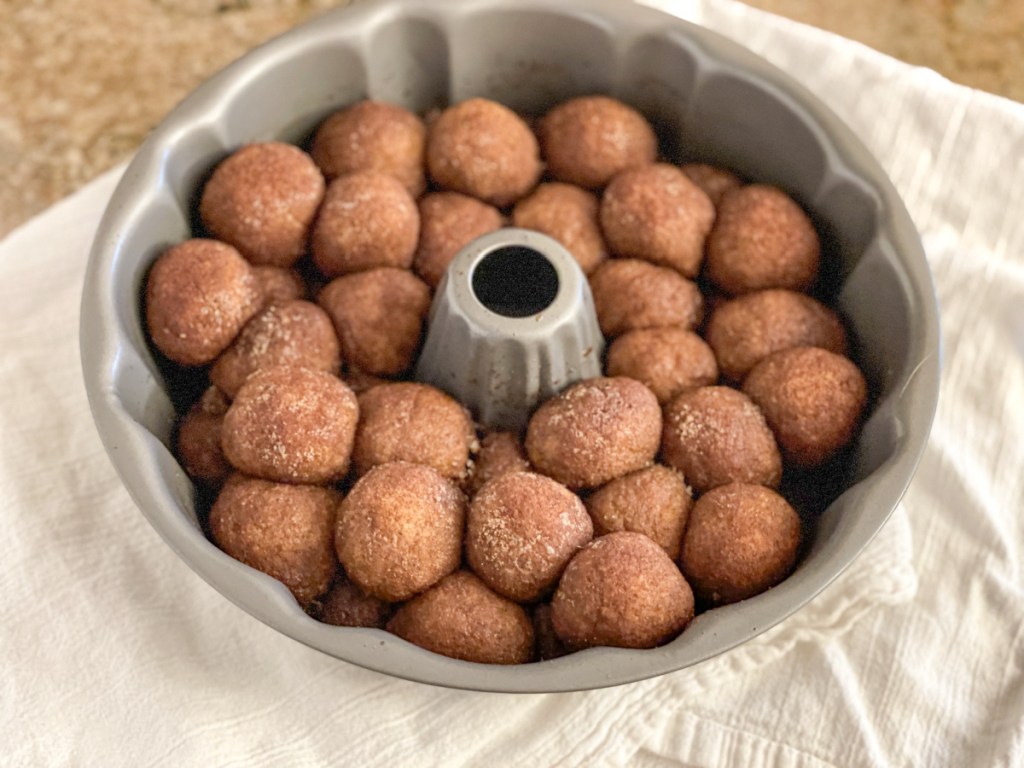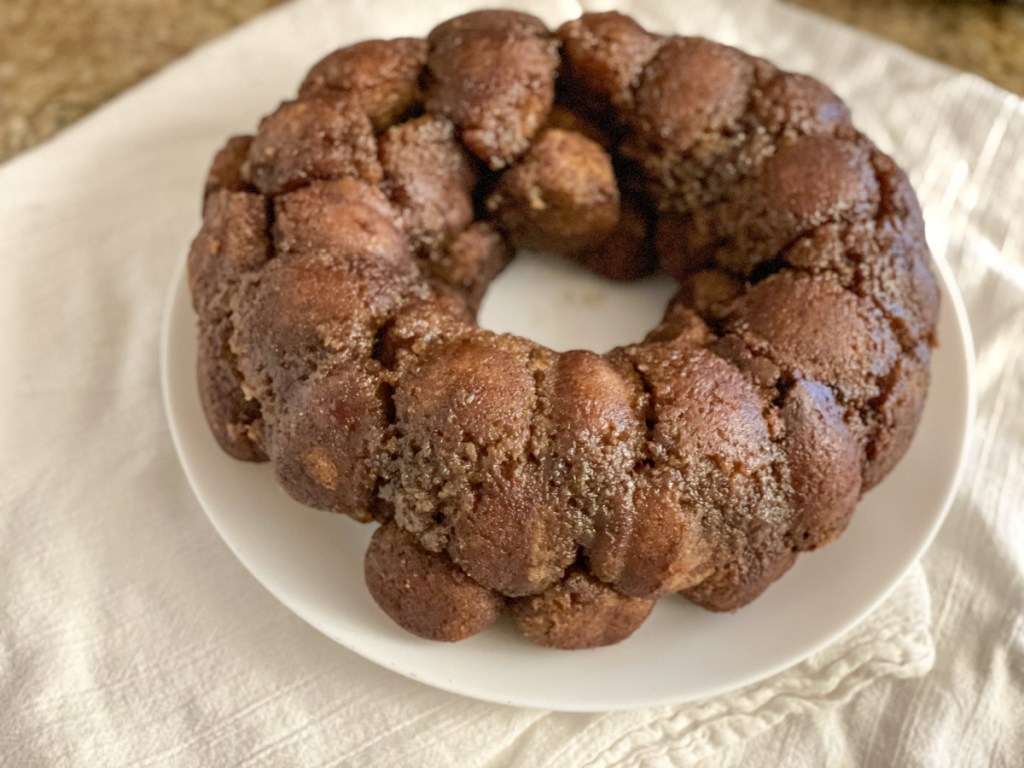 ---
Print
Keto Dairy-Free Monkey Bread
yield: 12 SERVINGS
prep time: 30 MINUTES
cook time: 35 MINUTES
total time: 1 HOUR 5 MINUTES
Keto monkey bread made without fathead dough or sugar, but has all the sweet and scrumptious goodness of the traditional bread!
Ingredients
Dough:
4 teaspoon baking powder
1 teaspoon salt
8 eggs
4 teaspoon vanilla
1 cup hot water
Cinnamon Sugar Coating:
Sticky Sauce:
1/2 cup coconut oil
2 teaspoons vanilla
1/4 cup almond milk
Directions
1
To make the dough:
In a medium bowl, add almond flour, coconut flour, psyllium husk, baking powder, salt, and keto confectioners sweetener. Whisk together.
2
To the dry ingredients, add the eggs, vanilla, and hot water. Mix well to combine. Set the dough aside and let it rest for at least 5 minutes so the psyllium husks and coconut flour absorb moisture.
Make the coating and sticky sauce while the dough is resting.
3
To make the cinnamon-sugar coating:
In a gallon-size ziplock bag, add the keto granular sweetener and cinnamon. Seal the bag and shake to mix.
4
To make the sticky sauce:
In a small saucepan over medium heat, add the coconut oil, keto maple syrup, keto brown sweetener, vanilla, and almond milk. Whisk to combine. Bring the mixture to a boil. Continue to stir occasionally to avoid burning. Once boiling, reduce heat to low until ready to use.
5
Preheat the oven to 350 degrees. Grease a bundt pan with avocado or coconut oil.
6
After the dough has rested, break off into 1-inch pieces and roll between your hands to form a ball. Place the dough balls in the cinnamon-sugar coating ziplock bag. Repeat with all the remaining dough.
7
Once all the dough balls have been made, close the ziplock bag, and shake to evenly coat the dough in the cinnamon-sugar mixture. Pour the coated dough balls into the greased bundt pan. Add any remaining cinnamon-sugar mixture to the pan as well.
8
Evenly drizzle the sticky sauce over the top of the dough balls.
9
Bake for 35 to 38 minutes, until bubbly and the top is starting to brown. Remove from the oven and let cool for 10 minutes. Loosen edges with a spatula or butter knife and then invert onto a plate. Enjoy!
Nutrition Information
Yield: 48 pieces, Serving Size: 4 pieces
Amount Per Serving: 278 Calories | 20.6g Fat | 36g Total Carbs | 12.9g Fiber | 3.1g Sugar | 19g Sugar Alcohol | 9g Protein | 4.1g Net Carbs
---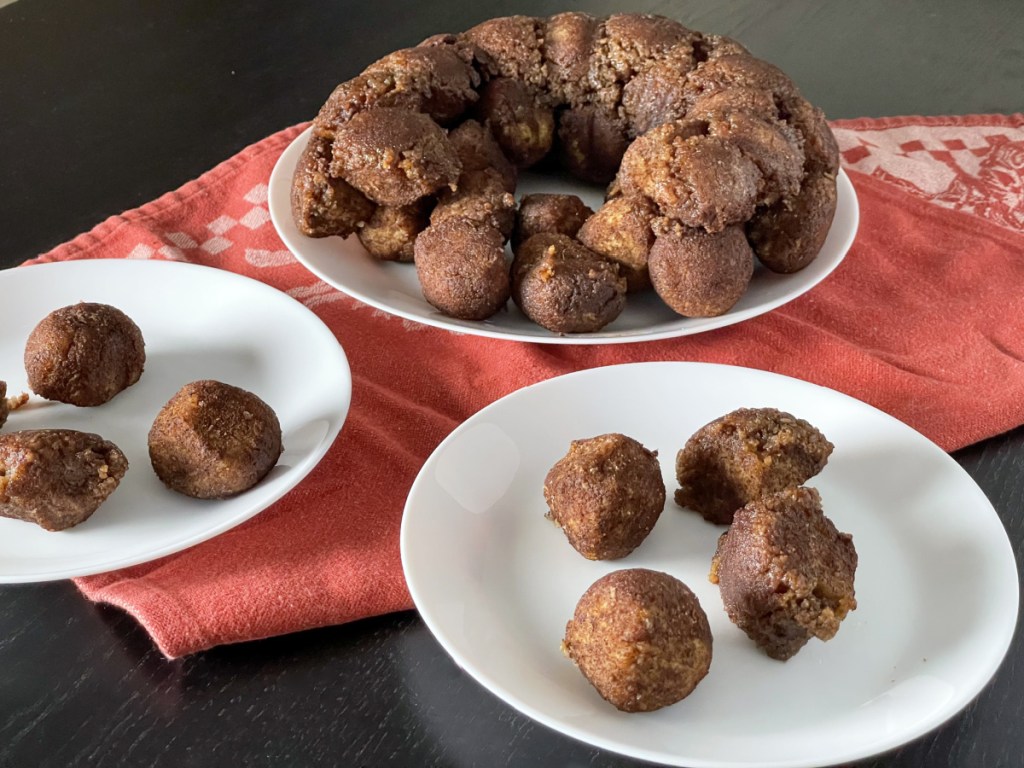 It's a labor of love, but it's undeniably worth it!
This dairy-free monkey bread is a little bit of work, especially rolling out 48 dough balls. 😂 But it's totally worth it! You and your family will be in heaven bite after bite.
Here's what my Hip sidekick Erica had to say about this dairy-free monkey bread recipe:
"OH my goodness, these are so delicious! Not only does my entire house smell AMAZING (brings me back to grandma's house), but I literally just had the best Monkey Bread I have ever made in my entire life! It is super moist but stays together really well. It's perfect!
I substituted the psyllium husk for the flaxseed meal because I could not find the psyllium husk in store. It worked out perfectly and it's much easier to find! Other than that, I followed the recipe exactly and wouldn't change a thing! My kids really enjoyed it too!"
---
Check out our recipe for the best keto donuts next!