Keto Cream Cheese Brownies – 1000% Better Than Non-Keto Brownies!
This keto cream cheese brownie recipe takes the classic dessert over the top!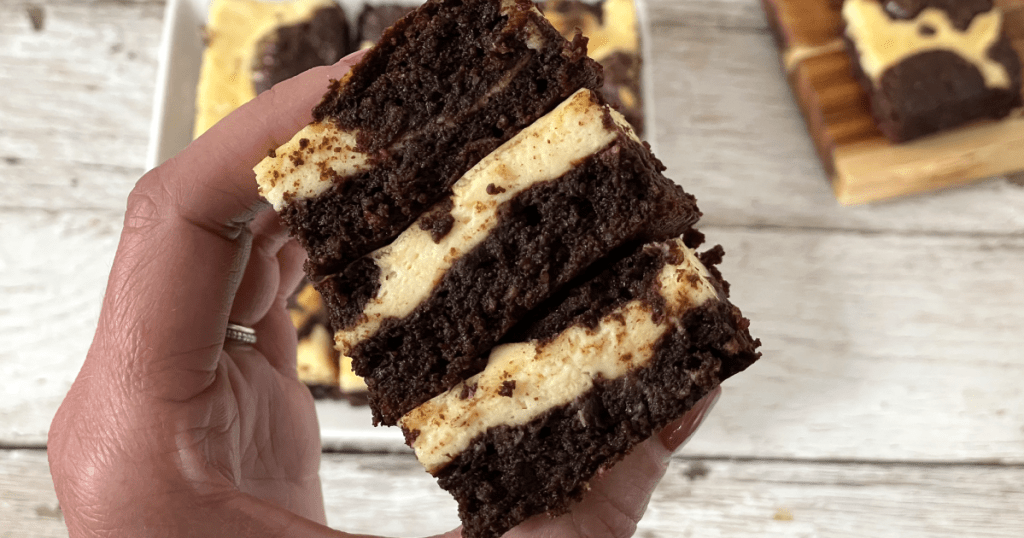 Could there be a better dessert combo out there?
If I had to pick only one of the best keto desserts that I could have forever, it might be these brownies, especially with the cream cheese swirl. I love homemade cookies and brownies, to the point of obsession, so I might be a little biased. But there's no other way to say it other than these hard-to-believe-they're-keto brownies are absolutely incredible!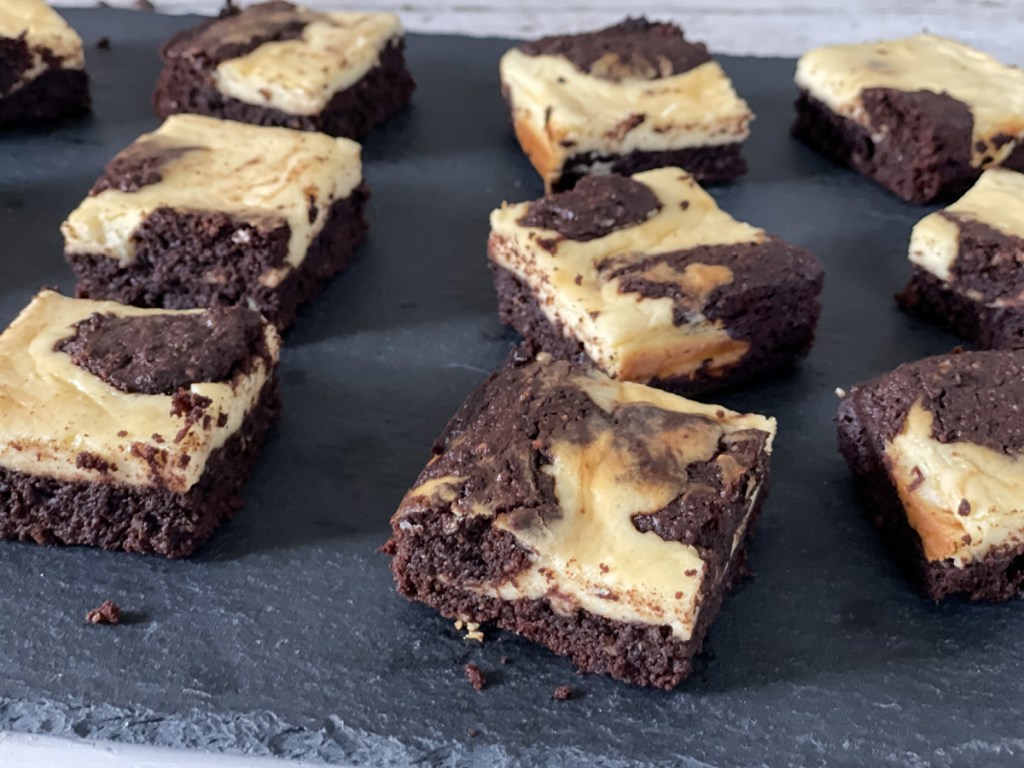 How to make keto cream cheese brownies:
To create the amazing flavor combination of cream cheese brownies, you'll make two key components: the chocolately brownie batter with espresso powder and the rich cream cheese swirl. After pouring the brownie batter into the baking pan, you swirl in the cream cheese mixture to create an eye-catching design on the top of the brownies. This also ensures each square has an even mix of brownie and cream cheese.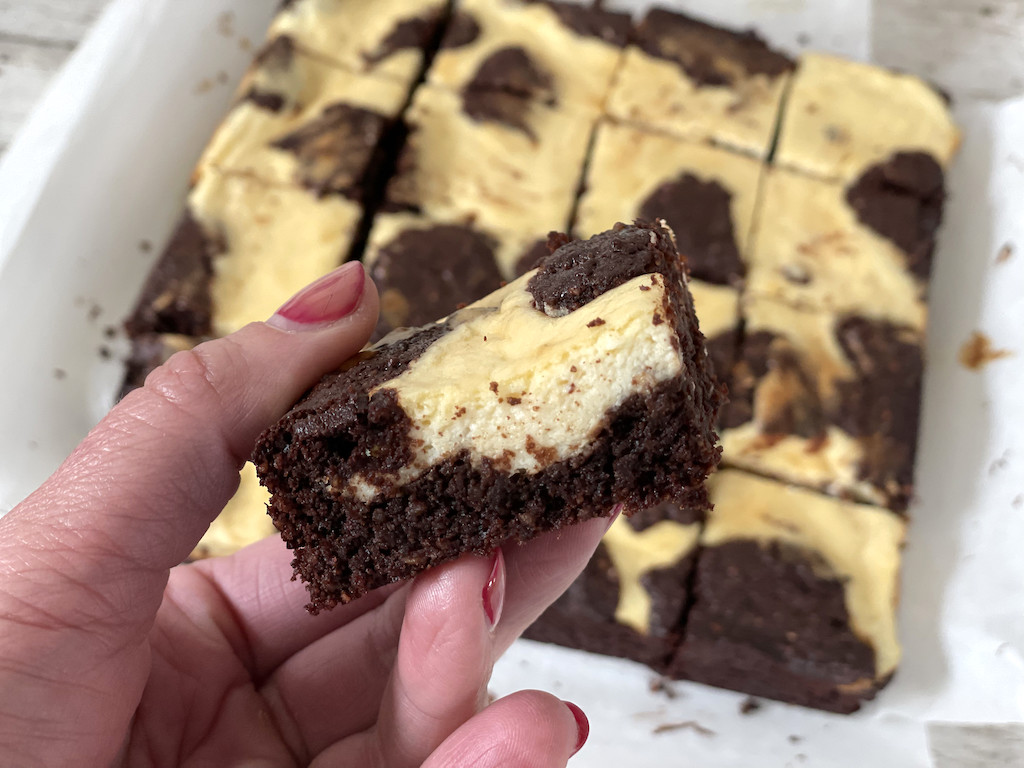 It's an added step from the traditional recipe, but these aren't your every day brownies, so the extra effort making multiple components is well worth it.
And after you take your first bite, you'll be saying with a mouthful, "yes, Emily, you were soooo right!" 😂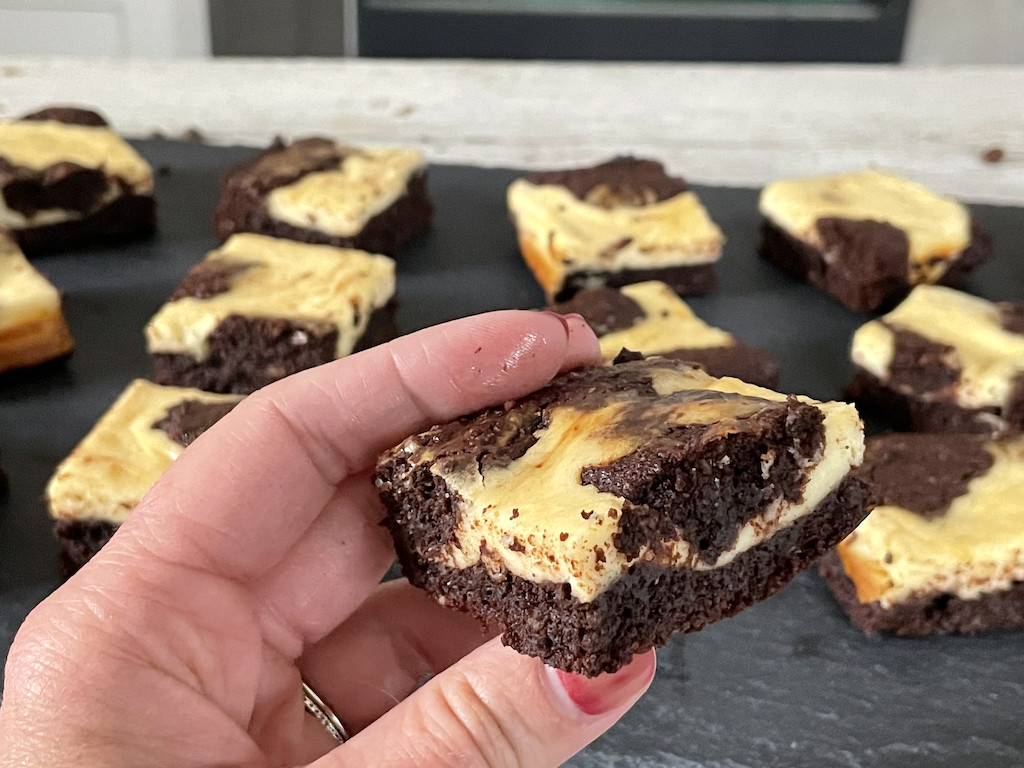 Tips on how to make the best keto cream cheese brownies:
Line the baking dish with parchment paper. I used two pieces of parchment paper going in opposite directions and let the edges of the parchment paper overhang create "handles" to make it very easy to remove the brownies from the pan.
If you don't have a 9×9-inch pan, you can bake them in an 8×8-inch pan. Just bake for an additional 4 minutes or so.
The brownie batter is very thick, which makes for incredible brownies but it does make it a little difficult to swirl the brownie batter with the cream cheese mixture. Don't worry though, you only need to slightly swirl them together and it doesn't have to be perfect for it to taste amazing.
In the brownie batter, the espresso powder is optional but highly recommended. It adds an incredible depth of flavor to the chocolate.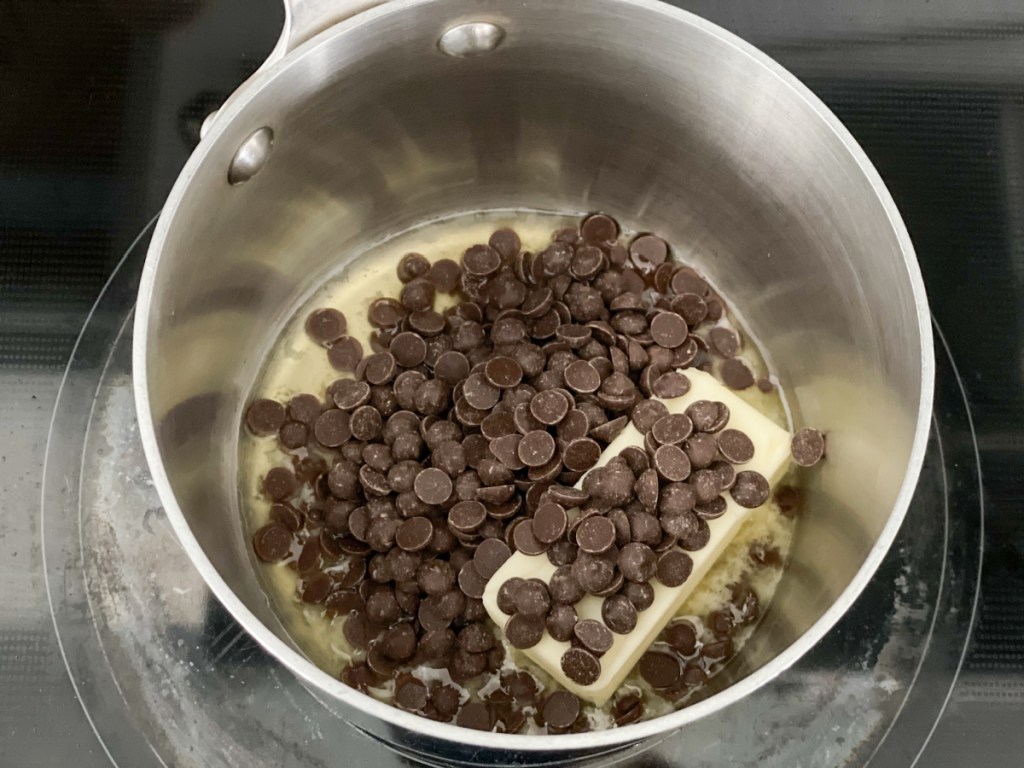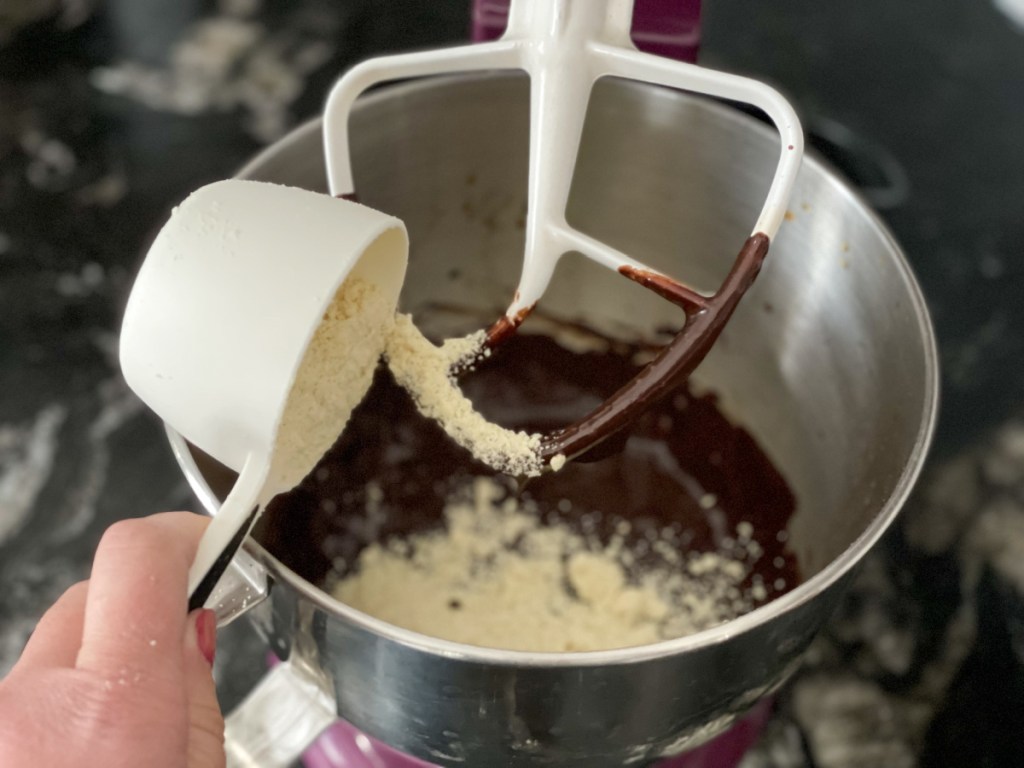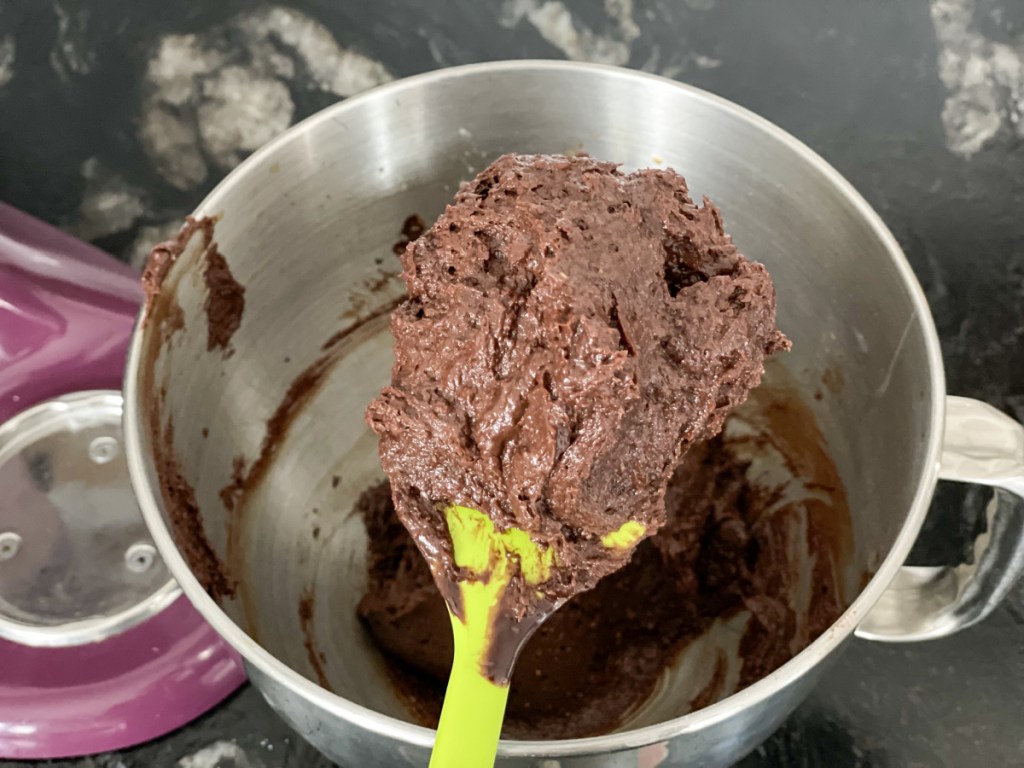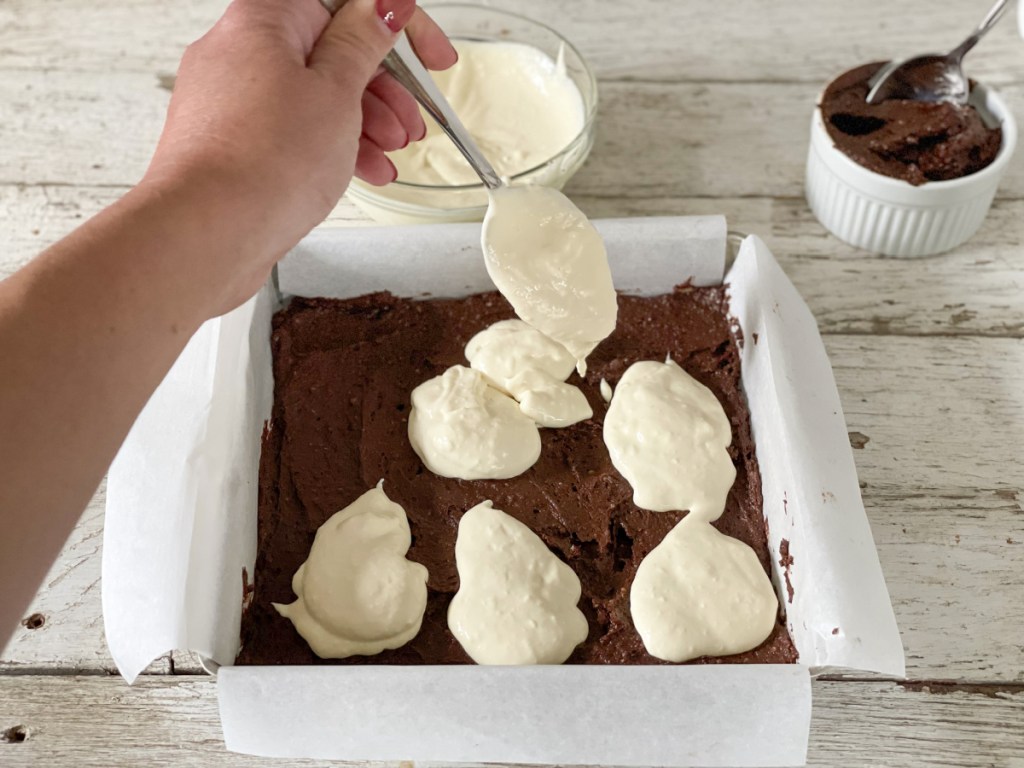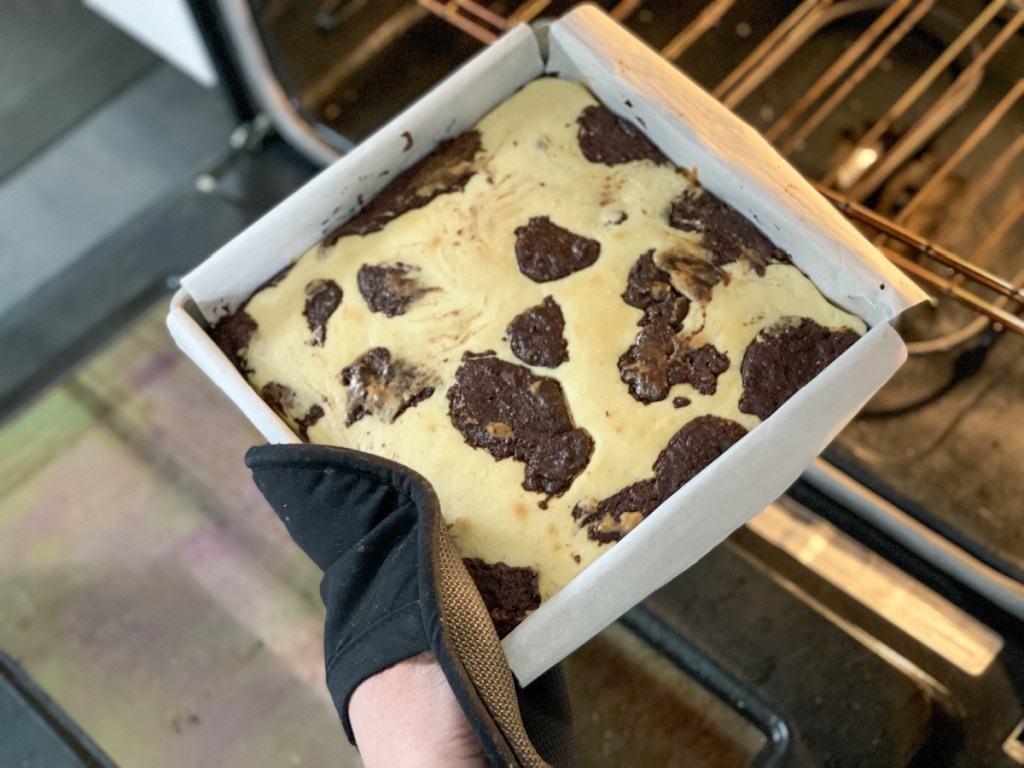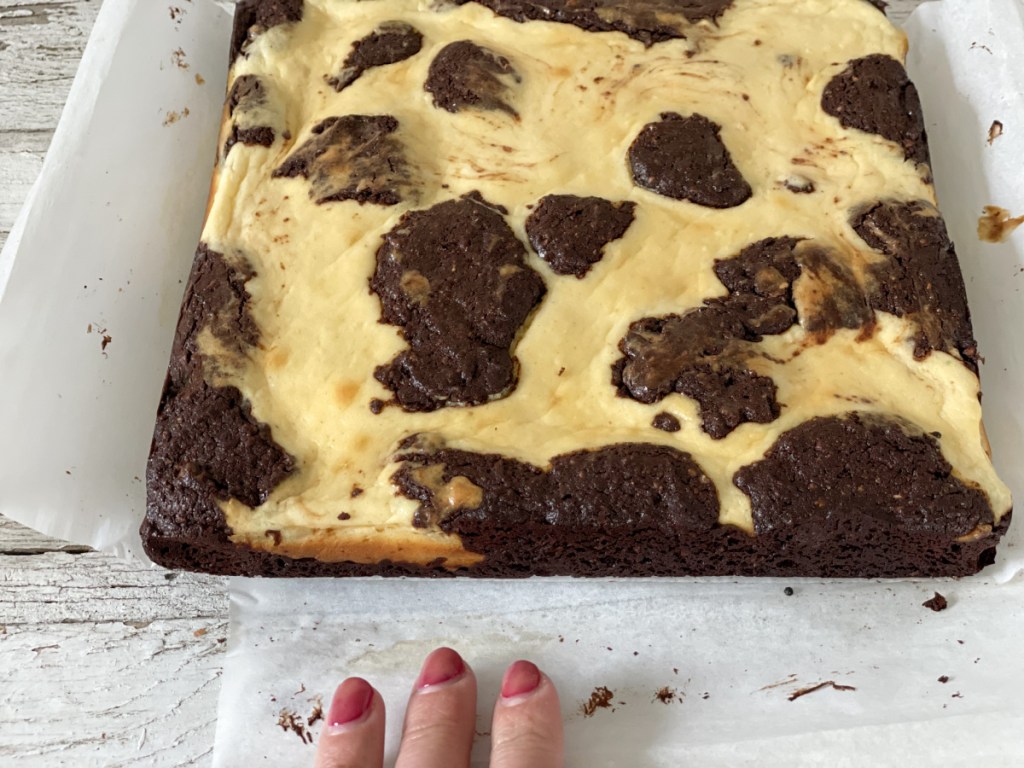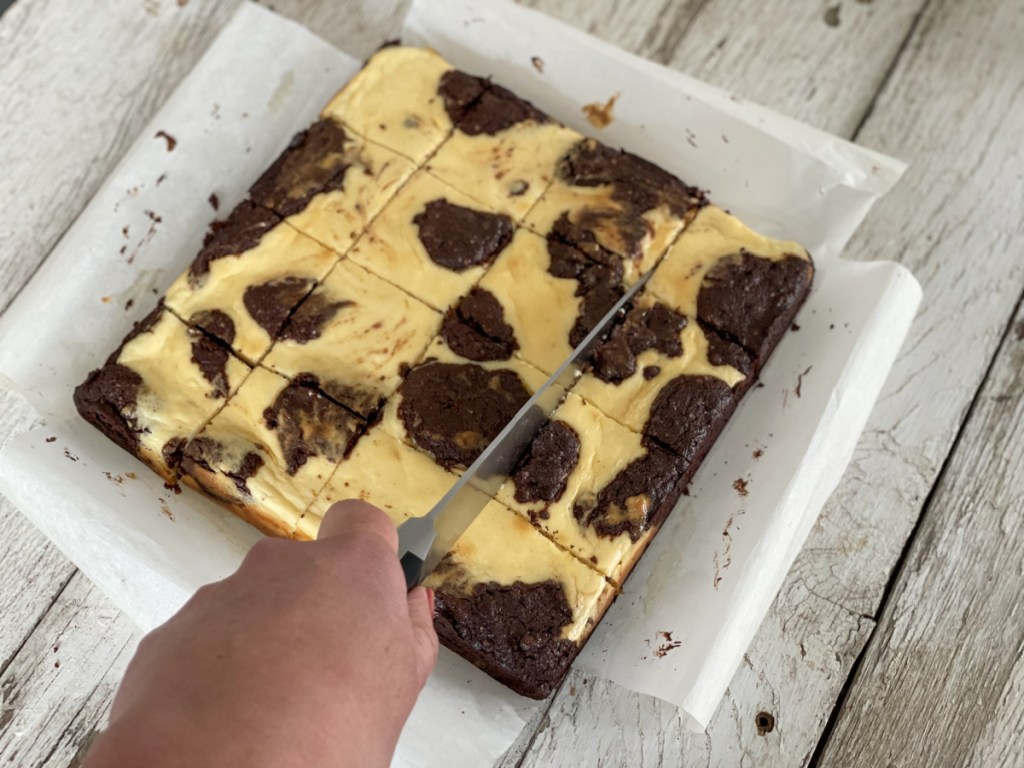 ---
Print
Keto Cream Cheese Brownies
yield: 16 SERVINGS
prep time: 15 MINUTES
cook time: 25 MINUTES
total time: 40 MINUTES
Rich keto brownie batter swirled with a rich cream cheese mixture for the ultimate dessert combo.
Ingredients
Brownie:
1/2 cup salted butter (1 stick)
1/2 cup cocoa powder
1 teaspoon espresso powder (optional, but highly encouraged)
1/4 teaspoon salt
2 teaspoons vanilla extract
2 eggs
1 teaspoon baking powder
Cream Cheese Filling:
8 oz. cream cheese (1 block), softened
1 egg
1 teaspoon vanilla extract
Directions
1
Preheat oven to 350 degrees. Line a 9x9 inch baking dish with parchment paper.
2
To make the brownie batter: 
Melt the butter and keto chocolate chips together in a small saucepan over low heat, stirring occasionally. This can also be done in a microwave-safe bowl in 15-second increments. Once the butter and keto chocolate chips have melted together, transfer to a mixing bowl of a stand or hand mixer.
3
Add the keto confectioners sweetener, cocoa powder, espresso powder, and salt to the butter-chocolate mixture. Mix to combine.
4
Next mix in the eggs and vanilla extract until the eggs are well combined.
5
Add in the baking powder and almond flour. Mix until well incorporated. The batter will be thick. Set the brownie batter aside.
6
To make the cream cheese mixture:
Using an electric mixer, mix together the cream cheese, egg, vanilla, and keto confectioners sweetener until smooth, about 2 to 3 minutes on medium-high.
7
To prepare the brownies for baking:
Place about 3/4 of the brownie batter in the prepared pan. Spread the batter out to evenly cover the bottom of the pan. Top the brownie batter with dollops of the cream cheese mixture. The cream cheese mixture should mostly cover the brownie batter. Finally, spoon the remaining brownie batter on top of the cream cheese mixture to cover any open spaces. Lightly swirl the cream cheese and brownie batter together.
8
Bake for 25 minutes, until the cream cheese is slightly golden and a toothpick inserted in the center comes out clean.  Let cool slightly before slicing into 16 brownies. Enjoy!
Nutrition Information
Yield: 16 brownies, Serving Size: 1 brownie
Amount Per Serving: 184 Calories | 16.8g Fat | 10g Total Carbs | 3.5g Fiber | 1g Sugar | 4.7g Sugar Alcohol | 4g Protein | 1.8g Net Carbs
---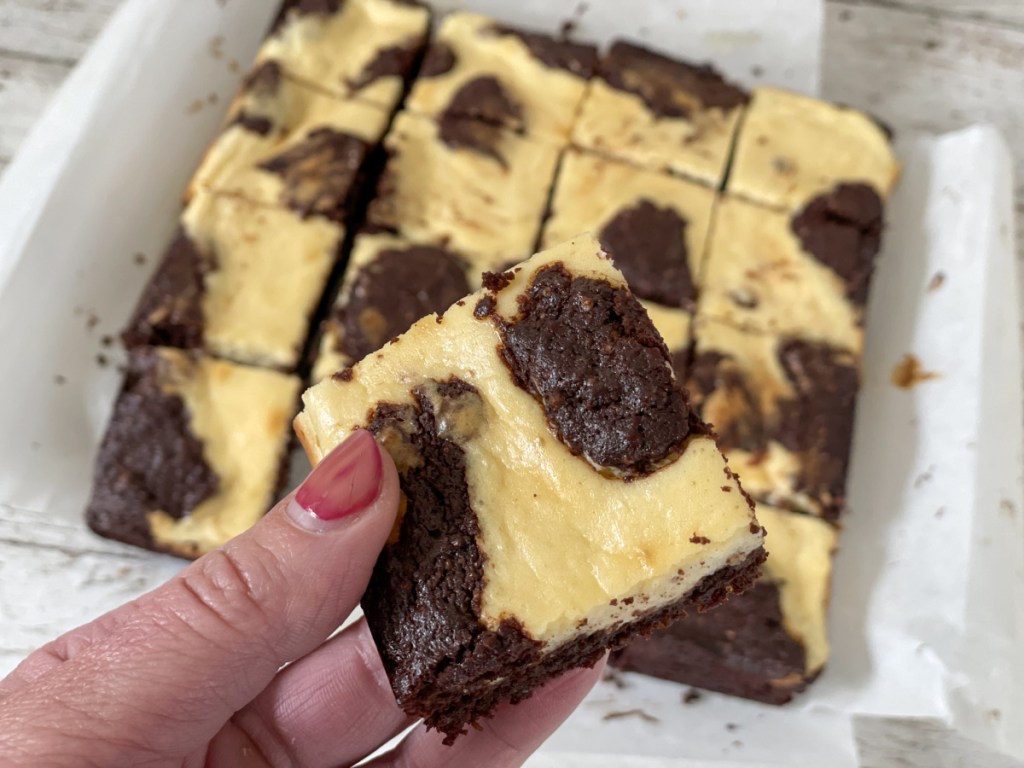 I told you these weren't your average brownies. 🤩
Not only is the cream cheese swirl an added bonus, but the espresso combined with cocoa powder and Swerve mask the cooling effects sometimes associated with keto treats. This was a total win, and likely one of the key factors of why a batch of these brownies didn't stand a chance making it more than a couple of days in my house.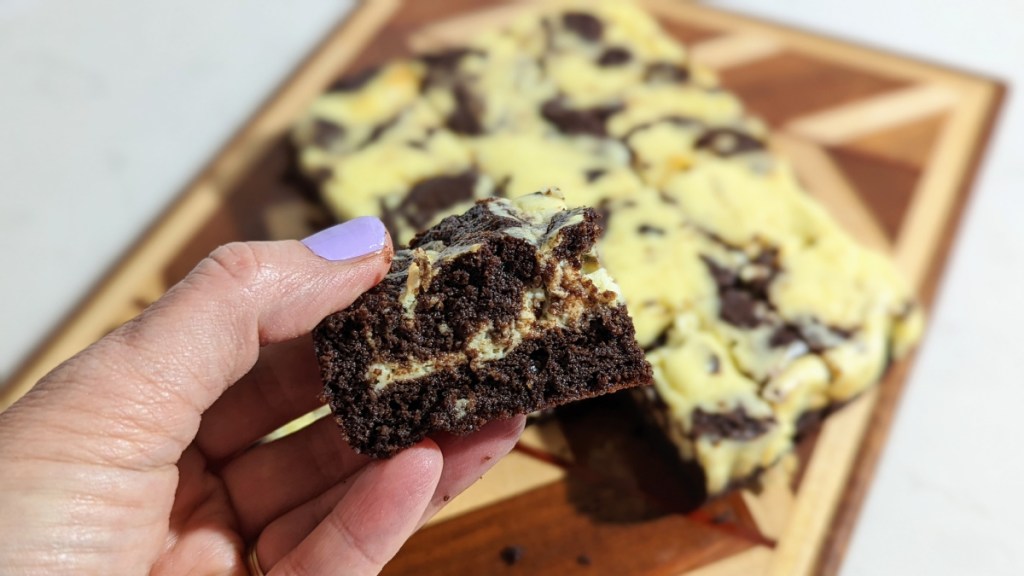 Here's what my Hip sidekick Jen had to say about these keto cream cheese brownies:
"I can say 1000% that I like these better than non-keto brownies! They are so yummy! The brownie is rich & chocolatey. The cream cheese sweetness brings it all together into one amazing dessert. They take a few extra steps, but it's worth it. With a recipe like this, I can fulfill my sweet cravings and still eat low carb. These are dangerously good!"
---
Check out our Classic Keto Chocolate Chip Cookies Recipe!