Easy Keto Churros (Inspired By Disney's Recipe!)
Looking for an impressive keto dessert?
If you've been to Disney and felt like you were missing out after smelling the warm cinnamon sugar scent of their freshly fried churros, today is the day we change all that.
Lina made Disney's famous carb-filled churros recipe over on Hip2Save, so after seeing that, we knew that we had to make our own keto churros right here on Hip2Keto!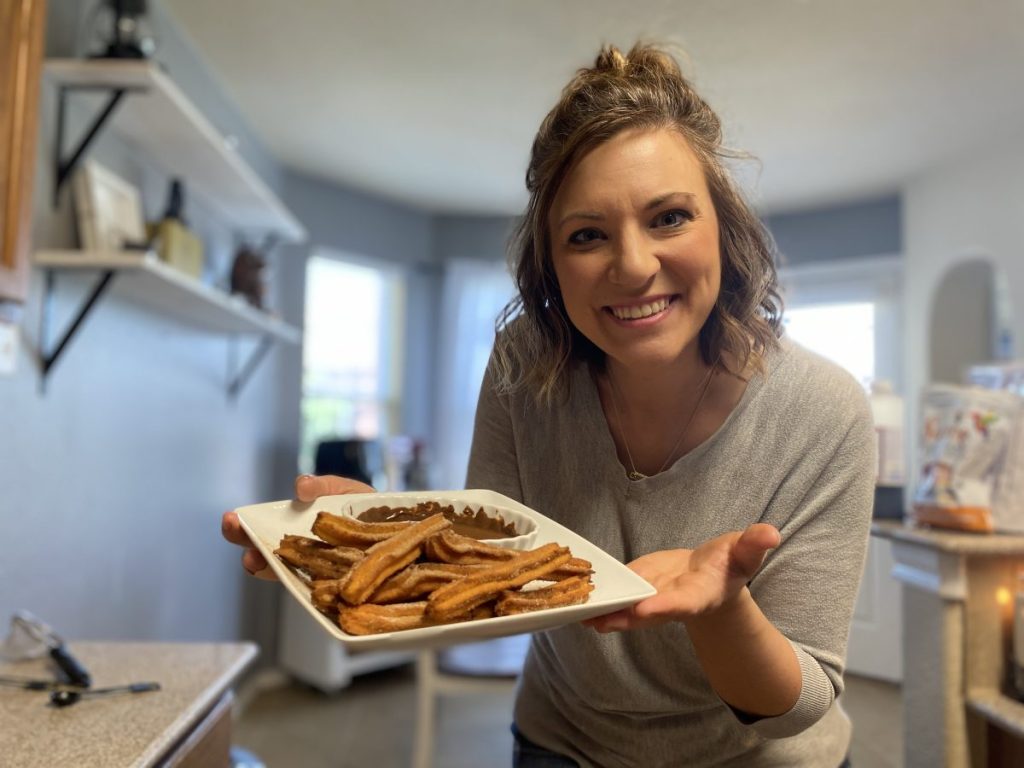 This keto churro recipe is a fun opportunity to get the whole family involved.
The boys love it when I ask for their help in the kitchen, and I always appreciate the little helping hands, especially since we have plenty of time now to spend together!
Another plus of this recipe is that the traditional sugar is replaced with Swerve, so serving up a dessert that my boys love that also isn't full of sucralose is a win-win for mom and the kids. 🙌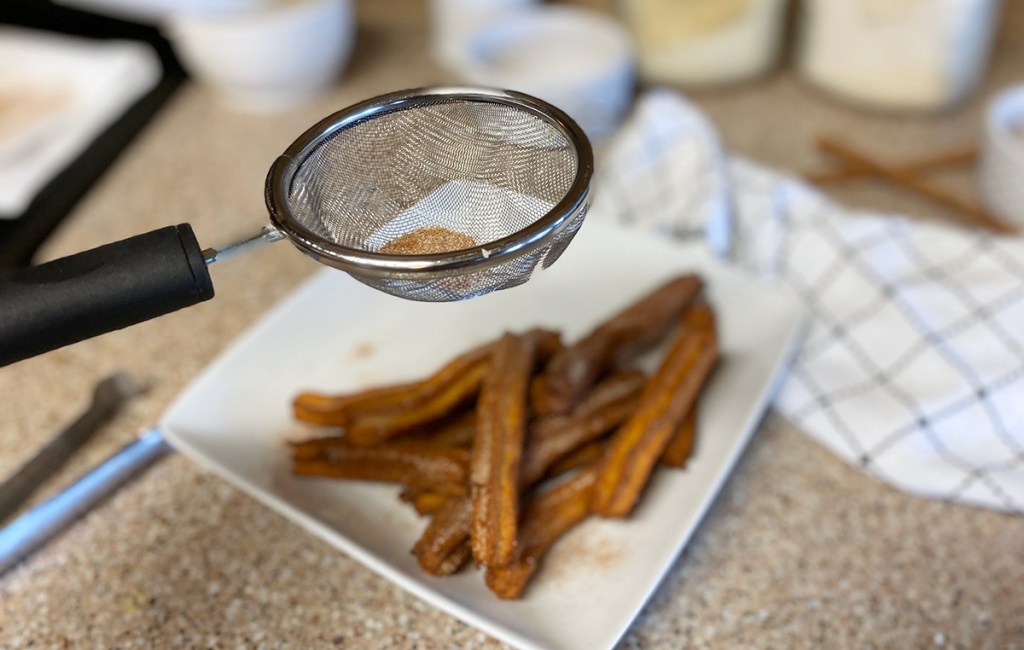 Hip Recipe Tips:
Anytime a recipe calls for frying, I use my Dutch Oven. For this recipe, fill it up with 4-5 cups of oil to make sure you have enough space from the bottom to let the churros float and brown evenly.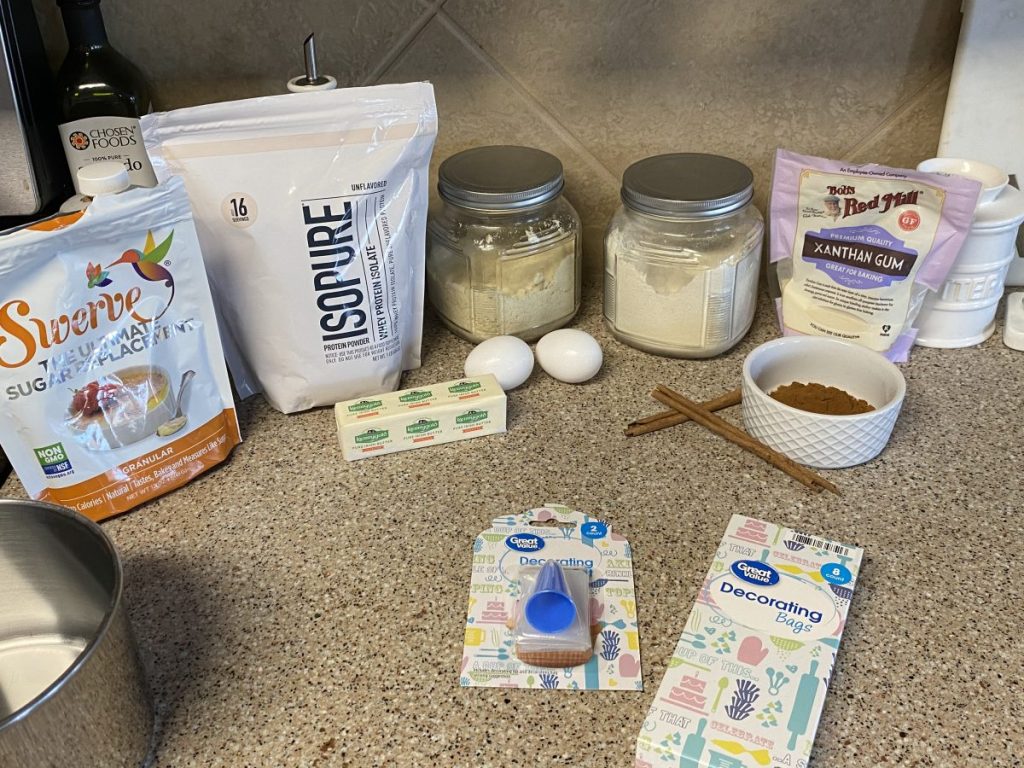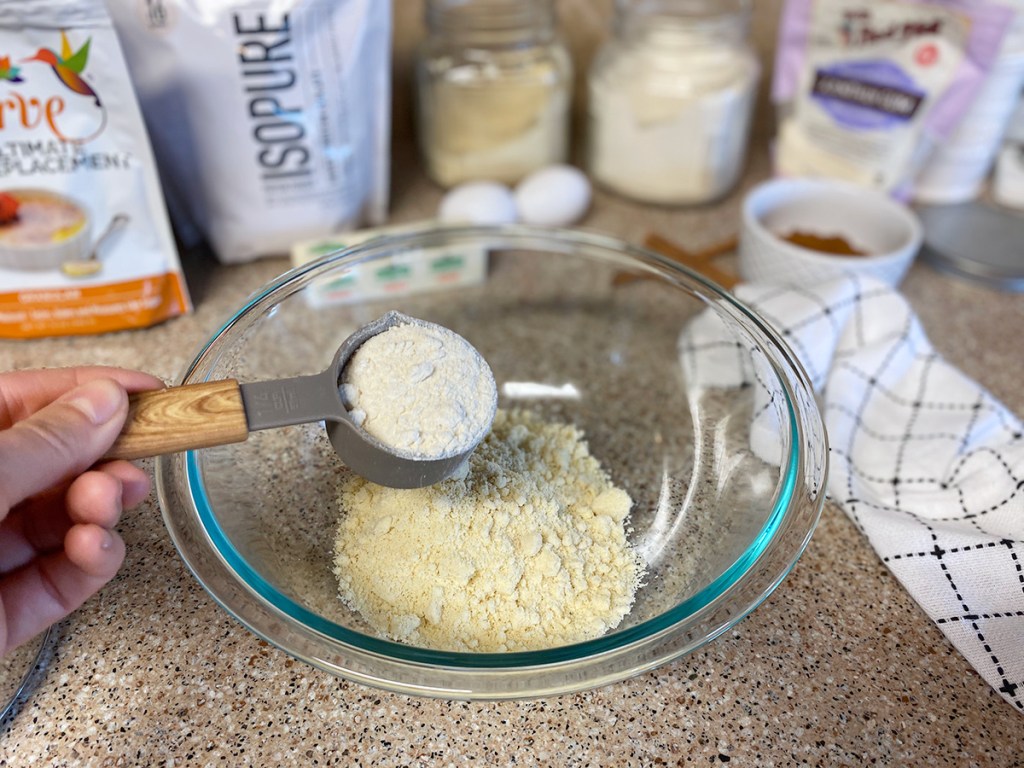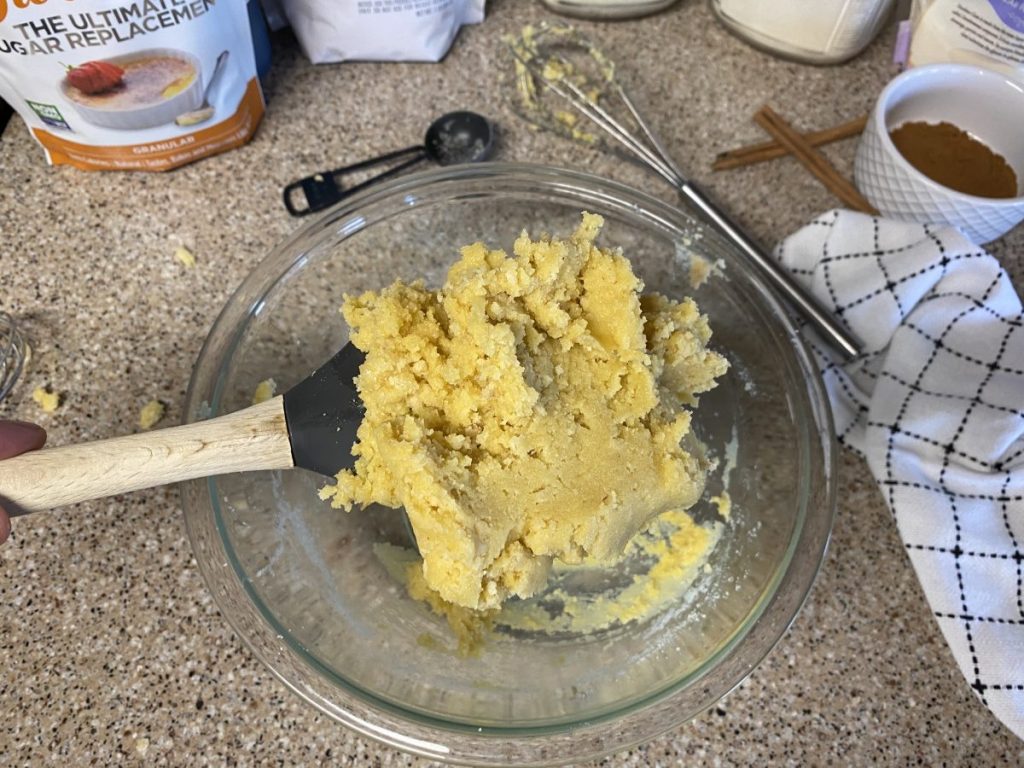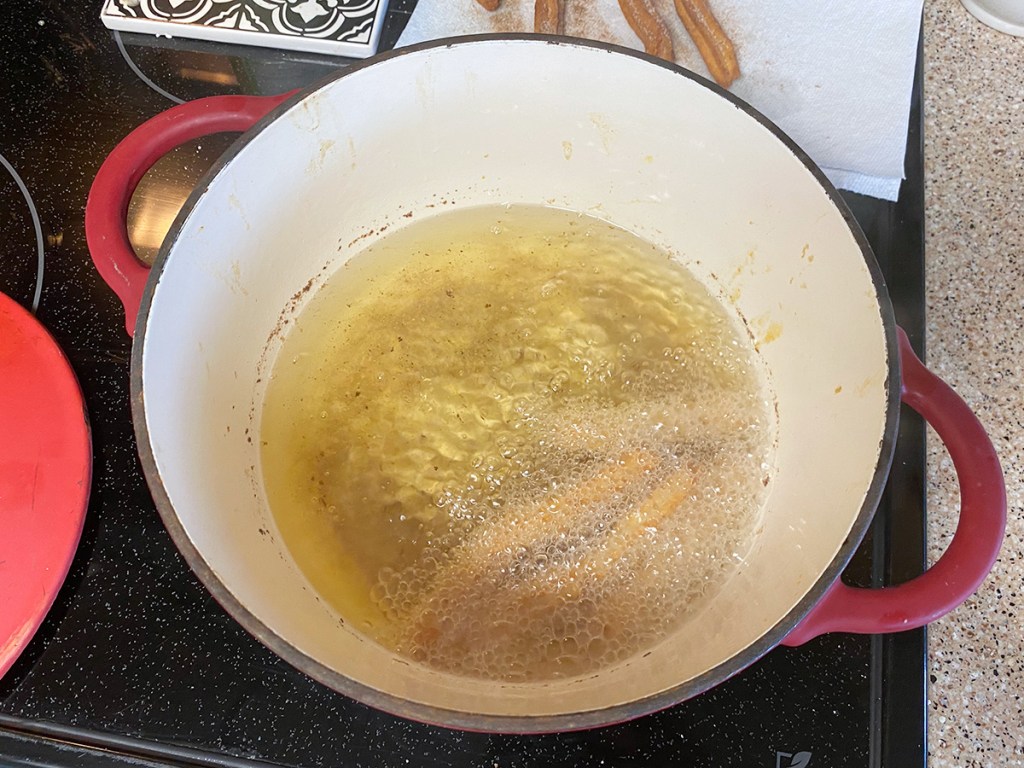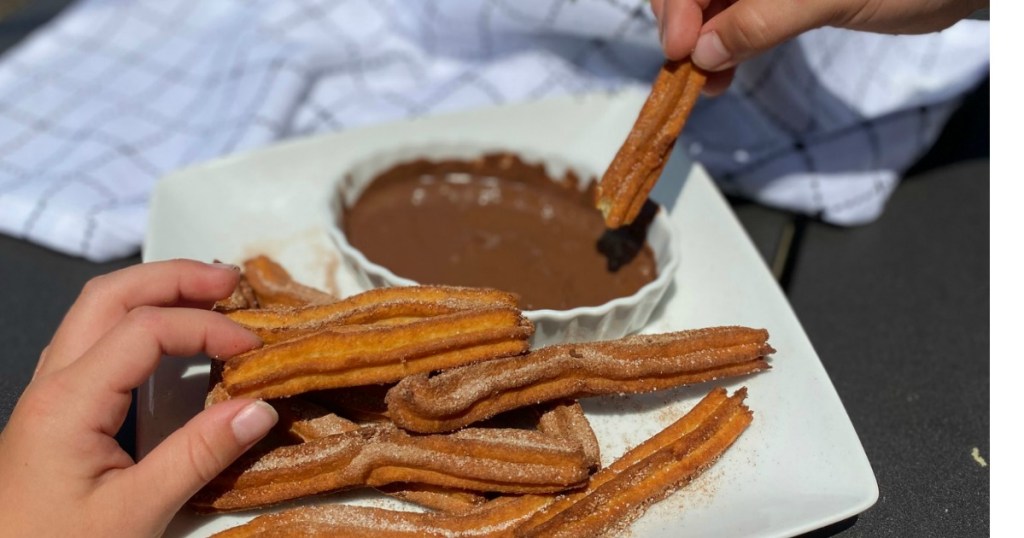 ---
Print
Keto Churros (Disney Inspired)
yield: 16 SERVINGS
prep time: 15 MINUTES
cook time: 2 MINUTES
total time: 17 MINUTES
A keto-friendly twist on the sweet cinnamon classic, inspired by Disney's recent release of their original churro recipe.
Ingredients
Churro dough:
3/4 cup almond flour
1/4 cup coconut flour
1/2 teaspoon xanthan gum
2 tablespoons unsalted butter
1 teaspoon vanilla extract
2 tablespoon water
2 eggs
Cinnamon coating:
Additional ingredients:
Directions
1
In a deep pan or dutch oven, add 4-5 cups of oil to use for frying churros. Turn stovetop to medium heat to start heating the oil up until it reaches 350 degrees.
2
In a small bowl, mix together a tablespoon each of cinnamon and Swerve and set aside for dusting later on.
3
In a large bowl, whisk together coconut flour, almond flour, whey protein, and xanthan gum.
4
In a small saucepan over low-medium heat, add in butter, granular Swerve, vanilla extract, and water, stirring constantly. The butter and sweetener will meltdown after about 2 minutes. Do not let the ingredients boil as this will make a caramel.
5
Pour butter mixture into the flour mixture and stir. Add in the eggs and mix until you get a thick dough-like batter.
6
Add batter into a piping bag or cake decorating tool. Squeeze batter out in 4-5" strips into oil and let fry up for about 1 minute, turning the churros in the oil as needed to evenly fry.
7
Remove the churros from the oil and place on a paper towel to soak up any extra oil. While hot, sprinkle the cinnamon Swerve mixture over the churros.
8
If desired, melt chocolate chips in the microwave in 15-second intervals until fully melted to serve alongside your churros. Enjoy the keto churros while warm!
Nutrition Information
Yield: 16 churros, Serving Size: 4 churros
Amount Per Serving: 231 Calories | 16g Fat | 17g Total Carbs | 5g Fiber | 9g Sugar Alcohol | 15g Protein | 3g Net Carbs
---
Don't be alarmed by the high total carb count!
Fiber and erythritol, the main ingredient in Swerve, does not affect blood sugar in the same way that regular carbs do, so we subtracted them from the total carb count. You'll see that the net carbs are much lower once you remove the sugar alcohols.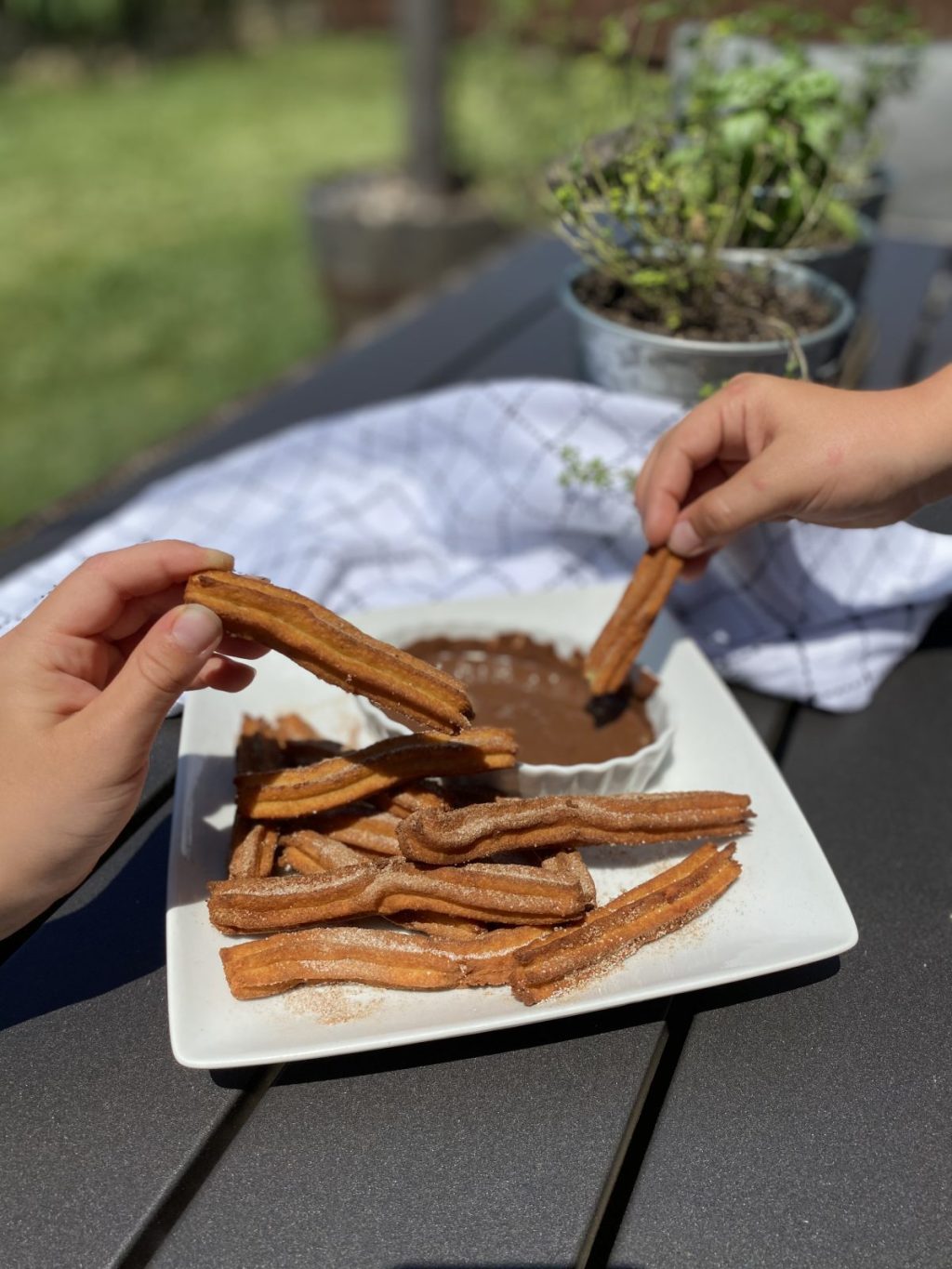 Save yourself the trip to Disney because these keto churros are magical!
It wasn't a surprise everyone in the family loved this sweet keto churro dessert. 😋 They fry up crispy on the outside and soft on the inside — so yummy!
Give this keto-friendly dessert a try and let me know what you think!
---
Love desserts? Try out our Chocolate Cheesecake Fat Bombs next!