Delicious Keto Chocolate Covered Strawberries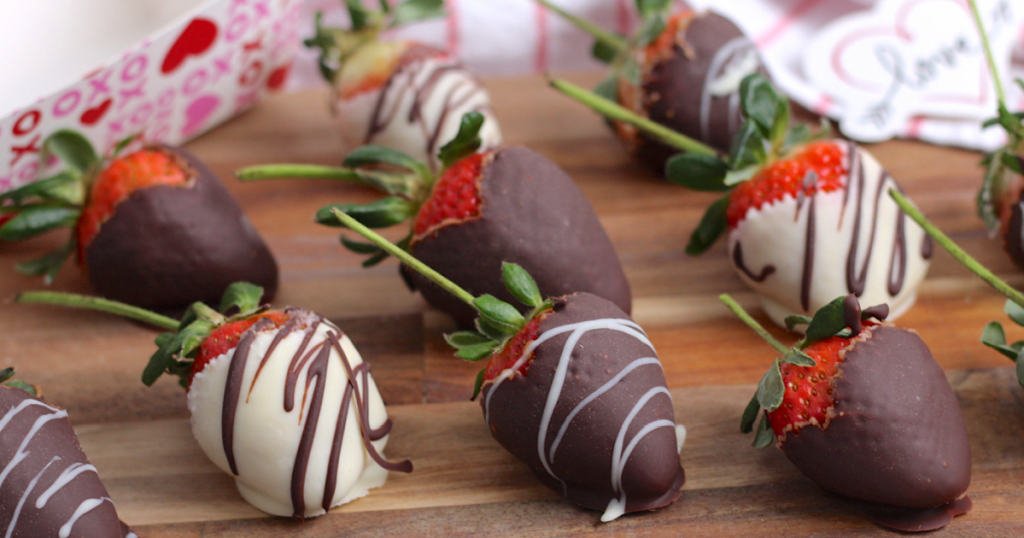 Looking for a keto treat for your low carb sweetie?
This keto-friendly dessert will be the perfect gift for any special occasion. I've always been a fan of chocolate-covered strawberries but they're always loaded with sugar-heavy chocolate… until now!
Introducing keto chocolate covered strawberries!
Living the keto life has never been sweeter!
The crunch from the hard chocolate shell combined with the sweet refreshing strawberries is seriously the perfect low carb dessert. The best part about this recipe is that it can be made with just three ingredients in under 30 minutes.
All you have to do is switch out that carb-heavy chocolate and replace it with a sugar-free keto-approved version, grab some strawberries, a little coconut oil to help smooth out the chocolate (and boost the fat content), and that's all you need. You can make this beautiful dessert for under $10!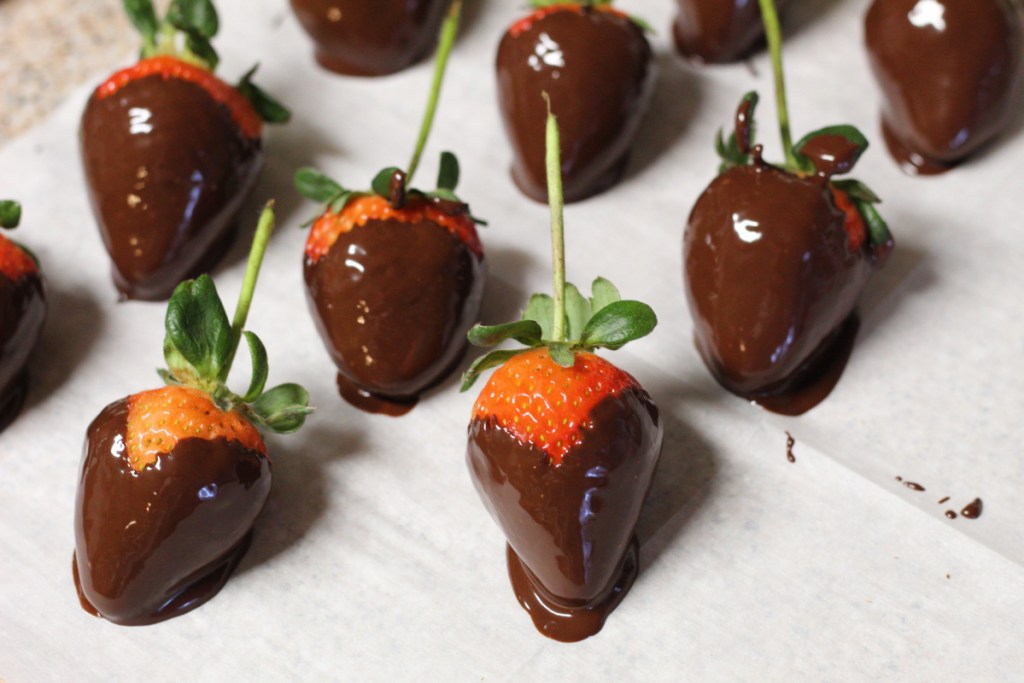 Tips for making the best keto chocolate covered strawberries:
Make sure the strawberries are completely dry before dipping them into the sugar-free chocolate. If they're wet, the chocolate will not stick and you'll be left with a goopy mess.
Be sure to pick a carton with the ripest strawberries you can find for a sweeter taste. Avoid strawberries that are a lighter color on the stem as they are not as flavorful.
When I dip strawberries, I like to use semi-sweet chocolate and white chocolate, but you can use dark chocolate if preferred. Any chocolate chips or bars will work as long as they are sugar-free.
Strawberries need to be at room temperature before dipping into chocolate.
Feel free to top the chocolate covered strawberries with chopped nuts, chocolate drizzle, or unsweetened coconut for added flair.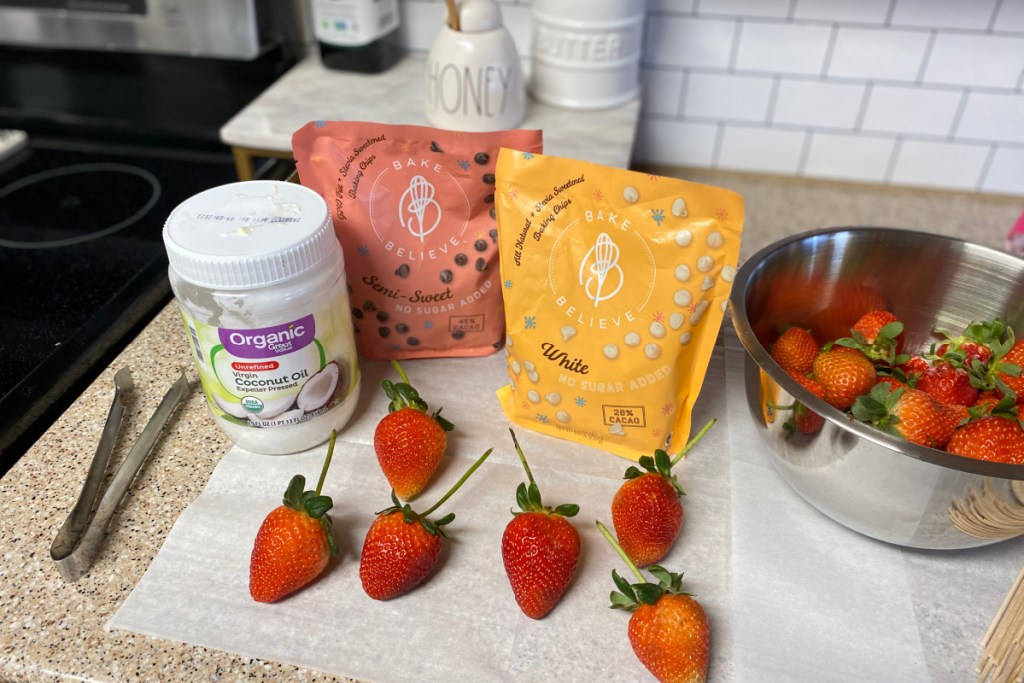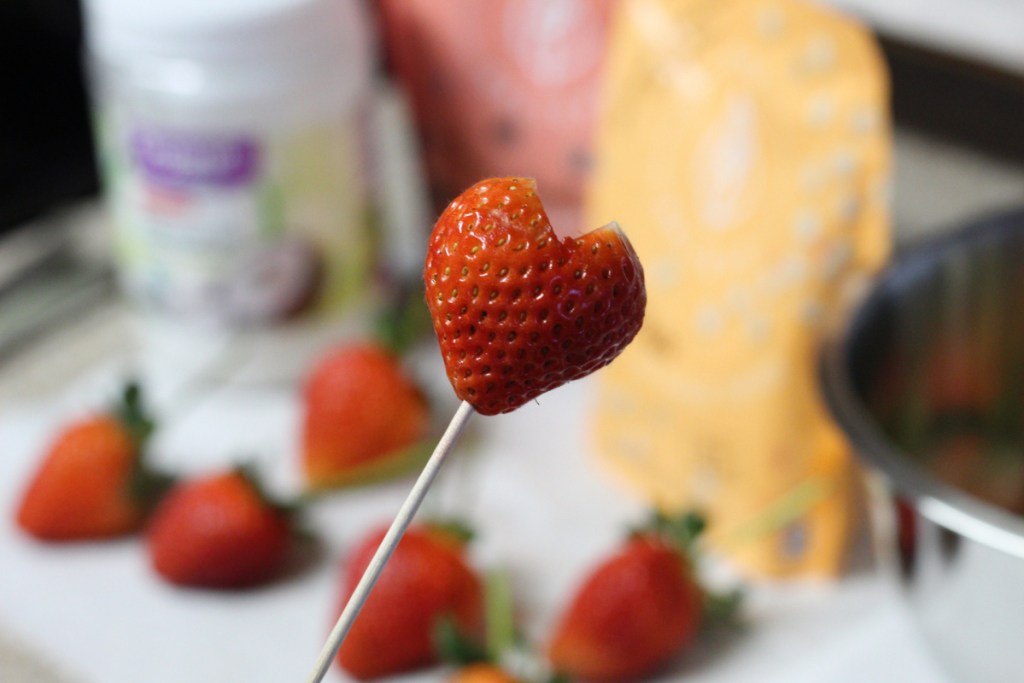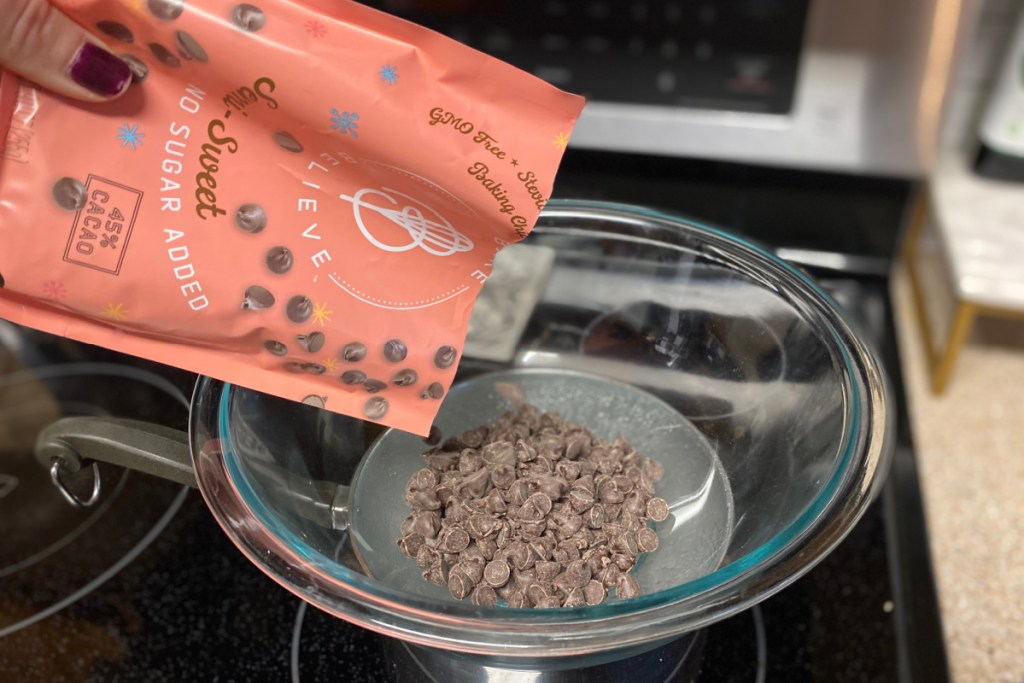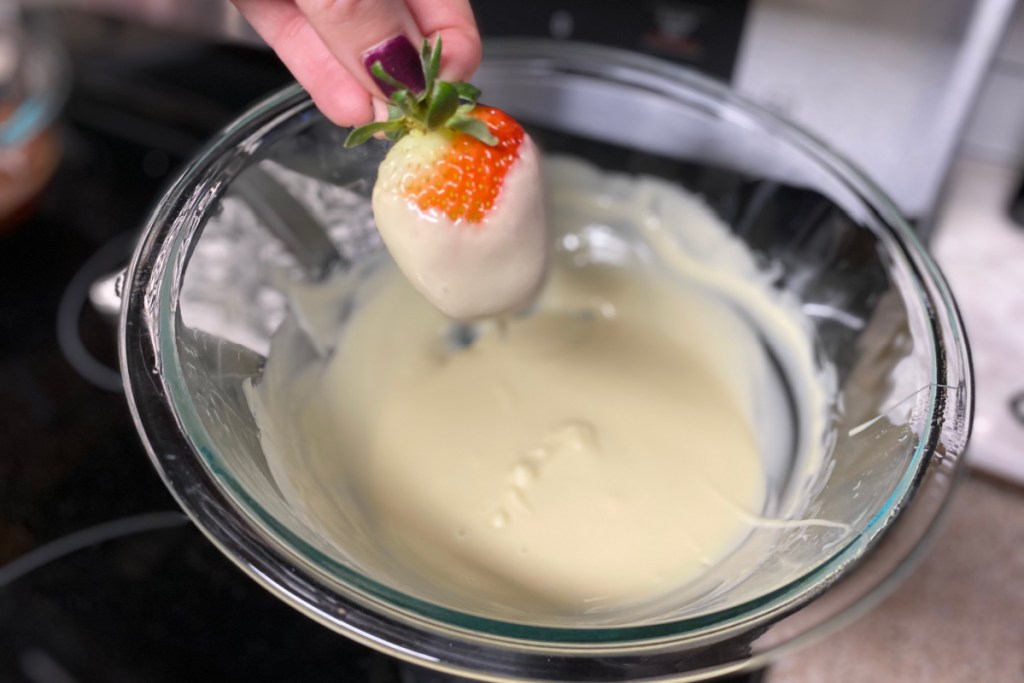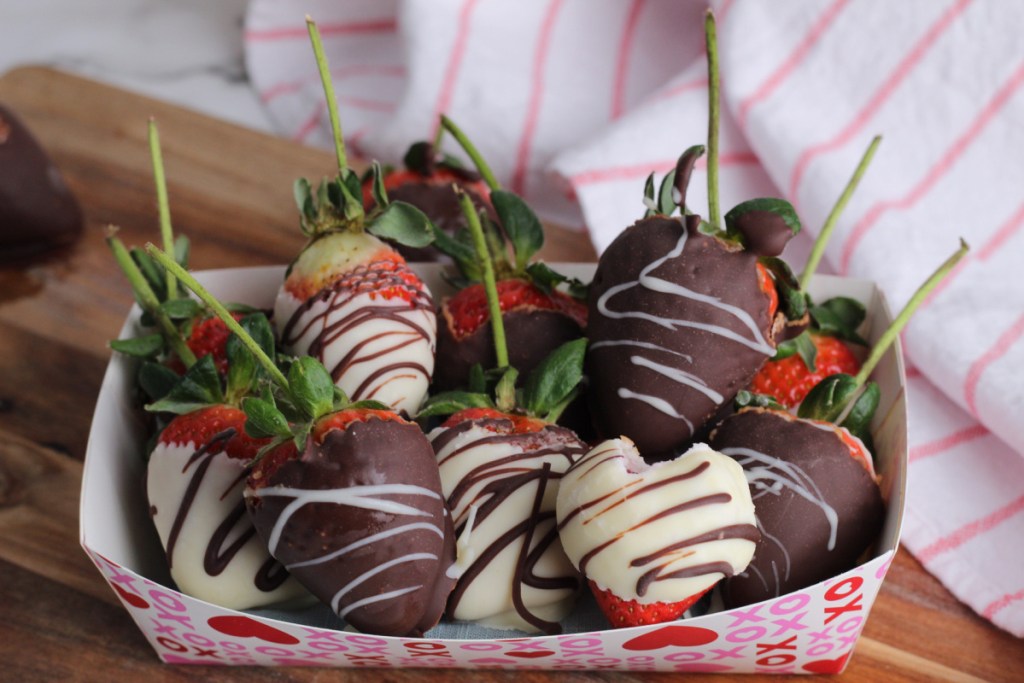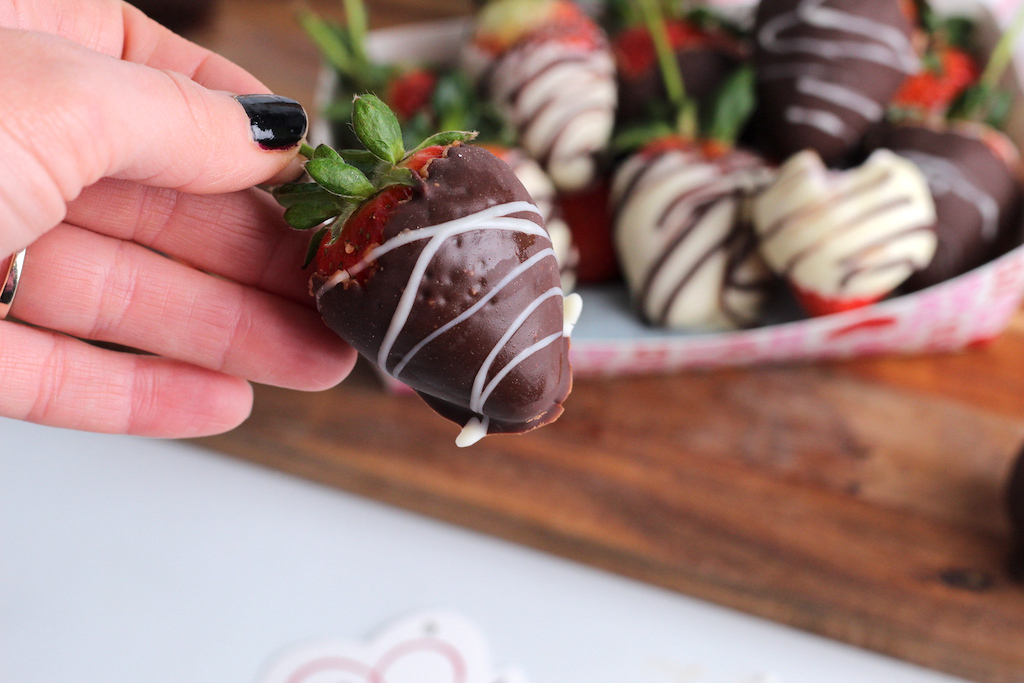 ---
Print
Keto Chocolate-Covered Strawberries
yield: 24 SERVINGS
prep time: 30 MINUTES
total time: 30 MINUTES
An easy 3-ingredient keto dessert that can be made ahead of time for any special occasion.
Ingredients
2 cartons (approx. 24) fresh strawberries, washed and dried
Directions
1
Line counter or baking sheet with parchment paper.
2
Make sure all strawberries are completely washed and dry by patting them with paper towels. It's very important to make sure that the strawberries are very dry so that the chocolate sticks to them.
3
To melt no-sugar-added chocolate:
Stovetop: Create a double boiler by placing a pot on the stove filled with 1 cup of water. Bring water to a boil. Once the water reaches a boil, place a heat-safe glass bowl on top of the saucepan. Add chocolate chips into the glass bowl and slowly stir until the chocolate is completely melted. Remove from stovetop, add in coconut oil, and stir.
Microwave: Place chocolate into a microwave-safe bowl. Heat in the microwave for 15-second intervals. Between each interval, stir with a spatula. Add in coconut oil and stir to combine.
4
To create a heart-shaped strawberry:
With a knife, cut into the strawberry removing the stem in a "V" shape. This creates the heart shape look. Add a paper candy stick or wooden stick at the bottom of the strawberry to dip the strawberry into melted chocolate. After dipping, lay on parchment paper to harden.
5
To create dipped strawberries with stems:
Pinch stem of the strawberry and dip strawberries into melted chocolate 3/4 of the way covering the berry. Remove strawberry from chocolate and lay on parchment paper to harden.
6
Once firm, place strawberries in an air-tight container and store in the refrigerator until ready to eat.
Nutrition Information
Yield: 24, Serving Size: 1
Amount Per Serving: 23.6 Calories | 1.8g Fat | 4.4g Total Carbs | 1.6g Fiber | 1.2g Sugar Alcohol | 0.4g Protein | 1.7g Net Carbs
---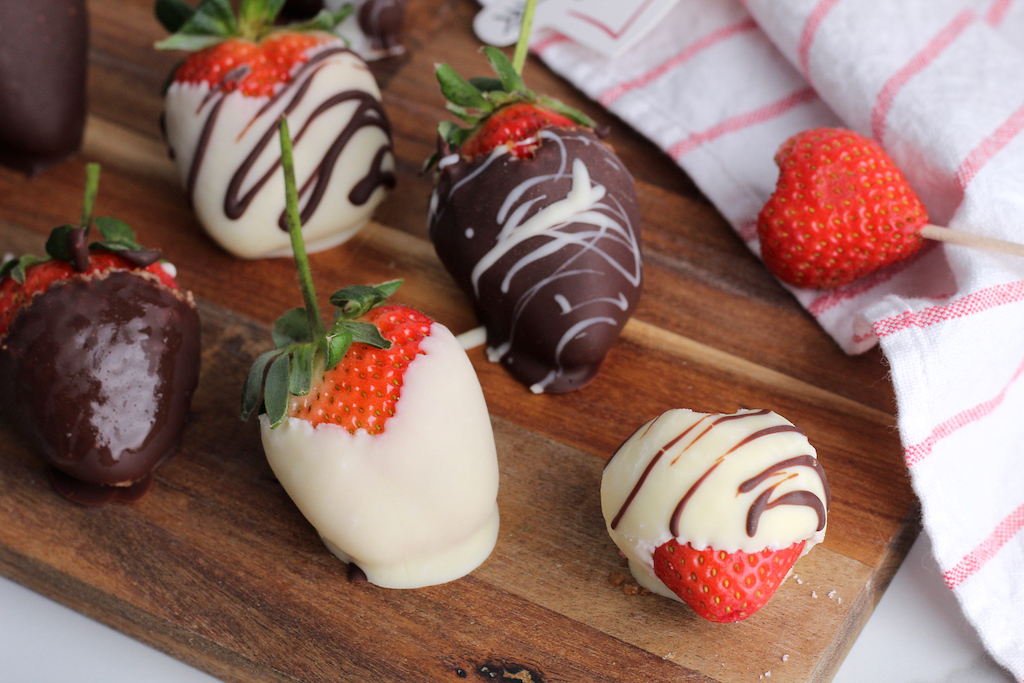 Made with love!
These delicious strawberries can be served with our keto charcuterie board for an epic date night snack fest for you and your sweetie. I love how easy they are to make and didn't cost a fortune, but they look like a million bucks! Make a batch and surprise your kiddos too!
---