Grab a Cup of Coffee & Enjoy a Keto Cherry Danish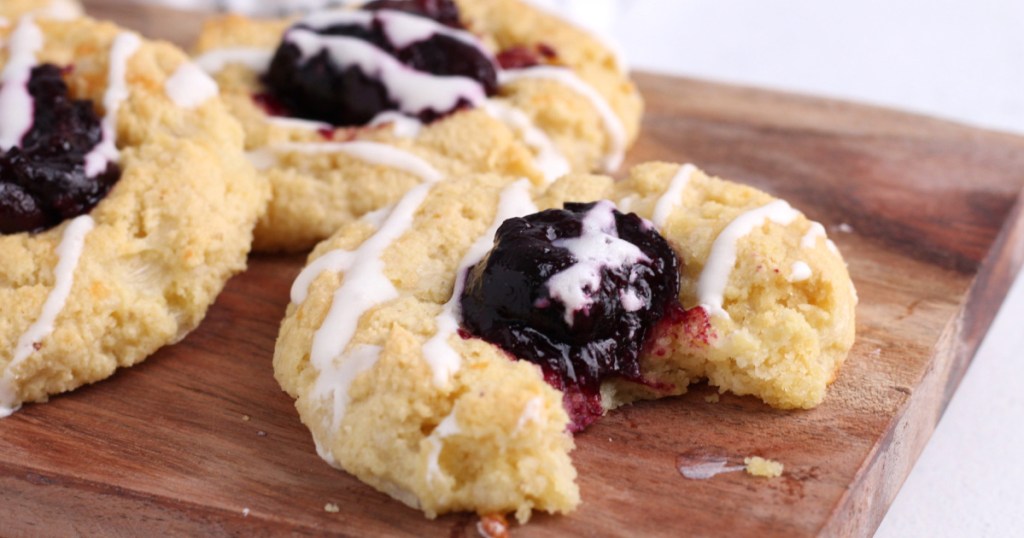 Looking for a low-carb fruity treat?
These keto cherry danishes are perfect for breakfast or dessert. With the sweet cherry filling and the simple glaze, this is truly a decadent low-carb treat! Even better, they're easy peasy to make as I've taken Lina's delicious keto biscuits and turned them into delicious keto danishes that your entire family will love.
A delicious mistake?!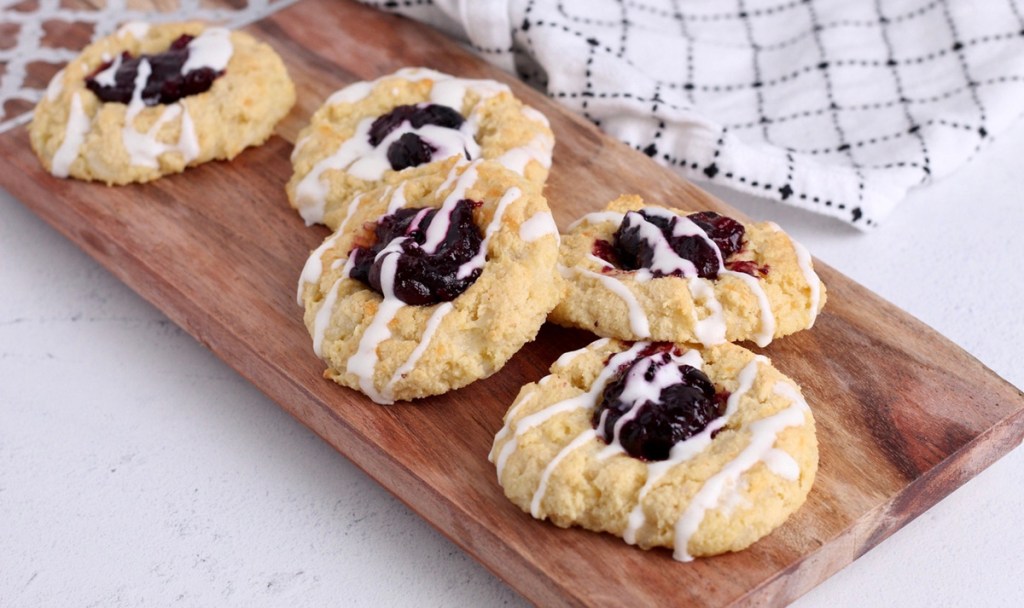 Did you know that Danishes were originally made due to a mistake? Yup! According to the L.A. Times, over 350 years ago a French apprentice pastry baker forgot to add butter to the flour and tried to hide his mistake by folding lumps into the dough! From there, the Danish that we know and love today was born. 😋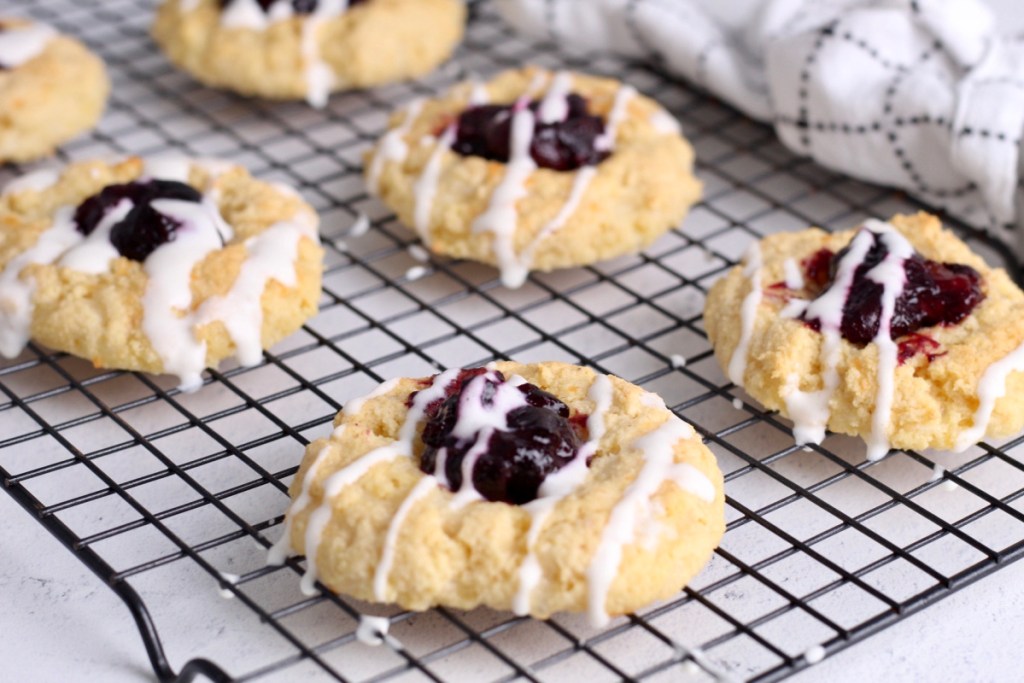 Hip tips for creating the best keto cherry danishes:
To create a perfect keto cherry danish, be sure to press the danish with the back of a spoon to make a "thumbprint" before baking.
If you're having a hard time finding cherries when they're not in season, feel free to use frozen cherries as I did. They'll taste just as good and may even be a little cheaper! Or you could swap the cherries completely with lower-carb berries, like blueberries or blackberries – YUM.
When creating the biscuit disks, be sure to spray cooking spray on your hands to keep the dough from sticking.
These keto cherry danishes will stay fresh in an air-tight container for up to one week.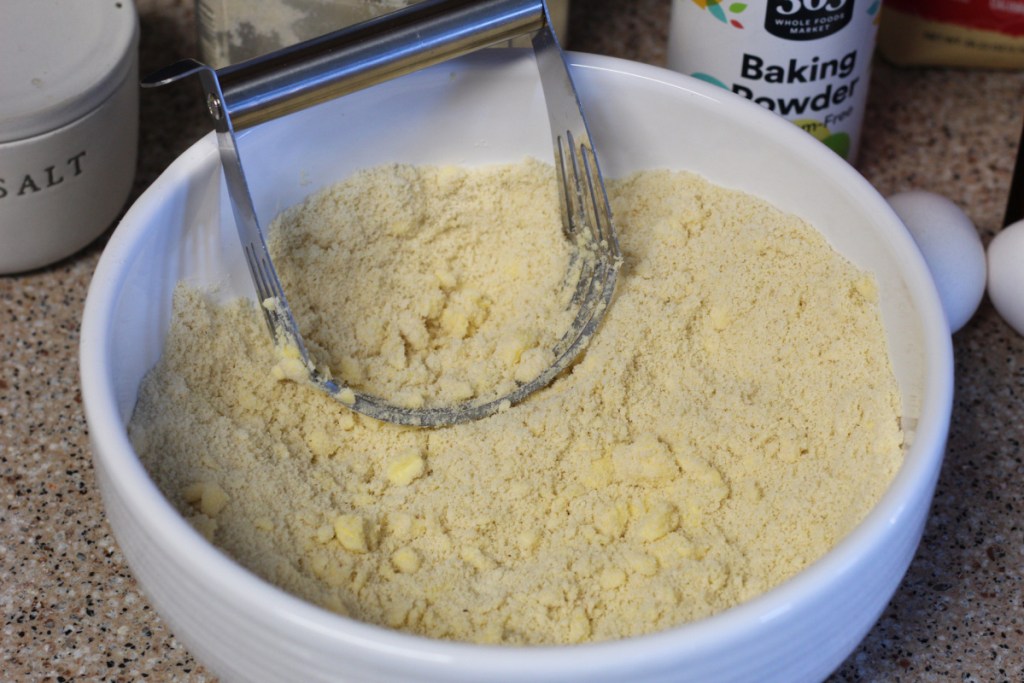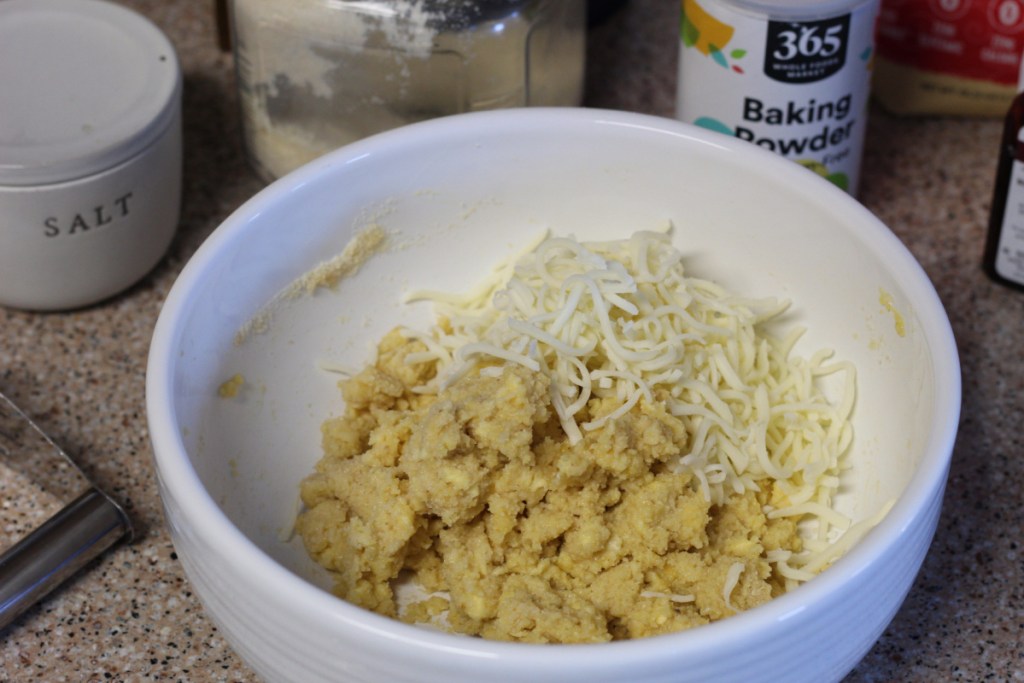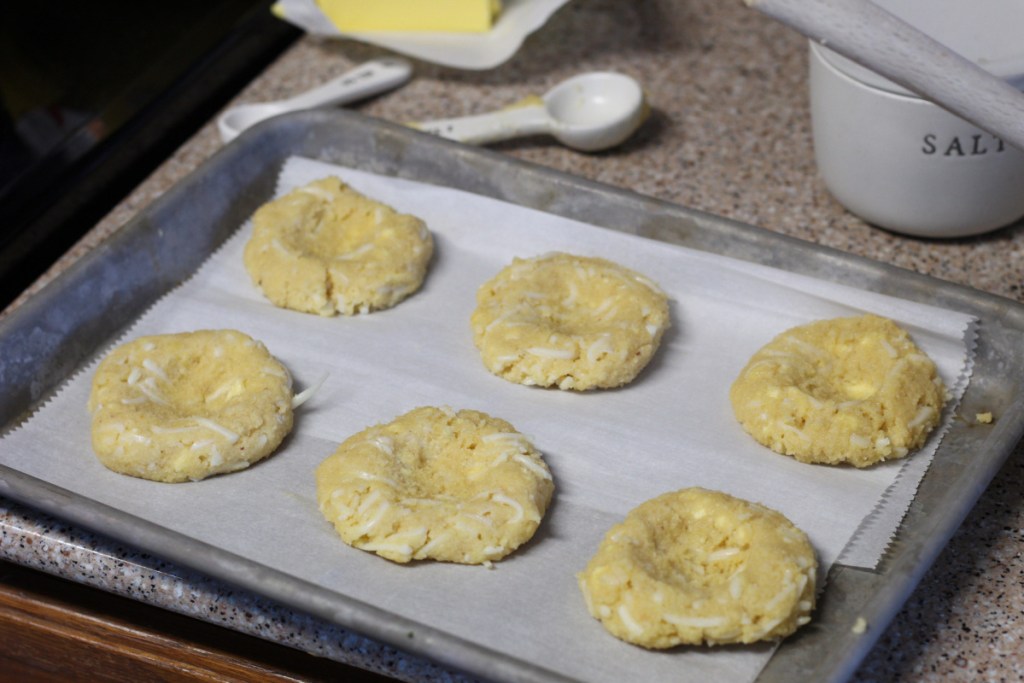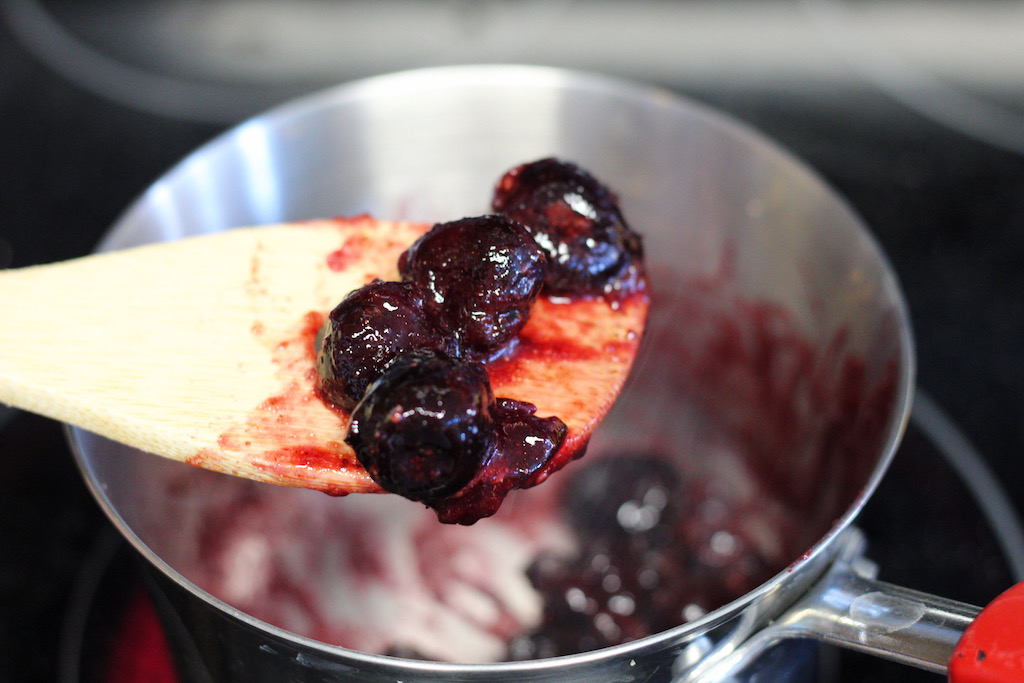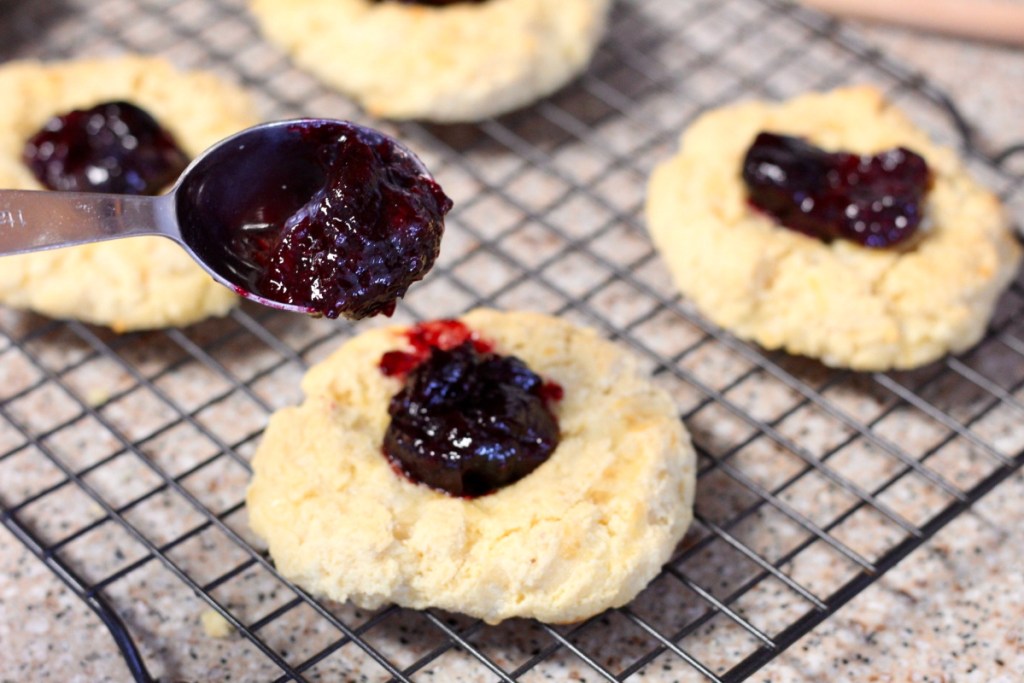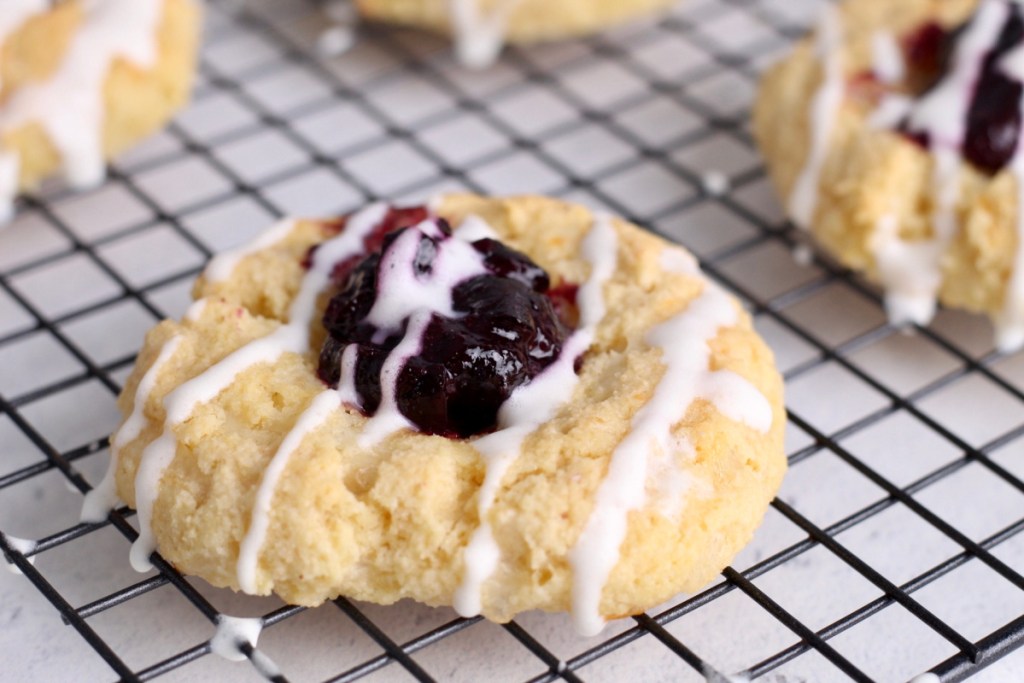 ---
Print
Keto Cherry Danish Recipe
yield: 10 SERVINGS
prep time: 30 MINUTES
cook time: 10 MINUTES
total time: 40 MINUTES
The sweet cherry filling and simple glaze take this keto dessert to another level.
Ingredients
Biscuit:
1 1/2 teaspoons baking powder
1/4 teaspoon salt
3 tablespoons butter, cold cut into small cubes
2 eggs
1 cup shredded mozzarella cheese
Cherry Filling:
1 cup frozen cherries
1/4 teaspoon cinnamon
Glaze (optional):
3 tablespoons heavy whipping cream
Directions
1
Preheat oven to 350 degrees. Prepare a baking sheet with parchment paper and set it aside.
2
To make biscuits:
In a medium-sized bowl, mix together almond flour, keto sweetener, baking powder, and salt. Cut in butter with a pastry cutter or a fork.
3
Next, stir in eggs and fold in cheese. Combine until it forms a sticky dough.
4
With a large spoon (about 2 tablespoons), scoop dough into hand and make a disk. Place dough disk on the baking sheet to bake. In the center of the disk gently press with the back of a spoon. Bake for 10 minutes until cooked and slightly browned. Set aside to cool.
5
To make the cherry filling:
In a small saucepan, over low-medium heat, add in cherries, keto sweetener, cinnamon, xanthan gum, and vanilla extract. Mash cherries and stir together, let cherries simmer for about 5 minutes.
6
Add a dollop of cherry filling to the center of each biscuit.
7
To make the keto glaze:
In a small bowl, whisk together heavy whipping, keto powdered sweetener, and vanilla extract. Let the glaze sit for 5 minutes.
8
Drizzle glaze over thumbprints. Serve and Enjoy!
Nutrition Information
Yield: 10, Serving Size: 1
Amount Per Serving: 244 Calories | 20.3g Fat | 10.3g Total Carbs | 2.2g Fiber | 3g Sugar | 0g Sugar Alcohol | 3.8g Erythritol | 9.9g Protein | 4.3g Net Carbs
---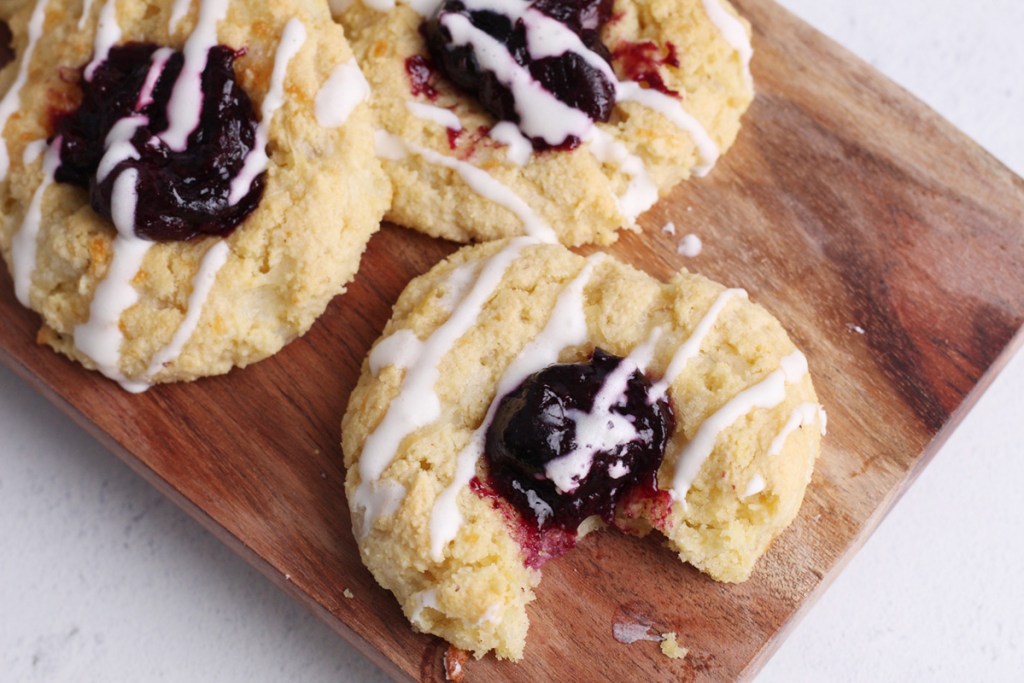 Grab a keto cherry danish & a cup o' joe!
I like to start my day with a hot cup of coffee before my boys wake up, and let me tell ya, these danishes are the perfect treat to have with my coffee! They would also be great to have for a weekend brunch since they're so easy to make. Make a batch to have on hand for a nice grab-and-go breakfast too.
Is it just me or is living the keto life getting easier every day with all of these great low-carb dupes for our favorite recipes?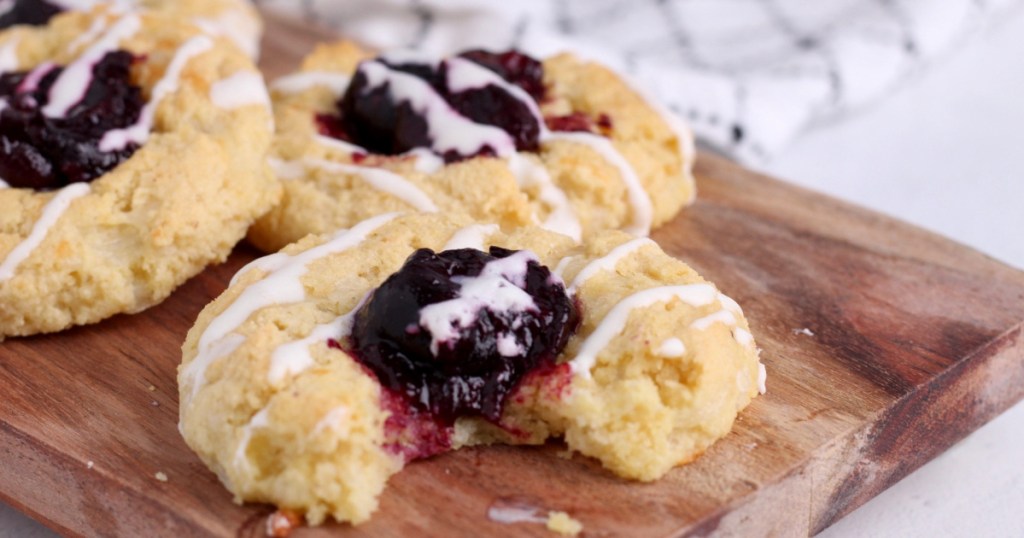 My team member, Jen, gave this recipe a test for me, and here's what she had to say:
"This is such a wonderful treat! The texture is very moist and very close to a real danish. They are not super sweet and are perfect for breakfast or an afternoon snack. They take away the sweet craving and fill my need for a pastry that I've been missing eating keto. They're so delicious and I can't wait to make them again!
---