Keto Oreo Cookies Copycat Recipe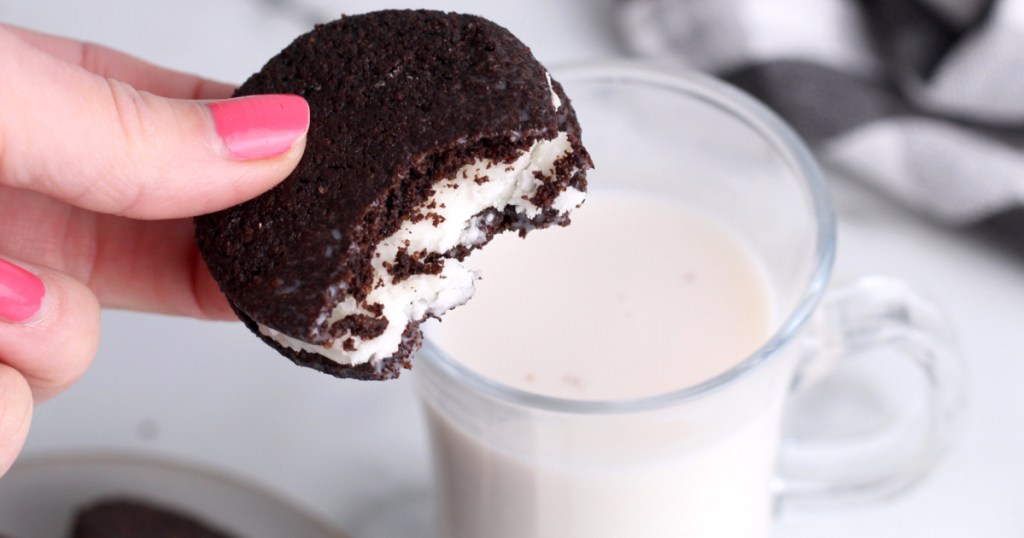 Cookie fans, get ready to celebrate with keto Oreos!
I've been missing Oreos since living the keto life… anyone else?! Well, I decided to come up with a delicious low-carb copycat and get it as close to an OREO cookie as possible. This keto cookie is oh so crunchy with a nice keto-friendly filling.
Introducing our keto Oreos copycat recipe!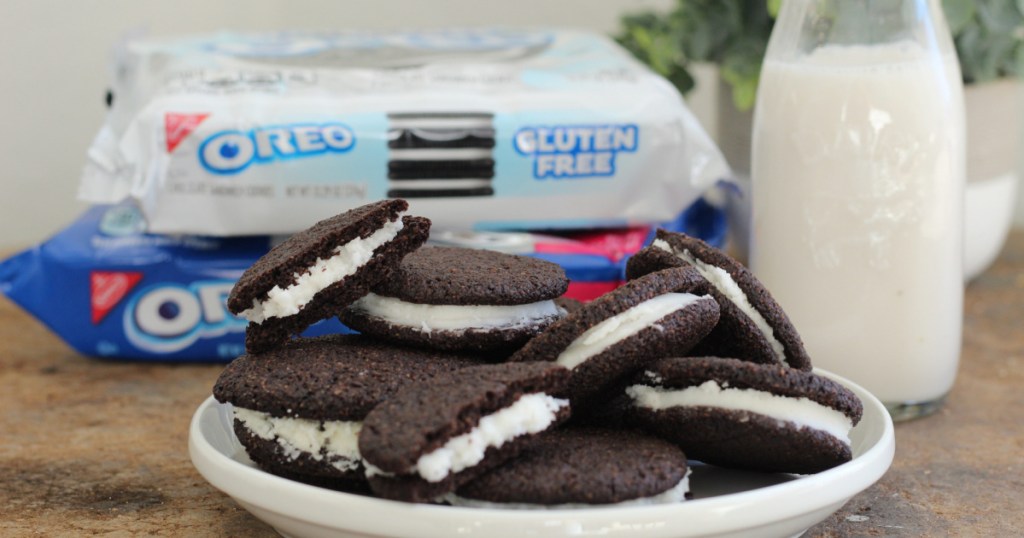 Sugar-free and oh so yummy!
Nabisco recently introduced their gluten-free Oreos, and as happy as I am that more and more companies are rolling out gluten-free options, they are still sadly packed with a TON of sugar.
These sugar-free keto Oreo copycat cookies are simple to make, and everyone in the family can sit back and enjoy. From the crispy chocolate wafer to the delicious filling, this keto cookie is simply the best. I've seen keto cookies start at $10+ a bag/ small box, so these homemade cookies are much more budget-friendly!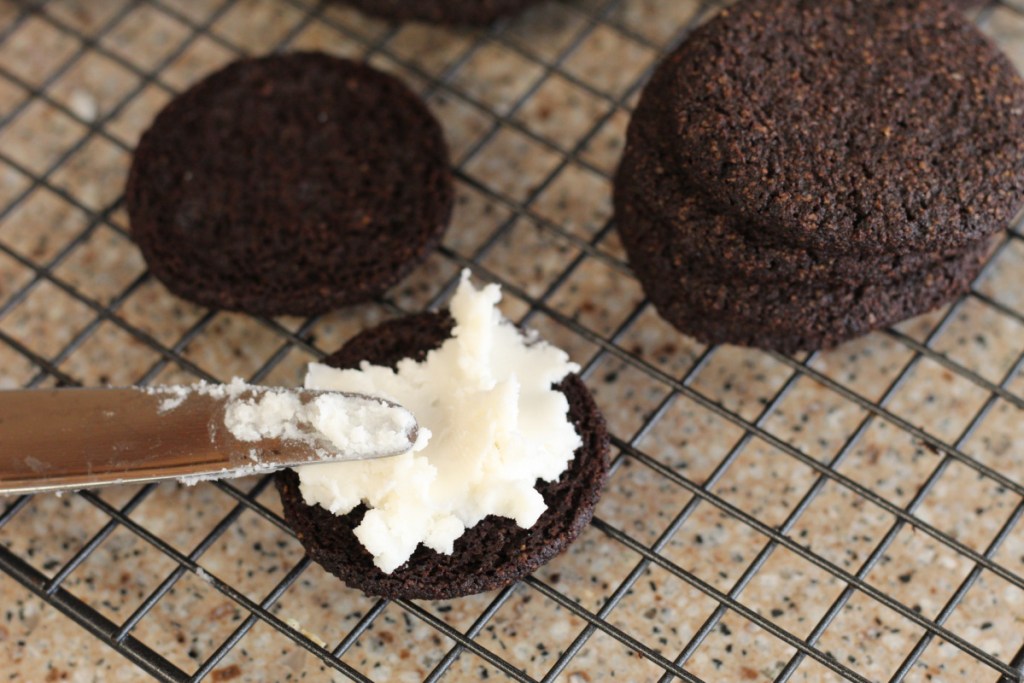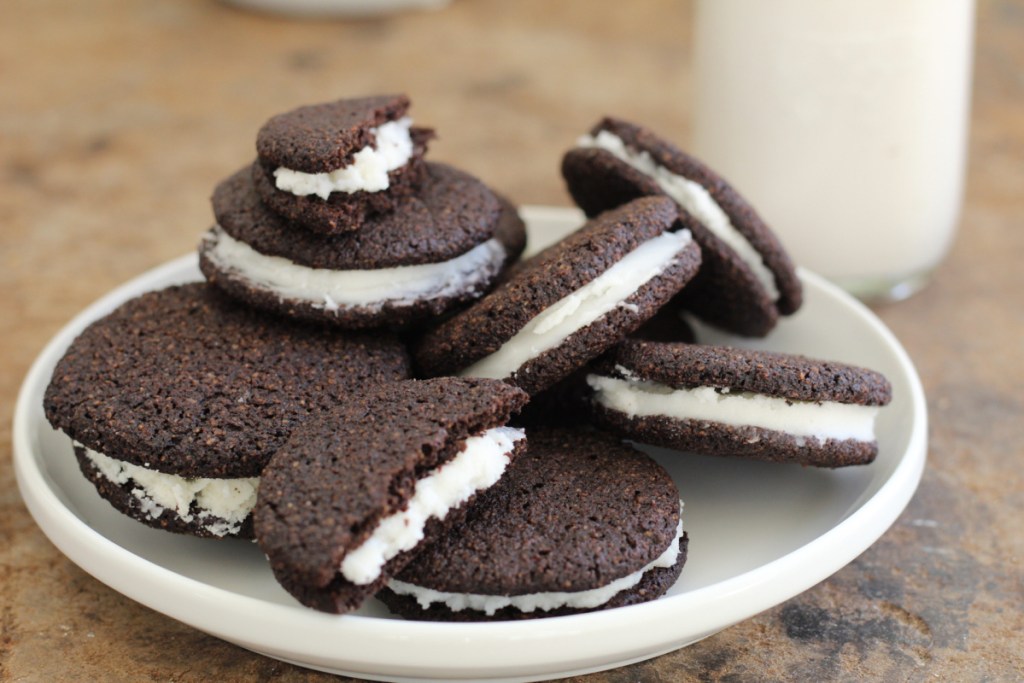 Hip tips for making the best keto Oreo cookie copycat recipe:
Be sure to let the keto cookie dough chill, which will take one hour in the fridge. It's much easier to work with when cold.
Let the cookies completely cool before assembling! This is very important so that the cookies completely firm up and avoid melting the filling.
You'll need a few tools to make this keto Oreo recipe. I used a round cookie cutter, a butter knife, and plastic wrap.
Be sure to roll out the cookie dough until it reaches 1/4″ thick. This is the perfect thickness to achieve the crunch you know and love from regular OREO cookies.
You can store these cookies at room temperature in a sealed container for about four days, or for seven days in the refrigerator. Just keep in mind that the filling will be a little harder when you grab one straight from the fridge.
Don't feel like making your own keto Oreos? Catalina Crunch actually has a similar cookie that you could try.
Traditional Oreo cookies are loaded with 21g of carbs and 26g of sugar for just two cookies. Our keto copycat version clocks in with just 1.4g net carbs per cookie! 😱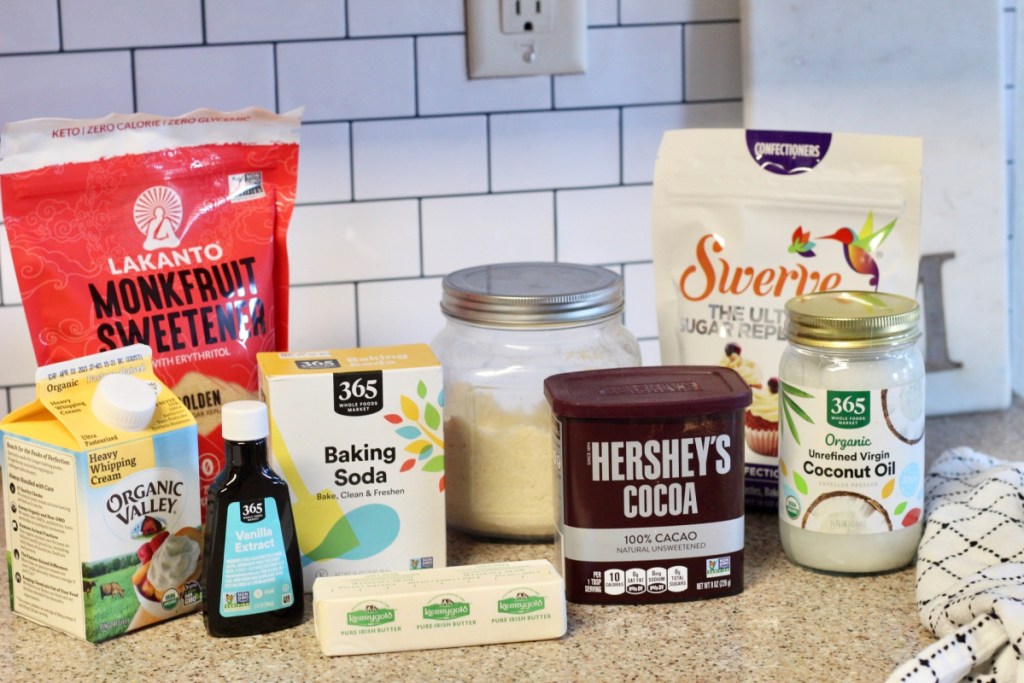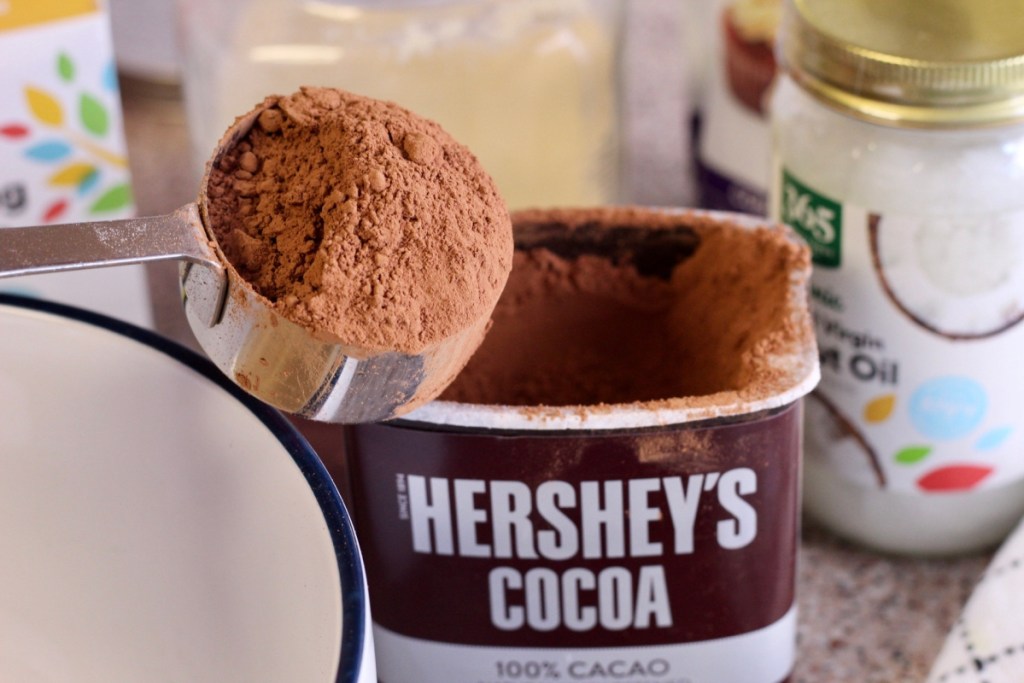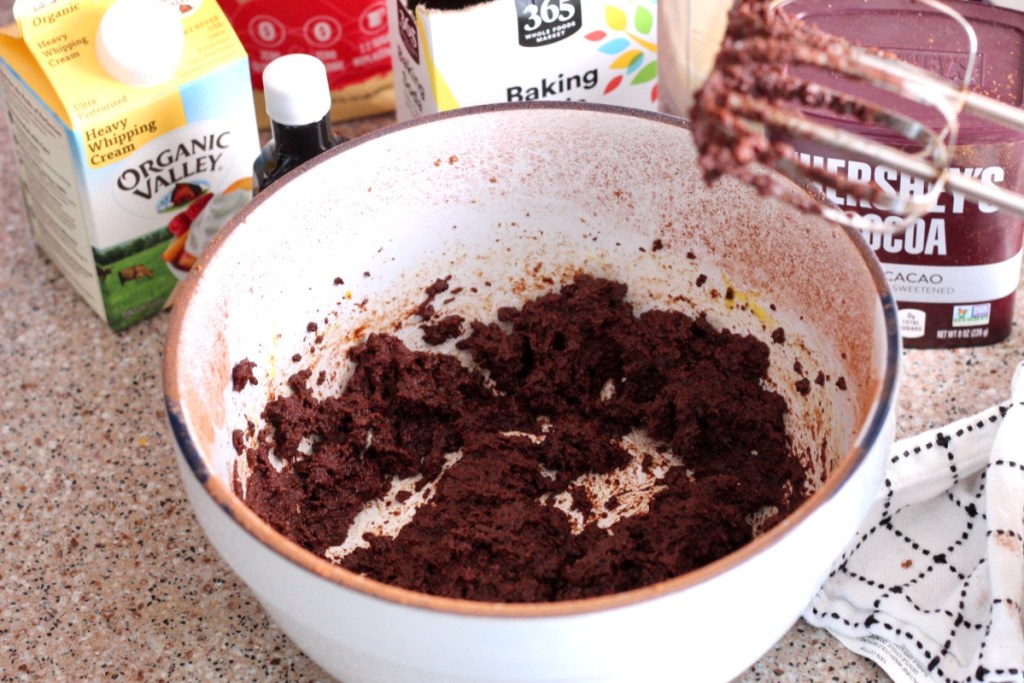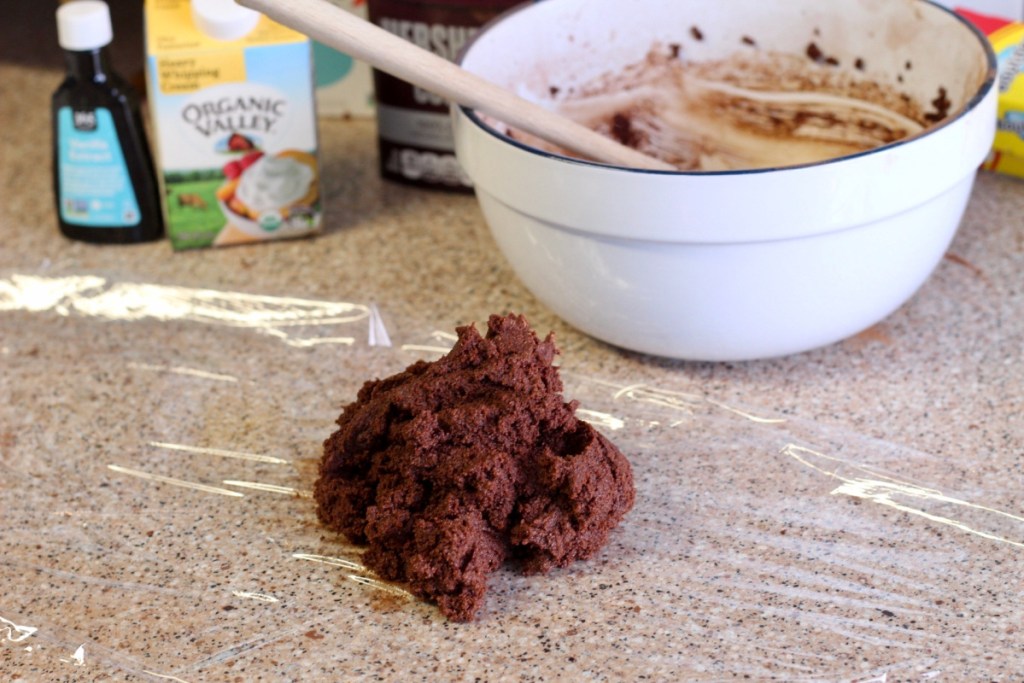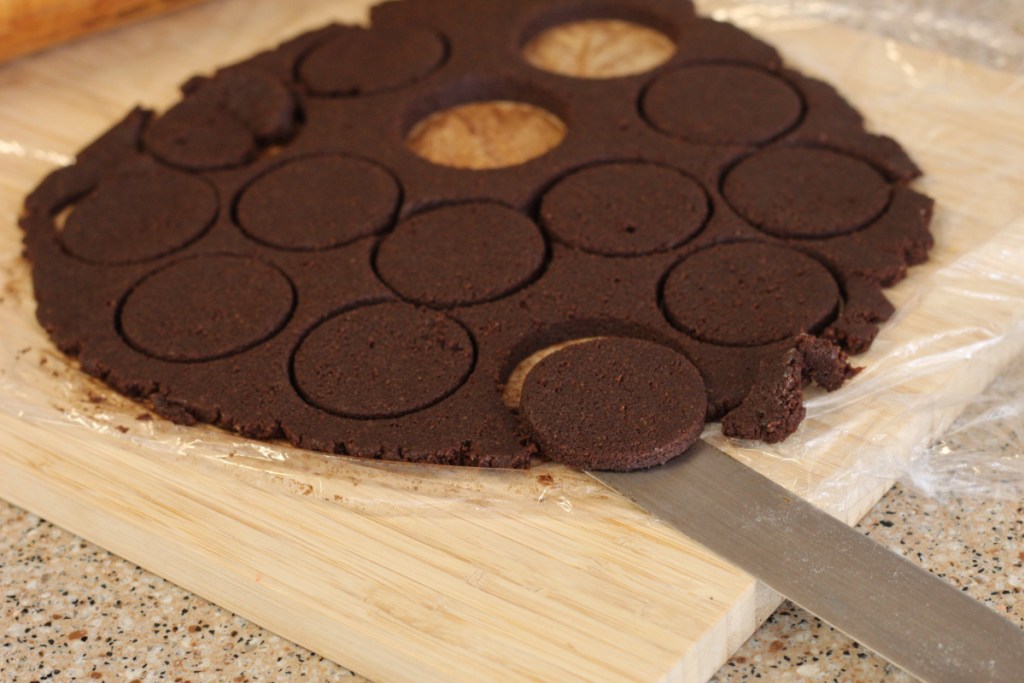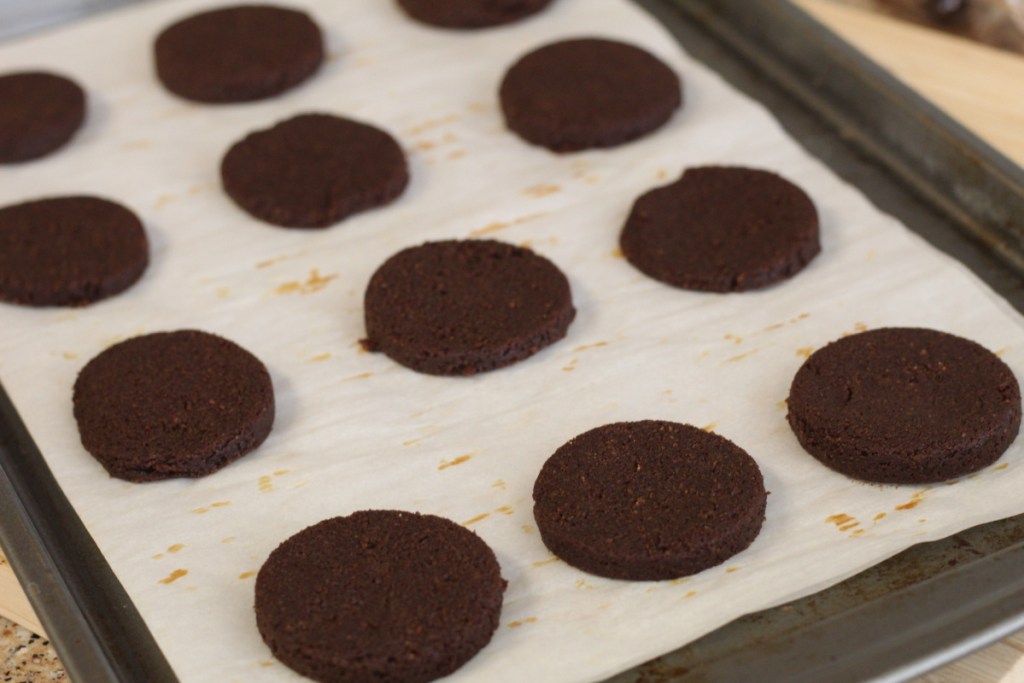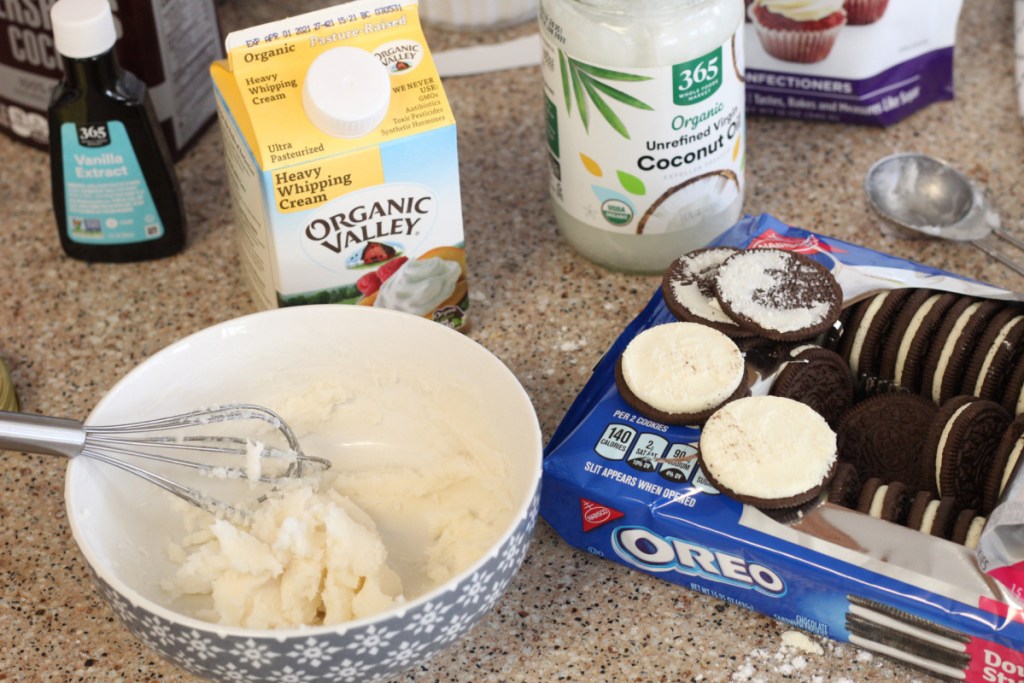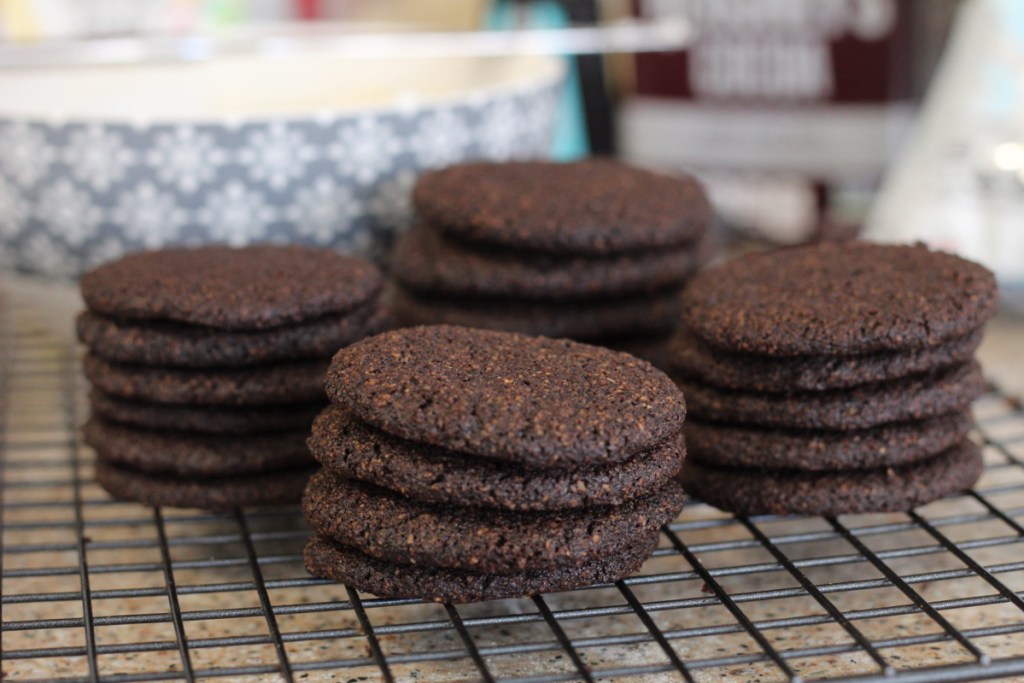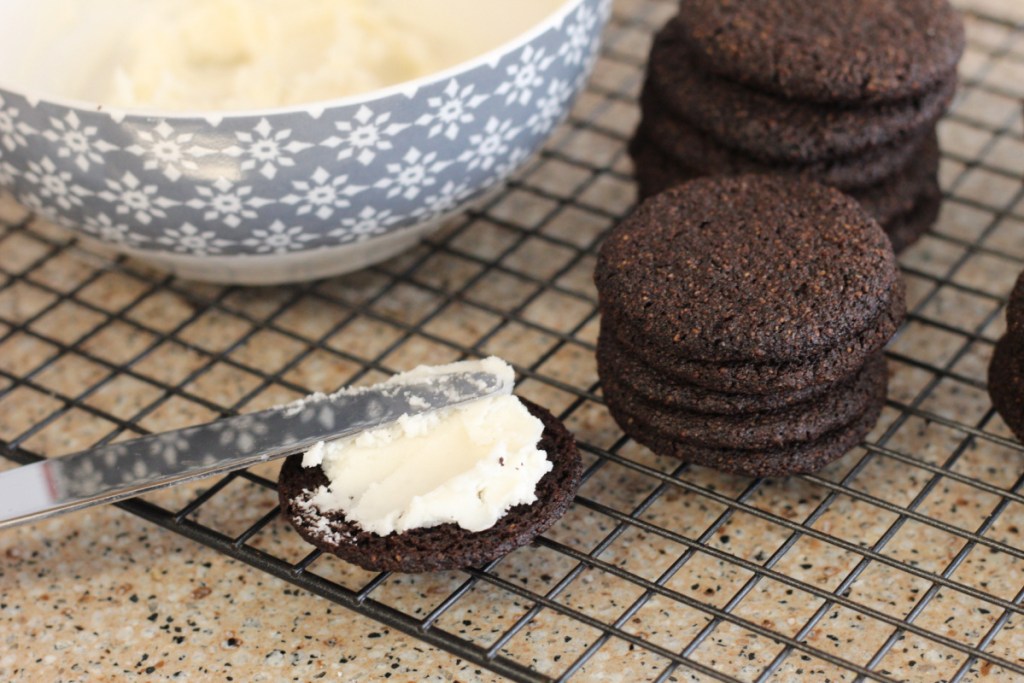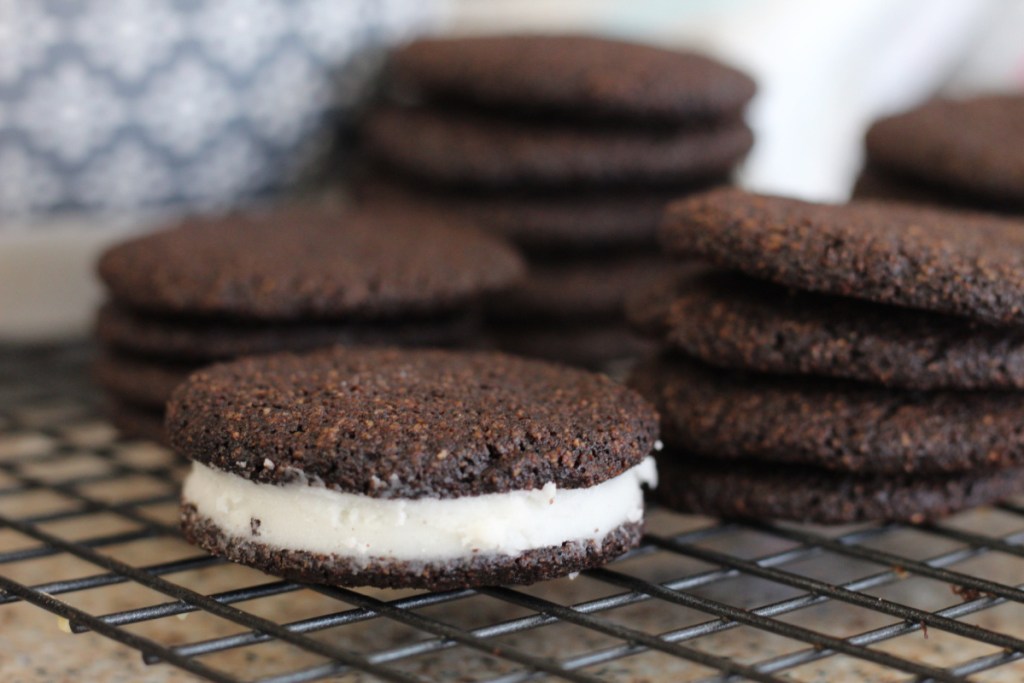 ---
Print
Keto Oreo Cookie Copycat Recipe
yield: 12 SERVINGS
prep time: 15 MINUTES
cook time: 15 MINUTES
total time: 30 MINUTES
These keto oreo cookies will make your sweet tooth sing with their crunchy cookie outside and sweet creamy inside!
Ingredients
Oreo Wafer Cookie:
5 tablespoons butter, room temperature
1 egg
1/2 teaspoon salt
1/2 teaspoon baking soda
Oreo Filling:
Directions
1
To make Oreo wafer cookie:
In a large bowl, use an electric mixer to mix the keto sweetener, unsweetened cocoa powder, and butter on low for 2-3 minutes. Add in egg and mix for an additional 1 minute.
2
In a separate bowl, whisk together almond flour, salt, and baking soda.
3
Add dry ingredients to wet ingredients and mix on low for 1 minute or until all ingredients are combined.
4
Place cookie dough on plastic wrap and wrap dough completely. Chill in the refrigerator for 1 hour.
5
Preheat oven to 350 degrees. Line a baking sheet with parchment paper and set aside.
6
Remove cookie dough from the refrigerator, and roll out dough with a rolling pin until it reaches 1/4" thick. Make sure to roll them out this thin. If the dough is sticking to the counter, sprinkle keto confectioner sugar to avoid sticking. Do not use flour!
7
Cut cookies out with a round cookie cutter. Slide a butter knife or thin spatula underneath the cookie to pick up and place on a lined baking sheet.
8
Bake cookies in preheated oven for 15 minutes. Remove from oven and cool completely (they will harden as they cool). It's important to make sure they are completely cool before frosting.
9
To make Oreo filling:
In a mixing bowl, use an electric mixer to mix together coconut oil, Swerve confectioners, and vanilla. Slowly add in a teaspoon of heavy cream at a time.
10
Assembling the Oreo:
Grab a cooled cookie and spread filling in the center. I find it helpful to use a butter knife to spread it out. Place another cookie on top and gently press to seal the cookie sandwich together. Repeat until all cookie sandwiches have been made.
Nutrition Information
Yield: 12 Oreos, Serving Size: 1 Oreo
Amount Per Serving: 150.4 Calories | 14.9g Fat | 23.3g Total Carbs | 1.9g Fiber | 0.5g Sugar | 20.0g Sugar Alcohol | 2.7g Protein | 1.4g Net Carbs
---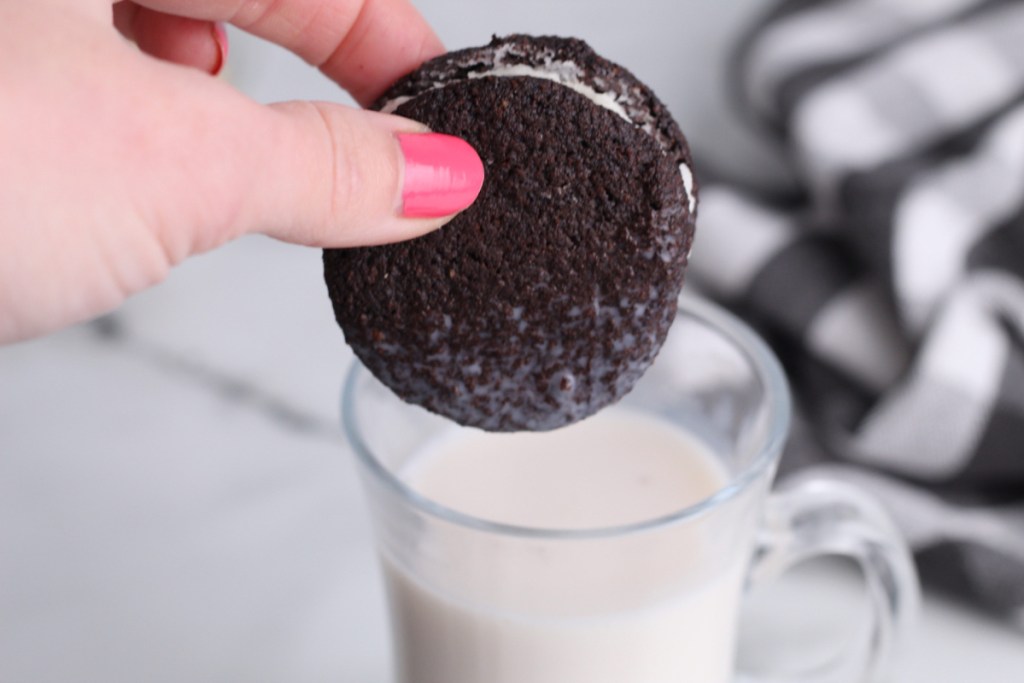 Go ahead and dunk 'em!
Don't be afraid to dunk these delicious keto Oreo cookies into your favorite unsweetened almond milk, or use our recipe to make your own! I mean, that's one of my favorite things to do when eating Oreos, just like I did when I was a kid.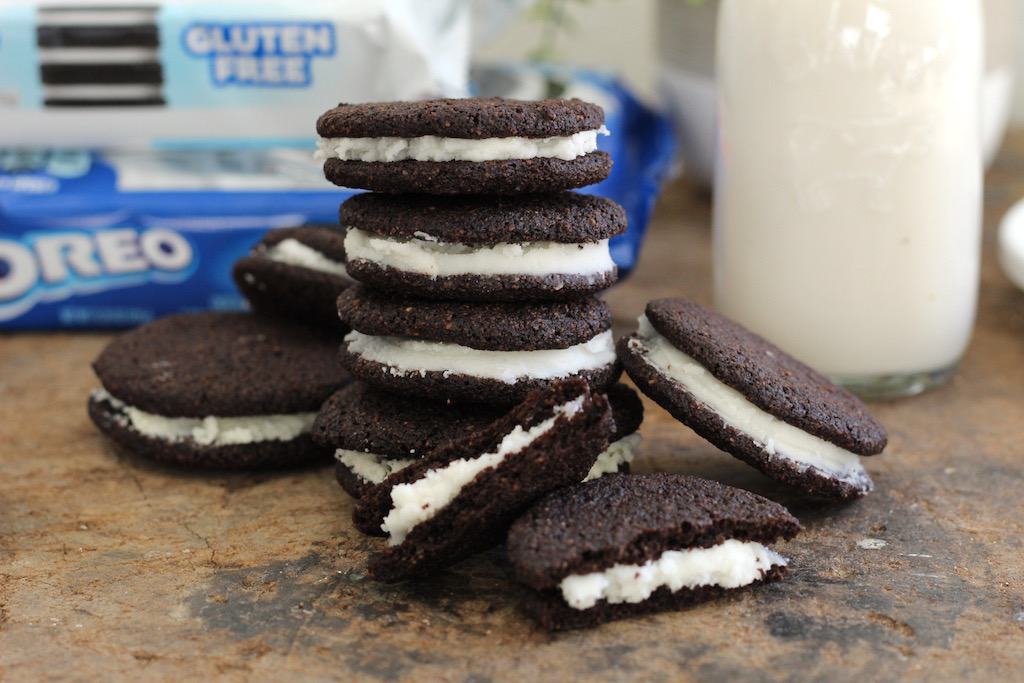 These cookies even make that perfect snap sound when you break them apart. Make a batch and let me know what ya think! 😋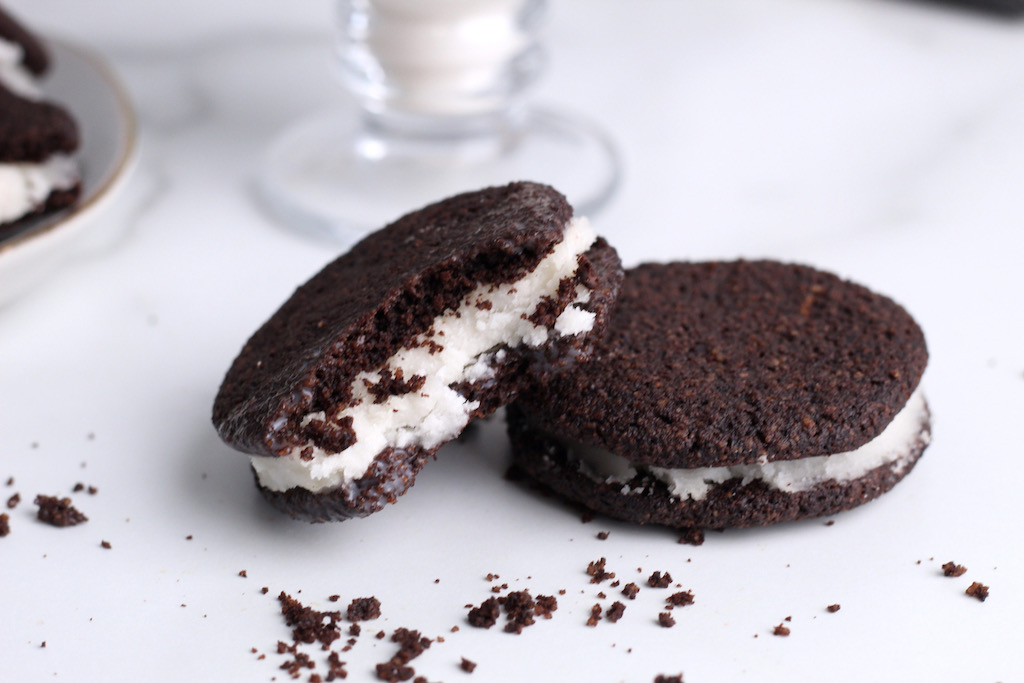 My team member Lisanne gave this recipe a test for me, and here's what she had to say:
"As an Oreo enthusiast, I was really skeptical on how a keto version would compare. I was pleasantly surprised at just how much they really do taste like Oreos! I loved how easy the recipe was to make and will for sure be making more soon!"
---