Cheese Sandwich Wraps – You'll Love This Easy Keto Recipe Hack!
Bored with your current keto lunches? These DIY keto cheese sandwich wraps are for you!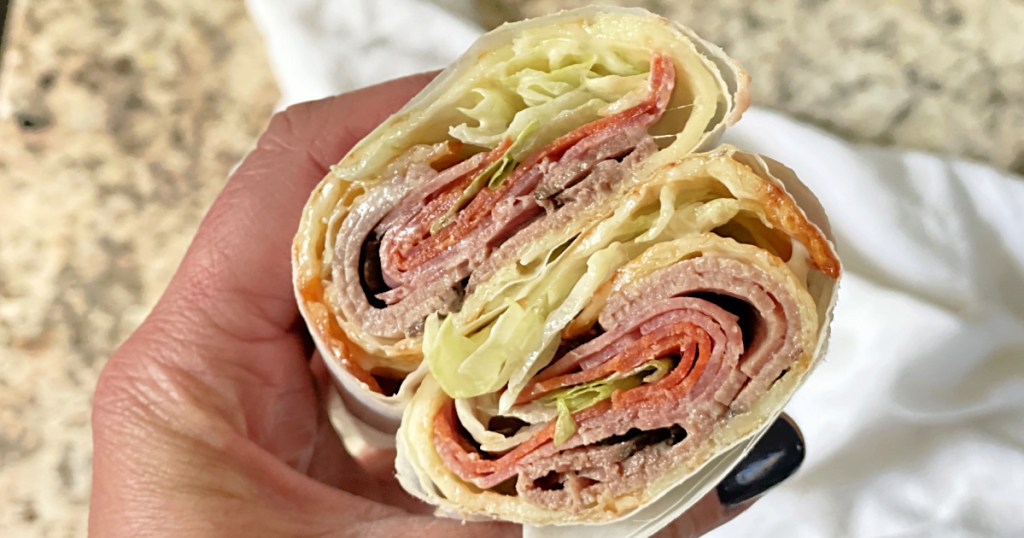 Not too long ago, this simple keto hack from @low.carb.love was all over social media. I don't know why I didn't think of it before! The keto cheese sandwich wrap that I saw on Instagram was for a mozzarella turkey wrap, and it looked amazing, so I knew I needed to try it for myself.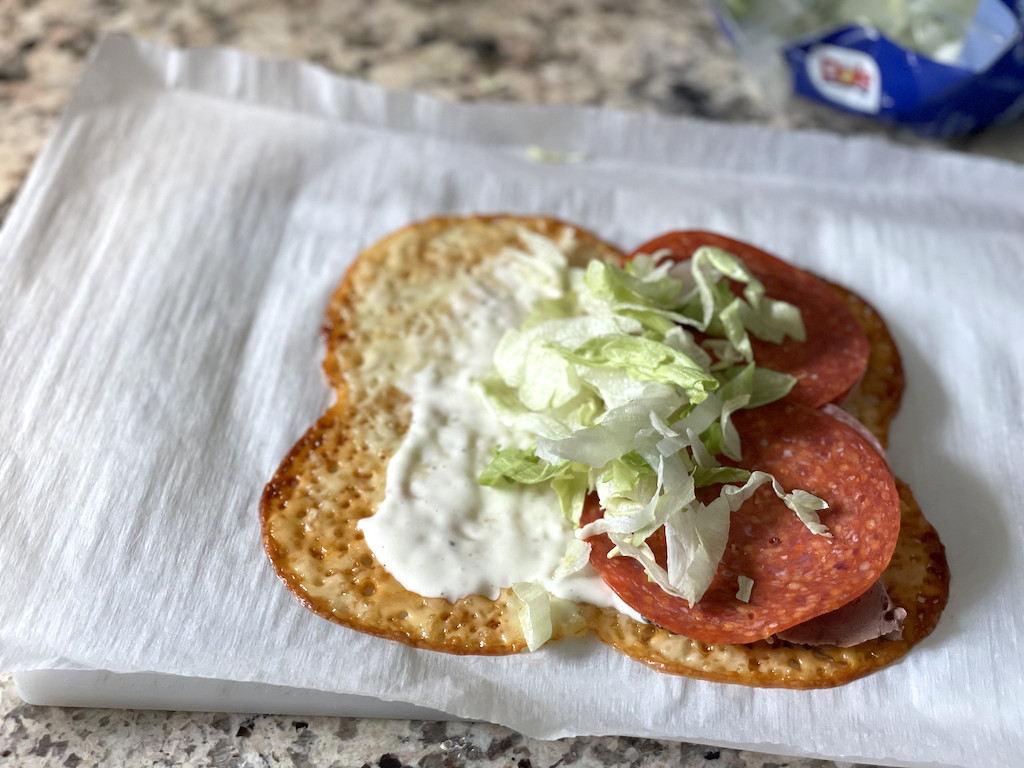 To mix things up a bit, I used provolone cheese and filled my wrap with roast beef, salami, pepperoni, shredded lettuce, and ranch dressing. So, so good! 😋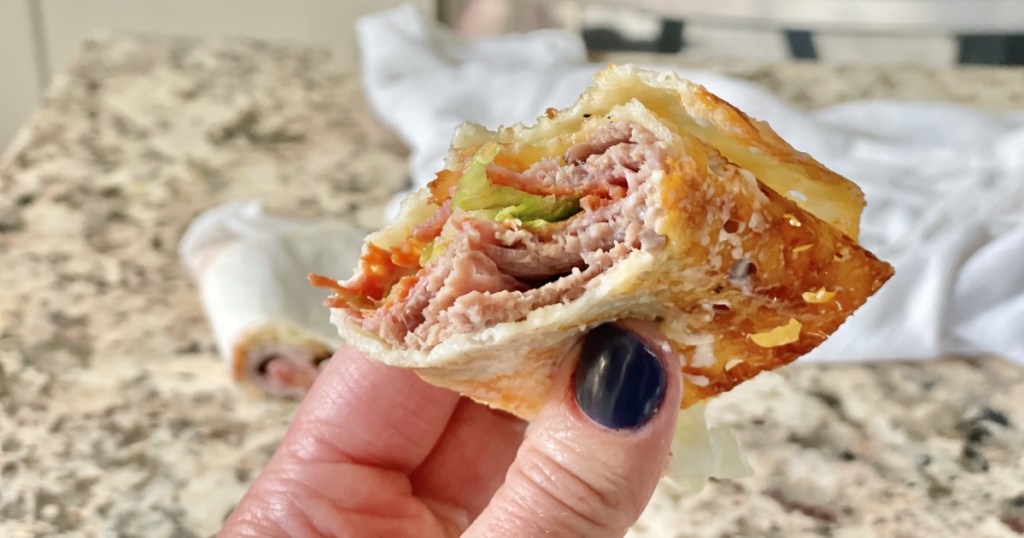 So how do you make the cheese wrap?
The process is very simple. All you do is arrange four slices of cheese in a square (slightly overlapping them) on a baking sheet lined with parchment paper. You then bake the cheese until the pieces melt together to form a wrap.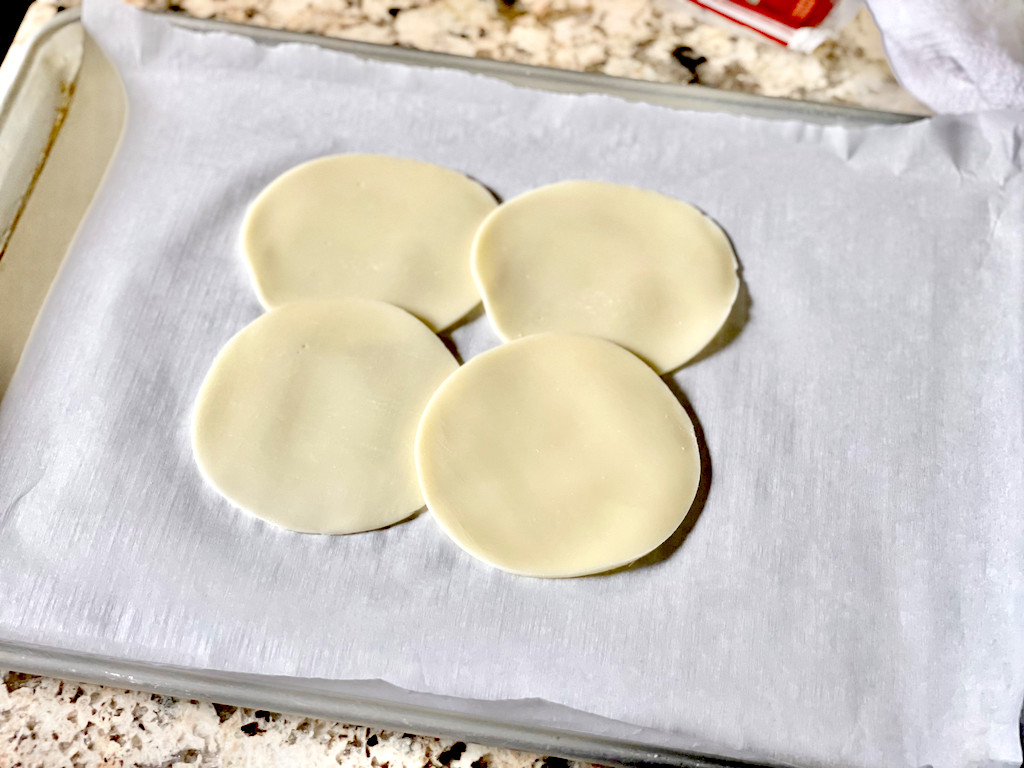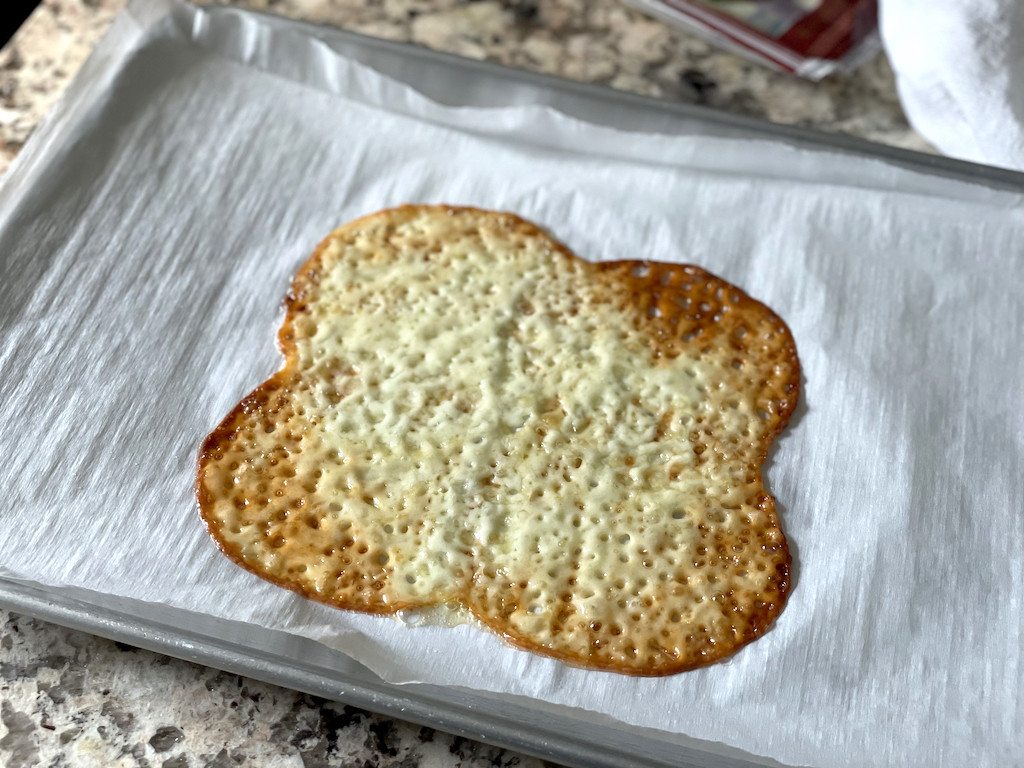 After you make your wrap, you can fill it with really any of your favorite sandwich fixings. Roast beef is my favorite lunch meat so that's what I used. And of course, pepperoni and salami took it to another level!
I literally ate this for lunch three days in a row!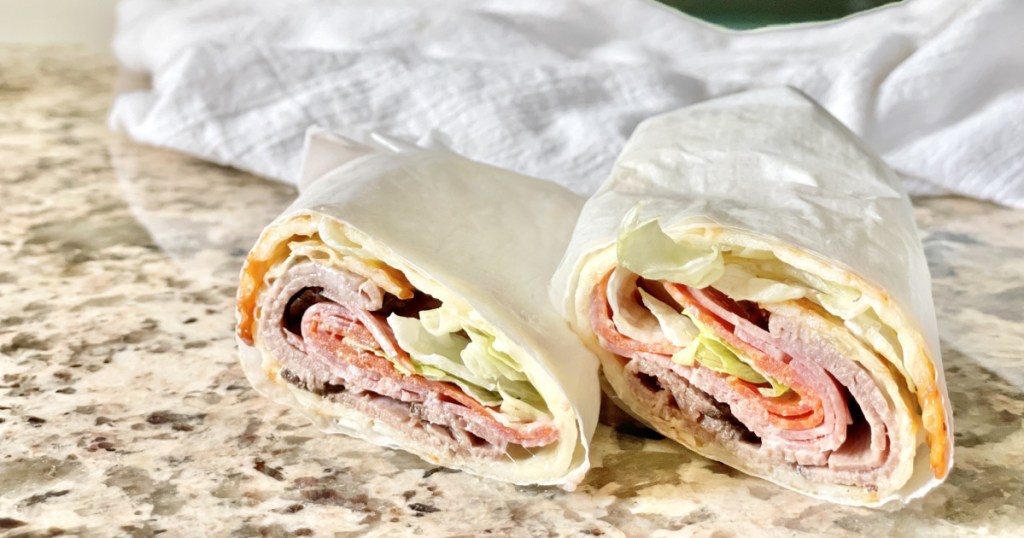 Tips for making the best keto cheese sandwich wraps:
Arrange the cheese slices so that they just barely overlap. This will allow them to melt together to form a perfect square wrap.
Let the wrap cool slightly before adding all your fixings. But don't let it cool too much as it will start to harden, which means it will likely crack when you roll it.
Use the parchment paper that you baked the cheese on to hold the wrap. I found that the dressing came through any and every hole in the cheese. Just be sure to wrap the parchment paper around the cheese wrap and tear it away as you eat. I think next time, I'll layer the roast beef first and then the condiments to use the meat as a barrier!
Feel free to mix it up! You can use any kind of cheese slices for the wrap and any of your favorite sandwich fillings.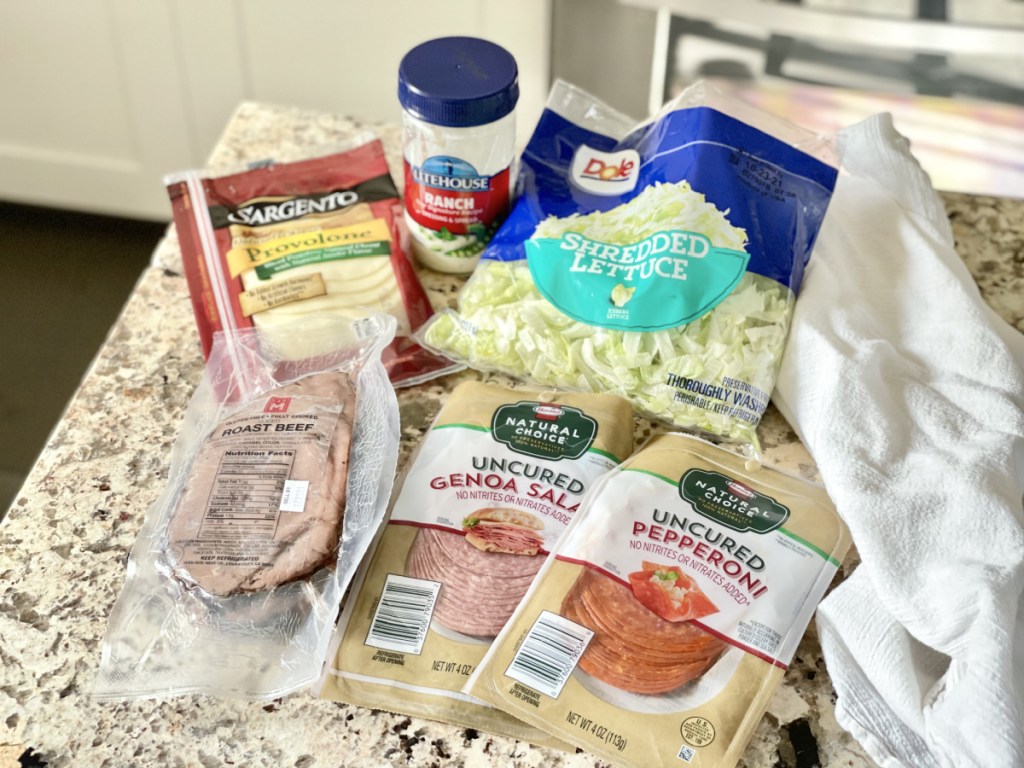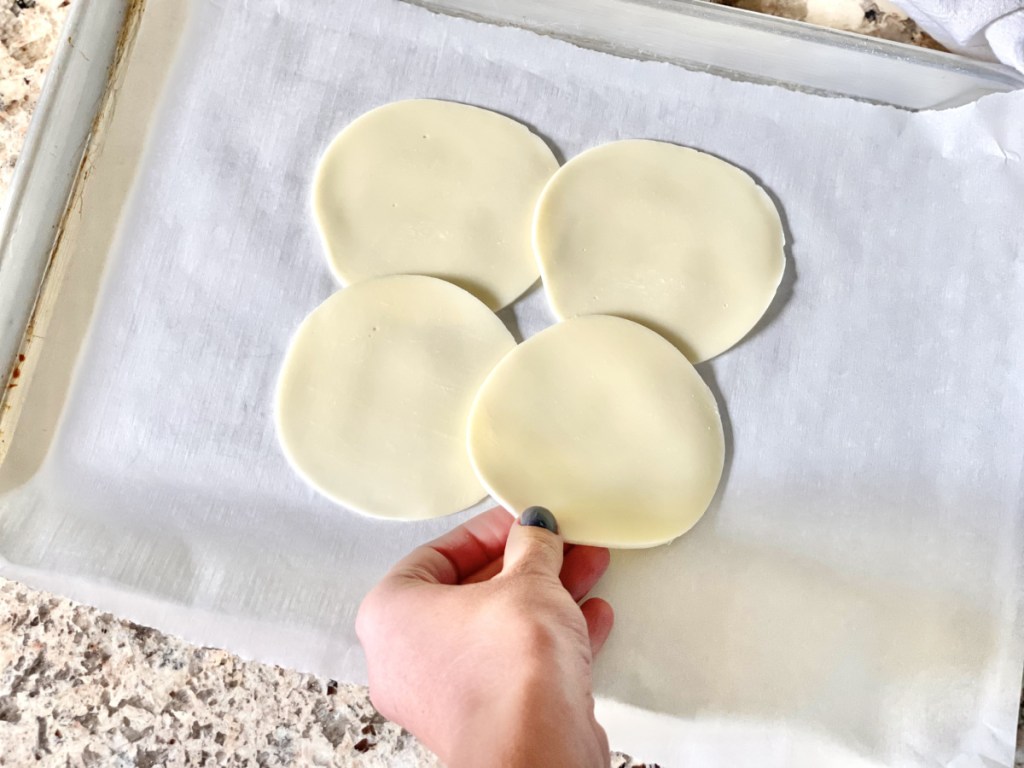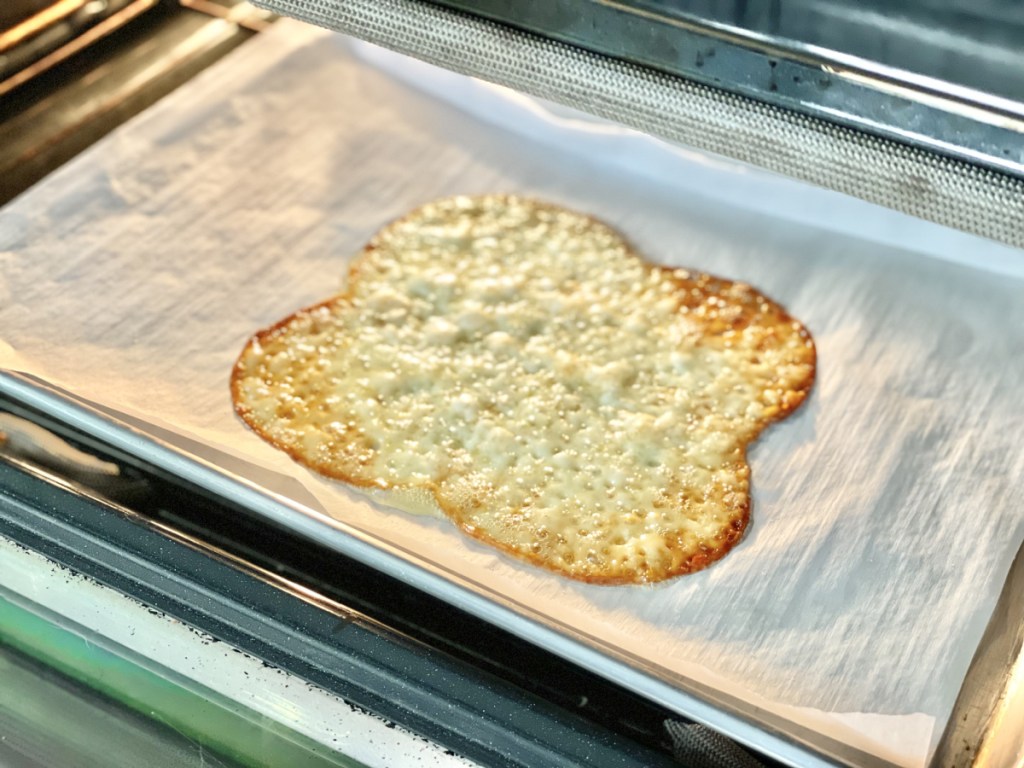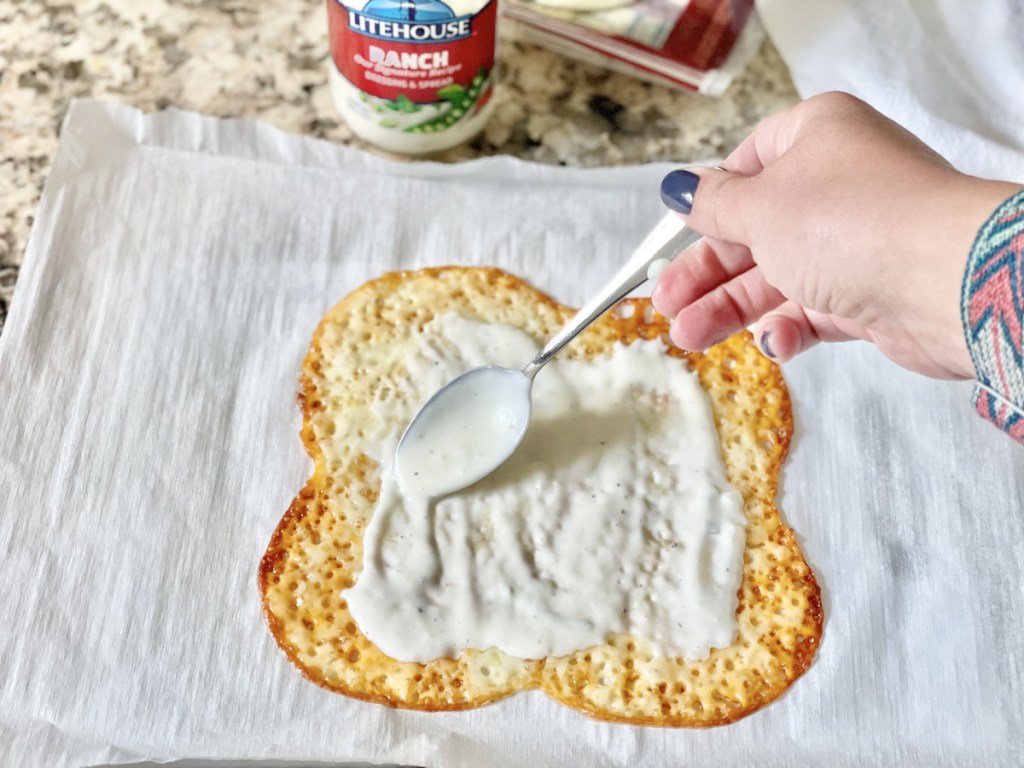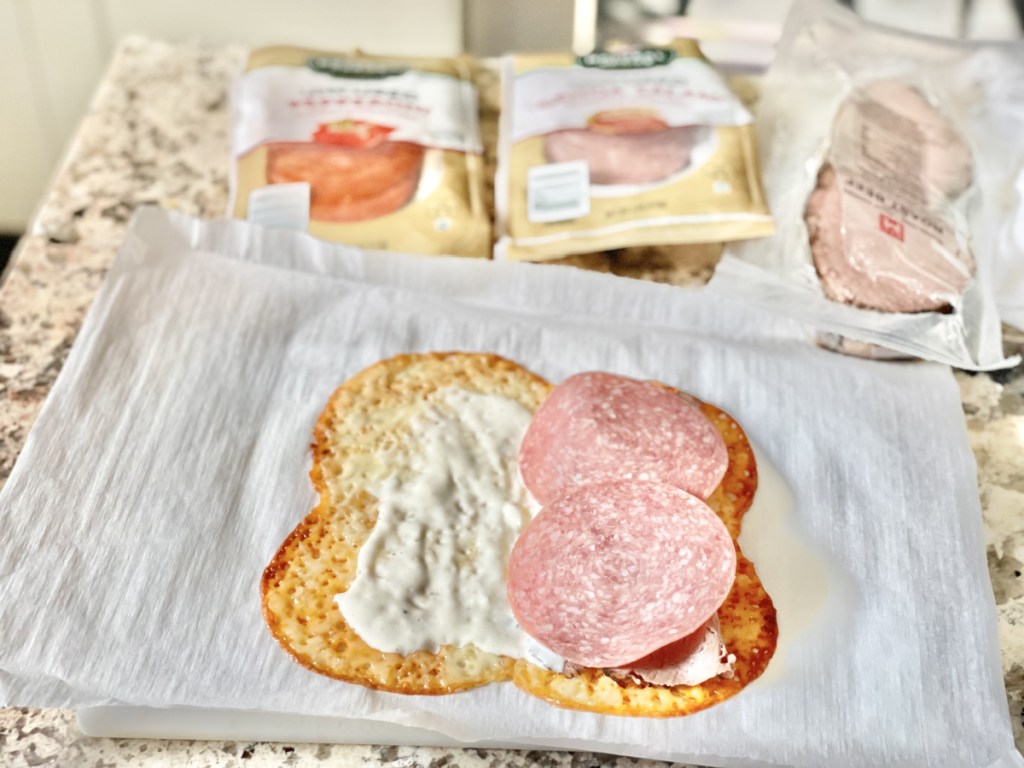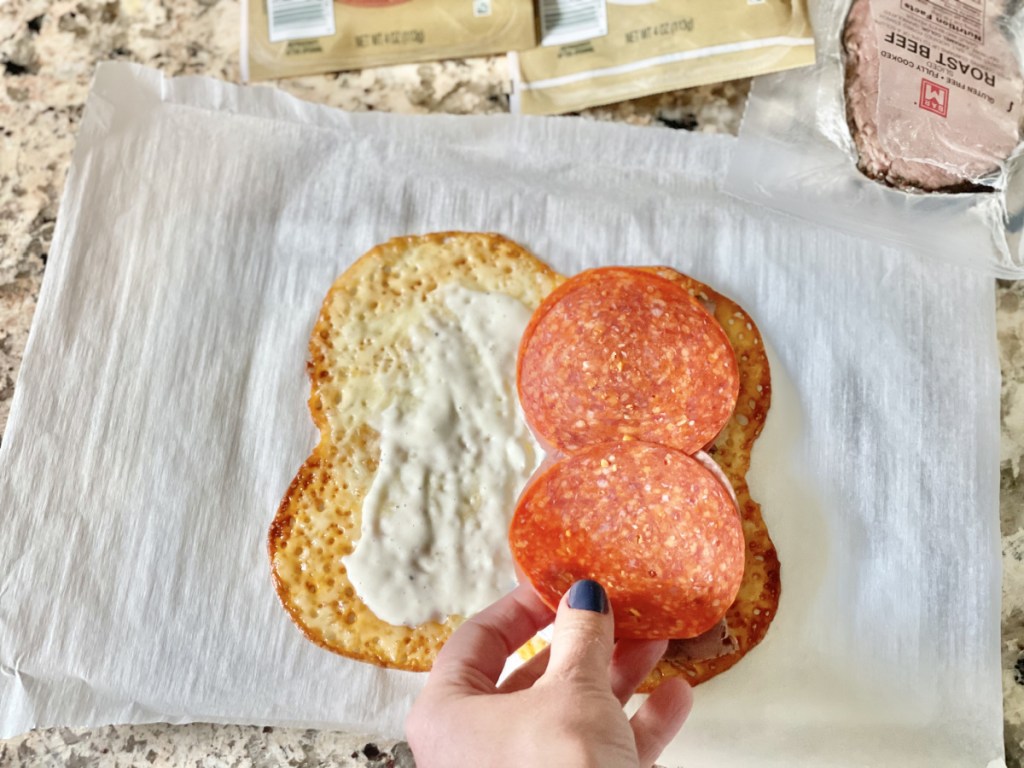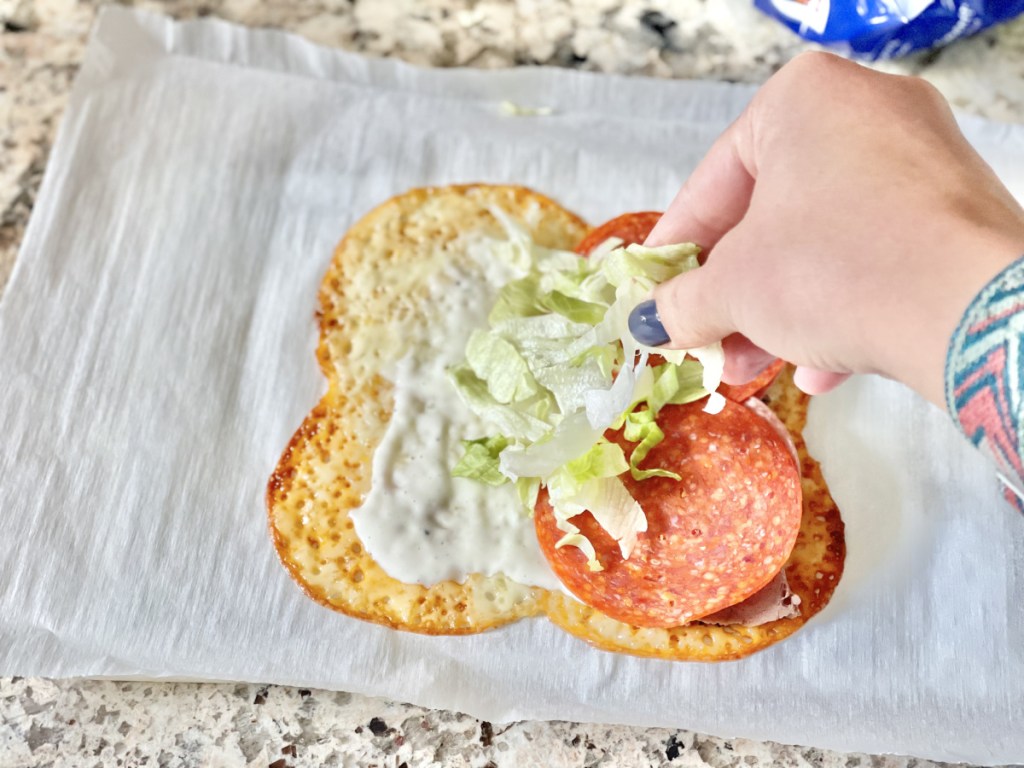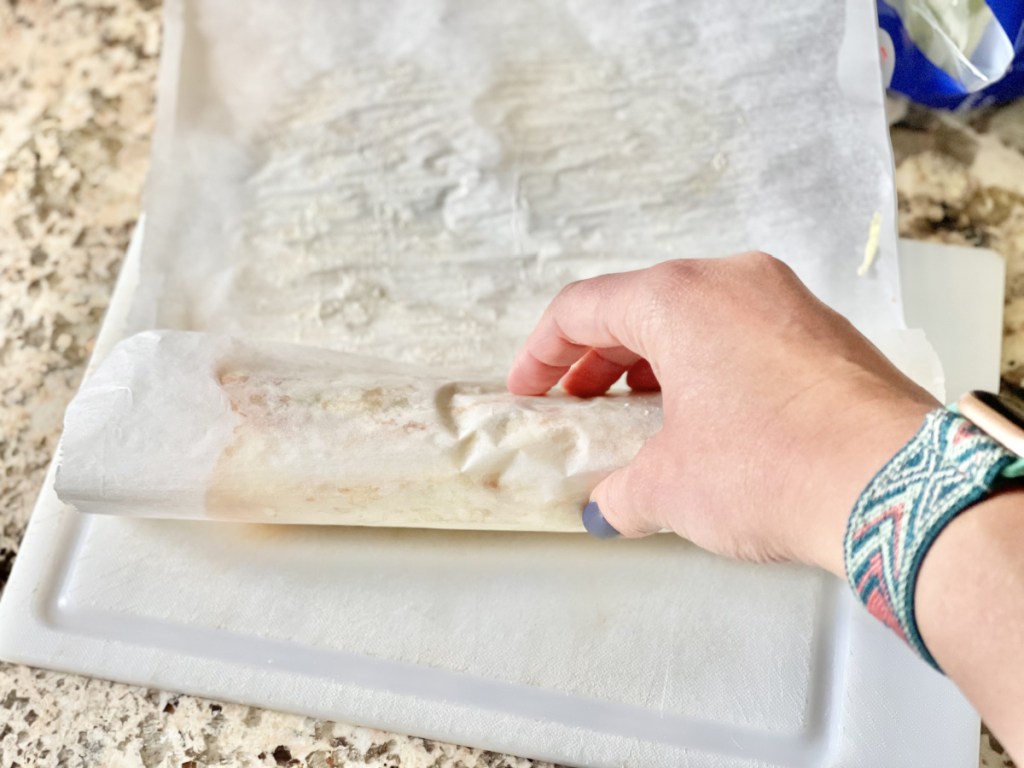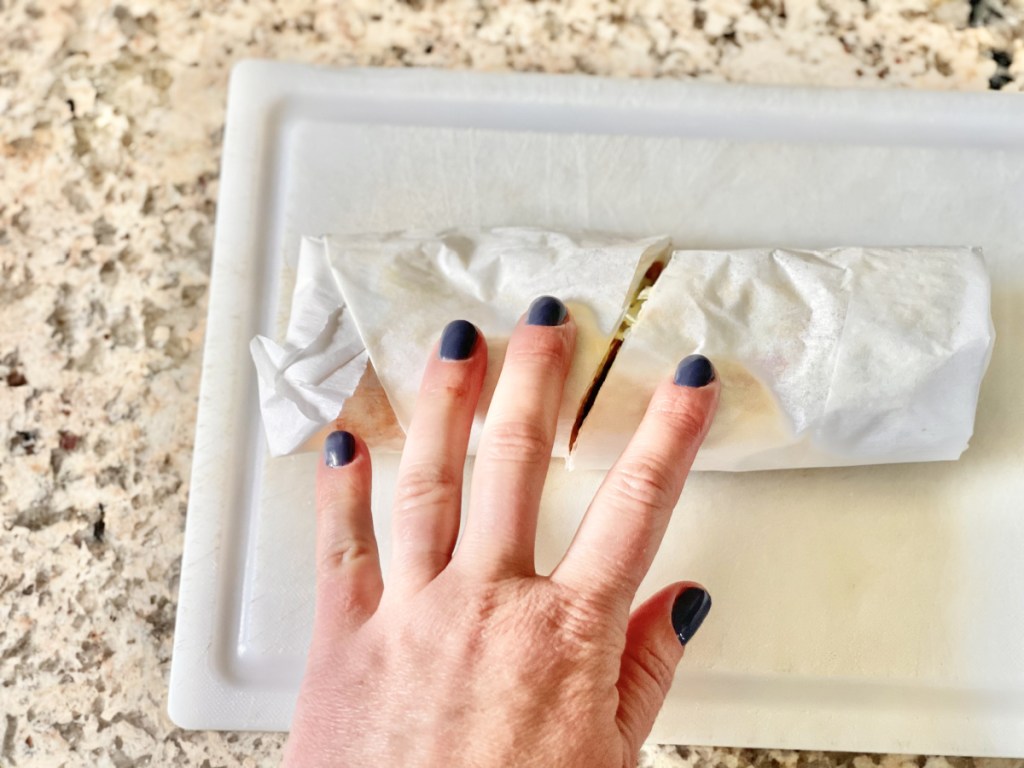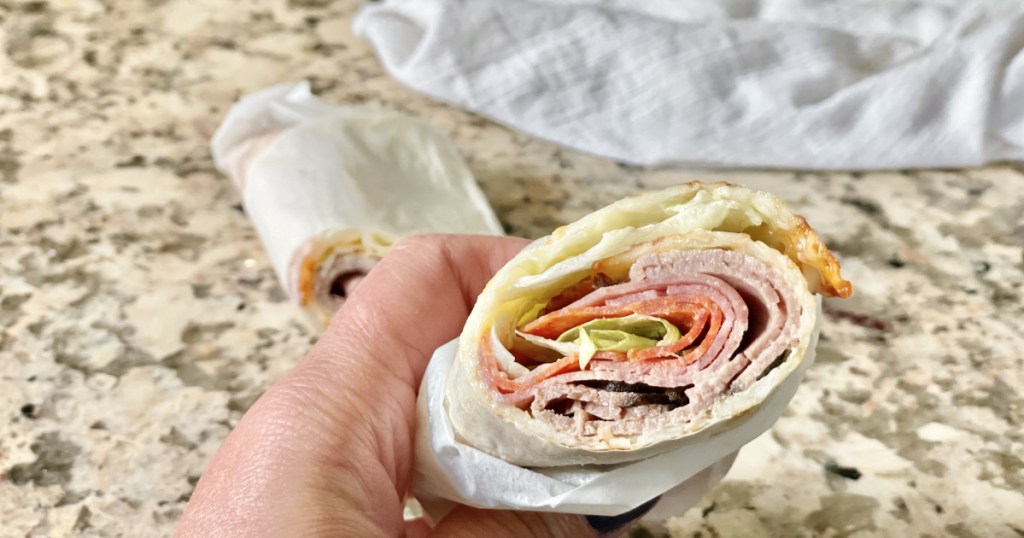 ---
Print
Keto Cheese Sandwich Wrap
yield: 1 SERVINGS
prep time: 5 MINUTES
cook time: 10 MINUTES
total time: 15 MINUTES
Make an easy DIY keto-friendly cheese wrap by melting four slices of cheese together and filling with your favorite sandwich meats!
Ingredients
4 slices of provolone cheese
1 tablespoon ranch dressing
2 slices roast beef
2 large salami slices
2 large pepperoni slices
1/4 cup shredded lettuce
Directions
1
Preheat oven to 350 degrees. Line a baking sheet with parchment paper.
2
Arrange the four slices of cheese in a square on the parchment paper, having them just barely overlap. Bake for 10 to 12 minutes, until the cheese slices have melted together and the edges just start to brown.
3
Remove the cheese wrap from the oven and let it cool for a few minutes before adding toppings.
4
Spread the ranch dressing on the cheese wrap, followed by the roast beef, salami, pepperoni, and shredded lettuce. If your cheese wrap has tiny holes in it from the melting process, start by putting the meat down before the dressing to make it less messy.
5
Roll the cheese wrap around the fillings and then roll the parchment paper around the wrap to hold it. Cut in half and enjoy!
Nutrition Information
Yield: 1, Serving Size: 1 wrap
Amount Per Serving: 504 Calories | 39g Fat | 1.7g Total Carbs | 0.2g Fiber | 1g Sugar | 31.4g Protein | 1.5g Net Carbs
---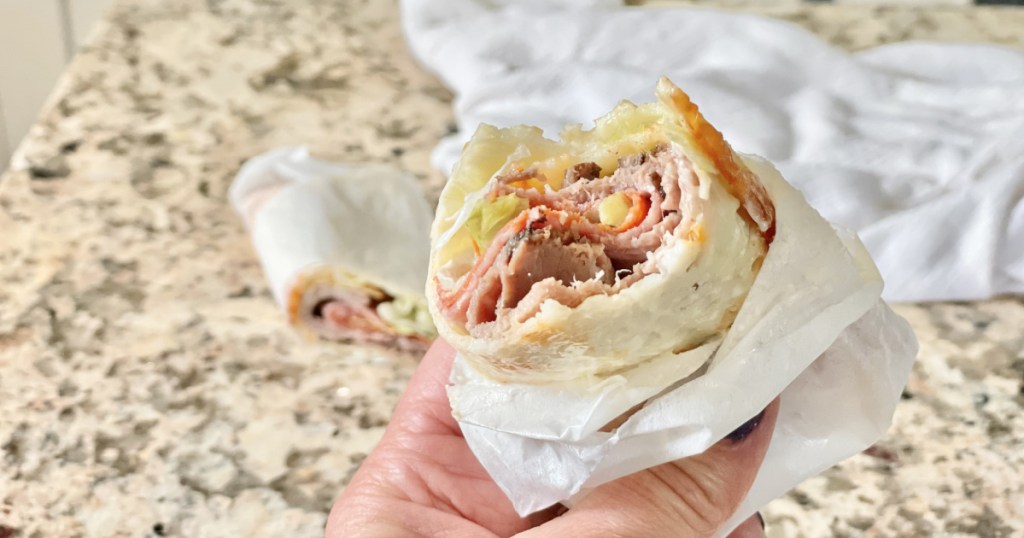 So easy to make!
Get creative with these keto cheese sandwich wraps! Other ideas for fillings are turkey and avocado, BLT, ham and swiss, Italian, club… the possibilities are endless! And making your own cheese wrap is much cheaper than buying the premade ones.
Your whole family will love this quick keto lunch. 🙌
My Hip sidekick Jenna made this keto cheese sandwich wrap and here's what she had to say:
"Oh, WOW! The possibilities! Just thinking of all the sandwich fixings we can add to this is so exciting. I love the idea of switching up lunch and this is the perfect new addition. My son said, 'I don't even like sandwiches, and this is so good!'"
---
Want another easy meal or snack? Check out our Easy Keto Pizza Roll-Ups!