Serve Roasted Keto Butternut Squash with Bacon and Jicama This Holiday Season
Make caramelized keto butternut squash on a sheet pan for a delicious low-effort keto side dish recipe.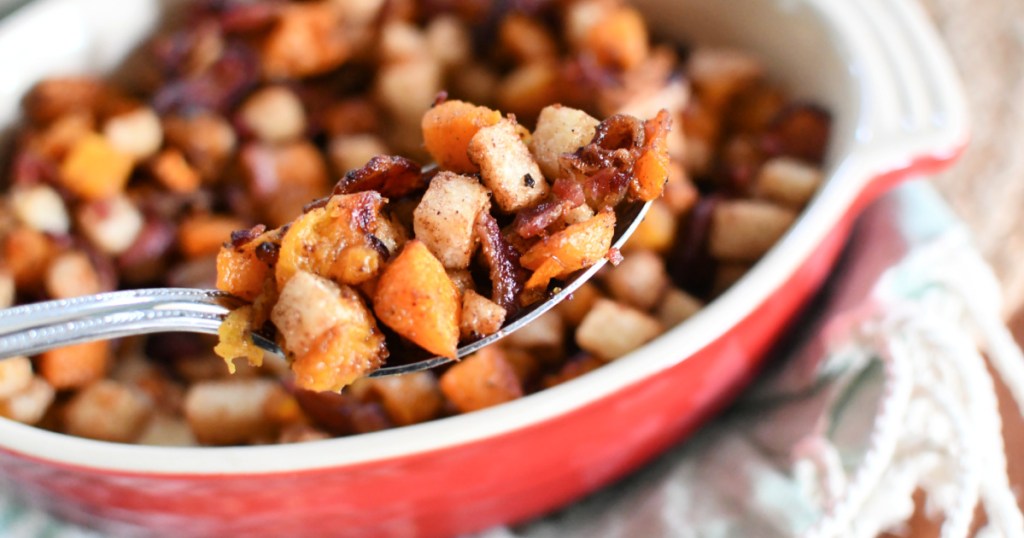 If you're looking for a cozy side dish this holiday season, here it is!
Tired of the same side dishes at the table? We have you covered! This super easy, roasted butternut squash is the perfect keto-friendly side dish recipe you'll want at your table this fall and winter.
Crispy and caramelized on the outside and having a buttery richness on the inside, this savory and sweet squash hits all the right notes! The sweetened cinnamon nutmeg flavor is perfection and goes so well with the salty bacon.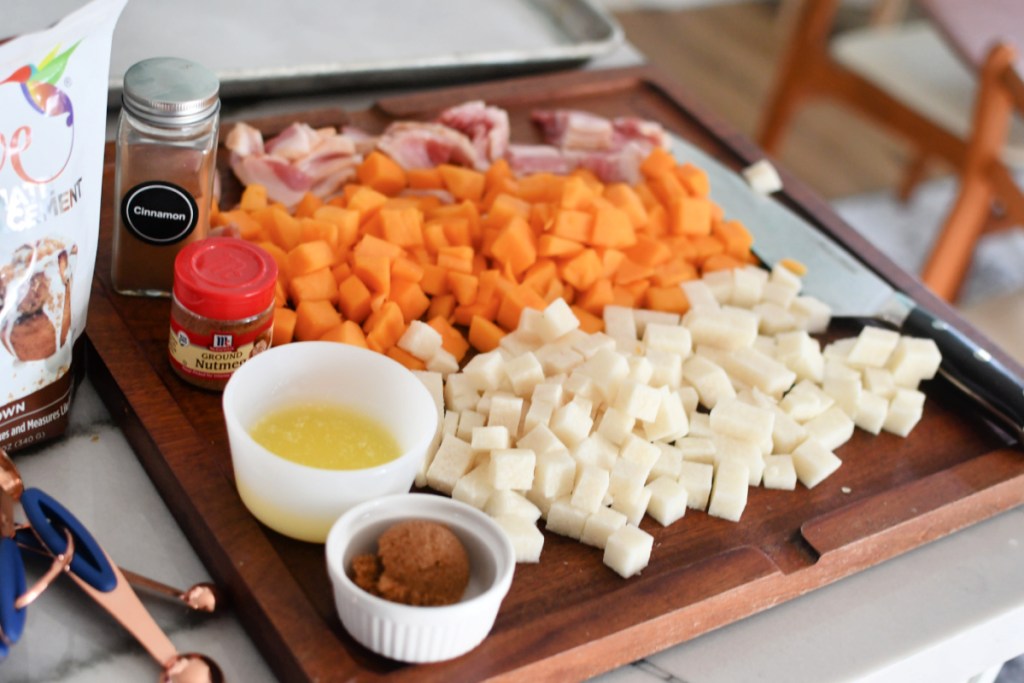 Is butternut squash keto?
Yes, you can enjoy butternut squash sparingly while eating keto. It's one of the starchier keto-approved veggies so just be careful about portions. The star of the show in this dish is the sweet squash, but I've also added some chopped jicama to cut down the carb count.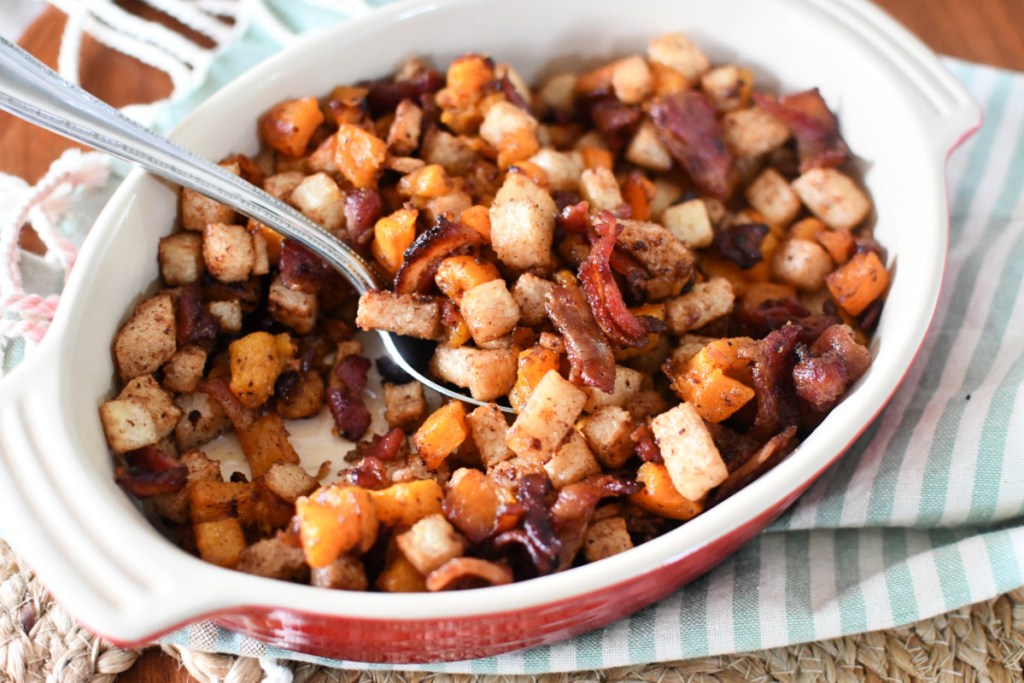 Once softened, roasted jicama looks and tastes similar to roasted potatoes so they're a natural fit when added with bacon and squash.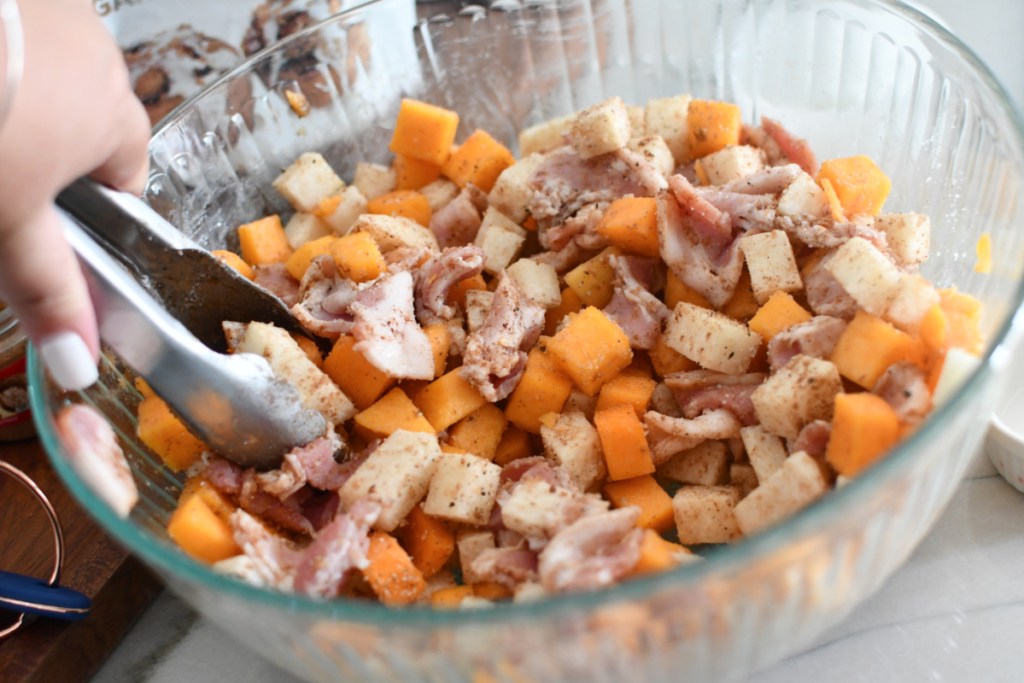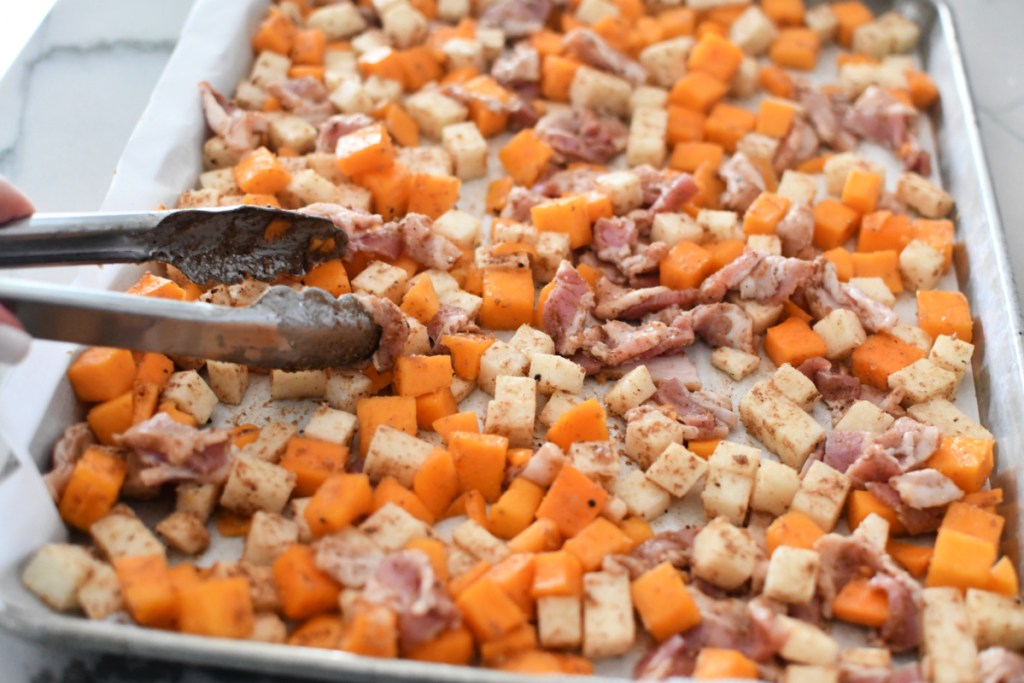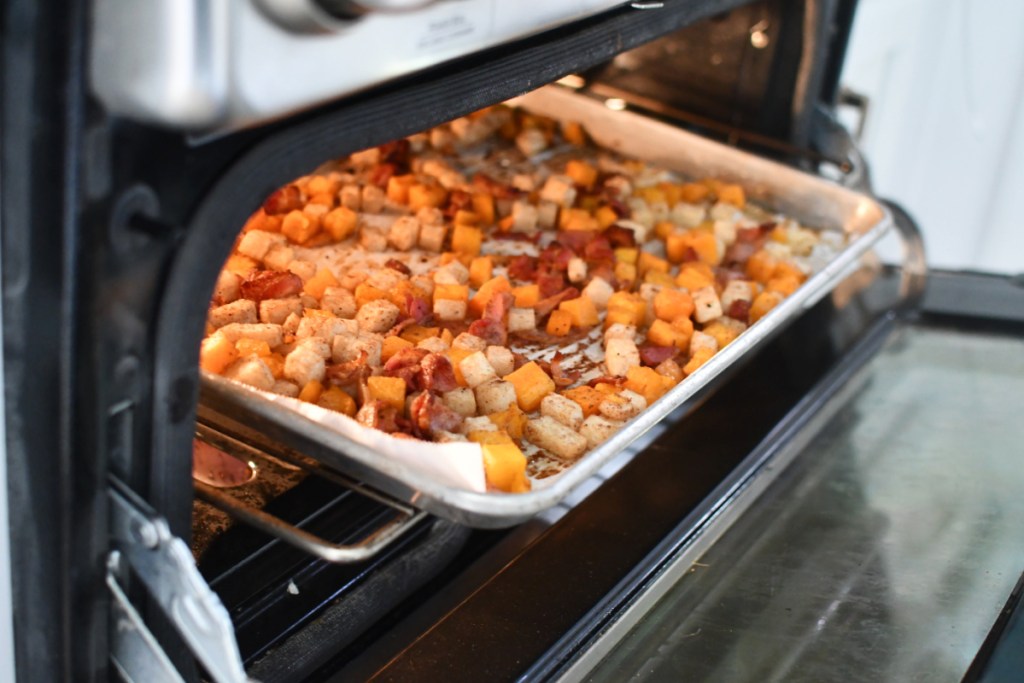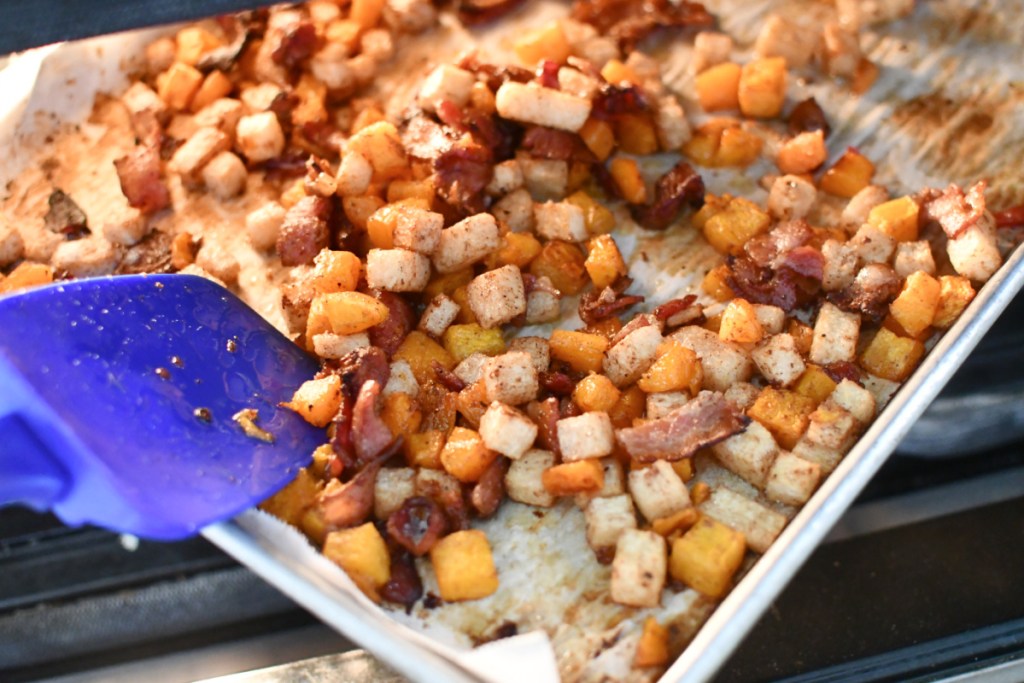 ---
Print
Roasted Keto Butternut Squash & Jicama
yield: 5 SERVINGS
prep time: 15 MINUTES
cook time: 40 MINUTES
total time: 55 MINUTES
Sweet and savory caramelized butternut squash side dish with bacon and jicama.
Ingredients
1 pound pre-cut butternut squash (or 1/2 of a large butternut squash)
1 pound jicama, chopped
6 slices of thick cut bacon, cut into 1 inch pieces
2 tablespoons melted butter
1/2 teaspoon salt
Directions
1
Preheat the oven to 425 degrees.  Line a baking sheet with parchment paper to save time on clean up.
2
In a large saucepan, bring water to boil and place chopped jicama in the boiling water for about 15 minutes. Drain the water. This step is key to ensuring everything cooks evenly!
3
On a large sheet pan toss the jicama, butternut squash, and bacon with the melted butter. Add in the cinnamon, nutmeg, and salt. Toss well to evenly coat.
4
Spread the veggies in one layer making sure none are overlapping on the sheet pan.
5
Roast in the oven for about 40-45 minutes until the veggies are tender and the bacon is crispy. Turning halfway through cook time. Enjoy while warm!
Nutrition Information
Yield: 8, Serving Size: 1/2 cup cooked
Amount Per Serving: 91 Calories | 4g Fat | 11.5g Total Carbs | 4.2g Fiber | 2g Sugar | 1.4g Sugar Alcohol | 2.8g Protein | 4.8g Net Carbs
---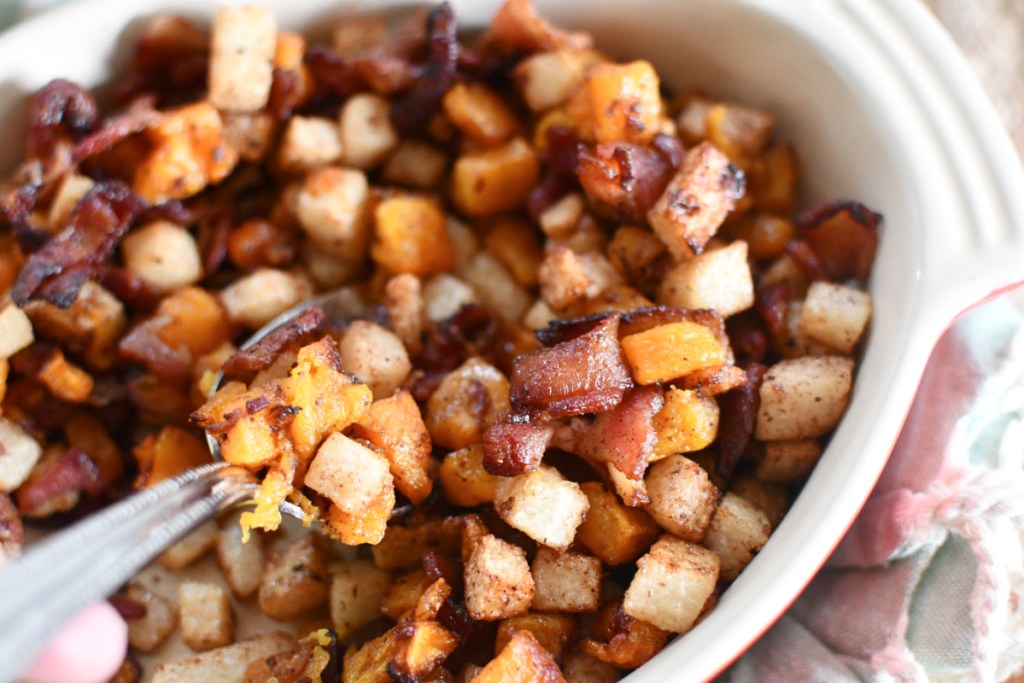 Tips for making the best keto butternut squash:
In a rush? It is a little more expensive but to save you TONS of time cutting up squash, check your local grocery store for pre-cut squash and jicama.
Boiling the jicama is an extra step up front, but it will ensure that it gets softened and roasted along with the butternut squash and bacon at the same time. It takes longer to soften in the oven without this step.
Serve this side dish for the holidays or even pair it with some delicious pork chops! Everyone loves a savory-sweet combo.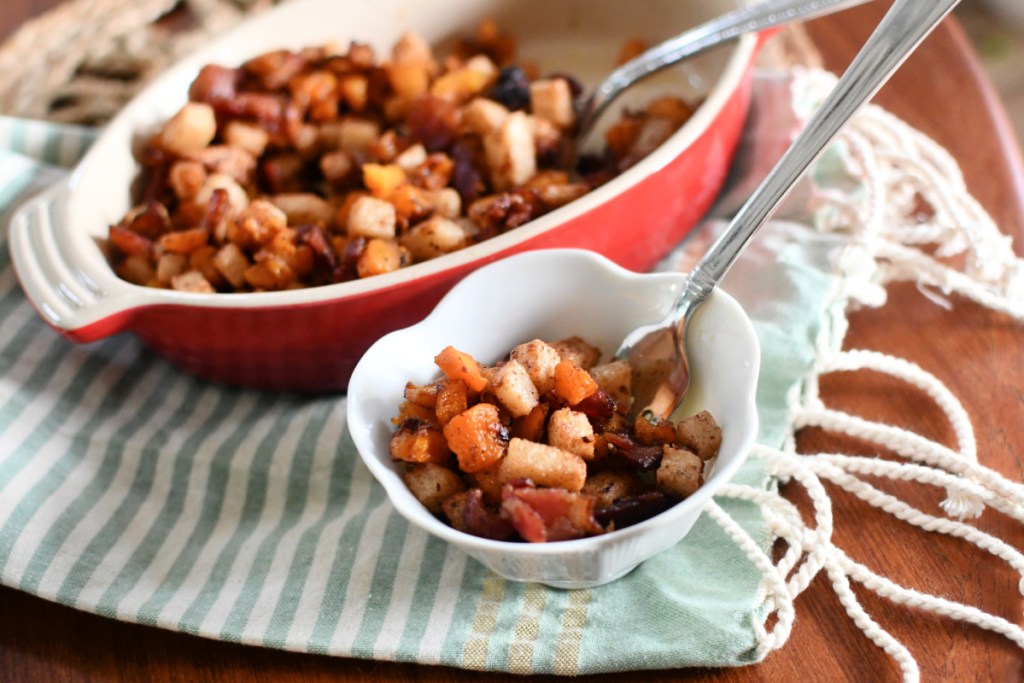 Wow, this is a must-make keto side dish!
Take advantage of butternut squash season and makes this. The bacon adds so much additional flavor and caramelizes so well. Plus the process of baking everything together on a sheet pan is convenient and easy!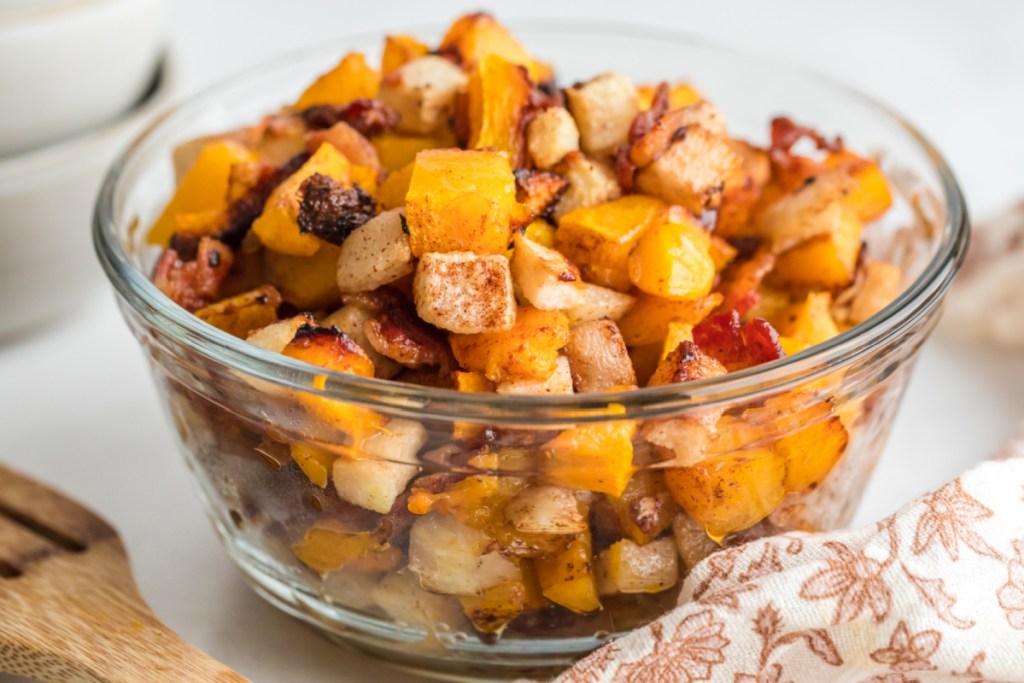 Here's what my teammate Jenna said after making this recipe:
"It's the season for all things butternut squash and this dish does not disappoint! Wow, the addition of the jicama and bacon makes this dish even more perfect for fall. My whole family loves this! We made some ribeye steaks but this side stole the show. There is nothing better than a sheet pan dish, so easy to throw together!"
---
Huge butternut squash fan? Try our keto Slow Cooker Butternut Squash Soup next!