Easy Keto Orange Julius Copycat Recipe
Sweet and citrusy, our healthy and totally keto-friendly Orange Julius recipe is just what you've been craving.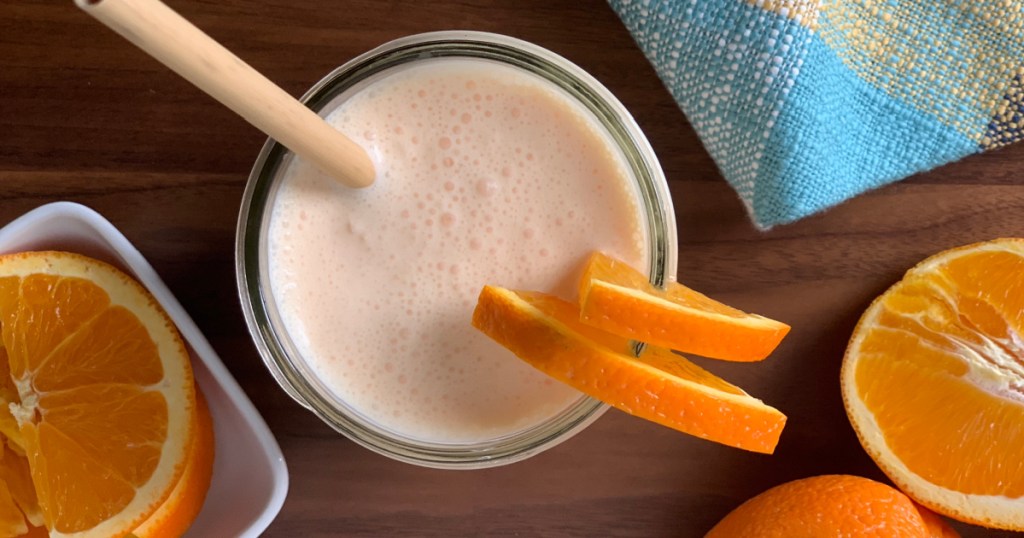 Do you miss the bold, citrusy flavor of a freshly squeezed orange while you're living the keto life? Although eating low-carb is meat and cheese heaven, it can often leave you craving something fresh and fruity, and that's where our sweet keto Orange Julius recipe comes in!
No need to sip away on a sugar-filled smoothie when our keto Orange Julius copycat recipe is ridiculously easy to make and low carb.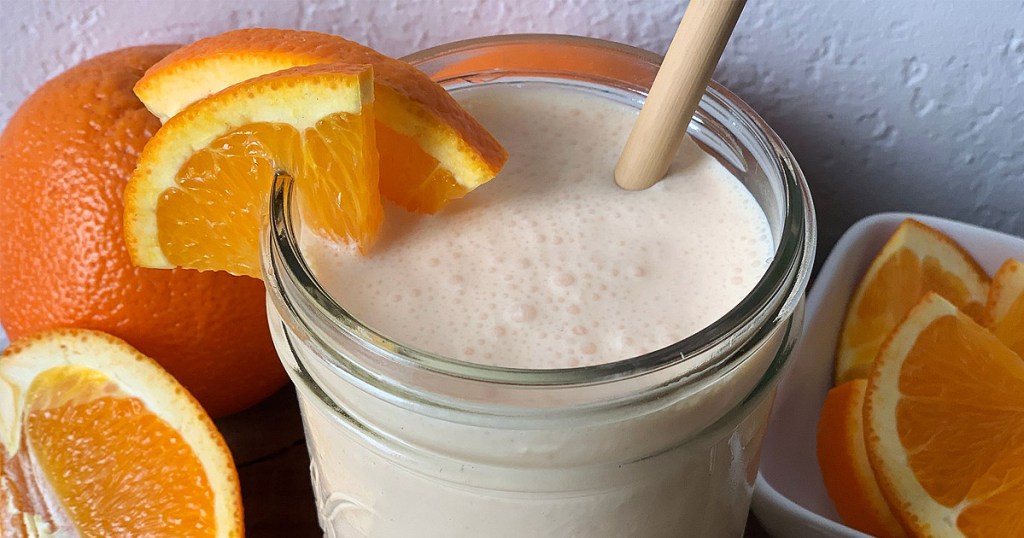 Relish the essence of an Orange Julius, minus 100 grams of carbs!
I know that number is staggering—Like, WOW!! 😮 True fact, a large-size original Orange Julius packs a crushing 103g net carbs per serving compared to this Hip2Keto Orange Julius copycat recipe that has only 1.8g net carbs per serving.
I now give you permission to cry 😭… Happy tears are good for the soul, and 1.8g net carbs is certainly something worth celebrating! 🙌 Not to mention, you'll also have a frothy, creamy, and refreshing drink bursting with fresh orange flavor in hand.
Now it's time to dive into how to make an Orange Julius smoothie… keto style!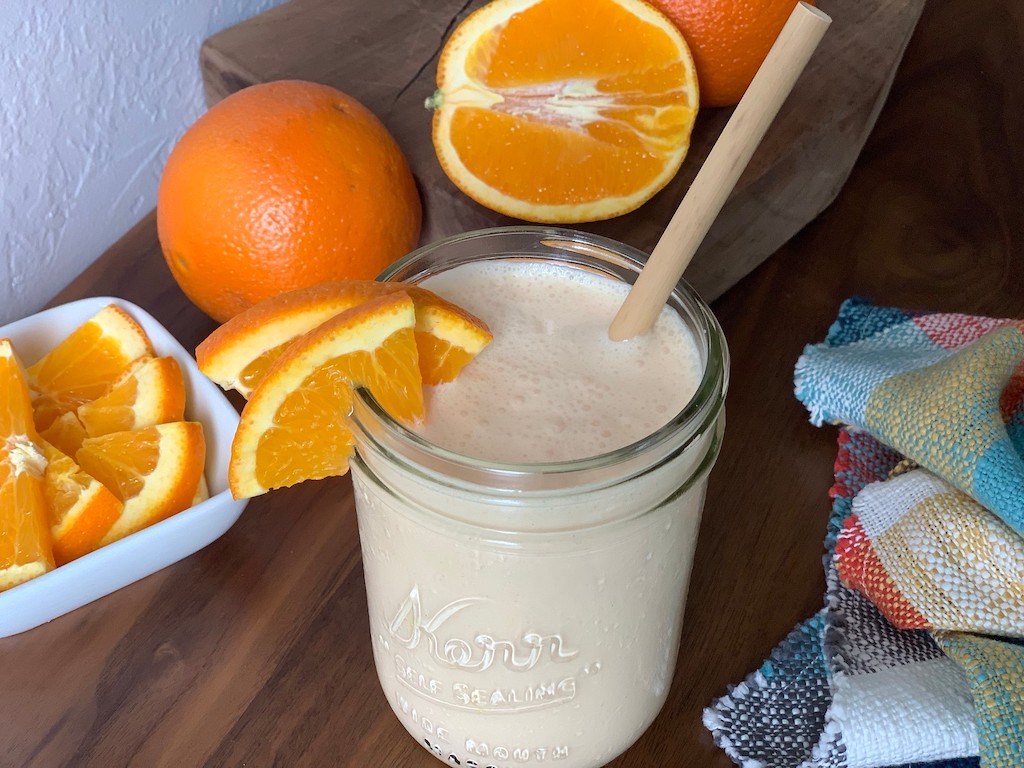 ---
Print
Keto Orange Julius Copycat
yield: 2 SERVINGS
prep time: 5 MINUTES
cook time: 5 MINUTES
total time: 10 MINUTES
This easy to make Orange Julius recipe is frothy, creamy, and bursting with fresh orange flavor.
Ingredients
2/3 cup heavy whipping cream
2-3 ounces cream cheese
1 1/2 teaspoons lemon juice
2 to 2 1/2 cups crushed ice
orange slice (optional for garnish)
Directions
1
Add heavy whipping cream to a blender (I prefer to use a small, personal-size blender). Blend for a minute or so until the cream has churned into a thick whipped cream.
2
Add the cream cheese, erythritol, pure orange extract, lemon juice, food coloring (if desired), and crushed ice. Using crushed ice vs. ice cubes helps the shake come together quickly. Blend until even and smooth, about a minute.
3
Pour into one large or two small glasses. Garnish with an orange slice if desired. Enjoy!
Additional Notes
Freeze leftovers in a freezer-safe/microwave-safe container to enjoy later. When ready, either thaw at room temperature OR pop in the microwave and defrost on high heat for 30-45 seconds. Frozen leftovers remind me of orange sherbert. Yum!
Please note that the optional orange slice for garnish is not included in the nutritional information. One orange slice has about 1.5g net carbs.
Nutrition Information
Yield: 2 servings, Serving Size: 1 cup
Amount Per Serving: 387 Calories | 43.1g Fat | 16.1g Total Carbs | 0g Fiber | 1.1g Sugar | 13.5g Sugar Alcohol | 2.3g Protein | 2.6g Net Carbs
---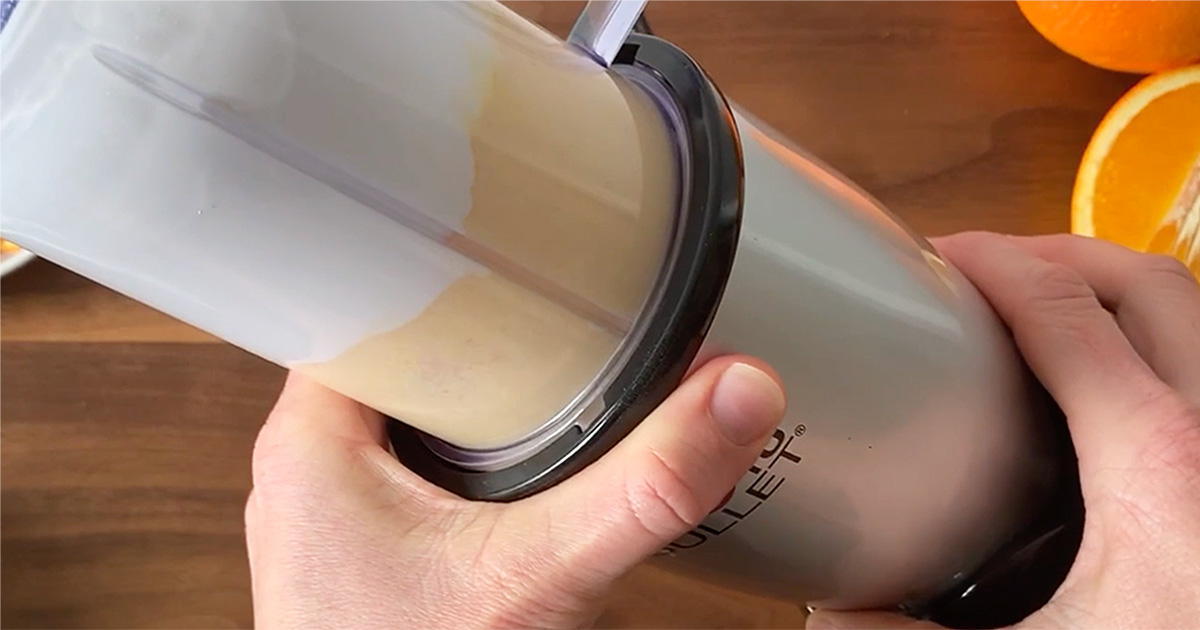 Tips to make the best at-home and healthy keto Orange Julius recipe:
Crush your ice first, as using crushed ice versus ice cubes makes all the difference. If your refrigerator doesn't have a crushed ice function, no worries! Simply grab a cutting board and place cubes in a zip-lock bag on top. Then crush by hand using a meat mallet or hammer.
Make certain to use pure orange extract and not orange flavoring. Trust me, they are NOT the same thing.
Looking to purchase a small-capacity blender to make your keto orange smoothie? Check out this best-selling NutriBullet.
Prefer a thicker consistency? Try adding in additional ice and cream cheese to thicken it up!
If you don't love orange flavoring, you can swap out the orange extract for fresh lemon or lime juice!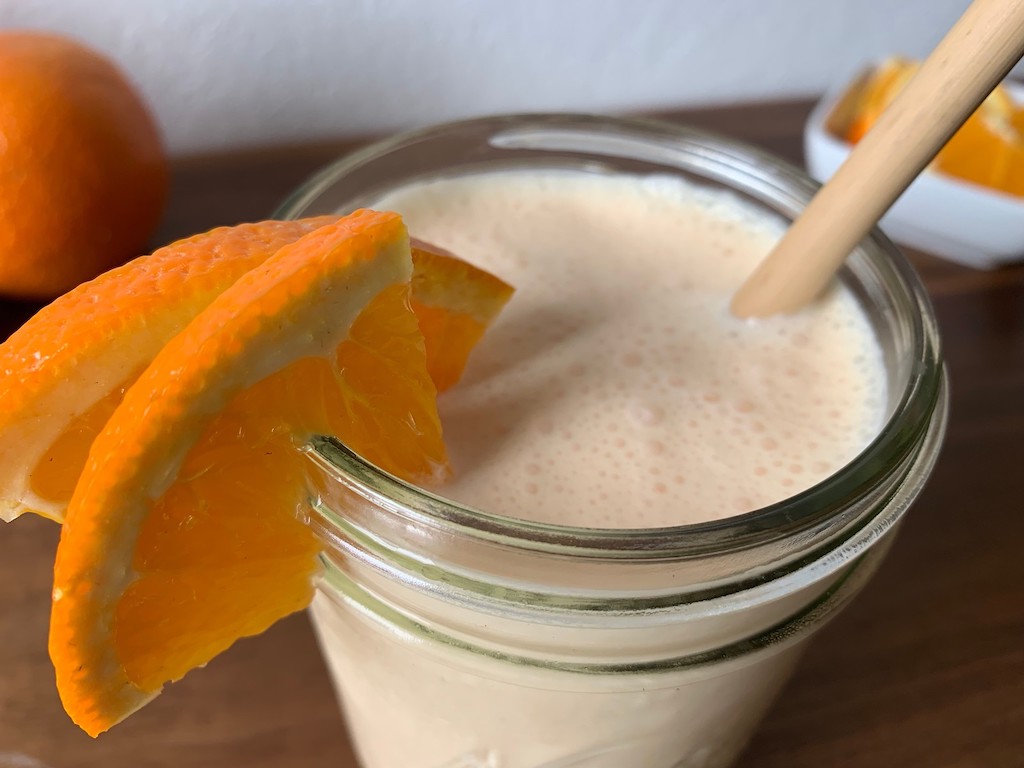 The story behind the original Orange Julius…
Founded in 1926 by an orange-crazed fella named Julius Freed, the guy simply loved oranges. In fact, he liked them so much that he decided to open his very own orange juice stand. Business was slow, but, lucky for Julius, he had a buddy named Bill Hamlin who came up with the idea to blend fresh oranges with other ingredients to combat the acidity.
Julius's passion for oranges combined with Bill's creative concocting founded a formula for success… and business soared! So much so that the bigwigs over at DQ took an interest. Consequently, in 1987, Orange Julius became a fully owned subsidiary of International Dairy Queen.
---
Love copycat recipes? Make this McDonald's Shamrock Shake next!