Keto Lemon Poppy Seed Bundt Cake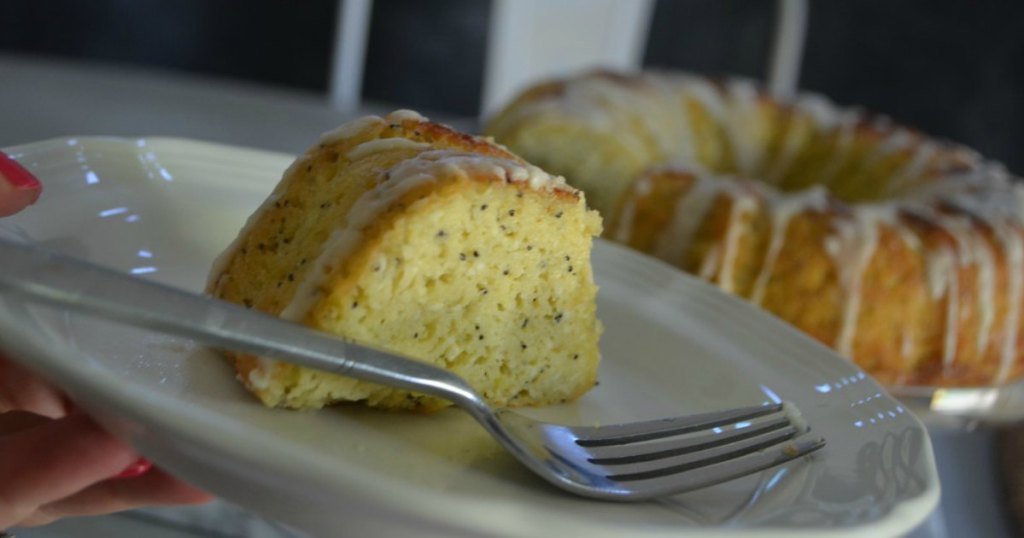 Love a good bundt cake?
This excellent low carb and keto option is sure to impress! Our lemon poppy seed bundt cake with a sweet lemony glaze is both low in sugar and delicious! This was actually my first time making a keto-friendly cake and I was so impressed with the taste and texture. What's more, each slice is only 3 NET carbs!
Side note, if you want more keto desserts, be sure to bookmark this page.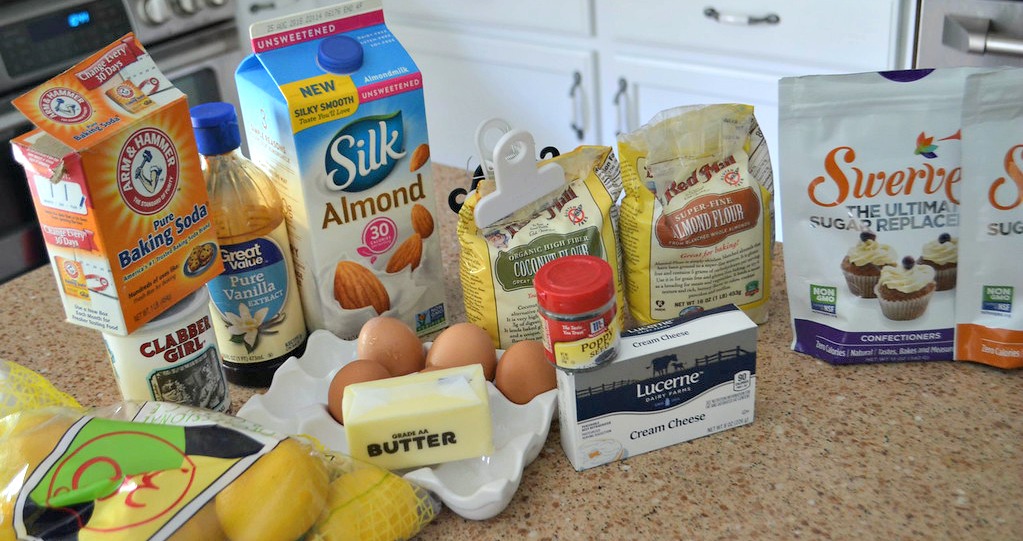 Don't be intimidated by how many ingredients this cake takes!
This is a homemade low carb dessert that's easy to mix together and uses mainly staple ingredients if you're eating keto, like almond flour, coconut flour, butter, cream cheese, and almond milk.
I used Swerve granular as a sugar substitute and Swerve confectioners to make the lemon glaze. You can, however, use the sweetener of choice and adjust the amount to taste. Check out our Best Keto Diet Sweeteners & Sugar Recipe Conversion Guide HERE for any questions you may have on sweeteners.
---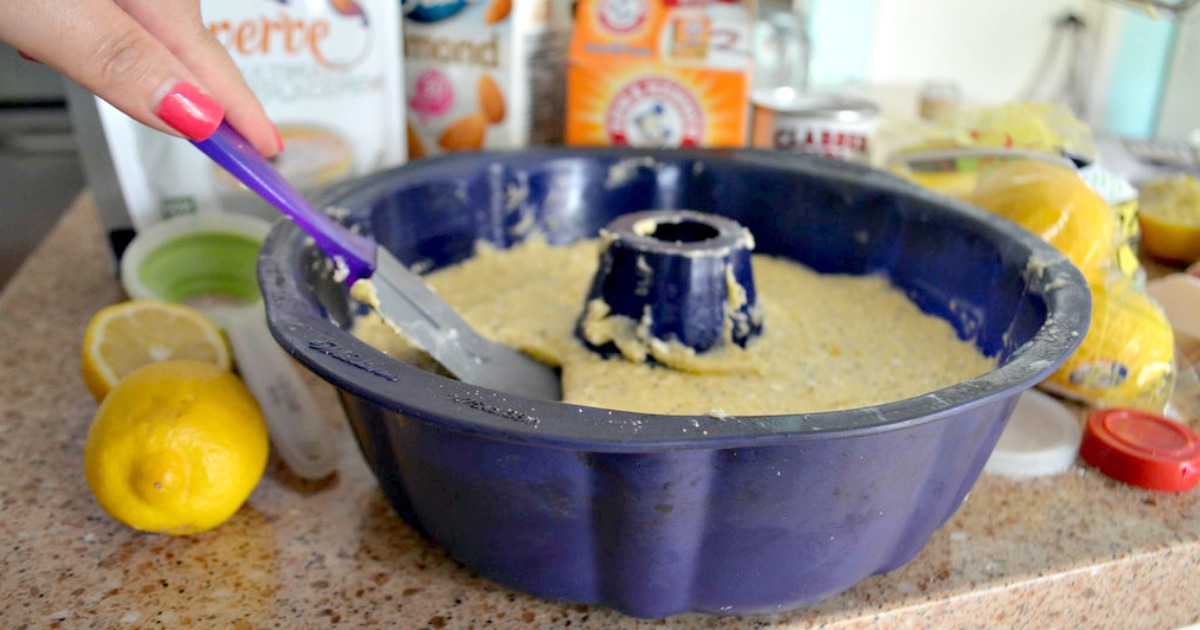 Other helpful tips for success:
Use a little xantham gum in the batter because it'll give your cake a better texture.
I used almond milk, but you could use canned coconut milk if desired.
I used lots of lemon zest, but you can opt for lemon extract instead.
I wouldn't skip the easy lemon glaze, as it adds so much flavor!
You can omit the poppy seeds or sprinkle a few on top of the cake to save up to .5g carbs per serving.
---
---
Print
Keto Poppy Seed Lemon Bundt Cake
yield: 16 SERVINGS
prep time: 15 MINUTES
cook time: 45 MINUTES
total time: 60 MINUTES
A sweet and decadent cake with delicious lemon flavor that looks fancy, but is easy to make!
Ingredients
Dry Ingredients:
2 cups almond flour
3/4 cup coconut flour
2 teaspoons baking powder
2/3 cup Swerve granular
1/2 teaspoon baking soda
1/2 teaspoon xantham gum
1/4 teaspoon salt
Wet Ingredients:
8 oz. cream cheese, softened
6 large eggs
1 stick butter, melted
3/4 cup almond milk
1/4 cup lemon juice
1 tablespoon vanilla extract
1/4 cup lemon zest
1 teaspoon Swerve granular
3 tablespoons poppy seeds
Lemon Glaze:
1/4 cup lemon juice
1/2 cup Swerve confectioners
Directions
1
Preheat oven to 350 degrees.
2
Mix all dry ingredients and set aside.
3
Use a hand mixer to whip up cream cheese until smooth. Mix in each egg one at a time.
4
Mix in almond milk, lemon juice, vanilla extract, melted butter, Swerve granulated, and lemon zest.
5
Combine half of the dry ingredients and mix. Combine in the other half of dry ingredients until batter is mixed. Stir in poppy seeds.
6
Place batter into a greased bundt cake pan.
7
Bake in the middle rack for about 45 minutes, or until an inserted toothpick comes out clean. Let cool and place on a plate or a cake plate.
8
Meanwhile, mix together Swerve confectioners and lemon juice. Drizzle glaze over the top of the cake.
Nutrition Information
Yield: 16 servings, Serving Size: 1/16 slice of cake
Amount Per Serving: 250 Calories | 21g Fat | 23g Total Carbs | 6g Fiber | 14g Sugar Alcohol | 7g Protein | 3g Net Carbs
---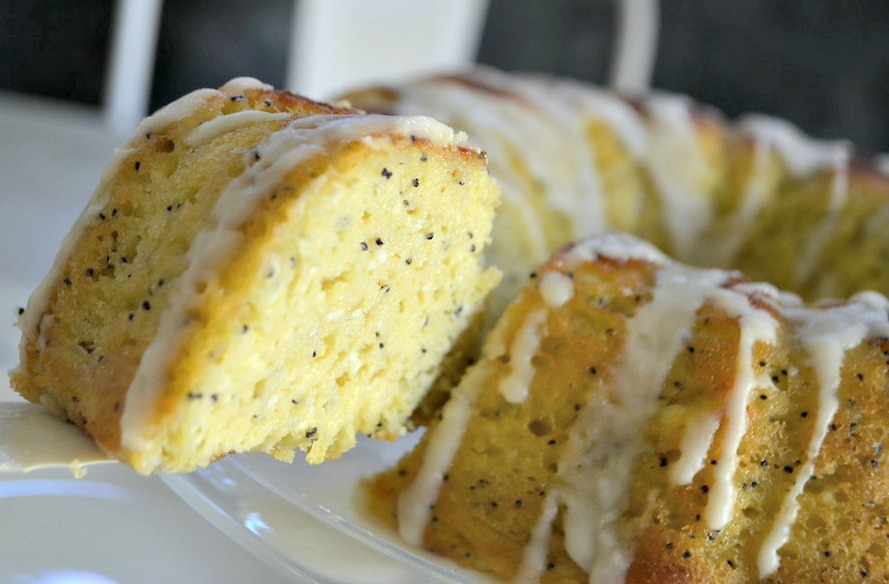 Finally, you can have your cake and eat it, too!
What a light and fluffy lemon bundt cake! If you like lemon desserts like me, I think you'll really enjoy this idea. It's perfect as a low carb treat, and I think your family will love it! I had a little piece the next morning with my coffee and it was DELISH! 🙂
---