The Best Keto Apple Crisp Recipe Made with a Secret Ingredient
This warm keto apple crisp is everything you've been missing since starting keto.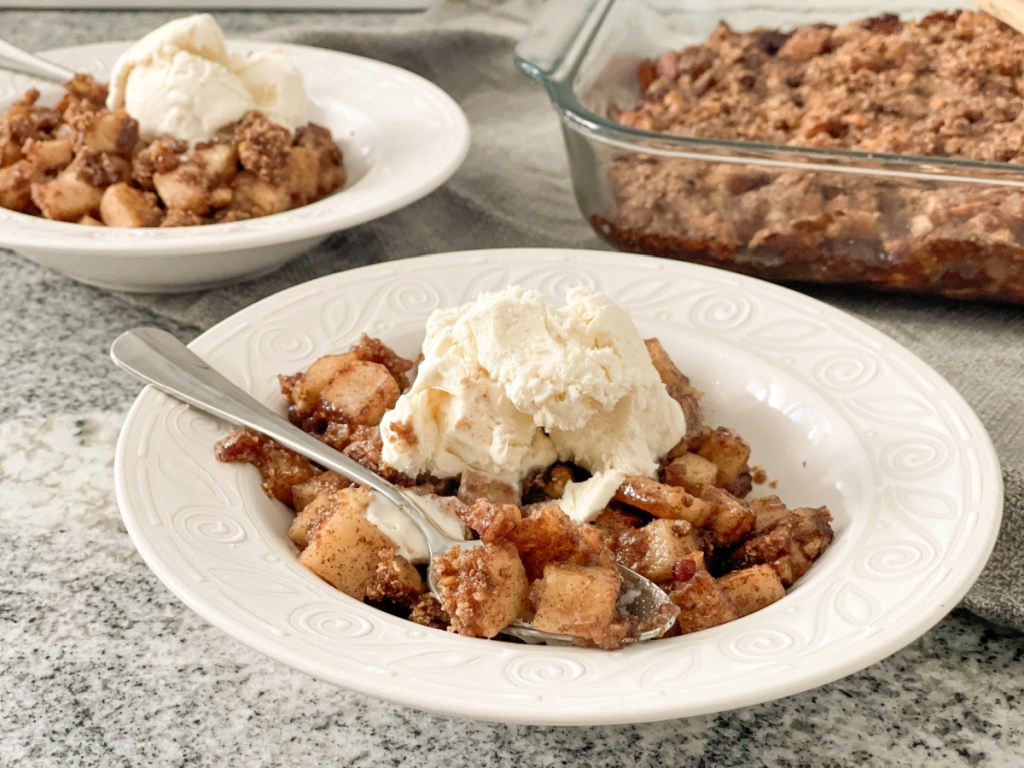 Keto apple crisp is the ultimate cool weather dessert.
As the seasons change into fall and winter, there's nothing better than baked cinnamon "apples" with a sweet crunchy topping. If you didn't know, baked jicama makes the perfect apple substitute for this dessert!
The jicama is coated in a cinnamon and sweetener mixture, topped with the perfect keto-friendly crispy layer, and then baked to absolute perfection. Your house will smell like fall as you fall in love with this keto treat.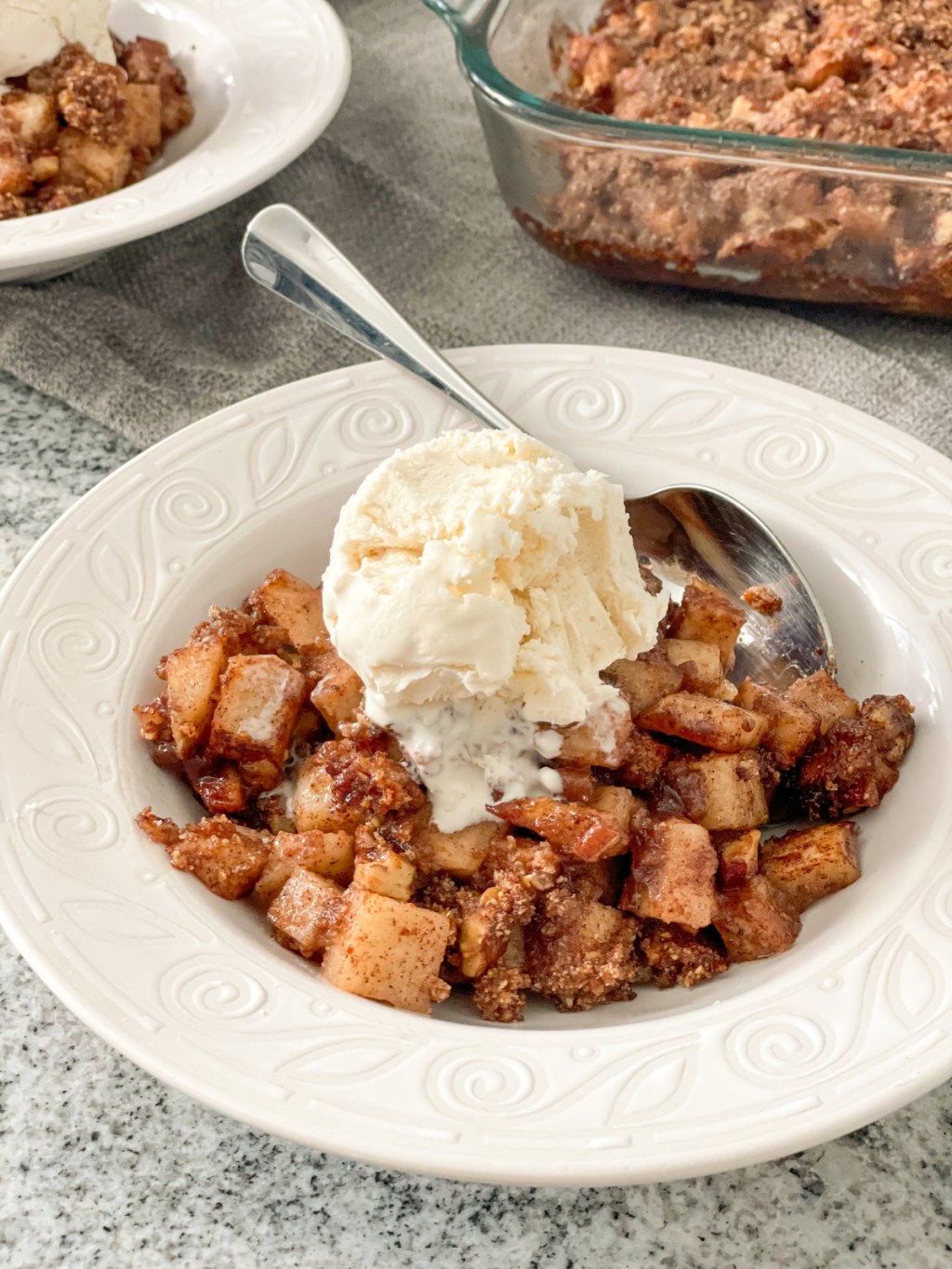 Are apples keto?
Apples, like most fruits, are not keto. They have about 25 grams of total carbs for a medium apple, and 19 grams of net carbs. If you're following a strict keto diet, that would take up almost all your carbs for the day!
On the other hand, 1 cup of jicama, about the equivalent of a medium apple, has 11 grams of total carbs and only 5 grams of net carbs!
Curious which other fruit are and are not keto? Check out our best keto fruits to eat guide!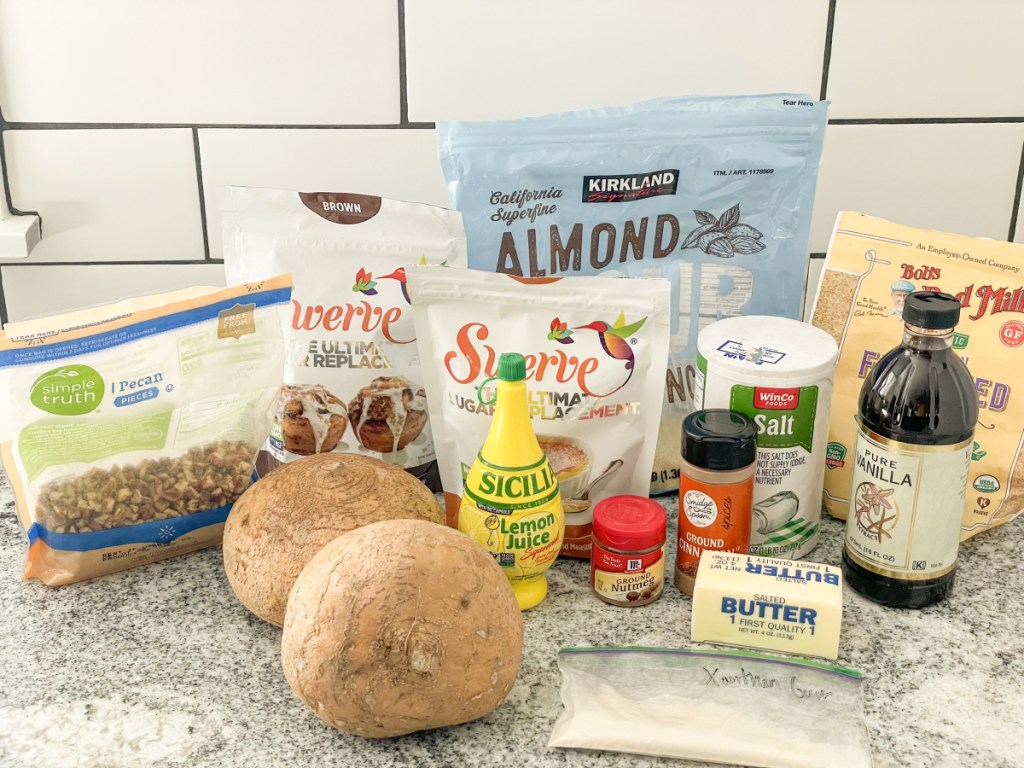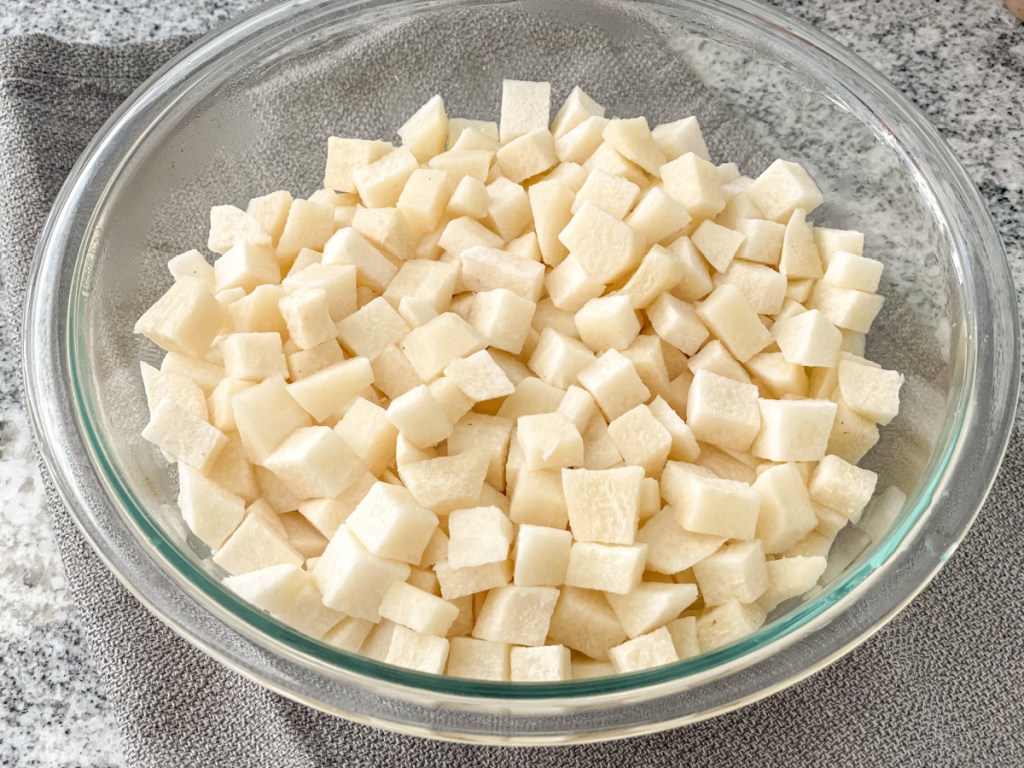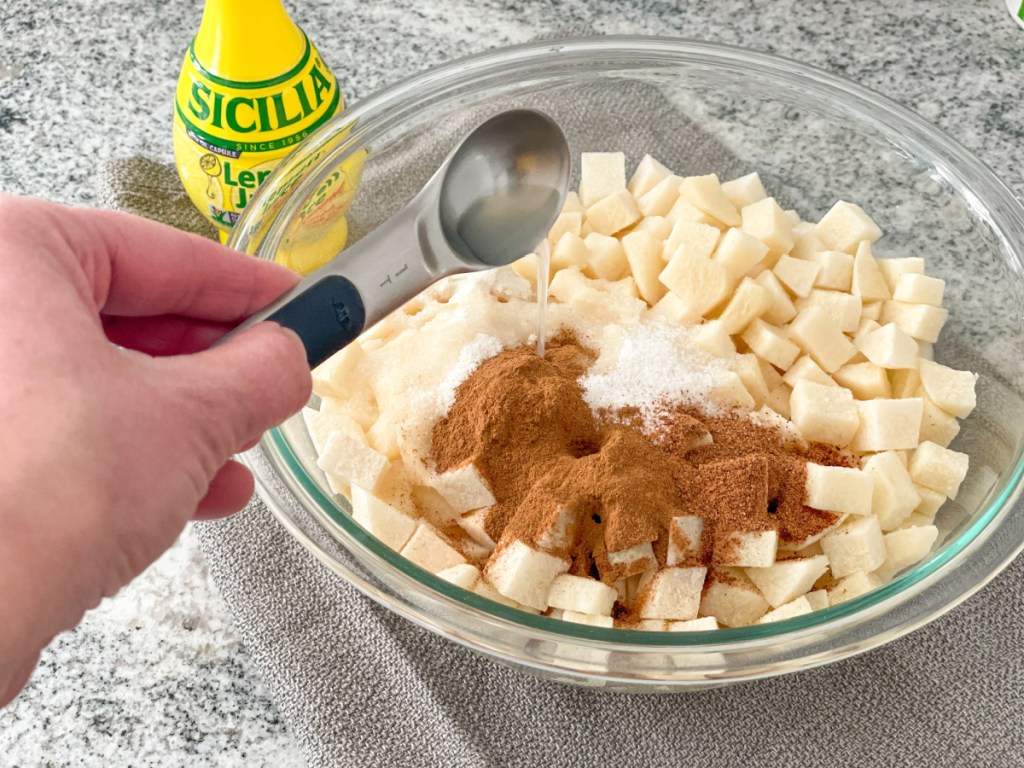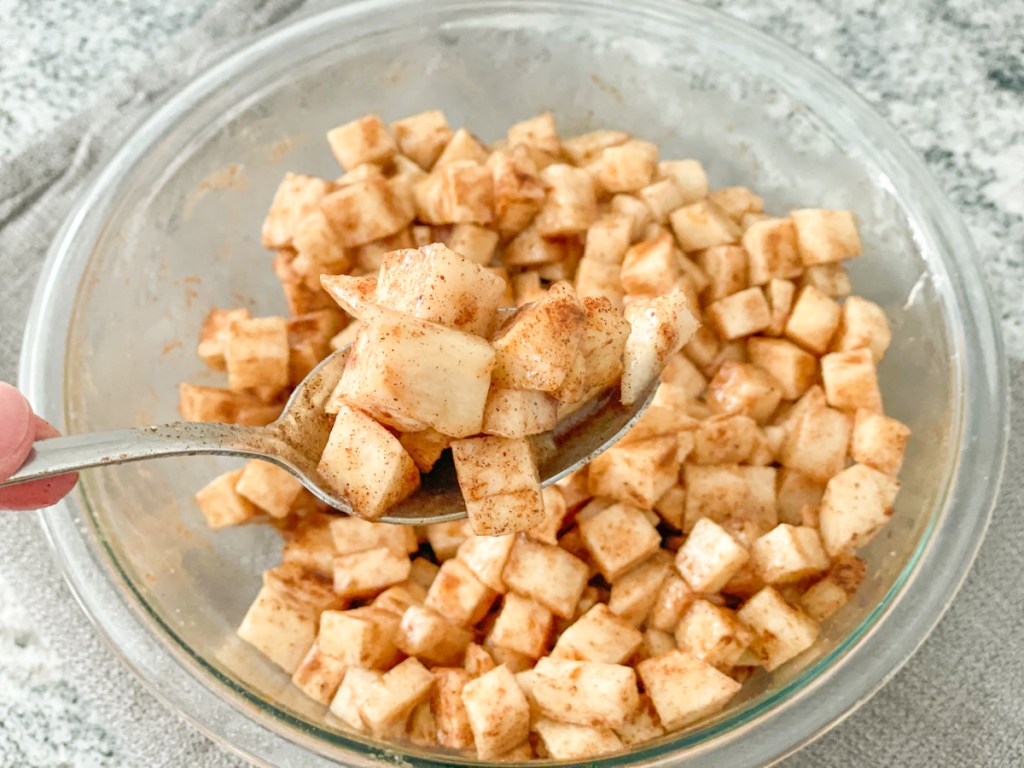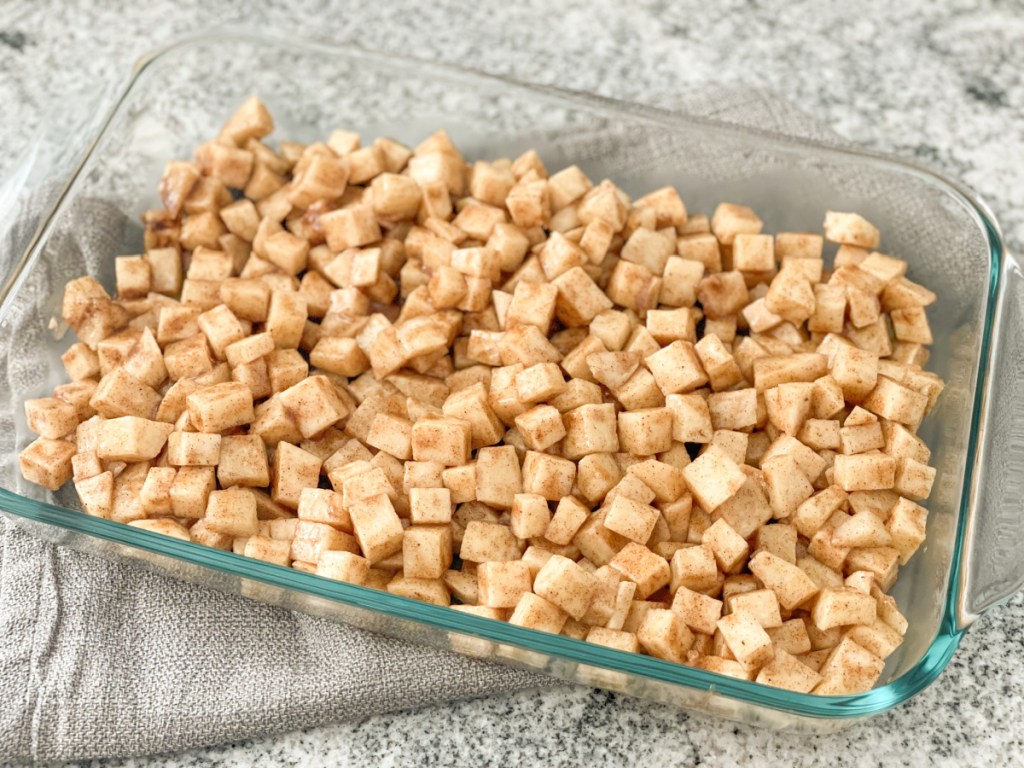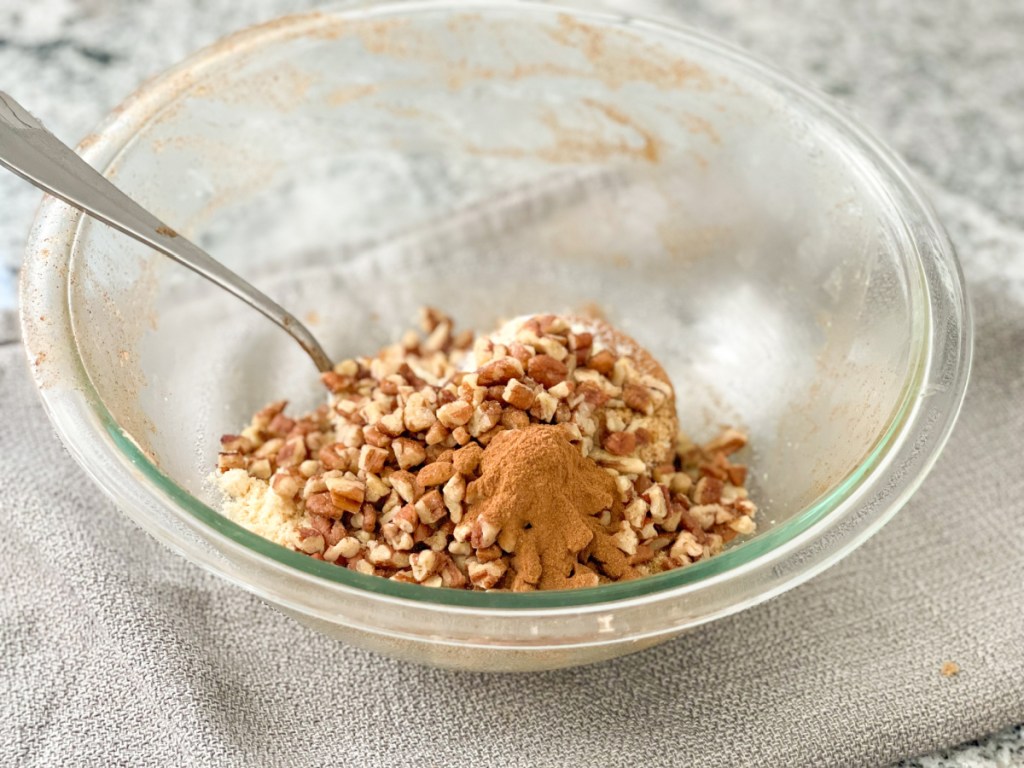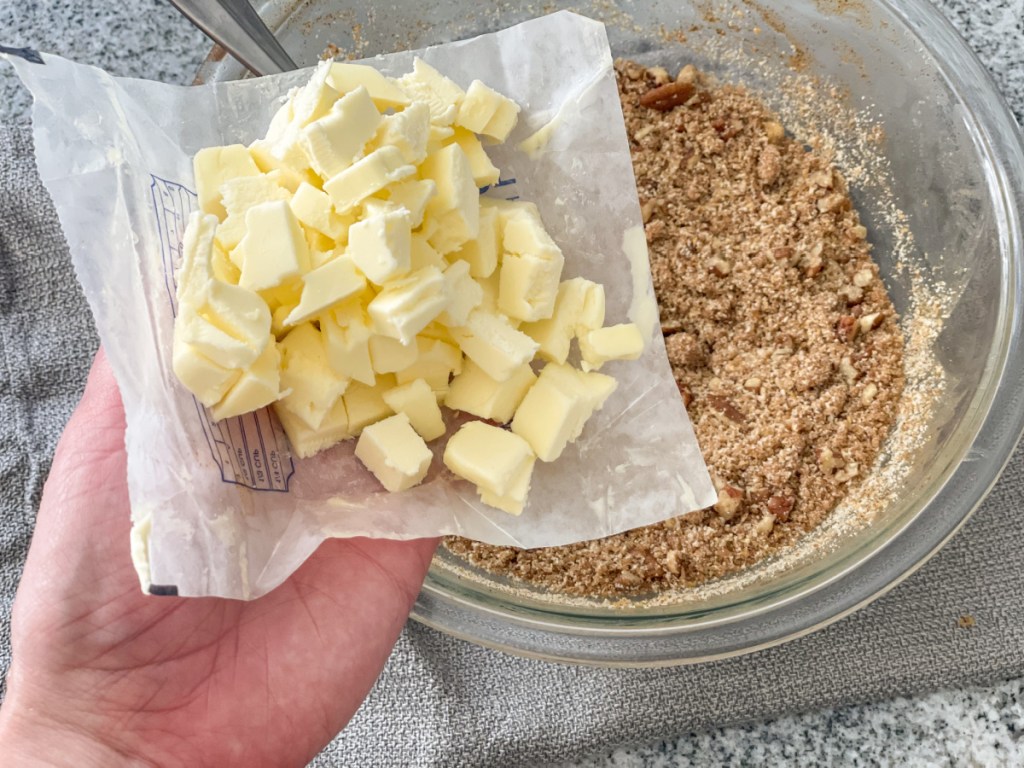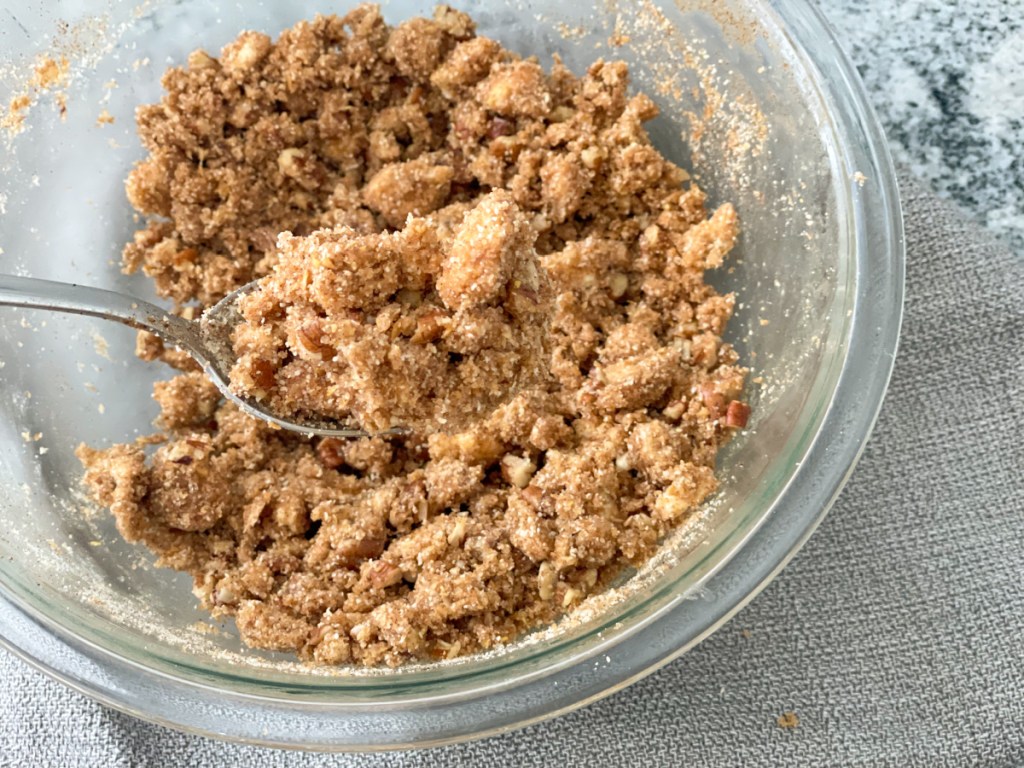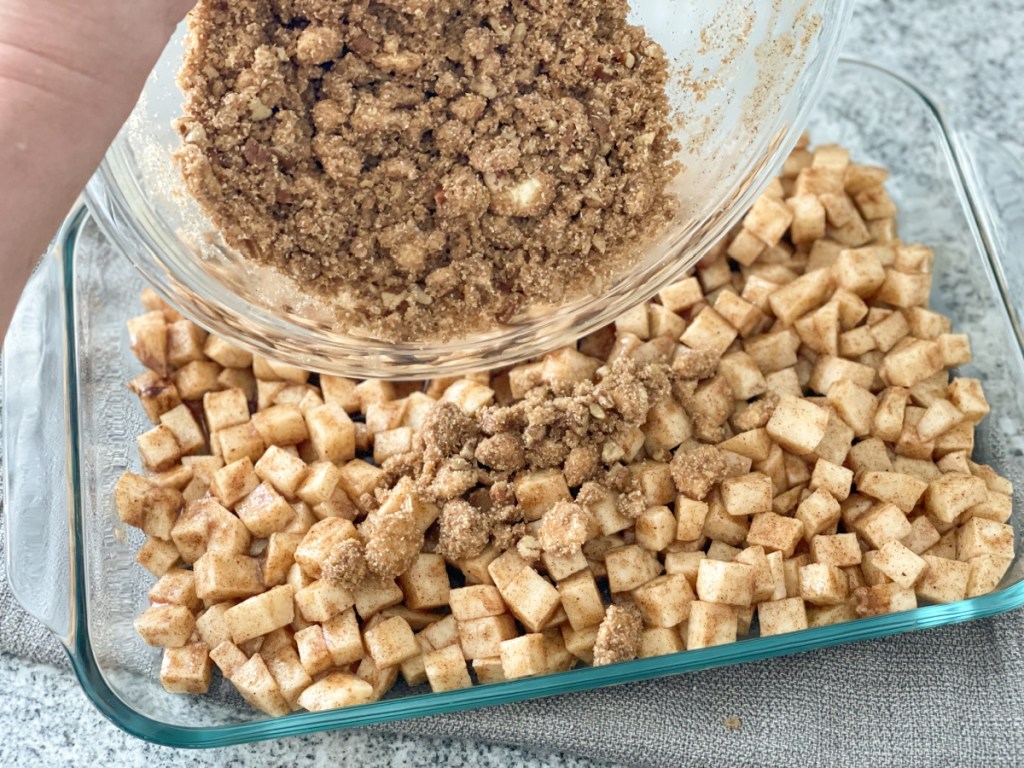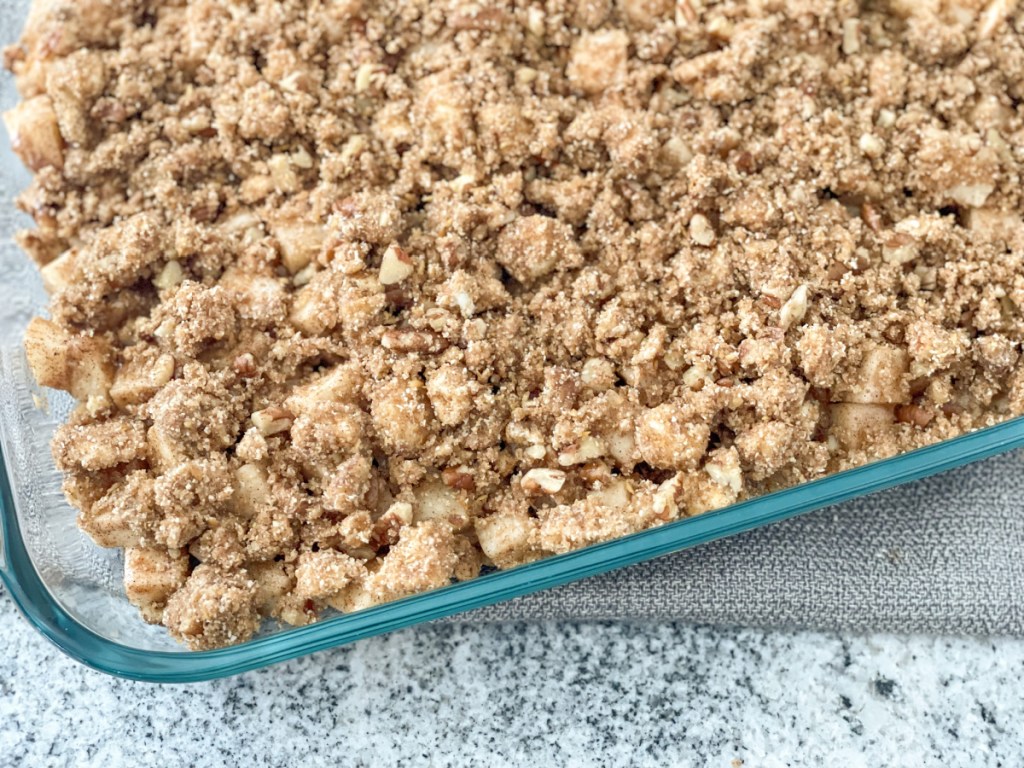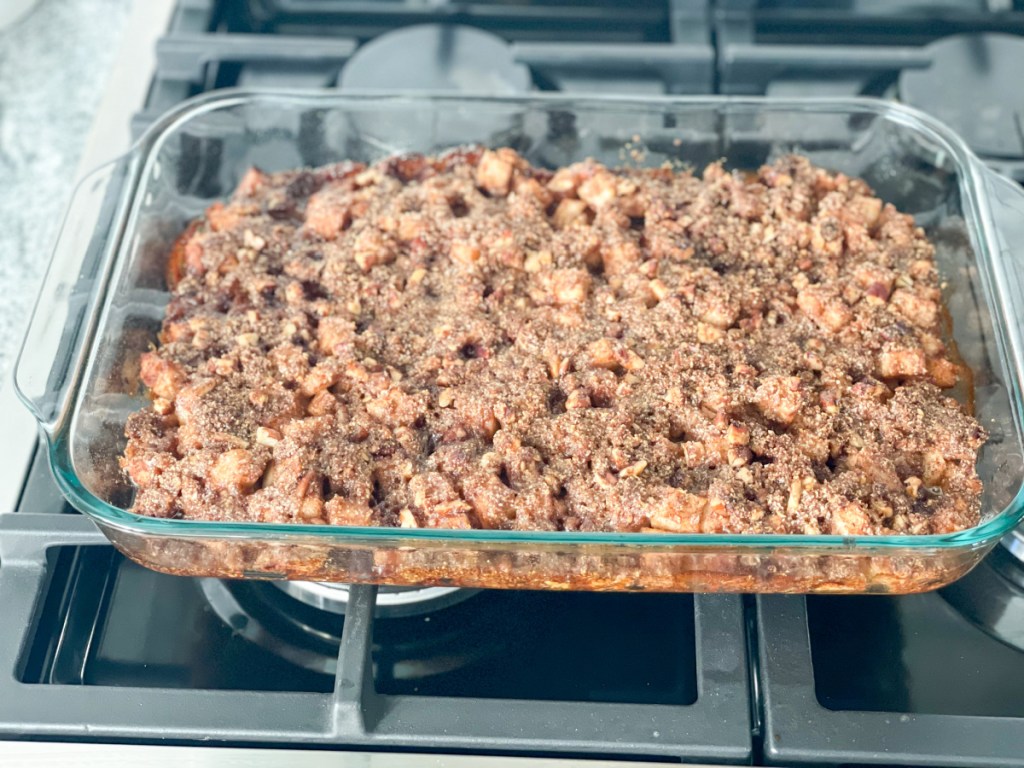 ---
yield: 8 SERVINGS
prep time: 30 MINUTES
cook time: 40 MINUTES
total time: 1 HOUR 10 MINUTES
Baked, soul-warming cinnamon "apples" topped with the perfect sweet, crumbly keto topping.
Ingredients
"Apple" Filling:
2 large jicama (6 cups chopped)
1/4 cup butter, salted, melted
2 tablespoons water
2 teaspoons cinnamon
1 teaspoon nutmeg
2 tablespoons lemon juice
2 teaspoons vanilla
Topping:
1/2 cup pecans, chopped
1 teaspoon cinnamon
1/2 teaspoon salt
6 tablespoons butter
Directions
1
Preheat oven to 375 degrees. Peel and cut jicama into 1/4-inch pieces or smaller. Place jicama in a medium microwave-safe bowl. Microwave for 5 to 10 minutes, until starting to get soft. Add 1 to 2 tablespoons of water if the jicama seems dry.
2
After softening the jicama, add the melted butter, keto granular sweetener, water, cinnamon, nutmeg, xanthan gum, lemon juice, and vanilla. Stir until well combined and the jicama is coated.
3
Transfer the jicama to a 9x13-inch baking dish (greasing is not necessary due to the butter coating on the jicama).
4
To make the topping:
In a bowl, combine the brown keto sweetener, almond flour, flaxseed meal, pecans, cinnamon, and salt. Stir to combine.
5
Cut the butter into pea-sized pieces and add it to the cinnamon sweetener mixture. Stir until well combined.
6
Cover the jicama with the topping and bake for 50 to 60 minutes, until the jicama is easily pierced with a fork. Remove from oven and let cool for about 5 minutes before serving. Top with ice cream if desired. Enjoy!
Nutrition Information
Yield: 8 servings, Serving Size: 1 serving
Amount Per Serving: 271 Calories | 23.7g Fat | 30.6g Total Carbs | 7.1g Fiber | 2.5g Sugar | 18g Sugar Alcohol | 3.4g Protein | 5.5g Net Carbs
---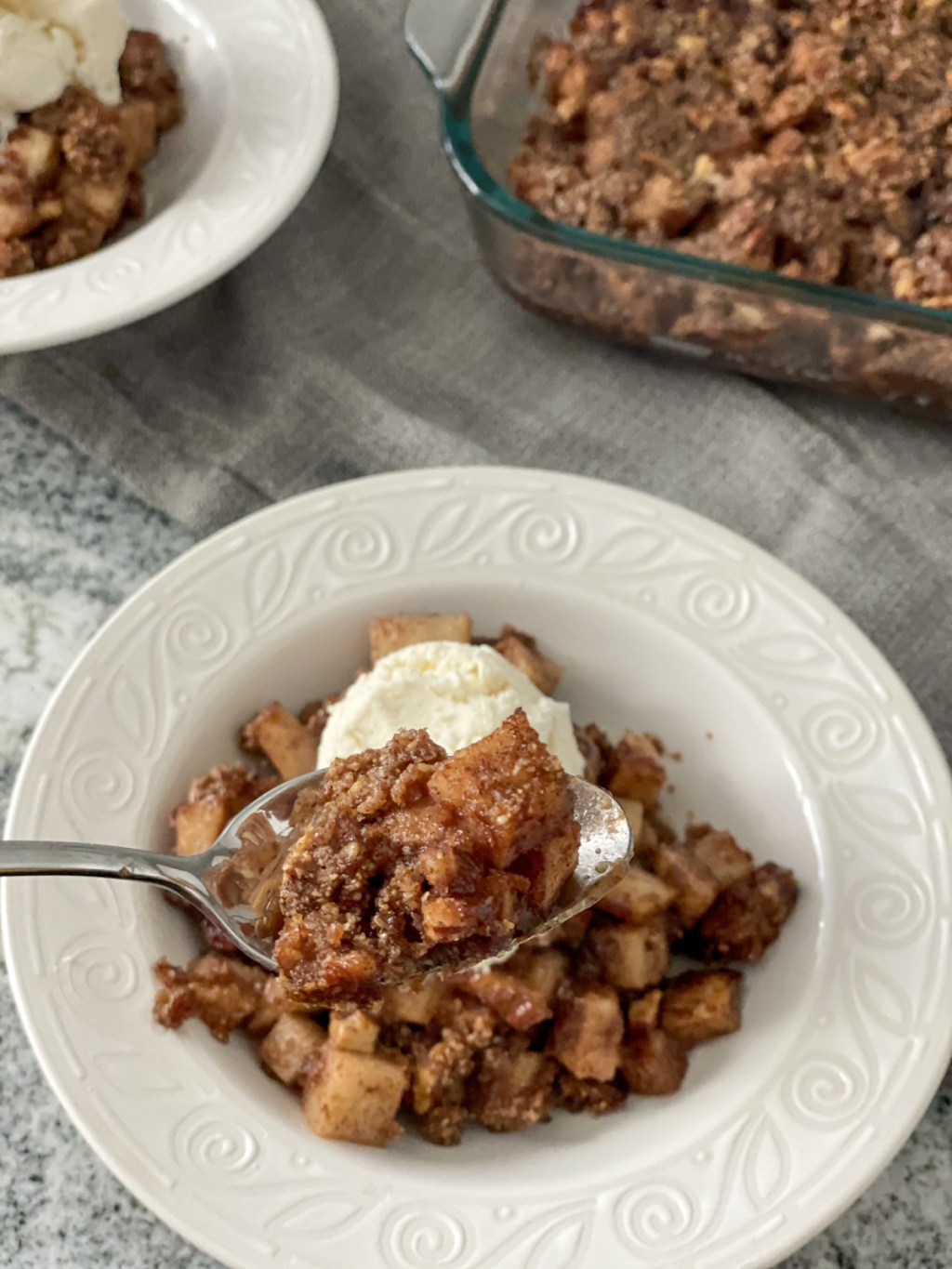 Tips for making the best keto apple crisp:
Microwaving the jicama before you bake it is key. Jicama is a lot harder than apples so it takes a much longer time to get soft during baking. If the jicama isn't precooked, the crisp portion will end up getting overbaked before the jicama gets soft enough to eat. Depending on your microwave, it might take 5 to 8 minutes for it to get soft, potentially up to 10 minutes.
Cut the jicama into 1/4 inch or smaller pieces. This will help it bake faster.
This reheats great… if you have any leftovers that is!
You can also freeze this dessert. If that's the case, freeze it in individual portions.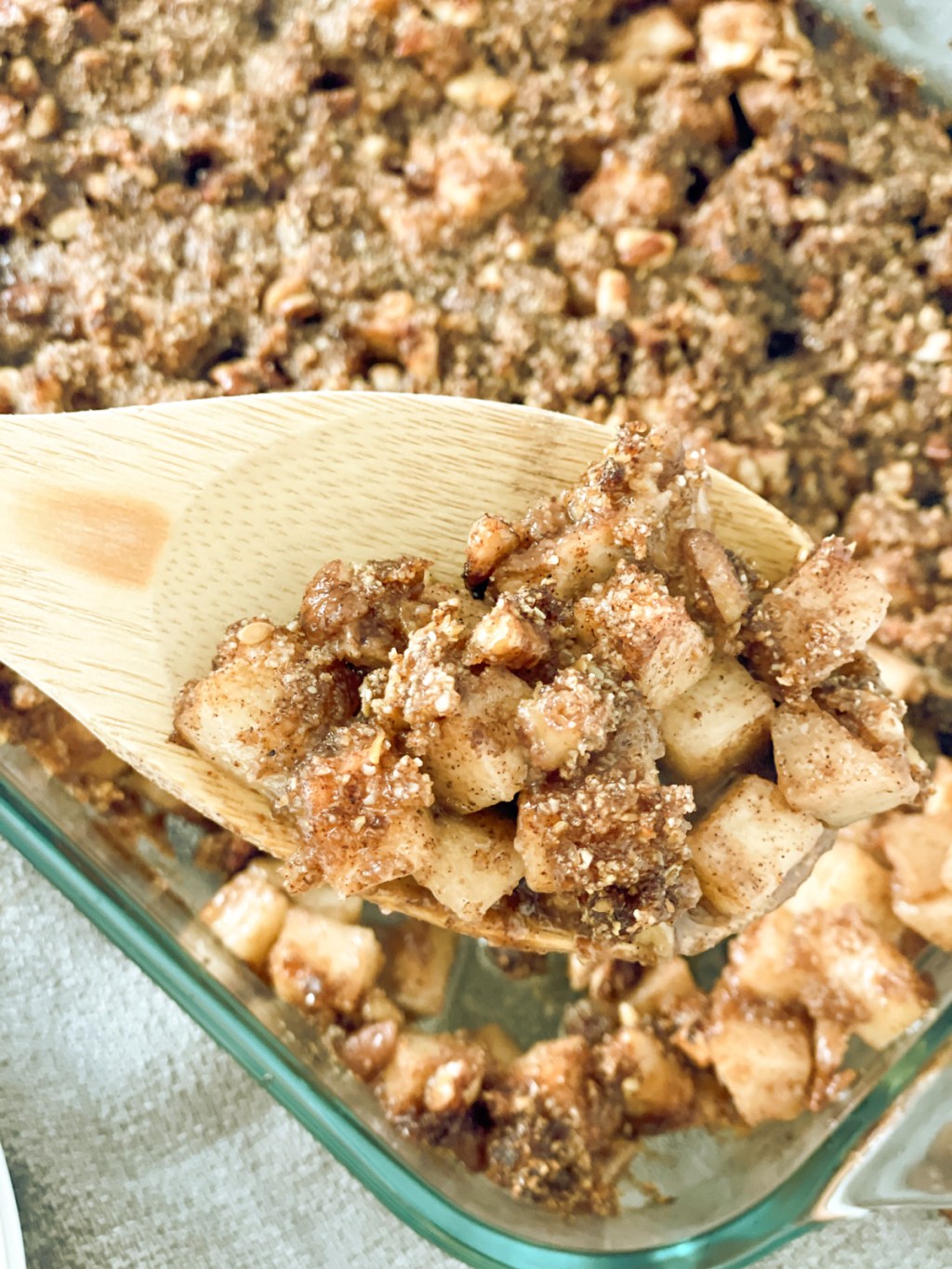 When making this dessert, it is a labor of love to peel and cut up the jicama. If you can find pre-cut jicama sticks, that is an option to save you some sweat and tears but it is much more expensive than buying the whole jicama.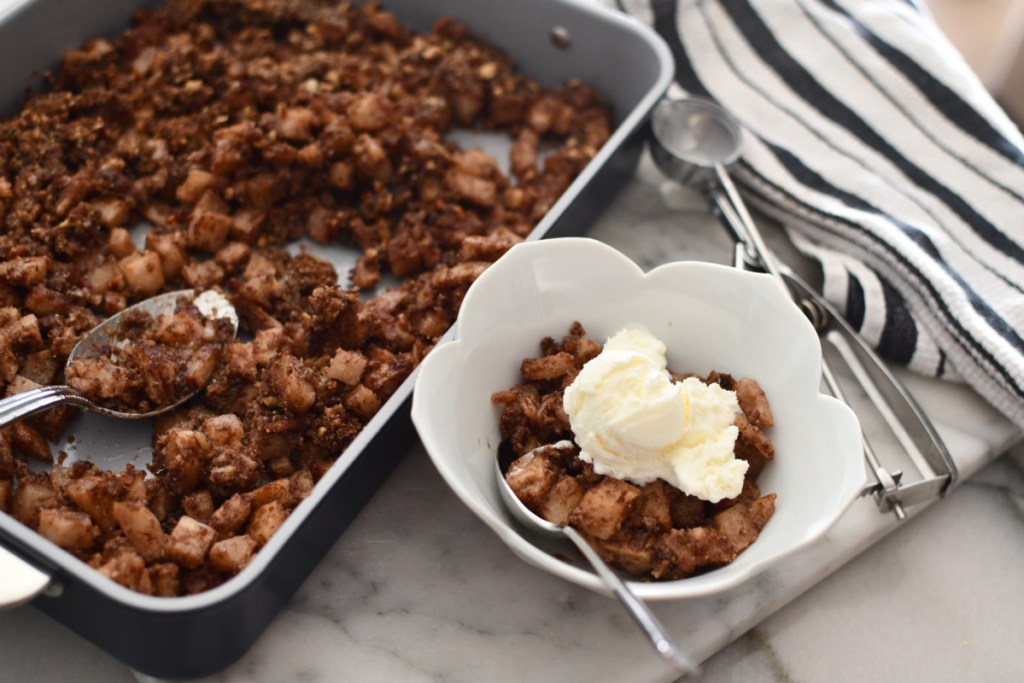 Here's what my Hip sidekick Lina had to say about this keto apple crisp:
"Wow! It's amazing how when roasted diced jicama tastes and smells like warm roasted apples. This is delicious! What a great keto dessert option. I love the cinnamon brown sugar flavor. The smell is super inviting too when it's baking in the oven. Keto ice cream is a perfect addition."
---
Looking for more amazing desserts, check out keto pumpkin cinnamon rolls.