Frozen and Fruity Keto Acai Bowls are Brunch-Worthy!
These keto acai bowls are going to blow your mind! Who knew that acai was keto-friendly!?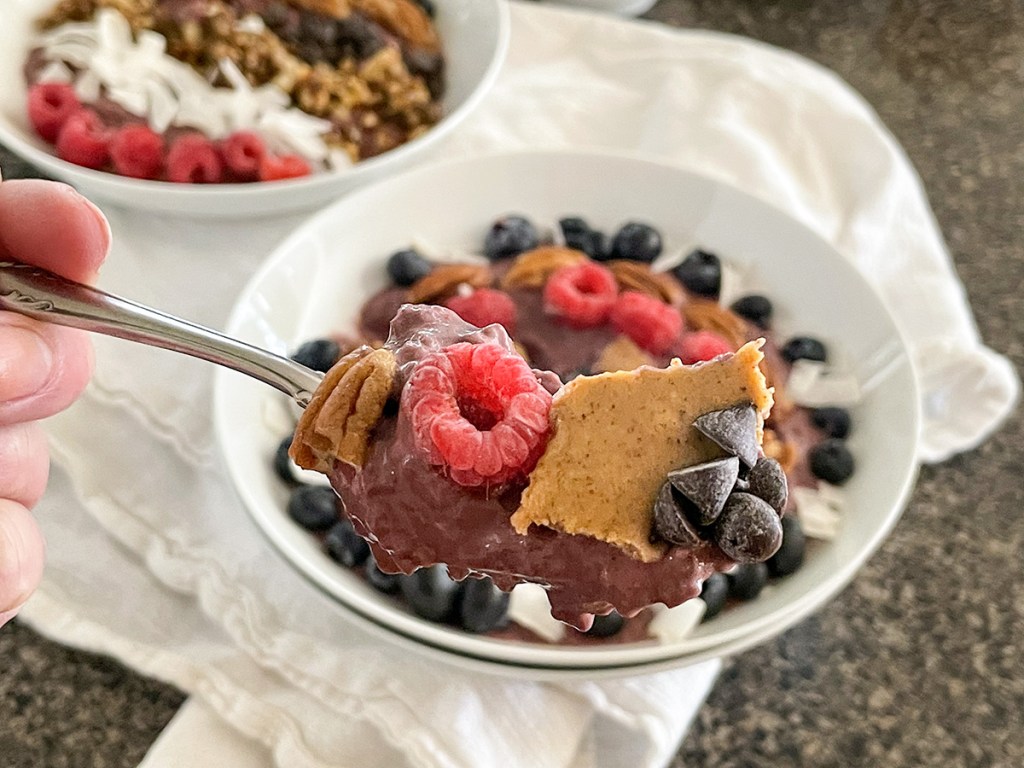 Are acai bowls keto?
Smoothies are a favorite breakfast or snack for many people, but unfortunately, the majority of them are packed full of sugar and have no place on a keto diet. Acai is actually very low in carbs. The frozen packets that I used have only 1 gram of net carbs per serving!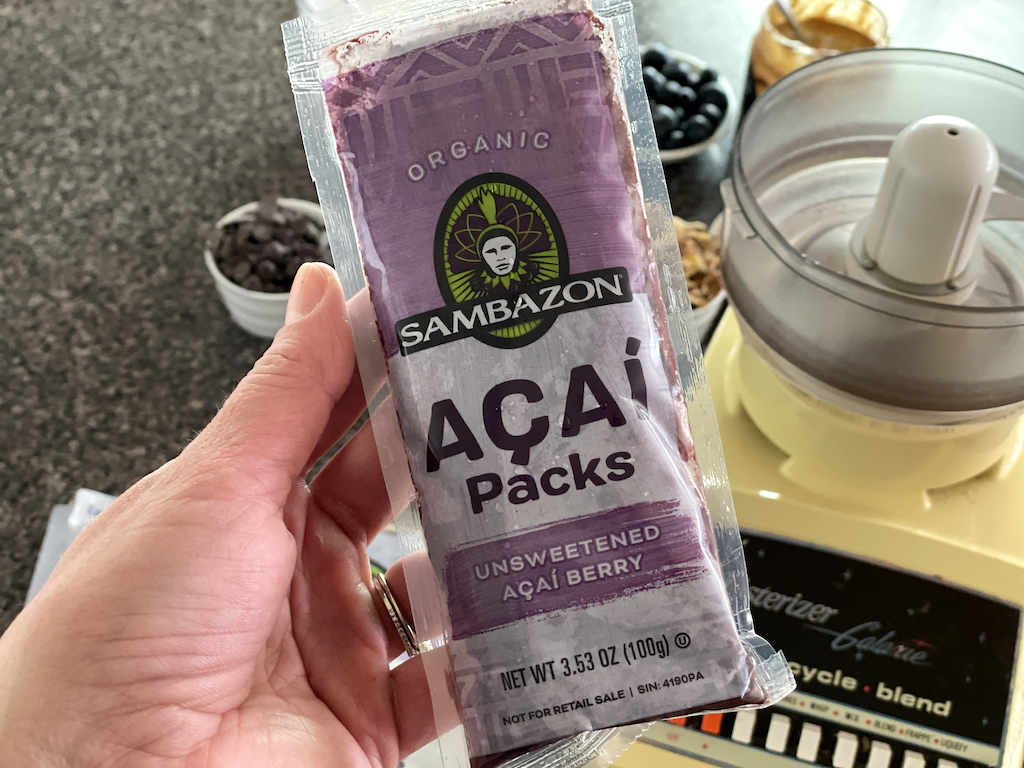 If you've been missing smoothies, these keto acai bowls are for you! They come in at 6.5 grams of net carbs before adding the toppings.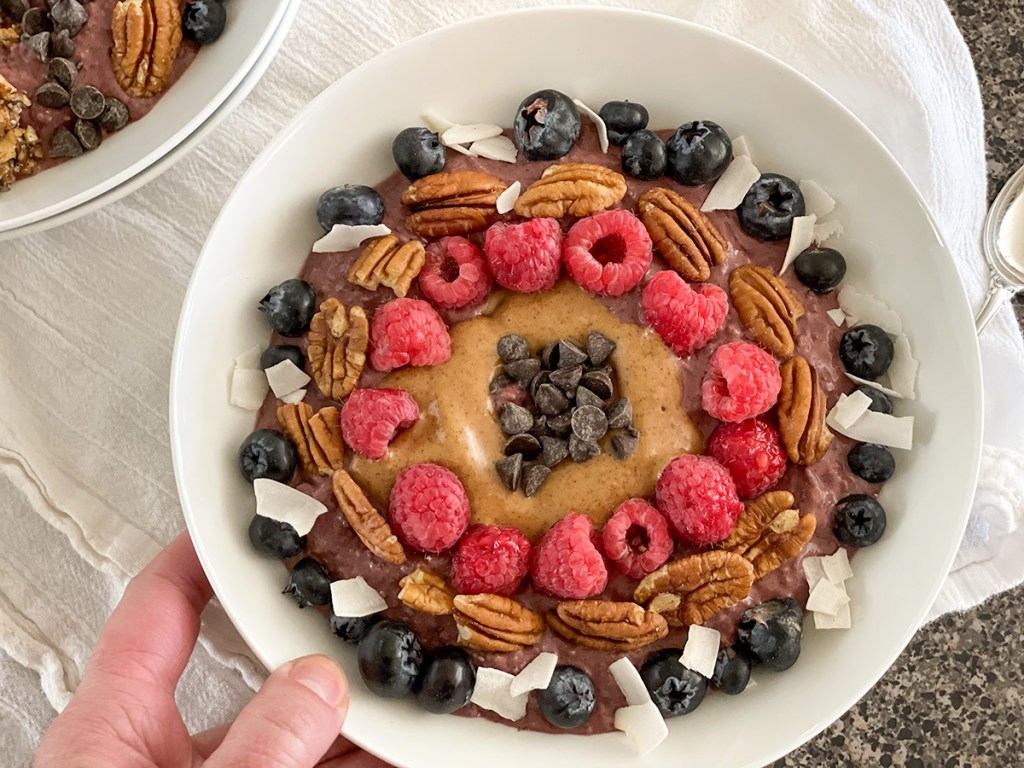 Go crazy with toppings!
To keep these acai bowls keto, you have to use keto toppings, which is pretty easy to do! I used unsweetened coconut, pecans, keto chocolate chips, keto granola, and berries!
I even drizzled a keto nut butter over the top of some of the bowls. It hardened due to the cooler temperature of the blended frozen acai and made a tasty shell. 😋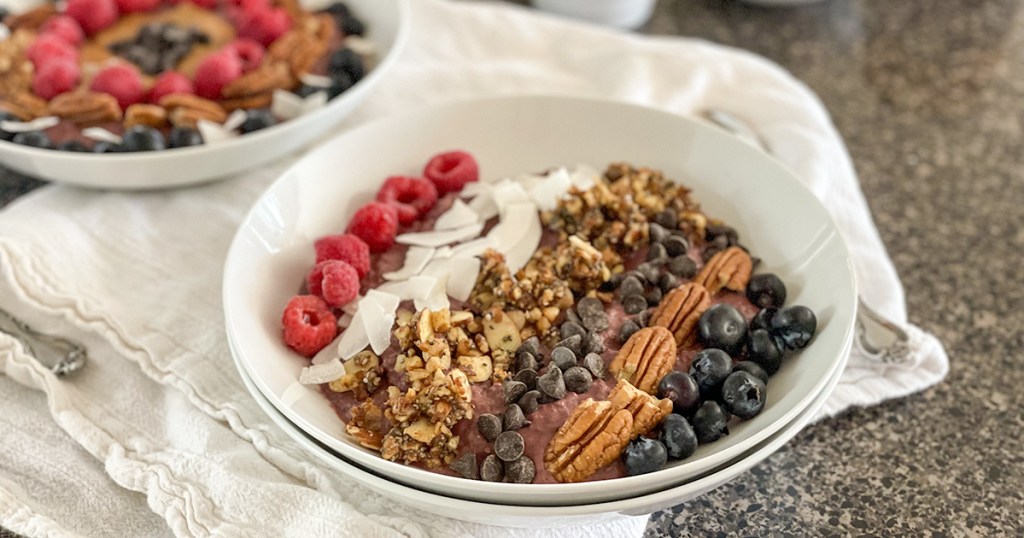 Tips for making the best keto acai bowls:
It seems that most grocery stores have frozen acai packets. The brand I found is Sambazon. The package came with four individual 100-gram packets. Each packet had 70 calories, 4 grams of carbs, and 3 grams of fiber. So just 1 gram of net carbs in the acai… just make sure you're getting unsweetened acai!
You can use a food processor or a blender to make these bowls. I was using a retro food processor at my parents' house when I made this and it surprisingly worked great! But I did have to work in two batches though because it was a smaller food processor.
I blended the acai with frozen strawberries but you could use frozen blackberries or blueberries. Just make sure there is no added sugar in your frozen berries. The package of acai actually recommends blending with half a banana, but we all know that would defeat the purpose of keto. 😉
These can be made in two ways. Full-fat canned coconut milk or keto-friendly yogurt can be used for the liquid. I liked both options. You can also add chia seeds to make the blended acai and frozen strawberry mixture thicker.
Because these bowls are just acai, strawberries, and either yogurt or coconut milk, they aren't super sweet. Rely on your toppings to get that hint of sweetness, or you could sweeten them further by mixing in a keto friendly sweetener.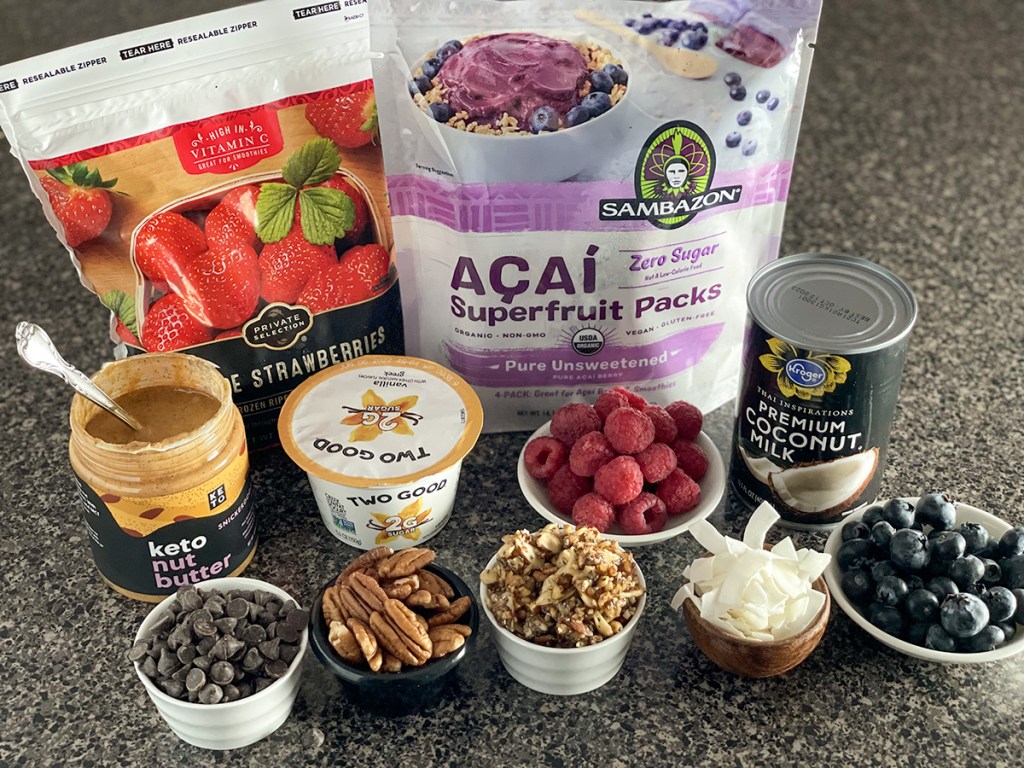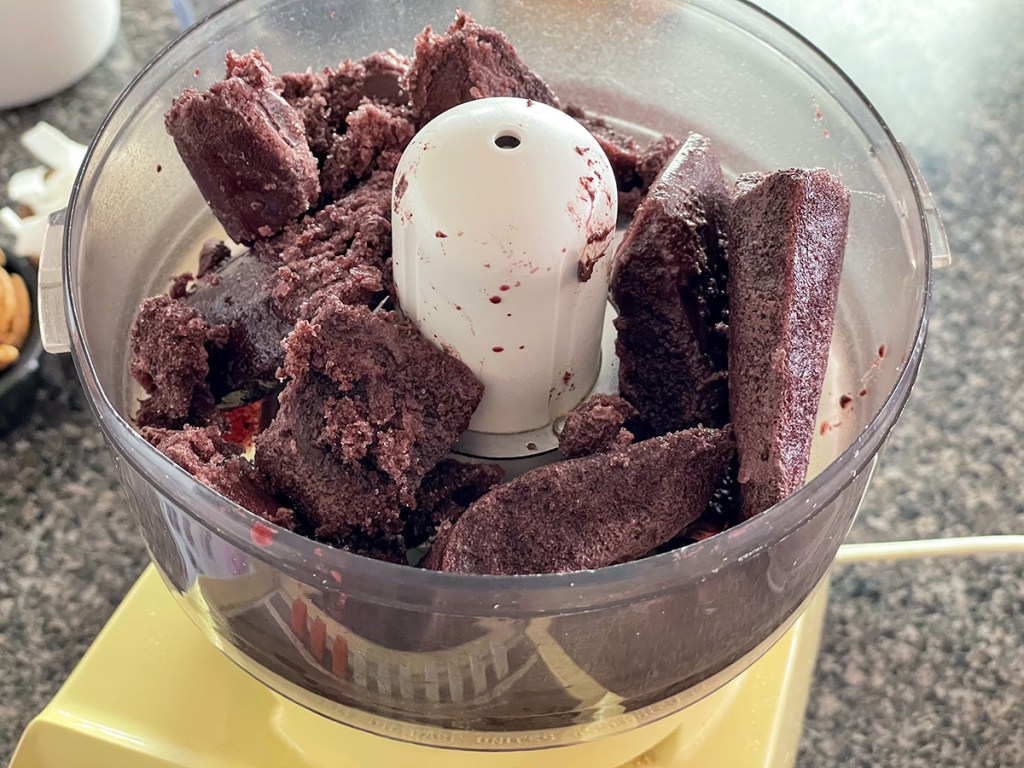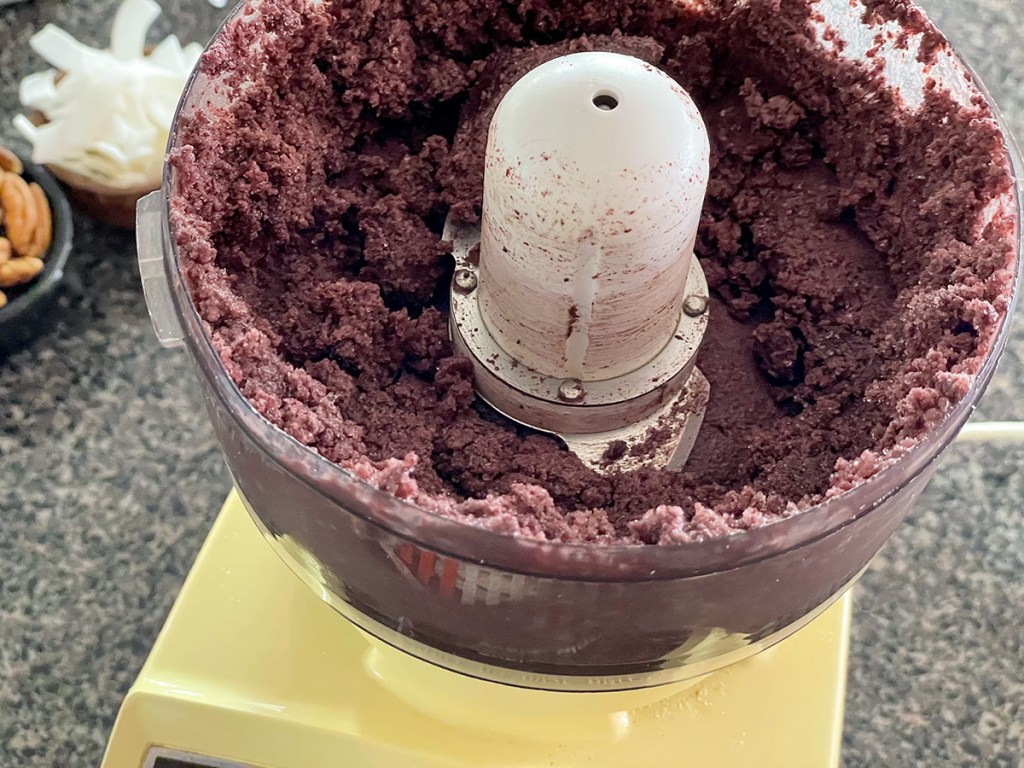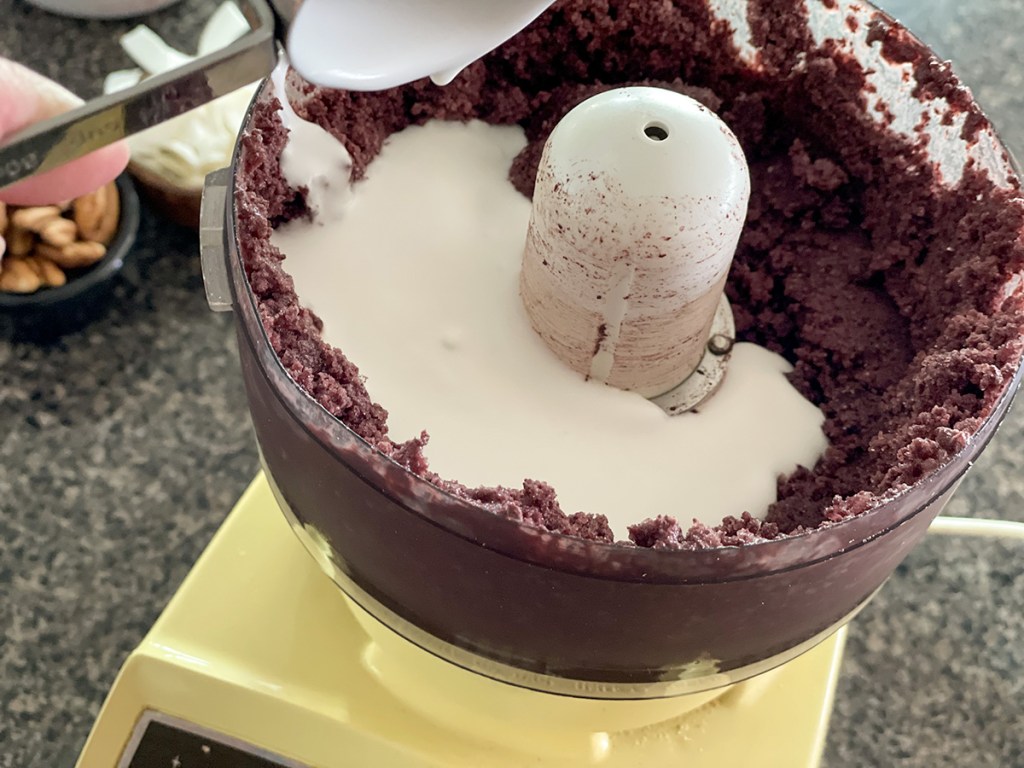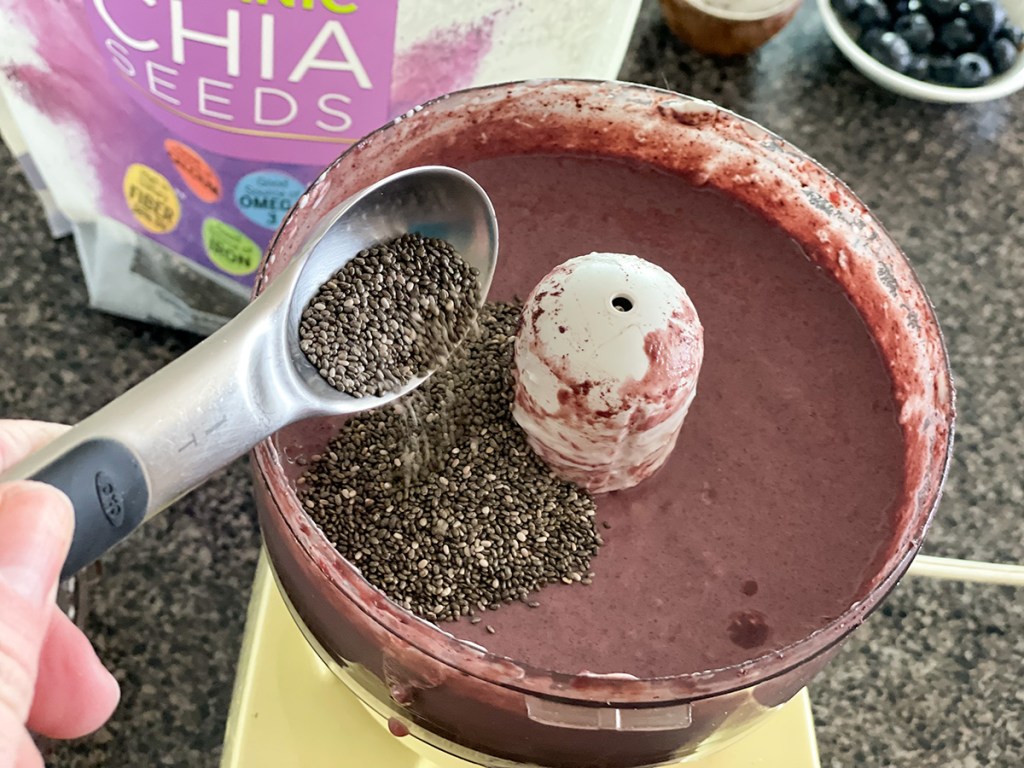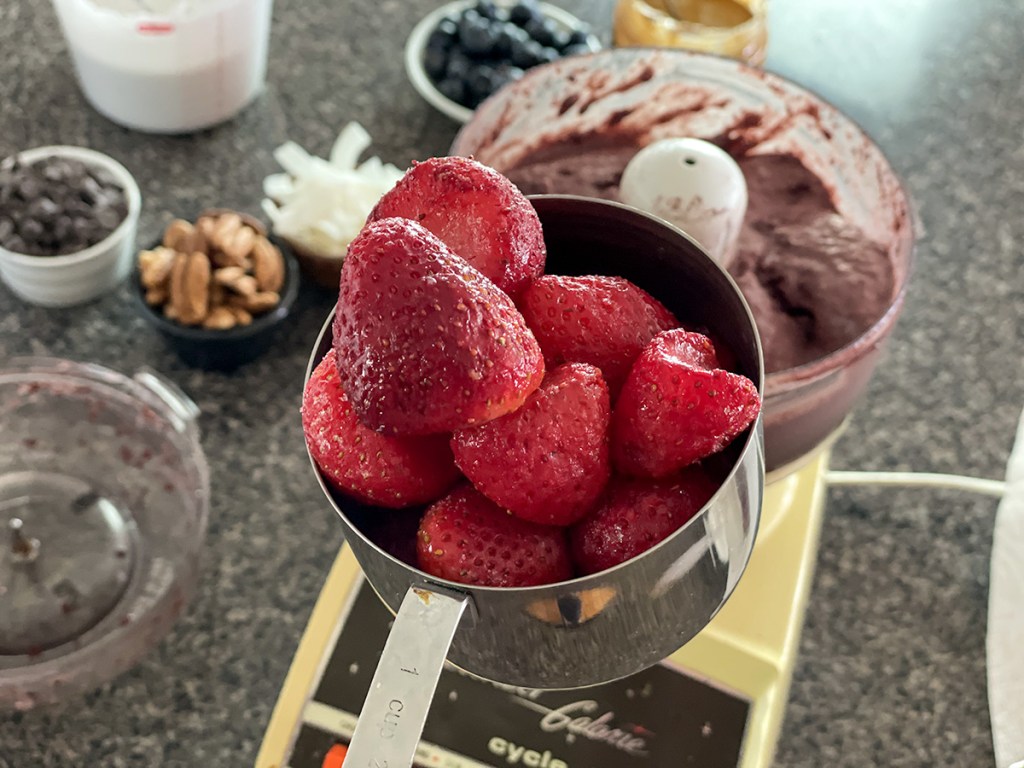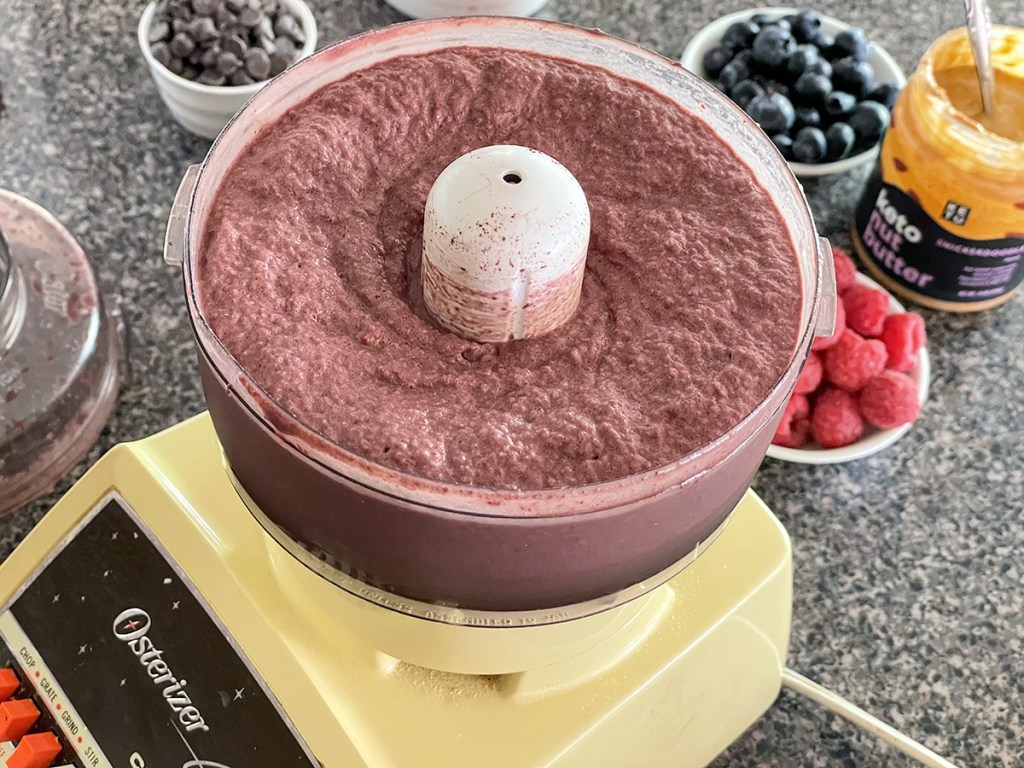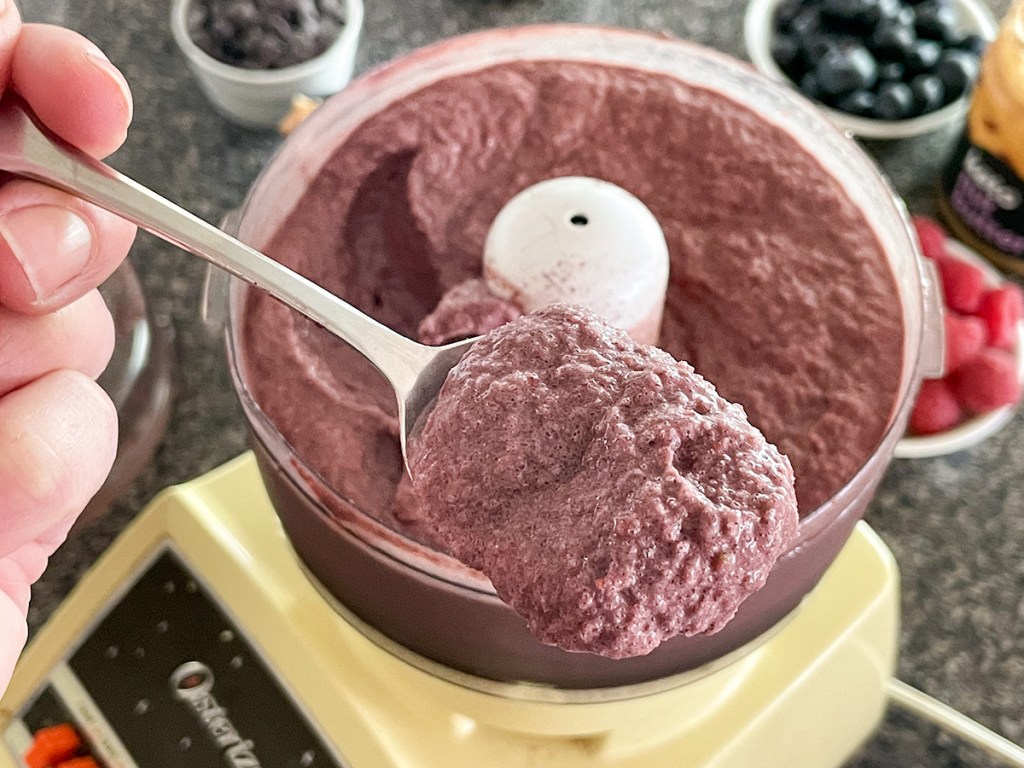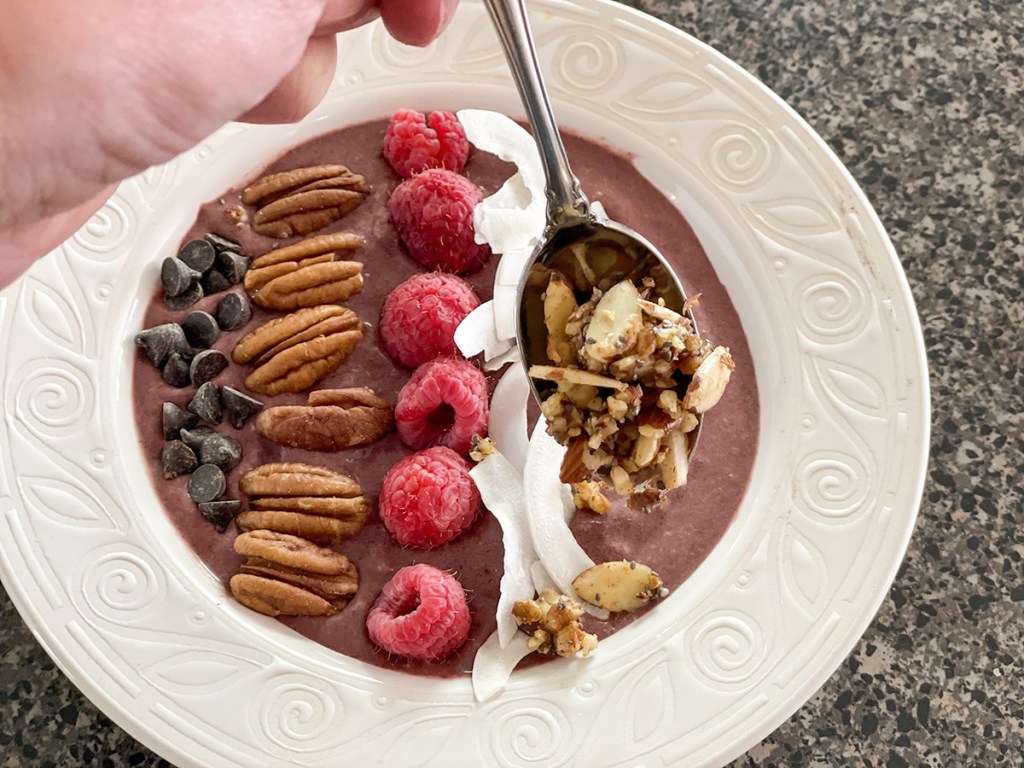 ---
yield: 2 SERVINGS
prep time: 5 MINUTES
cook time: 5 MINUTES
total time: 10 MINUTES
Frozen acai blended with frozen strawberries and either coconut milk or keto yogurt for the perfect base. Top with your favorite keto-friendly ingredients.
Ingredients
Acai Base:
1/2 cup full-fat coconut milk or keto-friendly yogurt
1 cup frozen whole strawberries
4 tablespoons chia seeds, optional
Optional Toppings (recommend 1 to 2 tablespoons of each, depending on preference):
Blueberries
Raspberries
Coconut flakes, unsweetened
Keto chocolate chips
Pecans
Keto nut butter
Directions
1
Let the frozen acai puree defrost at room temperature for about 5 minutes.
2
Add frozen acai puree to a blender or food processor. Blend on high until a smooth consistency.
*If you're using a high-power blender, you can add acai, coconut milk or yogurt, and the strawberries all at once.
3
Add 1/2 cup of full-fat coconut milk or keto-friendly yogurt and blend until combined.
4
Add frozen strawberries and blend on high until smooth, about 30 to 60 seconds. If you would like your açaí mixture sweeter, this would be a good time to also add in a keto-friendly sweetener like Swerve.
5
Divide the acai mixture between two bowls and add desired toppings. Enjoy!
Additional Notes
*Nutrition information does not include toppings or chia seeds and is for the keto acai bowl made with coconut milk.
Nutrition Information
Yield: 2 acai bowls, Serving Size: 1 bowl
Amount Per Serving: 200 Calories | 16g Fat | 11.5g Total Carbs | 5g Fiber | 3.5g Sugar | 2.3g Protein | 6.5g Net Carbs
---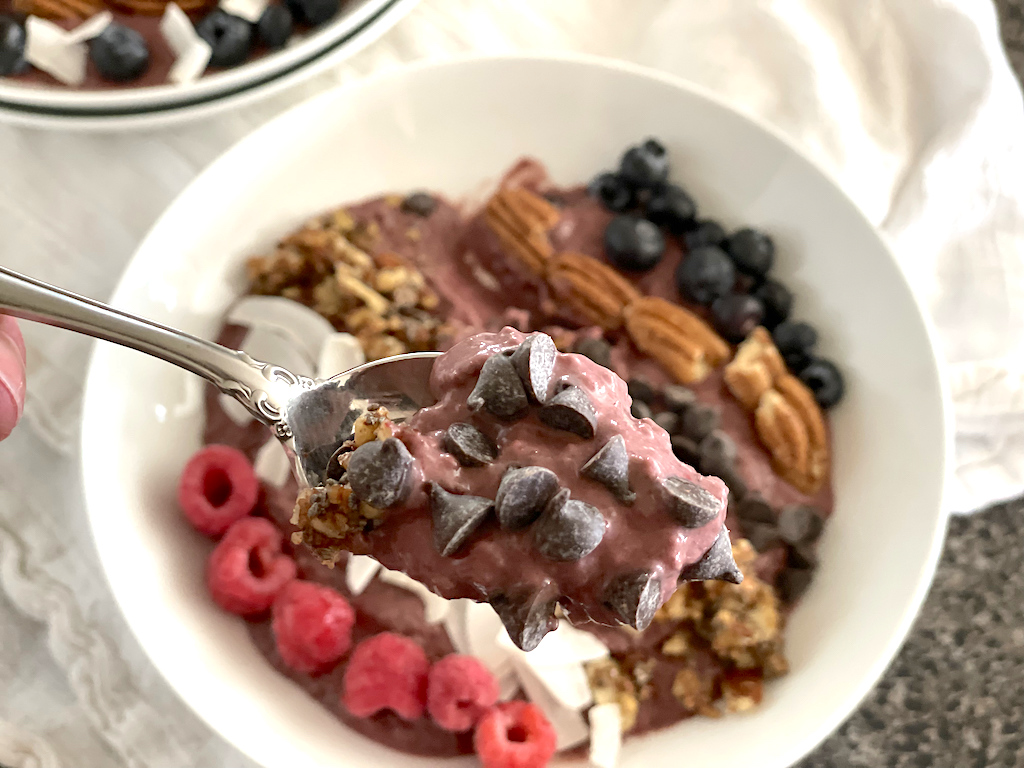 Have a keto acai bowl bar party!
These would be fun to do for brunch. You can blend up a big batch of the acai base mixture and then set out a whole variety of toppings for people to make their own acai bowls. You don't even have to tell them it's keto! 😄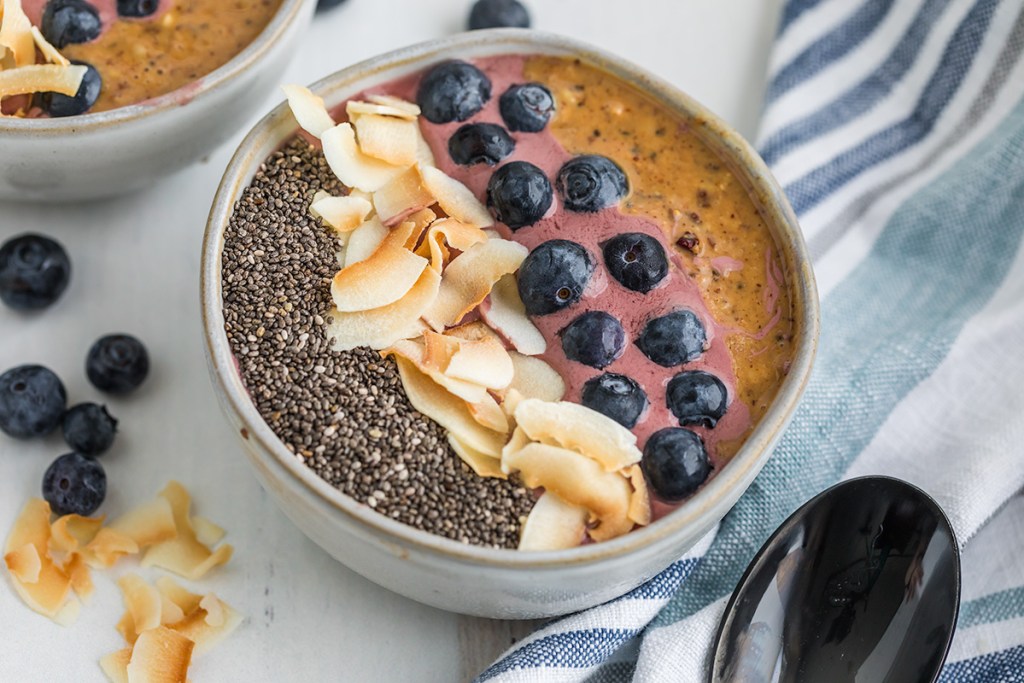 Here's what my Hip sidekick Jenna had to say about these keto acai bowls:
"This is my new favorite smoothie bowl! I think the only acai thing I've ever tried was acai flavored water. But this is amazing! I love how convenient those packs are too. This is so flavorful and absolutely perfect for summer! I love everything about this smoothie bowl, especially how you can customize it with various toppings – like fresh fruit, nut butter, etc. YUM!"
---
Looking for more fun breakfast ideas? Check out our popular keto oatmeal recipe!