Crispy Rutabaga Keto Hash Browns | Breakfast is Back!

You need these keto hash browns in your life!
We all do! Crispy on the outside, soft and flavorful on the inside. Morning bliss in every bite!
If you're like me, eggs just aren't as delightful without a potato buddy for breakfast. But fret no more because rutabagas are your new best friend. Think of rutabagas like a low-carb potato cousin… Just a touch sweeter, mildly bitter, and a whole lot less carby! They're the good guys. And when breakfast is served, these rutabaga keto hash browns are going to rock your socks off!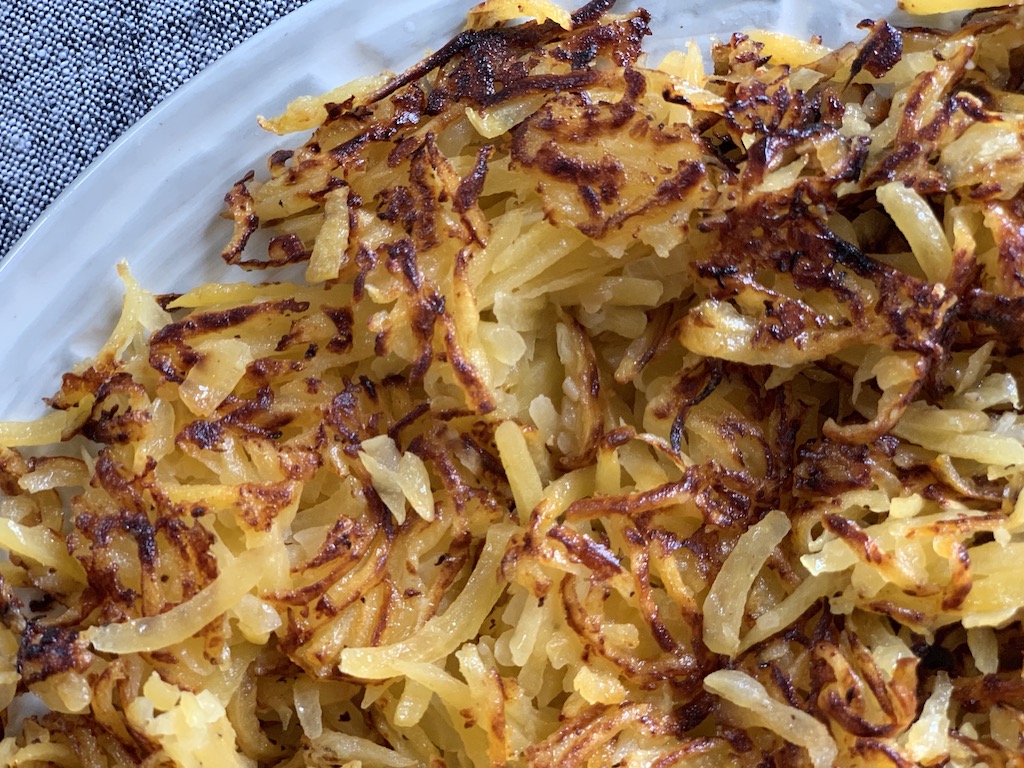 Hip Tips:
Don't forget to peel the outer layer of skin first. I love my Zulay veggie peeler. The blade is super sharp, making peeling smooth and easy.
Rutabagas are denser than potatoes and take longer to cook. That said, it's best to parboil the rutabagas first. You can skip this step; however, your hash brown shreds will be slightly crunchy and a little bitter.
Don't skimp on the oil. Crispy hash browns need enough oil to fry them into crispy deliciousness!
Adjust the heat as needed. Your oil is the right temperature if your hash browns are golden brown and crispy after 3-4 minutes per side. If the oil temperature is too low, your hashies may get soggy. Alternatively, if it's too hot, your hash browns will likely end up burnt and black.
As tempting as it is, do not disturb the hash browns while they're cooking. You'll get the best crispy outer layer from undisturbed hash browns.
Feel free to add additional seasonings like garlic powder, oregano, red pepper flakes, paprika, etc. You can also add finely diced bell peppers, onion, or fresh garlic. Yummy!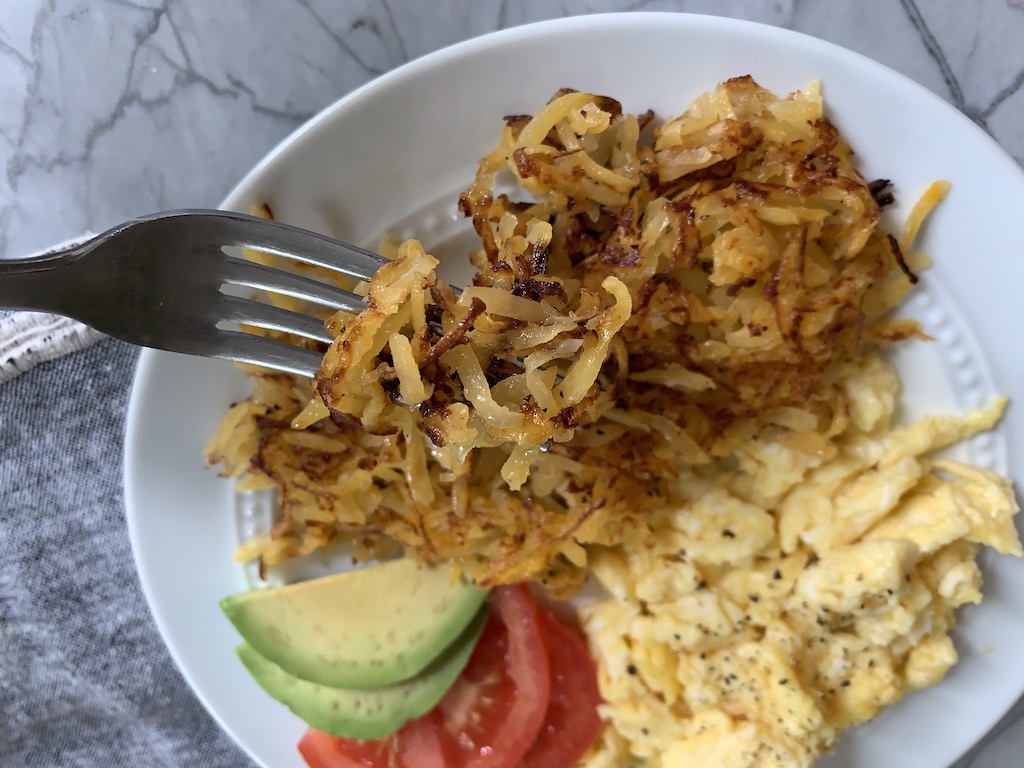 ---
Print
Crispy Keto Rutabaga Hash Browns
yield: 6 SERVINGS
prep time: 20 MINUTES
cook time: 10 MINUTES
total time: 30 MINUTES
These yummy rutabaga hash browns are crispy on the outside, and soft & flavorful on the inside—Morning bliss in every bite!
Ingredients
1 large rutabaga (about 1 pound)
1/4 cup finely grated Parmesan cheese
1 1/2 teaspoon dried minced onion
1/2 teaspoon sea salt
1/4 teaspoon black pepper
3 tablespoons avocado oil (or your preferred high-heat tolerant oil)
Directions
1
Peel the outer skin from the rutabaga. Chop into about 8 equal pieces. In a medium pot, bring salted water to a boil over medium/high heat. Add rutabaga and parboil for 10 minutes. Remove from heat and transfer to a colander. Run cold water over the rutabaga to stop the cooking process. (You can also use an ice bath.)
2
Pat rutabaga pieces dry with a few paper towels. Then shred them using a food processor with the shredding attachment. If you don't have a food processor, you can use a cheese grater or mandoline. Mix the shreds with Parmesan cheese, minced onion, salt, and pepper.
3
Heat oil in a large frying pan on medium/low heat for a couple of minutes. Depending on the size of your pan (and how many batches you'll need to do), you will use 1/2 tablespoon of oil per serving. Each serving is about 1/2 cup. (I cook my hash browns in three batches, so each batch is cooked in 1 tablespoon of oil.) Test the oil temperature by dipping a rutabaga shred into the oil. If it quickly sizzles, you're good to go.
4
Add shredded rutabaga to the pan. The hash browns should not be too thick in any one place, no less than a 1/4-inch, but no more than 1/2-inch is ideal. If desired, gently press the layer down with a spatula. Cook for 3-4 minutes. After a few minutes, lift an edge to see if they have fried to a golden brown. If so, it's time to flip. Use a large spatula (or two spatulas) to flip the hash browns over all at once, or you can divide into smaller halves or quarters and flip each section separately. Continue to cook until they are golden brown on the bottom, about 3 minutes.
5
If desired, sprinkle with additional salt and pepper. Serve immediately or place them on a cookie sheet in an oven set to 225 degrees to keep warm until breakfast is ready. Enjoy!
Nutrition Information
Yield: 6 servings, Serving Size: about 1/2 cup
Amount Per Serving: 114 Calories | 8g Fat | 7g Total Carbs | 2g Fiber | 3g Protein | 5g Net Carbs
---


Root, root for rutabagas!
This uncommon root veggie is super groovy—rutabagas have been a personal fave of mine for quite some time. Rutabaga originated as a cross between the cabbage and the turnip. The taste is a bit more mellow than a turnip and has a slight sweetness similar to that of a carrot. They're so versatile and will undoubtedly shine in many unique dishes. I highly recommend getting to know the rutabaga a bit better—I think you'll be pleasantly surprised!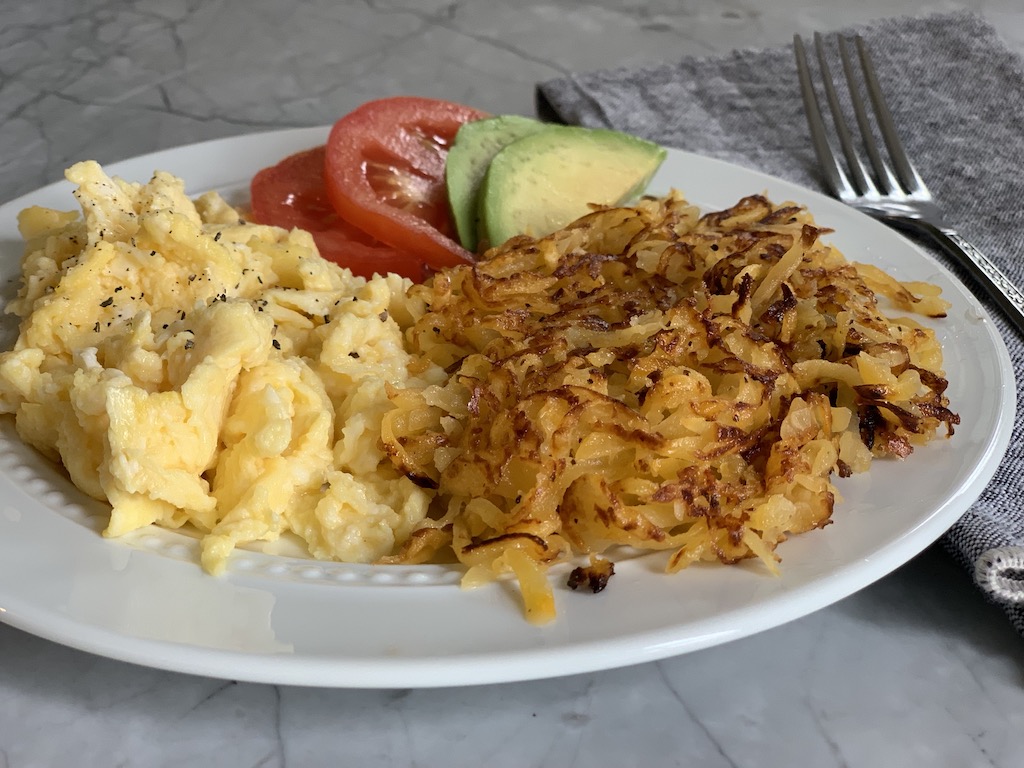 ---