Keto Almond-Crusted Salmon Salad (Better Than The Cheesecake Factory!)
This almond crusted salmon is better than The Cheesecake Factory!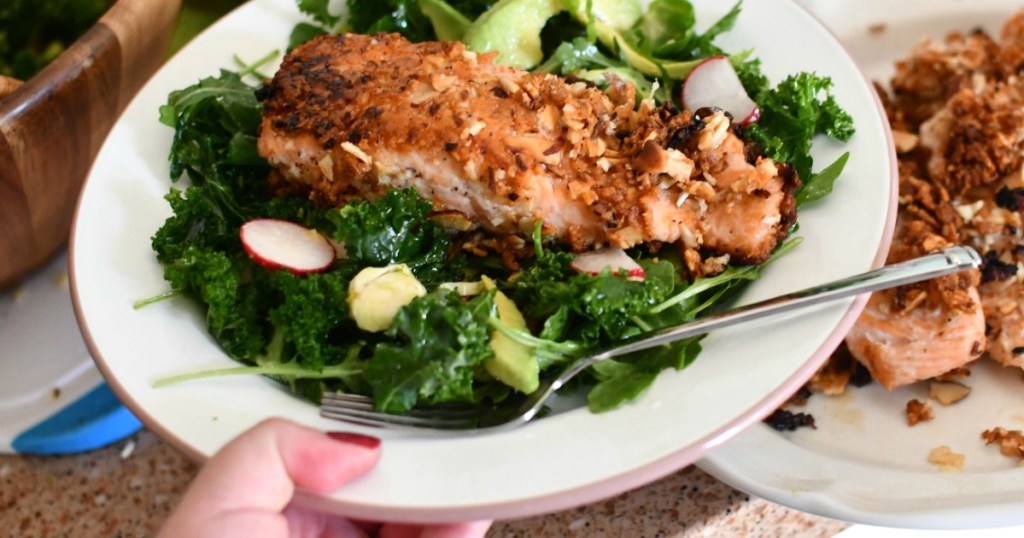 This is the perfect easy keto dinner idea!
Is anyone here a fan of salmon? I've created an over-the-top delicious keto recipe for pan-seared almond crusted salmon, served over a bed of kale and baby arugula salad with a homemade lemon vinaigrette dressing. The result is a very hearty, fresh-tasting, high-fat, and nutritious keto meal that'll rival any restaurant! Are you drooling yet? 🤤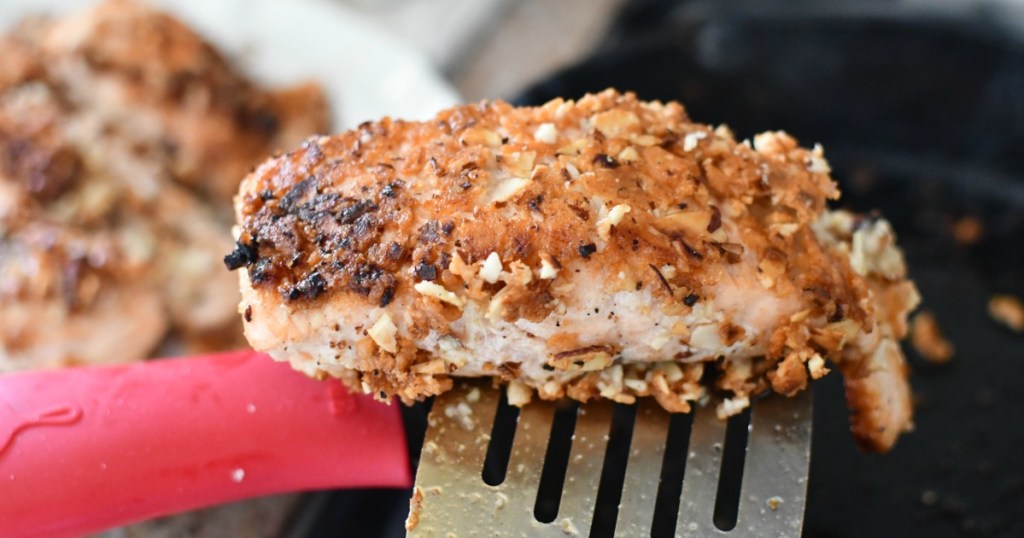 I looked at the recipe and gave it a keto-friendly homemade makeover! The real star of this show is the perfectly browned crusted flaky piece of fish that is an absolute show stopper. You can skip the salad and just make the fish portion. Serve it alongside a favorite keto veggie, and it'll still be delish!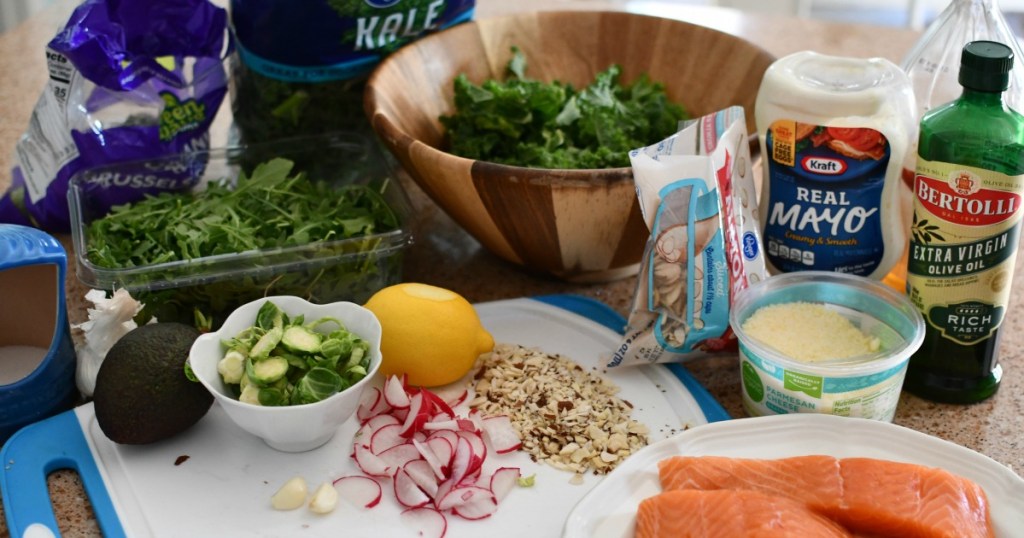 Tips for making almond crusted salmon salad:
I had some crushed almonds in the pantry, and just ran over them with a sharp knife a few times to create a large "crumb" topping. If you have whole almonds, consider using a food processor to chop them into smaller pieces for this. I think pecans would be yummy, too!
I recommend using a cast iron pan and a sturdy metal spatula to be able to scrape and turn the fish without it falling apart. Don't worry or stress if some of the yummy browned toppings fall off. You can add them on top when plating the fish.
Fresh lemon and lemon zest make this salad dressing really pop! If you need a suggestion on a high-quality zester, I have this Raniaco zester. I love using it for citrus, ginger, and garlic!
We had a piece of fish leftover, and it heated up perfectly the next day with just a few minutes in the air fryer. Yum! I love reheating fish and steak using the air fryer as it makes it taste fresh again without overdrying!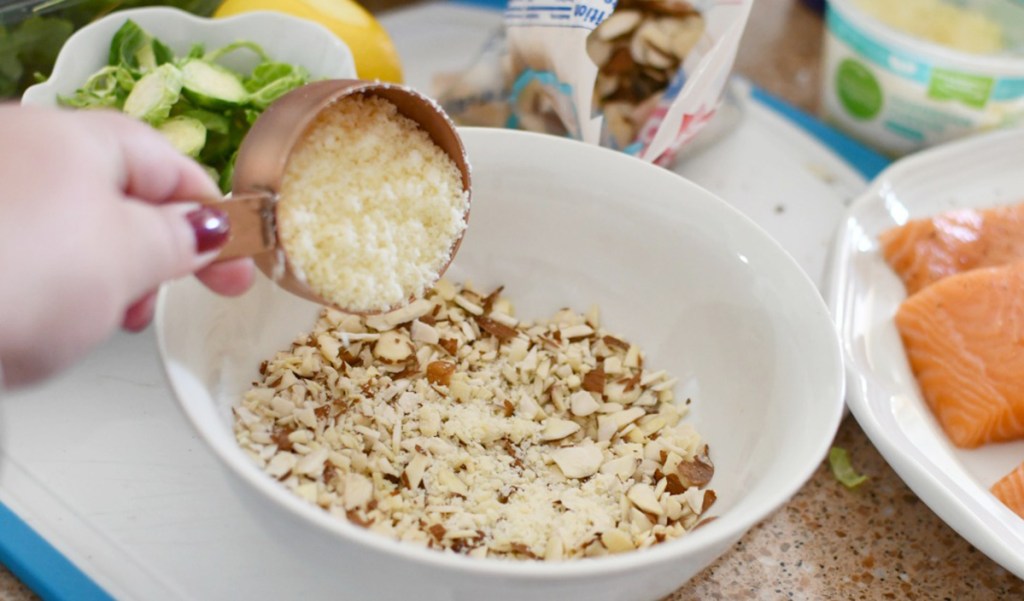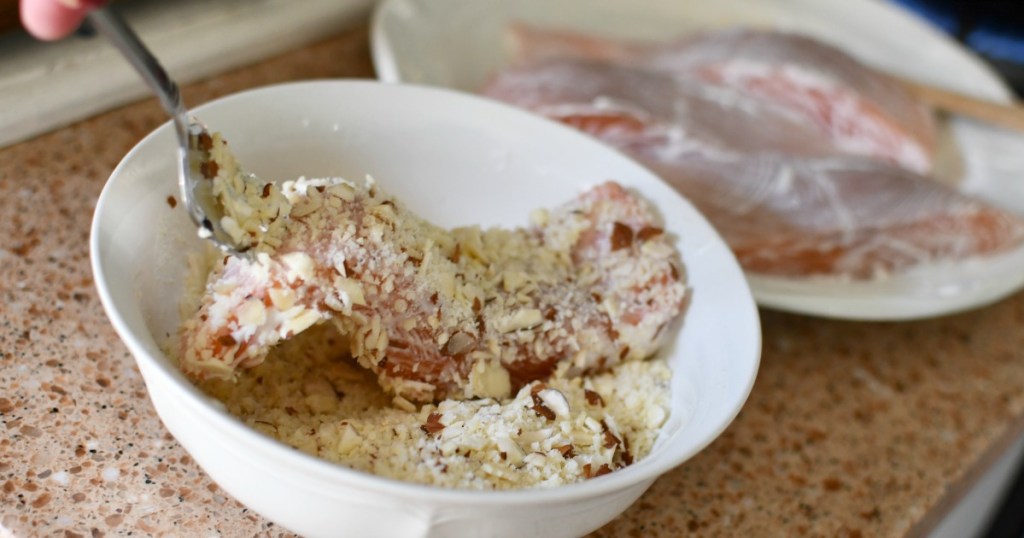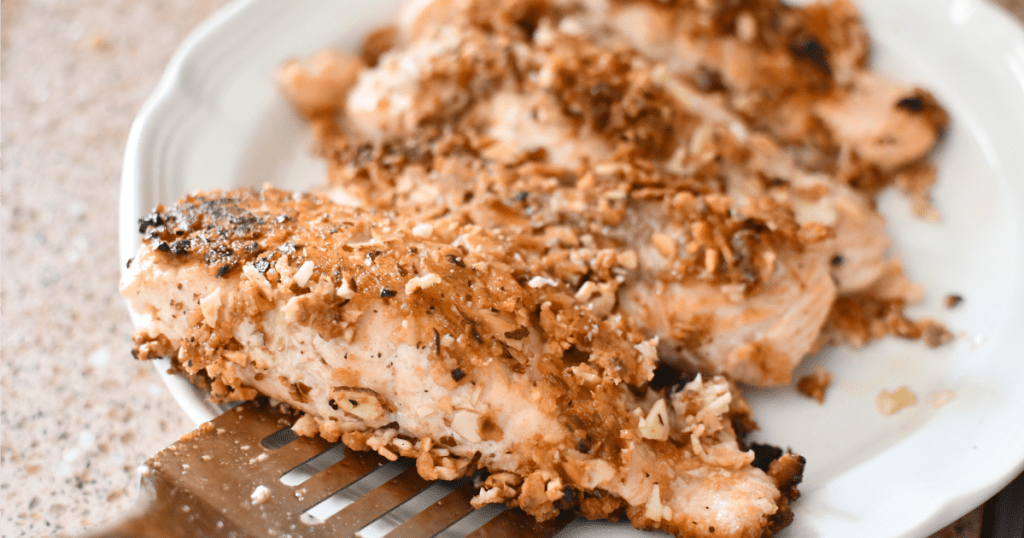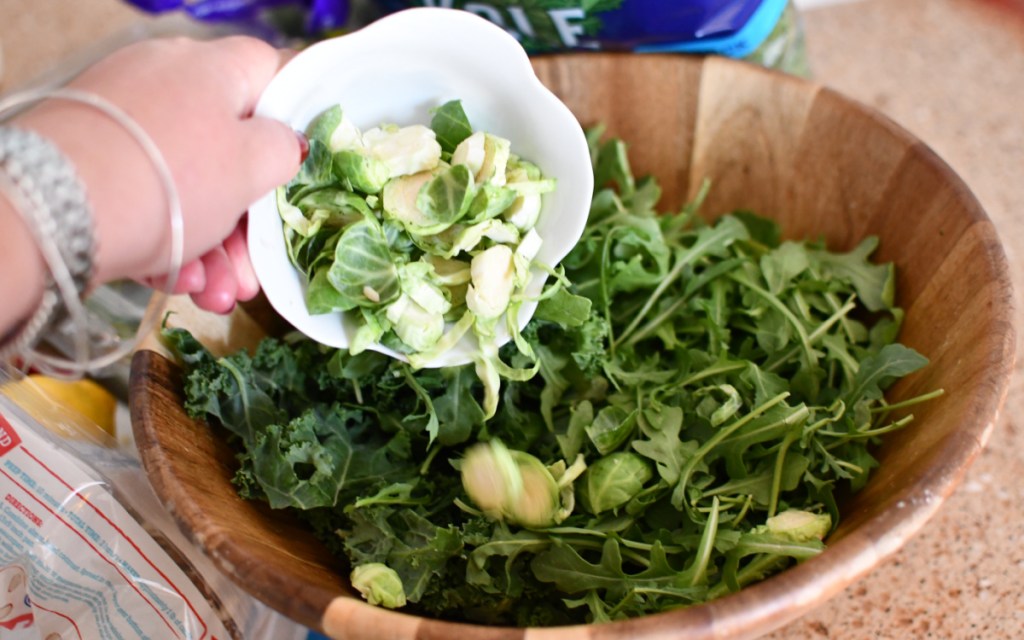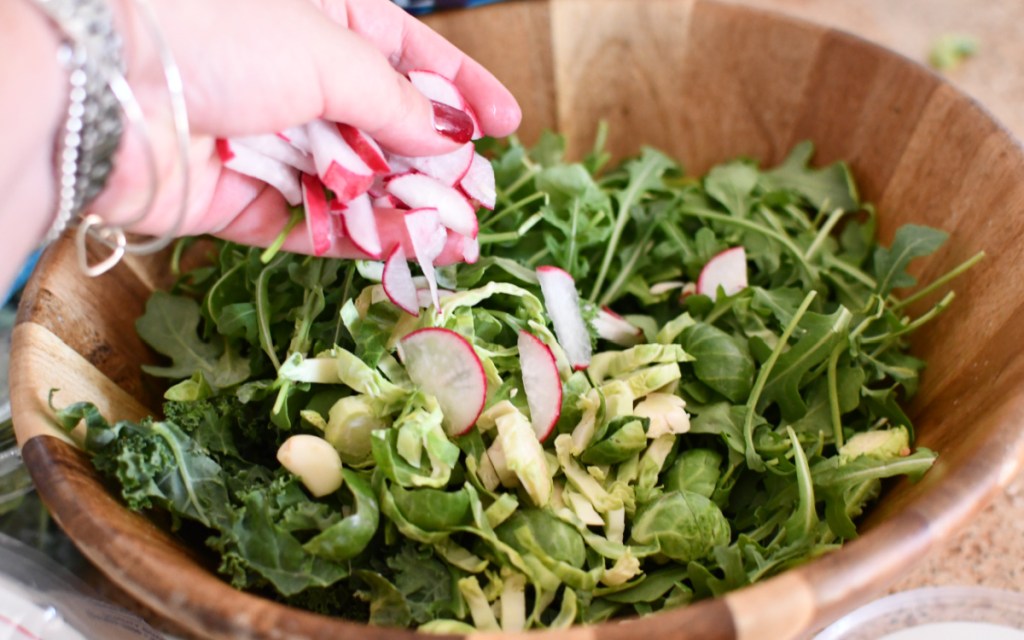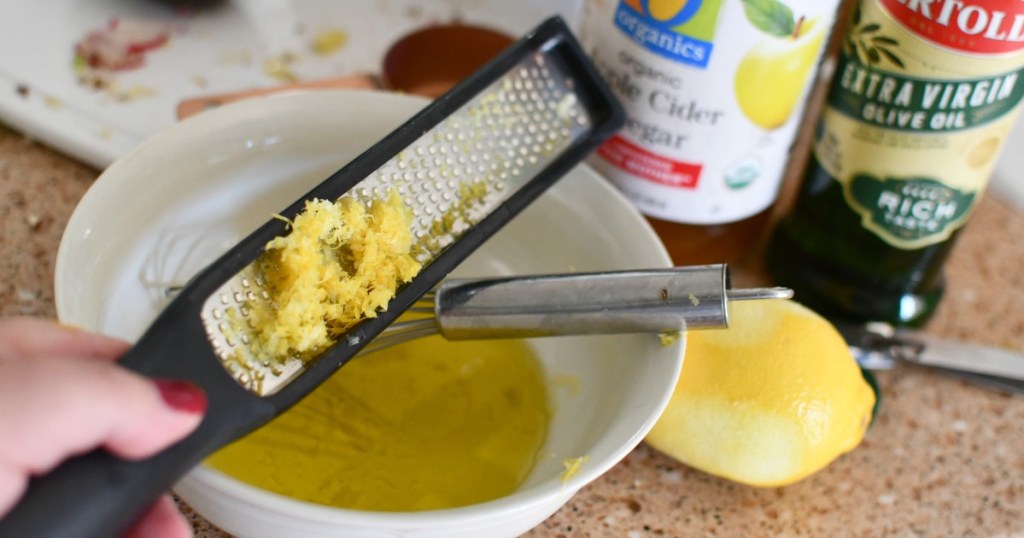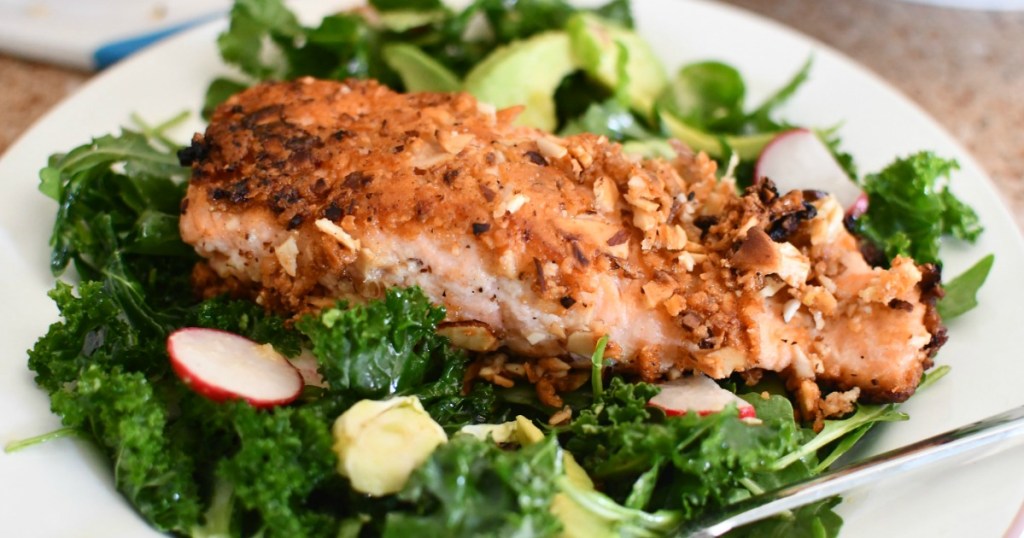 ---
Print
Keto Almond Crusted Salmon Salad
yield: 4 SERVINGS
prep time: 15 MINUTES
cook time: 10 MINUTES
total time: 25 MINUTES
This leafy salad features yummy pan-seared salmon with a browned almond crust and homemade lemon olive oil dressing that's easy to whip up!
Ingredients
For the salmon:
2 tablespoons olive oil
4 - 6 oz. pieces of salmon, skin off, room temperature
1/2 teaspoon salt
1/4 teaspoon pepper
4 tablespoons real mayonnaise
2/3 cup crushed almonds
2/3 cup grated parmesan cheese
For the salad dressing:
1/2 cup olive oil
2 tablespoon apple cider vinegar
1 tablespoon lemon juice
1 teaspoon lemon zest
1 clove garlic, minced
1/2 teaspoon salt
1/4 teaspoon pepper
For the salad:
3 cups chopped kale
4 cups baby arugula lettuce
6 radishes, thinly sliced
6 brussels sprouts, thinly sliced
1 avocado, thinly sliced
Directions
1
Heat a skillet to medium heat with olive oil. Mix almonds and parmesan cheese together in a bowl.
2
Add salt and pepper on both sides of the salmon. Then coat both sides of the fish with mayonnaise. Dredge the fish into the almond parmesan mixture, and place it onto the skillet.
3
Let the salmon cook for about 3-4 minutes, and then turn it over and let it cook for another 3-5 minutes until it's flaky and cooked to desired doneness, and then set aside.
Hip Tip: The easiest way to tell if salmon is done, is to press down from the top using a fork, and if it flakes or separates easily, it's finished cooking to medium, which is 125 degrees.
4
Whisk the salad dressing ingredients together well in a bowl. Be sure to really get in there with a whisk for a minute or so until it starts emulsifying and looks almost creamy.
5
Mix all the salad ingredients in a bowl and toss with the dressing to coat everything evenly. I actually plated the salads with a few slices of avocado to make sure each plate gets some.
6
Divide the salad among 4 plates, and serve a piece of cooked salmon on top of each plate. Enjoy!
Nutrition Information
Yield: 4 pieces of salmon and salad, Serving Size: 1 piece salmon & about 1 cup salad with dressing
Amount Per Serving: 921 Calories | 78g Fat | 16.6g Total Carbs | 10.1g Fiber | 3.3g Sugar | 43.4g Protein | 6.5g Net Carbs
---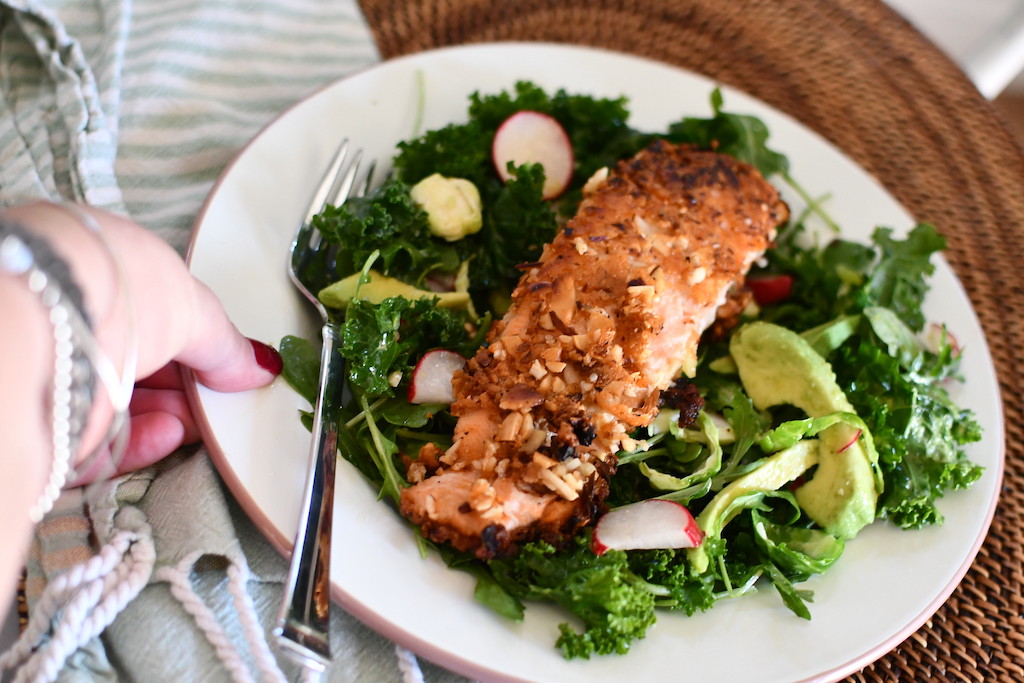 This salad is so DELICIOUS!
If you're in a meal rut, try making this dish to jazz up your week! It doesn't disappoint. In fact, my husband was so impressed that he kept talking about it the next day. He loved how great the lettuce combo was with the pieces of radish slices and Brussels sprouts. I'm pretty sure this is his new fave meal!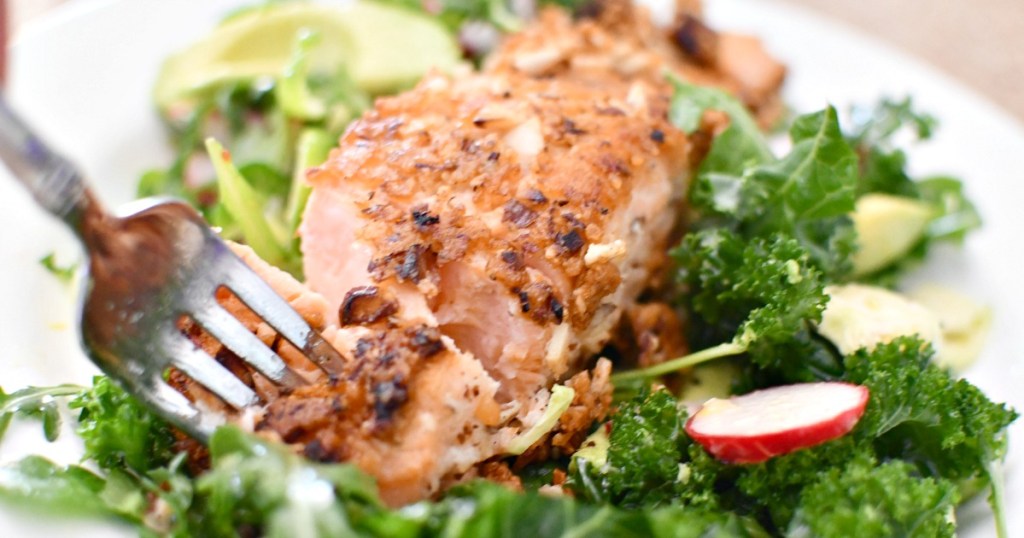 Here's what my teammate Jenna had to say after cooking this almond crusted salmon:
"I actually have never tried the Cheesecake Factory's version, but this salmon salad recipe sure is good! I love the crust and how the flavors of the fish and salad pair so well together! I love the mayonnaise as a way to hold the crust on. It really works and gives it a little crunch. Plus, it has the perfect amount of saltiness!"
---