I Tried This Brain-Boosting Collagen Creamer — An Honest Review From a Black Coffee Drinker!
This Skull Dust Keto Collagen Creamer is the best way to add some extra collagen into your diet, and it might even boost your brain power!
Wanna give your coffee an extra boost?
While I normally prefer black coffee and drink my morning brew without any additions, I'm willing to experiment a little bit if something piques my interest! I recently had the chance to try out some of the keto collagen creamer flavors from Black Magic Supply and wow, I was actually pretty blown away. 😍
I'm sharing all the info about the Black Magic Supply's Skull Dust Keto Collagen Creamers & why you need them in your life ASAP, especially if you're a multitasker like myself. And even better, we're hooking you guys up with a deal–just keep on reading!
---
So first, why do you want collagen in your coffee anyway?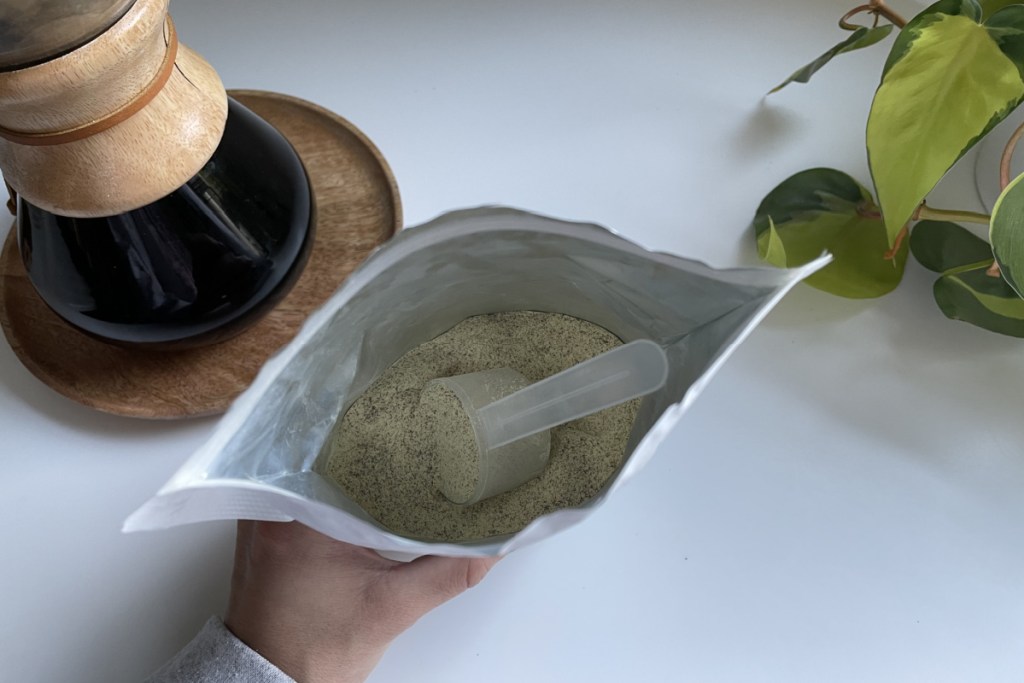 Collagen is actually the most abundant protein in the human body and makes up an important part of our ligaments, connective tissues, skin, etc. And although it's naturally occurring, it decreases with age, which is part of the reason that collagen supplements are becoming more and more popular.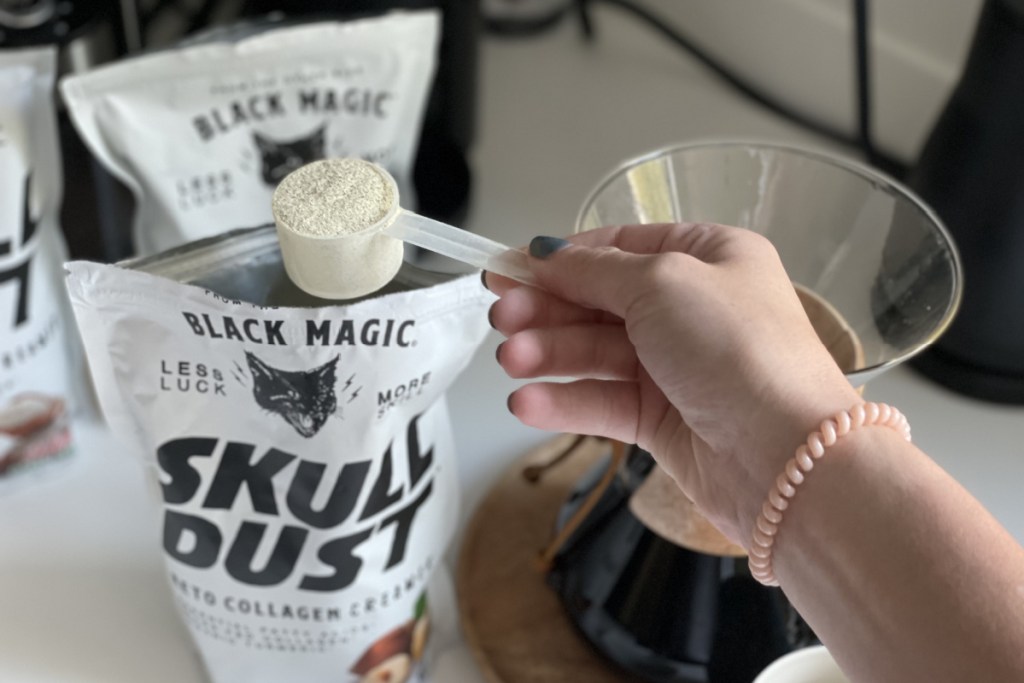 There are several potential benefits of adding collagen to your diet, including:
It reduces joint pain. Athletes, this one's for you! Collagen has been shown to improve mobility and reduce joint pain for those suffering from joint discomfort.
It makes your nails stronger. Broken nails aren't just annoying, they can be really painful! Studies have shown that taking collagen increases nail strength.
Note: I'm definitely no doctor, but we've linked to studies by people who are.
---
Well, to start, most flavored coffee creamers are definitely not keto, so if you miss having the extra creaminess and flavor added in the morning (or the afternoon… or evening… 😉), you get all that goodness + more with this keto collagen creamer.
And as great as the beauty benefits are, it's what's on the inside that counts, right?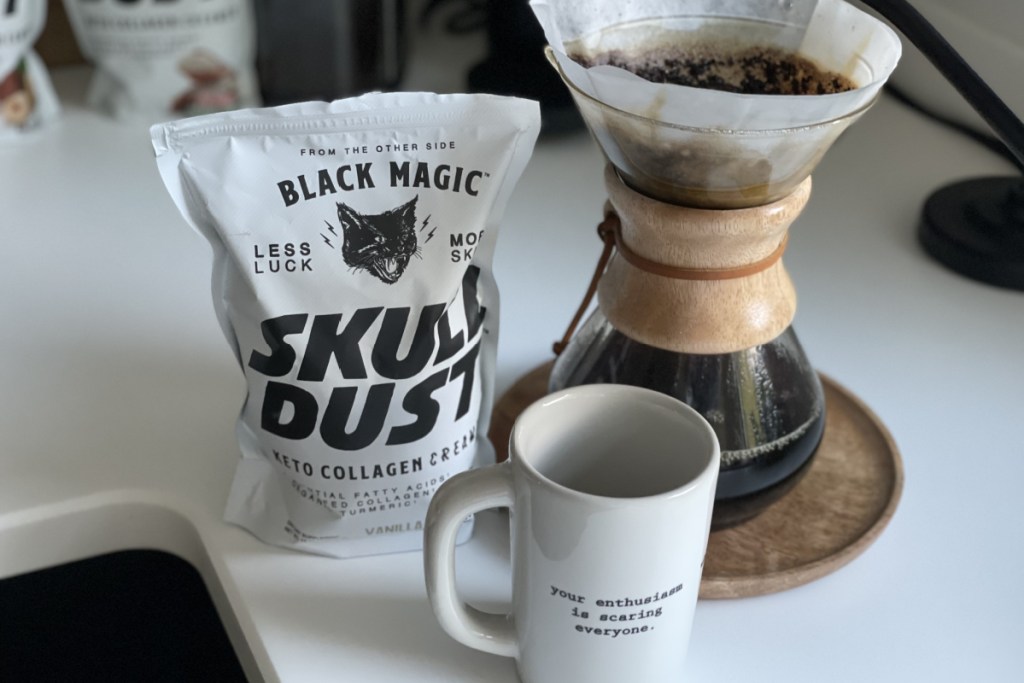 What really intrigued me about the Skull Dust Collagen Creamers was the claim that they'll "induce extreme brain power, improve daily performance, and boost your immune system with each and every scoop."
Extreme brain power? Now we're talking!
I had to test it out and see what the hype was all about.
Again, I'm not a doctor, but I just wanted to share my personal experience (which, spoiler alert, was awesome 😍) + how I felt using the Black Magic Supply Collagen Creamers.
---
So what's in the Skull Dust Keto Collagen Creamers that makes them so special?
Hint hint, all the ingredients are keto-friendly and specifically formulated to make you feel good and, most importantly, energized. 🙌
Nutrition Info (Vanilla Mocha, Hazelnut, and Italian Sweet Cream flavors)
Serving Size: 1 Scoop (22g) | Calories: 110 | Fat: 4g | Total Carbs: 1g | Fiber: 0g | Sugar: 0g | | Protein: 12g
Ingredients: Keto Protein Blend–Grass-Fed Collagen, Grass-Fed Ghee, Medium Chain Triglyceride Powder, Caprylic Acid, Capric Acid, Natural Colombian Espresso Coffee Powder, Turmeric Powder, Omega 3-6-9 Powder. Other Ingredients–Natural Flavors, Di Sodium Phosphate, Xantham Gum, Steviol Glycosides.
---
The Skull Dust Creamers are also so easy to use… you technically don't even need a coffee maker!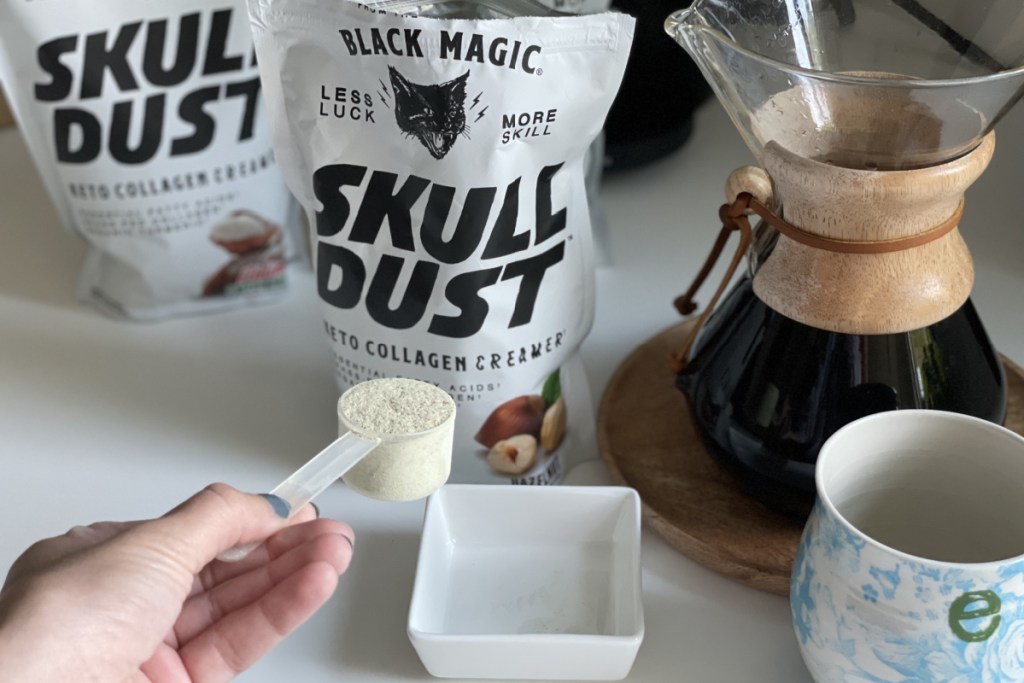 Yep, that's right, no coffee needed! Since the Skull Dust Keto Coffee Creamers contain 95mg of caffeine already, all you actually need is some hot water. But you can absolutely choose to whip up a cup of joe and add the creamers into that!
And if I have the option to include more coffee… I'm gonna do it. 🙃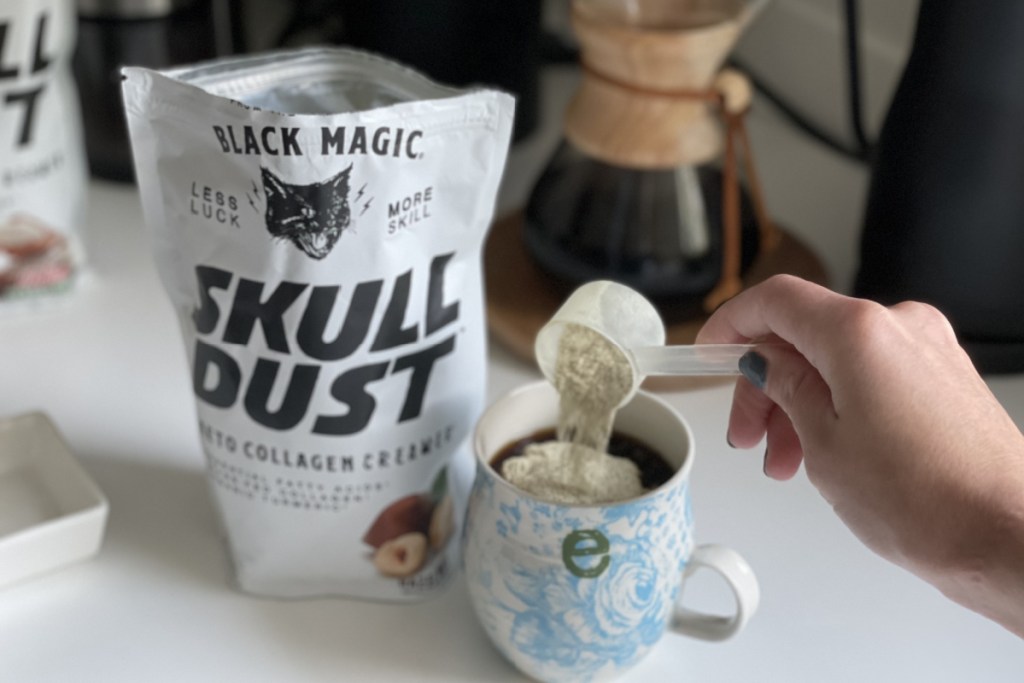 I brewed a batch of coffee in my favorite Chemex pour-over coffee maker (check out how I make the perfect cup!), added in a scoop of the Skull Dust Coffee Creamer, and mixed them all up for a smooth, creamy cup o' keto coffee.
---
Yes, it tasted amazing, and I felt that extra brain power I was promised. 🙌
I'll admit, at first I was skeptical because I had this mentality that a keto collagen creamer would make my coffee oily and have a funky taste to it, but this is absolutely not the case with Skull Dust!
After frothing, it has a smooth and creamy texture (almost latte-like!) and the flavors are unbelievable. I think the Vanilla Mocha is my favorite as it's just a simple lightly sweetened creamer. But Hazelnut and the Sweet Italian Cream are still just as dreamy. ❤️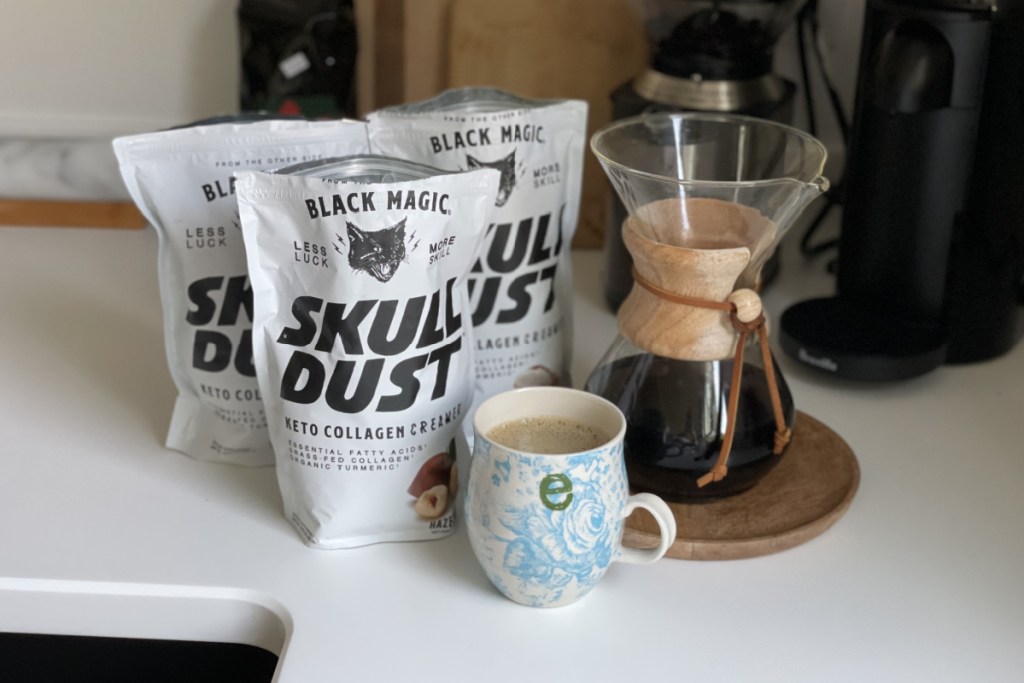 And like I mentioned, I was most intrigued by the claim for boosting brain power.
I normally don't buy into claims like that… but after having this for a week, I truly felt like I was able to handle my to-do list, which heavily relies on multi-tasking, with ease! It felt as if my mind wasn't racing a thousand miles a second and I could clearly focus in on the task at hand. That's pretty incredible in my opinion! Normally, I wouldn't splurge on a coffee creamer, but really the cognitive function piece is what sells me.
---
Ready to try it out yourself?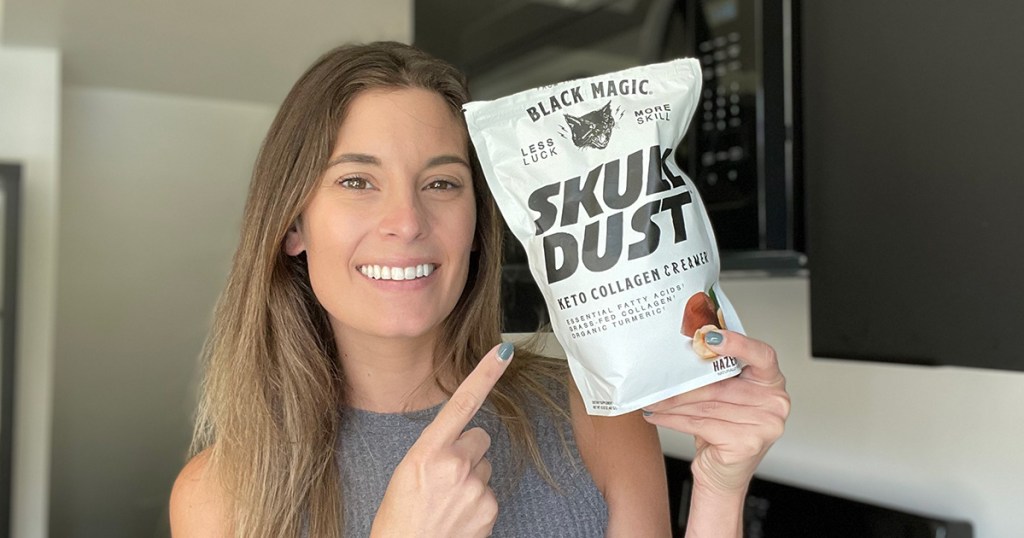 You can bet we have a deal for you!
Skull Dust Coffee Creamers $31.99
Use promo code HIP2SAVE15 at checkout for 15% off
Final cost just $27.20!
*Standard shipping starts at $3.95
Score free shipping when you stock up on all 3 flavors!
---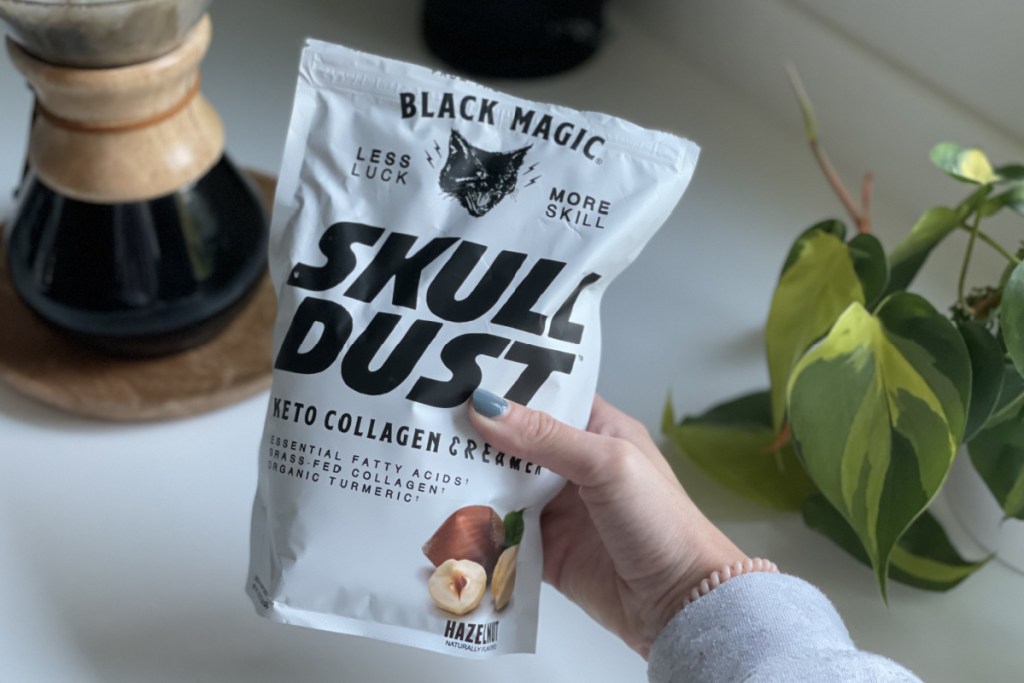 And I know you might be thinking…"I would never spend that on coffee creamer." And like I said in the beginning, I'm a black coffee drinker, but I'll admit I treat myself to an almond milk flat white latte at Starbucks at least every other week. 😂 Considering I get a yummier flavor from the Skull Dust powder, along with the brain-boosting benefits from the collagen & turmeric, my $5.45 latte doesn't really hold a candle to this $1.35 alternative…and I don't even have to leave my house!
So in the contest of opting for a healthier, more convenient, and over 75% less expensive specialty coffee? You can beat it, 'Bucks. ☕️
---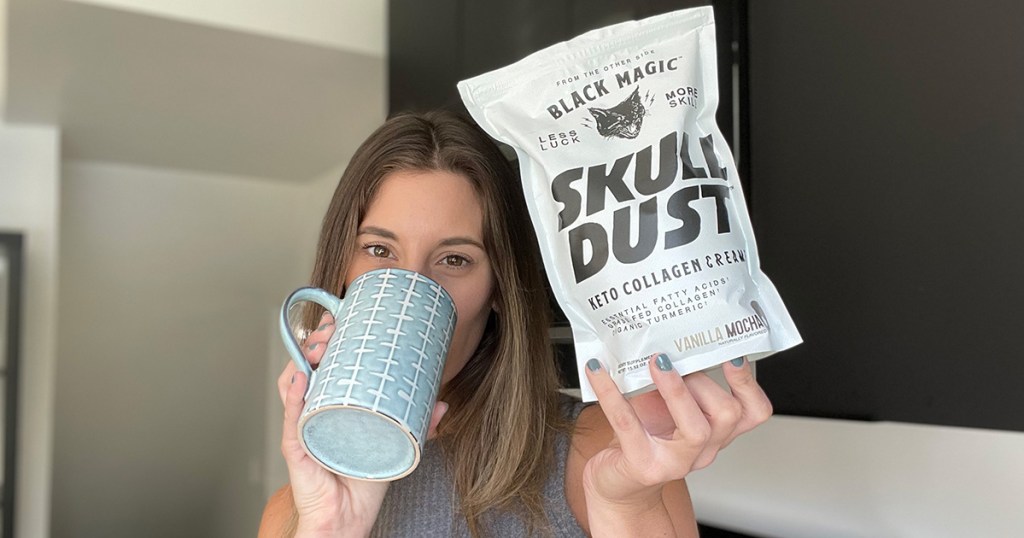 Cheers, fellow keto coffee-loving friends!
---
Want some breakfast with your coffee? Try the new Magic Spoon cereal flavors!