Craving Chocolate? You'll Wanna Bite Into Lily's Chocolate Bars!
Keto chocolate lovers, rejoice!
Ever just want to indulge in a chocolate bar without feeling guilty? You can!
At Hip2Keto, we LOVE Lily's chocolate bars, as they're made with only the best ingredients and they don't have any sugar added. They taste simply aaaaamazing and are great to have on hand for that time of the month, if ya know what I mean.
A slight word of caution. Stop yourself at just a few squares or you may be spending a long time in the bathroom.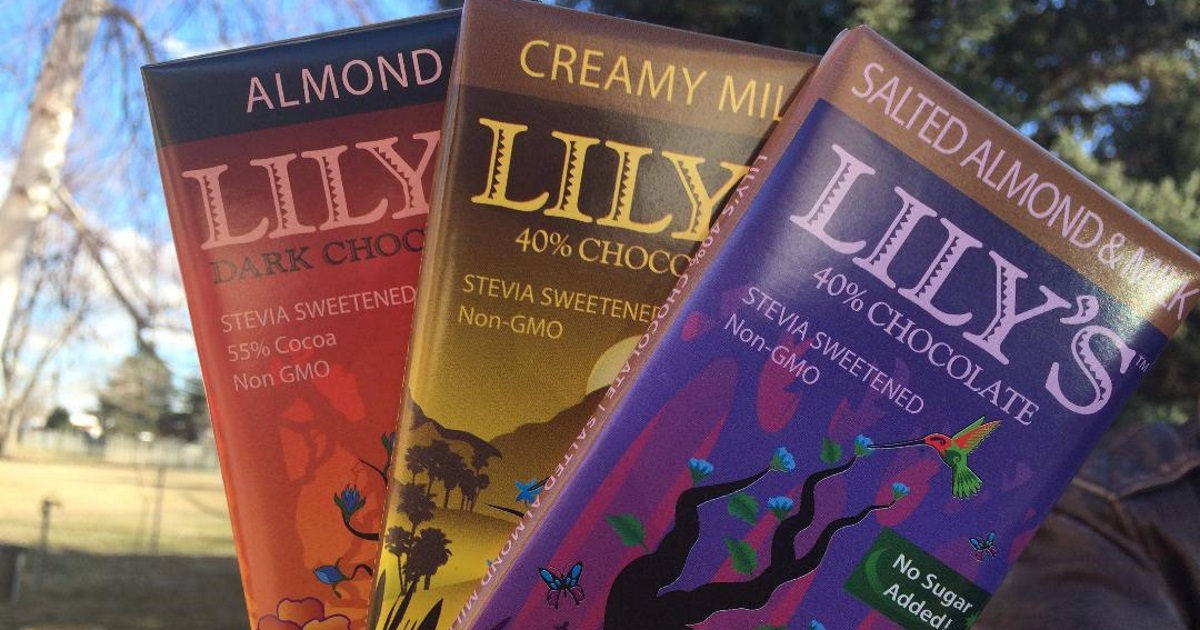 You can find these bars on Amazon or at Whole Foods Market, Target, Sprouts, Safeway, and other stores listed here.
---

Creamy Milk
Lily's stevia-sweetened 40% chocolate with milk is smooth like premium milk chocolate, but without the sugar (and 20% fewer calories). They use Fair Trade certified cocoa, certified gluten-free ingredients, and rBST-free dairy products.
Nutrition: 160 calories | 14g Fat | 22g Carbohydrates | 12g Fiber | 7g Erythritol | 2g Protein
---

Salted Almond & Milk
Get your sweet and salty on! Lily's Salted Almond & Milk bar is rich, creamy milk chocolate with roasted, salted almonds. Sweetened with stevia, it has no added sugar.
Nutrition: 170 calories | 15g Fat | 21g Carbohydrates | 11g Fiber | 6g Erythritol | 3g Protein
---

Caramelized and Salted
Lily's Caramelized & Salted bar is the perfect combination of two classic flavors, caramel and chocolate, with just enough salt to make both irresistible. Yum!

Nutrition: 160 calories | 15g Fat | 22g Carbohydrates | 12g Fiber | 7g Erythritol | 2g Protein
---
Check out this honest review from Collin…
"Hi, I'm Collin and I'm addicted to Lily's chocolate bars – so much so that I am OK spending the day on the toilet. Hey, at least I get to bring my computer with me. #poopingiscool"
---
And no, we are not getting paid to post about Lily's Chocolate bars. We just love them and want to share with you!

---
Use Lily's to Make Keto Chocolate Almond Butter Popsicles!