Love Pasta? Satisfy Cravings With Kiss My Keto Shirataki Noodles (+ Save 10% w/ Exclusive Code)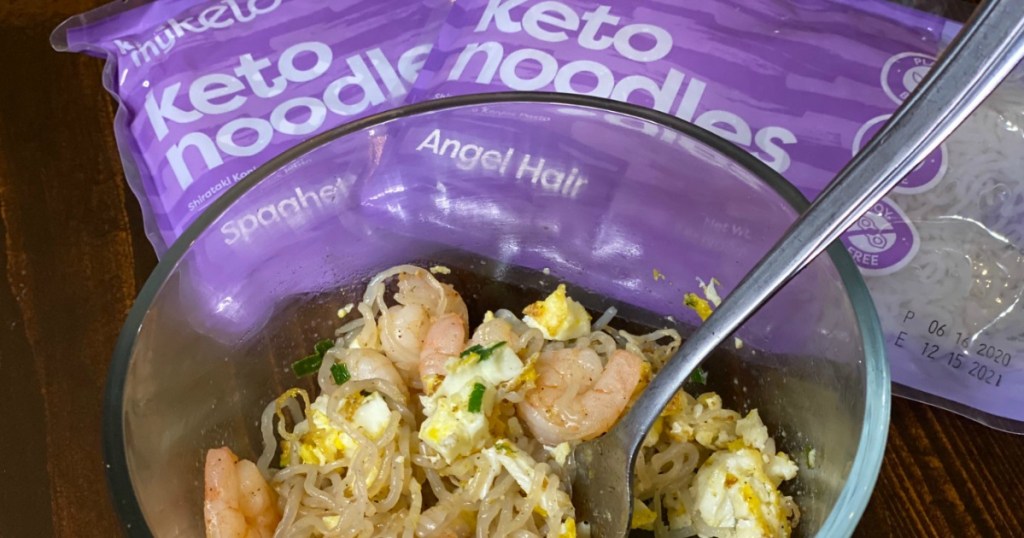 Oh pasta, how we miss you. But we aren't missing all those carbs!
If you're like me and your carb weakness is noodles, then you might be in for a pleasant surprise with Shirataki Keto Noodles from Kiss My Keto.
They're not quite the same as a comforting bowl of authentic spaghetti, but they might be the next best thing. Like many keto products, the texture and flavor of this pasta substitute is an acquired taste, but I for one, am here for it!
---

Kiss My Keto Shirataki Noodles come in 3 different varieties so you can pick your favorite noodle.
How does a bowl of creamy fettuccini alfredo sound, topped off with some tender and juicy chicken? Or maybe you're in the mood for a ramen noodle dish with savory seasonings and a boiled egg on top. Either way, you're covered with these keto noodles, available as angel hair, spaghetti, and fettuccini.
Each selection has the same flavor, but the texture is just slightly different depending on the thickness of the noodle variety. My personal favorite is the angel hair, jazzed up with seasonings and shrimp. It makes me feel like I'm eating something off-limits!
---
Don't let the shirataki scent deter you.
Before you dismiss these keto noodles, keep in mind that they are made of konjac yam and have a slightly fishy scent before they are rinsed off with water. This completely goes away once the noodles have boiled, and there is no unpleasant scent or lingering flavor once they're ready to serve.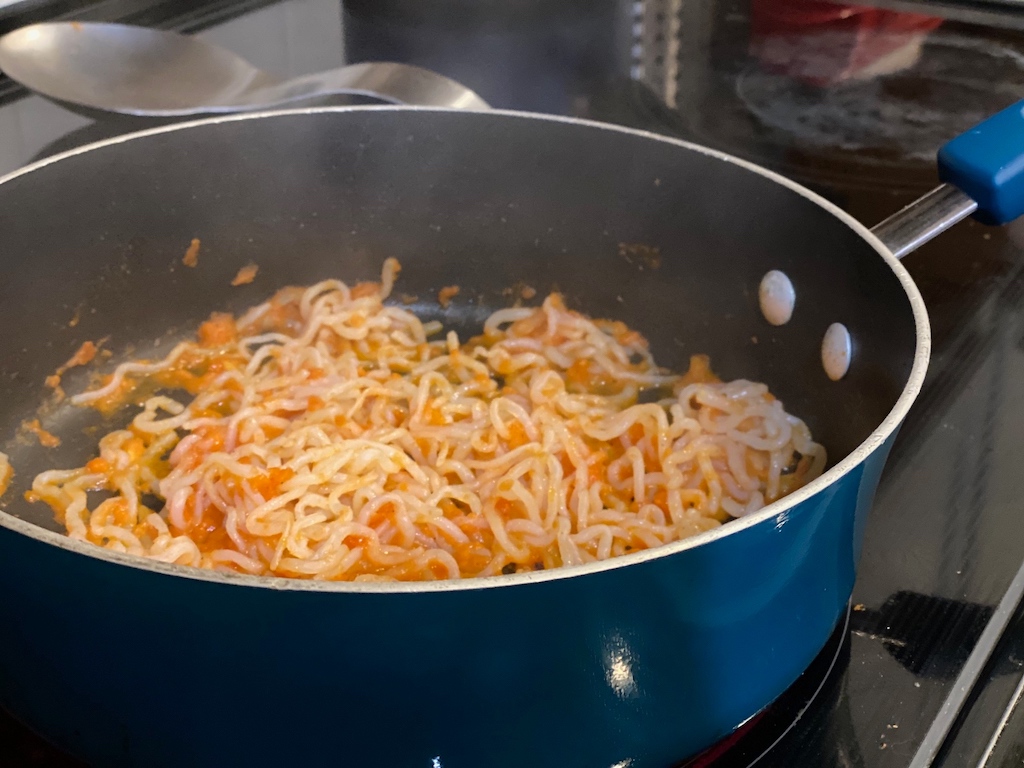 Shirataki naturally doesn't have a whole lot of flavor, so it's best to cook the noodles in a low-carb sauce or seasoning so they absorb the flavors better.

Here's what you can expect from the texture of these keto noodles.
Kiss My Keto's Shirataki Noodles have a slightly chewy texture so you can expect a little more of a bite compared to the texture of regular pasta. Again, sauces are key here as they will improve the taste and the texture of your dish overall.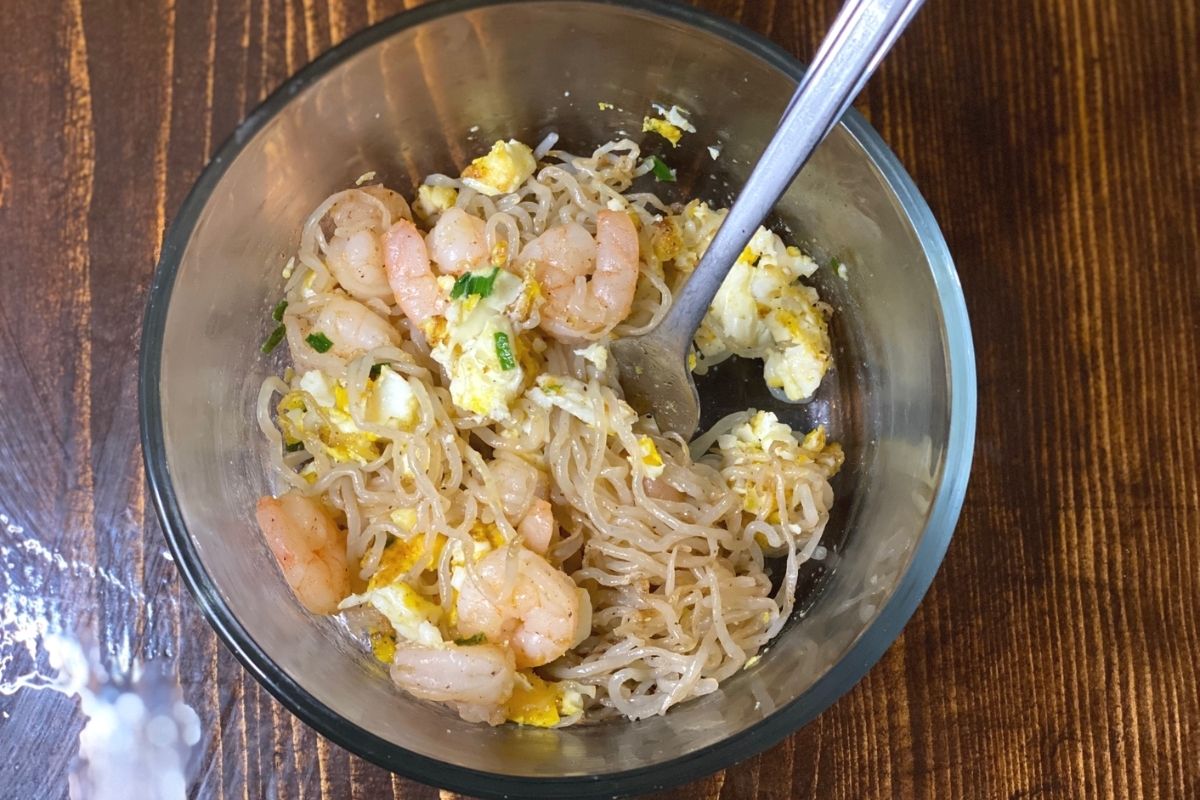 I'm not sure I would eat shirataki noodles on their own, but toppings, meats, and other flavors really help deliver a yummy and low-carb meal that tastes like something full of carbs.
---
Kiss My Keto Keto Noodles Nutrition:
Serving size: 100g (1/2 bag) | Total Carbs: 3g | Fiber: 3g | Net Carbs: 0g | Fat: 0 | Protein: 0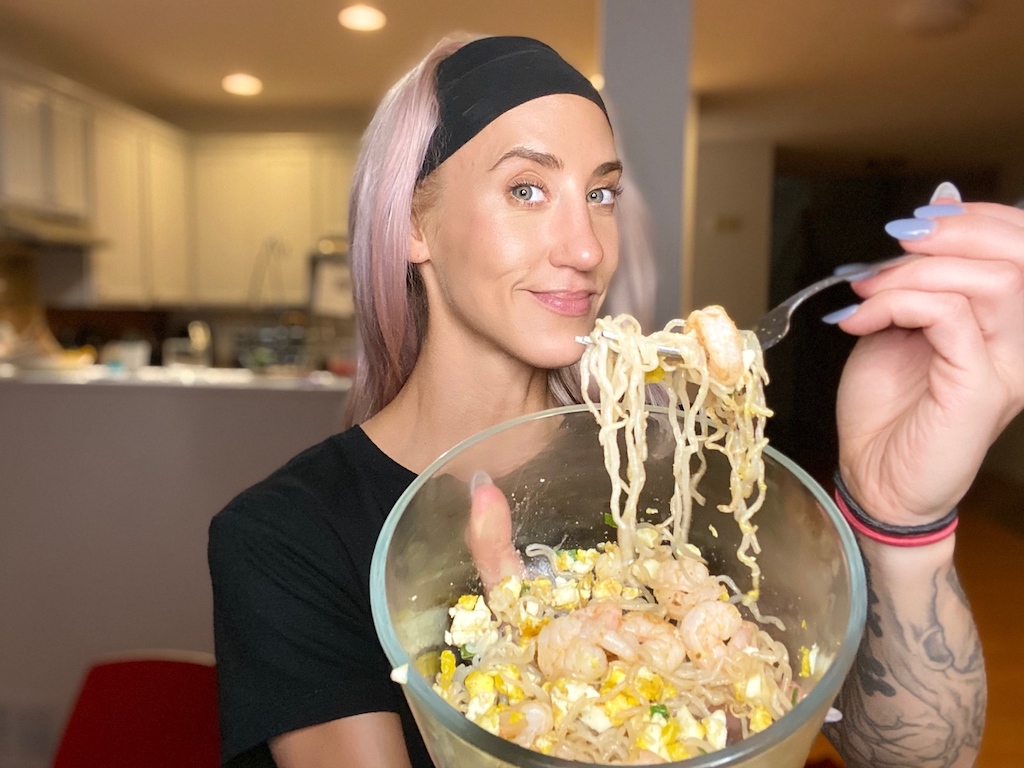 You can't beat zero net carbs! These keto noodles won't mess up your daily carb count one bit and since they don't contain fat, you can get generous with a sauce that's high in fat or save room for a yummy keto-friendly dessert.
Shirataki noodles are also gluten-free, grain-free, soy-free, and contain no sugar or sugar alcohols. Clean noodles for the win!
---

How to cook your keto noodles:
Drain the water from the package and give your keto noodles a good rinse + strain.
Pour your noodles into a pot of boiling water and let cook for 2 minutes.
Remove from heat and strain.
Dry fry the noodles over medium to high heat for a few minutes.
Mix in your seasonings or sauce, and enjoy!
Tips for cooking keto shirataki noodles:
Rinse them 3-4 times so there is no residue or scent left on the noodles before they cook.
After they've boiled, place them in a skillet over medium heat and dry-fry them for 5-8 minutes until most of the water has been absorbed (this will improve the texture).
While still in the pan, toss the noodles in your sauce of choice so they absorb the flavors as they cook.
---
Here's what a few Kiss My Keto fans have to say about these keto noodles:
"Not quite pasta, but the smell was mild and rinsed away quickly. It cooks up in 2 minutes and is nice as a filler for sauces and it doesn't add carbs and calories. The texture is chewy and I like that."
"I was very skeptical when I purchased these, how can you make a 0 net carb noodle that would have good texture and taste? I was delightfully surprised once I cooked these. The noodles do have a funky smell right out the bag so maybe just don't smell them like I did. They cook quickly and easily and it firms up like real pasta! So great with a little sauce!"
"The Fettuccine noodles tasted amazing! The directions for preparation were easy to follow. I made a Kale & Shrimp Stir Fry with Fettuccine. I wish I would've used more noodles! It exceeded my expectations!"
---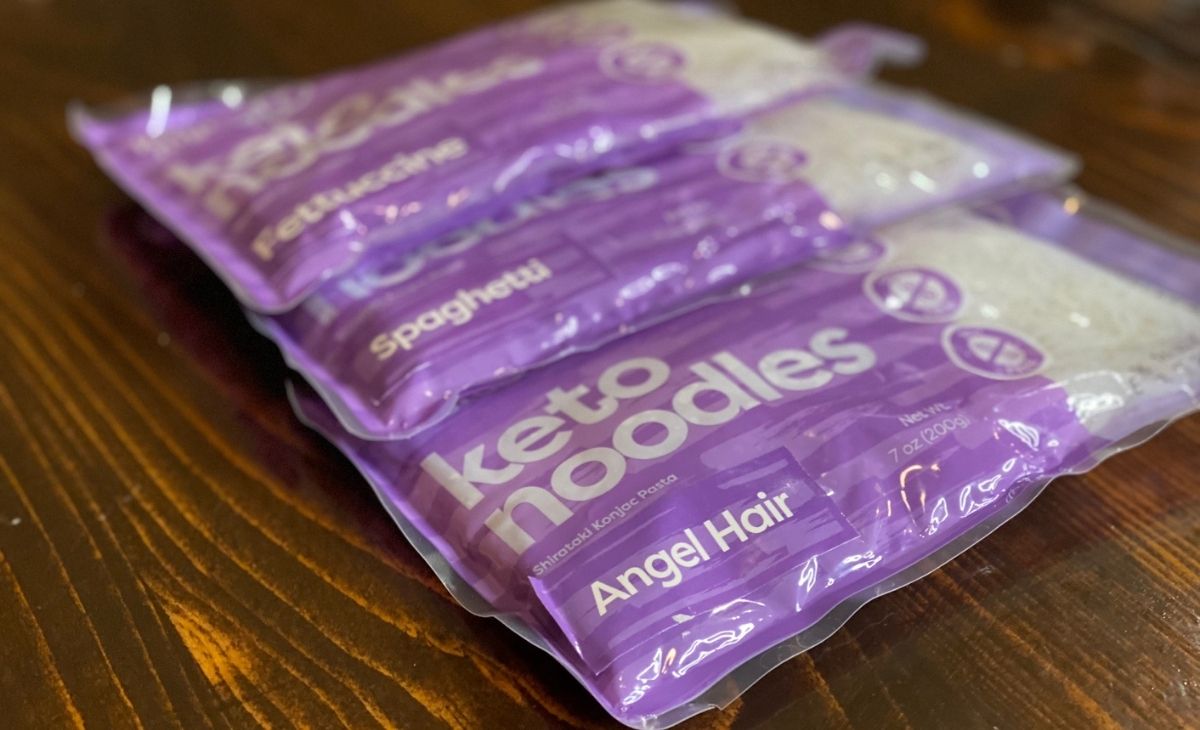 Want to save on Kiss My Keto Products?
Ready to dig into some keto noodles? Now through October 30th, you can save 10% on all shirataki noodles and other Kiss My Keto products with our exclusive promo code HIP2KETO at checkout, and get free shipping on orders over $50.
This offer cannot be combined with subscribe and save offers, bundles, or sitewide sales.
---
Serve up some spicy keto kung pao chicken over a bowl of your keto noodles!