Score BOGO Free Keto Krates (Includes Full-Size Bag of ChocZero Keto Bark!)
Get low-carb and keto snacks delivered to your door (and save!) with our exclusive Keto Krate discount code.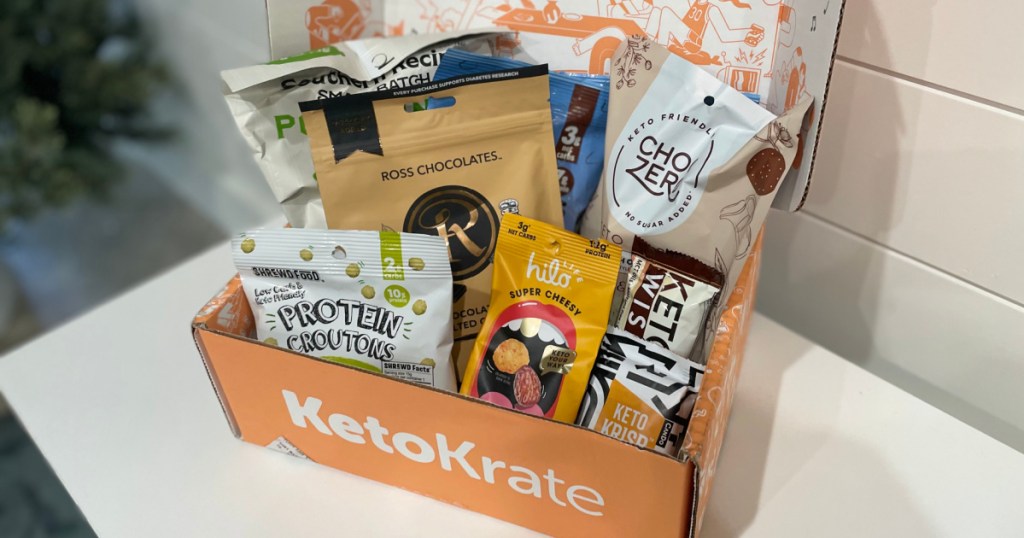 Stock up on low-carb goodies with our Keto Krate discount code & exclusive link!
Like getting surprises in the mail? If you're looking to get a variety of sweet and savory keto snacks delivered to your door each month, Keto Krate is the answer! They deliver 10 or more keto-friendly snacks every month, including many snacks that can't be found in your local stores.
Even better, now is your last chance to get TWO Keto Krates for the price of one AND a Digital Bundle!
The digital bundle includes Super-Fast Keto Recipes, a Holiday Cookbook, Budget-Friendly Keto options, a 7-Day Meal Plan, a 21-Day Get Moving Guide, and more!
To claim this last-minute discount offer – just be sure to use our exclusive link and click "Activate Offer" on the page to place your order. (No code needed!) If the discount does not automatically apply, use discount code KRATEBEYOND at checkout.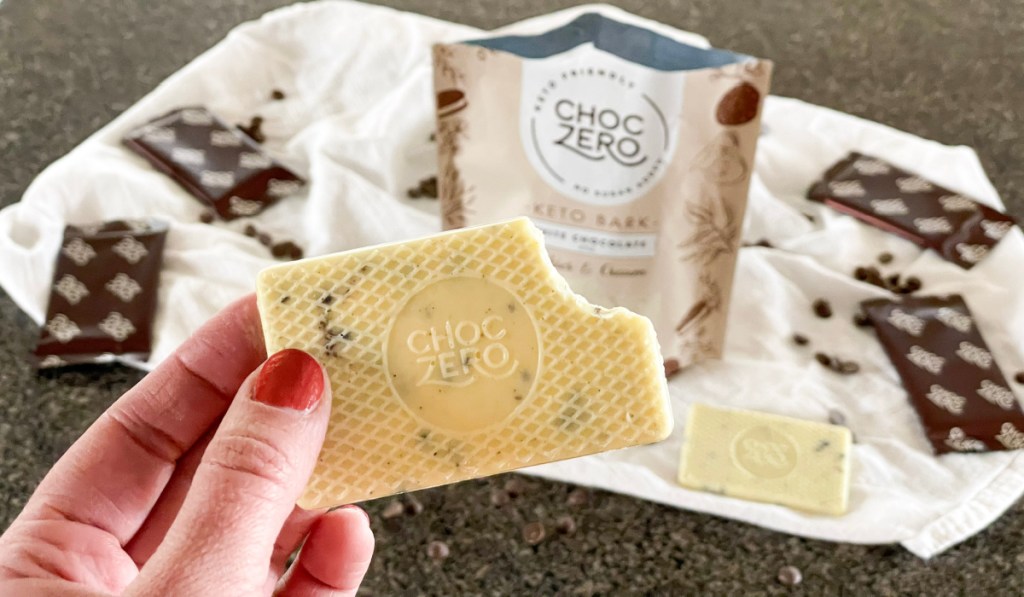 The December Keto Krate includes a full-size bag of ChocZero Cookies & Cream Keto Bark!
Of all the yummy flavors, you'll swoon over ChocZero's Cookies & Cream, but you can see what we think of the other flavors, too. 🤤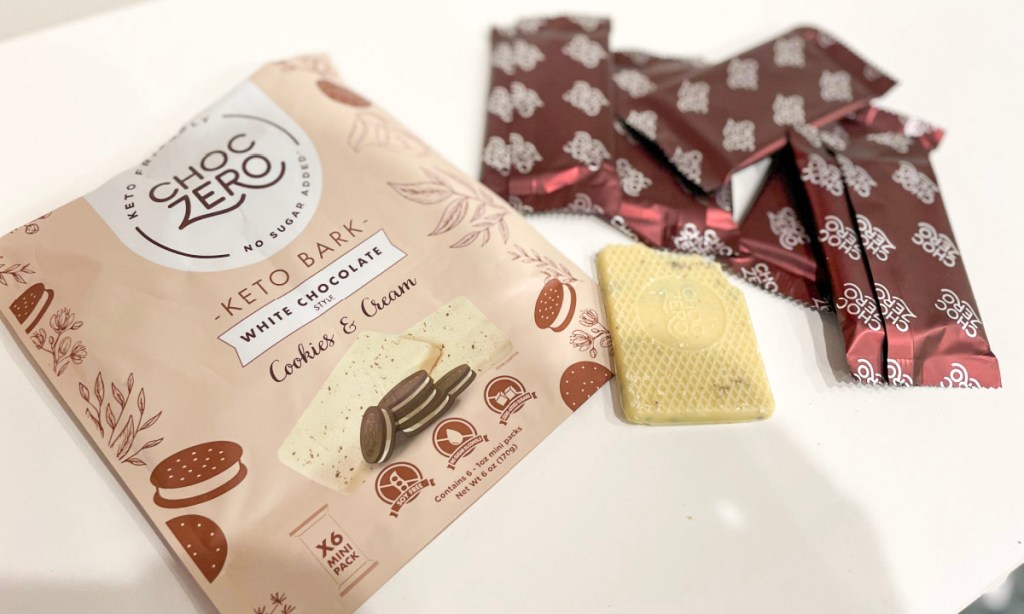 After the Keto Krate discount offer and FREE shipping, you'll pay just $39.99 shipped for two boxes! This is an awesome deal considering how expensive keto snacks can be. Not to mention, if you're new to keto (or you're looking to really commit to the lifestyle this year), their FREE Keto eBook guide has meal plans, grocery lists, and plenty of other tips and tricks to help you stay on track.
Plus, getting two boxes of snacks will help you, on-the-fence keto folks, to see if this is for you. This is a limited-time offer you can't beat! 🙌
Don't forget! Use our exclusive link and click "Activate Offer" on the page to place your order. (No code needed!)

Buy 1 Keto Krate box $39.99
Use our exclusive link to activate a FREE bonus Keto Krate
Score FREE shipping
Final cost just $39.99 shipped for two Keto Krates and Keto digital bundle!
*If the discount does not automatically apply, use discount code KRATEBEYOND at checkout.
---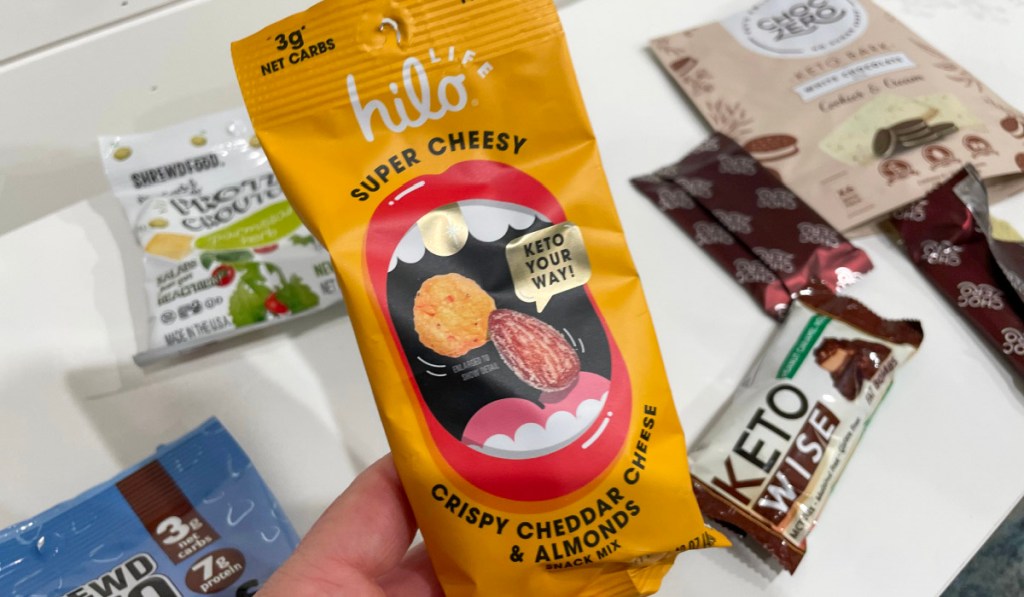 Here's what team member Erica thinks of Keto Krate:
"OH MY GOODNESS! 😋 This box is filled with so much good stuff! The ChocZero chocolates and the Ross Caramel chocolates were a couple of my faves! Oh, yeah… if you like pickles, you are going to LOVE these pickled pork rinds! Did I mention the Shrewd Keto Dippers taste exactly like Whoppers?! These alone are worth buying the box for, they are that good… and this is WHY these boxes are so fun to get every month! 🥳"
---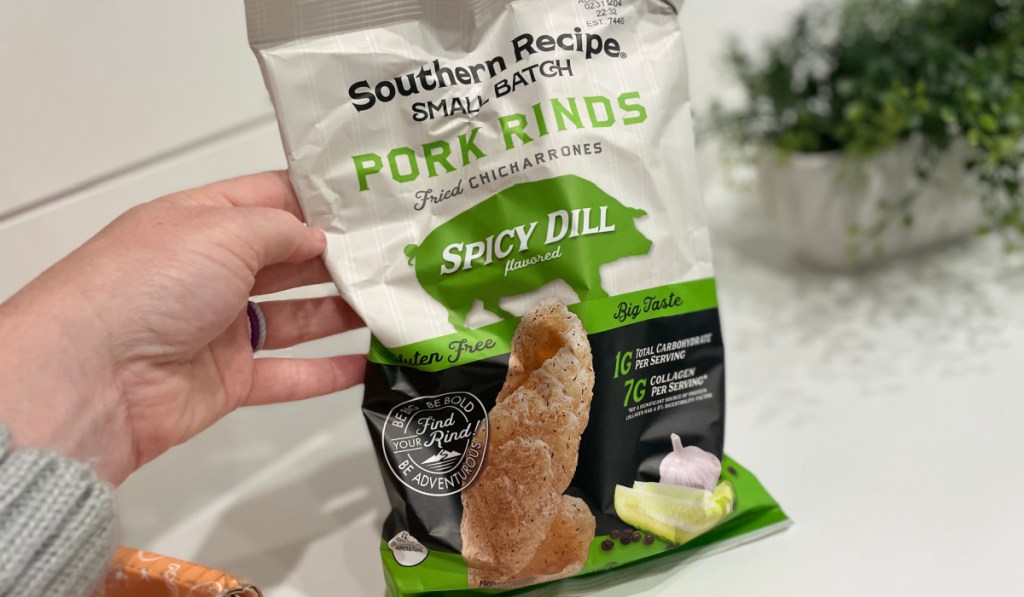 Most Keto Krates are made up of products that are in the 0-2g of net carbs range, and all snacks in the box will have fewer than 5g net carbs per serving! With Keto Krate, you don't ever have to worry about your snacks throwing you off track, or getting in the way of your keto groove. We love that! 😍
What's included in every Keto Krate?
8-12 full-size keto snacks delivered monthly
$20+ coupon savings in each Krate
VIP access to their member's only KetoShop where you can purchase their previous month's Keto Krates at discounted rates as well as one-off snacks.
Unique recipes that use one of that month's products
Motivational success stories
A source of commitment and support
Free U.S. shipping on ALL orders – NO minimum!
100% satisfaction guarantee – no questions asked
---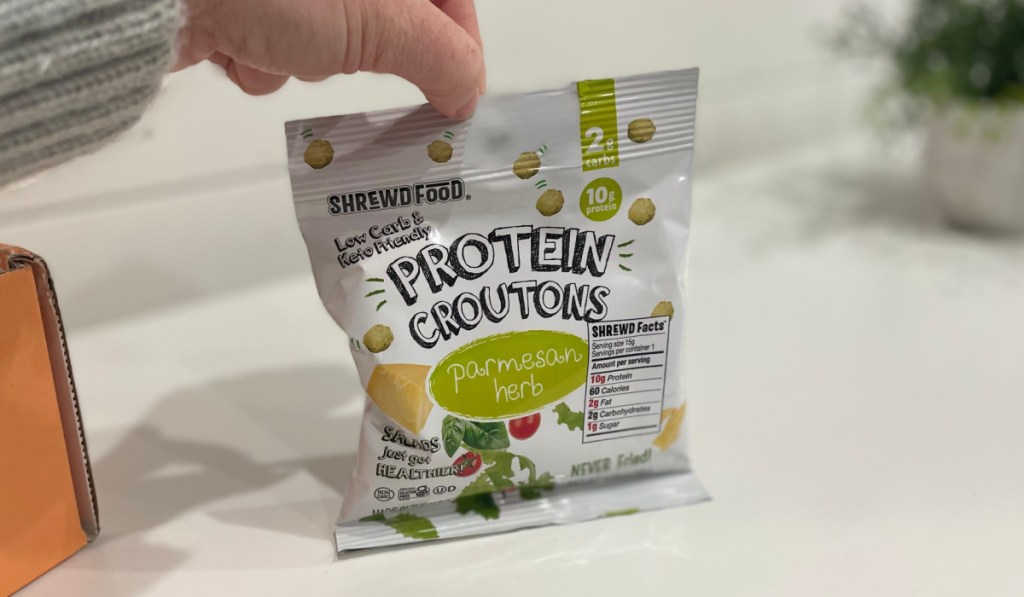 You'll get just the good stuff in your Keto Krate!
They carefully curate every box, so only the highest-quality snacks make the cut. Everything in your Keto Krate will be gluten-free, aspartame-free, and maltitol-free! You'll get products that use only approved keto sweeteners like erythritol, xylitol, monk fruit, chicory root, allulose, and stevia. 🙌
These snacks are also soy and sucralose-conscious, meaning that they only include products that don't list soy as the main ingredient. Things that use soy for flavoring or binders (like soy lecithin) may still be included. For sucralose, they only include it if it's in a product that has an otherwise high nutritional value and favorable macros. If it's purely a sucralose candy product, you won't see it in your Krate. Now that's sweet! 🍭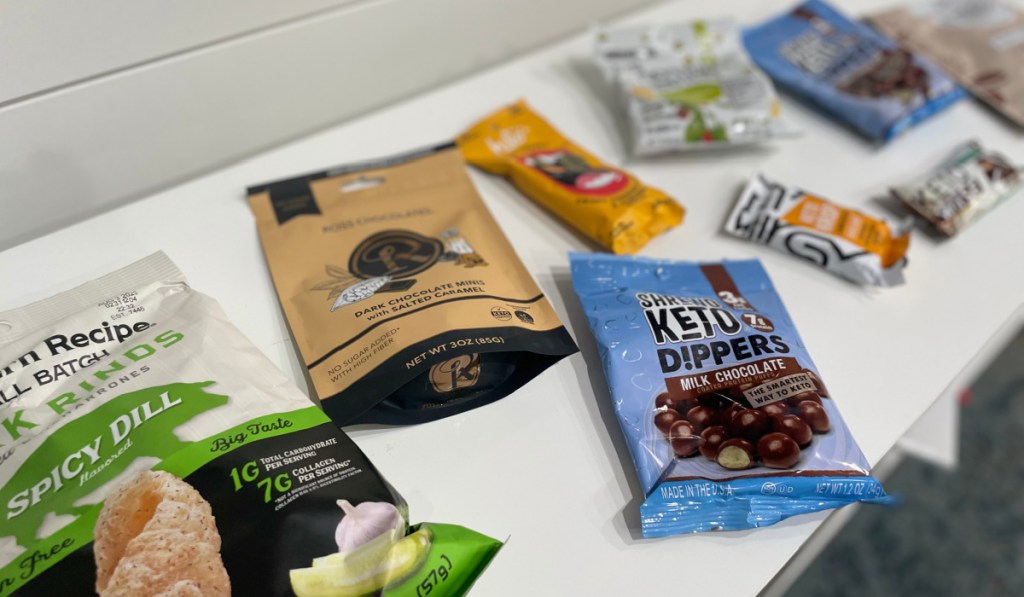 Here's what's in the December Keto Krate:
ChocZero Cookies and Cream Bark
Shrewd Foods Parmesan Herb Protein Croutons
Keto Wise Peanut Caramel Nougat Fat Bombs
Hilo Life Really Ranchy OR Super Cheesy Nut and Cheese Mix
Shrewd Foods Milk Chocolate Keto Dippers
Munk Pack Dark Chocolate Peanut Butter Nut & Seed Bar
Ross Chocolates Dark Chocolate Minis with Salted Caramel
Southern Recipe Small Batch Spicy Dill Pork Rinds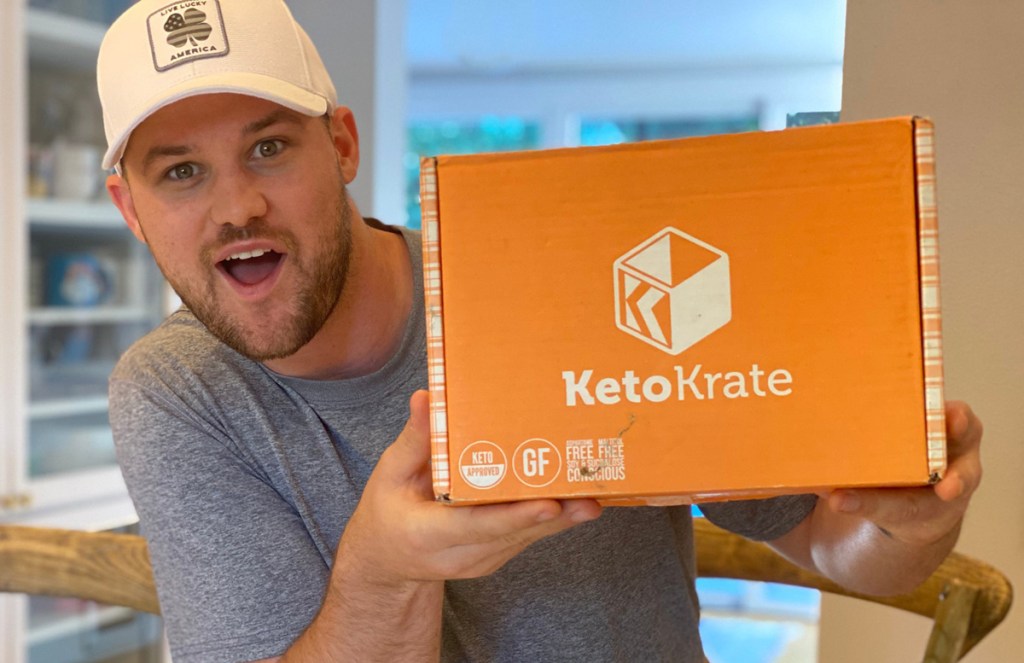 Here's what's in the Bonus Keto Krate:
Shrewd Food – Buffalo Ranch Protein Puffs
Catalina Crunch – Single Serve Cereal
Fattbar – Coconut and Macadamia Nut Bar
Avinola – Sweet Almond Coconut Keto 'granola'
RSVP Skinnies – Baja Margarita Mocktail/Cocktail Mixer
Catalina Crunch – Traditional Keto Crunch Mix
Crazy Go Nuts – Buffalo Walnuts
Jimmy Bars – Chocolate Fudge Keto Pudding
Fat Snax – Everything Crackers
Want to try this subscription for yourself? There's no better time than now — the December box BOGO is only available for a limited time!
To score this BOGO free deal, just use our exclusive link and the extra box will be automatically added at checkout. That means you'll pay just $39.99 shipped for 20+ full-size keto snacks delivered right to your door and a super helpful keto eBook guide!
---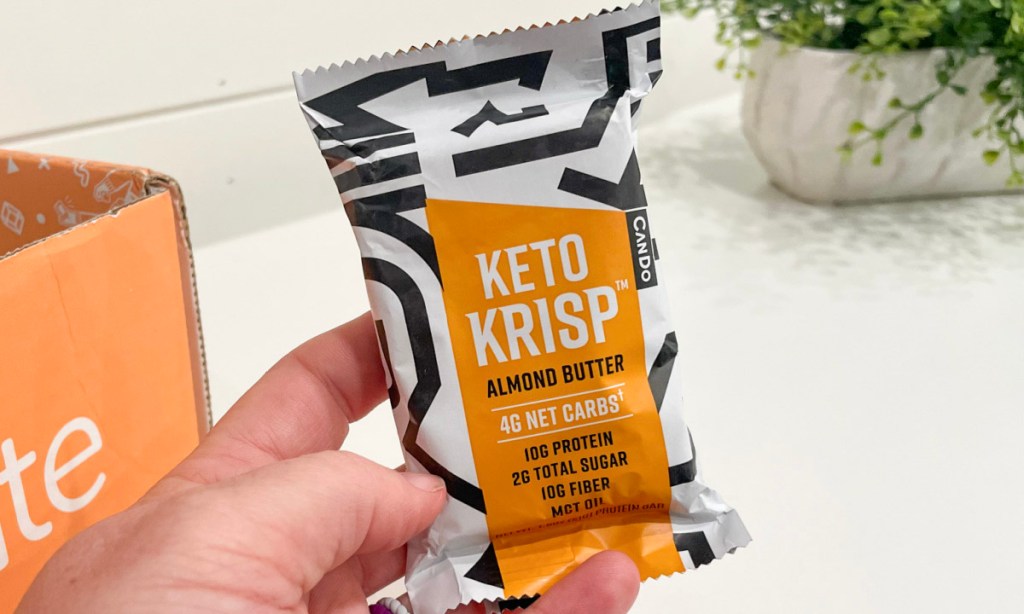 By the way, if you decide Keto Krate isn't for you, canceling is super easy! All you need to do is log into your account and hit the cancel button. You can also skip upcoming renewals if you'd prefer to take a break instead of canceling.
---