Keto Krate Coupon: Get 35% Off First Box & 3 Free Cookies (Try SO Many New Keto Snacks!)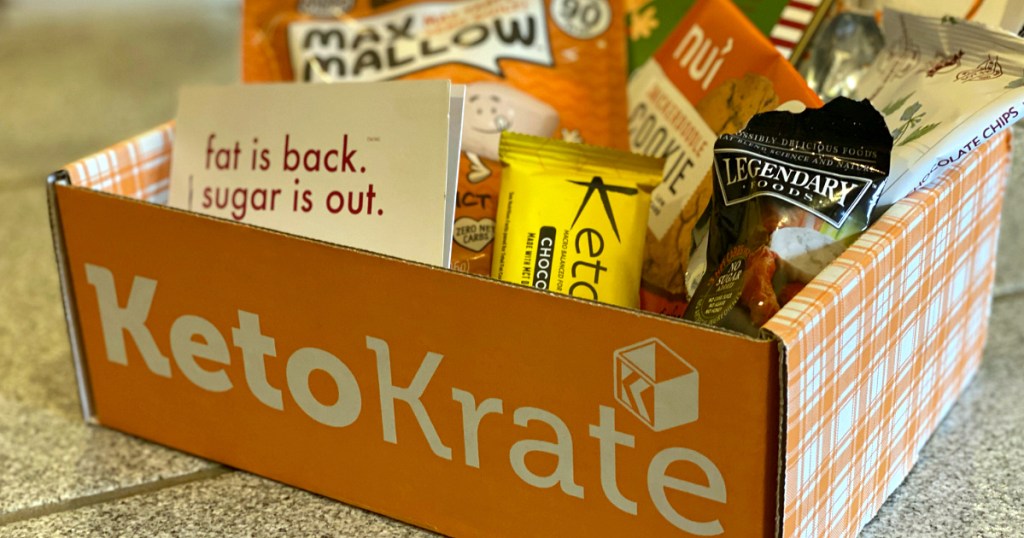 Snacking made easy with Keto Krate!
Like getting surprises in the mail? If you're looking for keto snacks delivered to your door each month, Keto Krate is the perfect solution for you! They deliver 10 or more keto-friendly snacks every month and most of the snacks can't be found in your local stores.
Even better, most krates are made up of products that are in the 0-2g of net carbs range, and all snacks in the box will have less than 5g net carbs per serving!
Watch Collin and Stetson unbox their most recent Keto Krate on THIS Facebook live!
What's included in every Keto Krate?
10+ full-size keto snacks delivered monthly
$20+ coupon savings in each Krate
VIP access to their member's only KetoShop where you can purchase their previous months krates at discounted rates as well as one-off snacks.
Unique recipes that use one of that month's products
Motivational success stories
A source of commitment and support
Free U.S. shipping on ALL orders – NO minimum!
100% satisfaction guarantee – no questions asked
All monthly KetoKrate shipments arrive around the 10th to 15th of each month.
---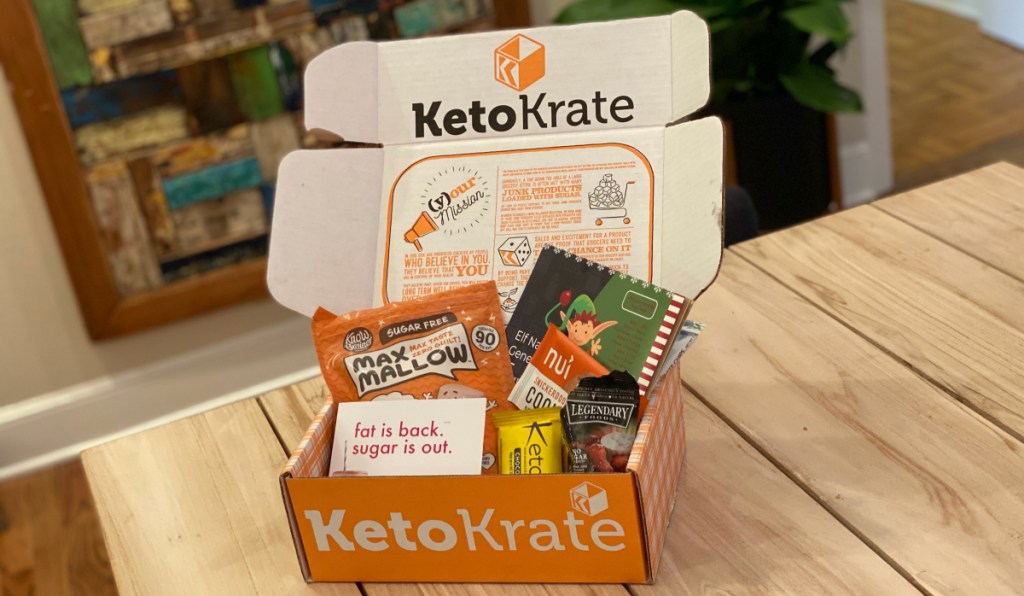 KetoKrate is gluten-free, aspartame-free, and maltitol free!
They're also soy and sucralose conscious! For Soy, they only include products that don't list soy as the main ingredient. Things that use soy for flavoring or binders (soy lecithin) may still be included.
For sucralose, they only include it if it's in a product with otherwise high nutritional value (good macros). If it's purely a sucralose candy product, they won't include it. They do include products that use approved keto sweeteners like erythritol, xylitol, monk fruit, chicory root, allulose, & stevia.
---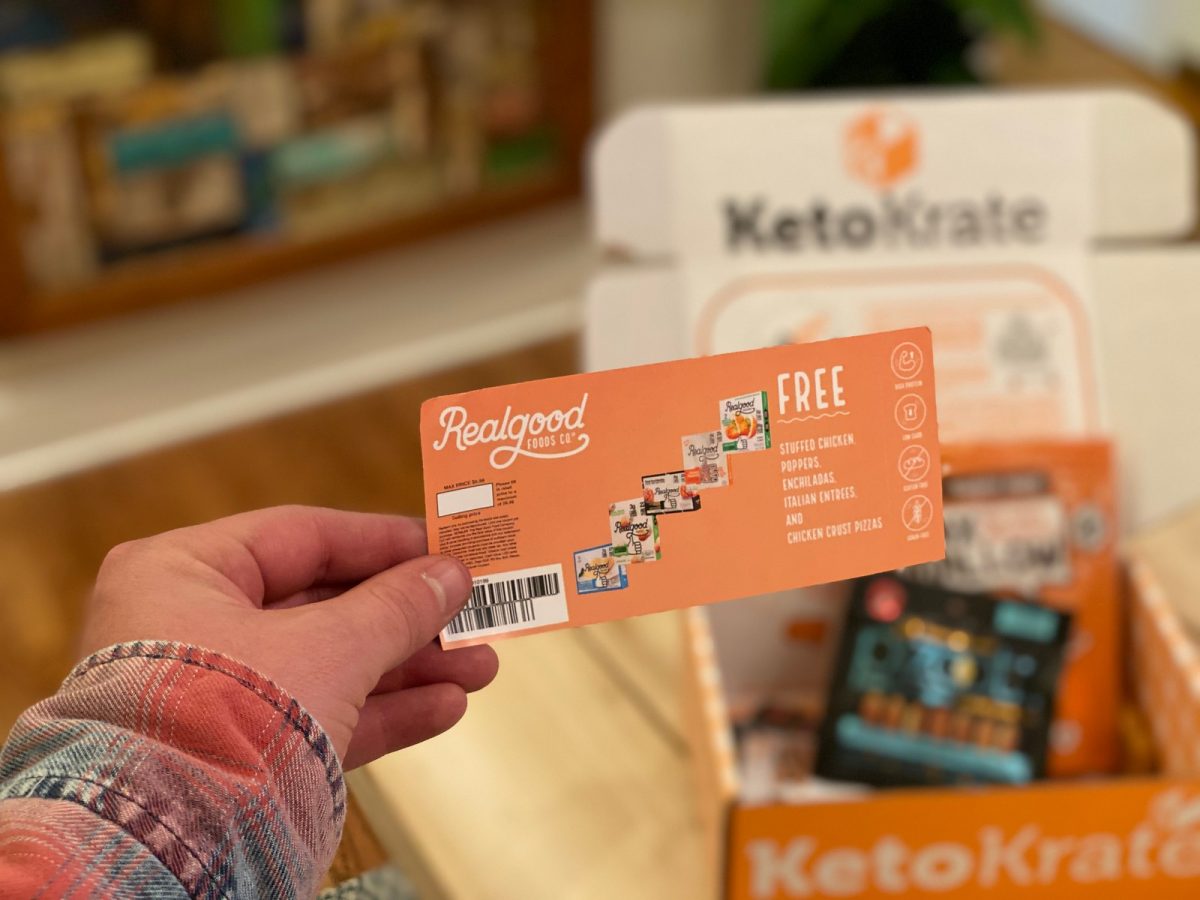 Collin unboxed a Keto Krate on Facebook Live and here's what she thought:
"What's great about the Keto Krate box is that it includes a lot of things I wouldn't normally buy. There were SO many different snacks in the box and many were really yummy! I love that they often include free product coupons, too. The Sinless Vegan raw dark chocolate bar was great, and I surprisingly loved the Old Forest salami whips. Overall I thought it was so much fun to be able to try all kinds of keto snacks from one box!"
---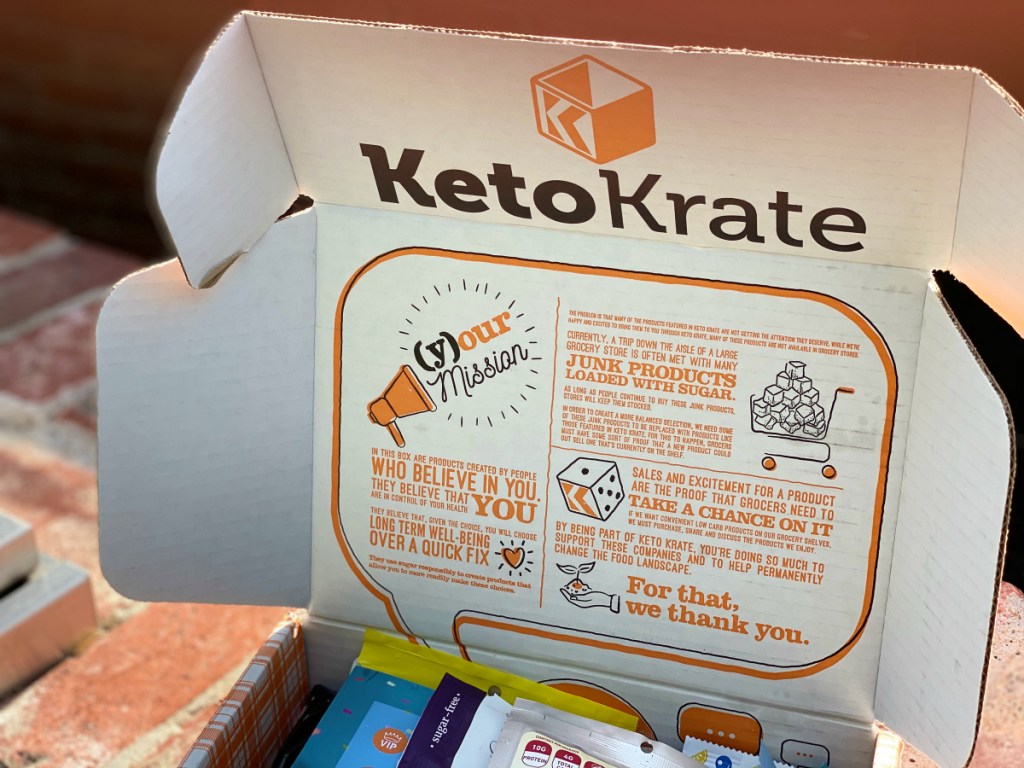 Want to try Keto Krate for yourself?
Through December 19th, score 35% off your first Keto Krate box AND 3 free cookies with coupon code HIP2SAVECS at checkout. That means you'll pay just $25.99 shipped for 10 or more full-size keto snacks delivered to your door and 3 free cookies!
Plus, your first KetoKrate will ship out within 24 hours of ordering. SWEET!
By the way, if you decide KetoKrate isn't for you, canceling is super easy! All you need to do is log-in to your account and hit the cancel button. You can also skip upcoming renewals if you'd prefer to take a break instead of canceling.
---