My Honest Review of Energy Boosting Kaged Clean Burn Powder (& 20% Off Promo Code!)
If you've been looking for a way to increase your energy, you might benefit from Kaged Clean Burn Powder.
Kaged Clean Burn Powder will pump you up!
Let's be honest, we could all use a pick-me-up from time to time. Whether it's powering through that afternoon slump or a boost to get you going in the morning, we've all been there. Sometimes you just need a little help!
Kaged sent me their Clean Burn Powder to test out and overall, I've been impressed. As a Registered Dietitian, I'm usually pretty skeptical when it comes to supplements. Especially supplements that promote fat burn and weight loss.
I'll start by making it clear that there's no quick fix to losing weight.
But you can increase your energy!
The Kaged Clean Burn Powder definitely increased my energy level and focus for a good two hours after I took it. I was actually surprised I noticed a difference, because, again, I'm a skeptic. I also drink quite a bit of coffee and would like to think that I'm desensitized to caffeine, but maybe not? I didn't think the caffeine in the powder would affect me. I didn't experience a crash after taking this supplement either, which I think is pretty awesome.
One great thing about this powder is that it actually tastes good!
The orange mango flavor is super yummy! It's not overly sweet and doesn't have any funny aftertaste. I mixed one scoop with 12 ounces of cold water and it was perfect.
Disclaimer: Mentioning it again that I did not take this powder to try to lose weight.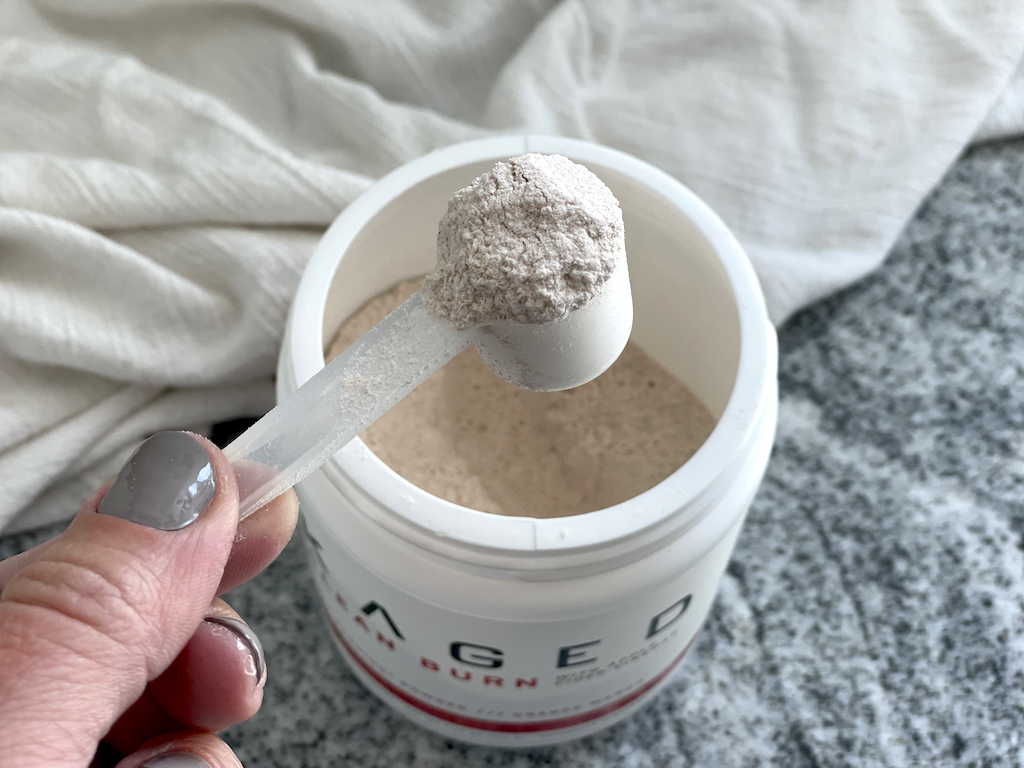 Interested in giving your energy a boost too? Save 20% off your entire Kaged order with our exclusive promo code HIP20 at checkout!
Buy 1 Kaged Clean Burn Powder $44.99
Get 20% with our promo HIP20
Score FREE shipping on all US orders
Final cost just $36 SHIPPED for a 30-day supply — that's just $1.20 per day for an energy boost!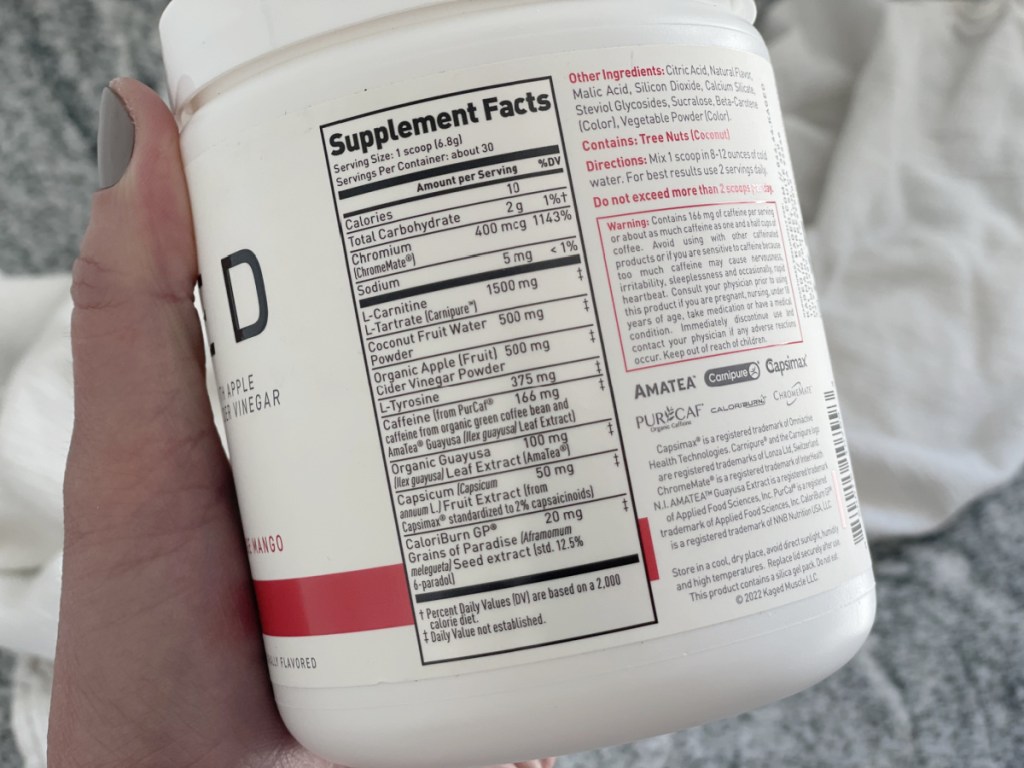 What's in Kaged Clean Burn Powder?
As mentioned above, Kaged Clean Burn Powder does contain caffeine, and one scoop has 166 mg of caffeine. Compare that to drip coffee which has anywhere from 70 to 140 mg of caffeine per 8 ounces or a single shot of espresso which typically has 63 mg of caffeine. Each scoop contains 10 calories and 2 grams of carbohydrates.
So now let's look at the rest of the ingredients:
Chormium (Chromate) 400 mcg
Sodium 5 mg
L-Carnitine L-Tartrate Carnipure® 1500 mg
Coconut Fruit Water Powder 500 mg
Organic Apple Cider Vinegar Powder 500 mg
L-Tyrosine 375 mg
Caffeine 166 mg
Organic Guayusa Leaf Extract 100 mg
Capsicum Fruit Extract 50 mg
CaloriBurn Grains of Paradise 20 mg
Other ingredients: Citric Acid, Natural Flavor, Malic Acid, Silicon Dioxide, Calcium Silicate, Steviol Glycosides, Sucralose, Beta-Carotene (Color), and Vegetable Powder (Color).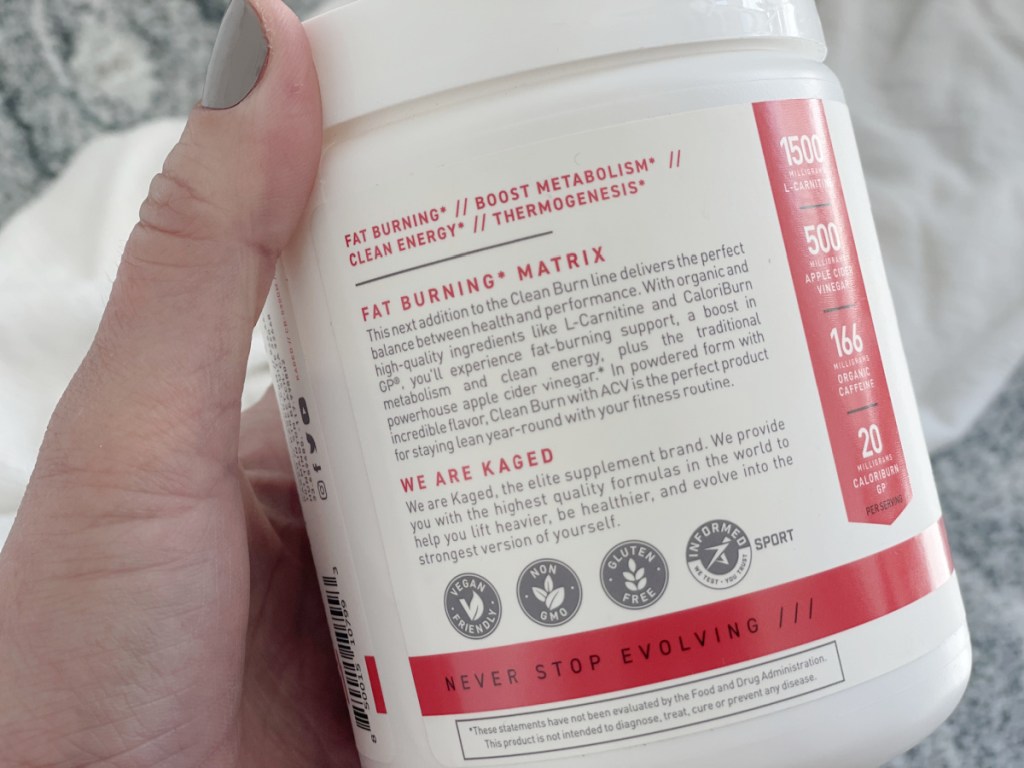 What does the research say? I'll break it down piece by piece…
Chromium – Kaged uses niacin-bound chromium. A few studies have shown an increase in fat loss while taking chromium supplements, that it may prevent insulin resistance, and that it increased energy levels and is cardioprotective.
L-Carnitine – Kaged uses Carnipure® which studies have shown that it improves recovery after exercise. Research also supports the use of L-Carnitine for weight loss.
Coconut Water – This is for hydration purposes. Coconut water naturally contains electrolytes and has many health benefits.
Apple Cider Vinegar – You've probably heard of people drinking apple cider vinegar. In fact, I frequently add it to my water. Healthline has two great articles citing apple cider vinegar's health benefits and how it can help with weight loss.
L-Tyrosine – This has been shown to help increase cognition. Quite a few studies reveal an array of health benefits from L-tyrosine supplementation.
Caffeine – A whole plethora of studies show that caffeine may contribute to weight loss.
Guayusa Leaf Extract – Research shows that guayusa leaf extract has strong antioxidant and anti-inflammatory properties.
Capsicum – This study, among others, shows the benefits of taking capsicum for weight loss.
Calorie Burn GP Grains of Paradise – Grains of Paradise is a spice from the ginger family and is related to cardamon. Research shows that it is beneficial for increasing energy expenditure, has anti-inflammatory properties, and reduces body fat.
It's not just the caffeine!
I initially thought I was just feeling the caffeine in the Kaged Clean Burn Powder, but as you can see, they created a well-formulated product to help increase energy metabolism and support fat burn.
They recommend taking one scoop twice a day for the best results. Each scoop needs to be mixed in eight to 12 ounces of water. I found I liked the flavor best with 12 ounces of cold water. The orange mango is tasty! I just mix it up in a pint-sized Mason jar, but you could use a shaker too. I only ever tried it once a day as I drink coffee in the morning.
A few more disclaimers:
As always, we recommend talking to your doctor before starting any supplements as they can be contraindicated depending on your current health status and/or medications.
I also encourage people to do their own research before taking any supplements. Ask yourself why you are considering taking the supplement, how long you will take the supplement, and how it compliments your current health regimen.
This product likely will not help you if you eat a lot of junk food, have high-stress levels, or don't get good sleep.
If you're sensitive to caffeine, this product might not be for you.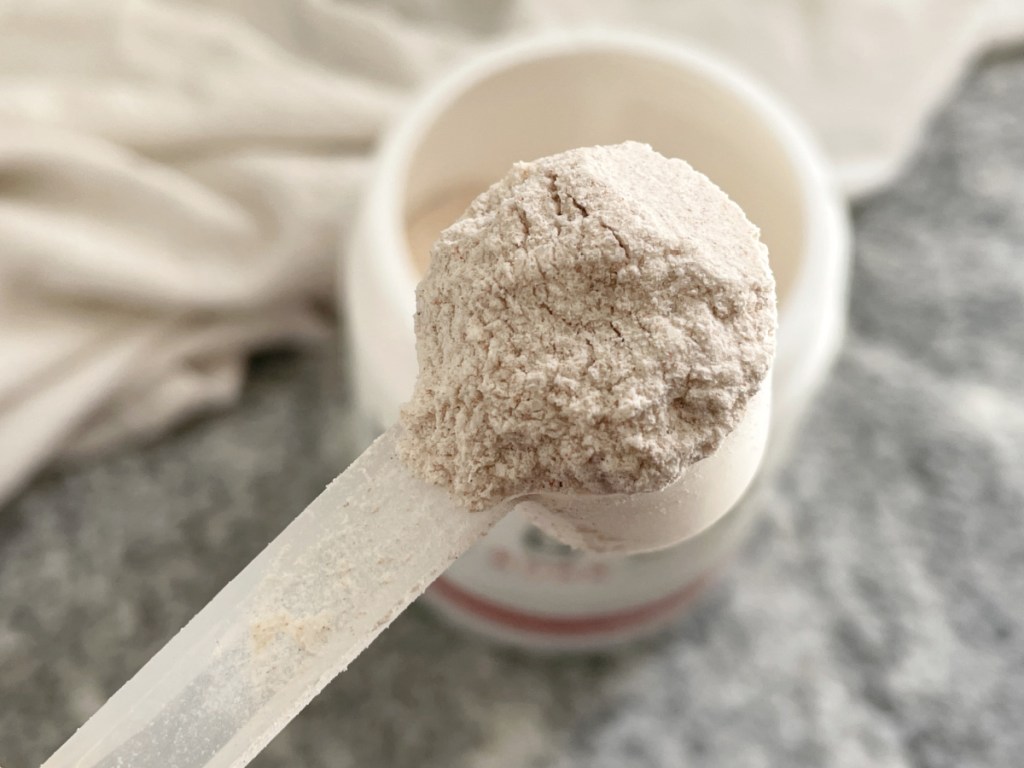 If you're interested in trying out Kaged Clean Burn Powder or any Kaged products, use our promo code HIP20 to save 20% off your entire order!
Here's another deal idea for ya!
---
Check out other keto products tested and reviewed by our team!