These Store-Bought Cauliflower Pizza Crusts are Super Low-Carb & So Yum!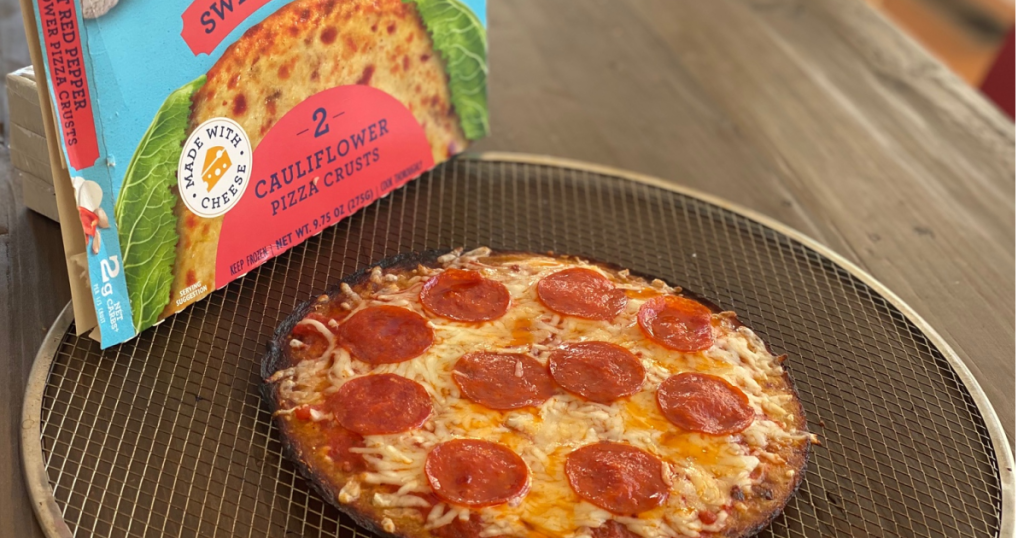 Low-carb pizza is having a moment thanks to Cali'flour Foods keto crusts and flatbreads!
Is there anything better than a comforting cheesy pizza? If it was one of your favorite carby foods before you changed your eating habits, you'll be pleased to know that you can still indulge in a couple of slices without cheating on your low-carb lifestyle thanks to Cali'flour Foods keto cauliflower pizza crusts and flatbreads.
Better yet, we've scored you an exclusive deal on these crusts! Keep reading for how you can save.
---
Here's why every keto pizza lover needs Cali'flour Foods in their kitchen: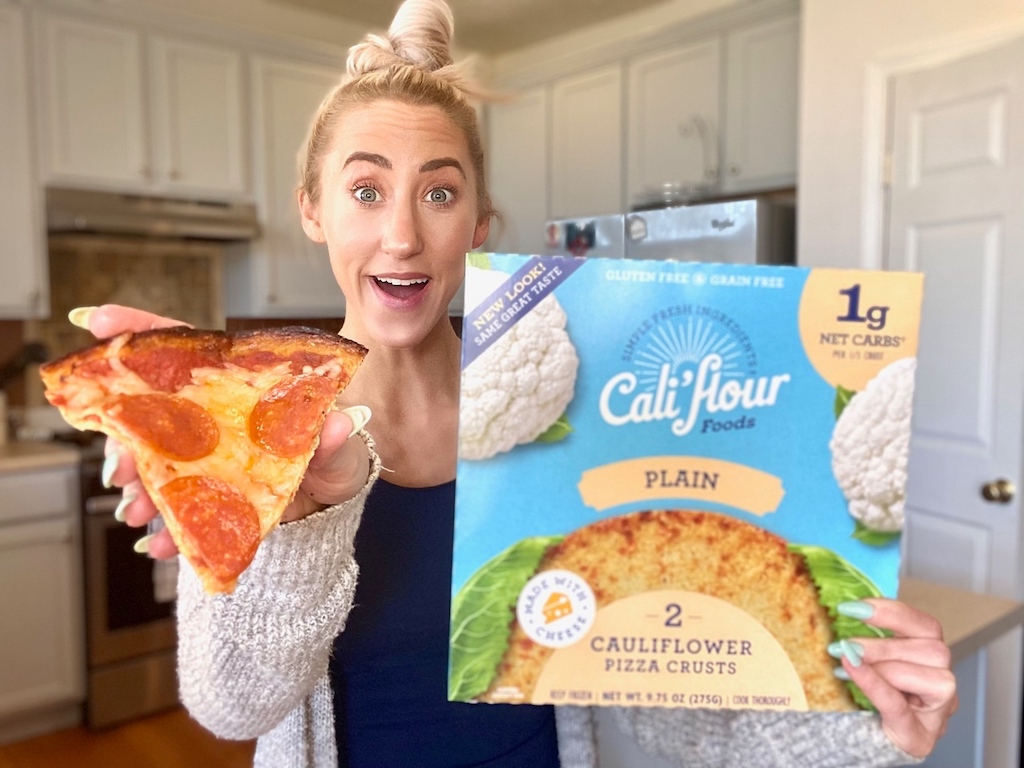 Cali'flour Foods makes possibly the lowest carb pizza crust there is.
When you're eating keto, you usually check the carb count on grocery items before adding them to your cart and if it's something ultra-low-carb, you'll likely grab multiples to have on hand for later.
When I discovered that some of Cali'flour Foods keto cauliflower pizza crusts contain just 1 net carb per serving, I almost didn't believe it. Compared to Trader Joe's version that contains 14g or Caulipower's version that contains a whopping 24g, this stuff is practically a keto miracle and one that I'll be happily gobbling up when my pizza craving hits.🍕😋
---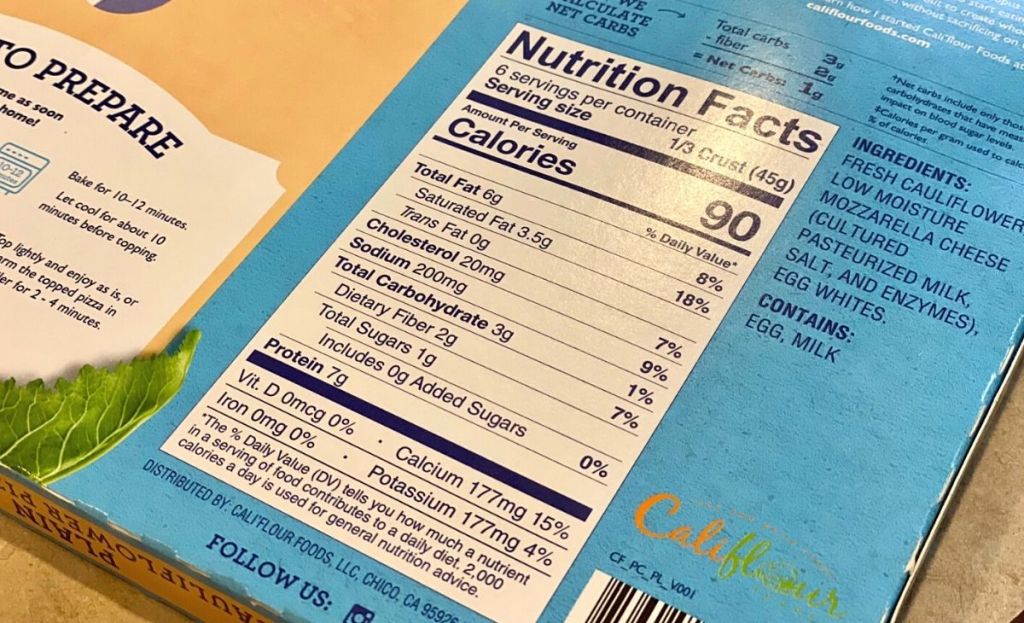 Cali'Flour Foods nutrition:
Create a perfectly-sized personal pizza with the flatbread or go for a larger pie for the whole family with the original crust. Either way, your taste buds will likely fall in love with Cali'flour Foods at first bite!
---
There are so many delicious keto meals you can enjoy with Cali'flour Foods!
With flatbreads and pizzas, the keto-friendly topping options are practically endless! From chicken bacon ranch flatbreads to loaded supreme pizzas, you can whip up so many different meal variations and I wouldn't be surprised if you get the urge to make every night pizza night!
I brought a zesty Buffalo chicken and arugula flatbread to life and OMG, it reminded me so much of when I used to enjoy the real thing! You can also use your keto flatbreads and pizza crusts as taco shells and sandwich wraps. Who knew these low-carb bread alternatives could be used in so many different ways!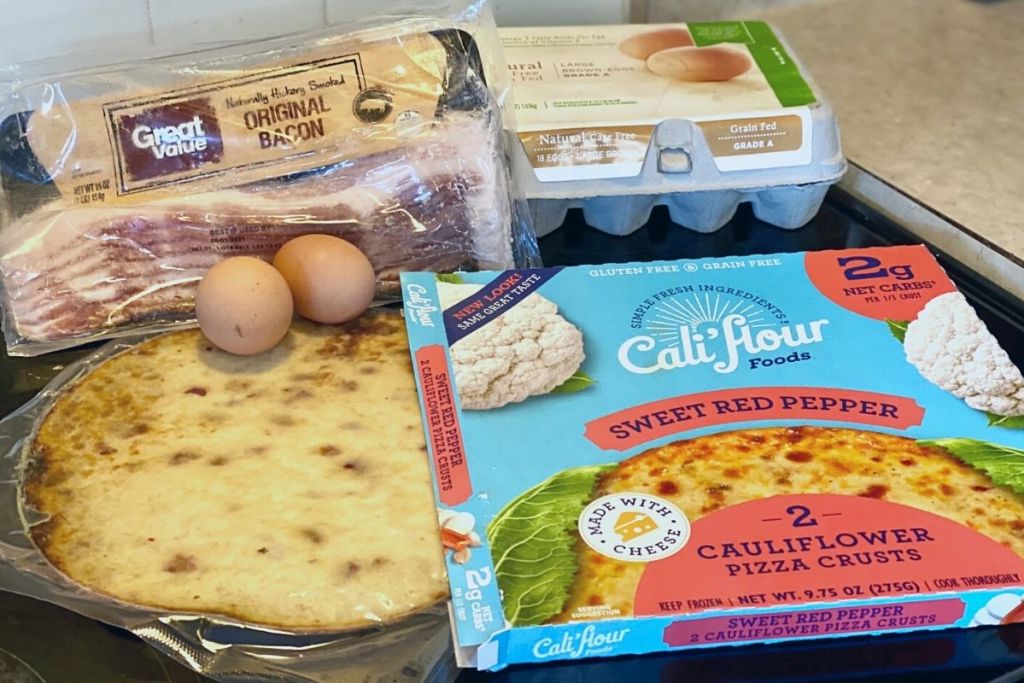 You can even use your keto cauliflower pizza crusts and flatbreads at breakfast time!
Who says you can't enjoy bacon and eggs in pizza form?! Honestly, breakfast pizzas are where it's at, and with all that fat and protein, you can ensure you're getting the fuel you need to conquer your day!
If you're not a fan of marinara, whip up a keto-friendly alfredo or hollandaise sauce for a different flavor twist that won't disappoint.
Hip cooking tips when using Cali'flour crusts:
While the instructions advise cooking your flatbread for 10-12 minutes at 375°, plus an additional 2 minutes on broil once covered in toppings, I found this to result in overly crisped and slightly burnt crust. Instead, adjust the initial cook time to 7-8 minutes on your middle oven rack and then return to the oven for an additional 4-5 minutes while keeping the oven temp at 375°.
Allow your pizzas and flatbreads to cool for about 10 minutes before covering them with toppings and returning to the oven.
Use a vented pizza pan to ensure the bottom of your crusts and flatbreads cook up nice and firm.
Keep your crusts and flatbreads in the freezer while the oven preheats and remove them just before you're ready to place them in the oven.
---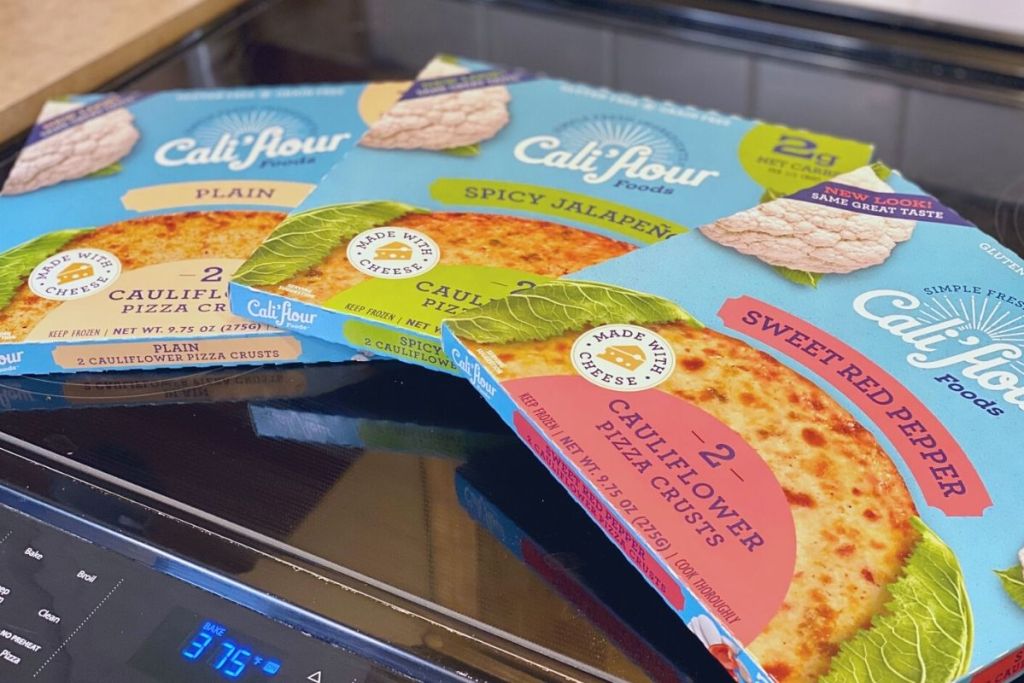 Cali'flour Foods keto cauliflower pizza crusts and flatbreads can be purchased in-store at Whole Foods and even at select Walmart locations, and are also available online through Amazon and Califlourfoods.com where you can score an additional 10% when you subscribe and save. Trust me when I say you'll be wanting more of these keto bread alternatives once you taste them!
---
Here's what other Cali'flour Foods fans have to say about their keto pizza crusts and flatbreads: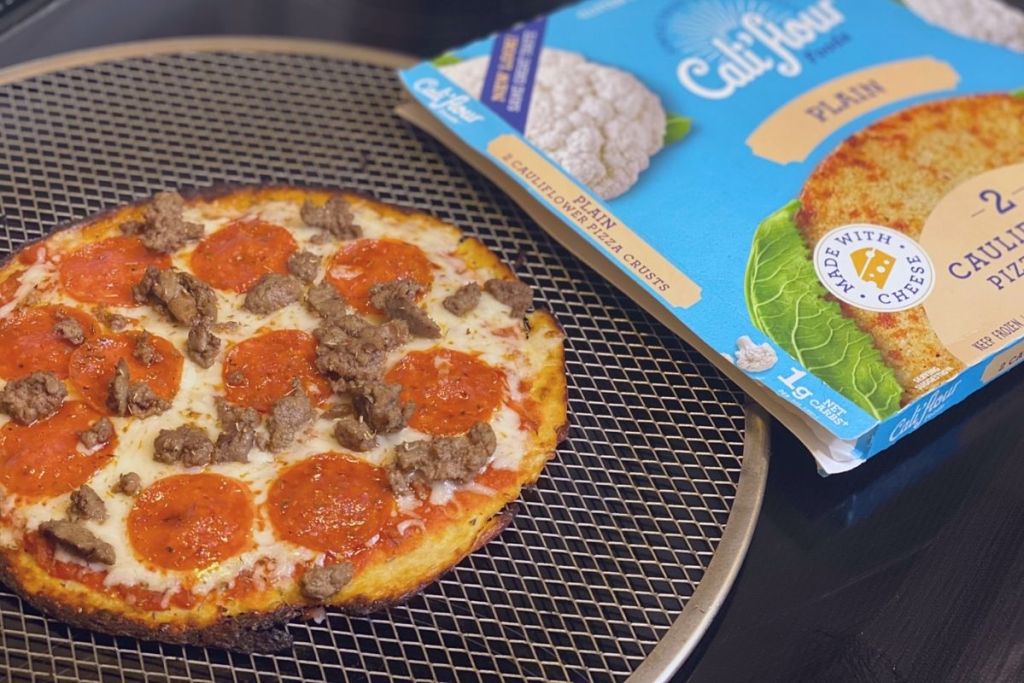 "WHERE HAVE THESE BEEN ALL MY LIFE!! I live a strict low carb/low sugar lifestyle. After a year of keto and hardcore dieting, I miss pizza most of all. I have tried tons of pizza crust alternatives BUT THESE PIZZA CRUSTS ARE AMAZING!! Low carb, low cal, 3 ingredients!!! WHAT!!! Most of all… THEY ARE DELICIOUS!!"
"Love these! We discovered the Cali'flour Foods products as part of a journey to healthier living. We have used the flatbreads for mini-pizzas, taco shells for shrimp tacos, and wraps for chicken avocado, or egg salad sandwiches. And we're not done trying more options with them in place of flour-based products. The flavor is great and notches up each of the meals we've used them in."
"Best crust ever! I love that it's super thin. I precook for a crispy crust, add my toppings, bake a bit more, and voila!! It tastes amazing! I don't like most cauliflower crust because it has a strong after taste and often too spongy in texture but, not this brand!"
---