Bev Canned Wine is Keto-Friendly & Perfect for Summer (+ Get 20% OFF!)
The most rad & delicious keto wine around! ☀️
Want to indulge in a delicious wine for those hotter days ahead? I'm sharing my new love for a delicious canned wine which is a summer dream come true! With just 3 carbs and ZERO sugar in every can, you'll feel like you're breaking all the rules with NO guilt.
Even better, I'm sharing a way you can save on it without leaving home! 👏
---
Introducing Bev canned wine! 😍☀️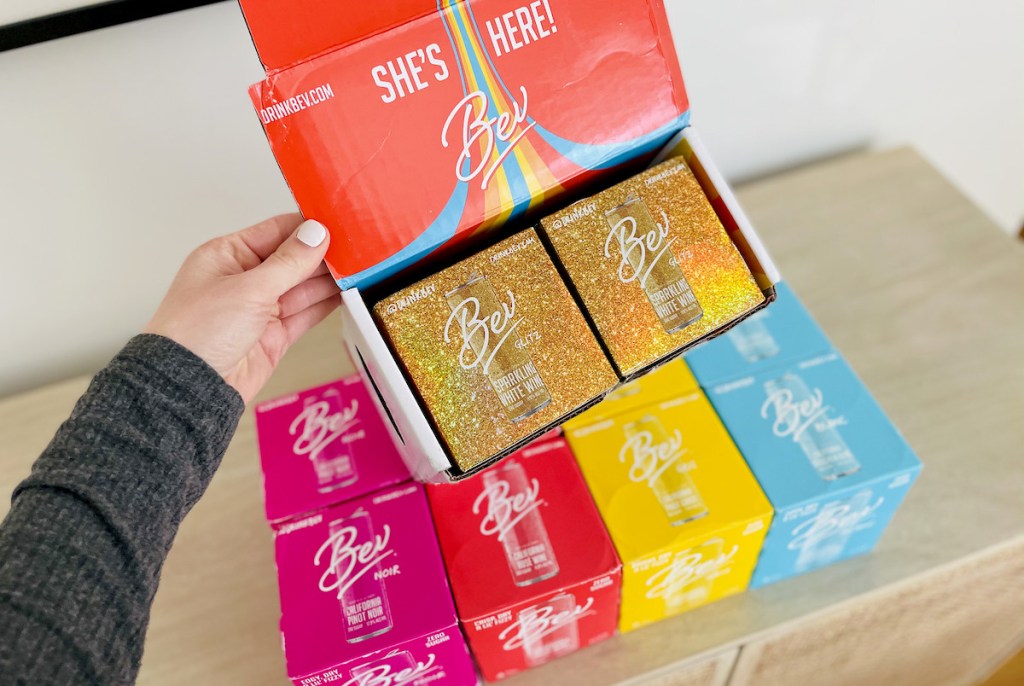 She's here and she's beautiful, friends!
No, I'm not talking about a person – I'm most definitely talking about my recent shipment of Bev canned wine & I can't wait to tell you all about it! In case you missed my intro above or thought you read it wrong, I just had to say it again for the people in the back…
This wine has ZERO sugar & is just 3 carbs per can! Say what?! 🙌
Score 20% OFF your entire Bev Wine order with promo code KETO20 at checkout!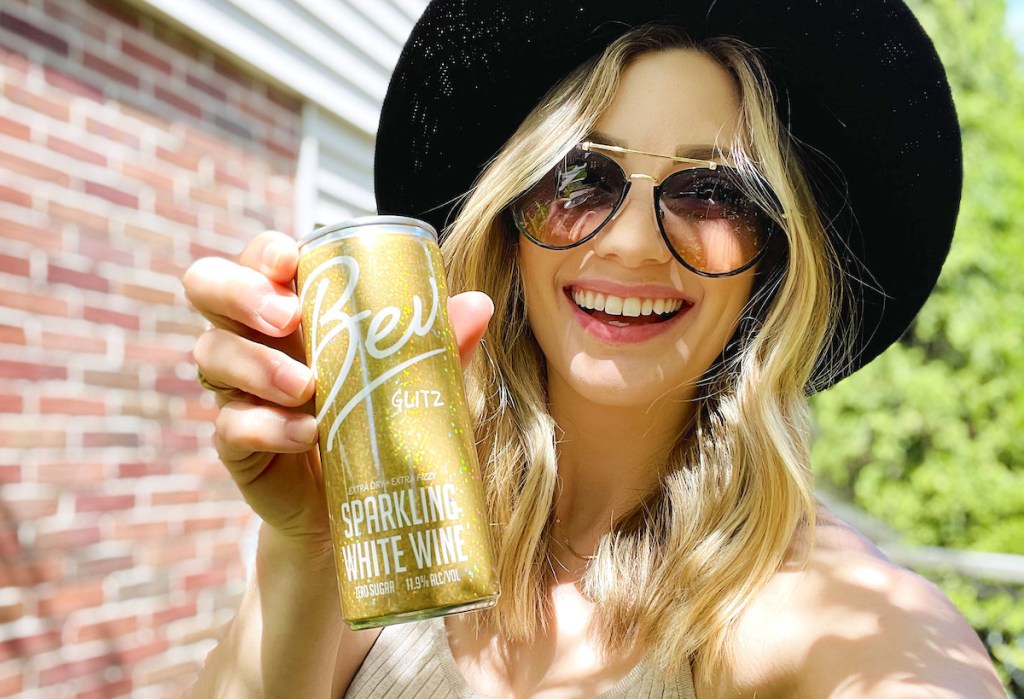 If you're already saying, "I'm not really a carbonated wine type of person," hear me out friends because I used to say the same exact thing! In fact, up until now, I've never been a fan of carbonated cocktails or wine at all – I never even jumped on the White Claw or Truly train because I didn't think they lived up to all the hype.
One thing's for sure though, this Bev canned wine is worth ALL the hype…and then some! Plain & simple, when I heard about Bev, I knew I needed to give them a try! 🙌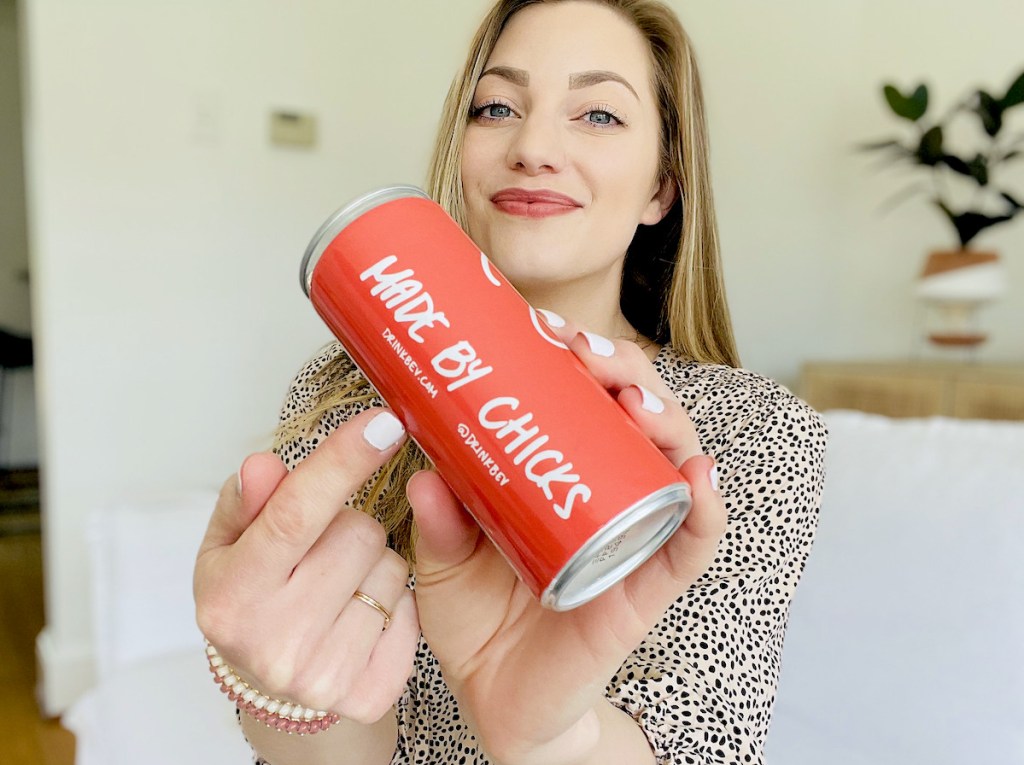 Aside from the guilt-free ingredient labels on this canned wine, it really spoke to me and set itself apart from other companies in so many other ways too.
Here's what I love most about Bev wine & company overall:
It's made by chicks (but made for everyone 😉) so I love that I get to support another woman-owned company!
Each can is equal to a glass & a half which makes the low carb count even more impressive and is perfect for a gal like me who likes a little extra in her cup…or can. 😉
There are no additives or artificial sweeteners in any of their wines – just simple, clean wine, with no sugar and just a little bit of bubbles.
They're gluten-free which is a huge bonus in my book – I wouldn't drink them otherwise!
Their grapes only come from California which gives me the peace of mine I'm getting great wine every time.
They have a beautiful community that supports other entrepreneurs, creatives, & freelancers and helps build connections that educate, create, and inspire others. (Who wouldn't want to be a part of that?!)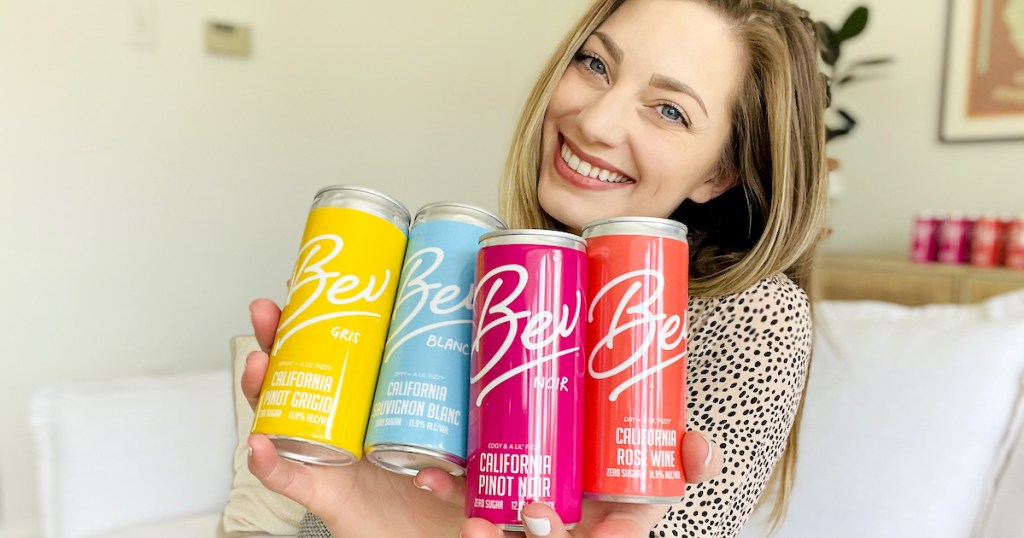 They're also incredibly easy to drink!
Again, I've never been a fan of carbonated wines (or canned wine for that matter) so trust that when I first tried these I was fully expecting not to love them, but to my surprise, I was taking sip after sip! 😍
I'm not even sure I expected them to taste like wine (maybe more like a seltzer), but they really do, and it's great wine at that! Each of their canned wine varieties is simply divine and while one can is perfectly sufficient, you may find yourself realizing these go down a little too easily. (And I'd be lying if I said I wasn't speaking from self-experience.) 😂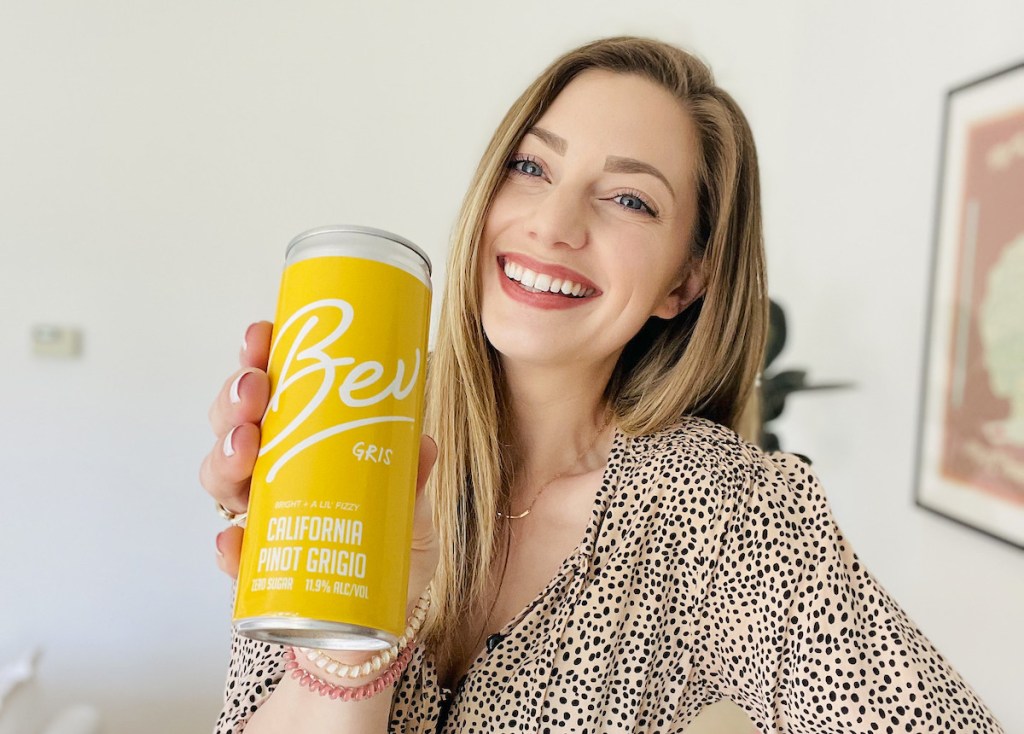 The cans are nice and small so they fit comfortably in my hands (unlike your standard wider can). Bonus points that they're also recyclable! Best of all, whether I've had one canned wine or two, I always feel great afterward!
No headaches.
No bloating.
Nothing! 👏
I honestly can't imagine a life going back to commercial wines and I'm so thankful to have learned about such a wonderful wine company that blends seamlessly with my healthy lifestyle. And hey, they're made of grapes, so it's practically like eating a keto salad… am I right?! 🤪
All jokes aside, let's take a look at the impressive nutrition of each canned Bev wine variety available: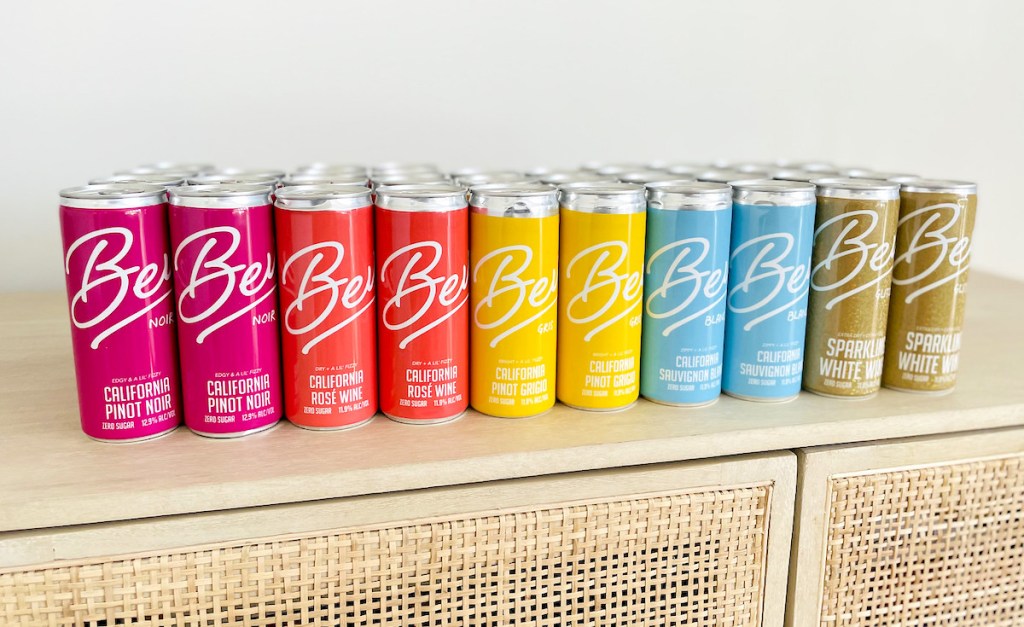 Notes of strawberry, raspberry, and white peach
ABV: 11.9%
Serving: 5 fl oz. | Calories: 124 | Total Fat: 0g | Total Carbs: 2g (0g fiber, 0g sugar)
---
Notes of green apple, white nectarine, and citrus
ABV: 11%
Serving: 5 fl oz. | Calories: 112 | Total Fat: 0g | Total Carbs: 3g (0g fiber, 0g sugar)
---
Notes of elderflower, pear, and grapefruit
ABV: 11%
Serving: 5 fl oz. | Calories: 107 | Total Fat: 0g | Total Carbs: 3g (0g fiber, 0g sugar)
---
Notes of pomegranate, blackberries, and citrus blossoms
ABV: 12.9%
Serving: 5 fl oz. | Calories: 127 | Total Fat: 0g | Total Carbs: 3g (0g fiber, 0g sugar)
---
Extra dry & fizzy canned wine with notes of elderflower and pear.
ABV: 11.9%
Serving: 5 fl oz. | Calories: 100 | Total Fat: 0g | Total Carbs: 3g (0g fiber, 0g sugar)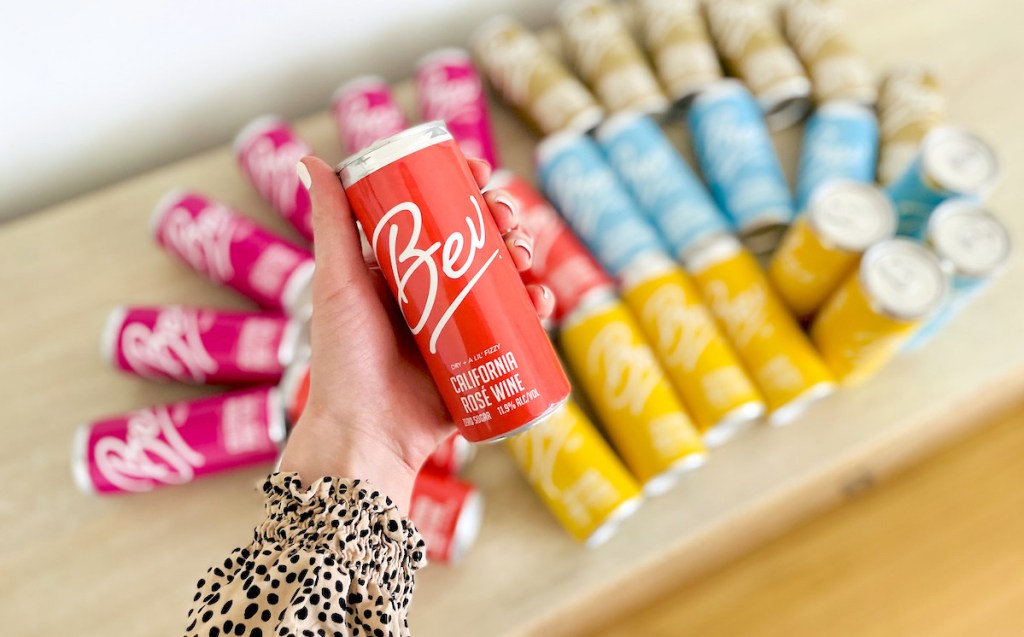 So there you have it, I'm sold on the carbonated canned wine and I'm not looking back. There's also no denying these make great travel buddies, so they'll be heading to all our summer beach & camping trips! Bring on the fun, sunshine, and good keto drinks! 😍☀️
Check out the deals you could score!
Stock up and save even more!
Cheers, friends!
---
Here's some bottled keto wine I'd recommend next!