Keto Meals Have Never Been Easier Thanks To These 4 Delivery Services (+ Save up to $90!)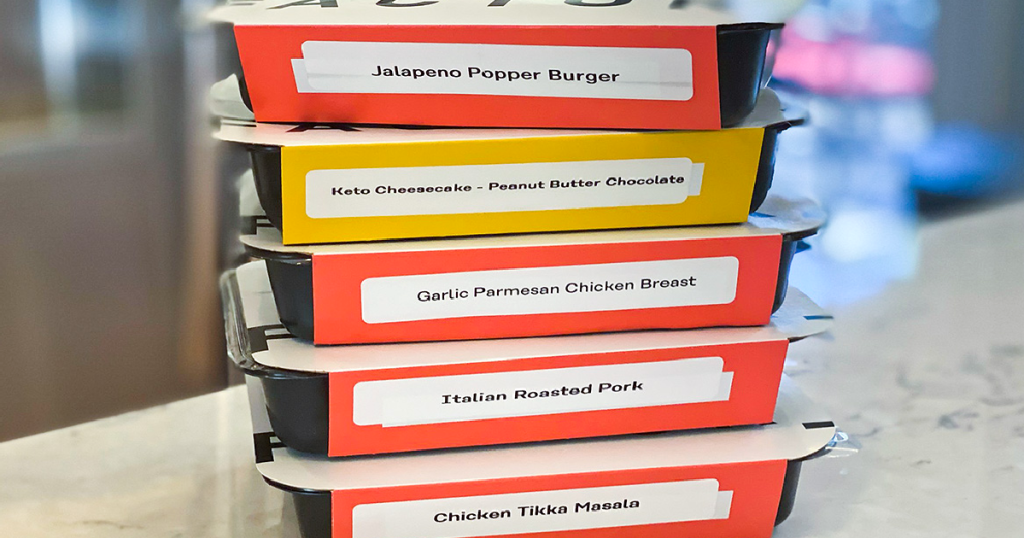 We're all searching for ways to make dinnertime just a bit easier, and subscribing to a keto-friendly meal delivery service is one of the best solutions we've found!
It's easy to get into a boring meal routine, especially on busy weeknights. Subscribing to a keto meal delivery service can expand your dinnertime horizons by introducing you to some new foods you haven't tried before, and you may even learn to make a new dish you've never attempted!
Whether you're looking for ready-made meals or a DIY dinner kit, having healthy food delivered right to your doorstep can be a lifesaver on busy evenings.
---
Here are the best keto meal delivery services we've found: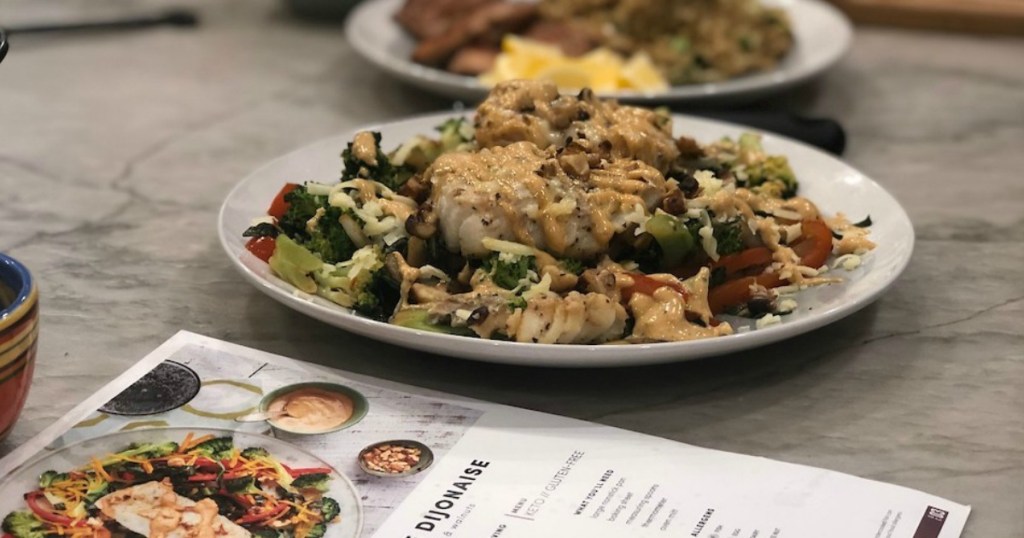 Green Chef has perfectly portioned keto ingredients for streamlined cooking.
Green Chef offers weekly menus based on your dietary preferences and the customized delivery schedule of your choosing. While we were eager to try the keto box, Green Chef also accommodates other eating preferences like paleo, vegetarian, and vegan too.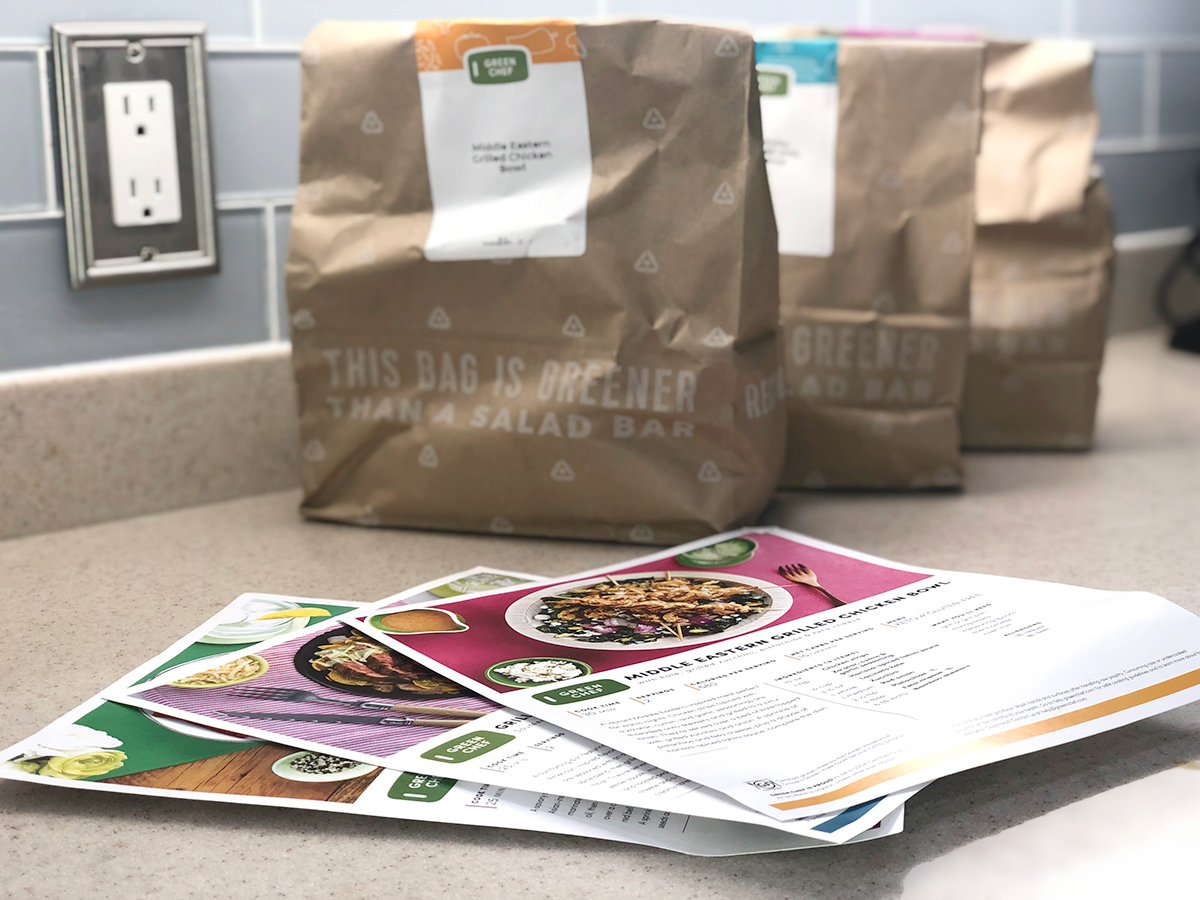 With Green Chef, you can pick any combination of recipes in servings of 2 or 4, change the day of your delivery from week to week, and skip a delivery whenever needed. We loved how the ingredients for each recipe came packaged together (except for meat), so it was really easy to just grab a bag and start cooking!
Green Chef boxes come with all the ingredients needed for each meal, so there won't be any frantic trips to the grocery store to pick up last-minute seasonings or condiments. Everything is perfectly portioned too, so you'll have exactly what you need to make hearty, filling meals without anything going to waste.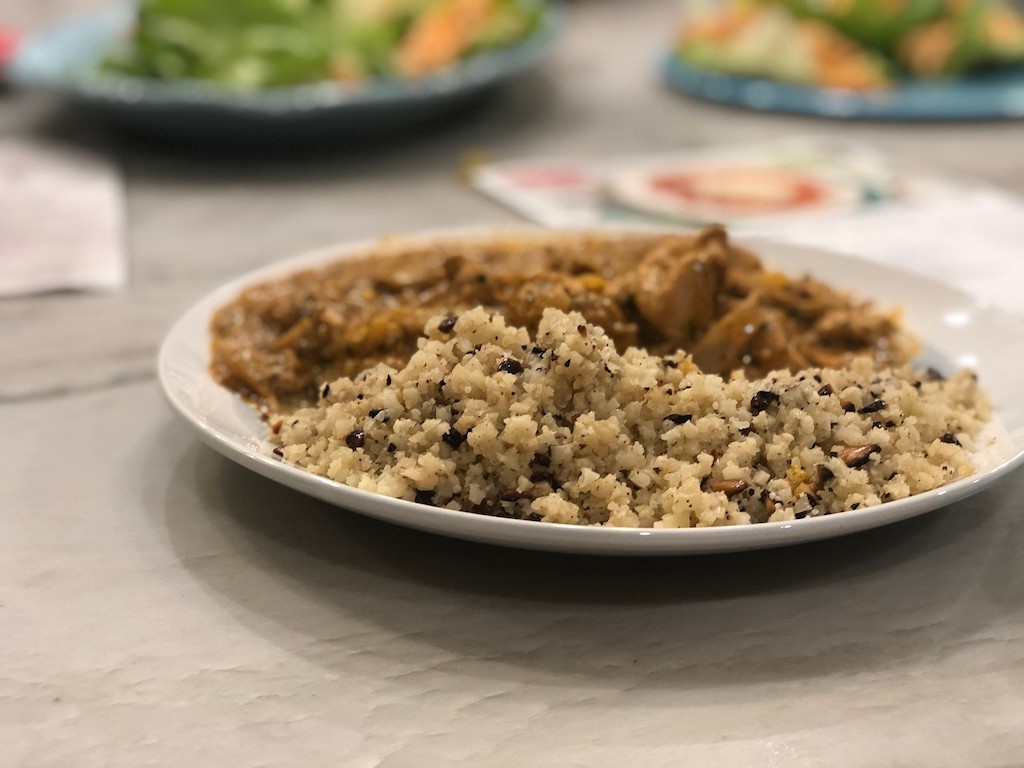 Grab a deal on Green Chef!
---
Sunbasket focuses on high-quality ingredients with intriguing recipes.
Sunbasket offers a weekly menu of 14+ dinners made with high-quality, organic, non-GMO produce and antibiotic and hormone-free meats. While Sunbasket doesn't offer a keto-specific meal delivery kit, the Carb-Conscious and Paleo meal plans offer some low carb, high protein meals that are packed with fat from healthy sources like nuts, avocados, and oils.
With Sunbasket, you can pick any combination of recipes, in servings of 2 or 4. You can also add various a la carte items for breakfast, lunch, healthy snacks, and even pantry staples. When ordering, you can choose the day of your delivery and change it from week to week as needed. Skipping a week is easy, and you can do so whenever you'd like.
We love knowing that everything from Sunbasket is fresh, organic, and sustainably sourced. Not only does this meal kit delivery service work for keto, but it makes eating "clean" super simple too. Best of all, Sunbasket's meals are very interesting, healthy, and delicious.
Sunbasket's meals were fairly easy to prepare, and they go above and beyond when it comes to packaging each meal's ingredients. They even included pasture-raised organic brown eggs, which we found to be a pretty cool bonus. Most meal kit delivery services don't send basic staples like eggs, butter, etc.!
Get a deal on Sunbasket!
---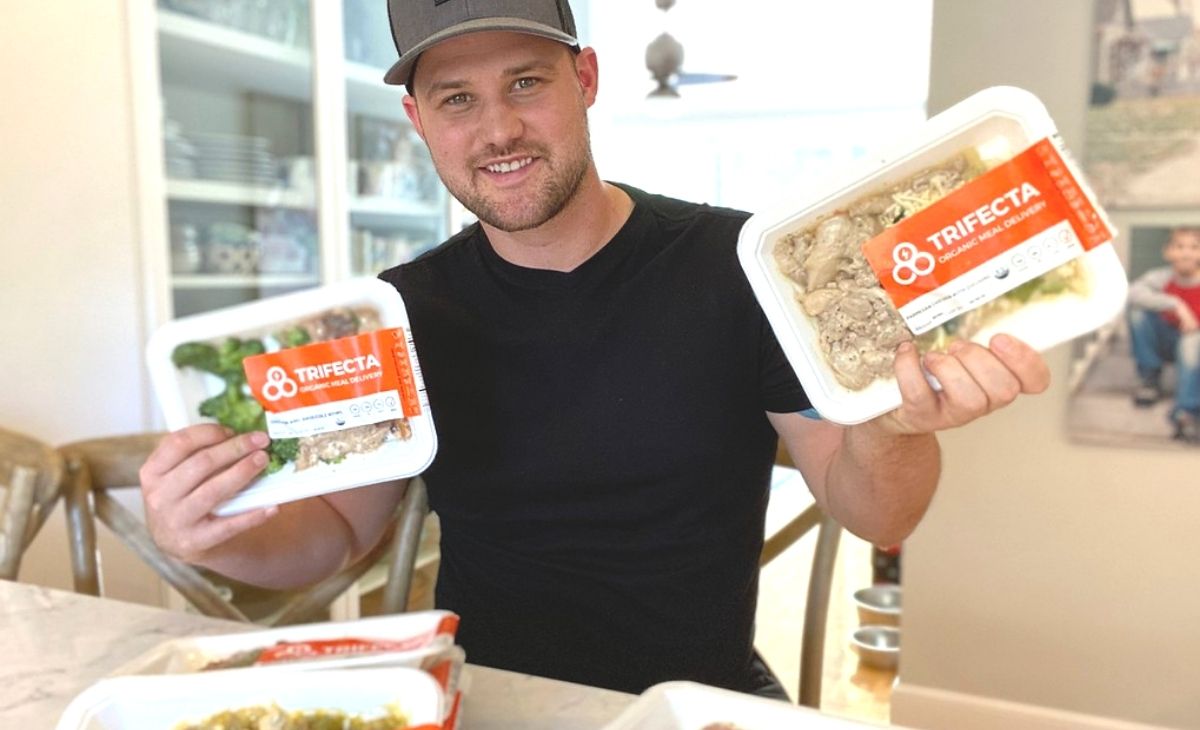 Trifecta Nutrition offers heat-and-eat keto meal delivery while honoring intermittent fasting lifestyles.
Trifecta Nutrition offers a variety of meal options including paleo, vegan, and keto plans, or you can select your favorite items from their a la carte option to suit your personal eating preferences. They use organic ingredients, grass-fed meats, and wild-caught seafood, so you're guaranteed a healthy meal no matter which plan you choose.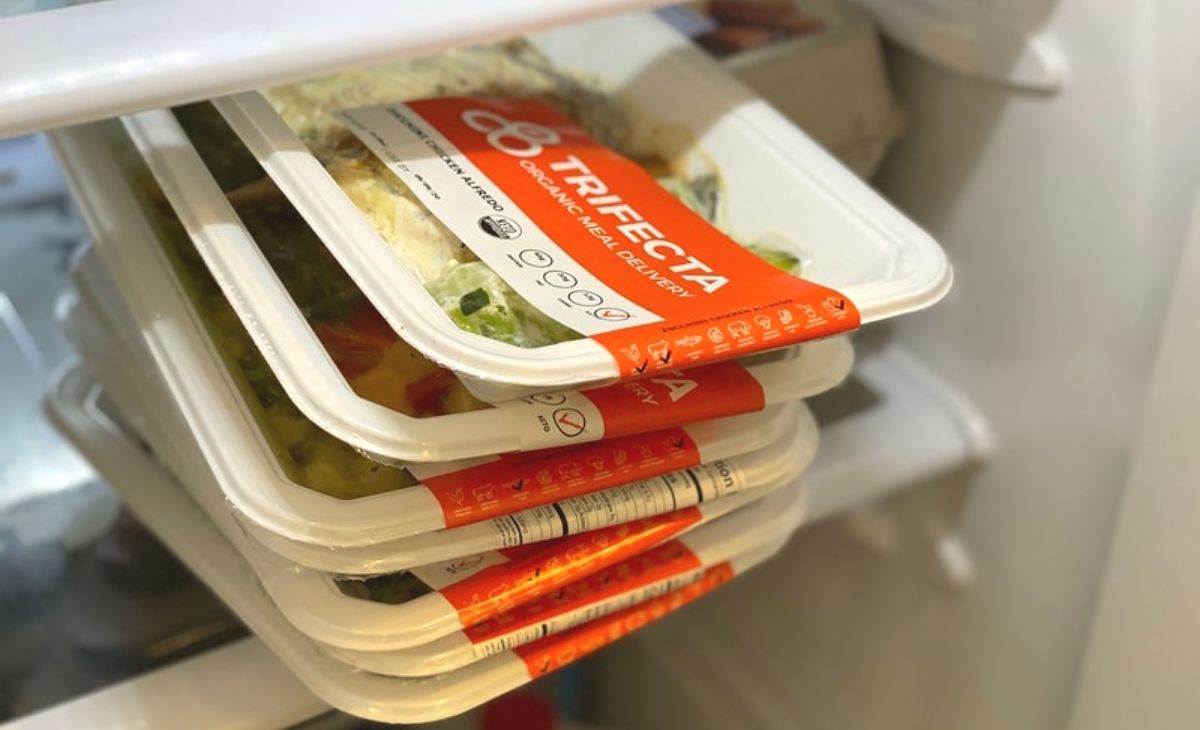 You can customize several aspects of your Trifecta Nutrition plan, including how many meals per day you'd like, and how many days per week you'd like to have food delivered. If you're skipping breakfast due to intermittent fasting, for example, you can opt to leave it out of your meal plan altogether and just stick with the lunch and dinner options.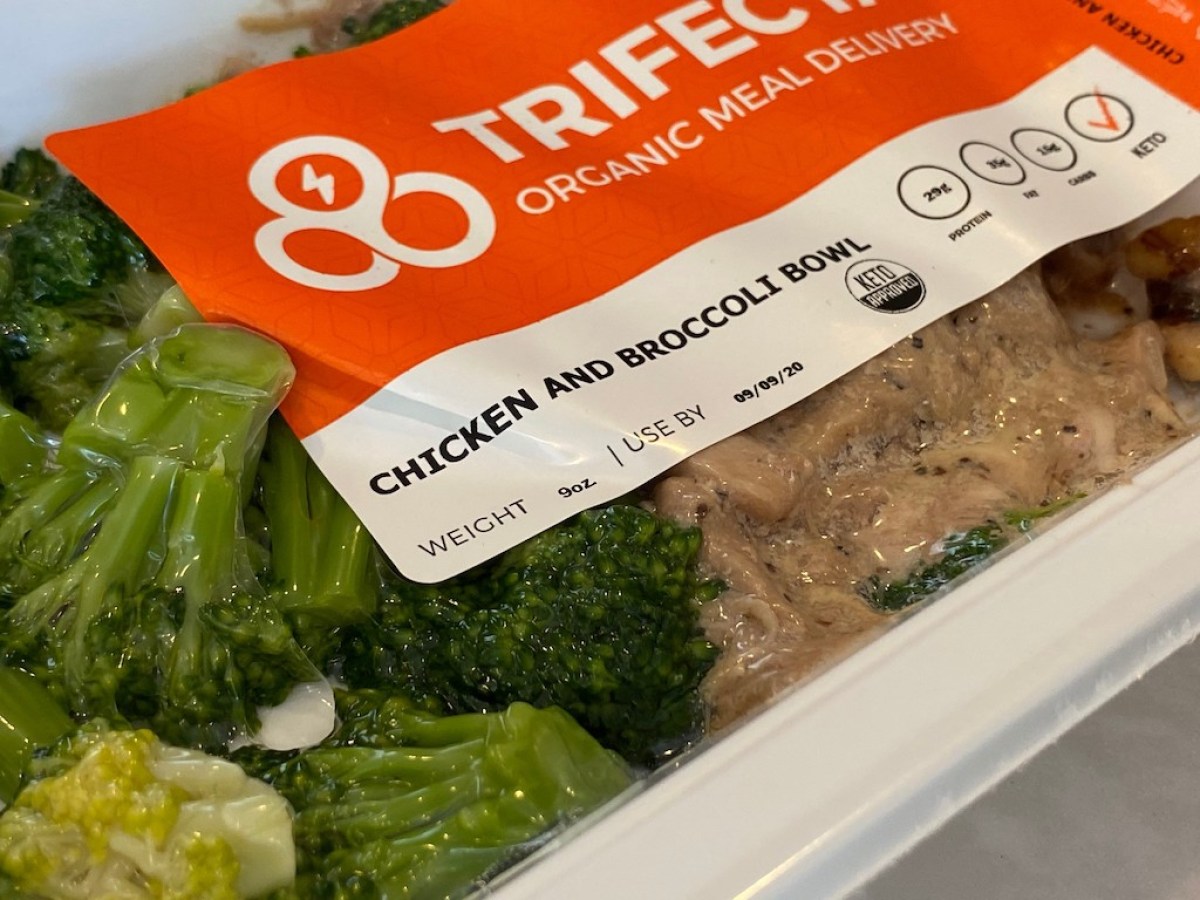 Every chef-prepared keto meal from Trifecta Nutrition is made with fresh ingredients and contains fewer than 10 carbs, roughly 35g of fat, and 41g of protein on average. They arrive vacuum-sealed to maintain the highest quality and nutrition for 6-10 days in your refrigerator.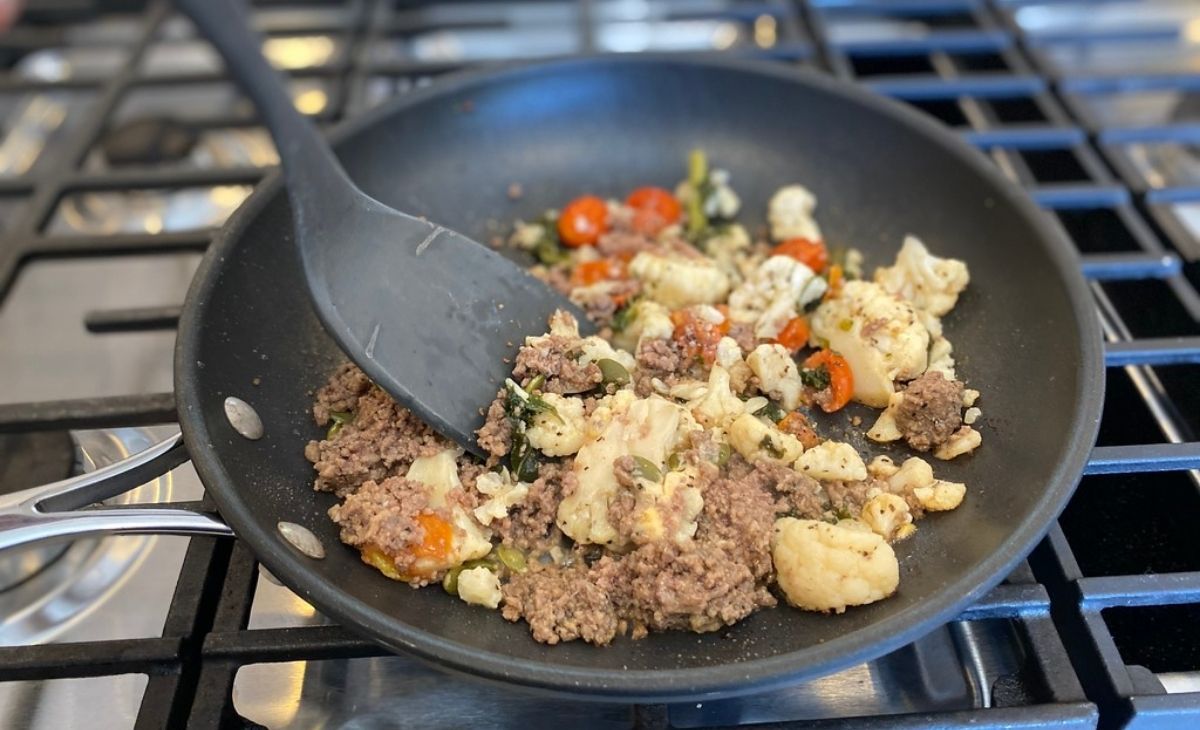 When you commit to a Trifecta Nutrition keto meal plan, you get more than just wholesome, nutritious food delivered to your door. You'll also receive the support of a certified nutritionist who is there to answer your questions about eating keto, plus a highly-engaged Facebook community of customers and nutrition experts.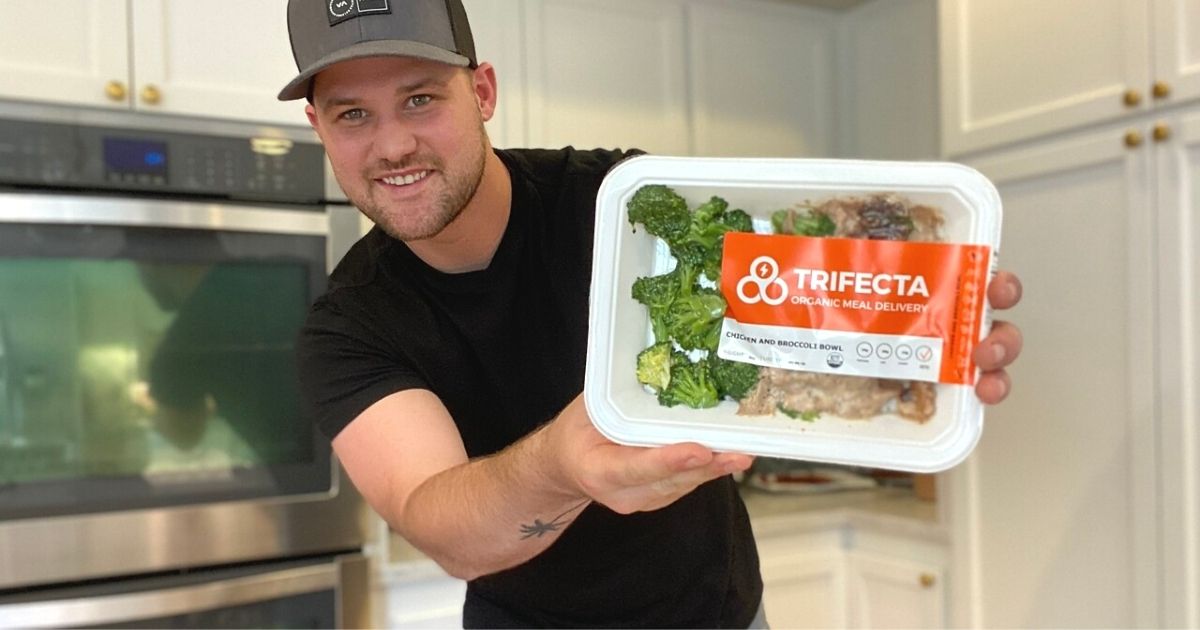 "No cooking at all? Heck yes! These Trifecta meals have everything you need—lots of protein, lots of fat, minimal carbs, and they taste great too. These definitely come in handy when you're busy and don't have time to run to the grocery store or do more time-consuming meal prep." – Stetson
Read Stetson's in-depth review of Trifecta Nutrition's keto meal delivery service here.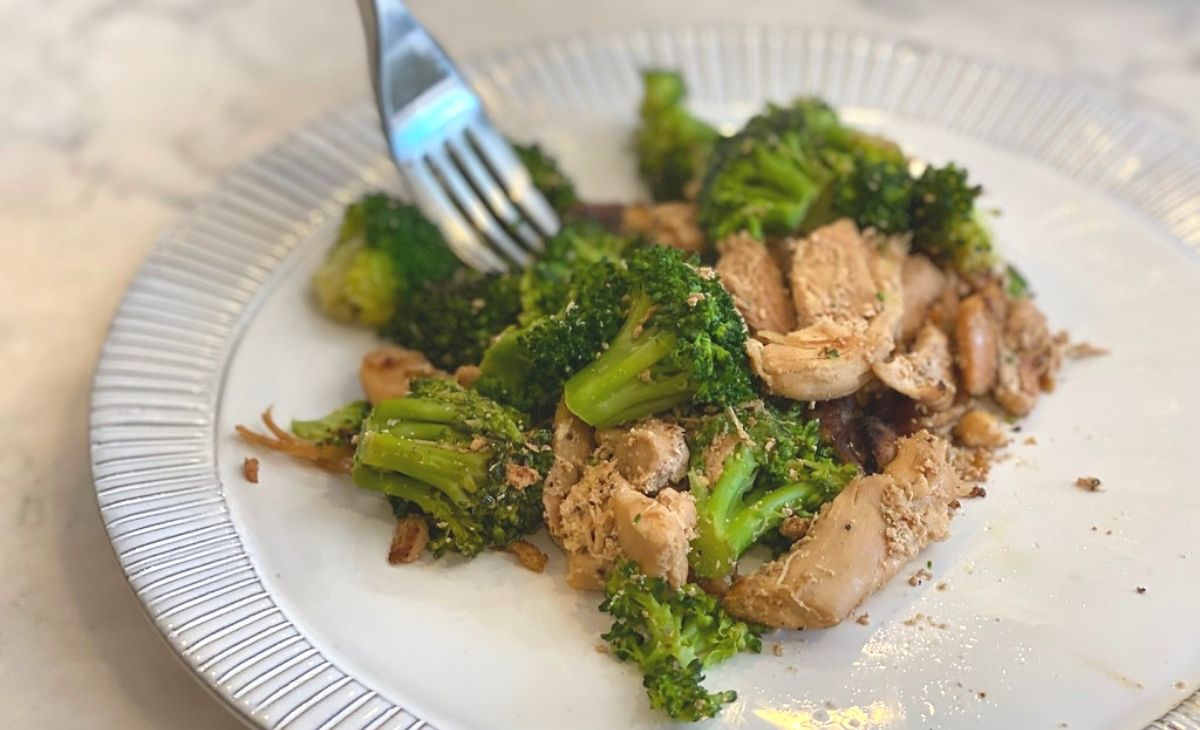 Get a deal on Trifecta Nutrition!
---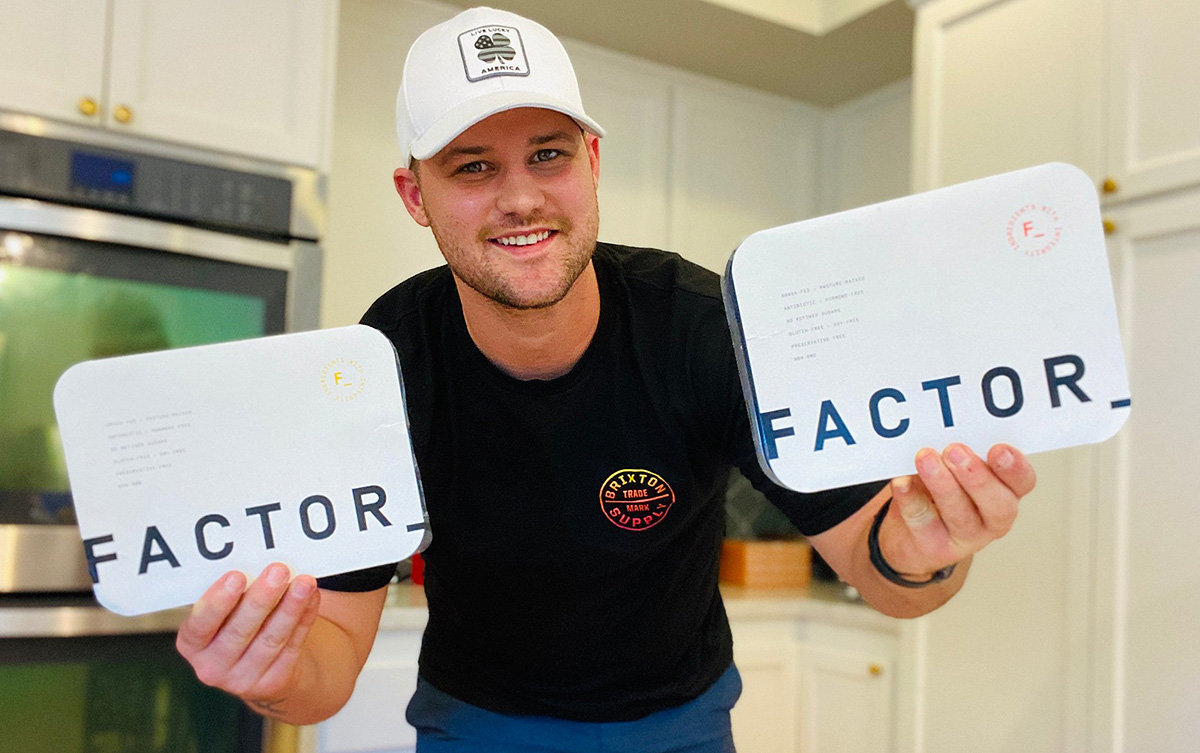 Factor Meals have zero prep keto meal delivery offerings… including the yummiest desserts!
Factor is a prepared food delivery service that provides zero-prep meals for busy people who want to eat well. They offer meals for several different dietary preferences including Paleo, low-carb, vegetarian, plant-based, high protein, and of course – keto!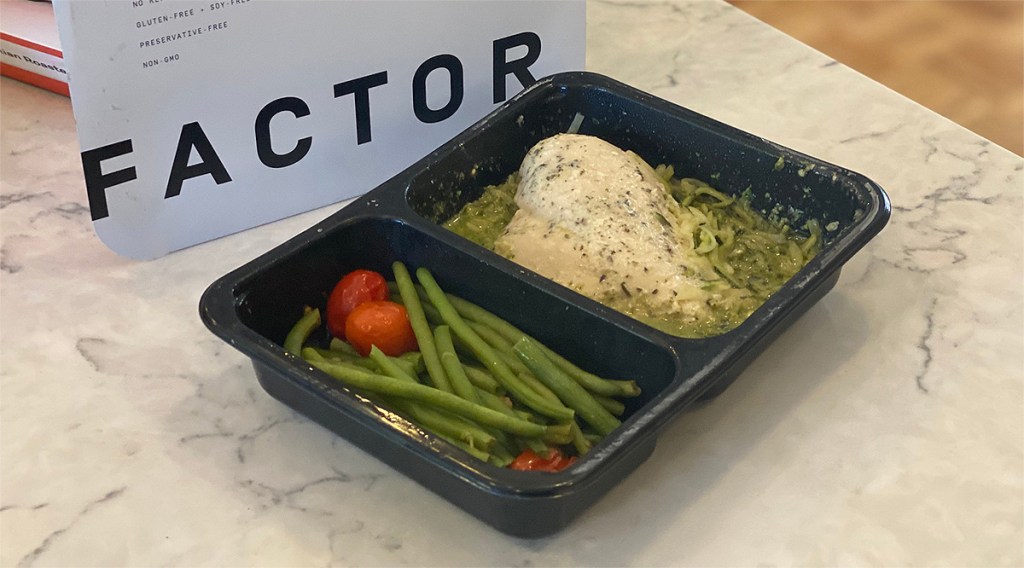 Factor's chef-prepared meals are made with thoughtfully sourced fresh ingredients that are free from hormones, antibiotics, GMOs, and additives. Everything is made fresh from scratch, so you get all the flavor and nutrition of a homemade meal without having to do it yourself!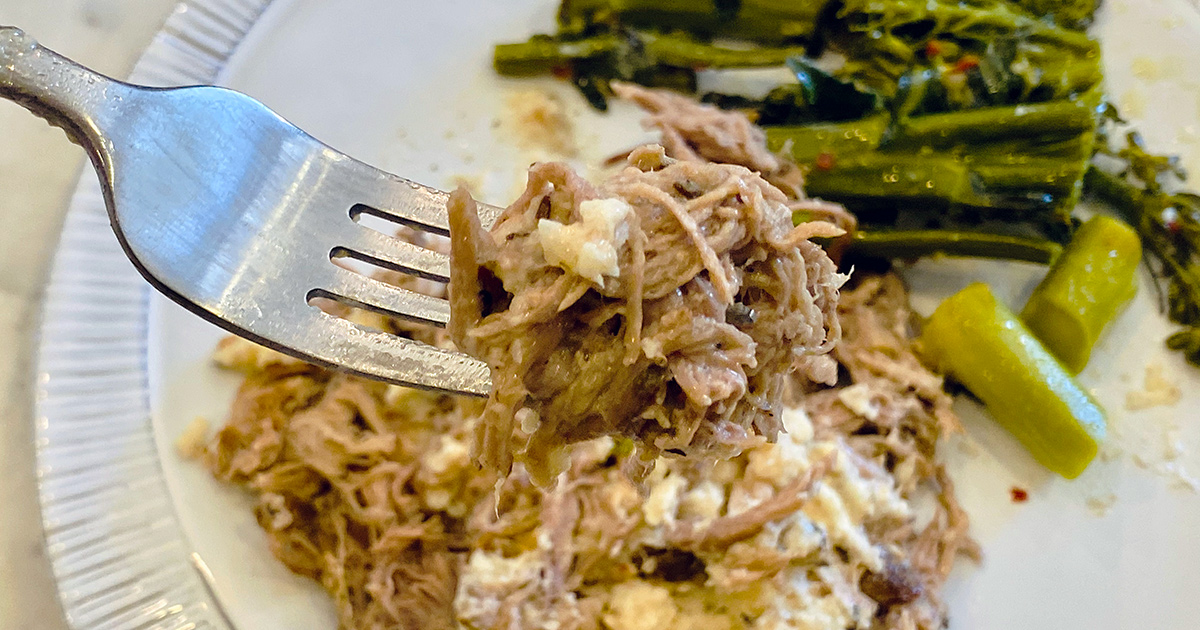 Since Factor's meals arrive ready to heat and eat, they're perfect for those busy evenings when you need to eat on the run, or when you've already cooked for the kids and don't have the energy left to make yourself a homecooked meal.
We love that these meals require zero prep, which also means zero kitchen clean-up! Every meal comes fully prepared and ready to heat in either the oven or the microwave.
With Factor, you can choose to receive 4, 6, 8, 12, or 18 meals per week. Factor updates its menu every week, with dozens of breakfast, lunch, and dinner options. You can choose your own meals, or submit your taste preferences and let the chef select your meals for you.
There is no commitment, and you can pause, change, or cancel your meal plan at any time. You can also skip up to four weeks of meal deliveries by pausing your delivery before the cut-off date for each week's order.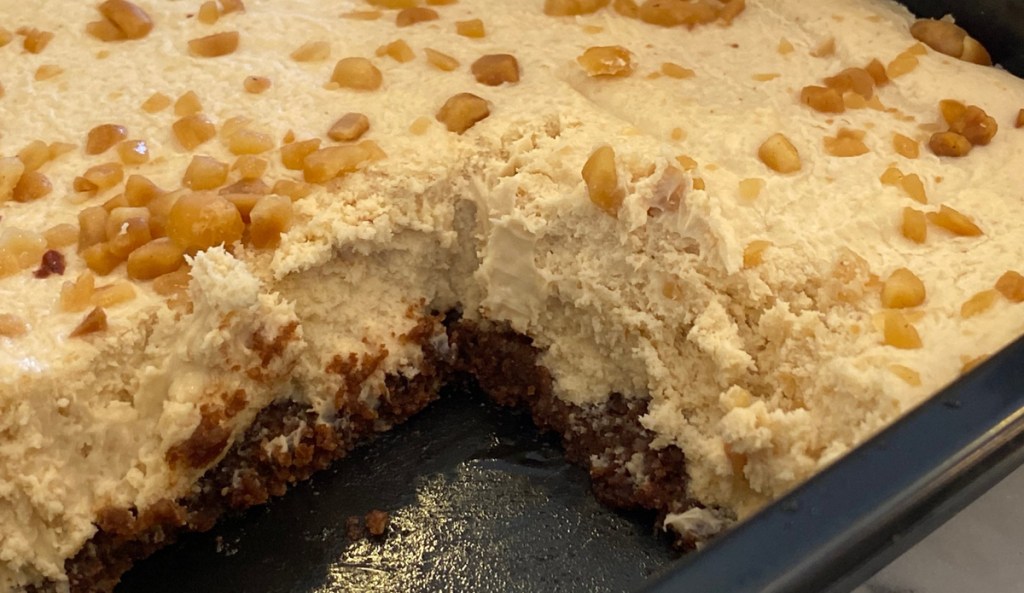 The Hip2Keto team is a big fan of Factor's meals, which are healthy, delicious, and super convenient. They're also packed with protein and perfectly portioned for a truly satisfying meal. And if you have a sweet tooth, we highly recommend their desserts. Factor's peanut butter cheesecake (shown above) is to die for!
Head on over here to read our in-depth review of FACTOR meals.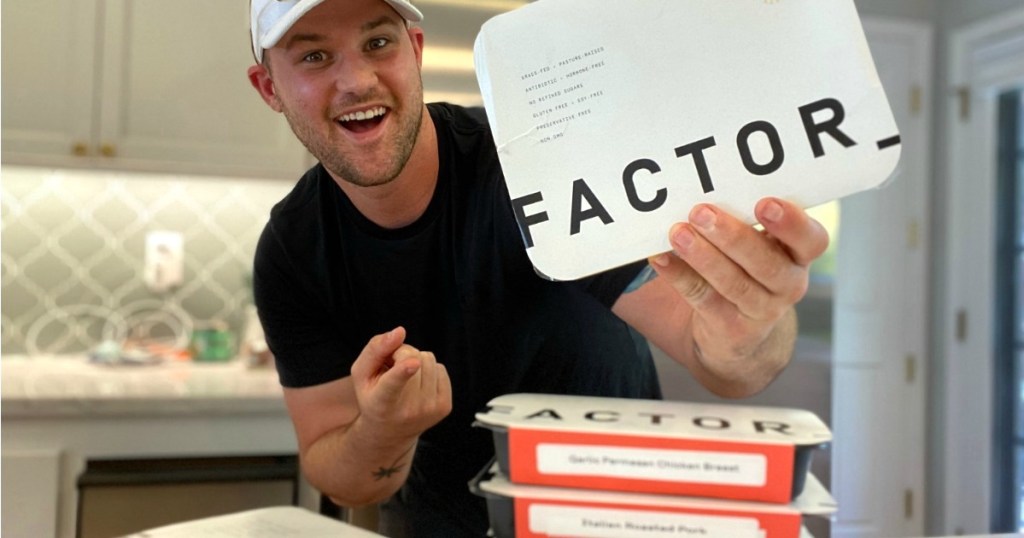 Get a deal on FACTOR meals!
---
Love prepping meals? Check out some of our keto meal plans!