5 of the Best Keto Apps for Newbies (+ All FREE to Use!)
On the hunt for the best keto app? Our top 5 picks are all FREE!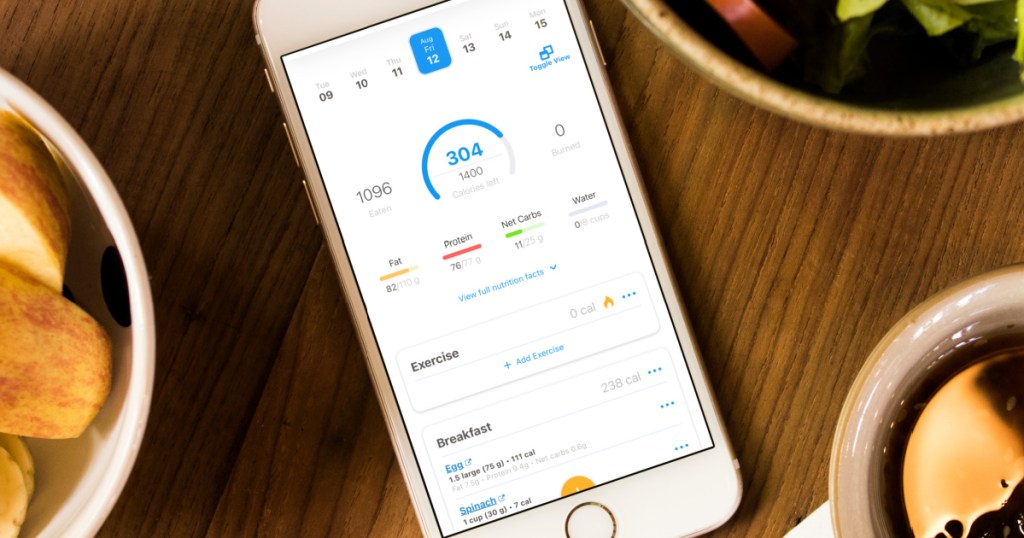 Keto stats, simplified.
"What do I eat?" "How many carbs are in that?" Am I getting enough fat?" These are just some of the common questions that pop up for new keto dieters. And no one expects you to know straight away – especially when helpful tech can provide the answers to all your nutritional keto questions.
At Hip2Keto, we're crushing on a handful of apps so we're sharing our top picks so you can find the best keto app for you. Here's a breakdown and why they deserve a permanent home on your smartphone screen.
---
Choose the best keto app for you:
---
1. Carb Manager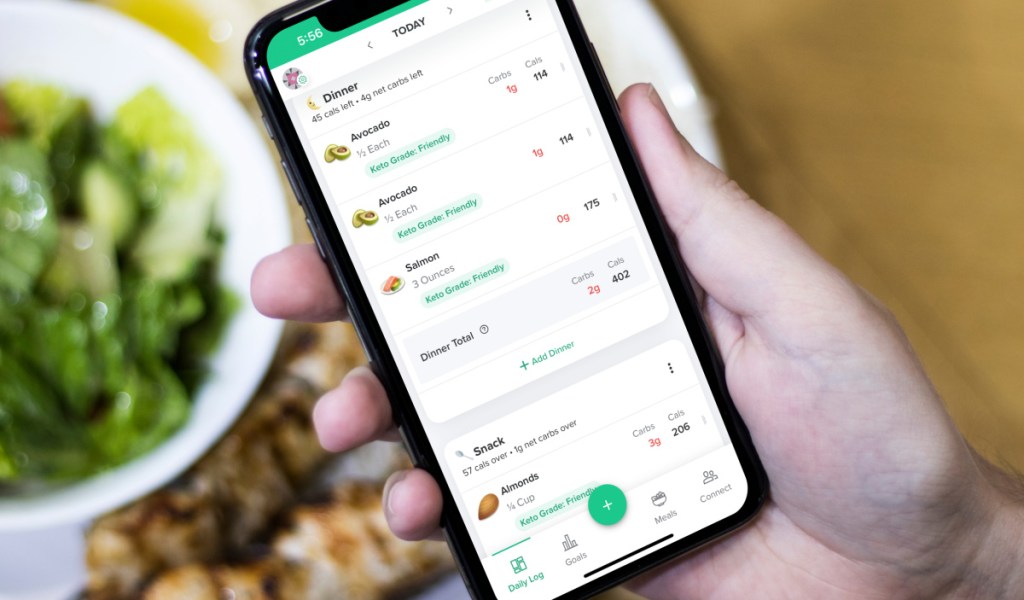 Carb Manager is geared towards keto eaters offering a robust set of keto-centric tools, including a food diary, barcode scanner, progress reports, recipe database, and other nutritional calculator functions. You may be familiar with MyFitnessPal (which we'll mention next) and the biggest difference between the two is that CarbManager is geared towards a keto or LCHF (low-carb, high-fat) diet. Many of the useful features only available to MyFitnessPal Premium subscriptions are standard for the free version of Carb Manager.
It's also worth noting that CarbManager is the reason you see accurate and detailed nutrition info on all of the recipes posted to Hip2Keto.com!
How do I use Carb Manager for my keto diet?
Users start by inputting their body stats and desired goals. From there, the app generates your daily macros to help you reach your goal weight, along with a visual breakdown of your carb, fat, and protein percentages.
Another one of our favorite features is the keto rating. Whenever you're searching for a particular food for its nutritional value, Carb Manager kicks back a rating based on how well it fits into the keto diet. This handy little feature takes all the guesswork out of whether or not your favorite foods will keep you in ketosis!
While there's a Premium version of this app as well, our team has found that the features in the free version are pretty robust. That said, if you're looking for personalized meal planning and more extensive reporting, you can upgrade to the paid version for $39.99 for a year (about $3.33 per month).
"I love the Carb Manager free version! I think it's super simple, and I even like it better than MyFitness Pal. It's so cool that it also gives your food a Keto rating. I use it daily and any time I'm not sure whether a new product is keto or not." – Michelle, product reviewer
"When starting out on keto, this app was my everything! It was immensely helpful to have my macros calculated, track my daily consumption, and monitor how many glasses of water I drank. I LOVE that it recommends which foods are good for keto as well!" –Emily, Hip2Save team
---
2. MyFitnessPal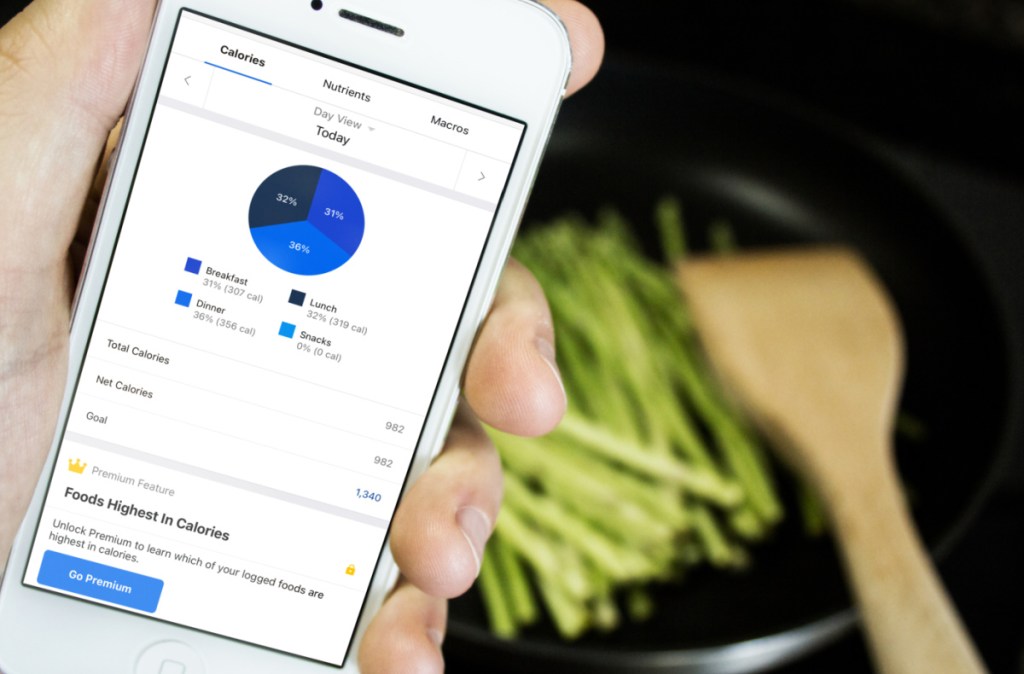 MyFitnessPal, formally owned by fitness giant Under Armour, is one of the more popular health-tracking apps! It's bursting with a wealth of features, from food tracking to nutrition calculators and even an integrated community. It also works seamlessly with over 50 external apps such as MapMyRun, Fitbit, and Apple Health Kit, just to name a few.
How do I use MyFitnessPal for my keto diet?
We love it for its incredibly large library of generic and brand-name food facts, along with the ability to simply scan a barcode to pull up its nutrition details.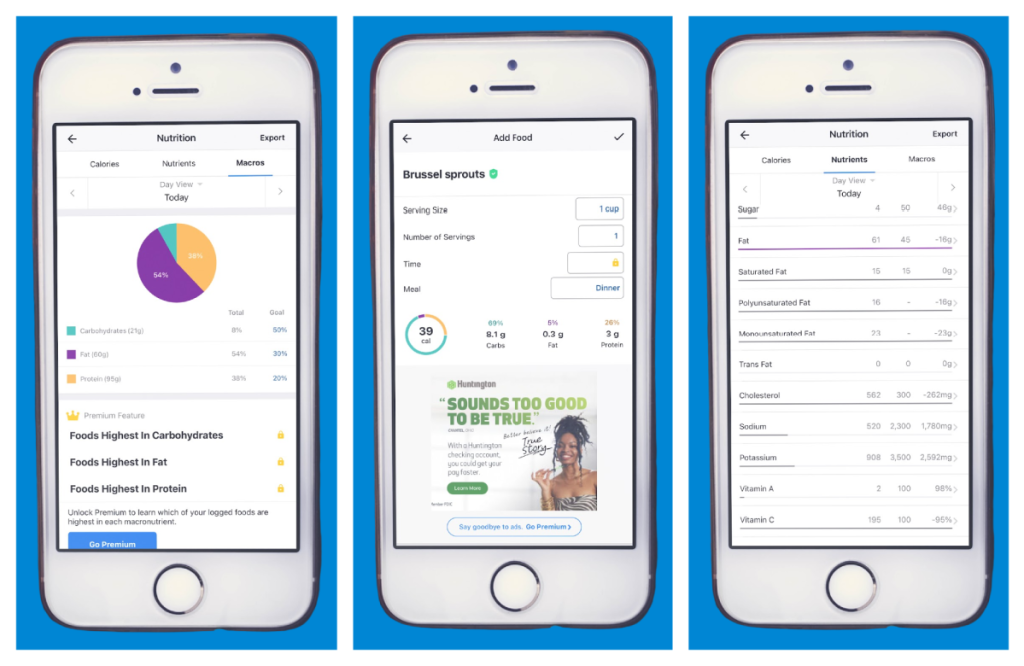 MyFitnessPal is great for keeping a food diary and viewing the breakdown of your food intake. You can manually adjust your desired macros, though dashboards pertaining specifically to keto (macronutrient and low-carb views) are only accessible through a Premium subscription. New users can take advantage of the free first-month trial to test out the high-end features of a paid subscription. After the trial, the charge to continue using the paid features is either $19.99 monthly or $79.99 yearly.
"I love My Fitness Pal because it's free and it has a pretty extensive database of foods already in their system, especially fast food. It seems like they have a lot of Keto modifications in the database, but you have to keep an eye on it as some are wrong, but there are usually a few options that are correct." – Angela, Hip2Save team
"This will always be my favorite app, mainly because of how big the database is! Plus, I love the recipe function. I can put in all of my ingredients then split them evenly, AND you can share them with your friends. When my husband & I did P90X way back in the day, I would make these homemade protein balls, and it was so convenient to put the ingredients into the app as a recipe and share with my husband. Then he could just add how many he was eating in his own account." – Alana, product reviewer
---
3. Cronometer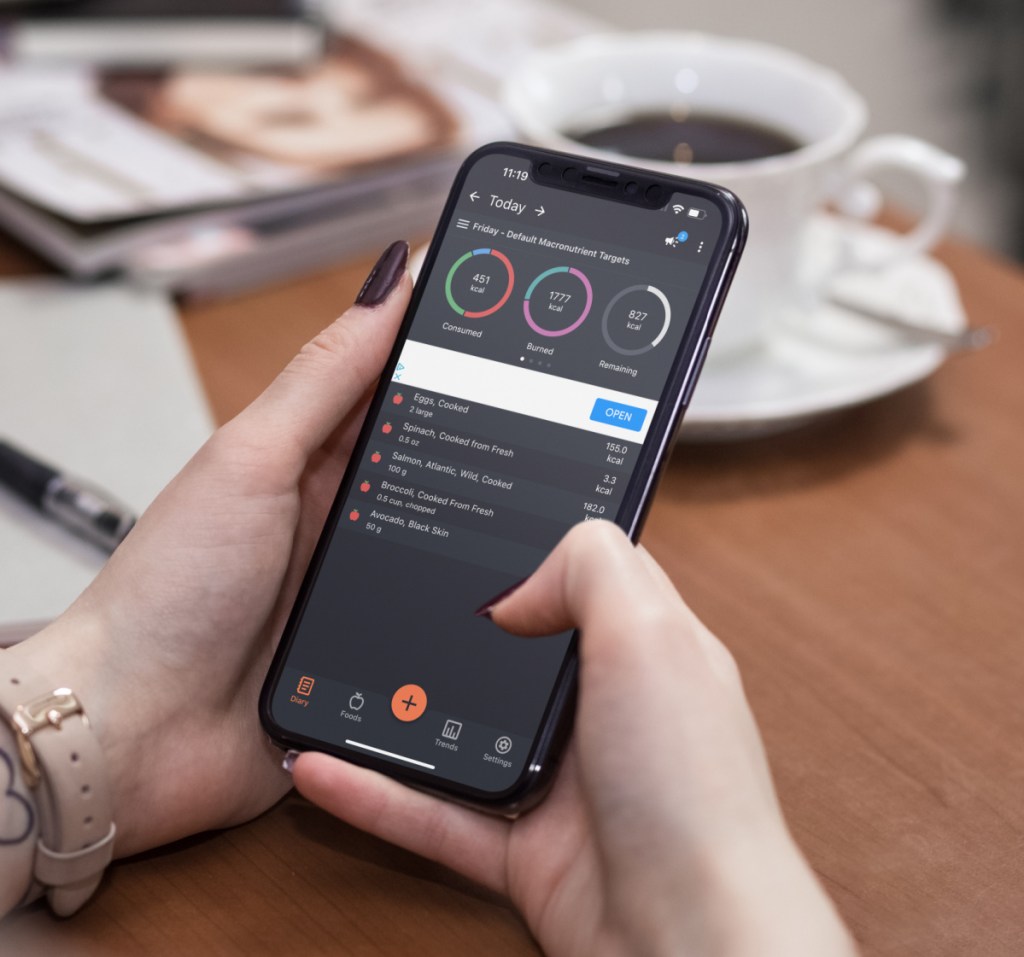 We discovered this nifty app thanks to Hip2Save reader, Lisa! It's fantastic for those wanting to track macros and nutritional info. Like MyFitnessPal, it can be synced to fitness devices like Fitbit. What actually sets Cronometer apart is the level of nutritional detail you receive just using the FREE version.
In addition to macros and vitamin counts, Cronometer will show you the percentage of specific minerals, amino acids, and lipids you consumed. So if you want to know your daily intake of selenium, copper, cystine, or Omega-6, this app is for you! Getting this premium-level nutritional detail for FREE puts Cronometer in the running for the best keto app. We aren't the only ones who think so either. This app has been featured in Women's Health and Men's Journal.
How do I use Cronometer for my keto diet?
To get you started, Cronometer will ask you a few questions about your body stats and goals. This helps the app set a baseline for the number of calories you need to consume each day. Users can then track their daily food intake and exercise levels. The app scores very high for accuracy so the nutritional information is truly helpful.
Cronometer will break down your macros for you so you can see the exact percentages of fat, protein, and carbs you consumed. Use the free reporting to track your nutrition trends and goals over a period of time.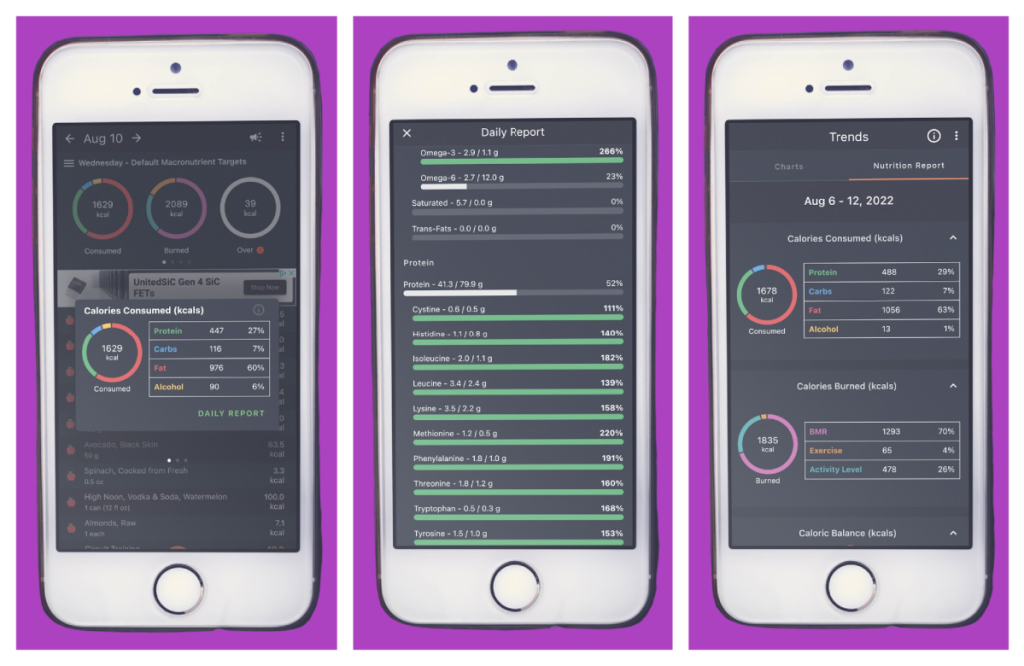 You'll have access to almost everything you need with the free version, but expect to see some ads. If you would like to get rid of ads and have access to some special features like fasting timers and custom biometric reports, Cronometer offers a gold version. This subscription costs just $4.16 a month but is billed on an annual basis for $49.99. The company also offers a Cronometer Pro version for healthcare professionals!
"I've lost 40 lbs total, about 30 since Jan 22 when I started taking it seriously! It's so helpful to train yourself to eat the right amounts and get the right nutrition, especially as a diabetic. A few glitches occurred recently but the latest update has eliminated them and it works flawlessly now. I recommend the Gold subscription but the free version is great on its own!" – Karen, product reviewer
"If you're serious about tracking macros and aren't afraid to do a little bit of setup, this is the app for you. TONS of great data to track and even with the free version, it doesn't lock basic features behind a paywall or shove excessive ads down your throat like some of the big-name calorie counters. I wish I had found this app years ago." – Clay, product reviewer
---
4. KetoDiet
The free version of KetoDiet has a lot of note-worthy features to love. Like the other apps on the list, you can log your food intake and even scan barcodes. What makes this app special is the access to free recipes, a keto blog written by nutrition experts, and even a Facebook group.
The creator of the app, Martina Slajerova, has written several best-selling keto recipe books and her products have been featured in a ton of publications like Cosmopolitan, Women's Health, and Buzzfeed. There are several apps with a similar name so follow our links to make sure you download the right one!
How do I use KetoDiet for my keto diet?
Users can log their food intake through manual selection or the barcode feature. The app uses color-coding to let you know when one of your macro counts is going over your recommendation. The stat on your chart will turn red if you go over your macros or orange if you are coming close. Don't forget to log your liquid intake and exercise too! The app is tracking your progress so you'll know when you've reached your goals.
You can also find some delicious free recipes in both the recipe and blog sections. Each recipe comes with photos, ingredients, nutritional info, and instructions.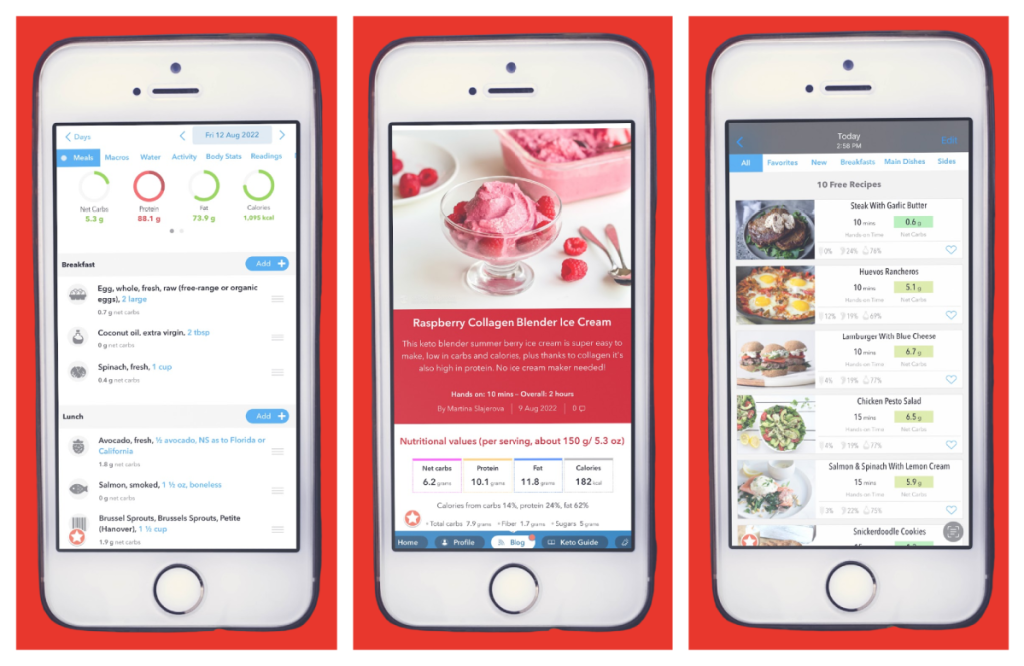 The free version will provide you with the basic tools you need to monitor your macros, but the premium version has a few useful features too. For $35.99 a year or 5.99 a month, you can have access to advanced tracking features like blood glucose and lipids, a helpful keto diet guide, and a restaurant search that lets you find keto-friendly foods when you eat out.
The premium app also gives you access to ALL the recipes which you can filter by allergies or categories like "quick," "vegetarian," or "Low FODMAP." If the premium subscription isn't in your budget, don't sweat it. Occasionally, the premium recipes are published to the blog and you can score them for free!
"I cannot sing the praises of the KetoDietapp and calculator enough and am thrilled to give a review. The KetoDiet app is easy to use; has amazing, tested recipes, an informative blog, and keto articles to ensure success. I trust the information and guidance that the admins provide. I reached my own goals, and still use the application in maintenance mode. Could not recommend the KetoDiet app more." – Henri, product reviewer
"I have used the Facebook KetoDiet Support group and the keto app for 2 months and lost 15 lbs, love it!" – Rose, product reviewer
---
4. Total Keto Diet
If it's free recipes you're after, Total Keto Diet might be the best keto app for you. You'll receive more free recipes than with the KetoDiet app and you can belong to part of a free community without having to go on Facebook.
How do I use KetoDiet for my keto diet?
The app will ask you several questions to get a baseline of your nutritional needs. Log your food to track your macros for free. When viewing your analytics, you can toggle between several different views to get a full understanding of what you've eaten and how much you're still able to consume.
Browse the recipes to find something you can look forward to eating. There is a plethora of free recipes that include nutrition information with net carb counts, detailed instructions, and user feedback. There is also a button to track a recipe and the details will automatically be logged into your food diary. If you have questions or are in need of support, the app has its own built-in community section where you can ask for tips, share recipes, and celebrate milestones!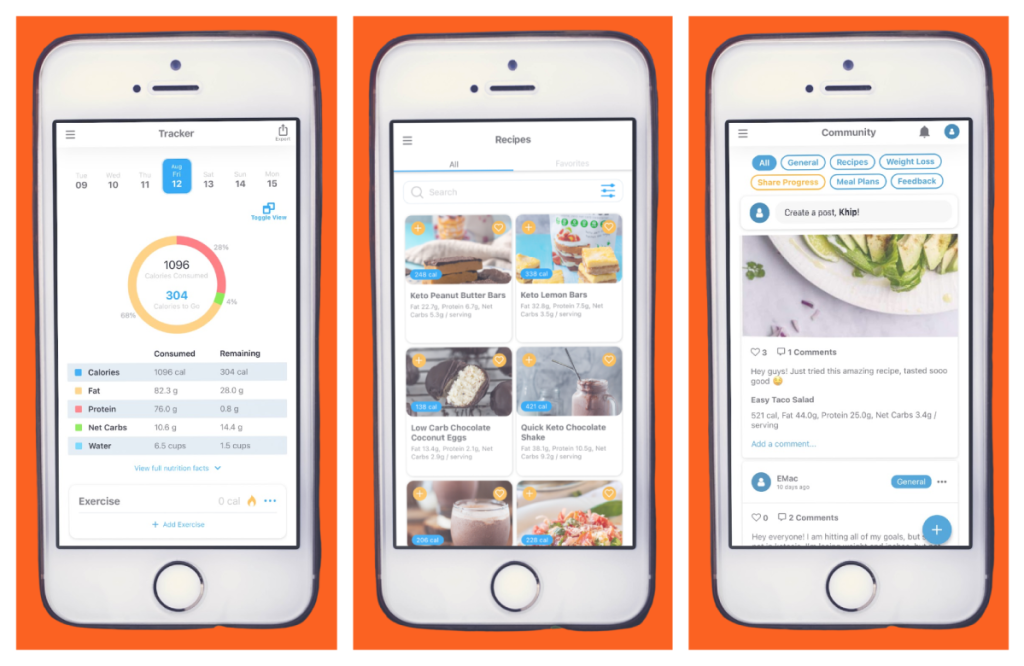 The app does have a premium version for $9.99 a month or $49.99 a year. Premium features include an ad-free experience, weekly progress reports, the ability to export your data, custom meal plans, and Fitbit synchronization. As some of those perks are free in other apps, we recommend skipping the paid subscription for now.
There is a downside to the app and that is that many users complain about issues after software updates. The free version also has A LOT of ads. That being said, the recipe and community features are pretty useful. It might be wise to use the app for these features but log your nutrition using a more reliable tracker.
"I really love the recipes in it and how you can add them to the food tracker, as they've already been calculated for carbs, fat, protein, and calories. And you have a scanner for various items not found in search. I don't think it could be any easier! Thank you!!!" – Mary, product reviewer
"I try to use this app every day to track what I'm eating and help with my weight loss goals. The app allows you to input your personal data to give a tailored plan for the number of calories, protein, carbs, etc that are needed to meet your goals. There are also a huge amount of keto recipes that I regularly use. A really, really useful app." – Natalie, product reviewer
---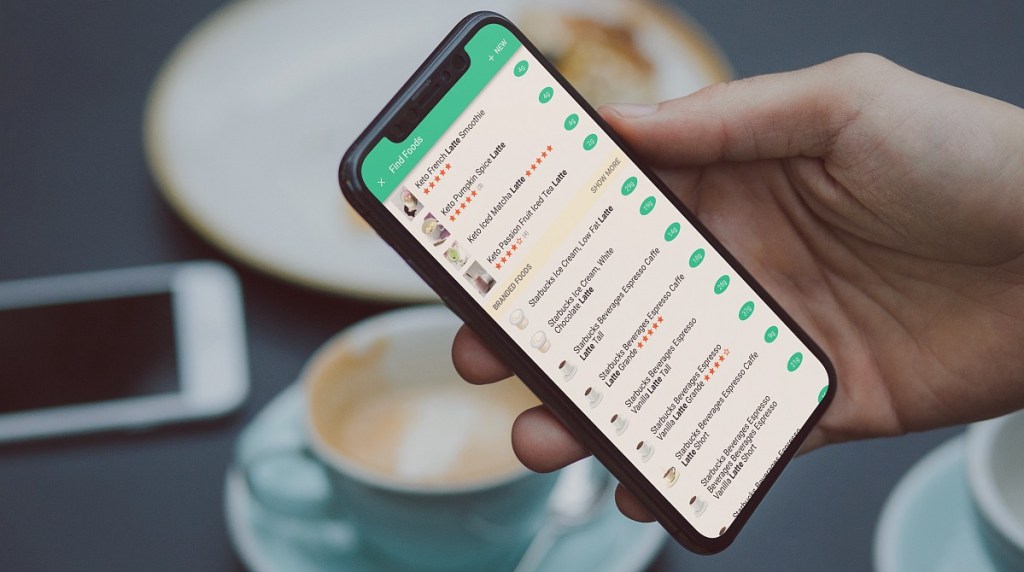 We LOVE anything that makes our lives easier, and these apps certainly do just that when it comes to listing out nutritional factors and keeping our macros in check. But all that said, there's an even more powerful tool that can measure your progress on keto: it's your brain! If you feel good, mentally and physically, then that's all that really matters at the end of the day.
These smartphone apps are perfect to help you learn how to track and monitor your eating. You'll find over time that you won't need to rely on them as much, and that's A-OK with us. As long as you're feeling the benefits of keto, you're golden!
---
Ready to put those apps to the test? Try one of our recipes and log it in your app's food diary!