Tuscan Chicken is Naturally Keto & Full of Flavor!
This Tuscan chicken recipe slowly simmers pan-seared chicken breasts in a creamy sauce for a mouth-watering meal.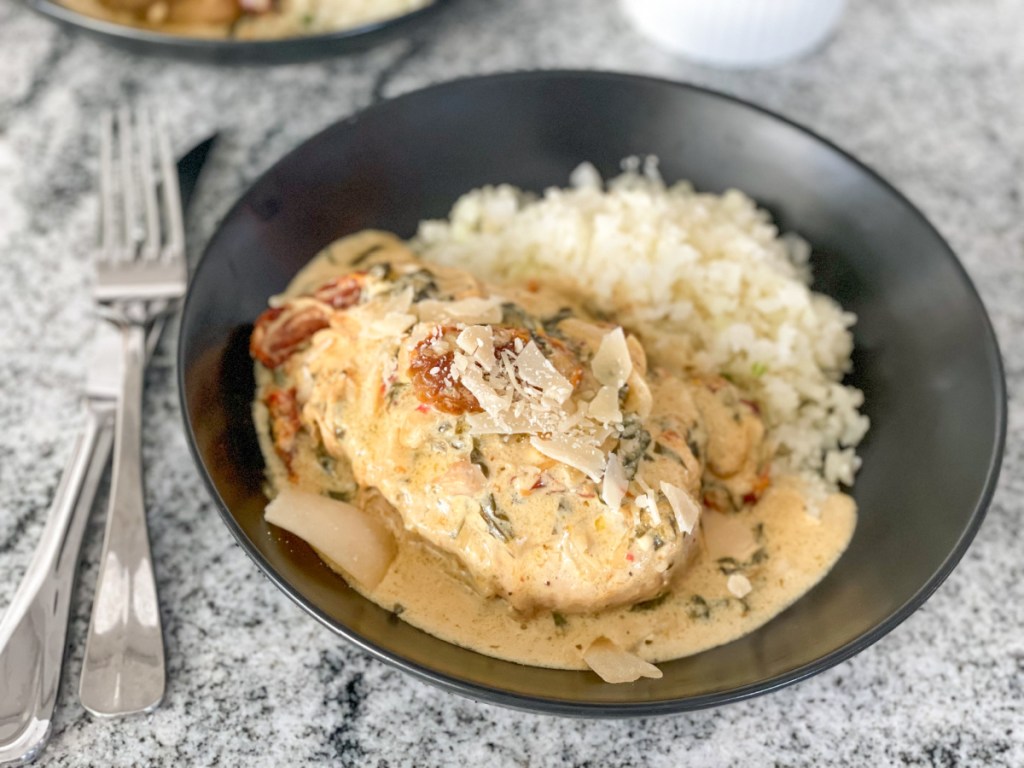 Tuscan chicken is "melt in your mouth" good!
Let me introduce you to some of the best chicken I've ever made. I'm not over-exaggerating by saying it's some of the best! It truly is. I'm usually not a big chicken person but this is so moist and tender. It was literally falling apart while I was cutting it. You probably don't even need a knife!
How do you make Tuscan chicken so good?!
It all starts with a good sear. You season the chicken and then sear it to seal in all the moisture. The chicken then slowly simmers in the creamiest sauce for the most amazing tender chicken breasts.
The sauce is made of chicken broth, heavy whipping cream, cream cheese, and parmesan. It also has onions, sun-dried tomatoes, and spinach. Yum!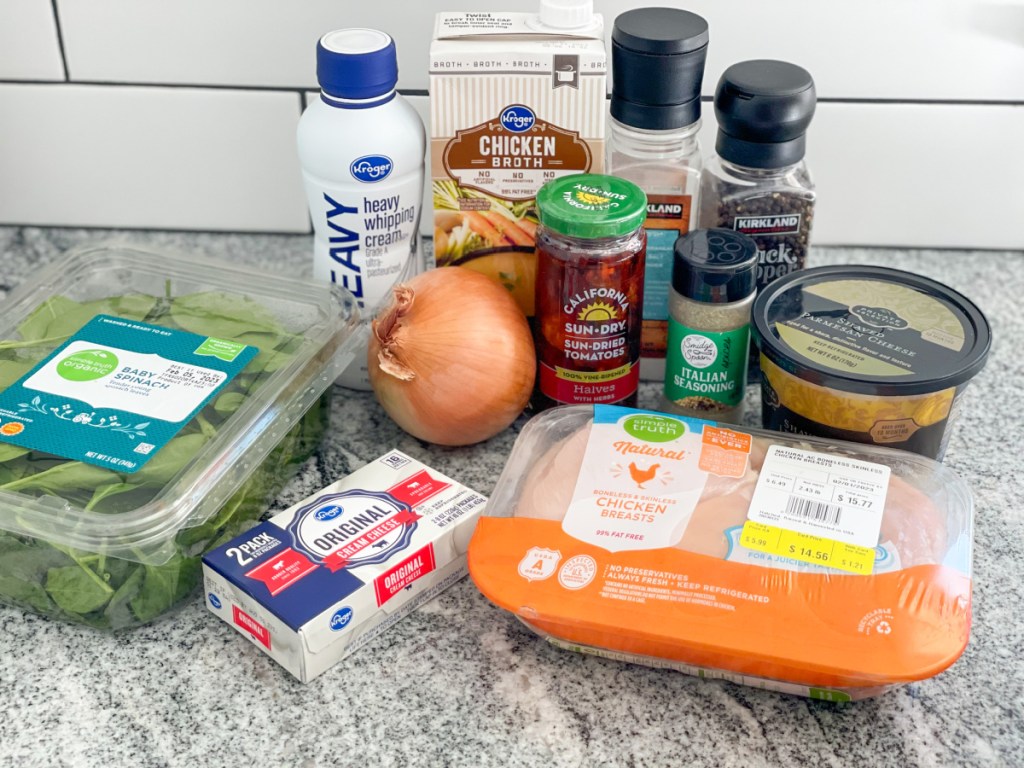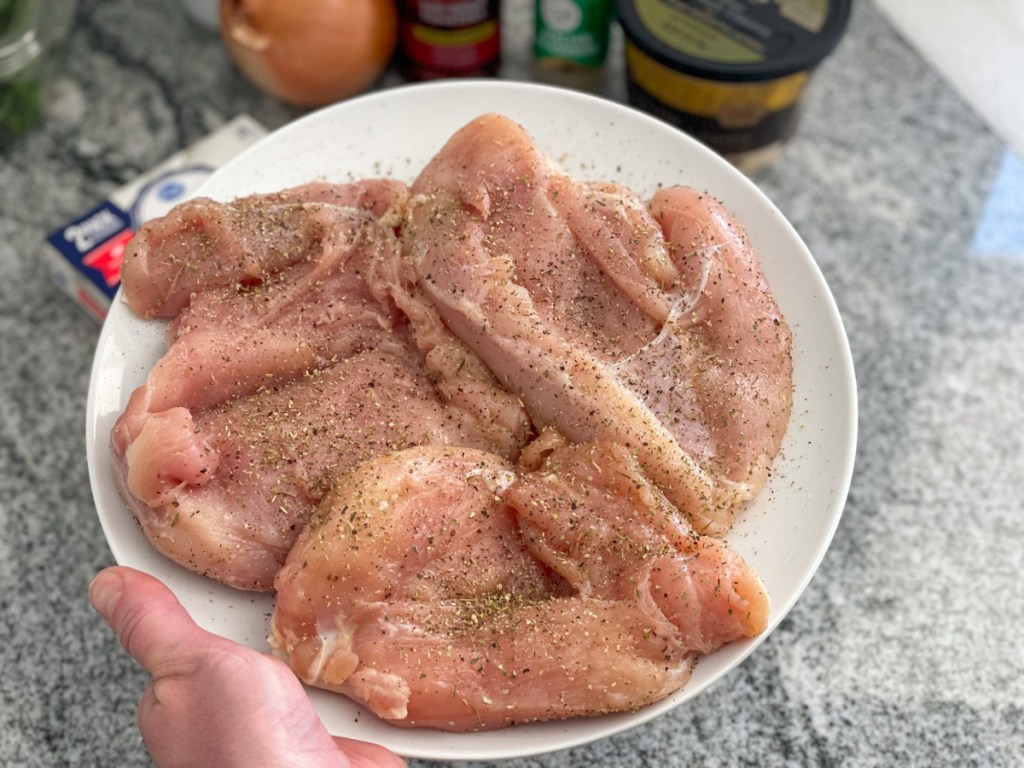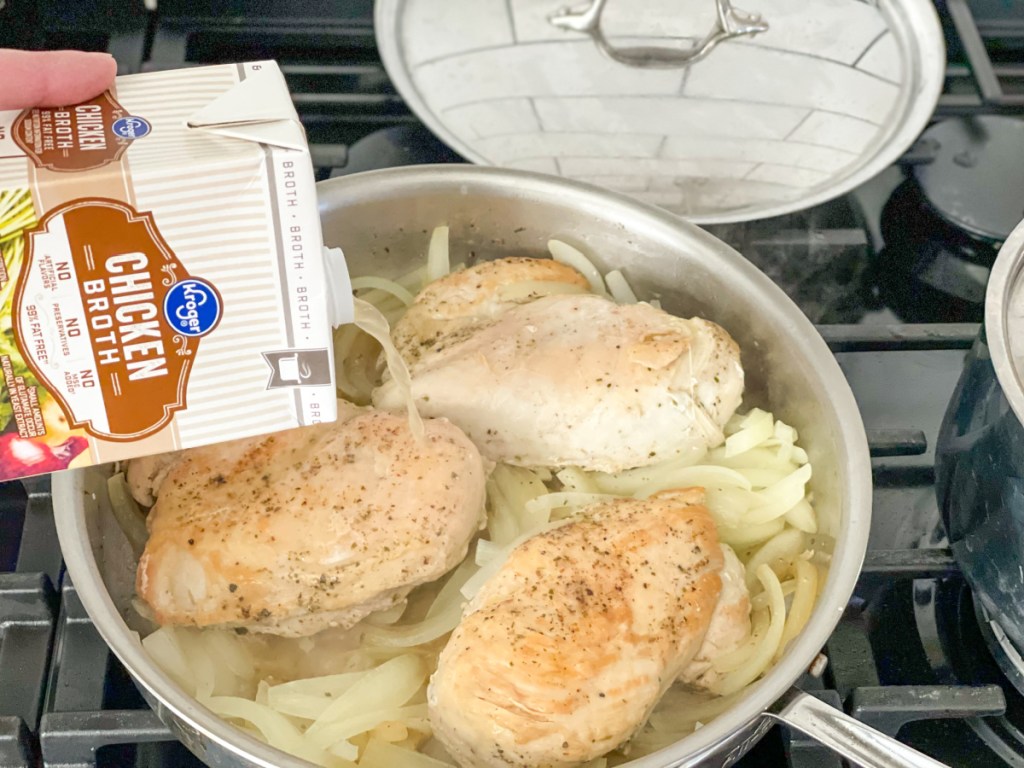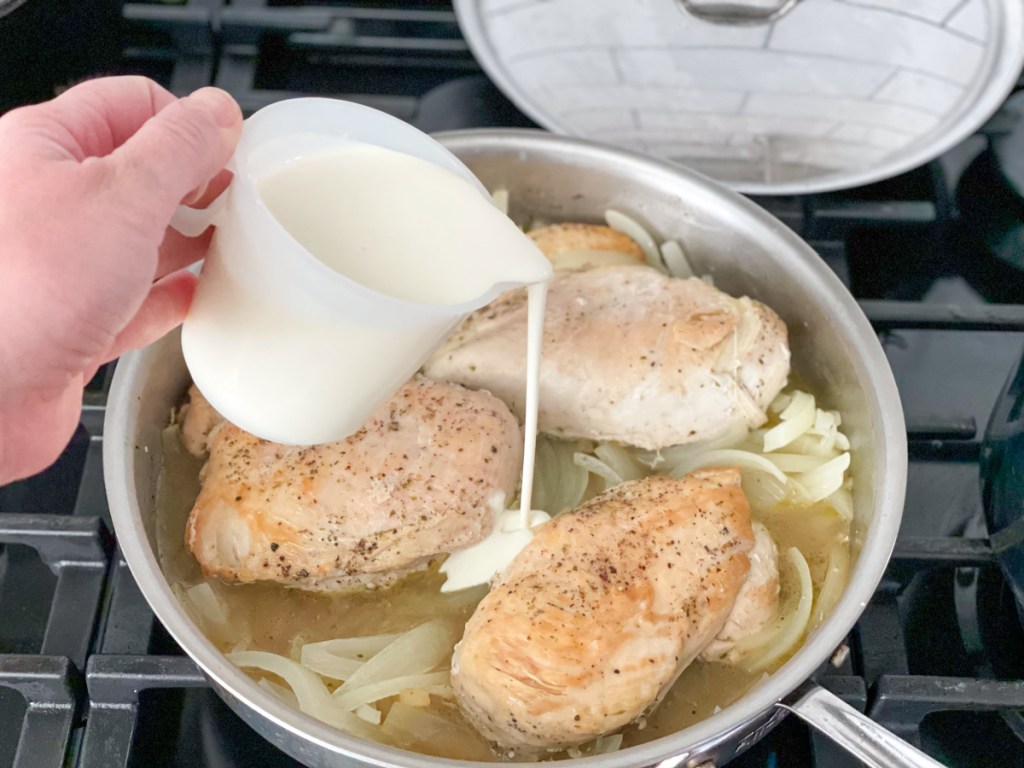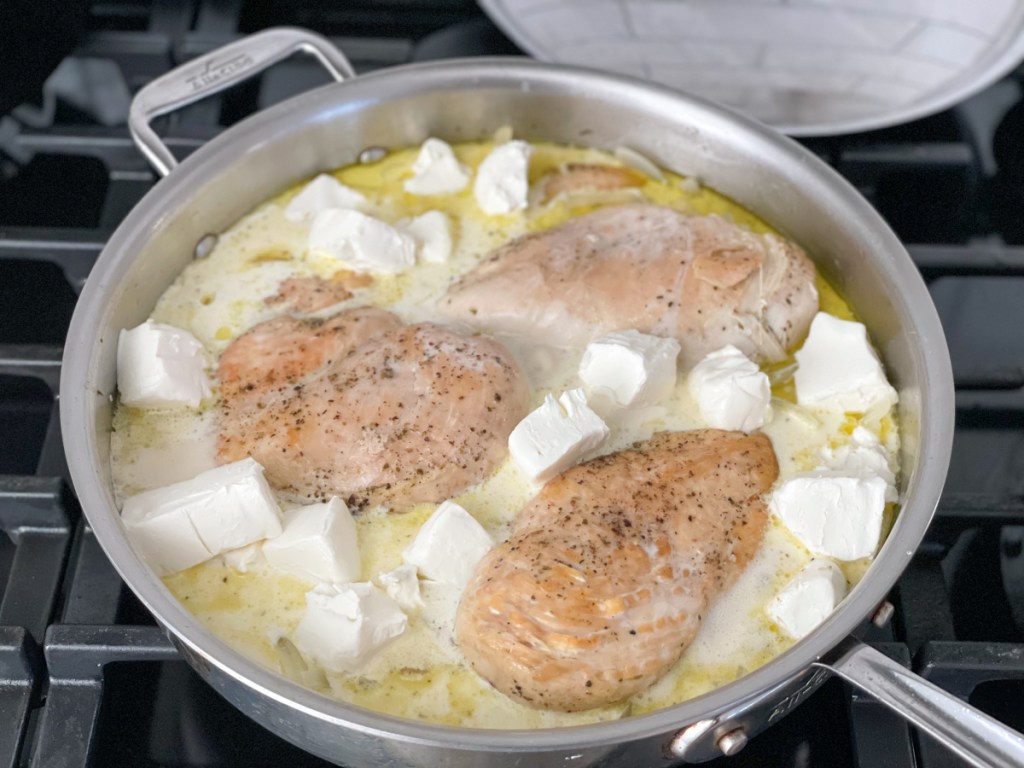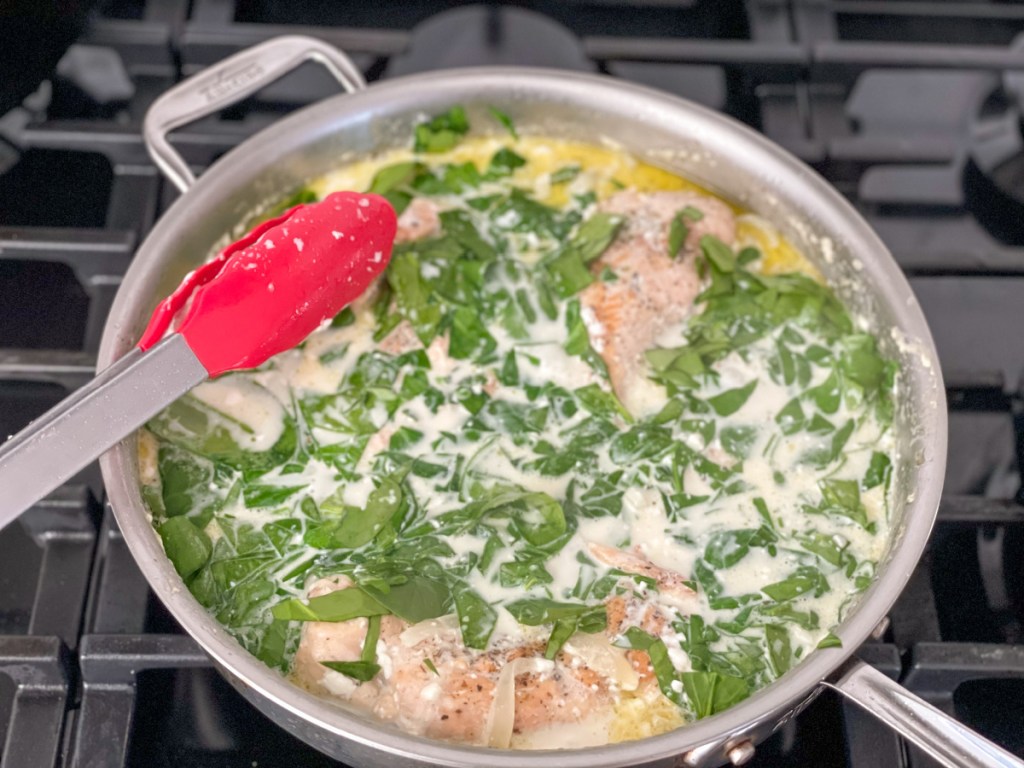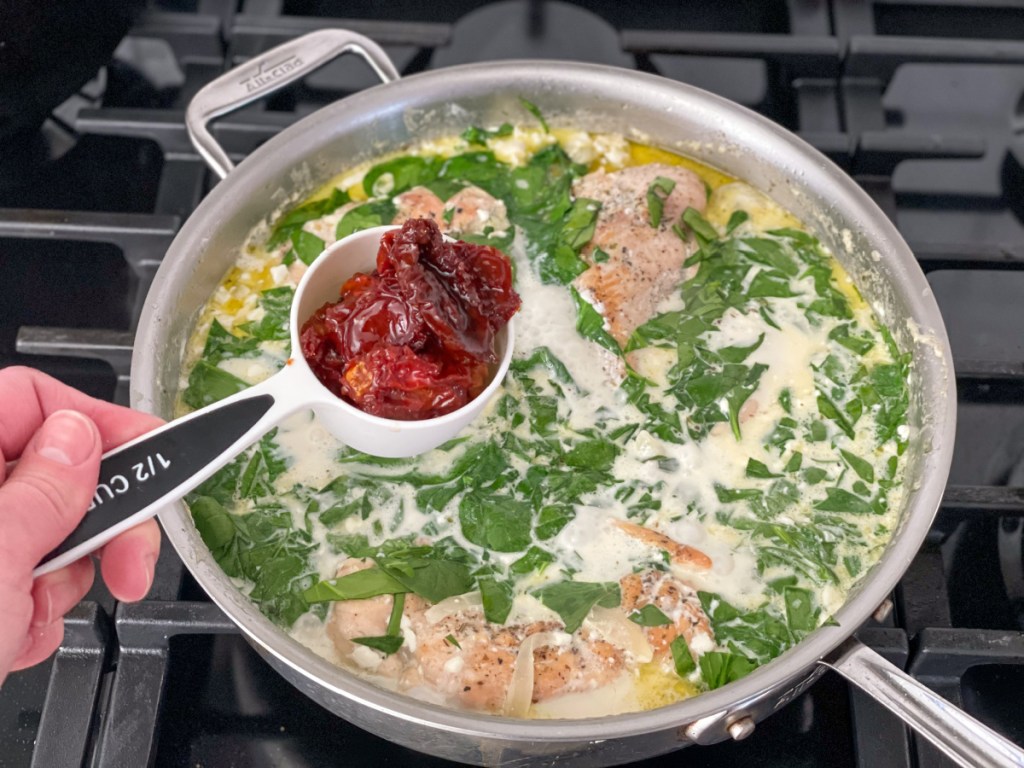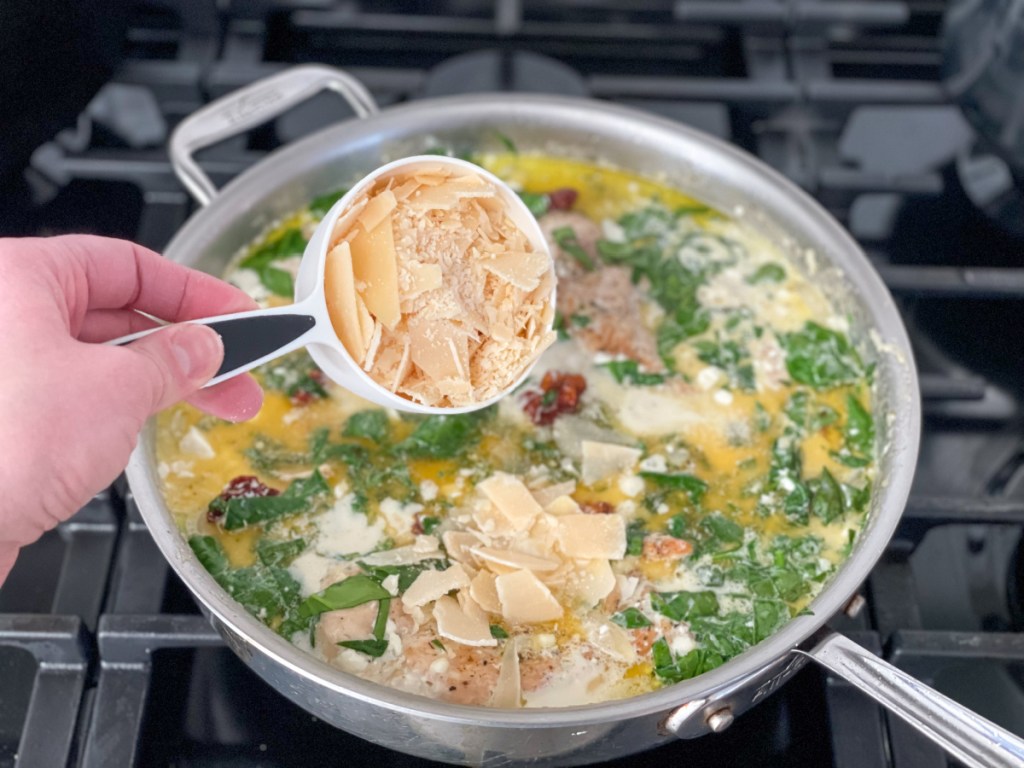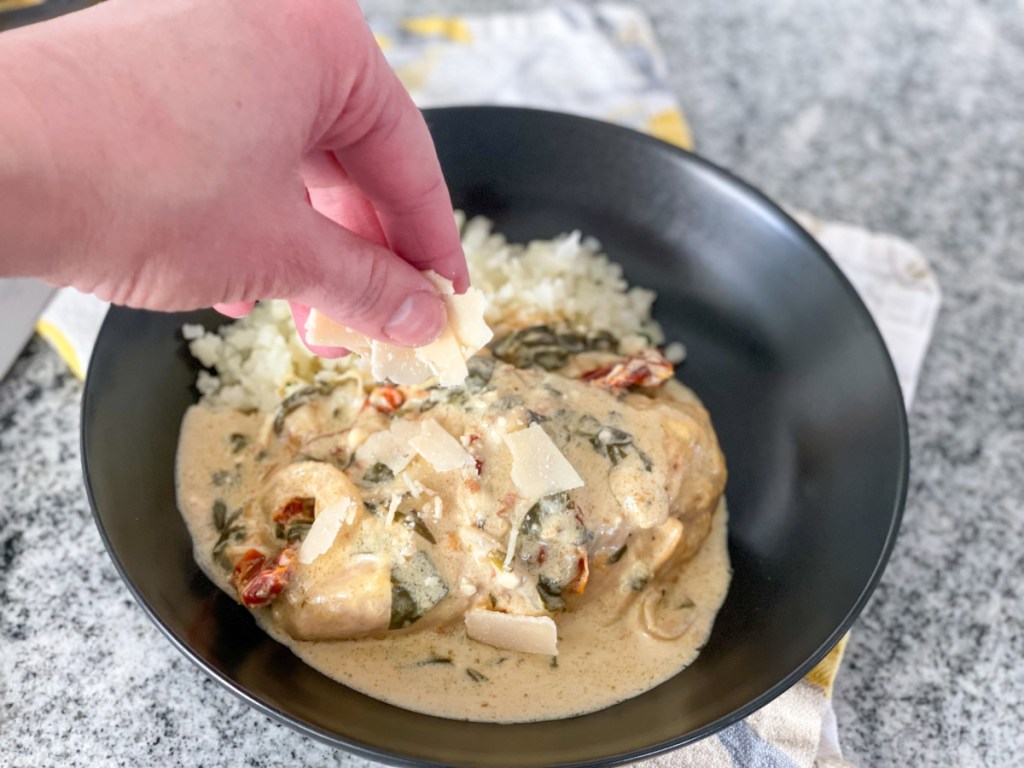 ---
yield: 6 SERVINGS
prep time: 10 MINUTES
cook time: 60 MINUTES
total time: 1 HOUR 10 MINUTES
Pan-seared chicken breasts simmered in a cream sauce made of broth, heavy whipping cream, cream cheese, and parmesan with onions, sun-dried tomatoes, and spinach.
Ingredients
2 1/2 pounds chicken breast (about 3 large)
1 teaspoon salt
1/2 teaspoon pepper
1 teaspoon Italian seasoning
1 tablespoon olive oil
1 medium onion, sliced
1 cup chicken broth
1 cup heavy whipping cream
8 oz full-fat cream cheese (1 block), cut into cubes
2 cups baby spinach, roughly chopped
1/2 cup sun-dried tomatoes (I used halves in oil)
1 cup parmesan cheese, shaved or shredded
Directions
1
If your chicken breasts don't seem to be the same size or just too thick, pound them a bit to even out. Season both sides of the chicken breasts with salt, pepper, and Italian seasonings. Feel free to use more seasonings if desired.
2
Heat olive oil in a large skillet over medium heat. Add the chicken breasts to the skillet and cook for 5 minutes per side.
3
Add the sliced onion to the skillet and cook for 3 to 5 minutes, until starting to get soft.
4
Next add in the chicken broth, heavy whipping cream, and cubed cream cheese. Simmer on medium to medium-low until the cream cheese melts, about 8 to 10 minutes. Stir occasionally.
5
Add the spinach and gently mix to wilt it into the sauce. Then add the sun-dried tomatoes and stir to incorporate them throughout the skillet.
6
Sprinkle in the parmesan cheese and slowly stir it in until the cheese has melted. Reduce heat to low and simmer for 30 minutes, stirring occasionally.
7
Serve with cauliflower rice or your favorite low carb vegetables. Enjoy!
Nutrition Information
Yield: 6 servings, Serving Size: 1/2 chicken breast with 1/2 cup of sauce
Amount Per Serving: 766 Calories | 52g Fat | 11.1g Total Carbs | 0.9g Fiber | 2.2g Sugar | 69.5g Protein | 10.2g Net Carbs
---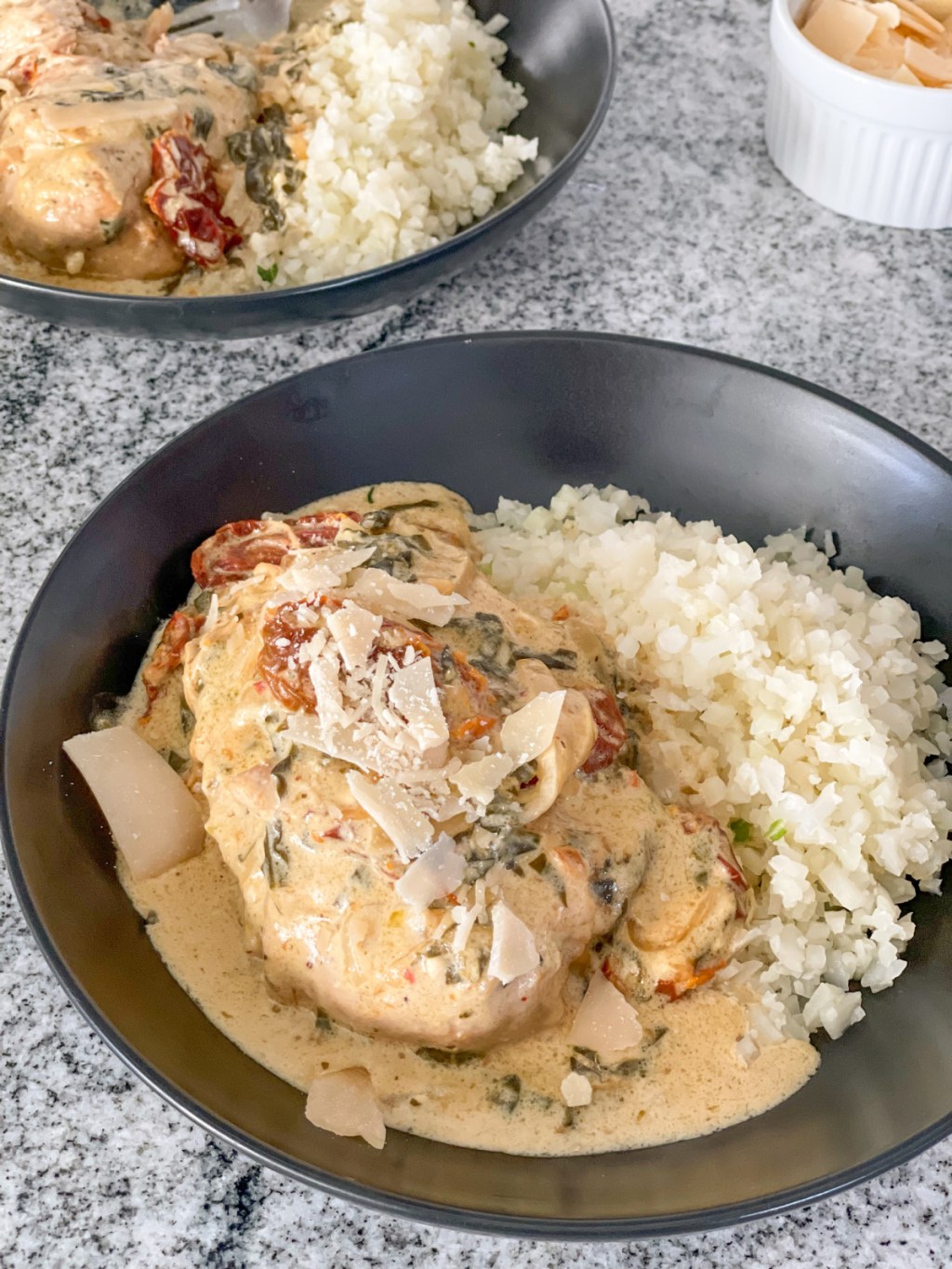 Tips for making the best Tuscan Chicken:
Make sure you get a good sear on the chicken. It makes all the difference in keeping the chicken moist and tender.
Most of the carbs in this recipe come from the sun-dried tomatoes. If you want the carbs lower, you can omit them or use fresh cherry tomatoes cut in half.
If the chicken breasts you get are very large, half a chicken breast is a serving. The package I purchased was 2 1/2 pounds and had three massive chicken breasts. You could also use chicken tenders. If that's the case, you will need to reduce cooking time to sear for about 3 minutes per side and then simmer for about 20 minutes or so.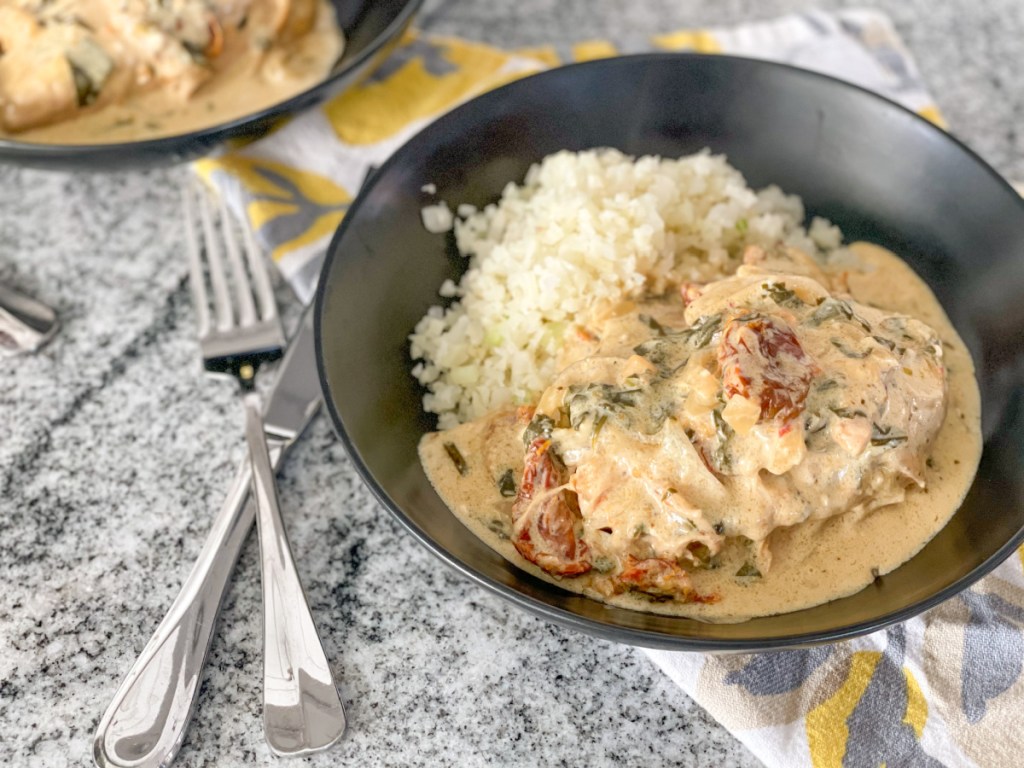 Everyone loves chicken and finding a new way to prepare it can revitalize your family's interest in chicken.
This recipe reheats well and will stay good in the fridge for up to five days. You can also freeze it for up to three months.
I hope you enjoy this as much as I did!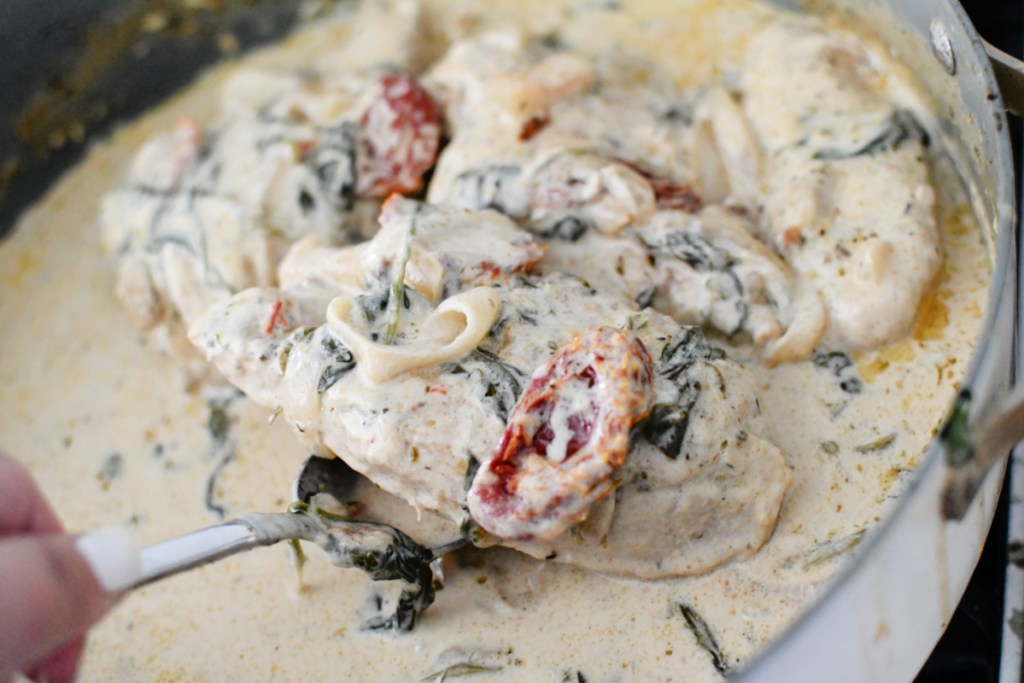 Here's what my Hip sidekick Lina had to say about this recipe:
"Wow, this dish is a stunner! The creamy sauce is the most amazing ever with excellent flavors from the cheese and sundried tomato. My family was super impressed with this dish. It was very easy to make in a skillet. I will be making Tuscan chicken again soon! Loved this."
---
Melt in Your Mouth Chicken is my other favorite chicken recipe in case you're wondering!