Cool Off This Summer with the Best Keto Fudgesicles Ever!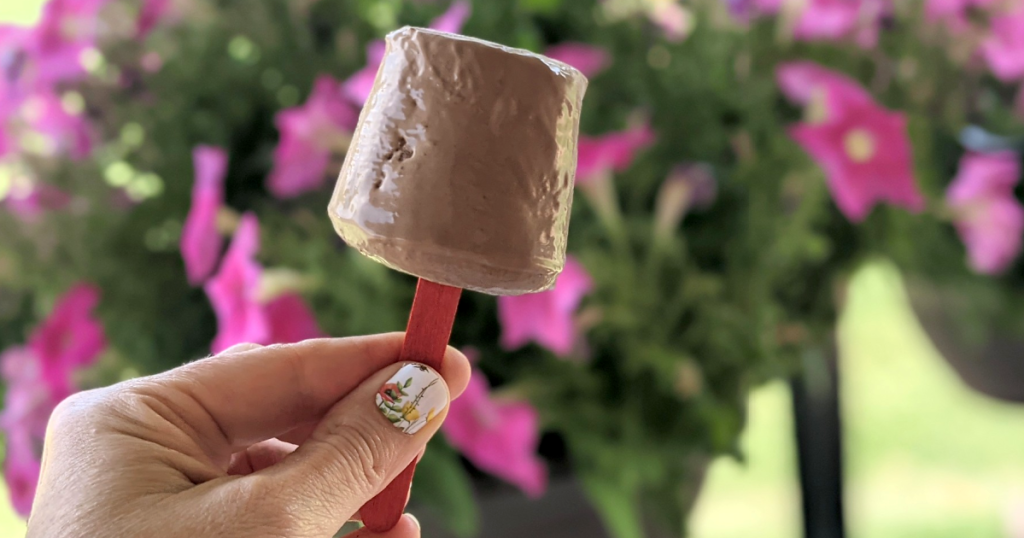 Say hello to decadent keto fudgesicles!
These no-sugar-added fudgesicles made with ChocZero Dark Chocolate Chips are going to be your new best friend this summer. ☀️ Think of them as a grown-up version of those overly sweet treats you got from the ice cream truck as a kid.
The double dose of dark chocolate makes them feel like a very indulgent treat, but with these only having 2.7g net carbs per bar, they can easily find a recurring place on your summer dessert menu.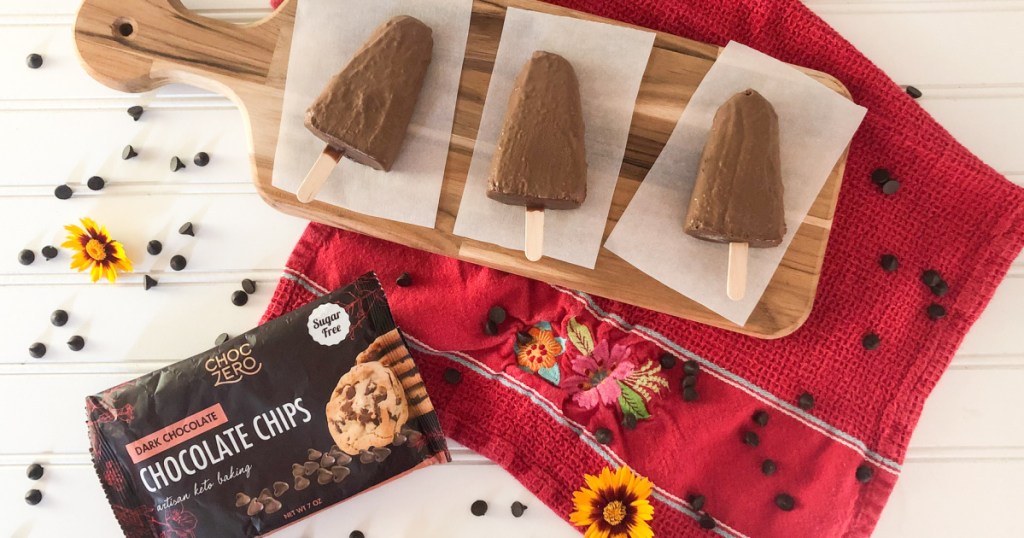 Hot weather and frozen treats were made for each other! 🌡❄️
You'll be able to survive the hot evenings with these keto fudgesicles to cool you down. These taste like frozen rich chocolate mousse. YUM! And making the fudgesicles with our favorite dark chocolate chips is so good!
Making sugar-free fudgesicles at home is easier than you'd think. You mix the ingredients together, bring the mixture to a simmer, pour the mixture into popsicle molds, and put it in the freezer. Honestly, the hardest part is just waiting for them to freeze. 😂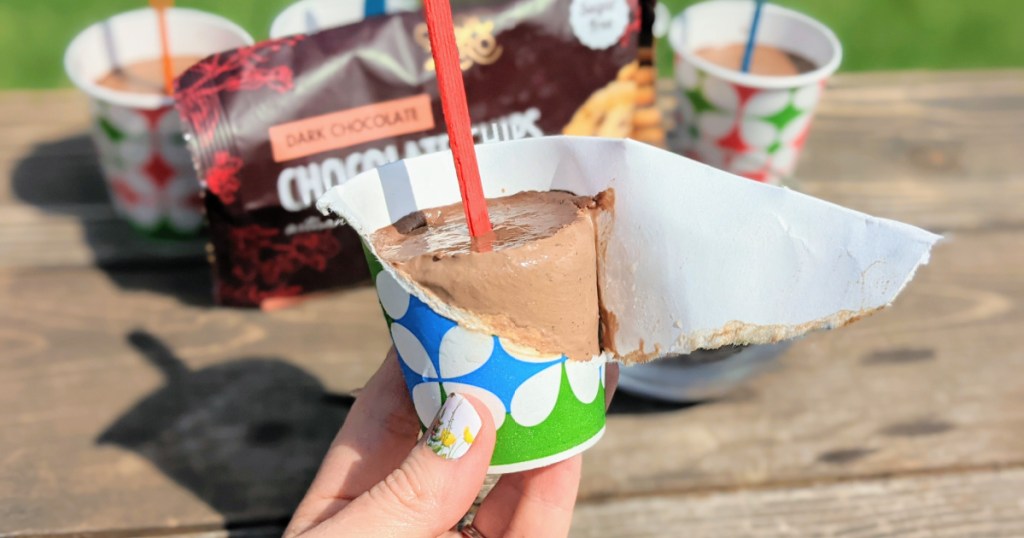 If you don't have a popsicle mold, you can substitute 12 small Dixie cups.
If using 3 oz. Dixie cups, place them in the freezer for about 20 minutes before adding the popsicle stick to allow the fudgesicles to set up enough to keep the stick in place. If you make 12 fudgesicles, your total net carbs will drop to just 1.8g each.
You can also use the larger 5 oz. Dixie cups to make 8 fudgesicles — this size is preferred by our recipe tester! Just make sure to let them start to set up for about 40 minutes in the freezer before adding the popsicle stick.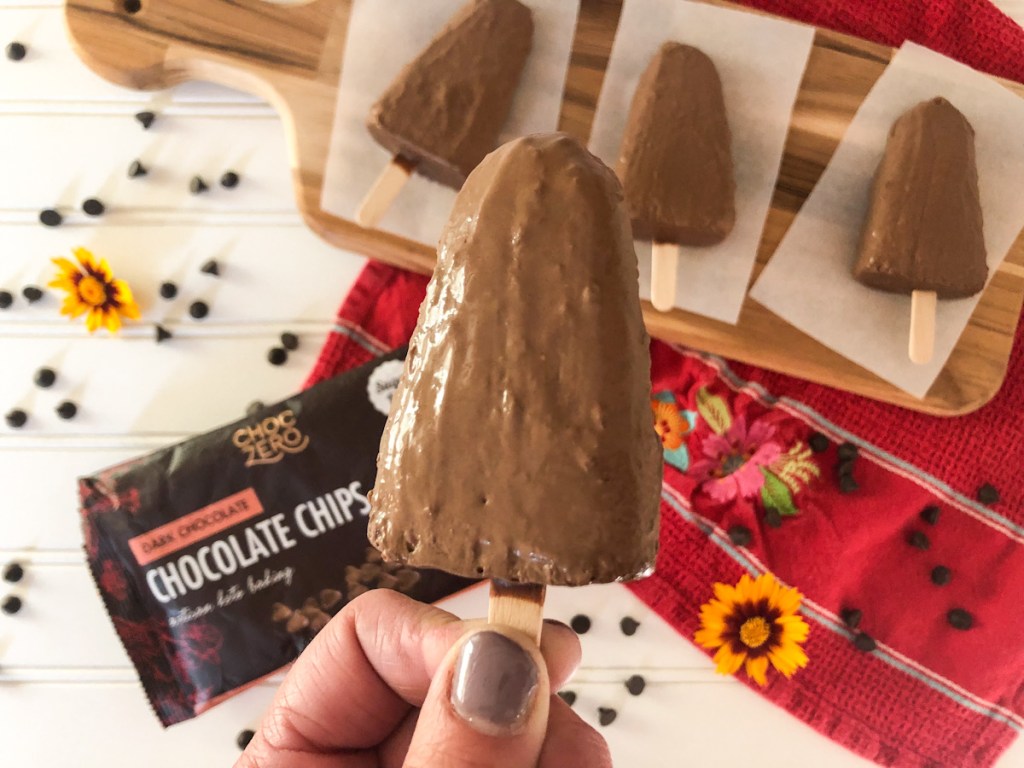 Tips for making the most amazing dark chocolate keto fudgesicles:
Make sure to use full-fat coconut milk. If you use low-fat or light coconut milk, the fudgesicles will be more "icy" than "creamy".
Stick with erythritol or monk fruit for the sweetener. Stevia doesn't always pair the best with dark chocolate.
Xanthan gum is optional but highly recommended. It acts as a thickener and stabilizer and will give the keto fudgesicles a more creamy texture.
Keep in mind that these keto fudgesicles need about five hours to freeze.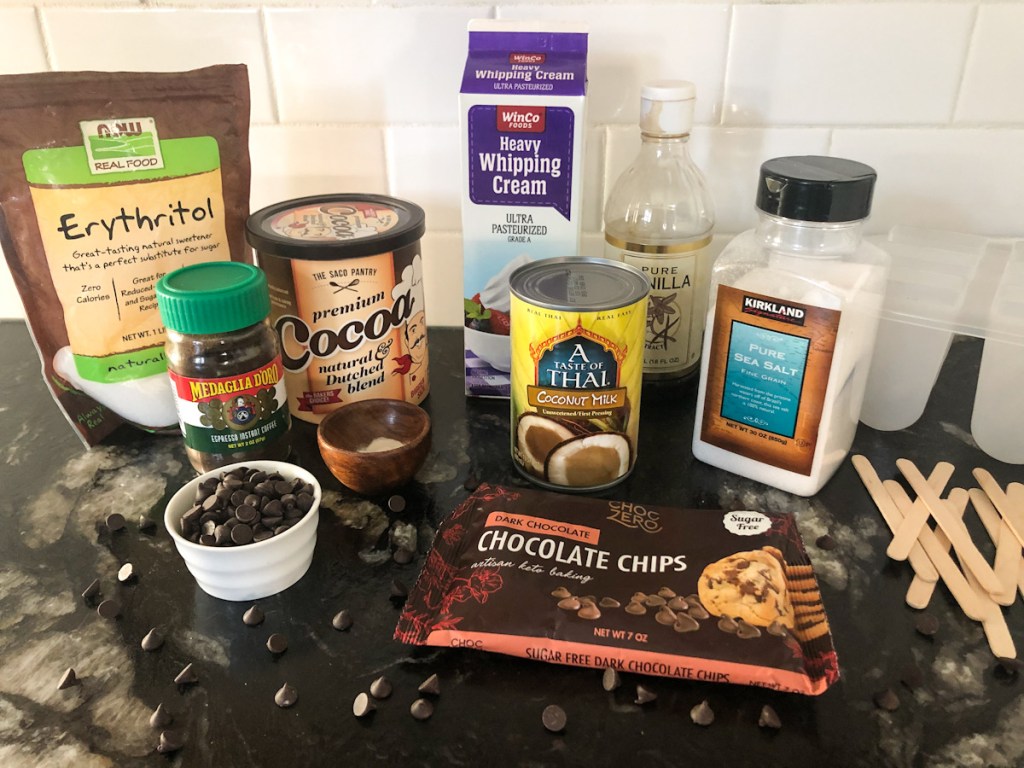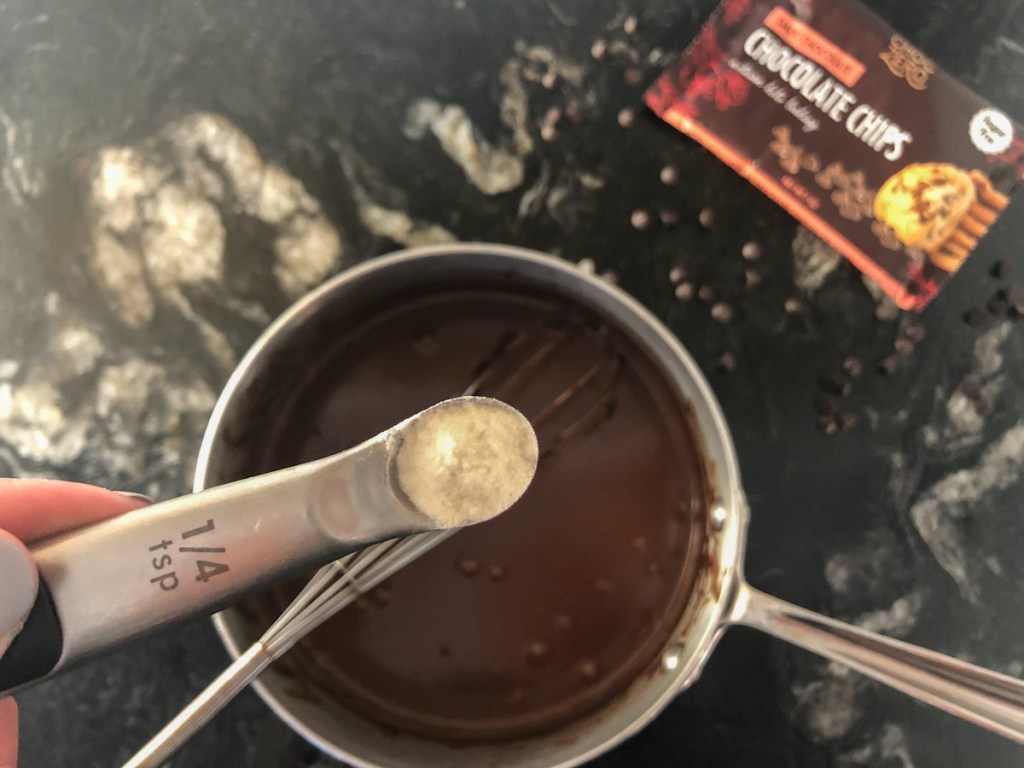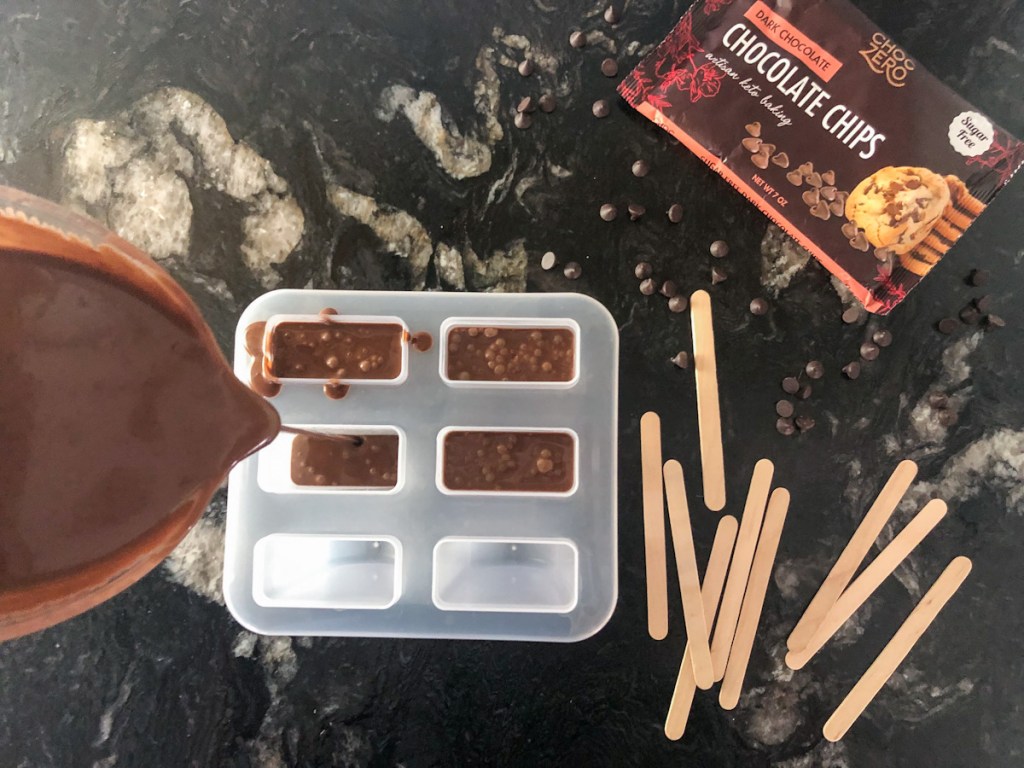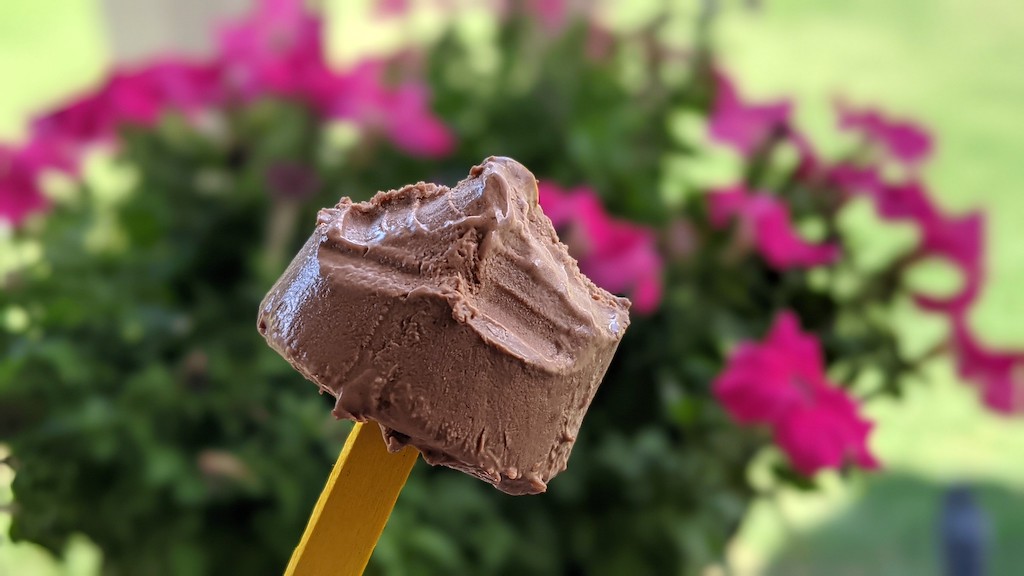 ---
Print
Dark Chocolate Keto Fudgesicles
yield: 8 SERVINGS
prep time: 5 MINUTES
cook time: 15 MINUTES
total time: 20 MINUTES
This indulgent sugar-free fudgesicle recipe features decadent dark chocolate for a grown-up version of the classic frozen treat.
Ingredients
1 1/3 cups heavy cream
1/4 teaspoon sea salt
2 tablespoons cocoa powder
1 teaspoon vanilla extract
Equipment:
Directions
1
In a medium saucepan over medium heat, add coconut milk, heavy cream, ChocZero dark chocolate chips, salt, espresso powder, keto sweetener, and cocoa powder. Whisk to combine. Continue to whisk as necessary to mix in cocoa powder and coconut milk if it separates.
2
Continue to heat the mixture until it starts to simmer, whisking occasionally. This will take about 10 minutes.
3
Let the mixture simmer for 2-3 minutes and then remove from heat.
4
Add in the vanilla extract and xanthan gum. Stir well to combine.
5
Let the mixture cool for about 5 minutes and then pour into the popsicle molds. Insert popsicle sticks and place the fudgesicles in the freezer until set, about 5 hours.
6
Once the fudegsicles are frozen, remove them from the freezer and enjoy! You may need to run the popsicle molds under hot water to help loosen the fudgesicles.
7
Consume the fudgesicles immediately after removing them from the popsicle molds as they melt quickly or return to the freezer.
If saving for later, wrap the fudgesicles in plastic wrap or wax paper. They will keep in the freezer for up to three months.
Additional Notes
Total time does not include freezing time of approximately 5 hours.
Nutrition Information
Yield: 8, Serving Size: 1 fudgesicle
Amount Per Serving: 283 Calories | 29.4g Fat | 16.2g Total Carbs | 7.6g Fiber | 0.6g Sugar | 6g Sugar Alcohol | 0.9g Protein | 2.7g Net Carbs
---
Get creative with these dark chocolate sugar-free fudgesicles!
This is a perfect base recipe and you can enjoy it as is, or dress it up however you like! The potential add-ins and variations are endless.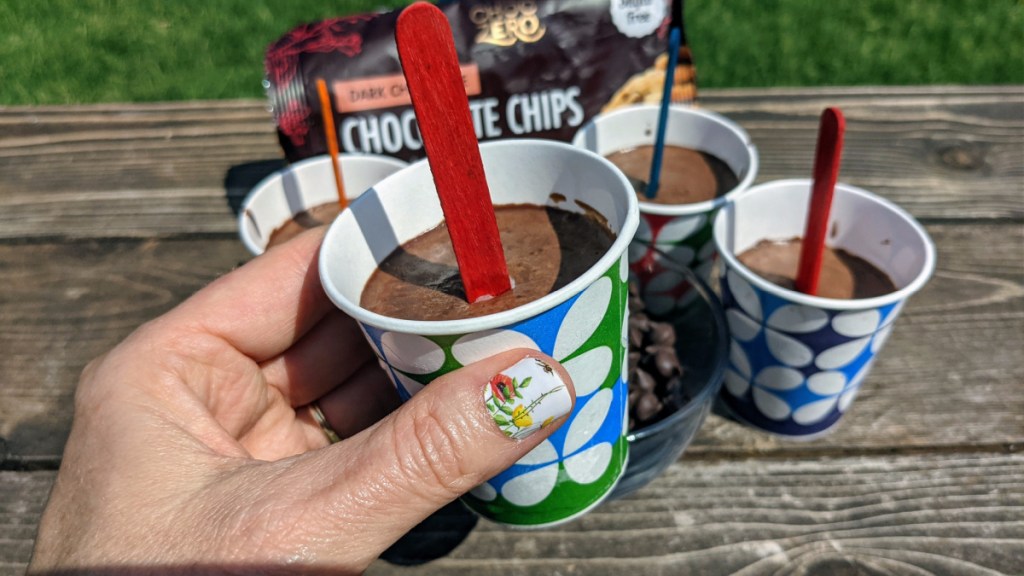 Here's what my Hip sidekick Jen had to say about these keto sugar-free fudgesicles:
"These are the best fudgesicles I've eaten in my entire life! They are the perfect texture and the flavor is out of this world. It's like eating the fudgiest brownie you have ever tasted – AMAZING! I felt like I walked into a fancy chocolate shop when I was eating one. You'll never believe they are keto. These are the perfect treat for the summer or when you have sweet cravings."
---
Love frozen keto desserts? Try these keto chocolate almond butter popsicles next!