Sugar-Free Jello Jigglers | Fun Easter Treat!
It doesn't get much more delightful than sugar-free jello jigglers!
A classic treat gone keto!
Not only does this sugar-free Jello jiggler copycat recipe replace sugar with stevia, but it also replaces plain old gelatin with grass-fed, pasture-raised bovine hide gelatin. This takes old-school Jello and elevates it from a tasty treat to an incredibly wholesome source of my very dear friend, collagen. Woohoo!
---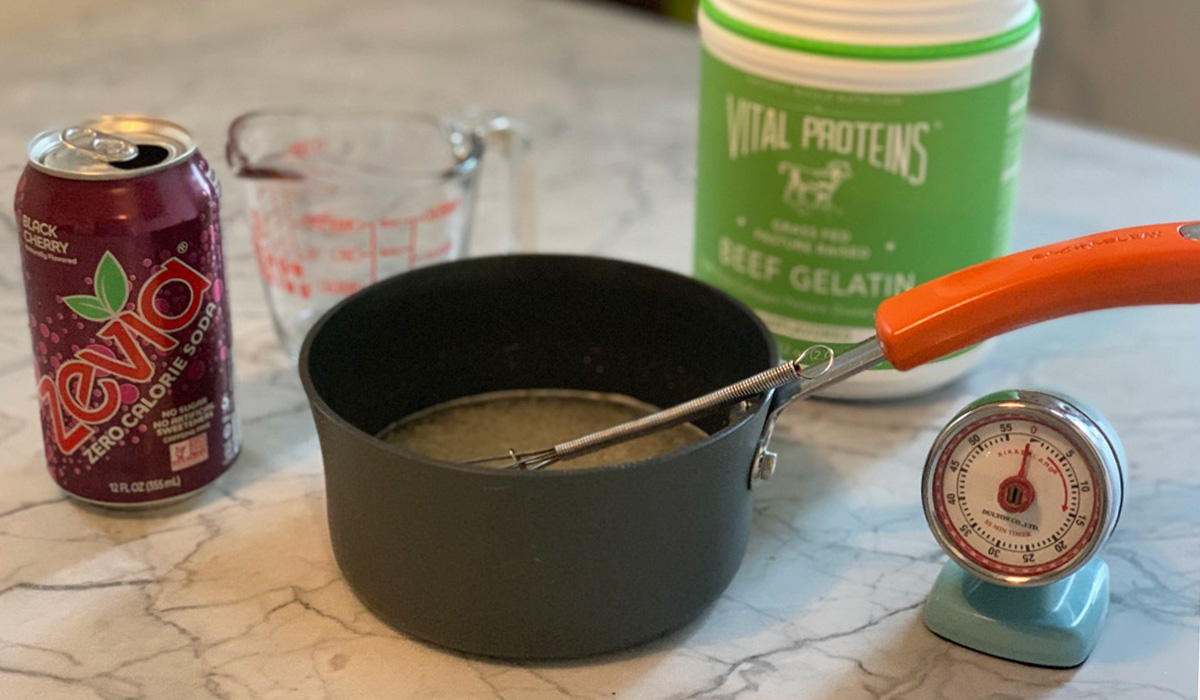 The bovine hide is basically a fancy way of saying cowhide or beef hide. What's incredible about grass-fed bovine hide is the tremendous amount of collagen it contains. Once cattle have been harvested for meat, the cowhides (skins) are removed and then treated to obtain the collagen protein.
Bovine hide gelatin promotes a healthy gut. It's slow to digest and adds a beneficial coating to the small intestine which helps heal the gut as well as aid in the digestion of foods that your body may not be used to. Additionally, the amino acids found in the collagen-dense bovine hide are said to support strong joints and bones as well as help to improve the strength of hair, skin, and nails.
Many believe that adding extra collagen to your diet slows the aging process by reducing wrinkles and dryness. Yes, please!!
---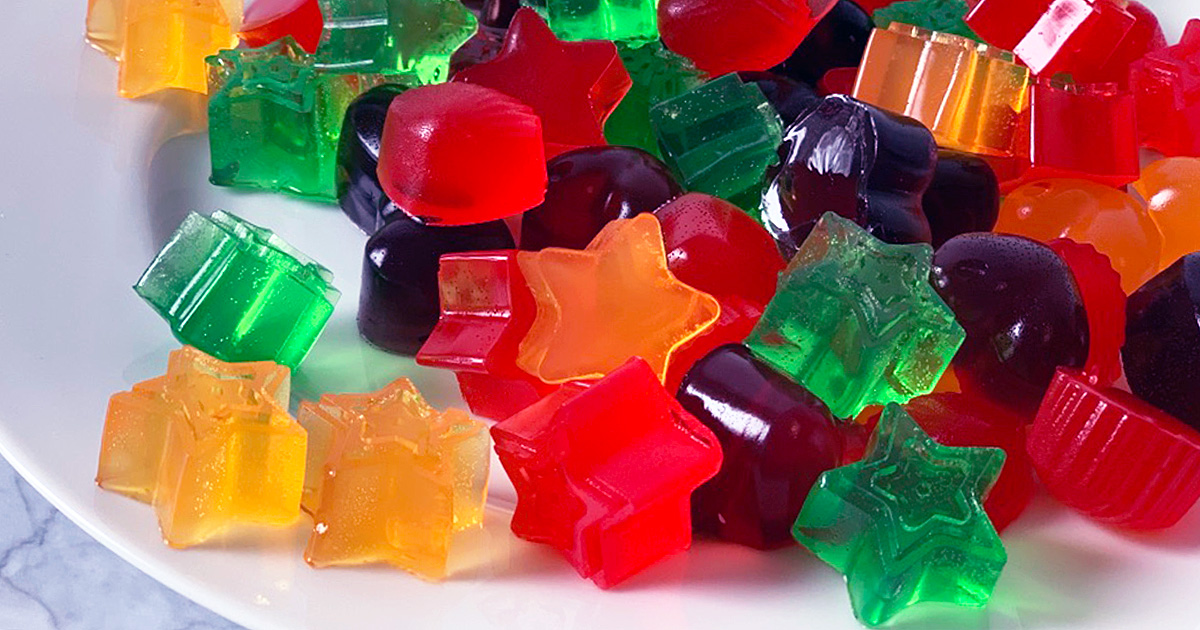 These treats are not only better for your family, but they're also a blast to make!
Not only are these sugar-free Jello jigglers good for you and yours, but they're also super fun to make! With cute and easy-to-use silicone molds, you and your kiddos can formulate your favorite colors to go with your chosen molds. My kids really enjoy popping the jigglers out of the molds. And I have to agree, it's oddly satisfying! 🤣
Hip tips for making the best sugar free Jello jigglers:
I absolutely LOVE my Vital Proteins Beef Gelatin! (PS—Vital Proteins has many other products worth checking out!) If desired, you may substitute the beef gelatin with 2 packs (7g/ea.) of standard powdered gelatin instead.
Regarding adding keto sweetener to your sugar-free Jello jigglers, if you're not a fan of stevia, I highly recommend allulose as a fabulous alternative (I buy allulose in bulk from Keystone Pantry). Moreover, I actually prefer the jigglers with 3-4 tablespoons allulose (instead of stevia) if you happen to have it on hand.
Also worth mentioning, erythritol and xylitol have a tendency to crystallize once refrigerated—I would avoid them for this recipe if you want clear, shiny jigglers.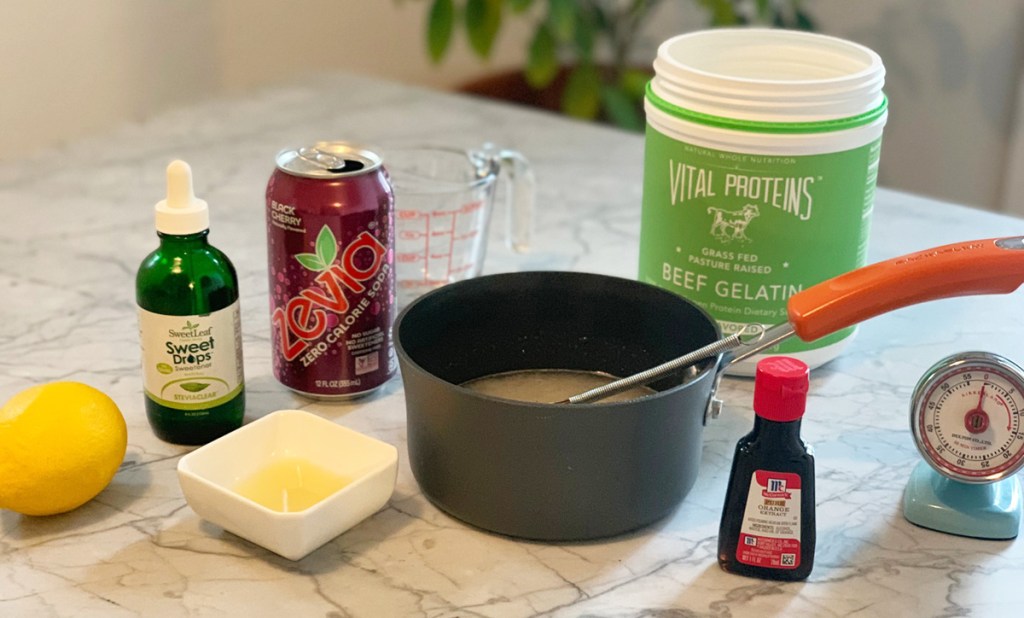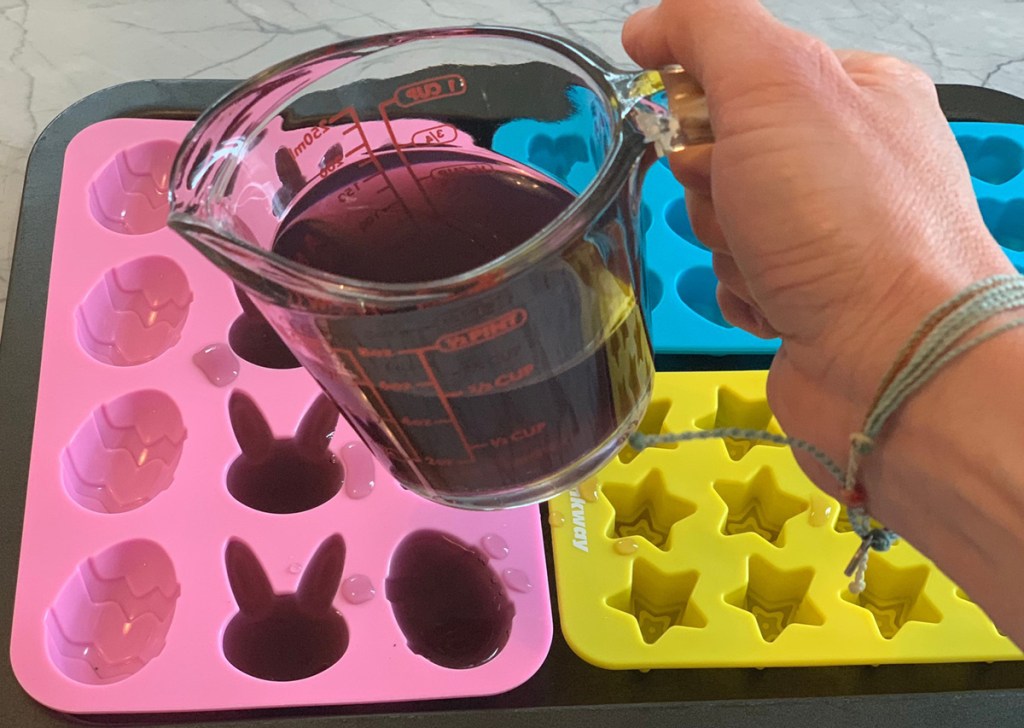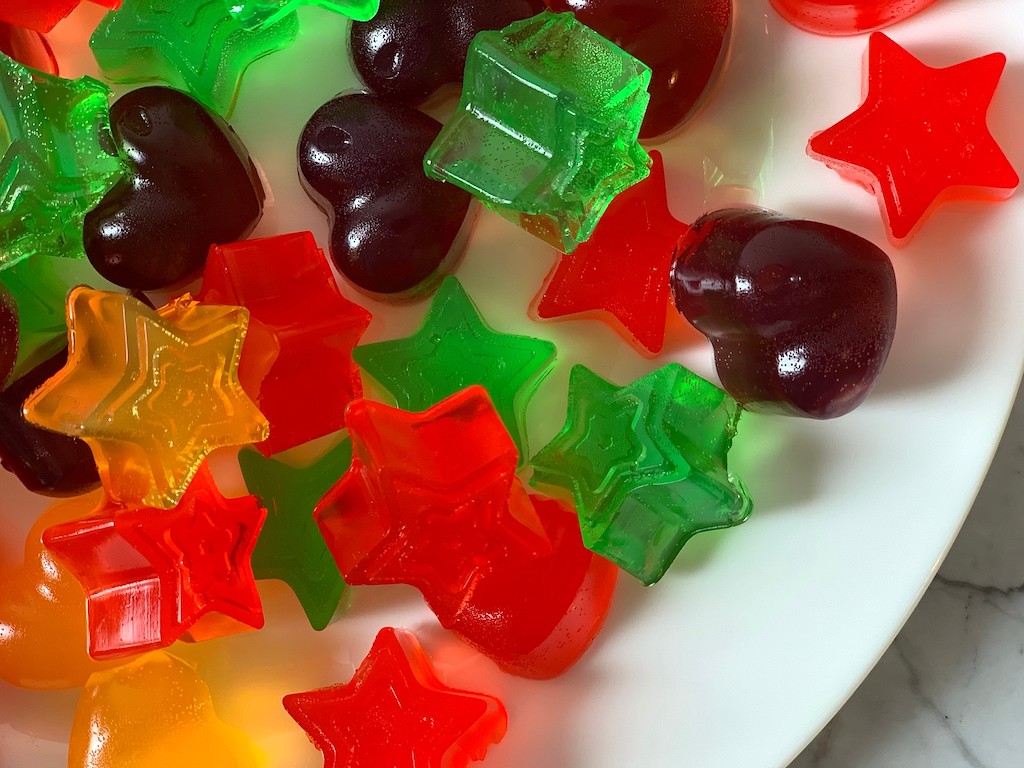 ---
Print
Sugar-Free Jello Jigglers
yield: 6 SERVINGS
prep time: 1 HOUR 25 MINUTES
cook time: 5 MINUTES
total time: 1 HOUR 30 MINUTES
A low carb version of the classic Jello treat!
Directions
1
Mix together Zevia, extract of choice, lemon juice, stevia or allulose alternative, and food coloring. Pour mixture into a small pot. Add gelatin and whisk gently. Then leave for 5 minutes to allow the gelatin to bloom.
2
Place pot with bloomed gelatin over medium heat. While lightly whisking, cook for about 2 minutes or until gelatin becomes clear and is fully dissolved. Remove from heat and allow to rest for 5 minutes.
3
Pour gelatin mixture into silicone molds (or into a non-stick pan, coated with cooking spray if desired). Allow molds to set up at room temperature for 15 minutes, then transfer into the refrigerator for 1 to 2 hours or until gelatin has fully set.
4
Pop jigglers out of silicone molds. Or if you used the pan method, set the bottom of the pan in warm water for 15 seconds before cutting the jigglers into shapes with a knife or cookie cutters.
5
Store in an airtight container in the refrigerator. Should last for 7-10 days. I enjoy mine with fresh whipped cream! YUM!
Nutrition Information
Yield: 6 servings, Serving Size: about 5 1-inch jigglers
Amount Per Serving: 13 Calories | 0g Fat | 0.1g Total Carbs | 0g Fiber | 0g Sugar | 0g Sugar Alcohol | 3.2g Protein | 0g Net Carbs
---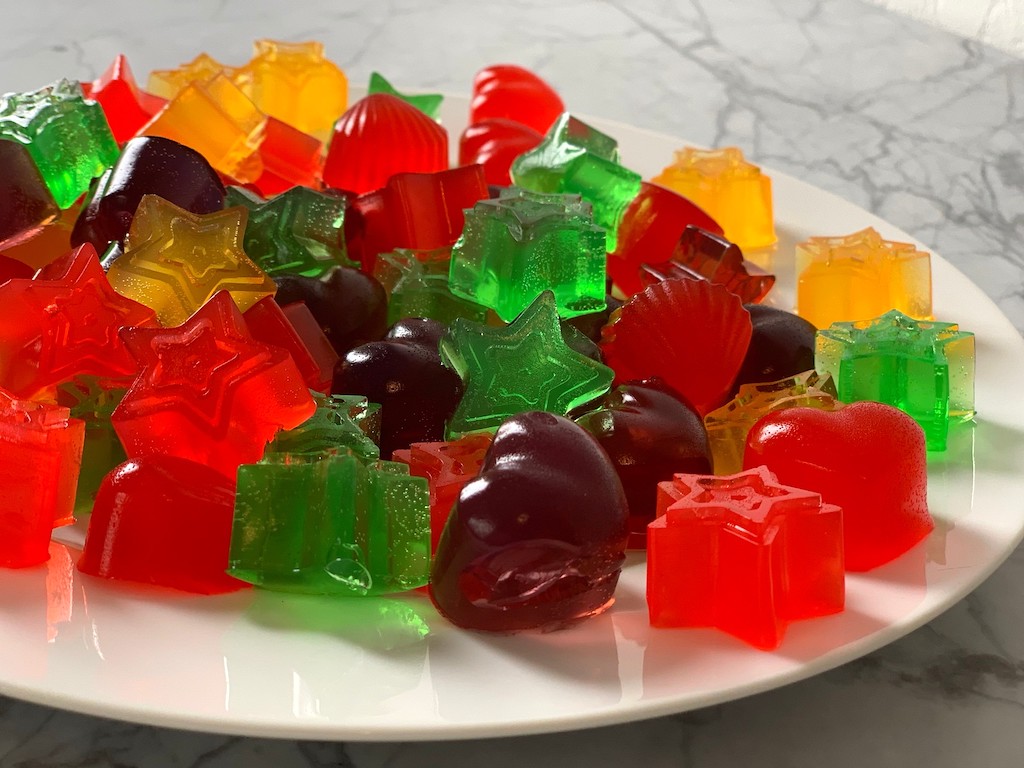 Easy peasy to make!
These yummy, sugar-free Jello jigglers will be a hit with your kiddos! I love making a batch to surprise mine when they get home from school.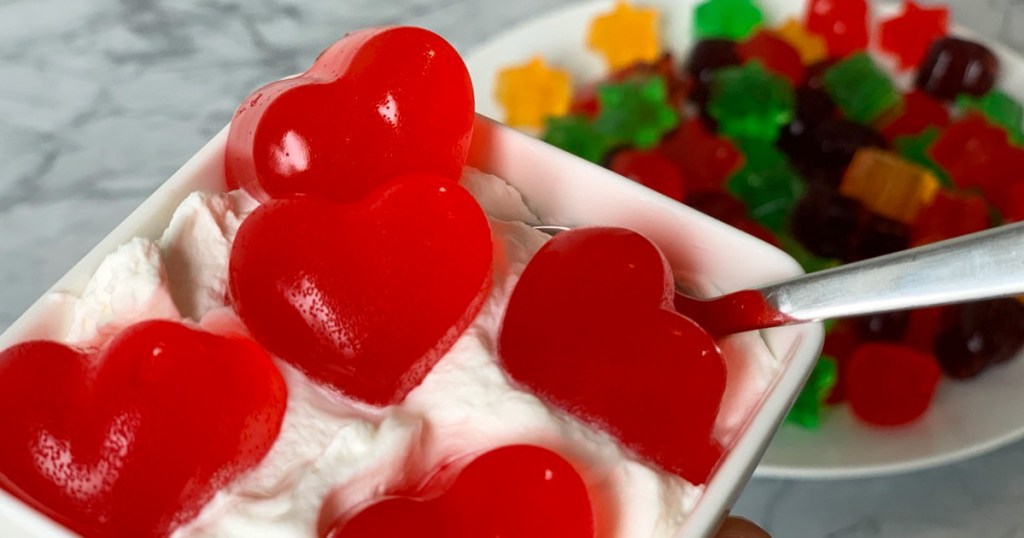 This is a fun low-carb treat that you can make any time of the year for a quick and easy snack without all the carbs and added sugar.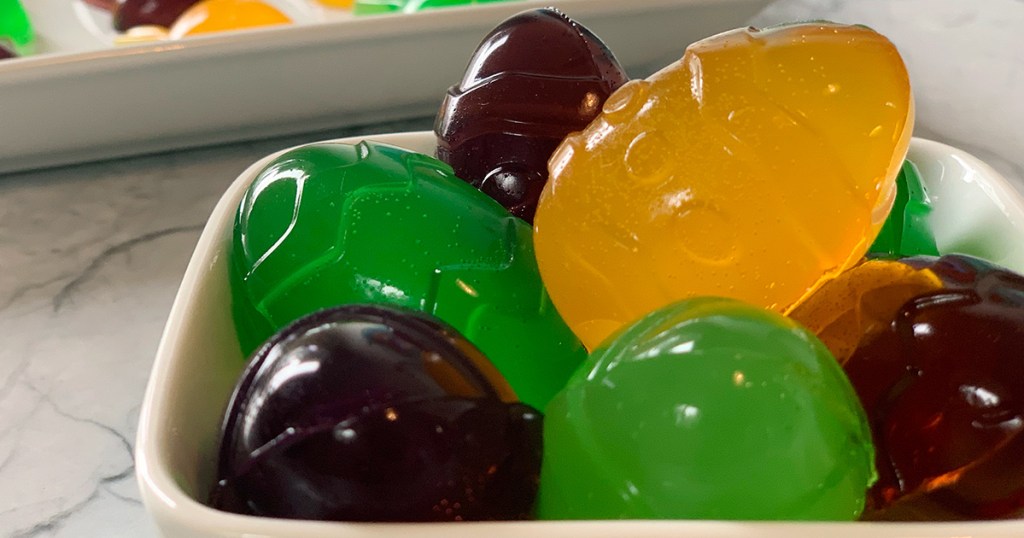 ---
Need more kid-friendly keto recipes? Try these fun pigs in a blanket!