You Won't Believe This Raspberry Cream Pie is Keto!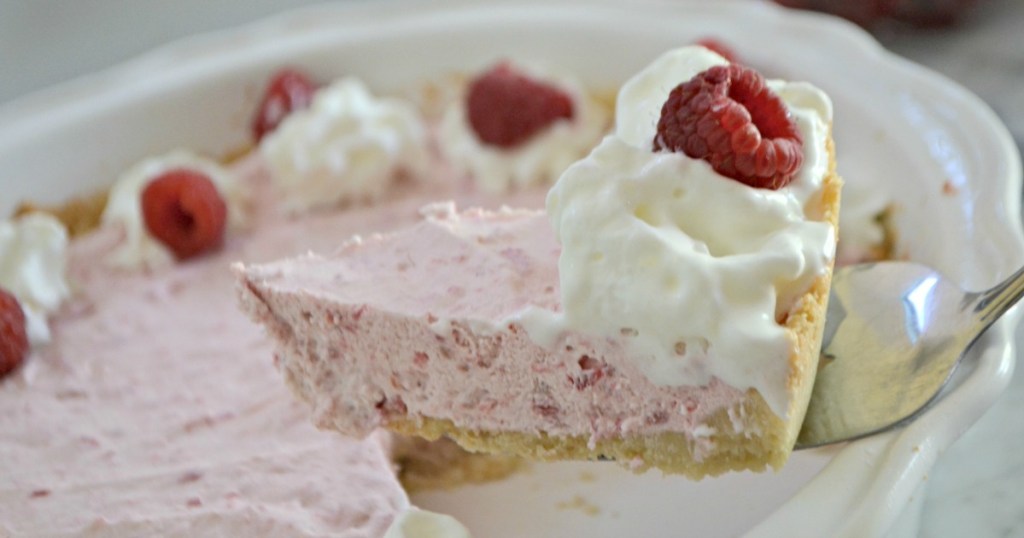 Looking for a delicious keto-friendly pie recipe?
You've got to try making this rich and creamy raspberry cream pie that you can easily whip up for any special occasion or gathering! It's especially refreshing and delicious during the spring and summer months. This dessert is so great that no one will even believe it's both low carb and keto-friendly – I promise!
The delicious filling and satisfying crust is such a brilliant combination, I think you'll really love this idea!
Collin here, just letting you all know that I made this on a Facebook live and it is not only SOOOO yummy (doesn't taste low carb at all and literally was gone in 2 days!), but it's also super easy to make and you likely have some of the ingredients already on hand.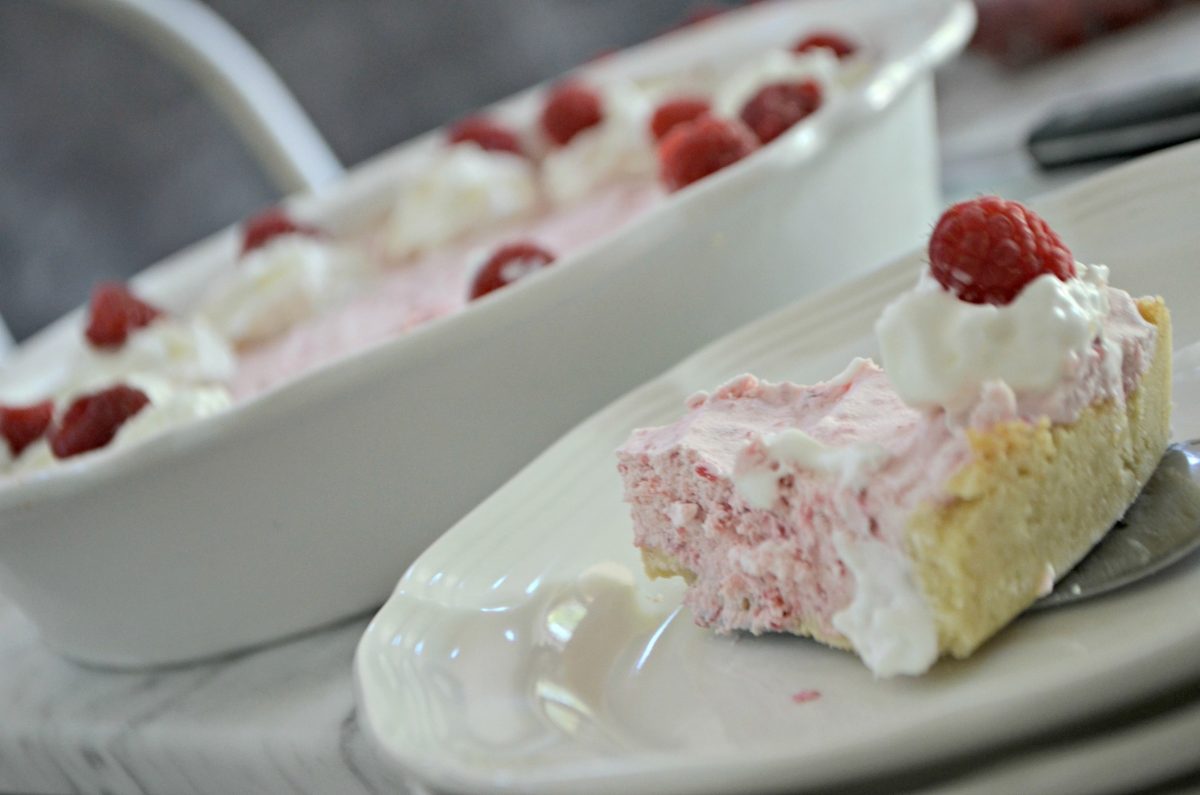 Almond flour crust is a GENIUS idea!
So we knew already almond flour is perfect for making keto pizzas and breads, but it also makes a yummy pie crust! I used confectioners Swerve in this pie, as it's my favorite sweetener, but you can use your favorite keto-friendly sweetener. If you have any questions, see our helpful Sugar Recipe Conversion Guide HERE.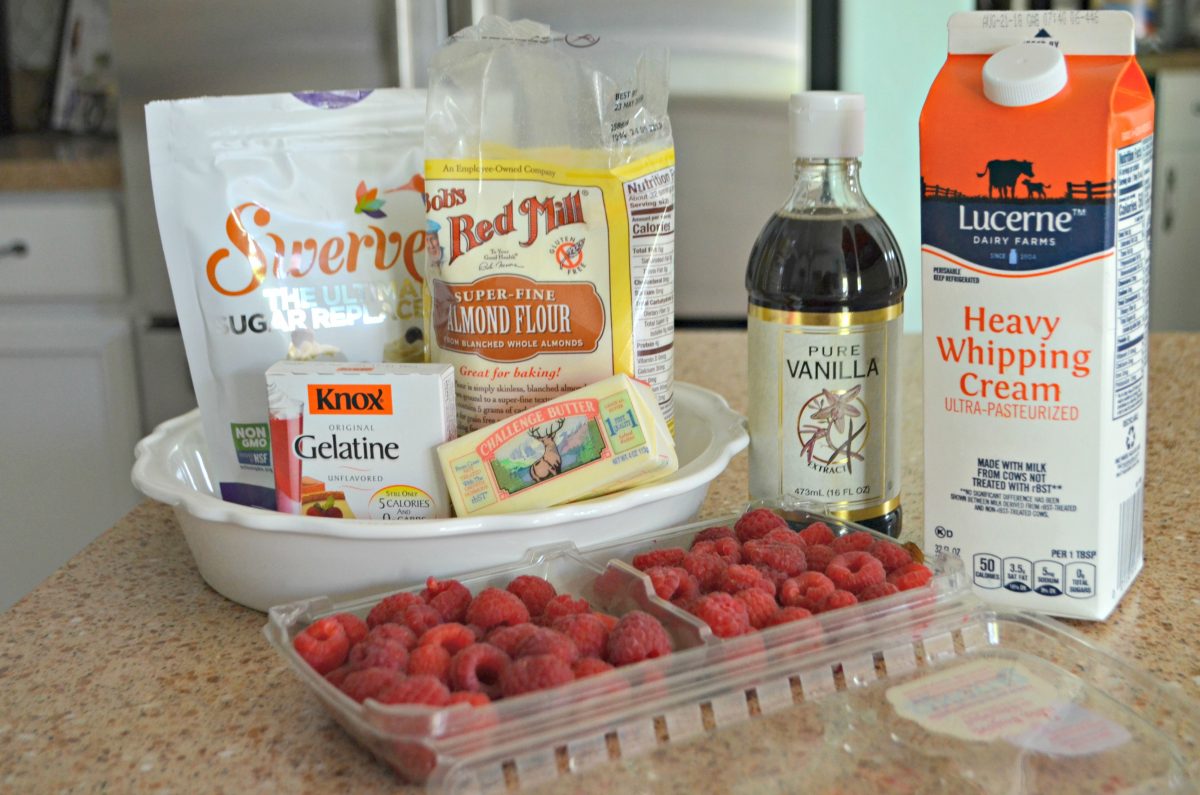 We've deducted the sweetener carbohydrates out of this recipe (we used Swerve), so plug in your own favorite sweetener carbs based on your choice and plan. This recipe makes 12 servings.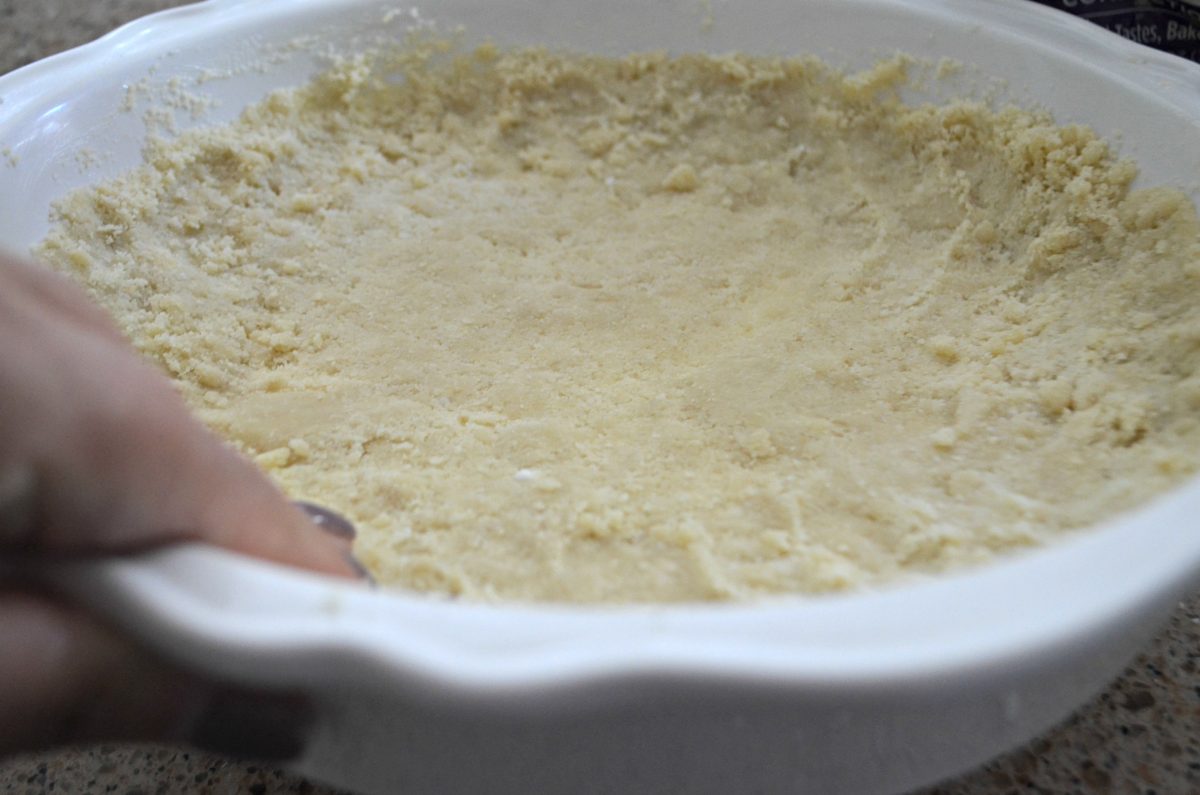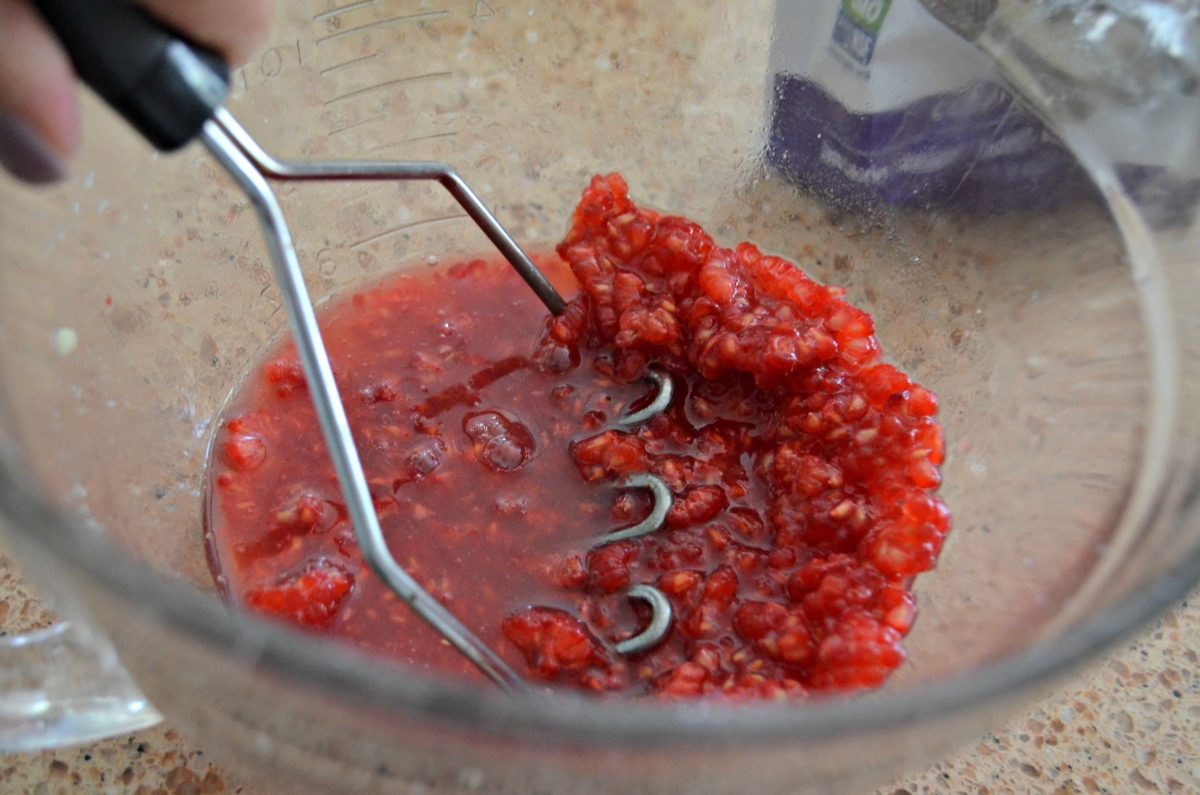 ---
Print
Keto Raspberry Cream Pie
yield: 12 SERVINGS
prep time: 20 MINUTES
cook time: 15 MINUTES
total time: 35 MINUTES
Crushed raspberries mixed into heavy whipping cream make this rich and satisfying sugar-free and gluten-free dessert.
Ingredients
For the Crust:
1 1/2 cups almond flour
1/4 cup butter, melted
1/4 cup powdered Swerve sweetener
For the Filling:
1 1/2 cups fresh raspberries
1/4 cup water
1 packet unflavored gelatin (2 1/2 teaspoons)
1 cup heavy whipping cream
1/2 cup powdered Swerve sweetener
1 teaspoon vanilla extract
additional whipped cream and raspberries for serving
Directions
1
Preheat oven to 325 degrees.
2
Combine almond flour with sweetener, and mix in melted butter until you get a coarse, crumb-like texture.
3
Press mixture into the bottom of a pie pan and up the sides. Bake at 325 for 15 minutes. Remove from oven, and let cool.
4
Mash raspberries with water in a separate bowl and place them into a saucepan on the stove.
5
Whisk in gelatin and let sit for a few minutes. Turn heat to medium and heat to just before boiling. Remove from heat and let cool completely.
6
Using an electric mixer, mix together the cream, sweetener, and vanilla extract until stiff peaks are formed. Mix in cooled raspberry.
7
Pour mixture over the crust and spread evenly. Refrigerate until firm for at least a few hours. (I actually chose to place mine in the freezer instead for an ice cream pie!)
Additional Notes
Nutritional information does not include additional whipped cream and berries for serving.
Nutrition Information
Yield: 12 servings, Serving Size: 1 slice
Amount Per Serving: 194 Calories | 18g Fat | 14g Total Carbs | 3g Fiber | 9g Sugar Alcohol | 4g Protein | 2g Net Carbs
---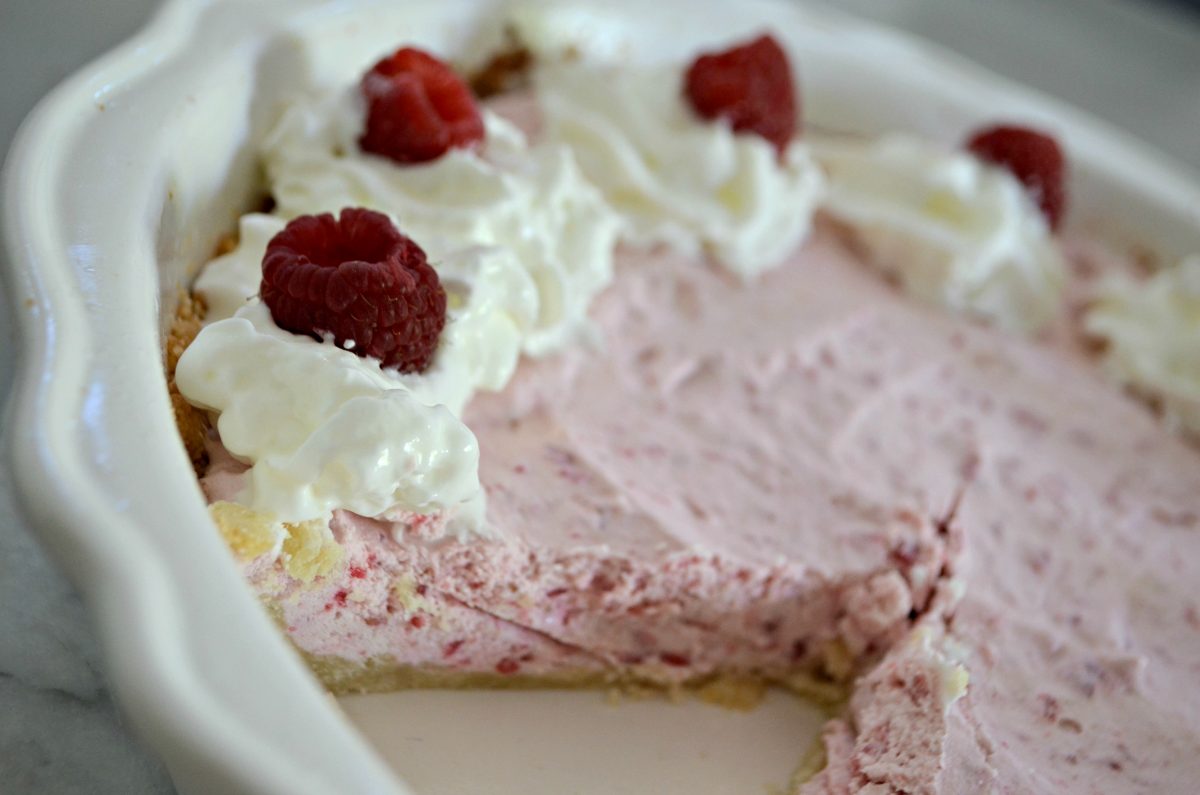 Tastes like an ice cream pie!
I love that this was easy to whip up and has a rich and dense texture. We enjoyed the fresh raspberries, and I think your entire family will find it YUMMY and refreshing. My kids loved it and didn't even ask if it was keto! YAY!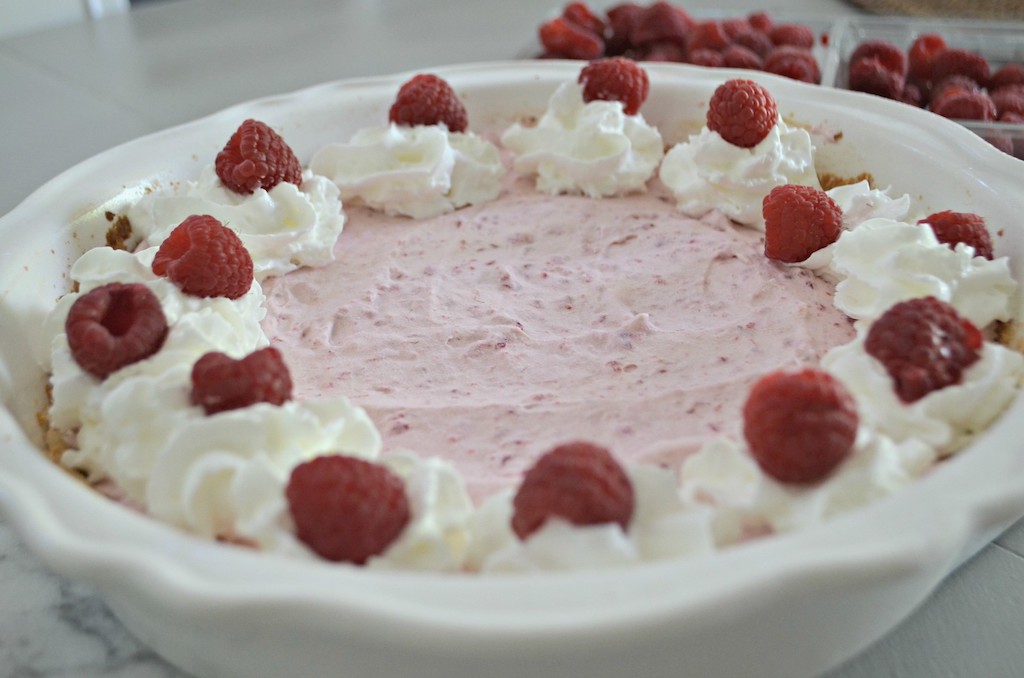 ---