Make These Easy P.F. Chang's Copycat Lettuce Wraps… Keto Style!
Our delicious keto lettuce wraps with Hoisin sauce taste just like the ones from PF Chang's… but low carb!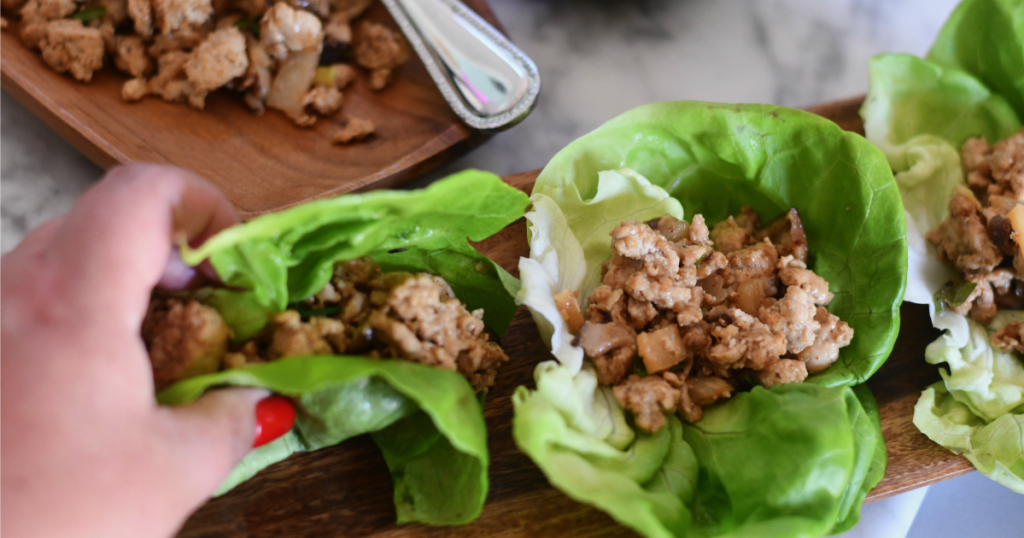 Love Asian-inspired lettuce wraps?
Lettuce wraps are my very favorite thing to order at PF Chang's restaurant. Today I'm sharing a delicious keto-friendly version you can easily make at home that tastes super similar to the yummy, popular restaurant version – along with a keto hoisin sauce! I love these as an appetizer to share or as a light lunch idea.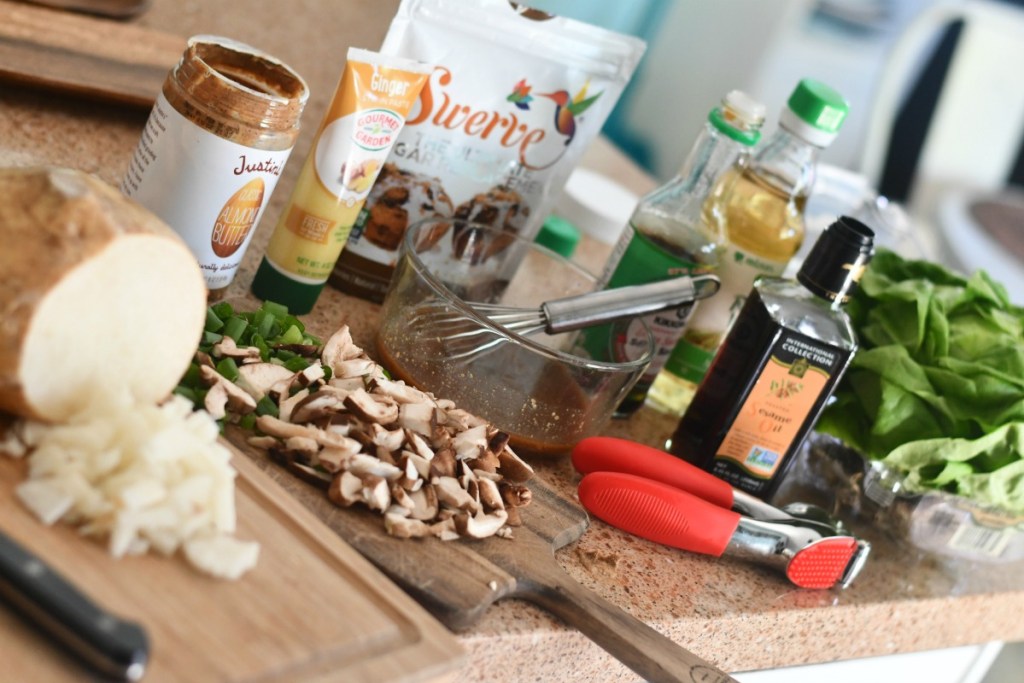 Tips for making the best P.F. Chang's Copycat keto lettuce wraps:
I love that this is essentially a one-skillet recipe! After the sauce is mixed up, brown the ground turkey and sauté the chopped mushrooms and green onion. I also added chopped crunchy jicama instead of water chestnuts to save on carbs. It added some great texture!
You can, of course, use ground chicken or pork instead of turkey. It's up to you, but we enjoyed the turkey – so yum!
Butter lettuce is amazing for wraps! Feel free to use iceberg or another lettuce if preferred, but I really enjoyed using a clamshell of living butter lettuce because of the perfectly shaped cups. All you have to do is cut the stem at the base, and then carefully peel off the leaves to keep them intact.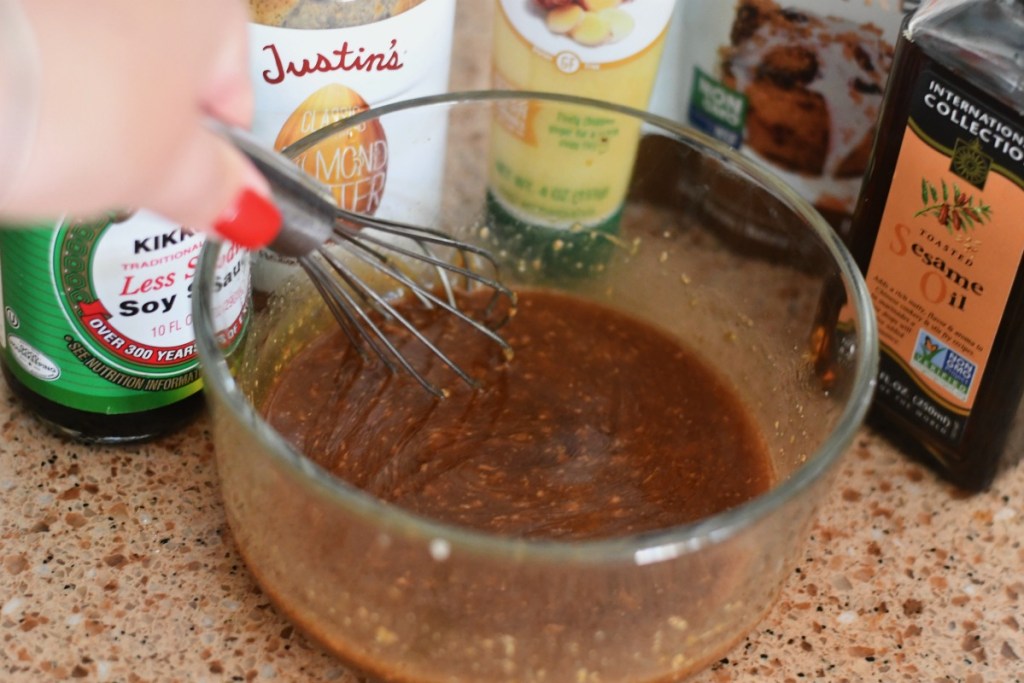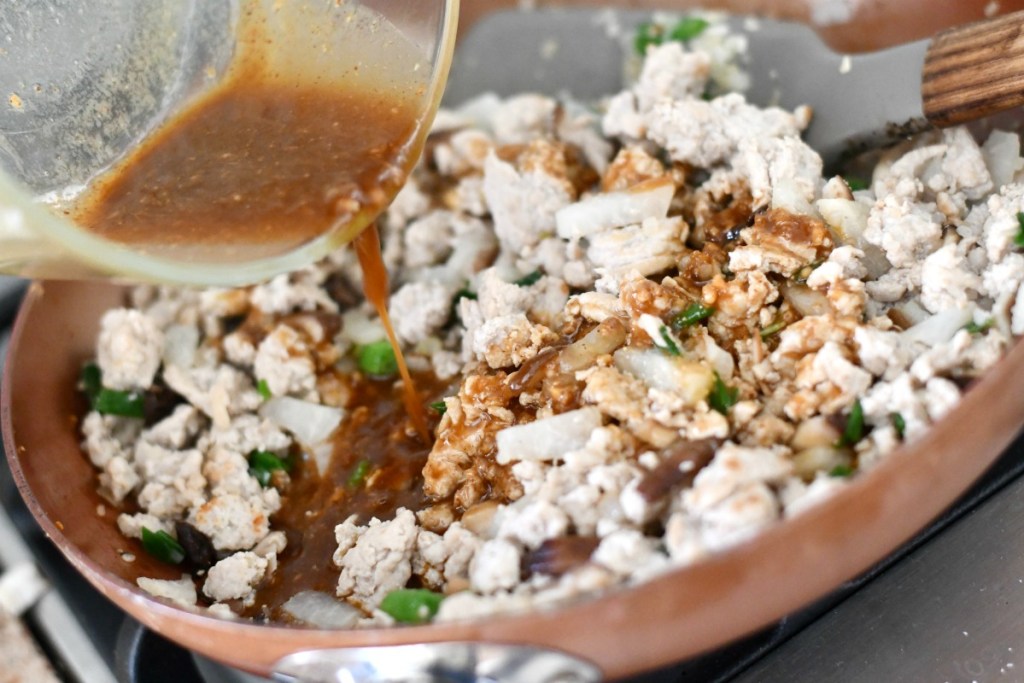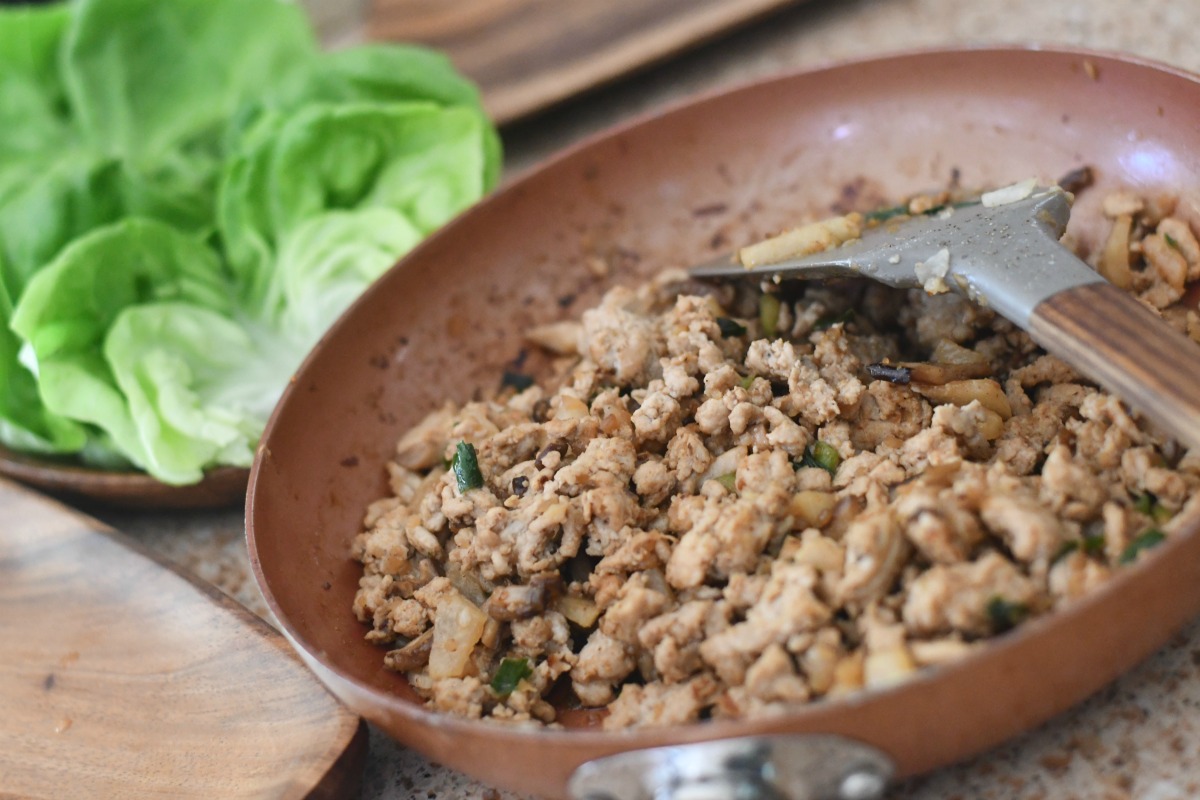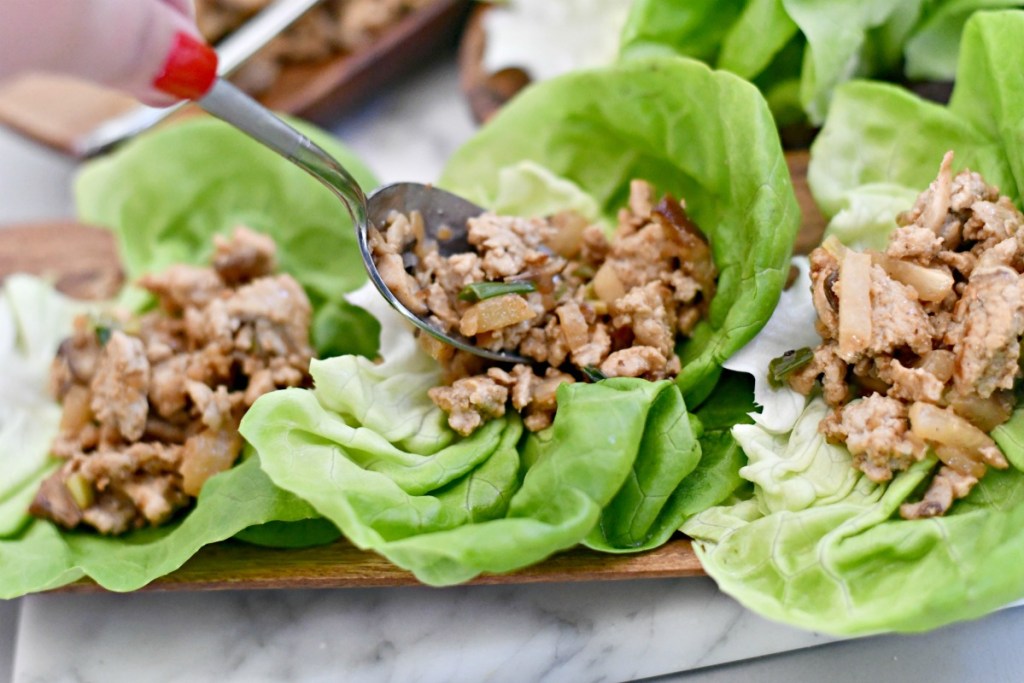 ---
Print
PF Chang's Copycat Lettuce Wraps (+ Keto Hoisin Sauce)
yield: 8 SERVINGS
prep time: 25 MINUTES
cook time: 15 MINUTES
total time: 40 MINUTES
Ground turkey gets drizzled with a sweet and savory low carb sesame ginger sauce and served inside butter lettuce cups for a delicious Asian-inspired dish all will enjoy!
Ingredients
For the Sauce:
For the Lettuce Wraps:
1 pound ground turkey
1 tablespoon olive oil
2 teaspoons dried minced onion
1/4 teaspoon salt
1/4 teaspoon pepper
3 green onions, thinly sliced
3 oz. chopped shiitake mushrooms
1/2 cup diced jicama
head of living butter lettuce
Directions
1
Whisk all sauce ingredients in a small bowl and set aside.
2
To a skillet on the stove, heat olive oil. Crumble and cook ground turkey on medium heat. Season with minced onion, salt, and pepper.
3
Add green onion, mushrooms, and jicama. Saute with meat for a few minutes until mushrooms get soft. Pour sauce over meat and mix to combine.
4
To serve, spoon mixture on top of lettuce pieces. Enjoy!
Additional Notes
This recipe made about 4 cups of filling. I'm estimating 1/4 cup per wrap, making 16 lettuce wraps in total.
Nutrition Information
Yield: 16 lettuce wraps, Serving Size: 2 wraps (1/4 cup filling per wrap)
Amount Per Serving: 121 Calories | 5.8g Fat | 4.8g Total Carbs | 1.3g Fiber | 1.5g Sugar Alcohol | 14.9g Protein | 3.6g Net Carbs
---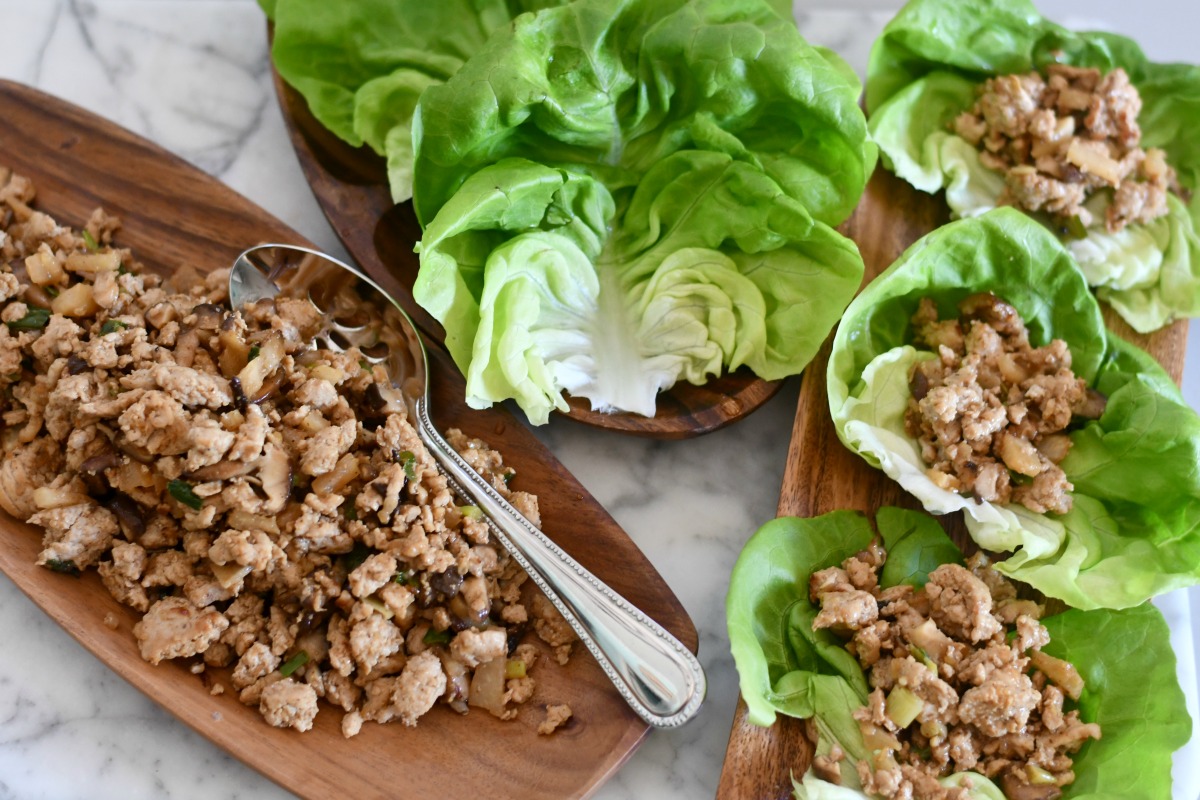 I love the flavors of these keto lettuce wraps!
These are so satisfying and DELISH, you have to give 'em a try if you're craving lettuce wraps! We really enjoyed the sweet and savory Asian-inspired flavors like ginger and sesame oil. Plus, I definitely feel like keto and non-keto eaters alike would enjoy these light and flavorful lettuce wraps.
Overall, this is a YUMMY idea, and such a great-tasting substitute for the high-carb restaurant-style lettuce wraps.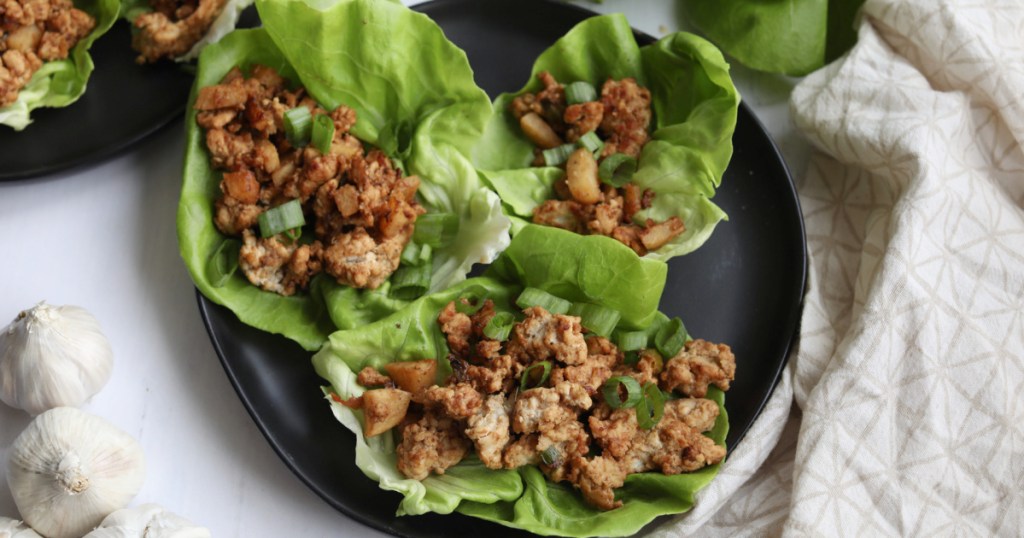 Here's what my teammate Jenna had to say about these lettuce wraps:
"Wow! Now this is a meal I want again and again! I cannot say enough good things about this dish! It is so tasty and filling and was simple to throw together! Just a skillet for the meat mixture and a bowl for the sauce and you're good to go!"
---
This easy cauliflower fried rice recipe is delicious!