Sweet & Savory Low-Carb Peach Glazed Pork Chops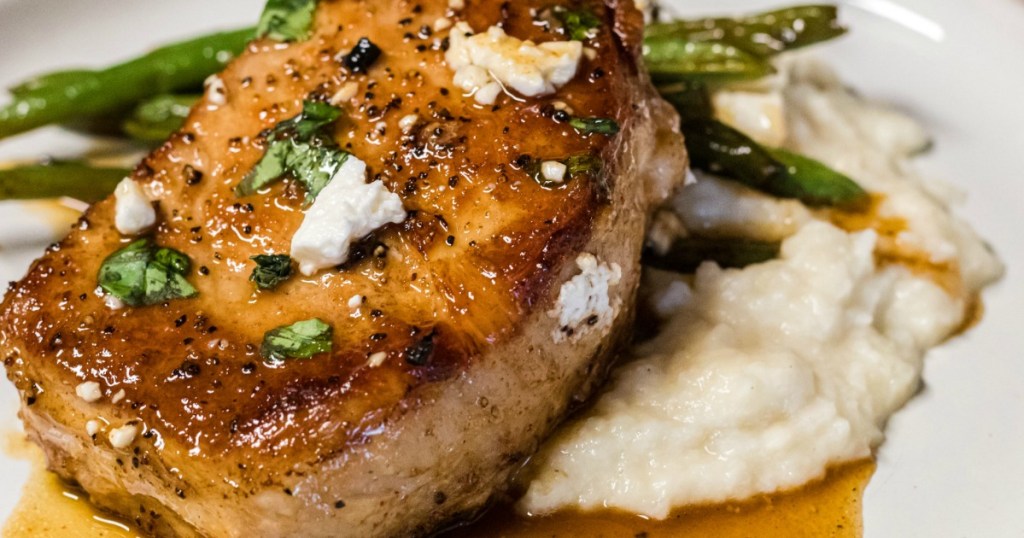 Sweet + savory = keto heaven!
Looking for a delicious keto-friendly meal that will take care of your sweet and savory cravings? We're taking on a traditionally savory entree and sweetening it with some fruity flavors for a flavor experience like no other. Our keto peach pork chops were an absolute hit at my house and I know you'll be hooked after one bite!
These peach pork chops have a punch of sweetness combined with savory spices to balance everything into this delicious keto-friendly meal. Outstanding on their own, I served these yummy pork chops with green beans and mashed cauliflower for a perfect low carb dinner.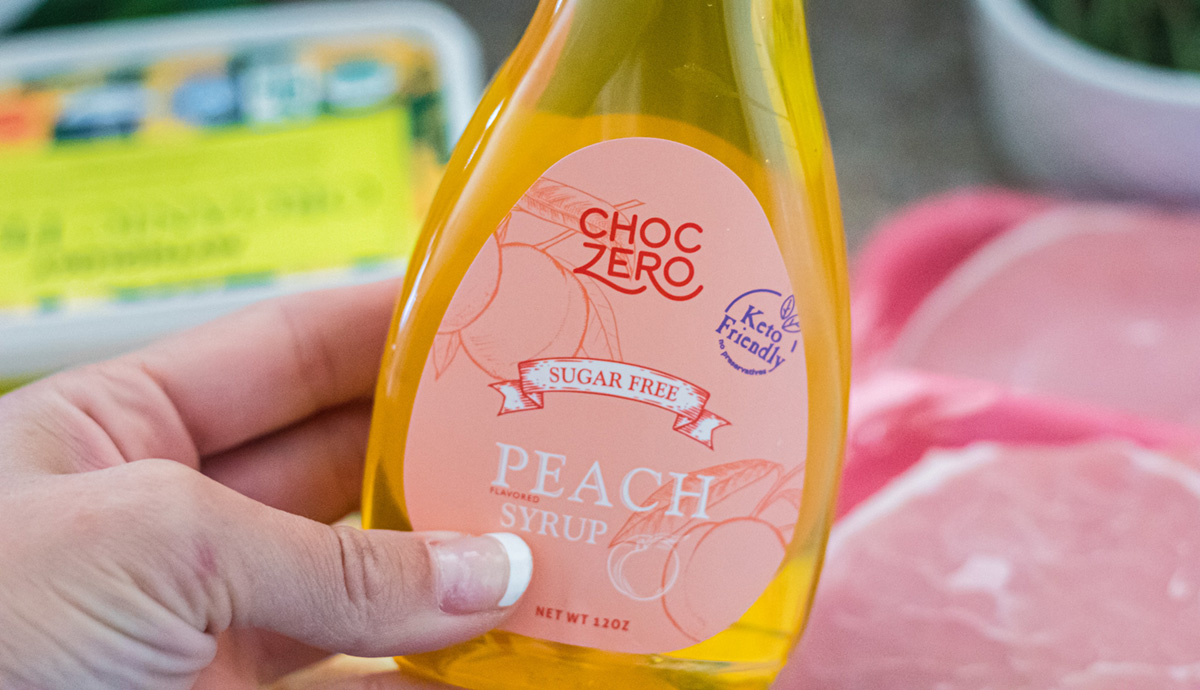 Here are a couple of recipe tips to keep in mind when making keto peach glazed pork chops:
Pork chops are fully cooked when the internal temperature reaches 145 degrees. To avoid the guessing game, I used a handy meat thermometer to check for doneness.
I add my feta cheese right when I get the pork chops out of the oven so it's not completely melted but if you want to add your cheese before you place the cast-iron under the broil you can and you will get that melted cheese coated over the chops which are delish!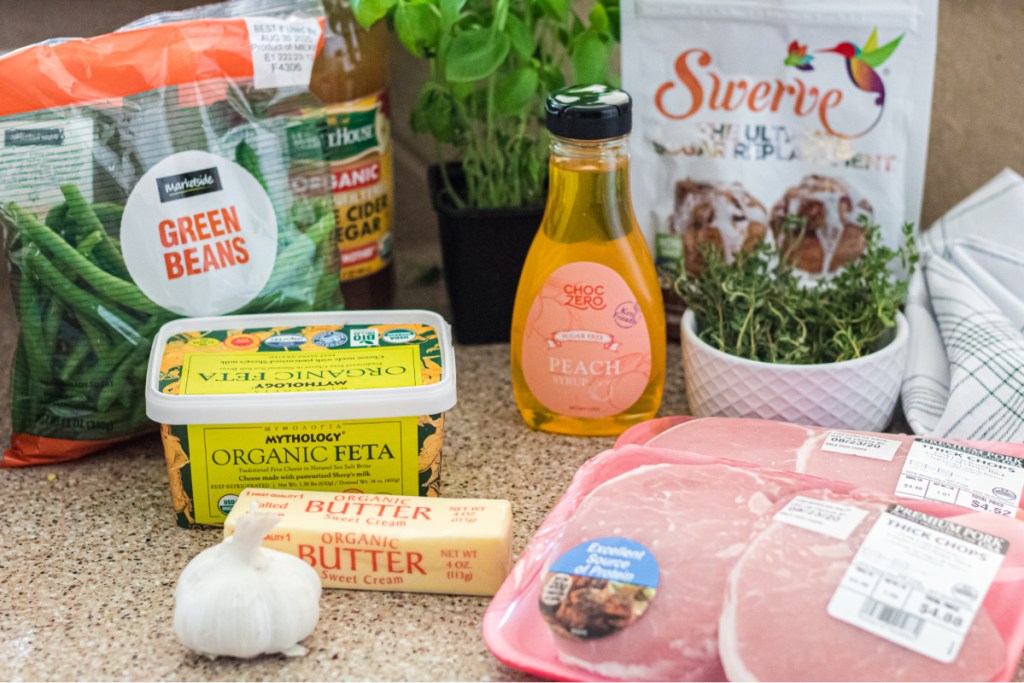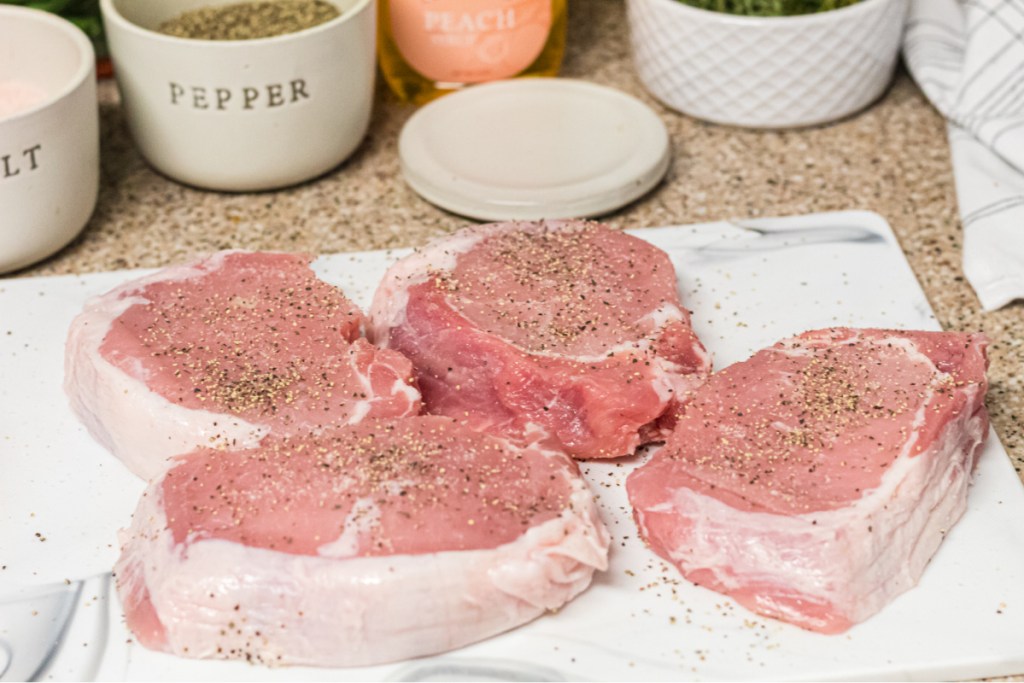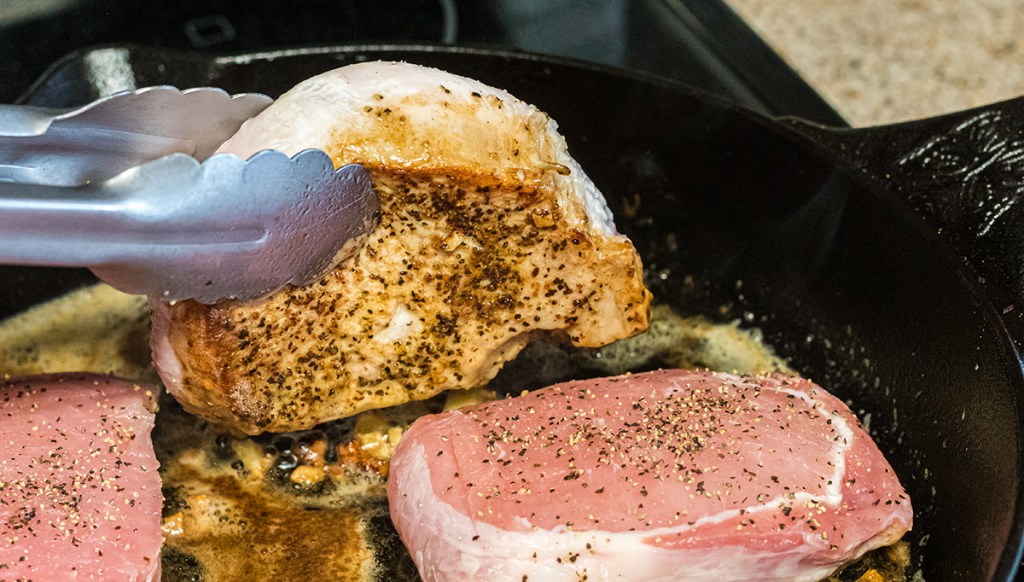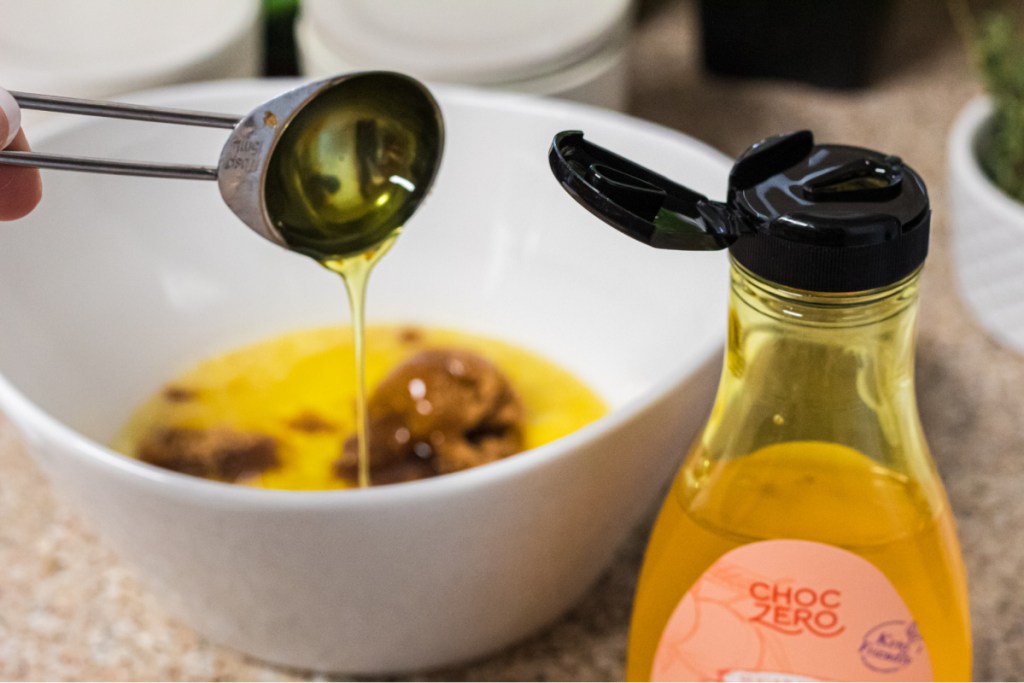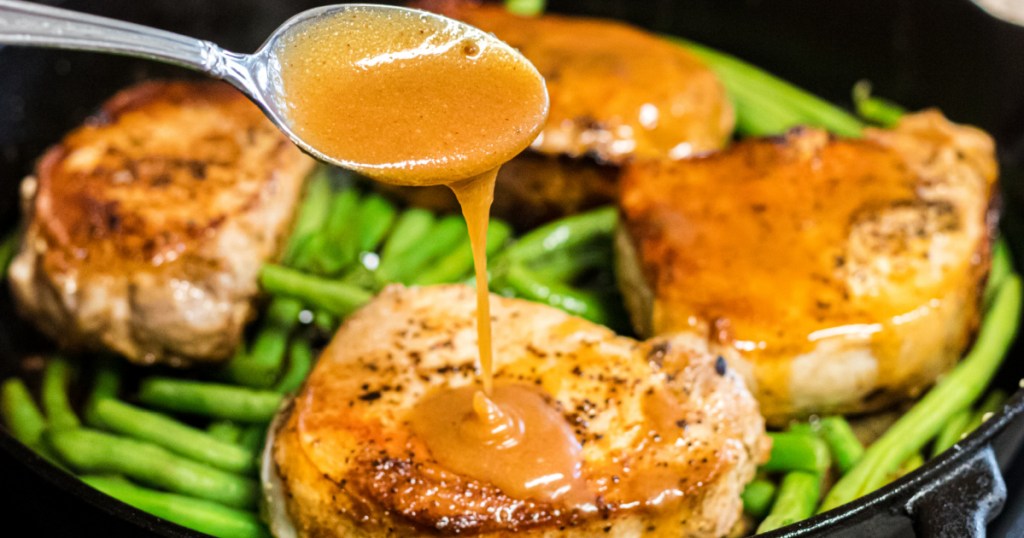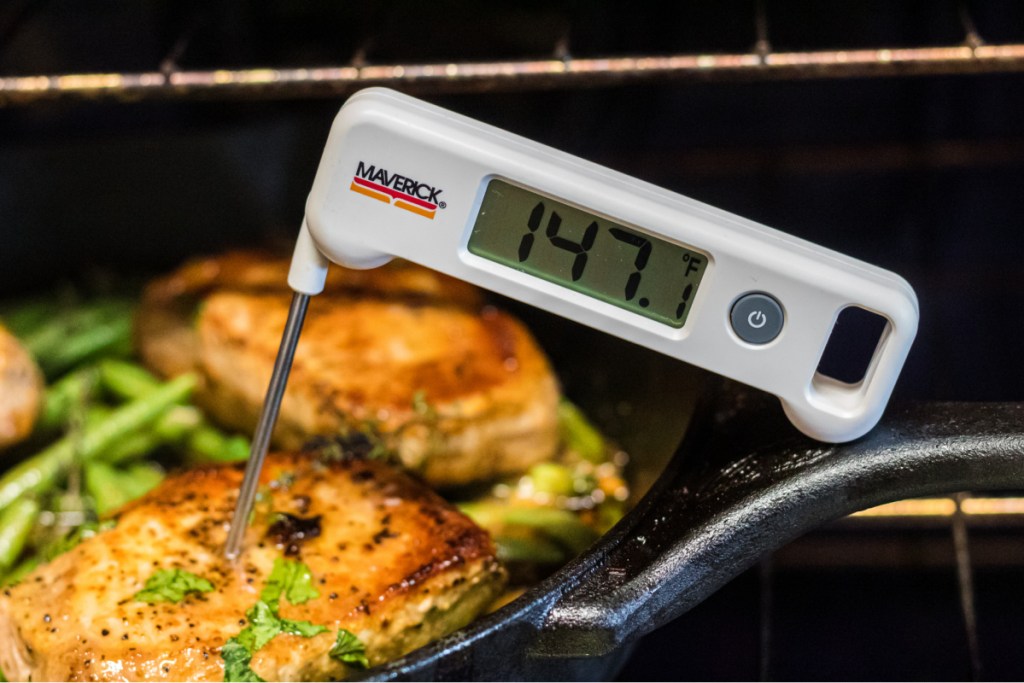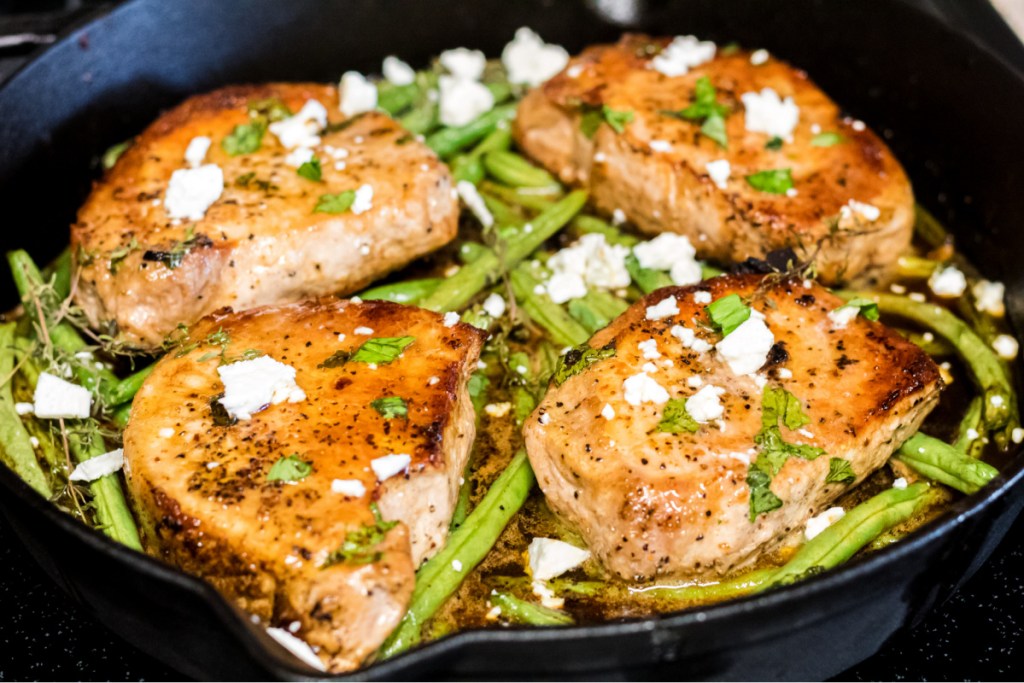 ---
Print
Keto Peach Pork Chops w/ Green Beans
yield: 4 SERVINGS
prep time: 5 MINUTES
cook time: 15 MINUTES
total time: 20 MINUTES
Savory seasoned pork chops glazed with low carb peach sauce.
Ingredients
Pork Chops:
4 boneless pork chops, appox. 2 lbs.
4 tablespoons butter
2 garlic cloves, minced
1 teaspoon salt
1 teaspoon pepper
5 sprigs of thyme
4 basil leaves, diced
2 cups fresh green beans
crumbled feta cheese (optional)
Keto Peach Sauce:
4 tablespoons melted butter
1/2 teaspoon smoked paprika
1 teaspoon apple cider vinegar
Directions
1
Preheat oven to low broil. Heat a large cast-iron skillet over medium heat on the stovetop.
2
Season pork chops with salt and pepper. Add butter to cast-iron skillet. Once melted, add in minced garlic and stir for 2 minutes.  Place pork chops in cast-iron and sear on each side for 4 minutes.
3
In a small bowl, add sauce ingredients and whisk.
4
Once pork chops are seared on both sides, remove pork chops from cast-iron skillet. Add in green beans to the same skillet, and let simmer for 2 minutes on low heat.
5
Place pork chops back into cast-iron skillet and drizzle peach sauce over pork chops. Place sprigs of thyme and basil over pork chops, and place cast-iron skillet in the oven for 5 minutes or until pork chops have reached 145 degrees.
6
Remove cast-iron skillet from oven. Sprinkle feta cheese over pork chops, serve, and enjoy!
Nutrition Information
Yield: 4 pork chops, Serving Size: 1 pork chops
Amount Per Serving: 413 Calories | 32g Fat | 19g Total Carbs | 10g Fiber | 4g Sugar Alcohol | 25g Protein | 5g Net Carbs
---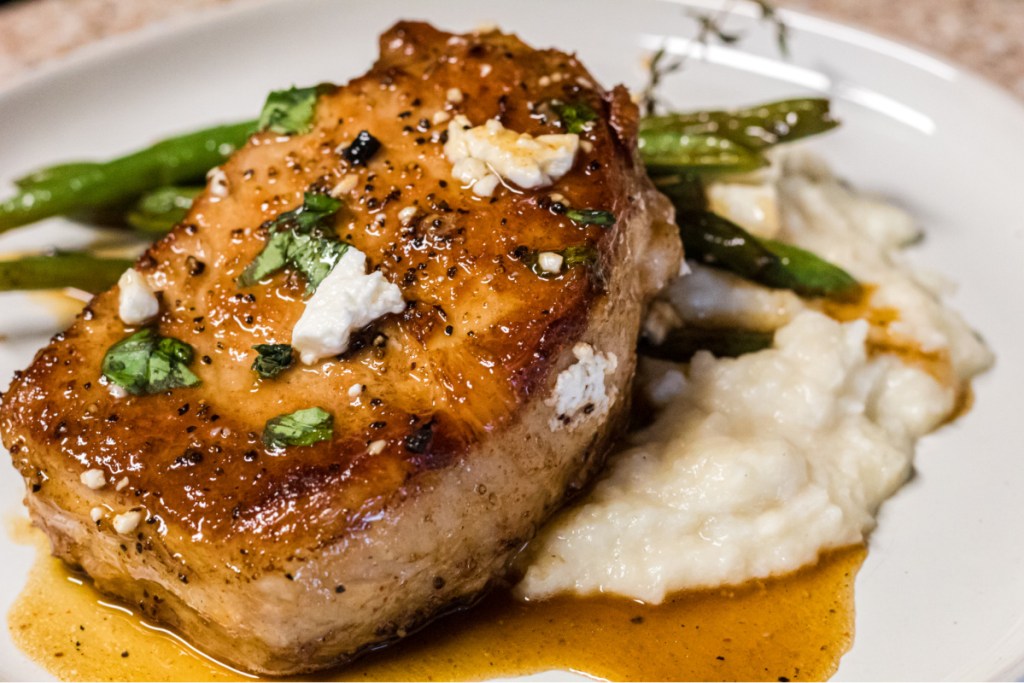 This recipe is simply drool-worthy!
When I wasn't busy devouring these perfectly peach pork chop chunks (say that 5 times fast!), I had to stop and admire how this otherwise bland cut of meat could take on the most tantalizing flavors.
Normally I would think of keto-friendly peach syrup as a sweet treat topping, but I can't wait to find more ways to apply it in other savory dishes. Any suggestions, friends?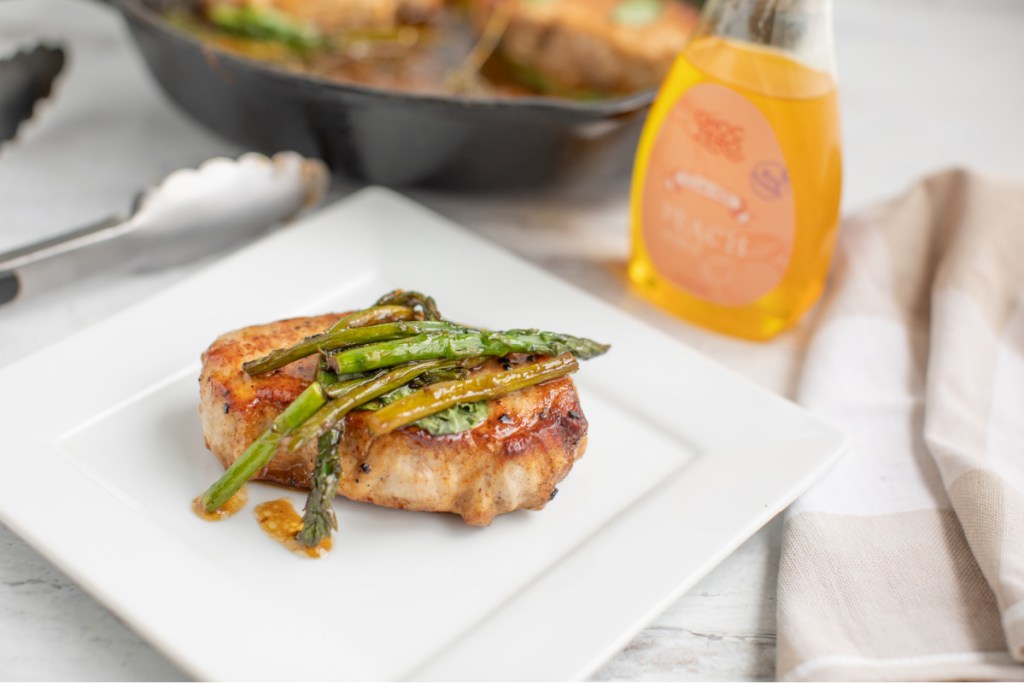 My team member, Jenna, gave this recipe a test for me, and here's what she had to say:
"These turned out so perfect! I really love that ChocZero syrup and that you made it into a glaze. I used asparagus instead of green beans and it worked out beautifully with the same directions. The pork chops were done perfectly and the veggies, too.
But OH that sauce! It's so good! I love that the erythritol cooks down and you can't even tell it isn't brown sugar in there!" – Jenna
---
Keep the fruit flavors strong with keto banana pudding cheesecake for dessert!