Keto Banana Pudding Cheesecake (Just 3 Net Carbs Per Slice)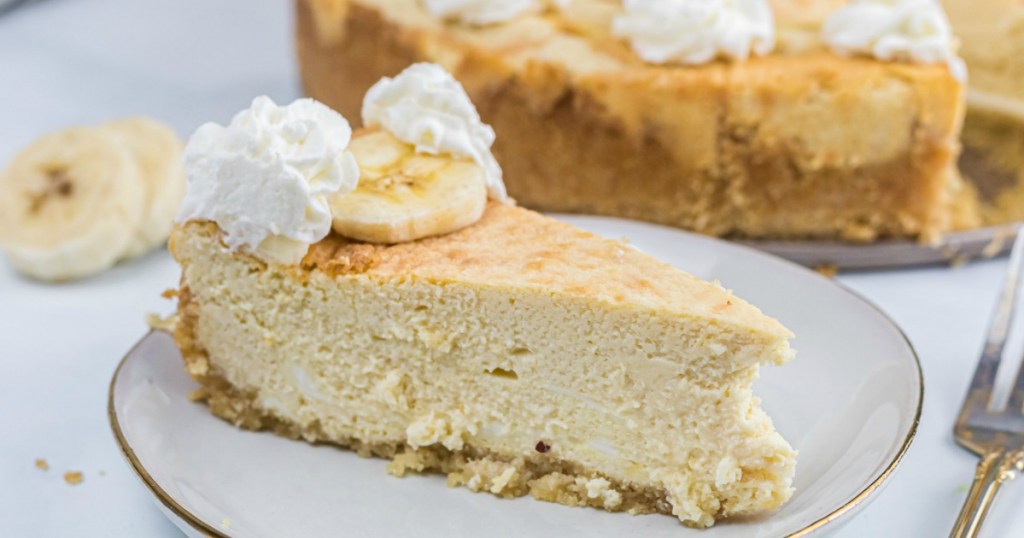 Calling all cheesecake lovers!😋
If you're like me, any keto cheesecake is a home run dessert, but adding fruit flavor takes it to another level. Yes, you heard me right – fruit on keto! To do this and keep the carbs super low, I used one of the best banana extracts I've ever tasted and it absolutely gives a true banana flavor without all the added carbs.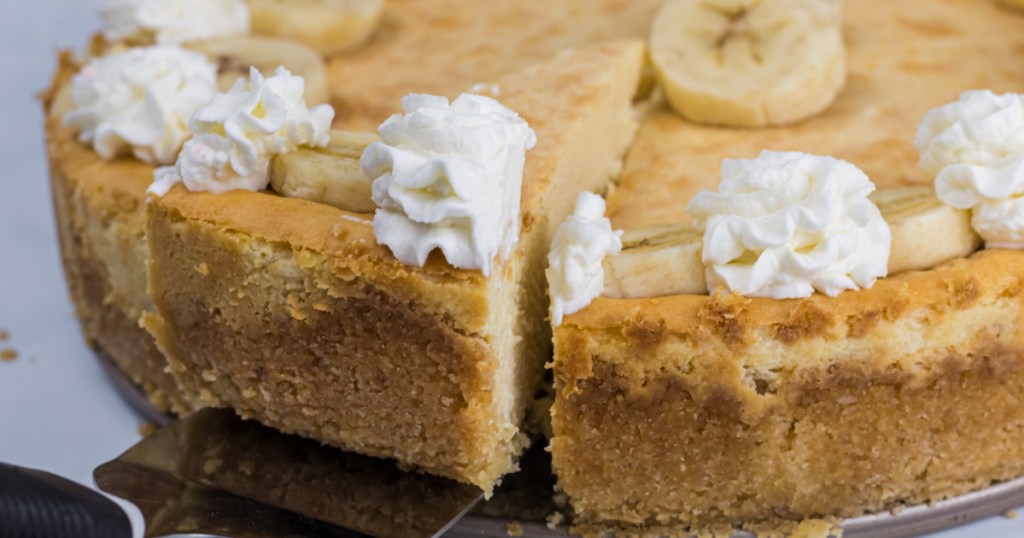 This fruit-flavored cheesecake is real crowd-pleaser!
I cannot get over how much this cheesecake tastes just like banana pudding all while being keto-friendly. This is definitely going to be one of my new go-to low-carb desserts as my family really enjoyed it. I love it when I can make something that even non-keto peeps really like!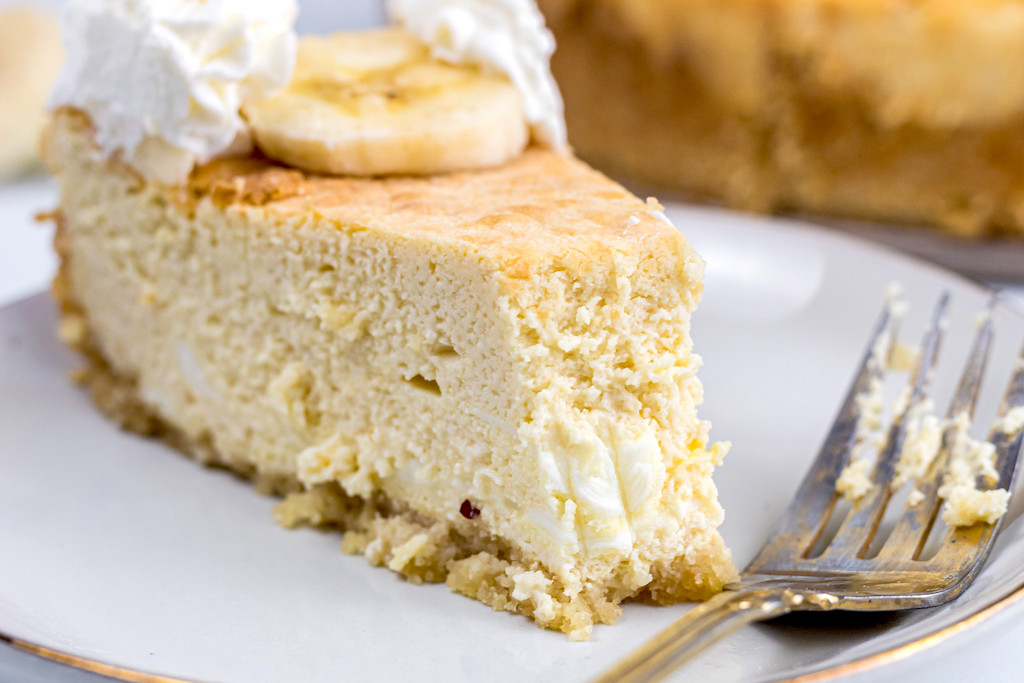 Here are a few recipe tips to keep in mind when making keto banana pudding cheesecake:
Let cream cheese, sour cream, and eggs come to room temperature. This will give you a consistent texture throughout your cheesecake.
Place your springform cheesecake pan in a water bath! Most cheesecakes are made with eggs, therefore, adding your pan to the water bath allows the cake to bake evenly and properly rise. The water bath provides a humid and contained area which helps the cheesecake rise slowly to give you that height without all the cracks.
Avoid opening that oven! Opening the oven creates temperature changes which can cause your cheesecake to crack.
---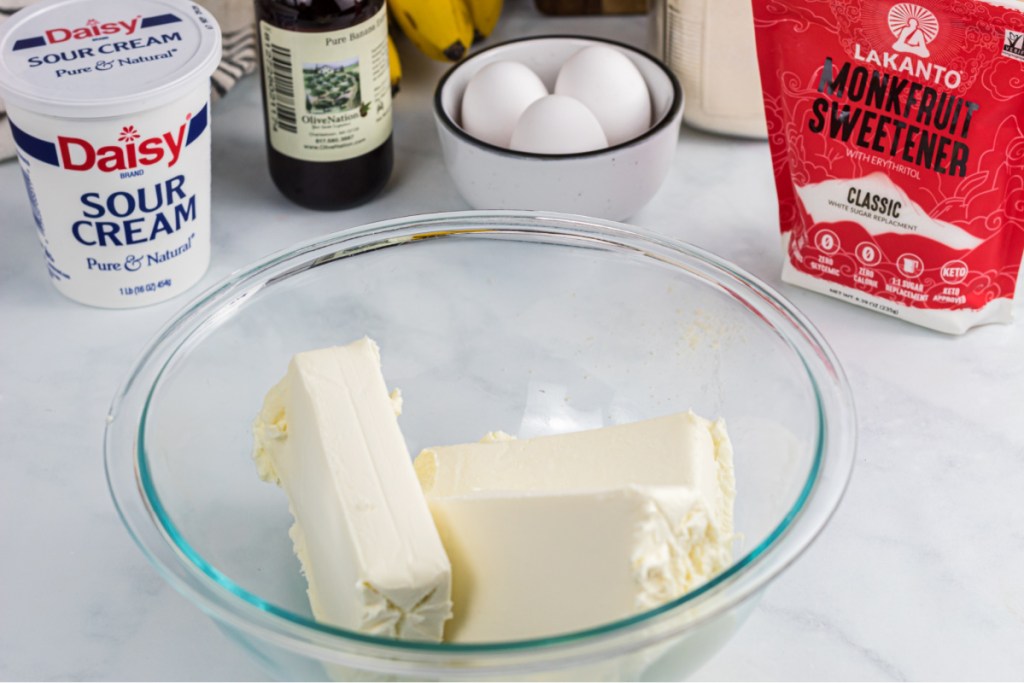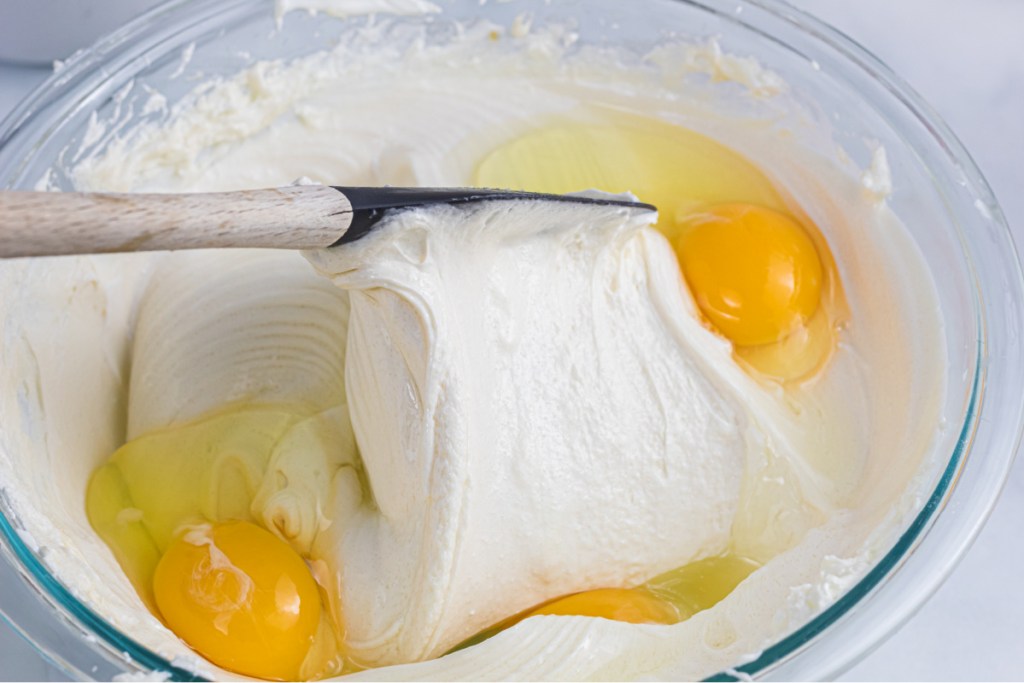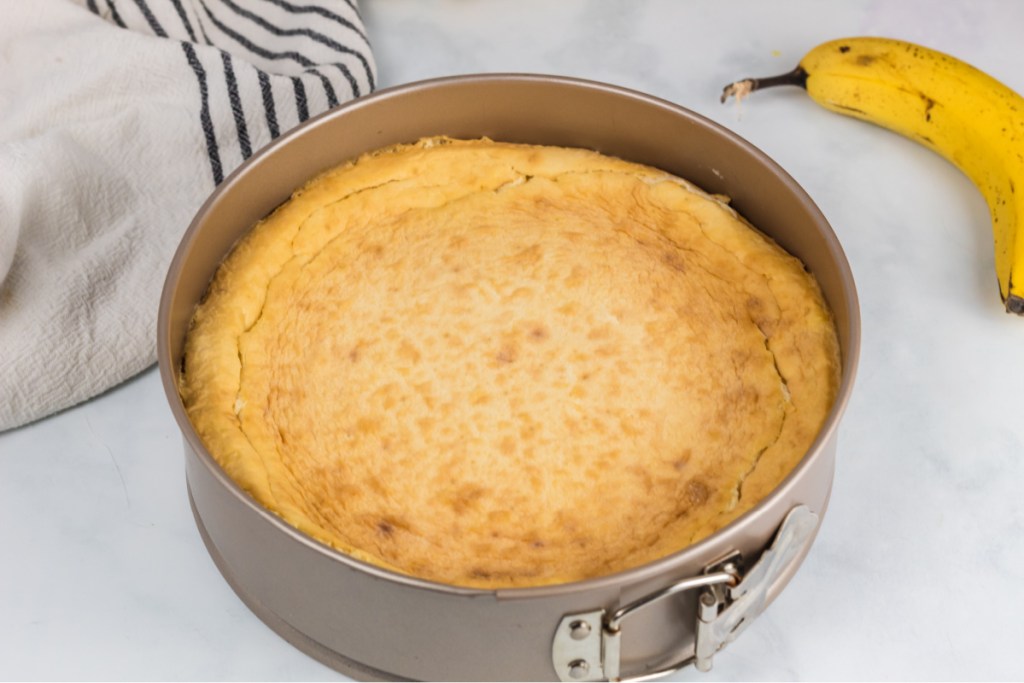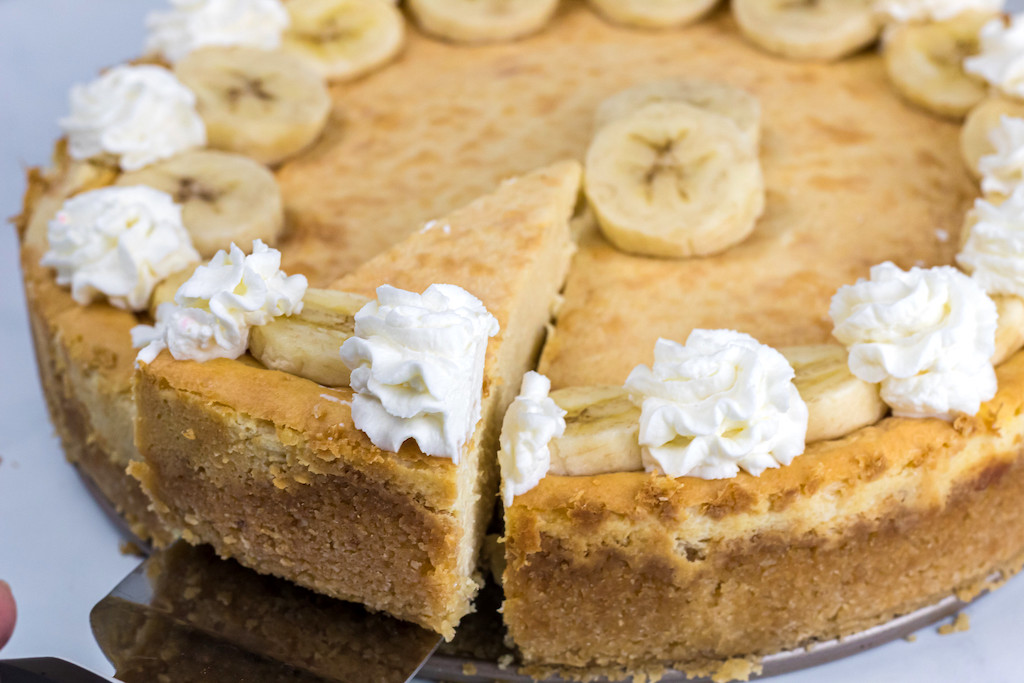 ---
Print
Keto Banana Pudding Cheesecake
yield: 12 SERVINGS
prep time: 15 MINUTES
cook time: 1 HOUR 15 MINUTES
total time: 1 HOUR 30 MINUTES
This creamy cheesecake is packed with fruity banana flavors with a sweetened almond flour crust.
Ingredients
Crust:
Cheesecake Filling:
3- 8oz. cream cheese bars, room temperature
3/4 cup sour cream, room temperature
3 eggs, room temperature
Toppings (optional):
dollop of keto whipped cream
thin banana slices
Directions
1
To make the crust:
Preheat oven to 350 degrees.
2
In a medium bowl, mix together almond flour, Swerve, and melted butter. Grab your 9" springform pan, add the crust mixture, and press down covering the bottom and some of the sides of the pan to create a bowl shape crust to pour the cream cheese filling into.
3
Bake crust in the oven at 350 degrees for 8-10 minutes. Pull out of the oven to cool while making the cheesecake filling.
4
Making the filling:
In a large mixing bowl, add the cream cheese and sour cream. Mix with a handheld mixer until you have a smooth consistency.
5
Add in Swerve granular, vanilla extract, and banana extract. Mix on low speed for one minute.
6
Fold in 3 eggs with a spatula. Don't use the mixer as this will create air pockets. 
7
To assemble the cheesecake for baking:
After eggs are folded into the batter, pour batter over crust in the springform pan. Place the pan on top of a sheet of foil and crumple up the sides to prevent water from getting into the springform pan with the water bath in the next step.
8
Place foiled pan on a cookie sheet and add water to the outside (about 1/2 cup). Place in oven and bake for 60 minutes without opening the door. After an hour, turn the oven off and crack open the oven door for 20 minutes.
9
Remove the springform pan from the oven and let cool to room temperature before placing in the refrigerator. Serve cheesecake slices chilled or at room temperature. Garnish with banana slices and whipped cream, if desired.
To make keto whipped cream: Whip 1/4 cup heavy whipping cream, 1 teaspoon Swerve granular, & 1/2 teaspoon vanilla extract until peaks form.
Nutrition Information
Yield: 12 slices, Serving Size: 1 slice
Amount Per Serving: 308 Calories | 28g Fat | 17g Total Carbs | 1g Fiber | 13g Sugar Alcohol | 7g Protein | 3g Net Carbs
Note: I topped my keto banana cheesecake with a thin slice of banana which is about 2.4 carbs per slice. Topping the bananas on the cheesecake is completely optional and not factored into the nutritional values above.
---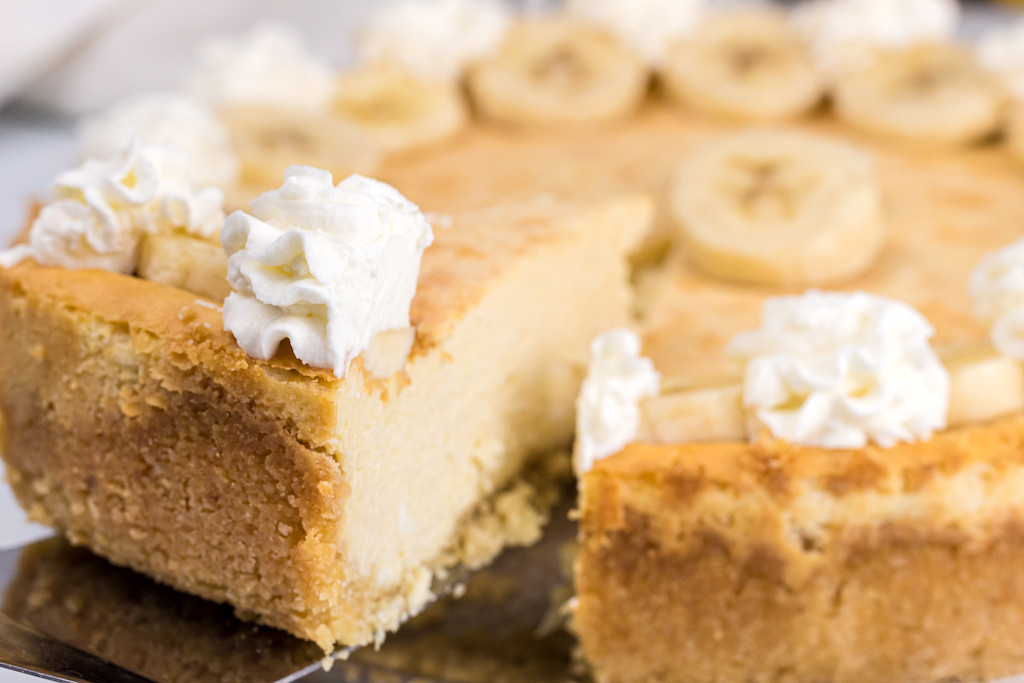 Fruit flavors on keto? YES!
Sometimes you gotta get creative when you're living the keto life so you can still enjoy your favorite flavors. This recipe really shines thanks to this OliveNation pure banana extract! Try it and let me know what you think.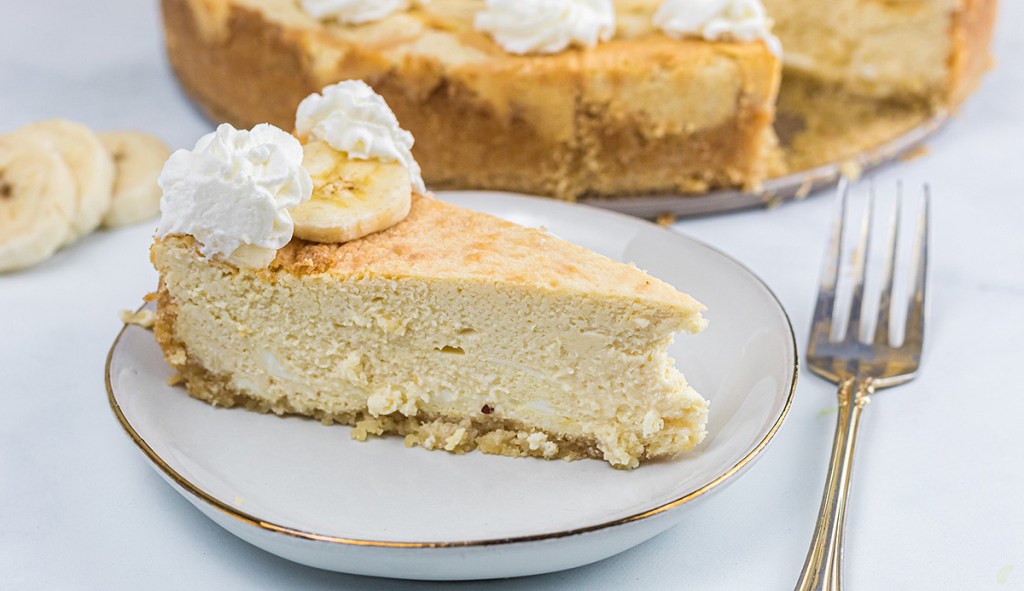 My team member, Jenna, gave this recipe a test for me, and here's what she had to say:
"Wow! The banana pudding flavor is spot on in this recipe! I'm a huge cheesecake fanatic and this yummy dessert really hit the spot. My kids asked for seconds, and I gotta confess that I ate two pieces while taking pictures. Shhh, don't tell anyone! I could not get enough of the delicious banana flavor and that crust, OMG it's perfect!" 😊 – Jenna
---