This No-Bake Keto Yogurt Cream Pie Has a Cookie Crust!
Whip up an easy keto yogurt pie for a cool and fruity treat!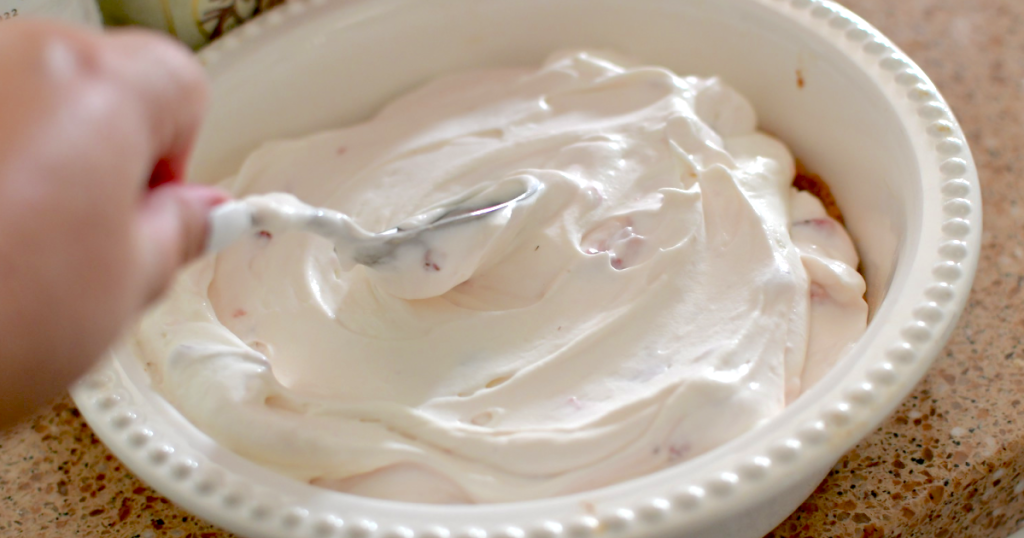 Hooray for a creamy frozen dessert option that's low carb and oh so YUM!
You've gotta taste this fluffy strawberry yogurt pie, as it tastes similar to the simple Cool Whip pies popular in the 80s and 90s, except mine has a keto makeover!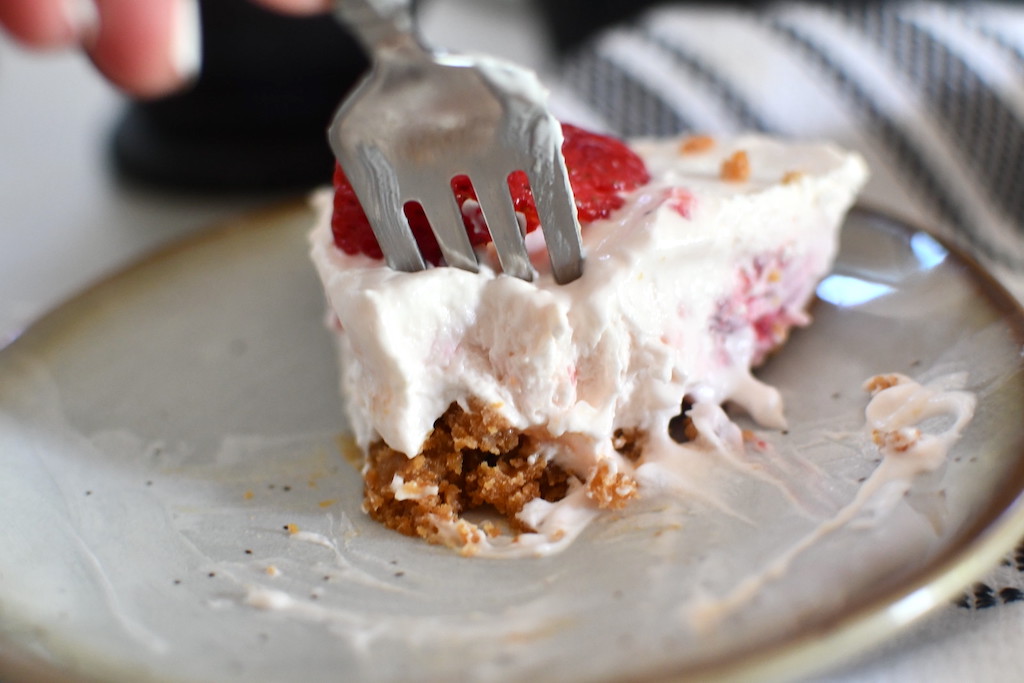 Your kids will flip for this healthier version as it appeals to keto and non-keto eaters, and it's honestly pretty simple to make too.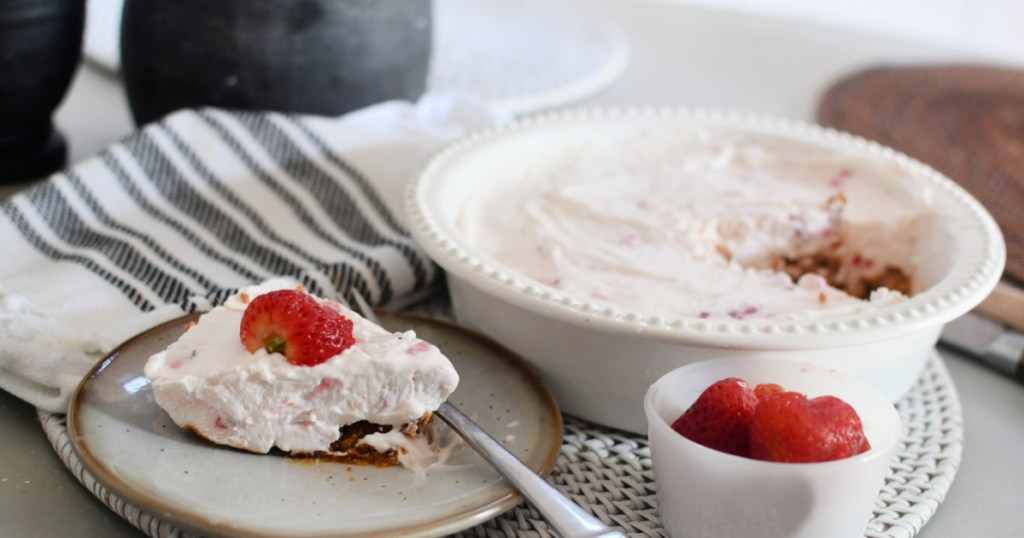 If you're looking for a simple dessert (and have already overdone it with the pumpkin recipes this season), give this berry-bursting pie a try instead!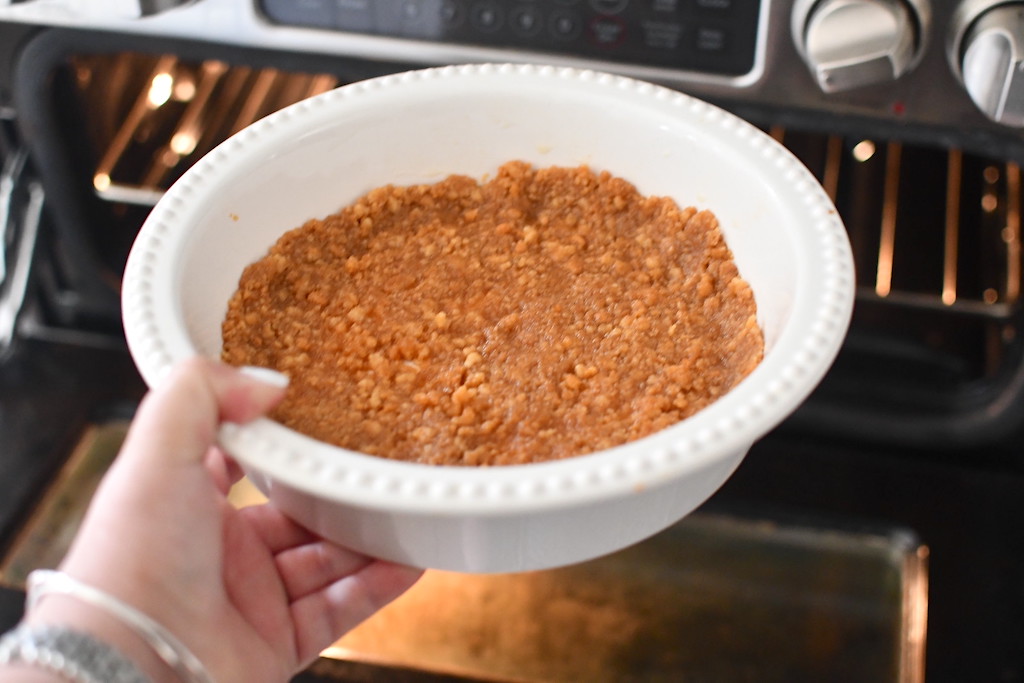 I love the whipped texture and the frozen yogurt with strawberry purée is way yummy. The crust reminds me of a graham cracker-type crust.
This is a refreshing treat using keto ingredients that I think you'll love!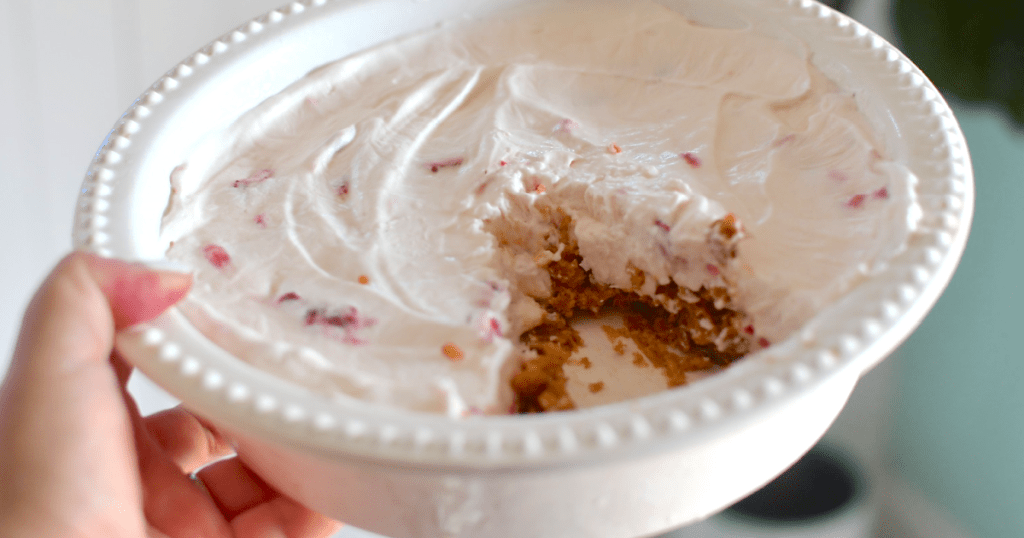 Tips for making easy no-bake keto yogurt cream pie:
Make sure to pick a plain keto-friendly yogurt that doesn't have lots of added sugar. I am using Two Good yogurt. Another clean brand we like is Maple Hill.
I whipped up my heavy whipping cream first before mixing it together with the yogurt so it would be fluffy. I did spot a keto-friendly Cool Whip alternative called Truwhip Keto, so that may be an option if you're looking for a super simple prep. Keep in mind that Truwhip has more carbs than actual whipping cream.
If you'd like to use raspberries or blueberries, those are other fruity and totally keto-friendly filling ideas too!
Frozen berries would be a great option as well in case fresh isn't available. Just substitute in equal amounts of thawed berries.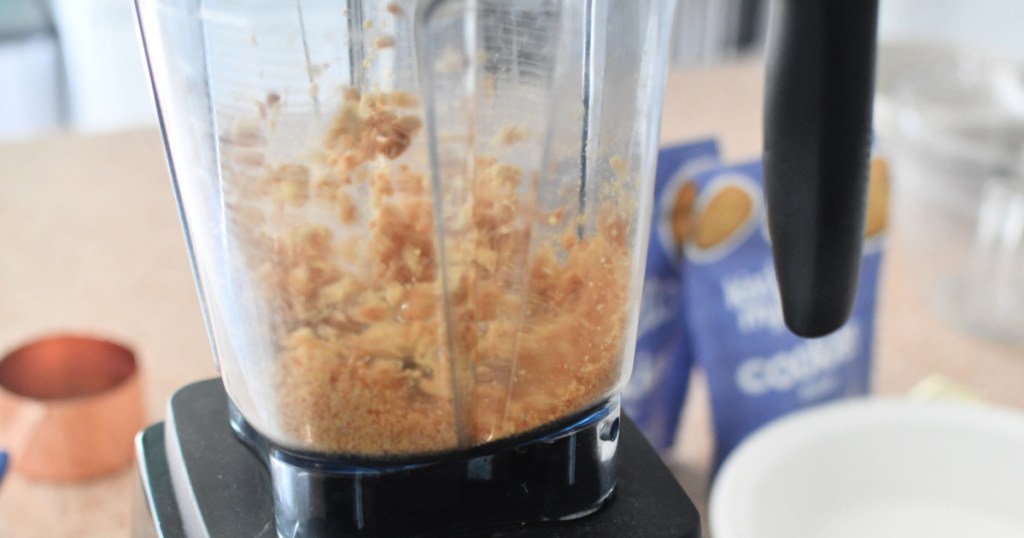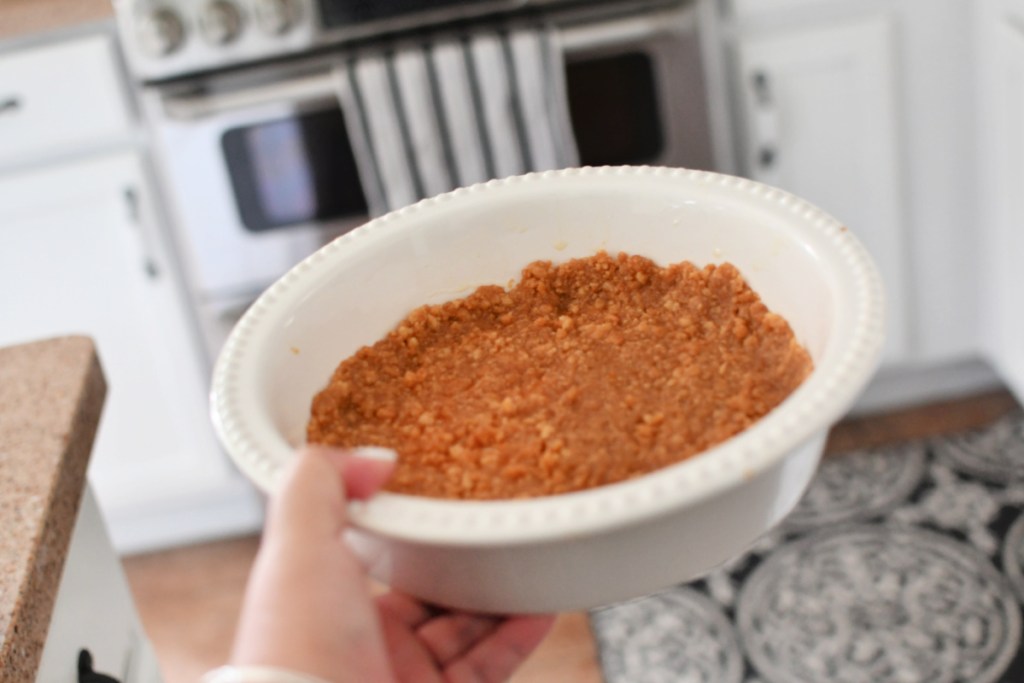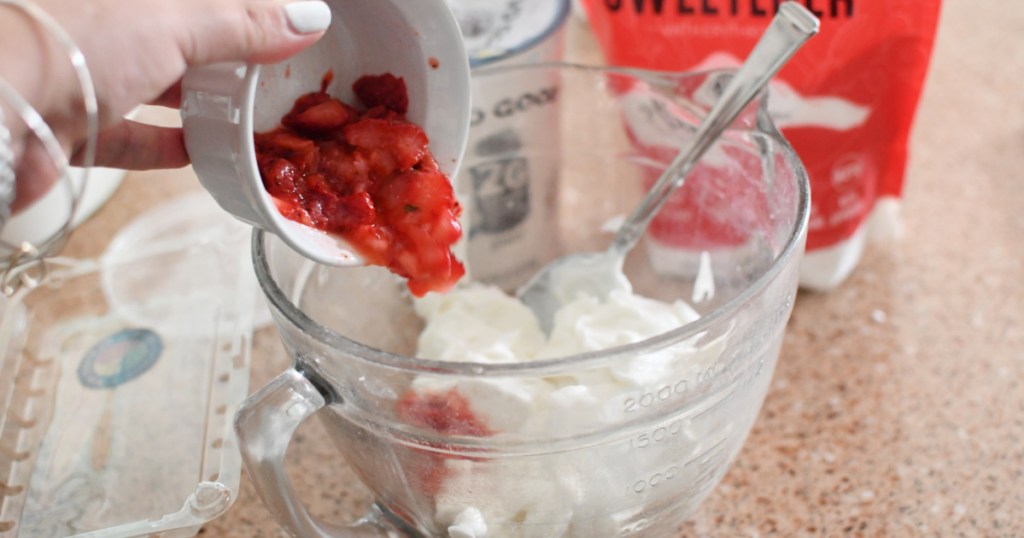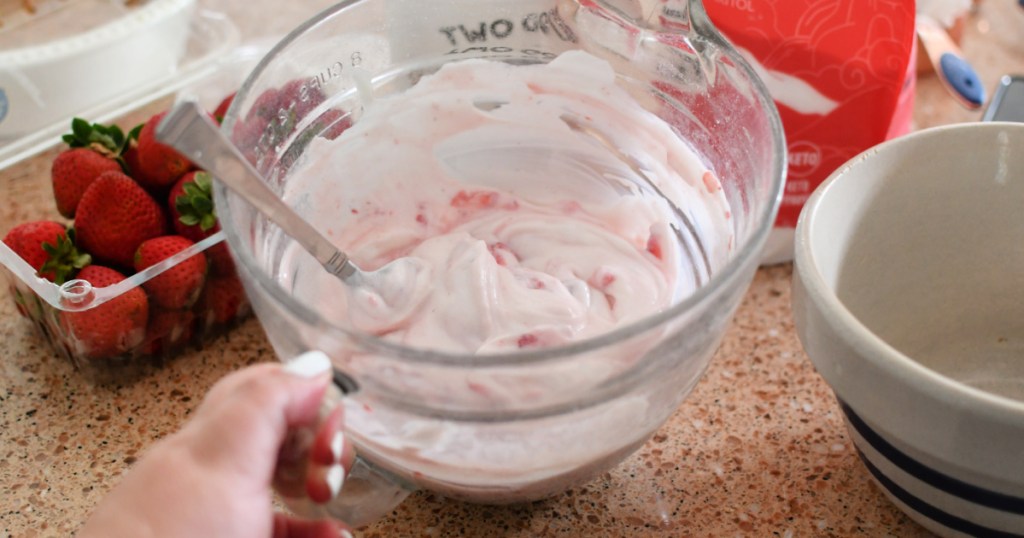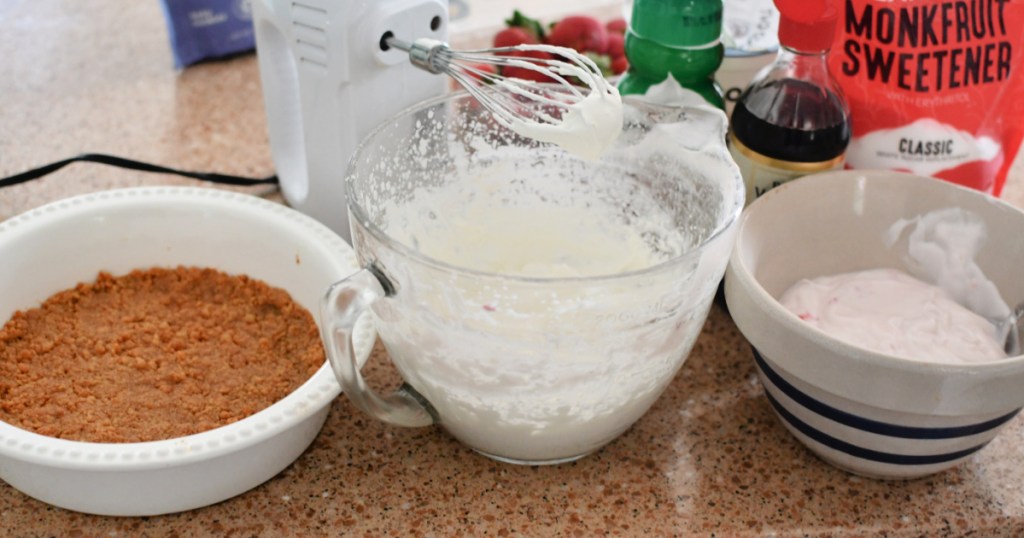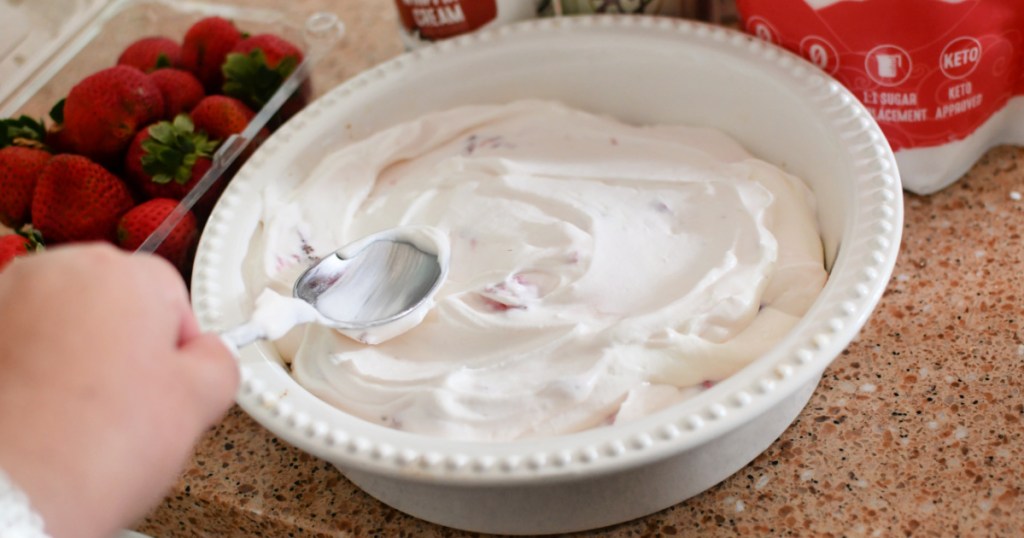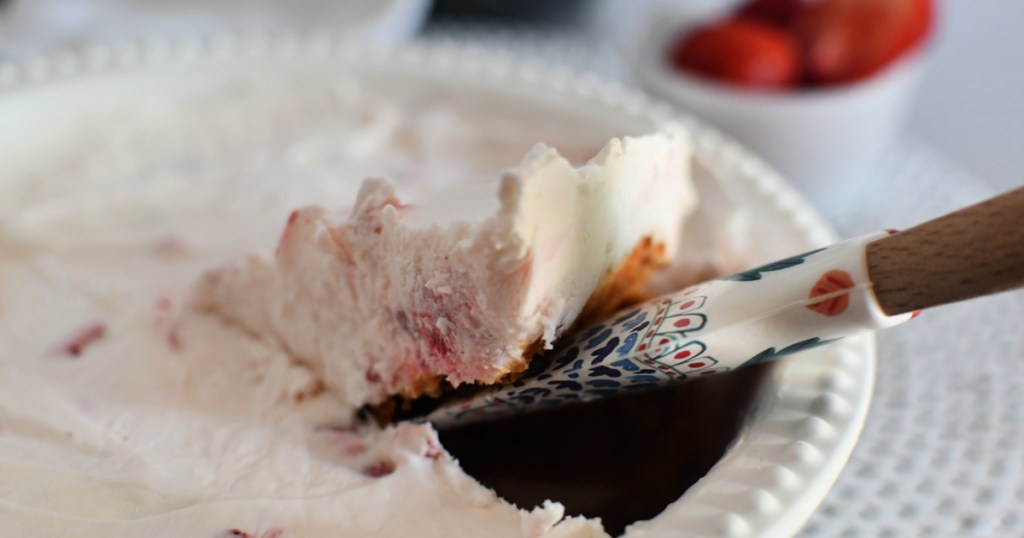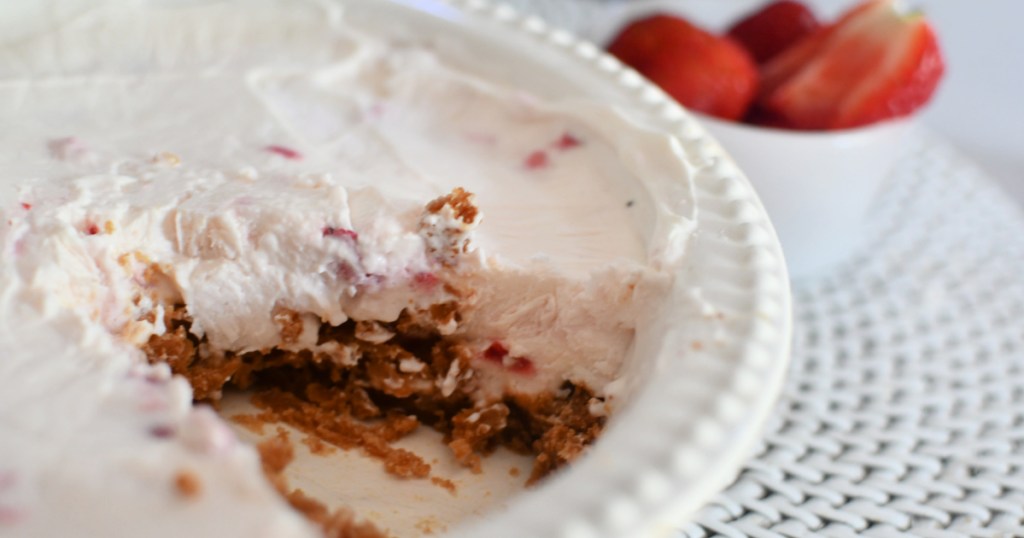 ---
Print
Keto Strawberry Yogurt Cream Pie
yield: 8 SERVINGS
prep time: 20 MINUTES
cook time: 15 MINUTES
total time: 35 MINUTES
A creamy Greek yogurt frozen pie with strawberry purée and a butter cookie crust.
Ingredients
For the pie crust:
3 tablespoons butter, melted
For the whipped cream:
1 cup heavy whipping cream
1/2 teaspoon vanilla extract
For the strawberry yogurt:
1/2 cup sliced strawberries, pureed in the blender
1 teaspoon vanilla extract
Directions
1
Heat the oven to 350 degrees.
2
For the pie crust:
Use a blender to crumble the 2 packages of keto cookies. Mix the crumbs with the melted butter in a bowl and press the mixture into a 9-inch pie pan. Bake for 5-10 minutes until slightly browned. Check after 5 minutes to make sure it's not burning. Remove from the oven and let cool.
3
For the whipped cream:
In a mixing bowl, whip the heavy cream, vanilla extract, and sweetener using a hand mixer until peaks form. Set aside.
4
For the sweetened yogurt:
Mix together the plain yogurt, puréed strawberries, vanilla extract, and sweetener with a spoon. Sample some to make sure it's sweetened to your liking. 😍
5
Gently fold together the whipped cream and yogurt mixture, and pour it onto the pie, spreading it evenly. Freeze the pie for at least 4 hours or until frozen. You can also make it ahead and let freeze overnight.
6
To serve, let thaw a bit on the counter, and dish up with extra strawberries for garnish if desired. Enjoy!
Nutrition Information
Yield: 8 slices, Serving Size: 1 slice
Amount Per Serving: 249 Calories | 21.3g Fat | 10.6g Total Carbs | 2.7g Fiber | 2.5g Sugar | 2.0g Sugar Alcohol | 5.1g Protein | 5.8 Net Carbs
---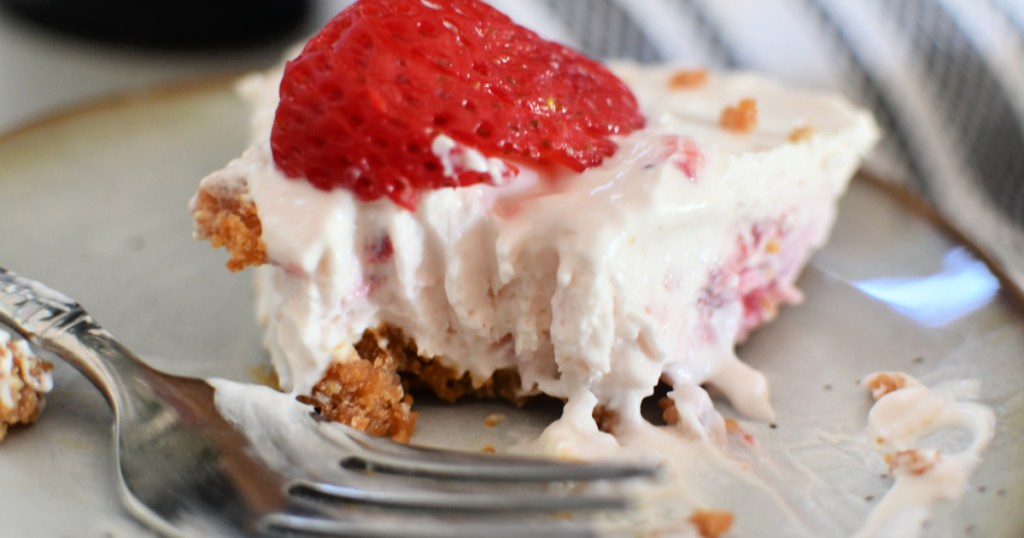 This keto frozen yogurt pie is "lick the bowl" GOOD!
I actually could not stop eating that fluffy whipped cream filling while whipping this up. It tastes heavenly with the sweetened yogurt and strawberries. In fact, I actually recommend sampling as you go to make sure it's sweetened to your preferred taste. 😋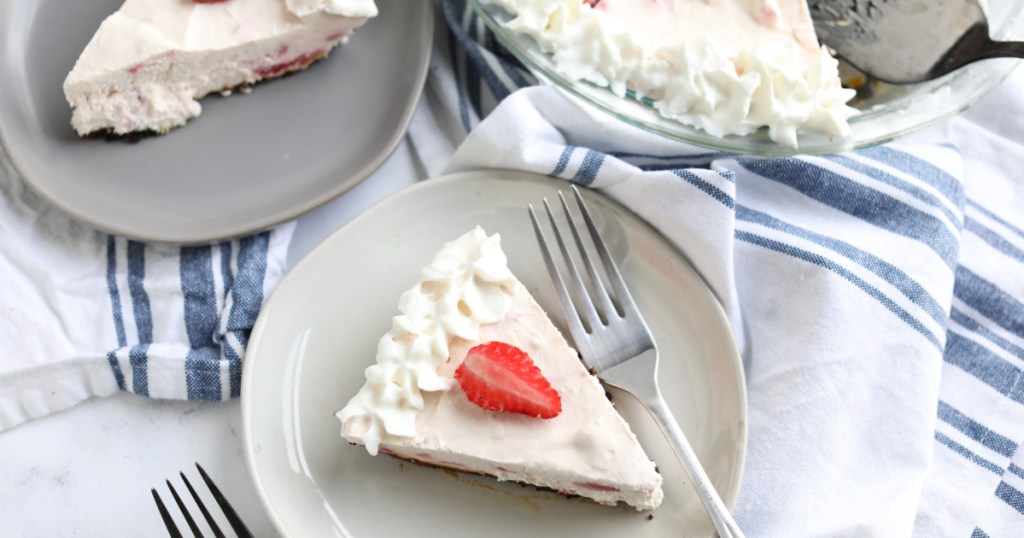 Here's what my teammate Jenna thought of this keto strawberry frozen yogurt pie:
"Yum! This is the kind of dessert that will have you licking the spoon, that filling is just so good! While making, it smells delightfully fruity with those freshly puréed strawberries. This is another dessert recipe where my kids gobbled it up without once asking if it was keto! I call that a MOM WIN!"
---
Have you made our keto pumpkin pie?! It's perfect for the holidays!