Keto Sushi Rolls… That Actually Taste Like Traditional Sushi!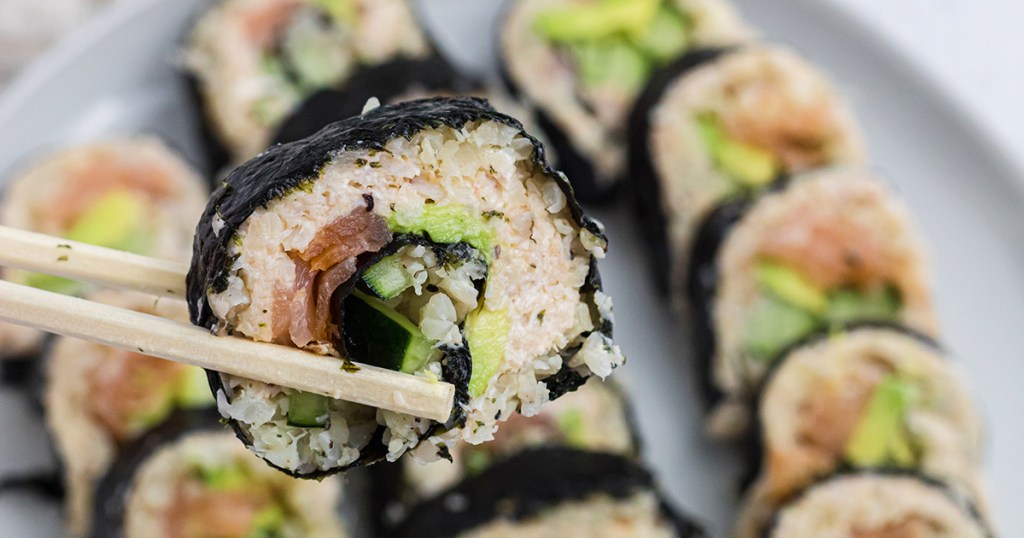 Calling all keto sushi lovers, I have something for you! 🤗

Yes, you read that right. I have a solution for all you keto eaters who are missing getting your sushi fix. Even though sushi traditionally is filled with rice, we've swapped it out with a keto-friendly favorite in order to perfect our keto sushi recipe and keep things low-carb.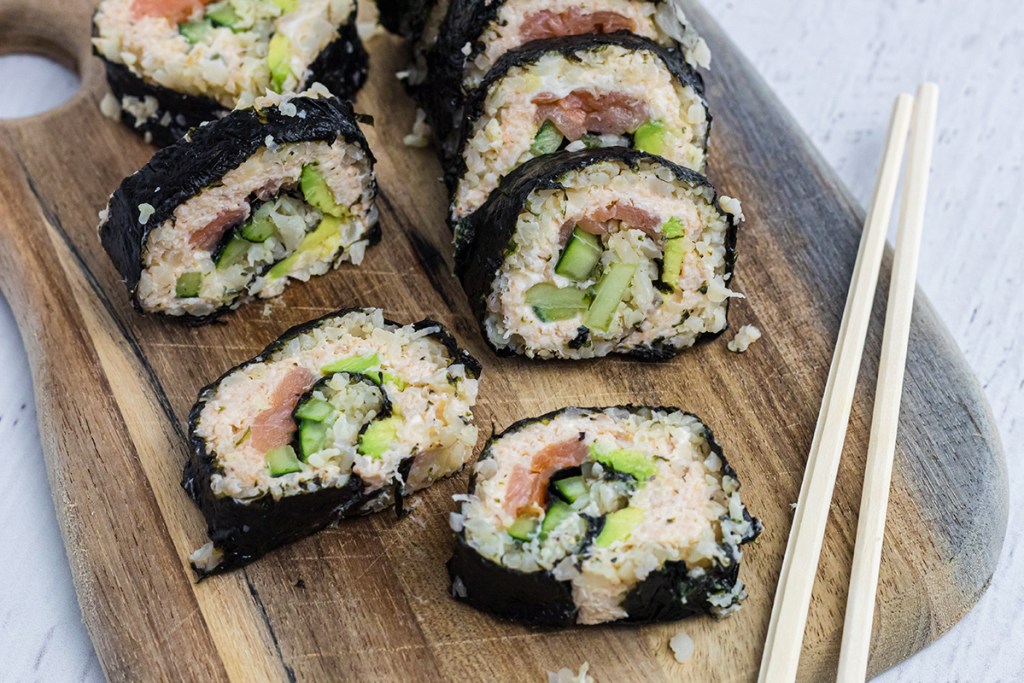 Seafood doesn't get enough love on the keto diet, even though fish has loads of nutrients while having little to no carbs! Tuna, smoked salmon, crab meat… the options are up to you!
The real star of the show is the sticky cauliflower rice — even my non-keto family couldn't tell the difference between the veggie rice vs. the standard sushi rice!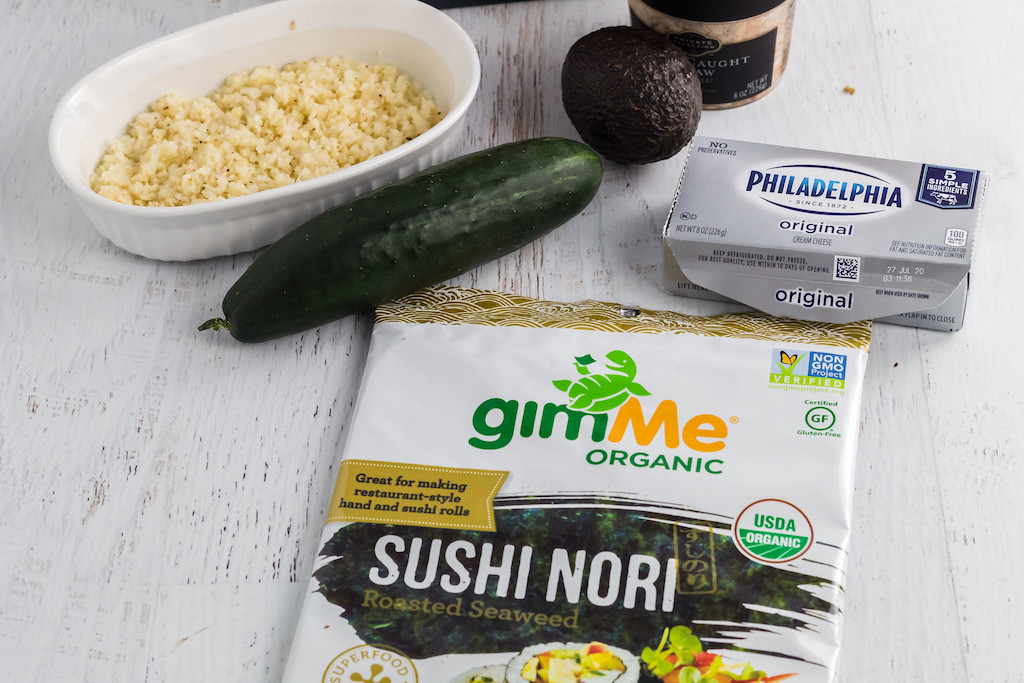 Hip Recipe Tips:
If you are a sushi lover, you know there are a ton of filling options to choose from. I did a basic roll with some smoked salmon, though you can add your favorite keto vegetables and any fish of your choice.
After you've made your sushi roll, I found it best to chill it in the fridge for about 10-20 minutes before slicing. When slicing your roll, start in the center, as you're less likely to have the veggies and fish push out at the ends.
Let's talk seaweed! Sushi Nori is roasted seaweed that comes in sheets, perfect for rolling up a sushi roll.
If you do not have a sushi rolling mat, no worries! I didn't either and I just used a sheet of plastic wrap and it worked just fine.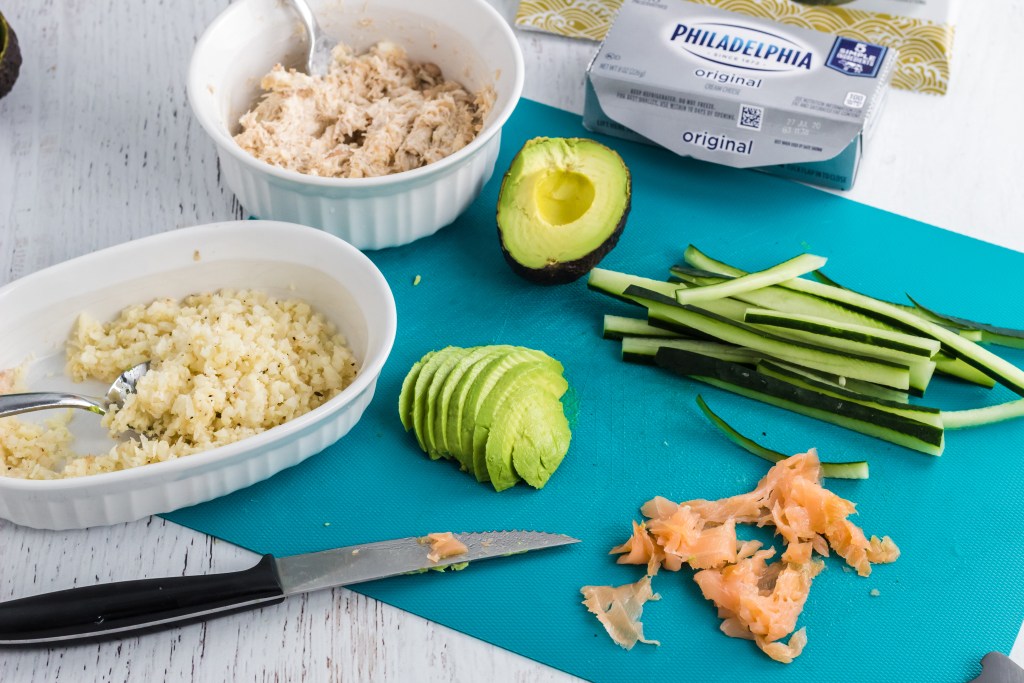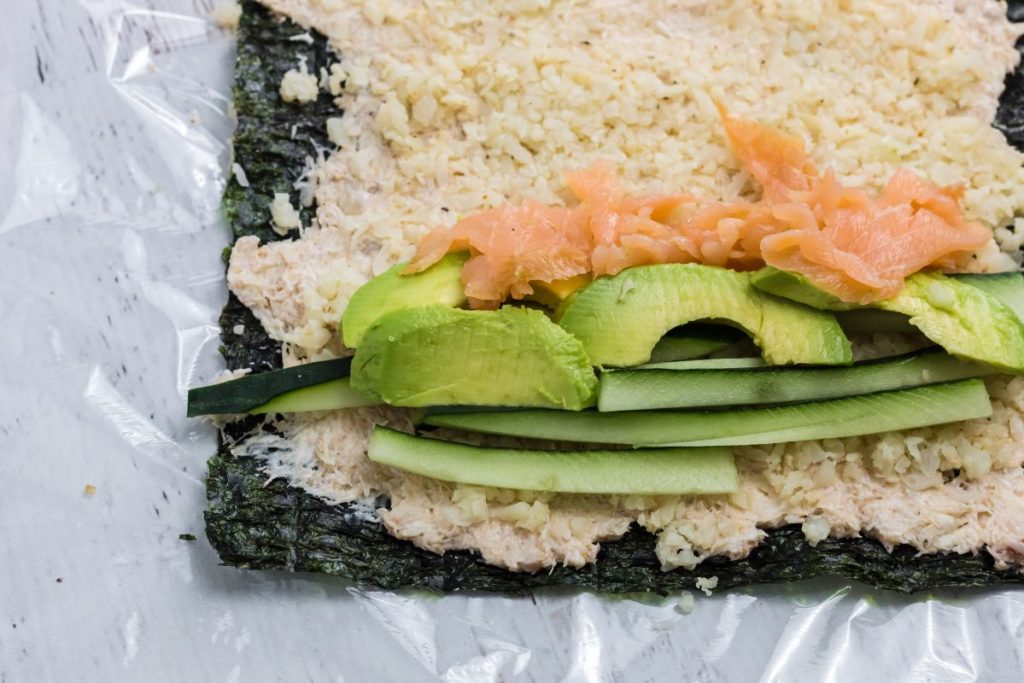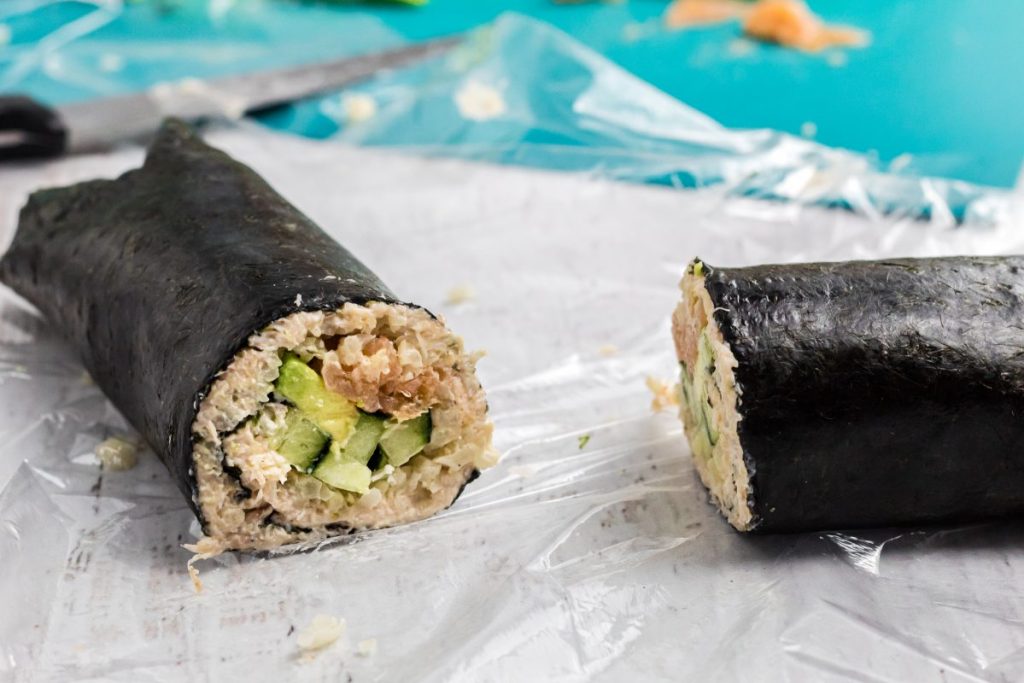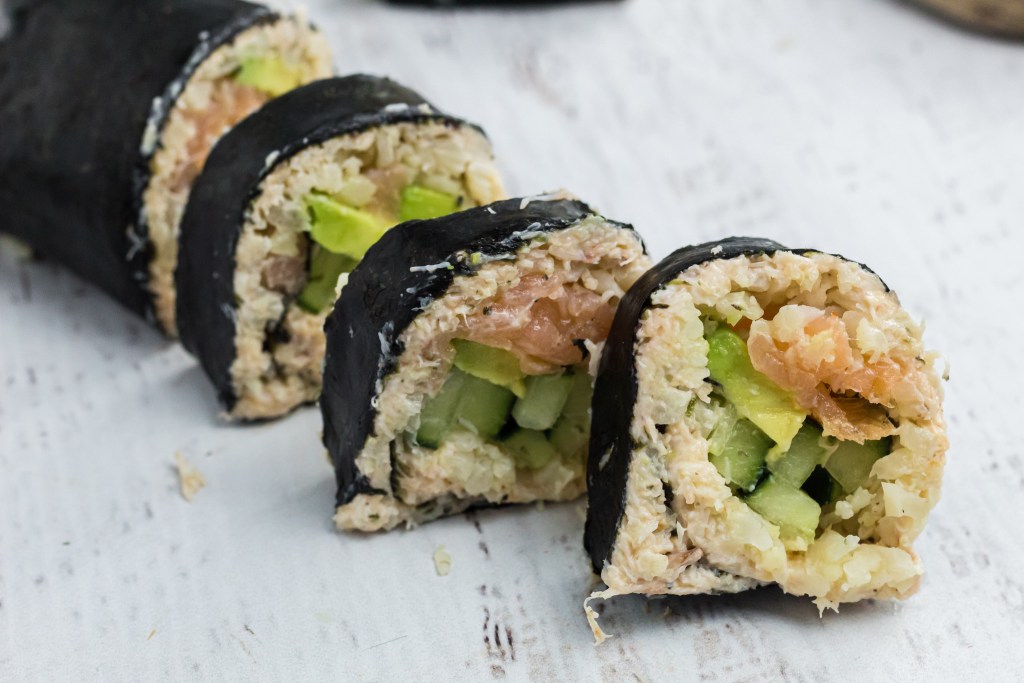 ---
yield: 1 SERVINGS
prep time: 15 MINUTES
total time: 15 MINUTES
A keto twist on the traditional Japanese delicacy thanks to sticky cauliflower rice.
Ingredients
1 cup of cooked cauliflower rice
1 teaspoon white vinegar
1/2 teaspoon pepper
1/2 teaspoon garlic powder
1/4 teaspoon salt
2 oz. cream cheese, softened at room temperature
3 tablespoons wild caught crab meat
1 cucumber (you will use about 6 thinly sliced 3-4" strips)
1 avocado (you will use half and slice it thin)
3 tablespoons cold smoked deli sliced salmon
Directions
1
Add 1 cup of cooked cauliflower rice to a colander and firmly press out all the excess liquids (I used a spatula for this). Add the cauliflower rice to a small bowl and stir in vinegar, salt, pepper, and garlic powder.
2
In another small bowl, add cream cheese and crab meat. Cream together and set aside.
3
Thinly slice cucumbers and avocado lengthwise for long, thin strips. Set aside.
4
Layout a sheet of plastic wrap on your countertop and add a piece of nori to it with the shiny, smooth side facing down. You will use the plastic wrap to guide you when rolling your sushi roll.
5
Spread out the crab meat & cream cheese mixture on your nori using a spatula. Be sure to leave about 1/2 inch from edges to allow seaweed to seal. Work gently as the nori is fairly delicate, so if you press too hard, the nori sheet could rip. This is why having the cream cheese mixture at room temperature is so important!
6
Add the sticky cauliflower rice on top of cream cheese and press down so it is tightly packed. Add your veggies and fish along the edge closest to you, with the strips running lengthwise with the roll.
7
Now it is time to roll! Lift the plastic wrap closest to you and slowly roll the plastic wrap and nori over your veggies and fish, but pulling back the plastic wrap each time you roll so that the plastic wrap doesn't get rolled into the sushi roll itself! Continue this rolling motion until it is rolled completely.
8
Cover the entire roll in plastic wrap and chill it in the refrigerator for 10-20 minutes as this will make it firmer and easier to cut.
9
Once chilled, remove from plastic wrap completely and slice in the middle of the roll (to create 2 shorter rolls) with a sharp knife. You will want to use a gentle carving motion to cut through the nori and fillings instead of pressing straight down, risking the filling spilling out the sides. Cut each of the shorter rolls into 4 pieces to result in 8 slices of sushi.
10
If you love dipping your sushi into soy sauce like me, try dipping it into 1 tablespoon of Tamari with wasabi to taste. Enjoy!
Nutrition Information
Yield: 1 roll, Serving Size: 1 roll
Amount Per Serving: 407 Calories | 31g Fat | 11g Total Carbs | 7g Fiber | 0g Sugar Alcohol | 22g Protein | 4g Net Carbs
---
This sushi roll was absolutely perfect, so I'm excited to hear about your sushi creations!
Not only does keto sushi hit the spot when you've got a craving for the healthy delicacy, but it's also such a fun experience rolling your own at home.
Next time, I'm going to get my whole family into the kitchen to create the sushi roll of their dreams and teach them how to roll it up!
---
Love seafood like me? This no-fail baked salmon is AMAZING!