Keto Pumpkin Cheesecake with a Pecan Crust
Embrace the flavors of fall with this easy keto pumpkin cheesecake recipe!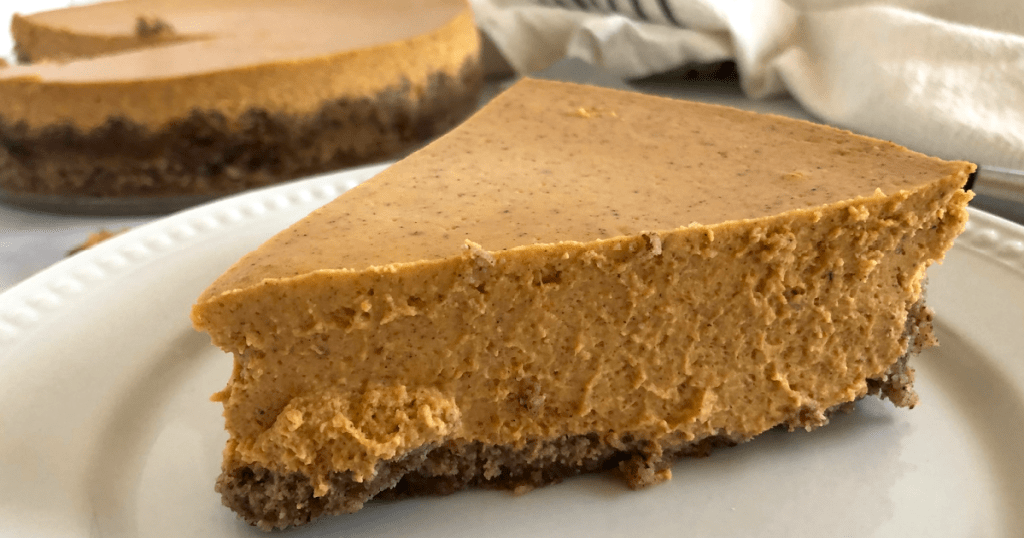 This Keto Pumpkin Cheesecake is the perfect fall and holiday dessert, so much so that I couldn't recommend a better treat to take to all of your fall festivities!
Be warned: even if you make it just once, everyone will be asking you for this low-carb pumpkin recipe! It's got a punch of spice and a delicious gluten-free pecan crust that'll have people talking well after your gathering is over.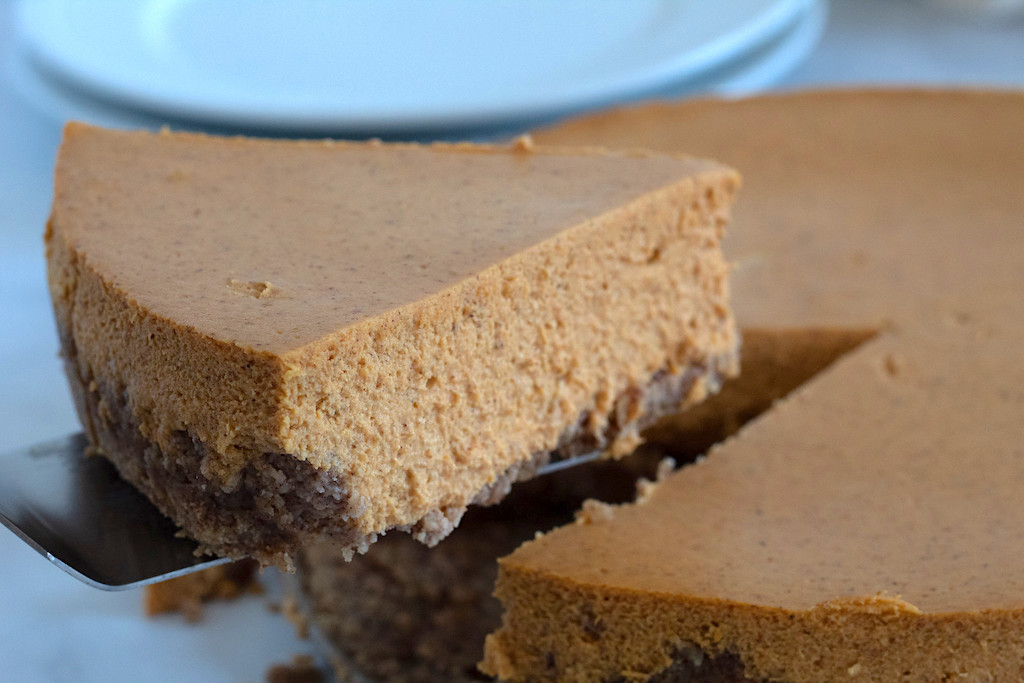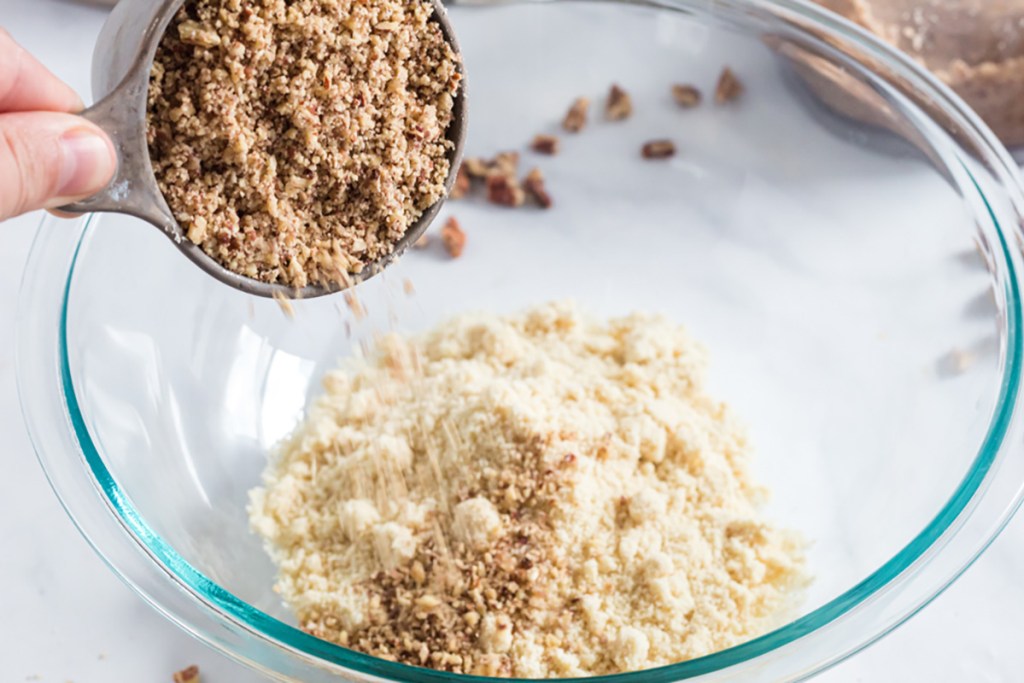 The pecan crust alone is amazing!
From making countless cheesecakes over the years and experimenting with many different types of crust, I found that using pecans is my favorite method.
Whether I'm doing keto or non-keto cheesecakes, pecans work great for balancing out the sweetness of the dessert. Pecans also blend well with almond flour as it is a softer nut. The combination creates a perfect taste and texture. And it goes amazingly well with this keto pumpkin cheesecake!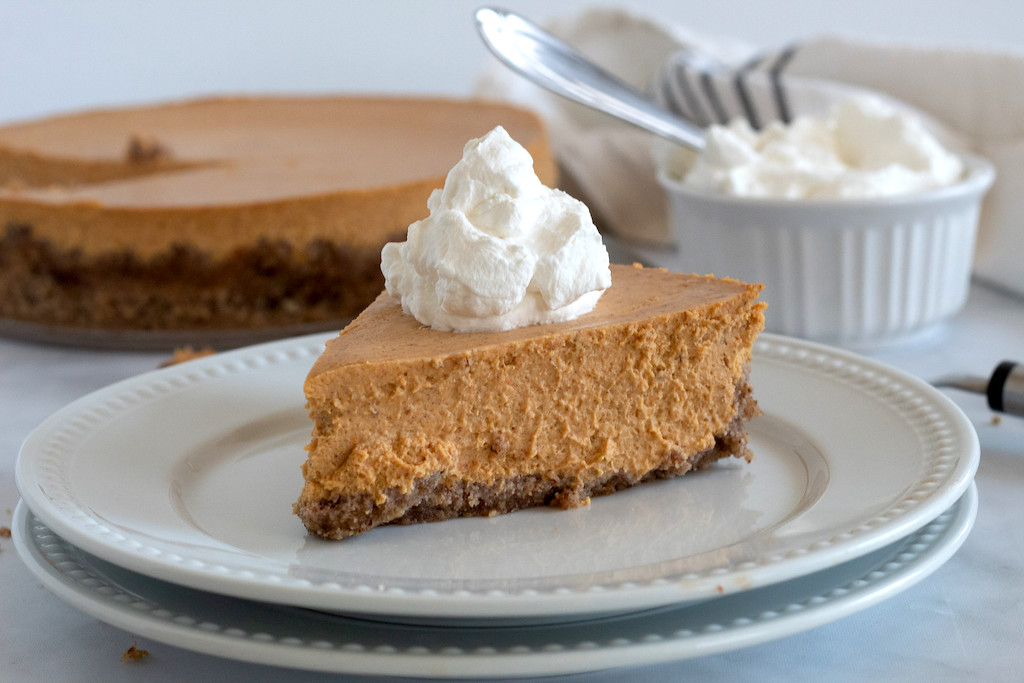 Tips for making the best Keto Pumpkin Cheesecake:
When using canned pumpkin, make sure it's PURE pumpkin purée. Some store-bought pumpkin purées can contain sugar. Make sure you don't get canned pumpkin pie filling.
Let the cream cheese, sour cream, and eggs come to room temperature. This will give you a consistent texture throughout your cheesecake and makes it easier to mix everything together.
Place your cheesecake pan in a water bath before putting it in the oven. Since most cheesecakes are made with eggs, adding your pan to the water bath allows the cake to bake evenly and properly rise. The water bath provides a humid and contained area which helps the cheesecake rise slowly to give you that height without all the cracks.
Avoid opening that oven door to take a peek! Opening the oven creates temperature changes which can cause cracking (don't worry; your home will still smell like fall).
Want to make an easy keto whipped topping for your pie? Mix 1/2 cup heavy cream with 1 tablespoon of a keto sweetener and whip it with a handheld mixer until it reaches a stiff peak. Optional but yummy, add some vanilla extract too.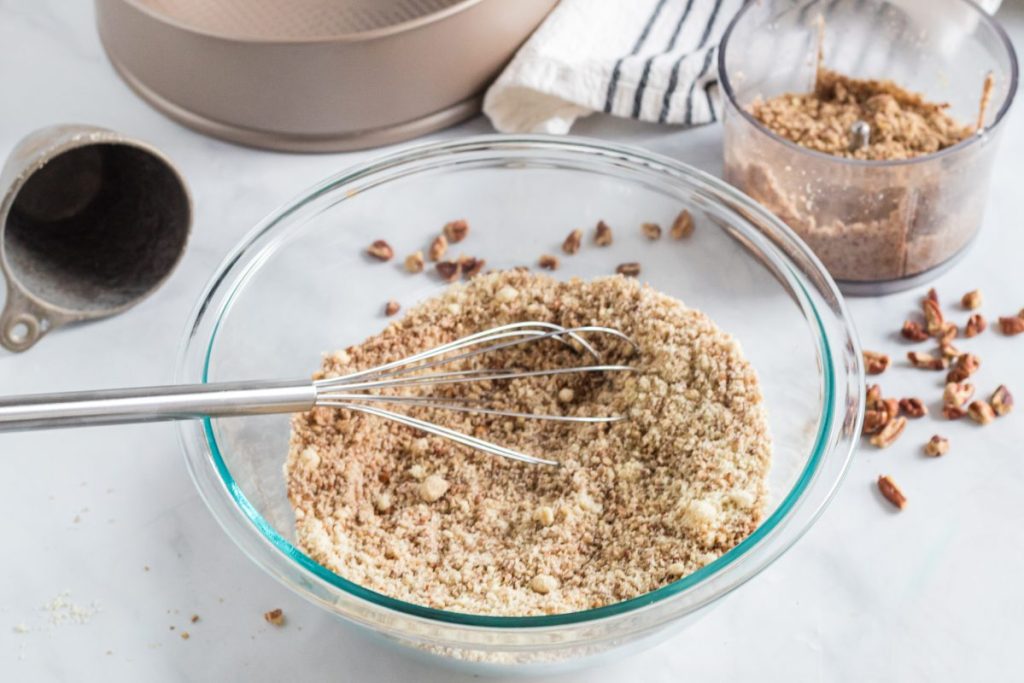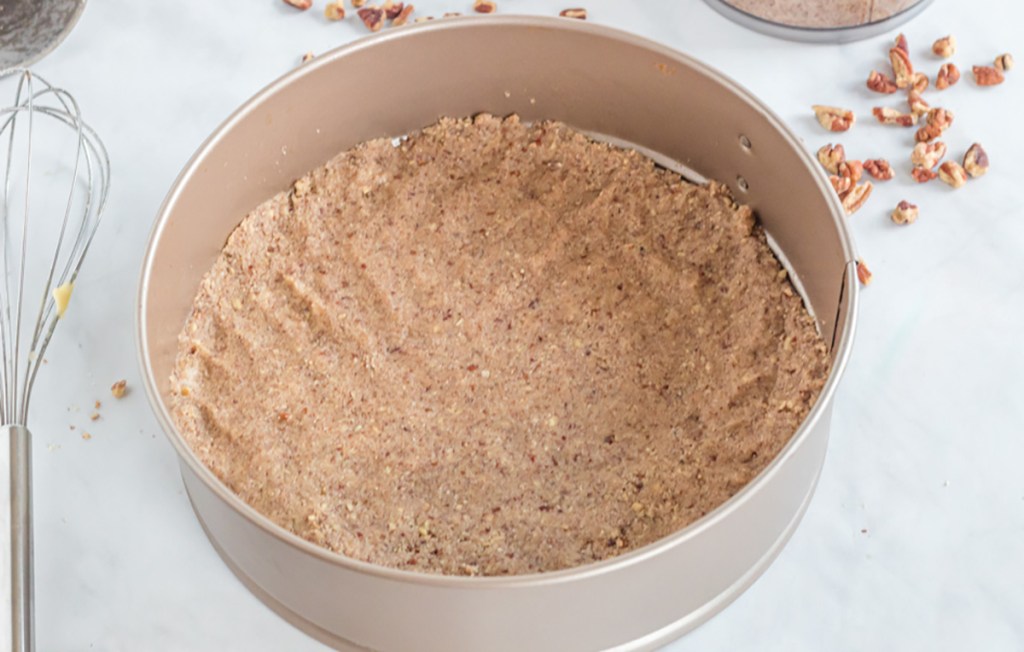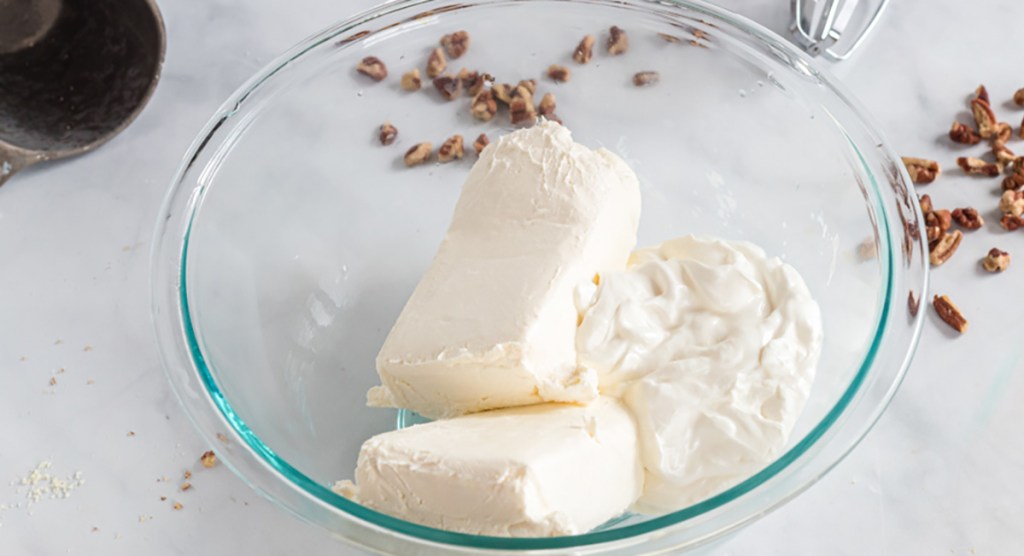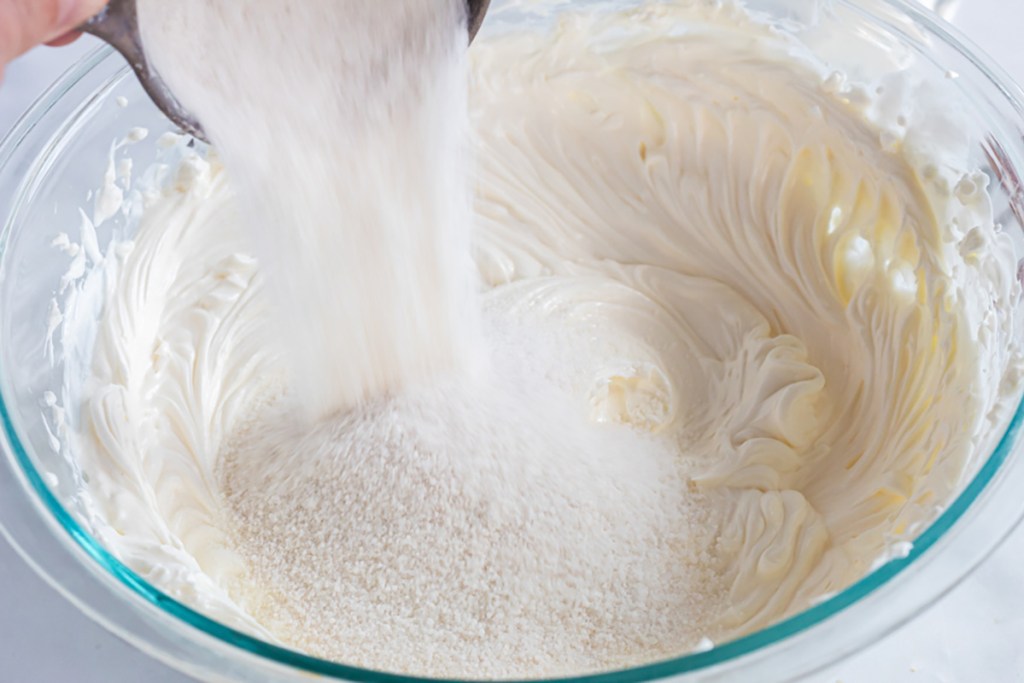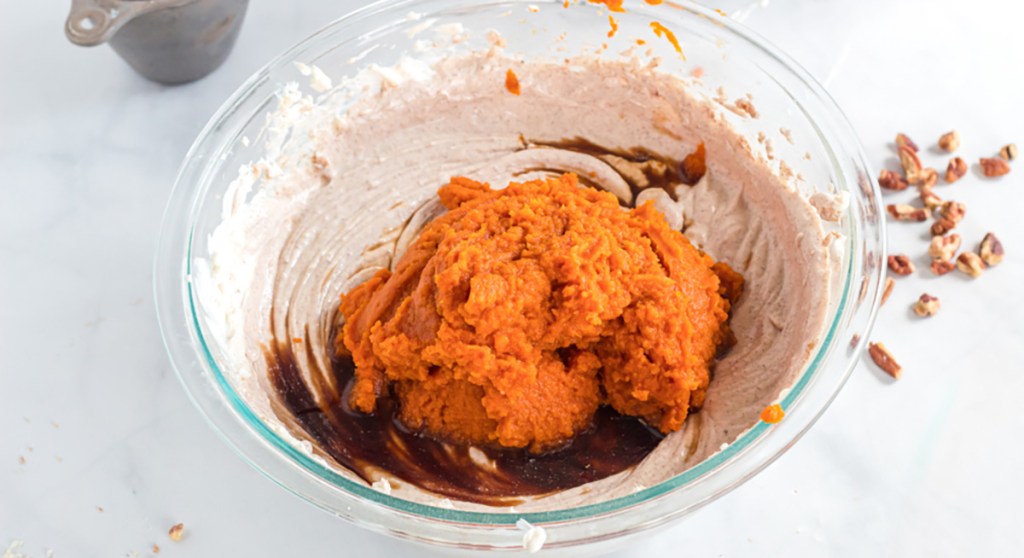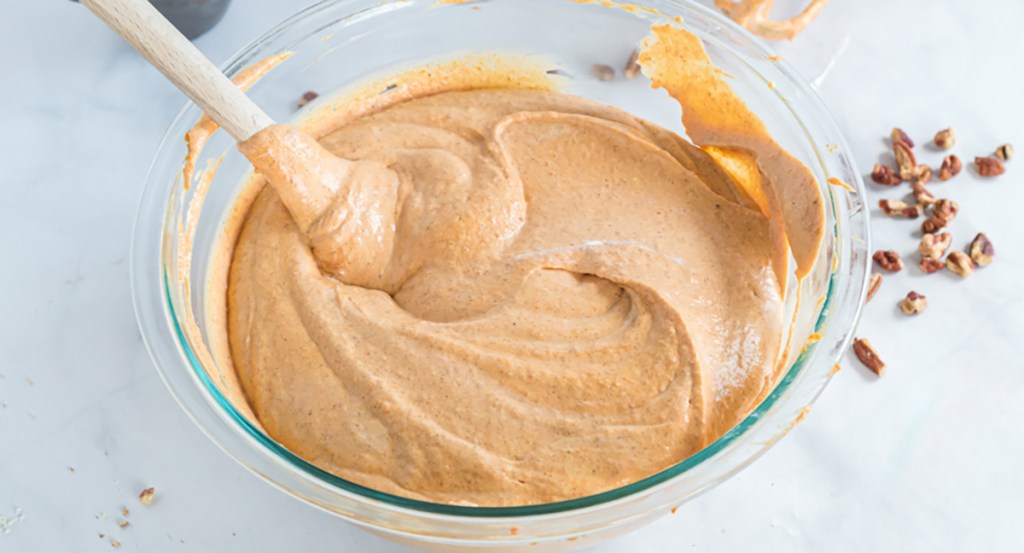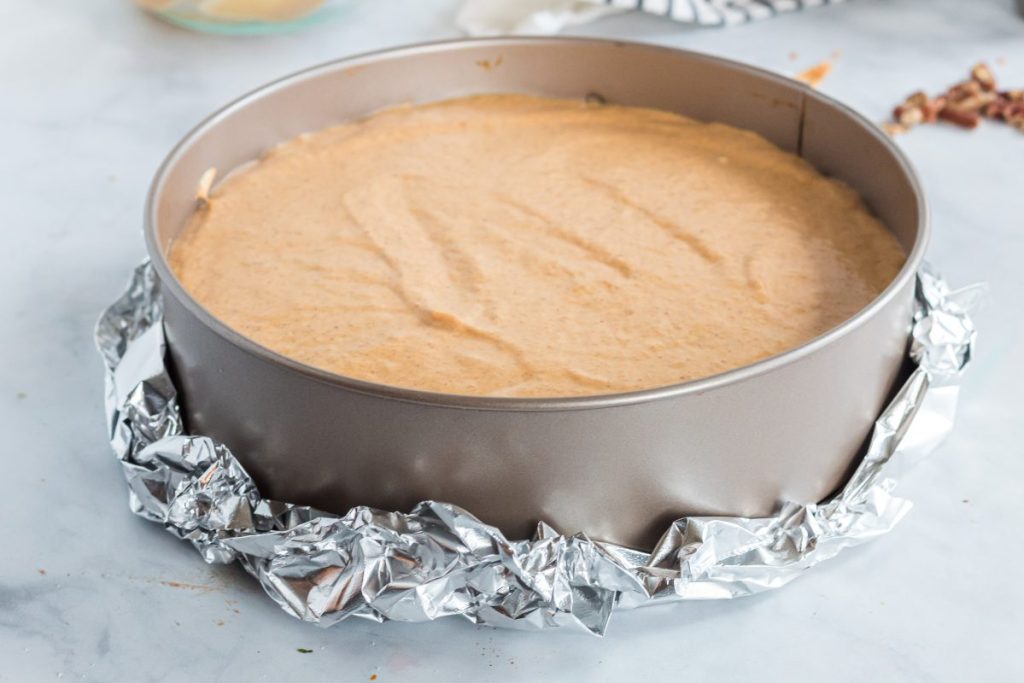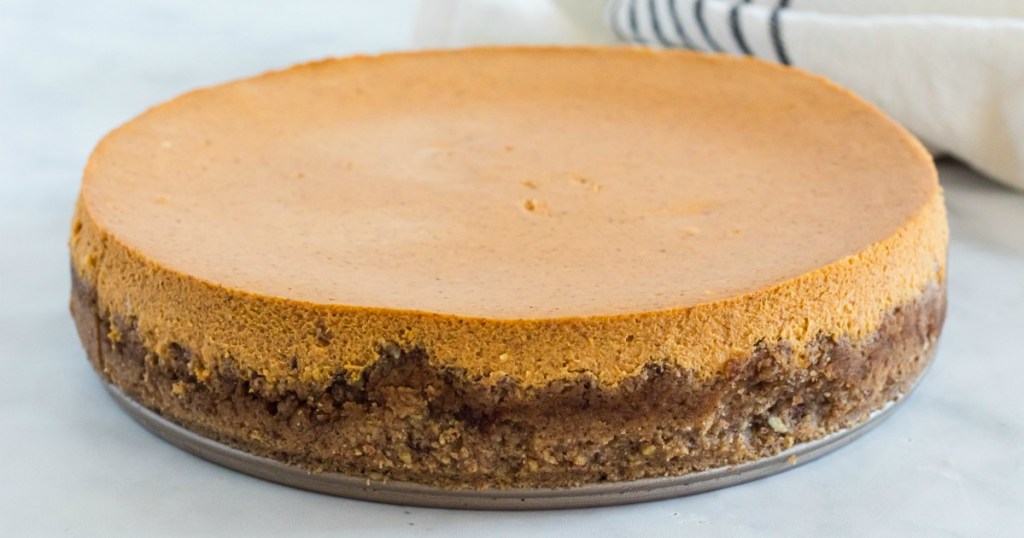 ---
Print
Keto Pumpkin Cheesecake with Pecan Crust
yield: 12 SERVINGS
prep time: 20 MINUTES
cook time: 1 HOUR 10 MINUTES
total time: 1 HOUR 30 MINUTES
Made with a pecan almond flour crust and the most delicious keto pumpkin cheesecake filling.
Ingredients
For the pecan crust:
1/2 teaspoon cinnamon
1/2 teaspoon nutmeg
1/2 teaspoon salt
2 tablespoons butter, melted
For the pumpkin cheesecake filling:
16 oz. (2 blocks) full-fat cream cheese, room temperature
3/4 cup full-fat sour cream, room temperature
1/4 teaspoon cinnamon
1/4 teaspoon ginger
1/4 teaspoon nutmeg
2 teaspoons vanilla
3 eggs, room temperature
Topping:
1/2 cup pecans (optional)
keto whipped cream (optional)
Directions
1
To make the crust: 
Preheat oven to 350 degrees. Set out cream cheese, sour cream, and eggs to let them come to room temperature. This is an important step.
2
In a medium bowl, mix together almond flour, finely chopped pecans (if you can not find finely chopped pecans at the store, just throw whole pecans in a food processor to get that granular texture), cinnamon, nutmeg, salt, and melted butter. If you want the crust to be on the sweeter side (that's me!), add in 1 tablespoon brown keto sweetener.
3
Pour the crust into a 9-inch springform pan. Firmly press down on the crust, covering the bottom portion and slightly up the sides of the pan.
4
Poke small holes in the crust with a fork, and bake in the oven at 350 degrees for 8 to 10 minutes. Remove the crust from the oven and let it cool while making the cheesecake filling.
5
To make the filling:
In a large mixing bowl, add room temperature cream cheese and sour cream. Mix with a handheld mixer or stand mixer until you have a smooth consistency.
6
Add in keto granular sweetener, ginger, nutmeg, and cinnamon. Mix well to combine.
7
Add vanilla and pumpkin purée. Mix on low speed for one minute.
8
Fold in 3 eggs with a spatula. Don't use the mixer as this will create air pockets.
9
To prepare the water bath, place the springform pan with the crust on top of a large piece of foil. Wrap the foil around the bottom of the pan. This prevents water from getting into the pan with the water bath.
10
Place the pan wrapped in foil on a rimmed baking sheet. Pour the cheesecake mixture on top of the crust in the pan.
11
Add water to the baking sheet (about 1/2 cup). Place in the oven and bake for 70 minutes without opening the door. Once 70 minutes are up, turn the oven off and crack open the oven door for 20 minutes.
12
Remove the springform pan from the oven and let it cool to room temperature before placing it in the refrigerator. Let the cheesecake cool for about 2 hours or longer before serving. Top with keto whipped cream and pecans if desired.
Nutrition Information
Yield: 12, Serving Size: 1 piece
Amount Per Serving: 341 Calories | 31.1g Fat | 19.2g Total Carbs | 2.9g Fiber | 3.3g Sugar | 12g Sugar Alcohol | 7.9g Protein | 4.4g Net Carbs
---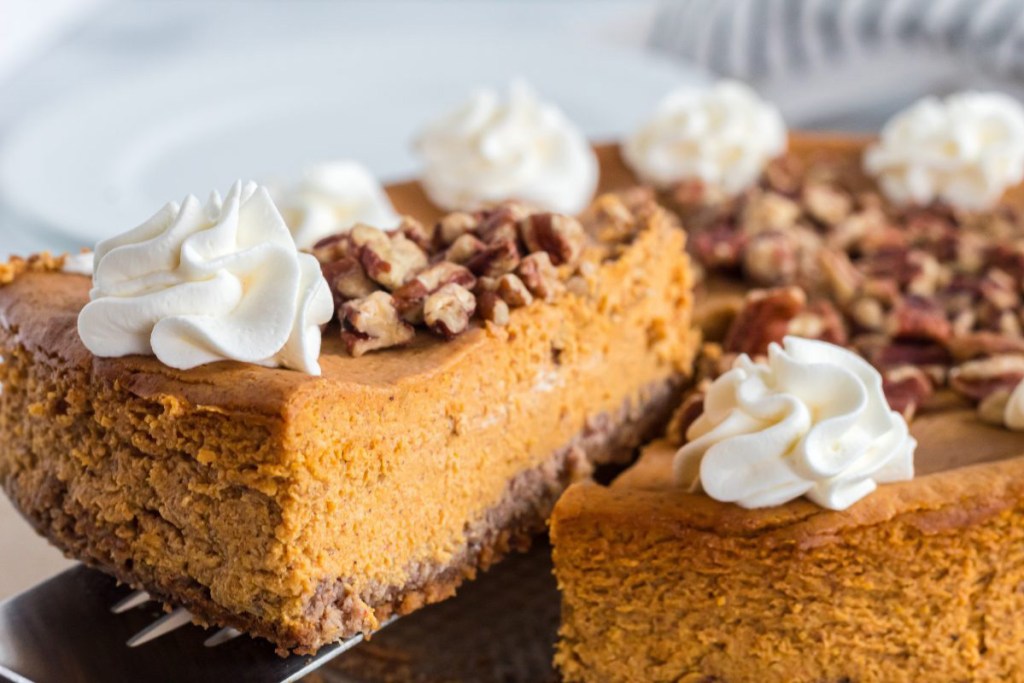 This will be your new favorite cheesecake!
I've made a lot of cheesecakes over the years, but I've gotta say that this keto pumpkin cheesecake tops all of them!
I just love pumpkin, and I think you're going to really love this recipe too.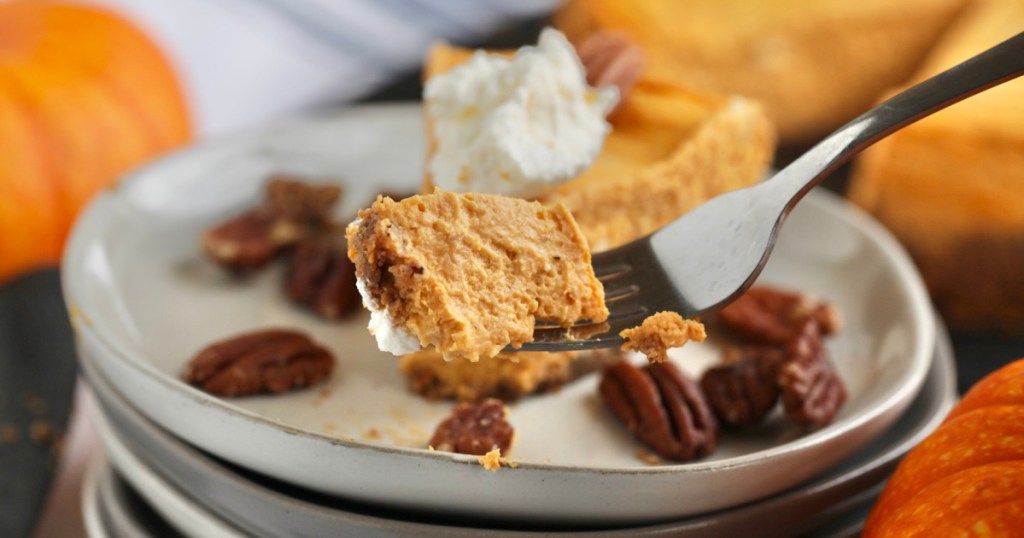 Here's what my Hip sidekick Jenna thought about this Keto Pumpkin Cheesecake:
"WOW! This takes pumpkin pie to a whole other level. I have always been a cheesecake fan and this one is fantastic — super impressed! I will definitely be making this again in November to take to Thanksgiving. Quite a few relatives are low-carb and/or gluten-free and I'm excited to make a fun dessert that they can enjoy too, so this will be perfect!"
---
Want more pumpkin? Try this recipe for our easy keto pumpkin mug cake!