With Our Keto Pad Thai Recipe, Who Needs Take Out?
No need to order from a restaurant again with this keto Pad Thai with spaghetti squash recipe!
Your tastebuds will thank you!
This might be one of my favorite keto recipes hands down! For some reason, I forget about making stir-fry type of recipes. I don't know why since they're the easiest to make, usually just one pan, and most are naturally keto. You just need a low-carb substitute for rice or noodles.
I'm seriously in love with the flavor of this dish! It's packed full of healthy goodness, so many vegetables and protein.
Keto Pad Thai is going to be making a regular appearance at my house. My husband, who has actually been to Thailand and eaten authentic Pad Thai, said this stacks up to the real deal. Winner! 🏆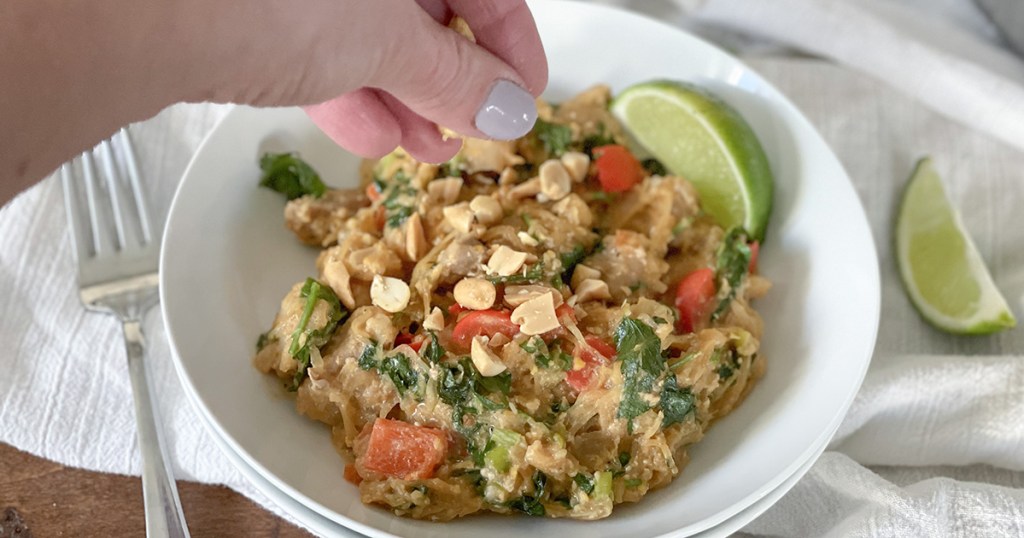 So how do you make this amazing keto Pad Thai recipe?
You can throw this dinner together in about 45 minutes or less. You start by cooking the spaghetti squash and while that is baking, you work on the sauce and the rest of the base by cooking the chicken and sautéing the vegetables. Then once the squash is ready, you mix everything together — perfection!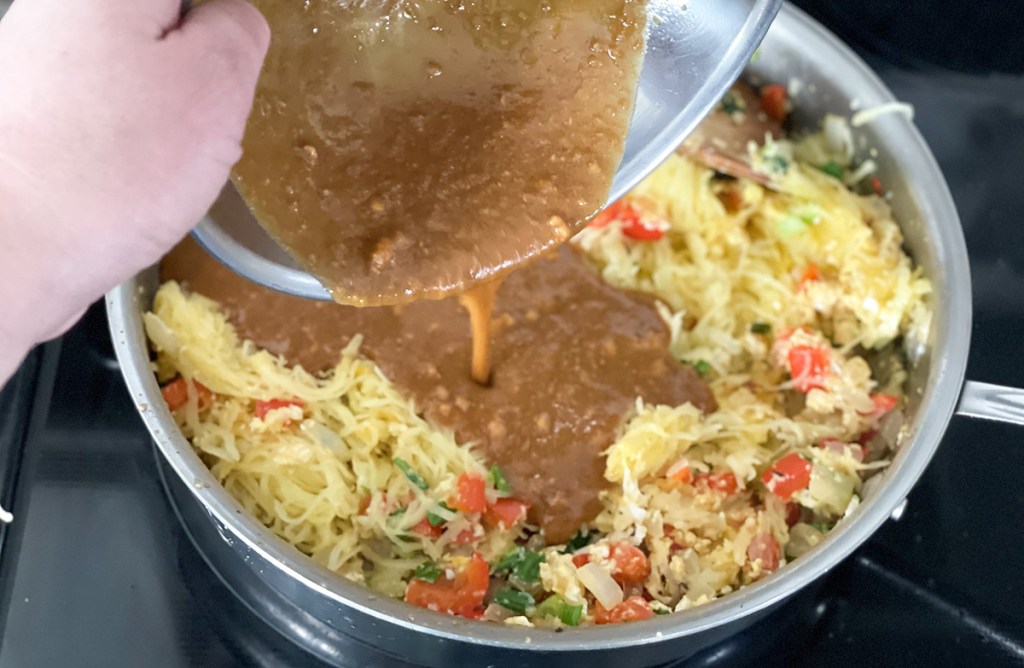 Tips for making the most amazing keto Pad Thai with spaghetti squash:
Use a small spaghetti squash for this meal. It makes the ideal ratio of the sauce to the ingredients. If you're not a sauce person, then go for a medium or large spaghetti squash. Bigger spaghetti squash will also increase how many servings you get from the dish.
You could buy a pre-made Pad Thai sauce but be careful of the carb count! Making your own sauce is better but I do realize the sauce has a lot of ingredients that you might not have on hand.
Feel free to kick up the heat by adding more sriracha or some red chili flakes!
Leftovers, if you have any, reheat great! 🙌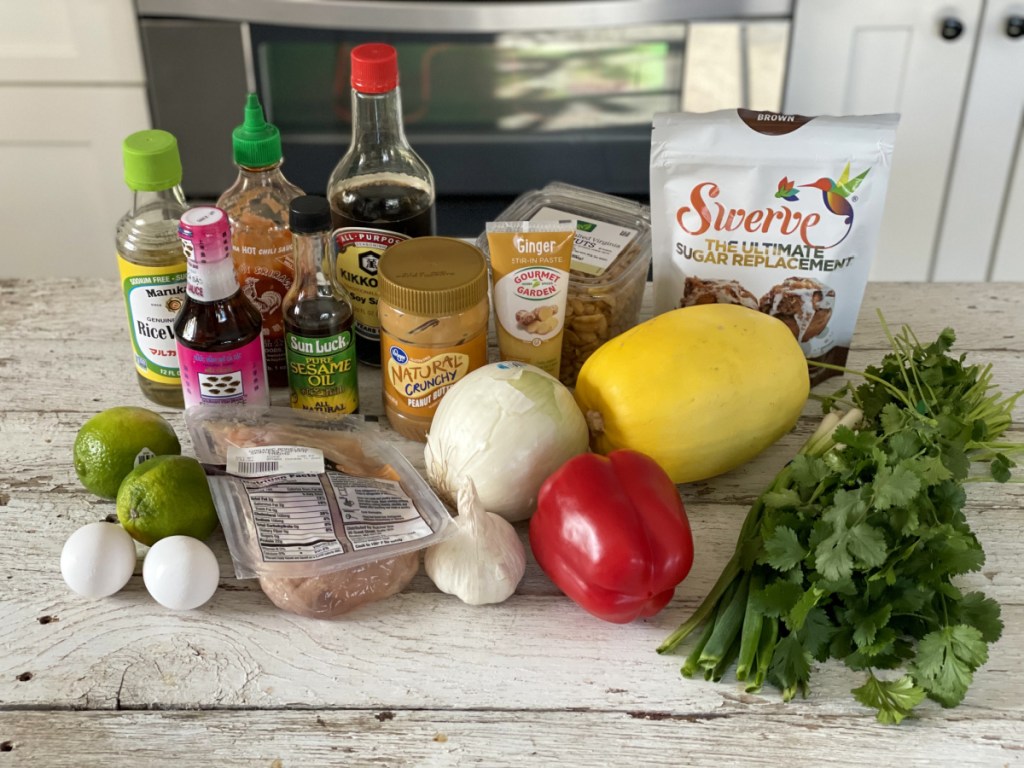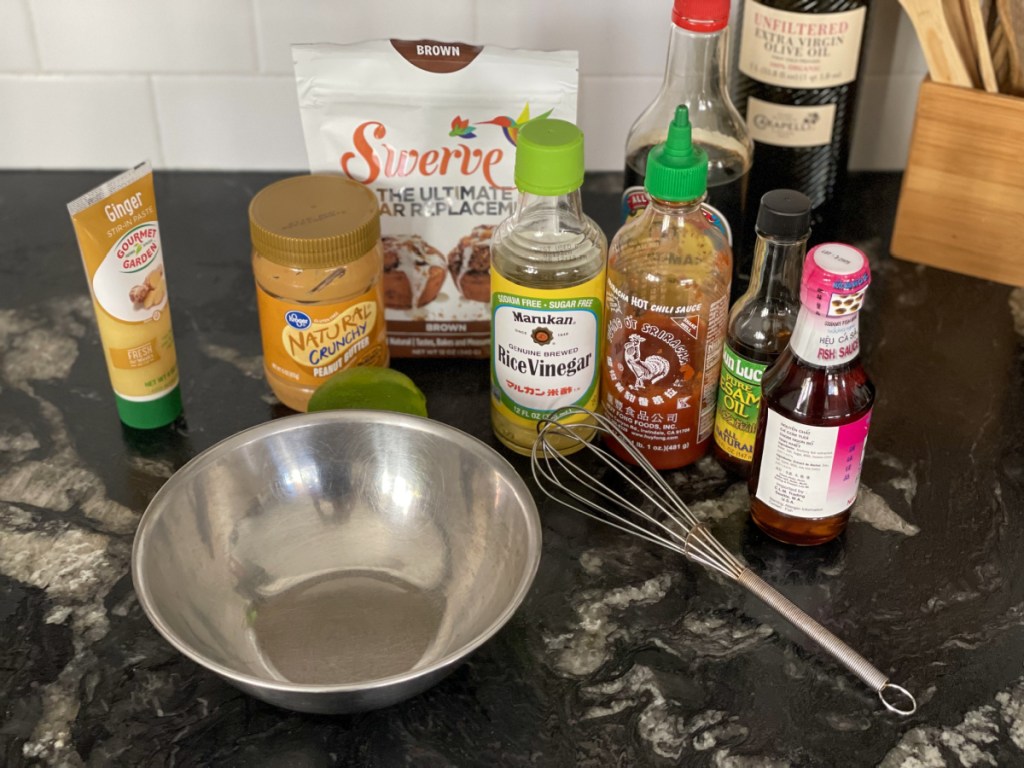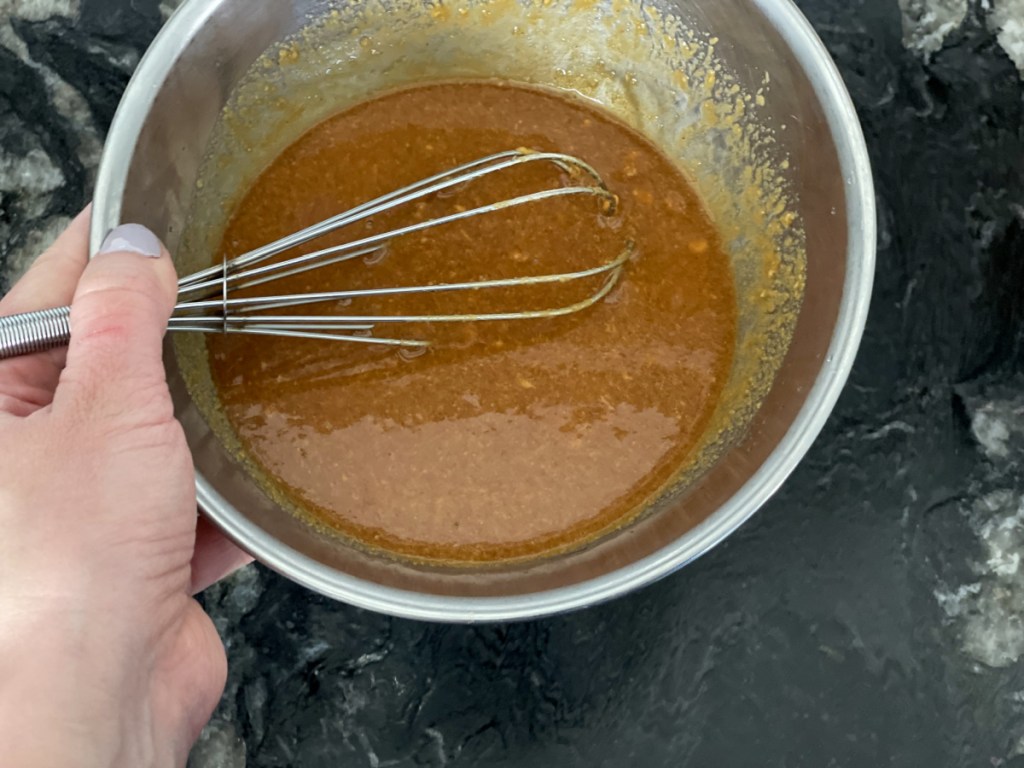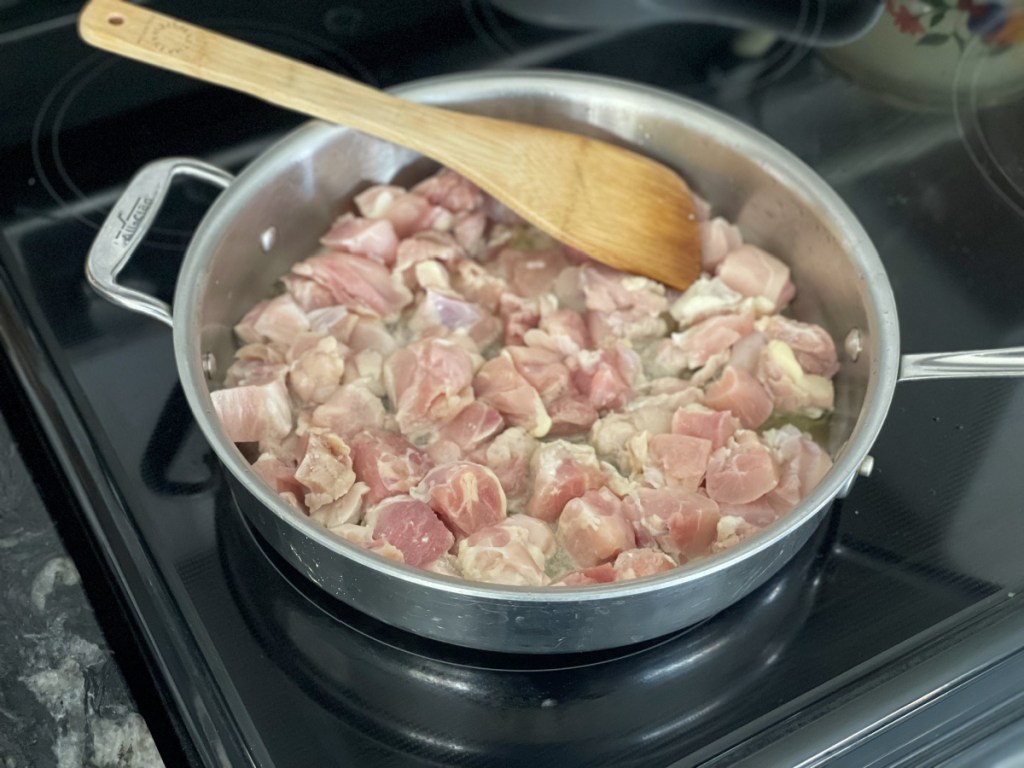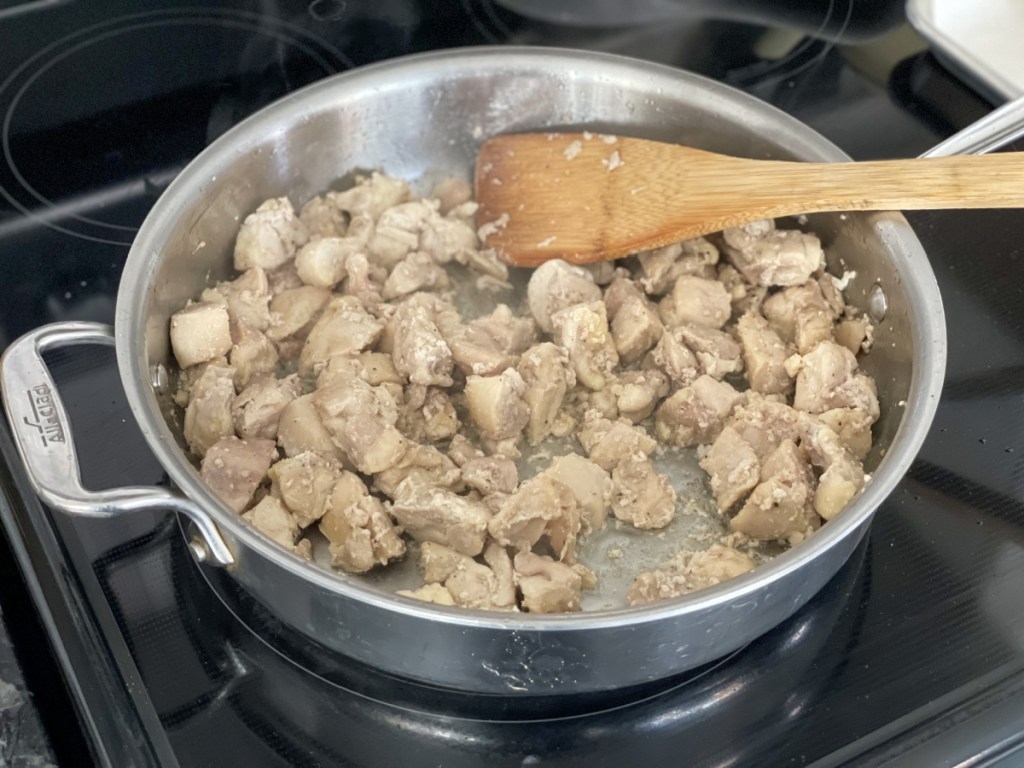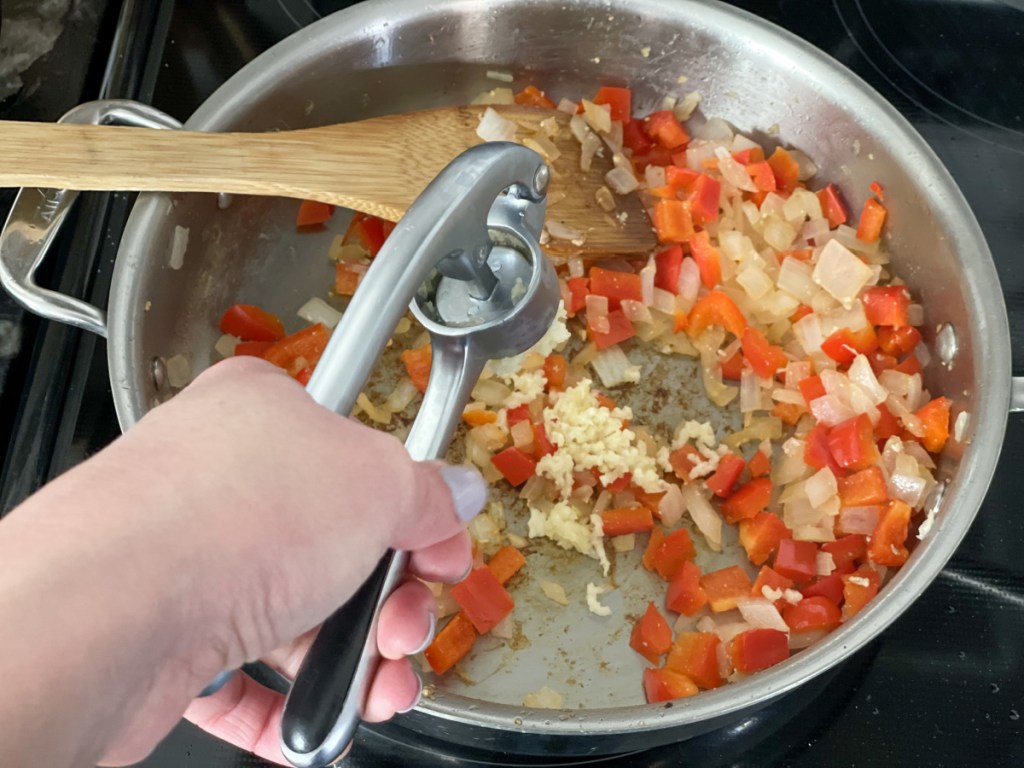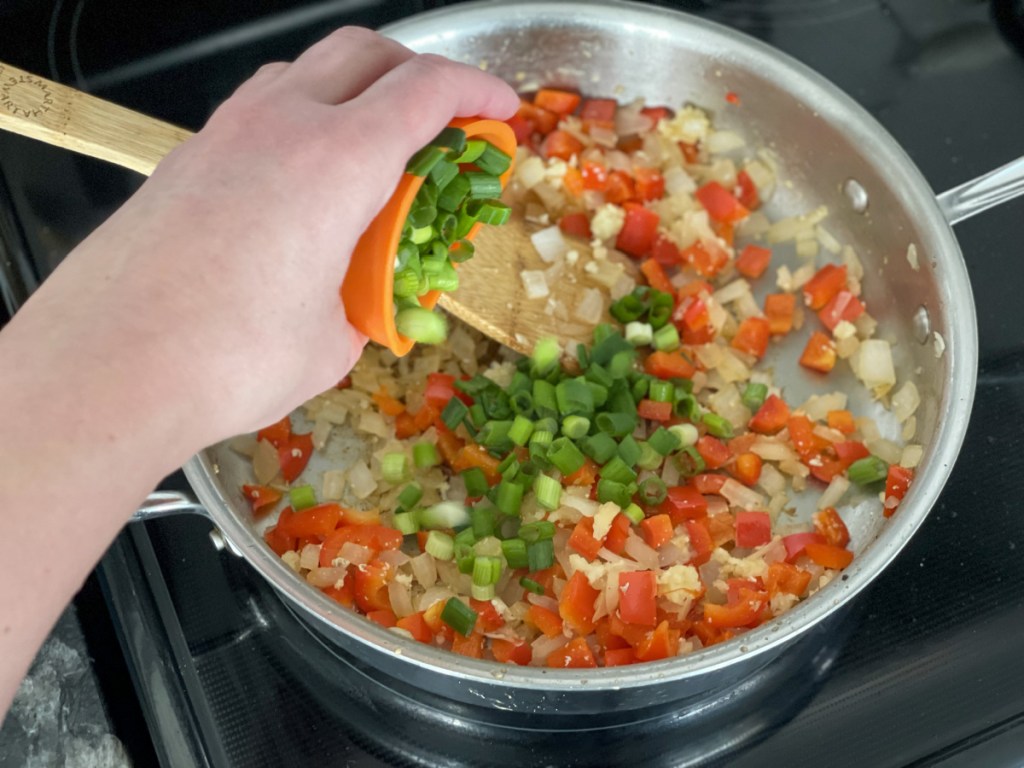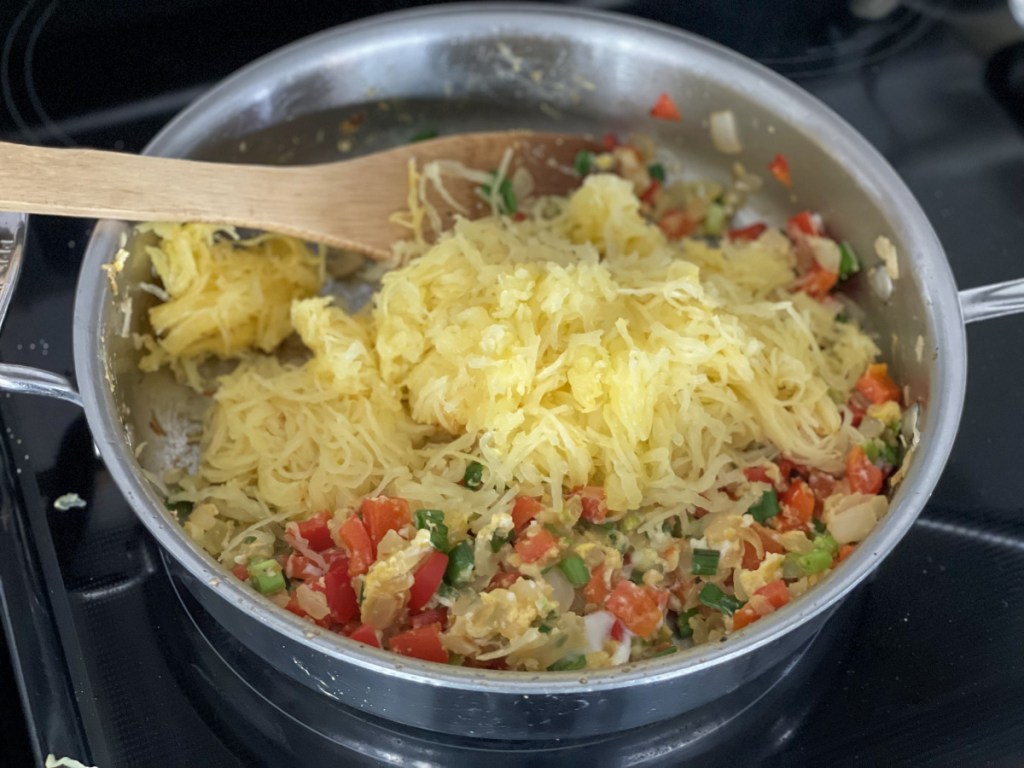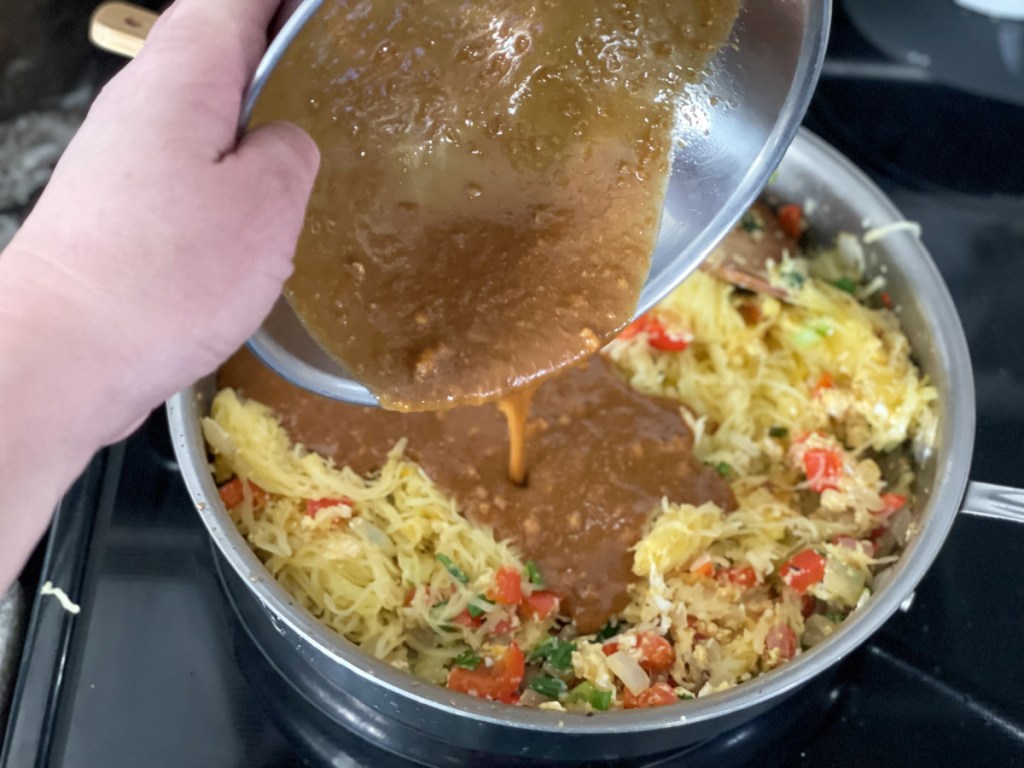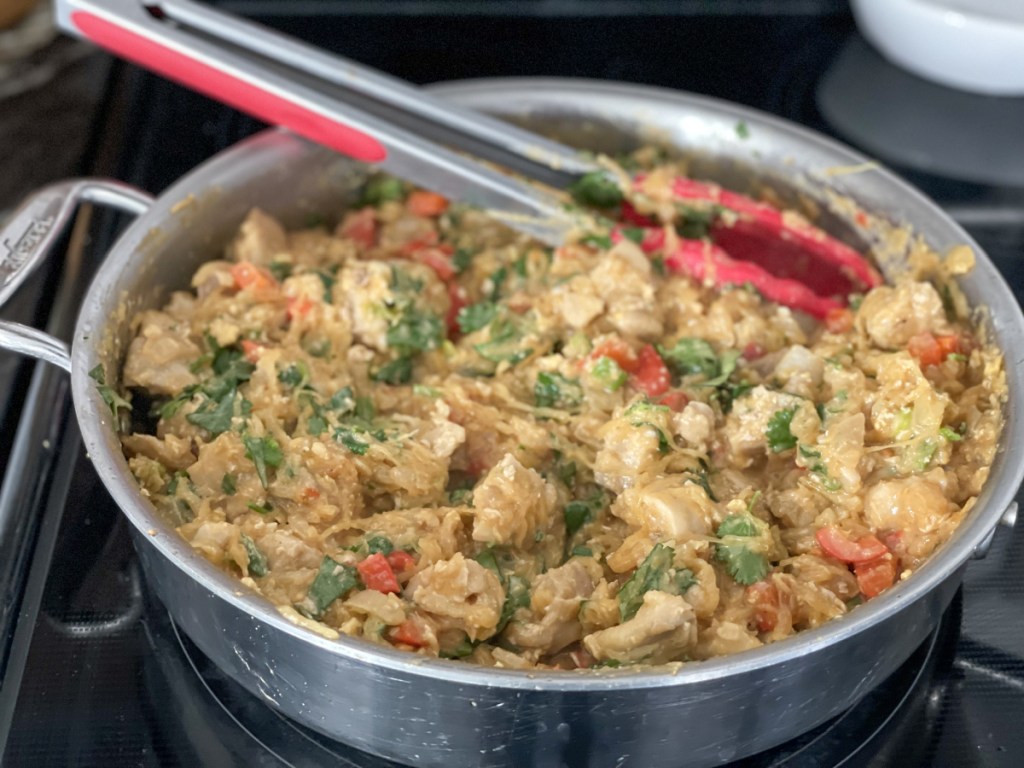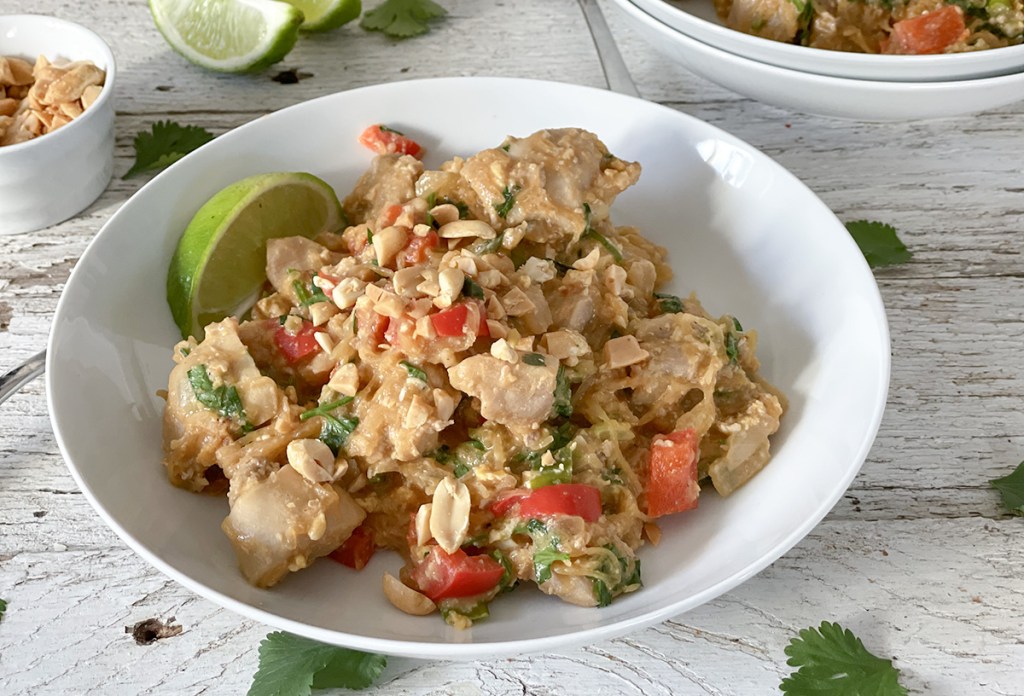 ---
yield: 6 SERVINGS
prep time: 15 MINUTES
cook time: 30 MINUTES
total time: 45 MINUTES
Delicious chicken Pad Thai that uses spaghetti squash in place of noodles.
Ingredients
Chicken & Spaghetti Squash Base:
1 small spaghetti squash
1 tablespoon avocado or olive oil
1 1/2 pounds of chicken thighs
1/2 teaspoon salt
1/4 teaspoon pepper
1 white onion, chopped
1 bell pepper (red, yellow, or orange), chopped
5 garlic cloves, minced
1 bunch of green onions, chopped
2 eggs, slightly beaten
1 bunch cilantro, roughly chopped
Pad Thai Sauce:
3 tablespoons soy sauce or Tamari
3 tablespoons natural no-sugar-added peanut butter, chunky or smooth
juice from 1 lime
Garnish:
peanuts, chopped
green onions, chopped
cilantro, chopped
Directions
1
Preheat oven to 350 degrees. Cut spaghetti squash in half and scoop out the seeds. Place cut side down on a baking sheet. Bake for 25 to 30 minutes. Remove from oven and let cool. When cool enough to handle, scrape out the spaghetti squash using a fork.
Make the sauce and cook the chicken and vegetables while the spaghetti squash is baking.
2
Make the sauce:
In a small bowl, whisk together fish sauce, soy sauce, rice vinegar, peanut butter, keto brown sweetener, ginger paste, sesame oil, lime juice, and sriracha. Set aside.
3
To make the base: 
Heat oil in a large skillet over medium to medium high heat. Cut chicken into 1-inch to 1 1/2-inch cubes. Once oil is hot, add chicken to the skillet, sprinkle with salt and pepper, and cook for 8 to 10 minutes until cooked through. Remove from skillet and set aside.
4
Reduce heat to medium to medium-low. Add onion to the skillet and cook for 2 to 3 minutes, then add bell pepper, garlic, and green onions. Sauté for another 2 to 3 minutes.
5
Add the beaten eggs to the vegetables and stir to combine. Let the eggs cook for 1 to 2 minutes.
6
Mix in the spaghetti squash and sauce. Stir to combine. Add the chicken back into the skillet and stir to combine.
7
Finally add in the chopped cilantro. Mix to combine everything together. Let simmer for a few minutes to let the flavors come together.
8
Garnish as desired with chopped peanuts, cilantro, or green onions. Enjoy!
Nutrition Information
Yield: 6 servings, Serving Size: 1 1/2 cups
Amount Per Serving: 284 Calories | 13.7g Fat | 14.8g Total Carbs | 2.9g Fiber | 5.2g Sugar | 2.1g Sugar Alcohol | 25.6g Protein | 9.9g Net Carbs
---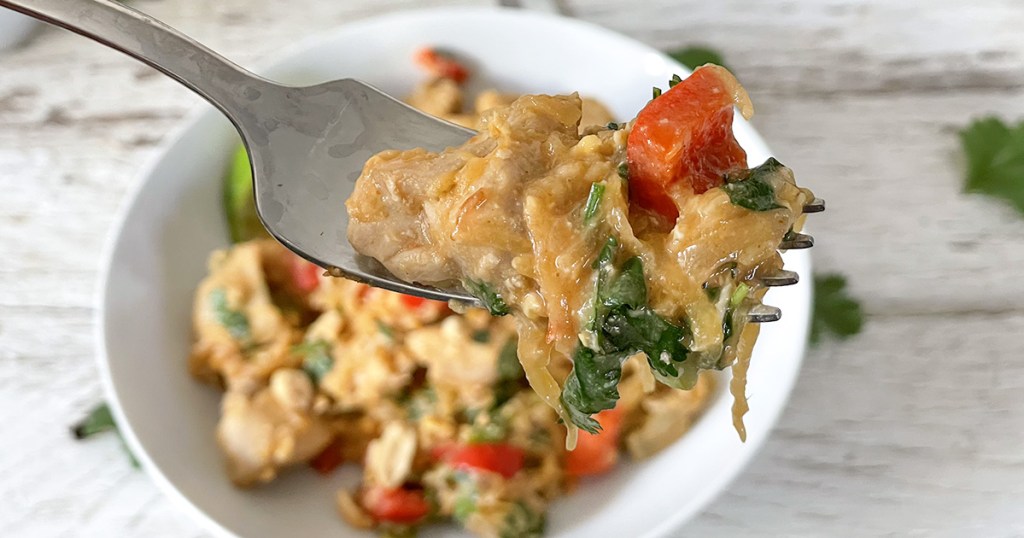 Winner winner, chicken keto Pad Thai dinner!
You might want to consider doubling this recipe that way you'll ensure you have enough for dinner, plus seconds, and then leftover for yourself for lunch the next day! 😋
I usually fall in love with so many recipes right after making them, but this is truly a dish that has become a regularly scheduled recipe in our house. It's loved by all and I hope you enjoy it as much as we do!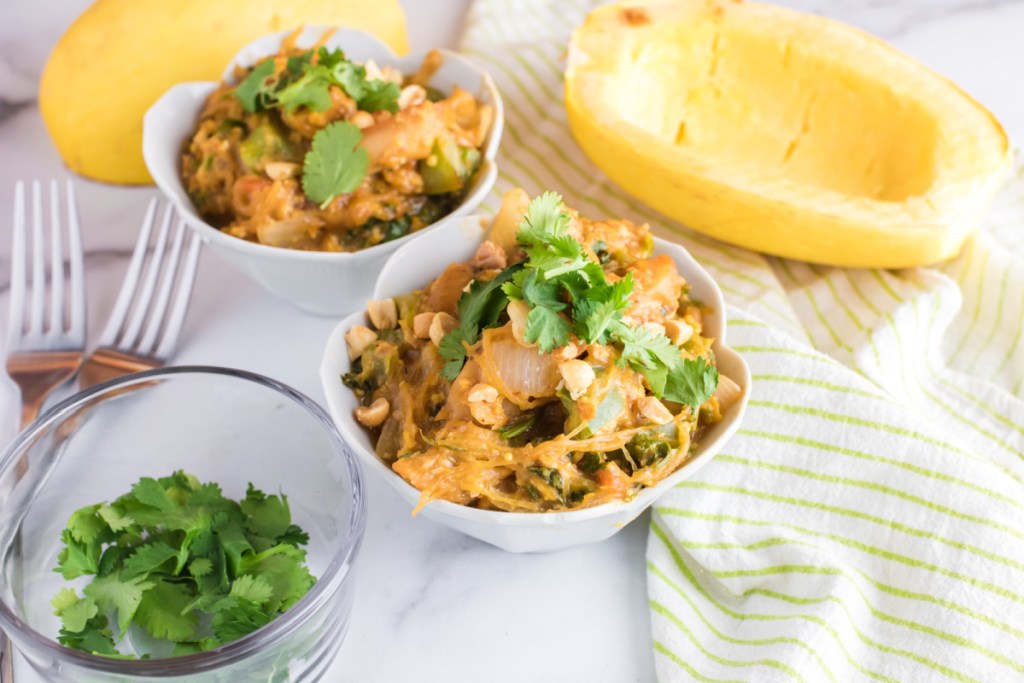 Here's what my Hip sidekick Jenna had to say about this keto Pad Thai with spaghetti squash:
"Wow! I am a big fan of Pad Thai, and this sure hit the spot! The sauce is spectacular and I could eat it on everything. This was super easy to make!
P.S. This reheats nicely too, I ate it for 3 days straight and can't wait to have it again!"
---
Looking for more spaghetti squash meals? Check out this sausage and spaghetti squash casserole!