Keto Lemon Poppy Seed Mug Cake
This keto lemon mug cake is a one-cup dream!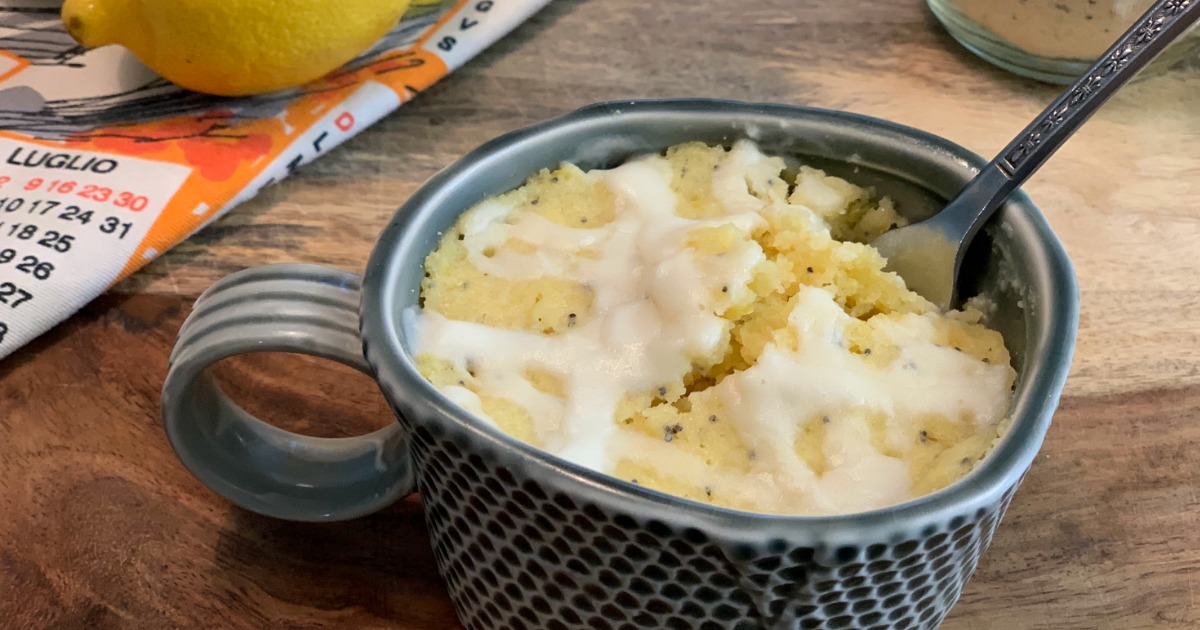 Out of this world keto cake in less than 10 minutes!
Wow, this keto lemon poppy seed mug cake… it's an anomaly that something can taste so GOOD, yet be so EASY to make. This is a great option for a sweet breakfast, an evening dessert, or a keep-it-in-the-fridge-to-munch-all-day treat!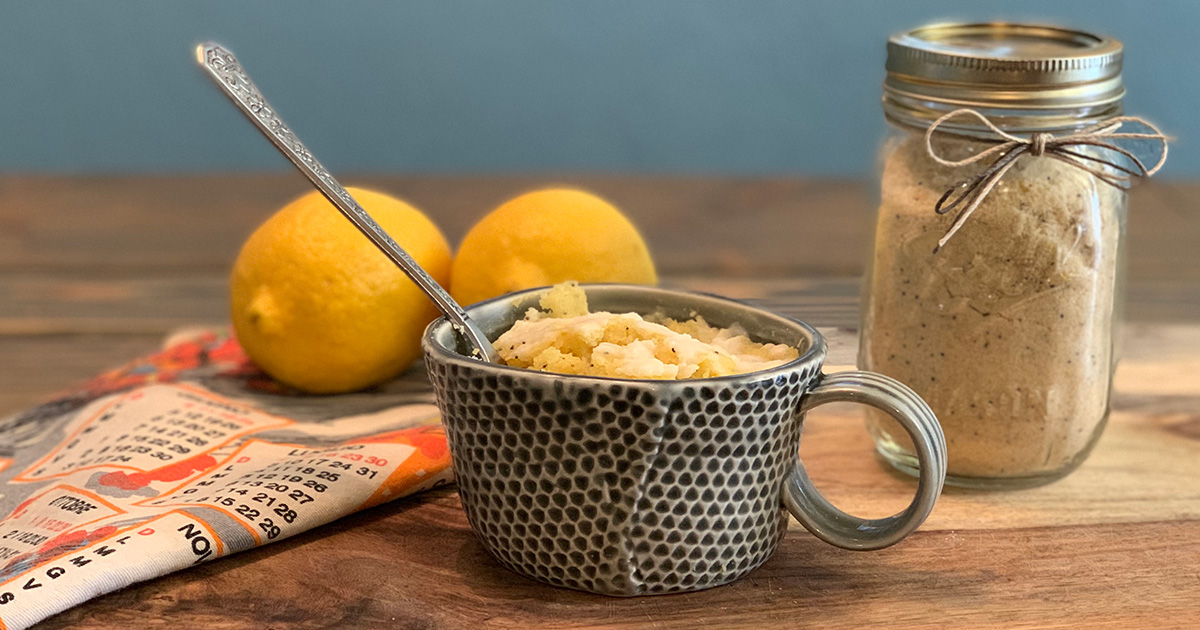 Prepare the dry ingredients in a Mason jar to have on hand when your sweet tooth strikes!
Add and mix the dry ingredients in a Mason jar. When you're in the mood for keto cake, simply blend your wet ingredients, add your dry mix, whip it together, and you're cookin'! See Mason jar method below recipe.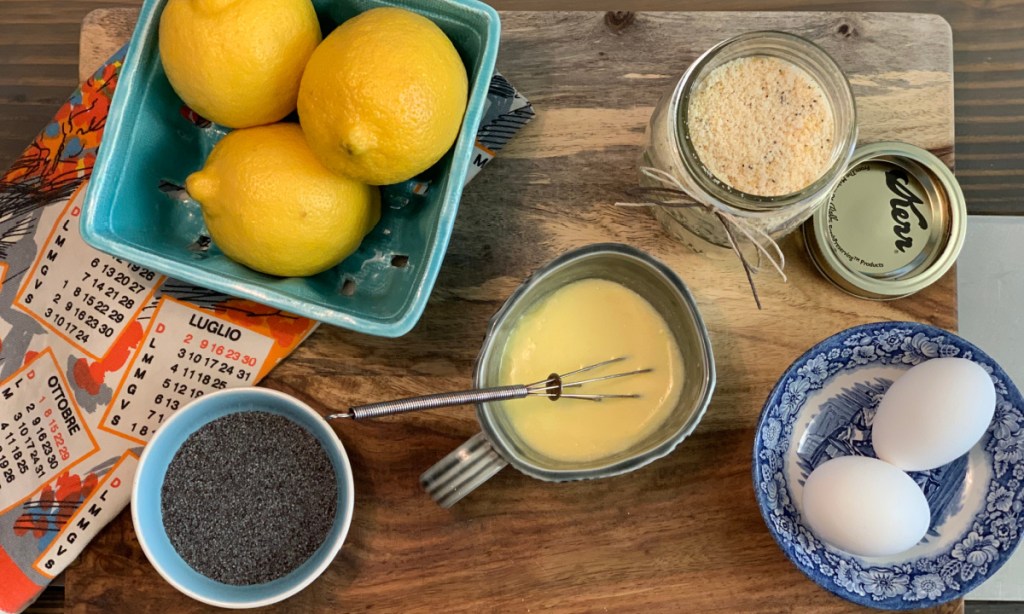 Hip Tips for this keto lemon mug cake:
Be sure to choose the right size mug. The wet batter should fill the mug about halfway to allow your keto cake to rise while it cooks.
To bring eggs to room temperature quickly: Simply fill a bowl with very warm tap water. Place your cold eggs into the water gently. Wait for about five minutes.
For an extra pretty alternative to the standard Mason jar, check out these little glass beauties by Weck available on Amazon.
We recommend grating your own zest for a keto mug cake. You can do this one of two ways:

Countertop method: Spread zest in a single layer on a plate or waxed paper and leave it exposed to the air until it is dry and brittle (usually 1-2 days). Store any unused, dried zest in a sealed container in a cool, dry place.
Speed method: If you are short on time, you can also dry your lemon zest in a 200-degree oven. Spread the zest on a parchment paper-lined baking sheet and bake for about 25 to 30 minutes. The peels will curl a bit and stiffen when dry.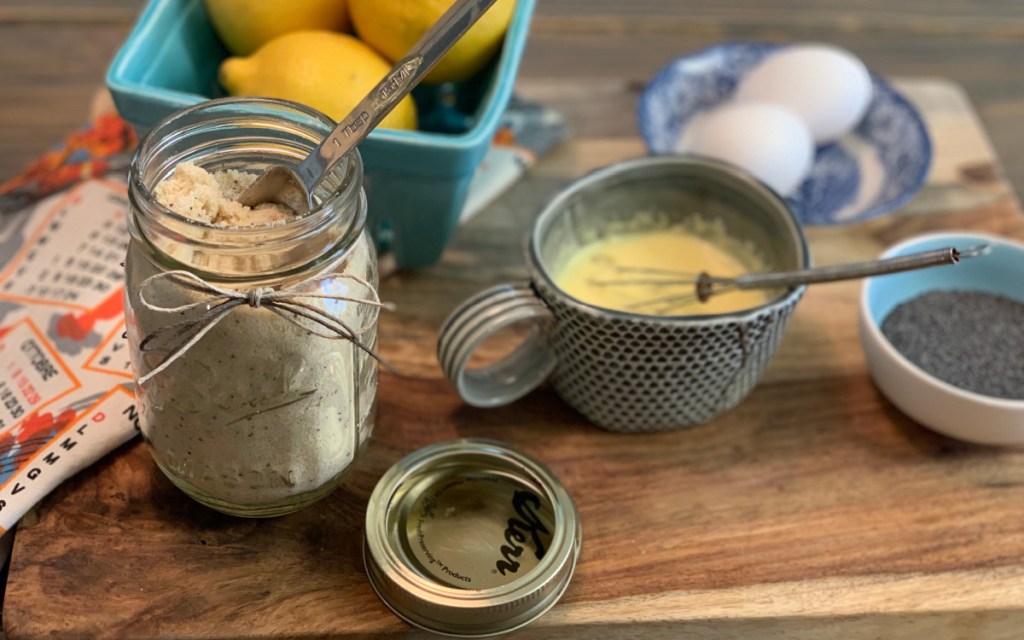 ---
Print
Keto Lemon Poppy Seed Mug Cake
yield: 2 SERVINGS
prep time: 5 MINUTES
cook time: 2 MINUTES
total time: 7 MINUTES
A fast keto fix for your sweet tooth!
Ingredients
For the Cake:
For the Glaze:
1 tablespoon erythritol, powdered
1/2 teaspoon lemon juice (fresh is best)
1/2 teaspoon heavy cream
Directions
1
For the Cake:
Mix dry ingredients together in a small bowl (almond flour, coconut flour, granular keto sweetener, baking powder, poppy seeds, and lemon zest). Set aside.
2
In a medium-size mug, melt butter in the microwave for 20-25 seconds. Add heavy cream, almond extract, lemon juice, and egg. With a fork or baby whisk, blend together until fully combined and even. Add dry mixture. Continue whisking until a uniform batter has formed.
3
Microwave for 2 minutes on high. Allow cooling a bit before glazing.
4
For the Glaze:
In a very small bowl (a shot glass or small measuring cup works great) blend together powdered erythritol, heavy cream, and lemon juice. Drizzle over cooled cake as well as down the sides. I like to pull the cake back from the side of the mug with a fork so the glaze can really get down in there.
5
Mmm... Enjoy the magic!
Nutrition Information
Yield: 2 servings, Serving Size: 1/2 mug cake
Amount Per Serving: 244 Calories | 22.5g Fat | 18.1g Total Carbs | 2.5g Fiber | 1.1g Sugar | 12.8g Sugar Alcohol | 6g Protein | 2.7g Net Carbs
---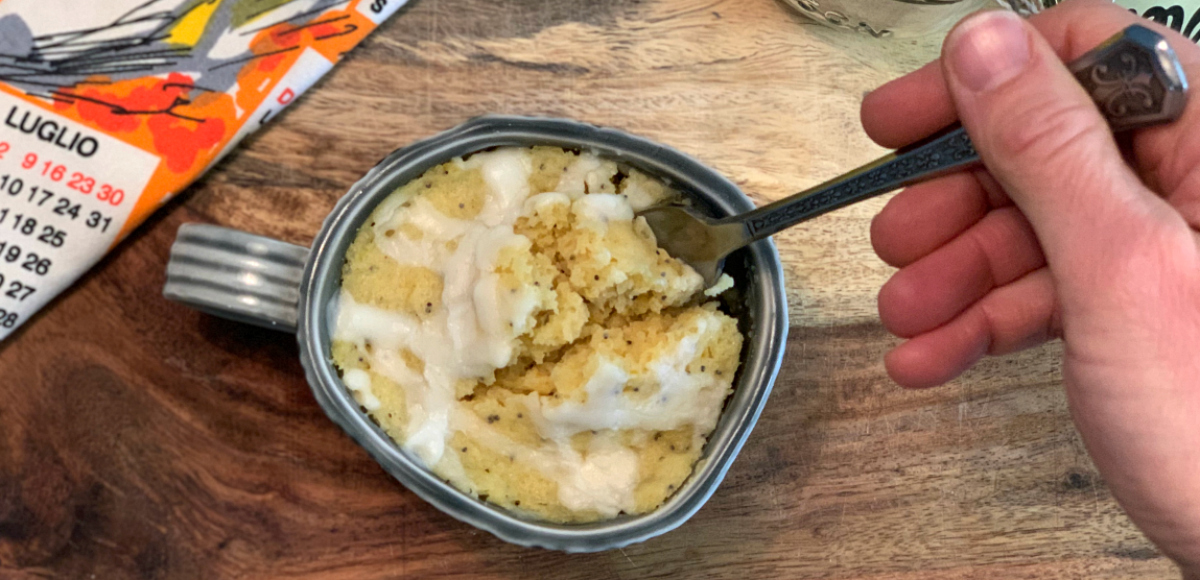 Who doesn't love a mug cake?
This citrus cake fills all my dessert needs, and everyone will love it! It's the perfect light sweet treat.
---
Check out this keto lemon pound cake too!