Easy 4-Ingredient Keto Lemon Fat Bombs
Keto lemon fat bombs made with fresh lemons and coconut butter.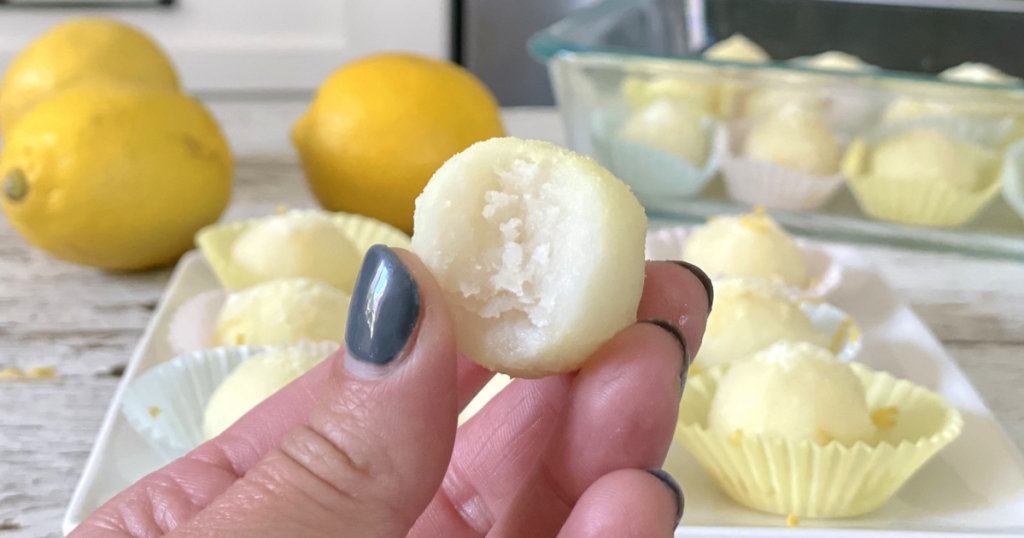 If you're a lemon person, these keto lemon fat bombs are for you. 🍋
Kick those winter blues to the curb by saying, 'hello' to refreshing, sweet, lemony perfection! The bright citrusy lemon flavor in these fat bombs is just the right amount of tartness. If you love lemon-flavored desserts, get ready to pucker up for these!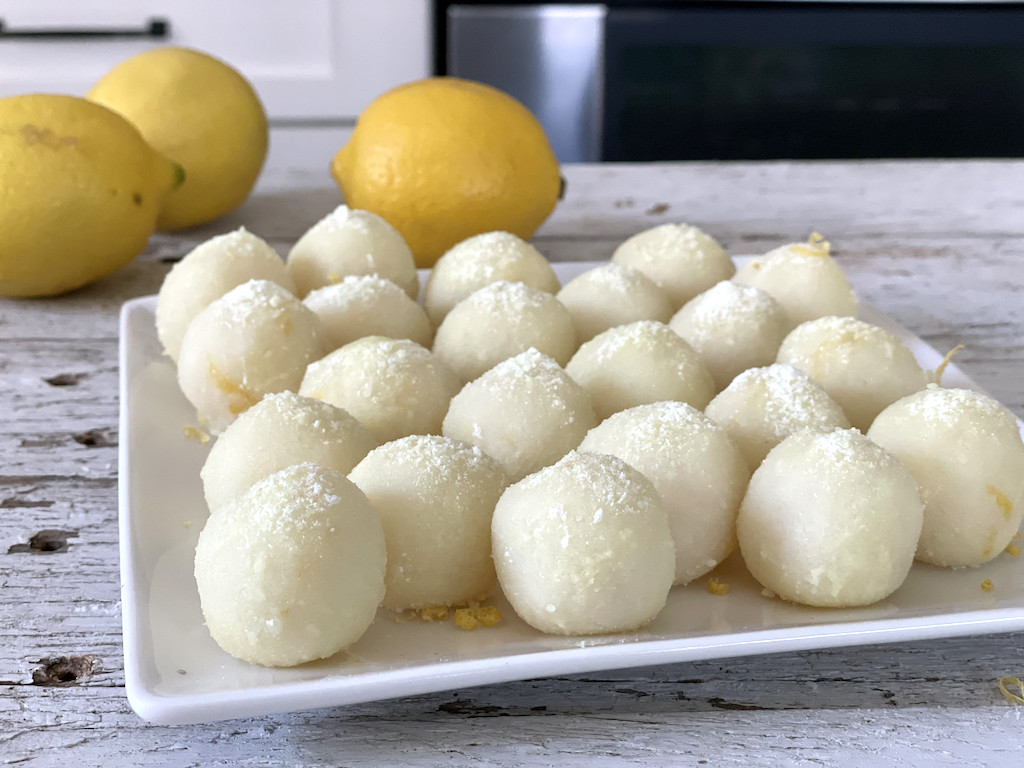 Not only are these delicious, but they are also incredibly easy to make. Consisting of only four ingredients, they'll become a staple in your house! You only need fresh lemons, coconut butter, keto confectioners sweetener, and True Lemon powder. That's it!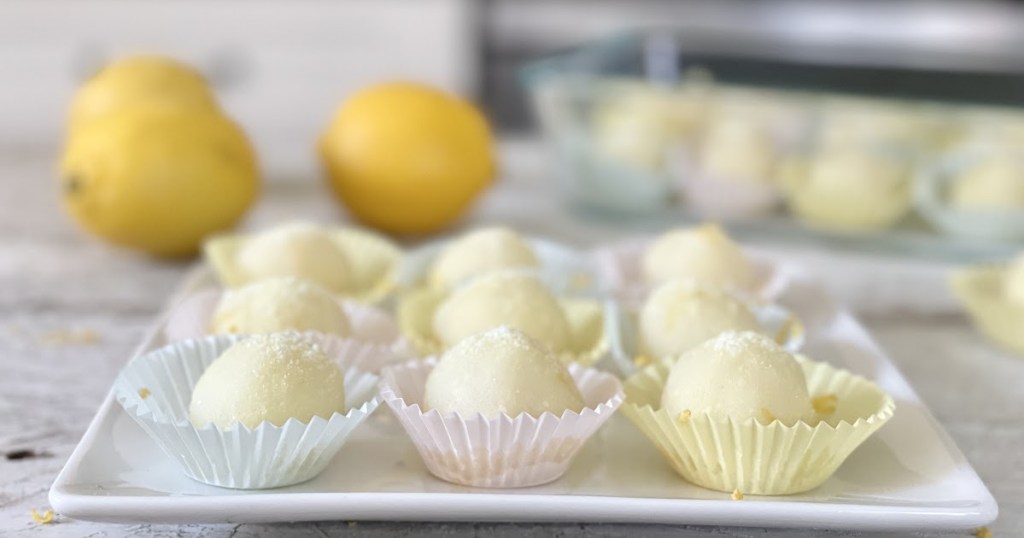 I think these are some of the best fat bombs I've ever made! I typically go for chocolate-based fat bombs but these lemon-flavored treats definitely rival anything made with chocolate. My mouth is literally watering as I'm typing this just thinking about the incredible lemon flavor.
The lemon flavor comes from fresh lemon juice, lemon zest, and True Lemon. The fat bombs are rolled in a mixture of True Lemon powder and keto confectioners sweetener.
If you aren't familiar with True Lemon, it's a crystallized lemon powder, and people usually add it to water but it works great with these keto lemon fat bombs. It also makes for a pretty, light lemon color.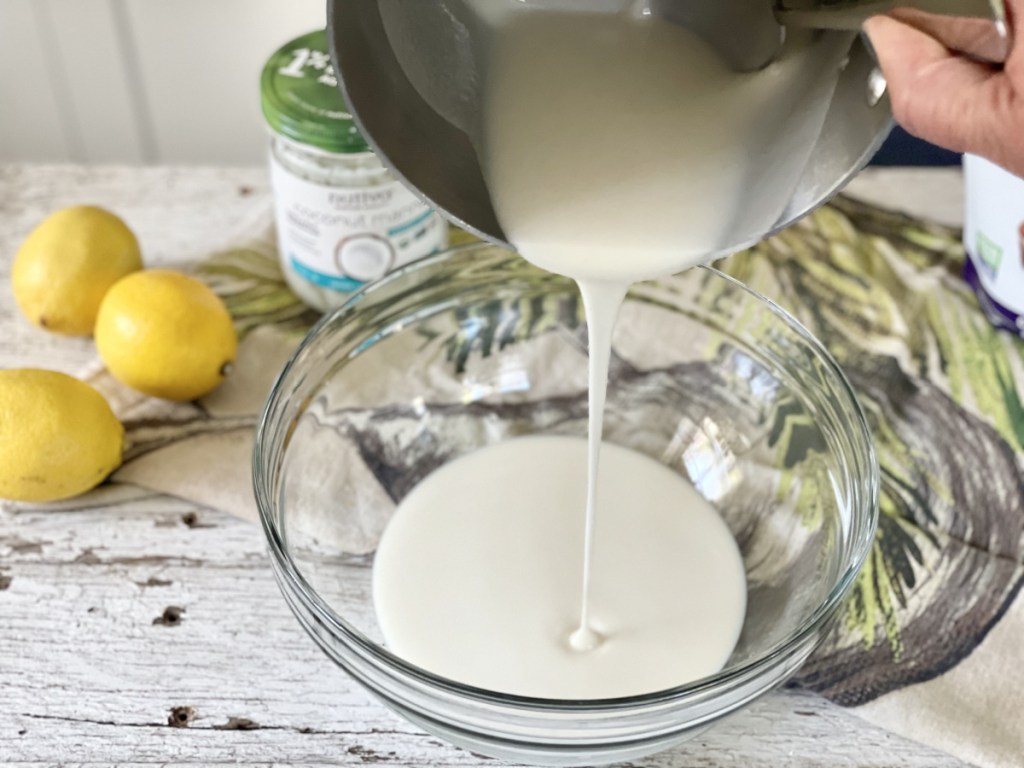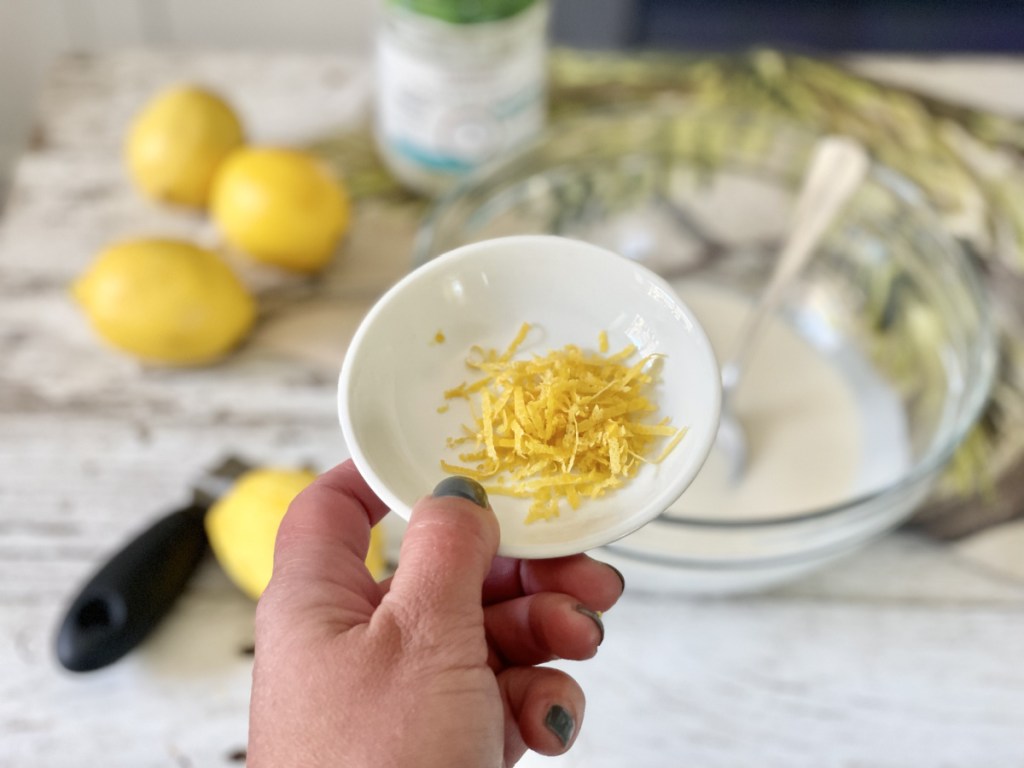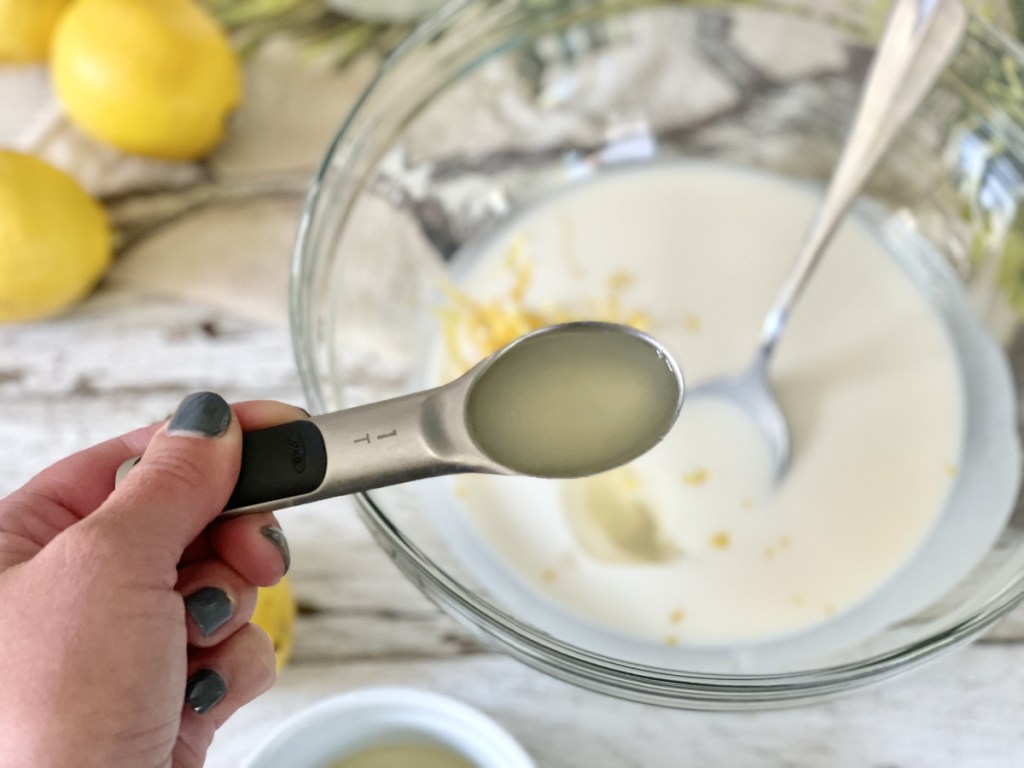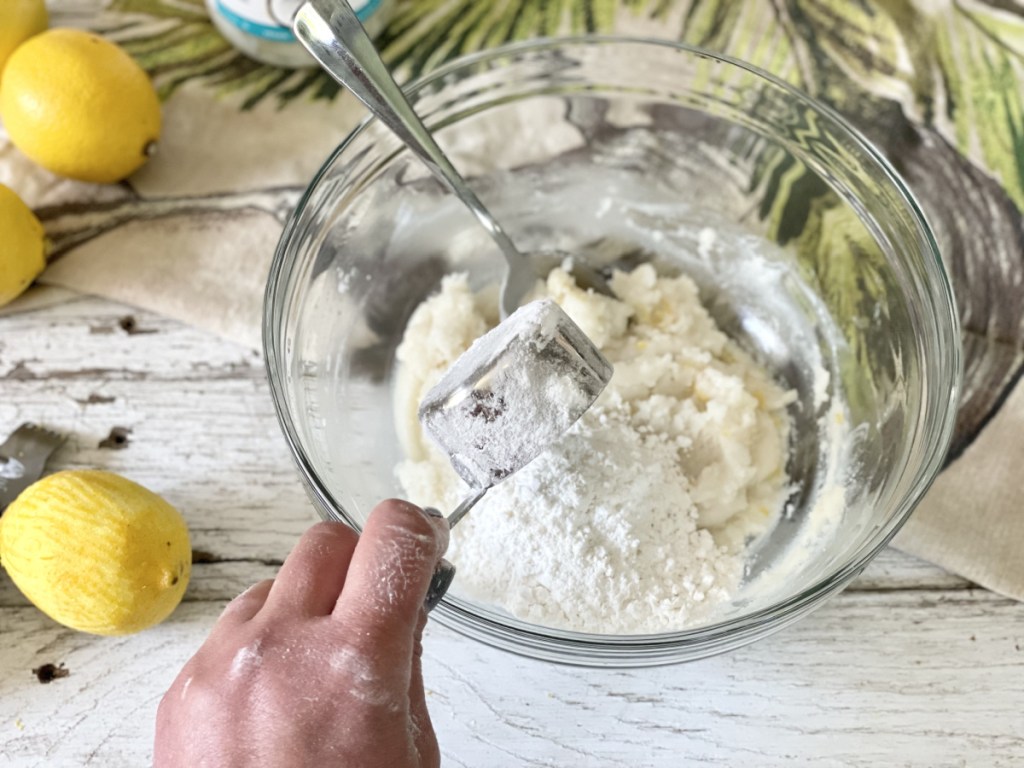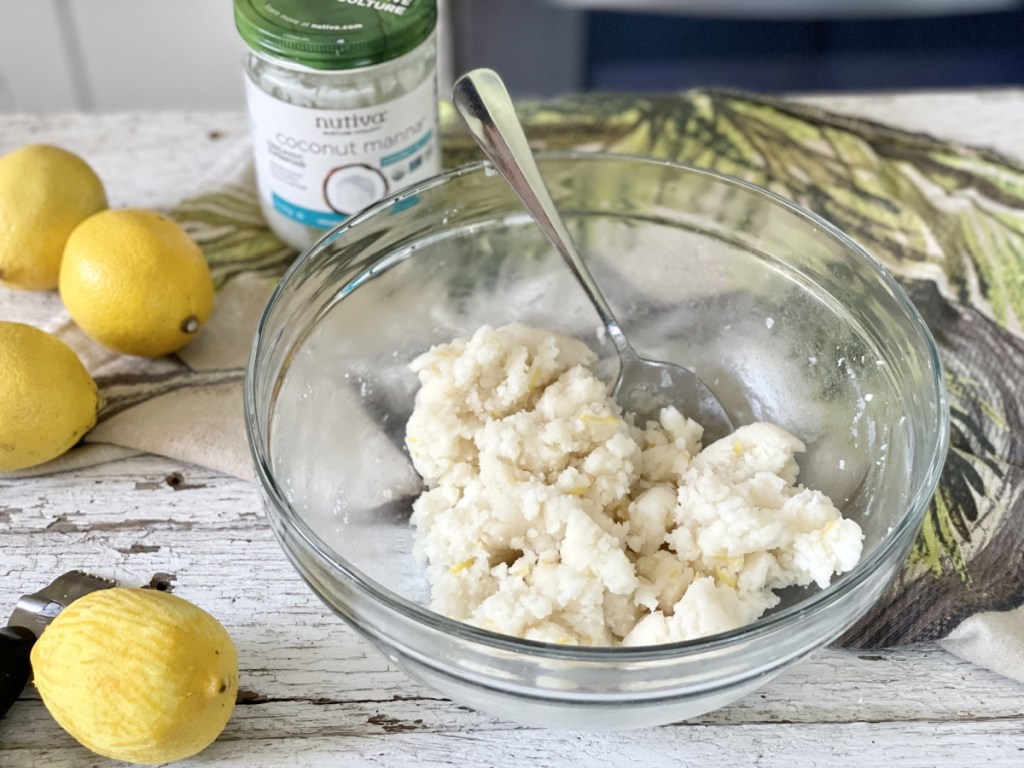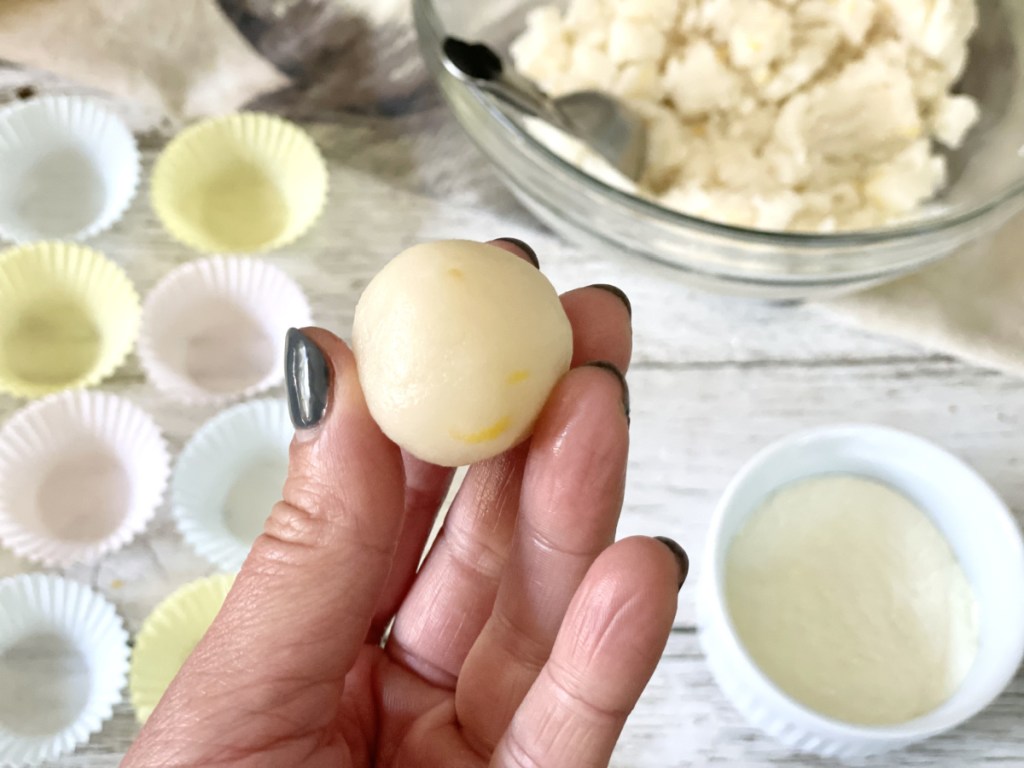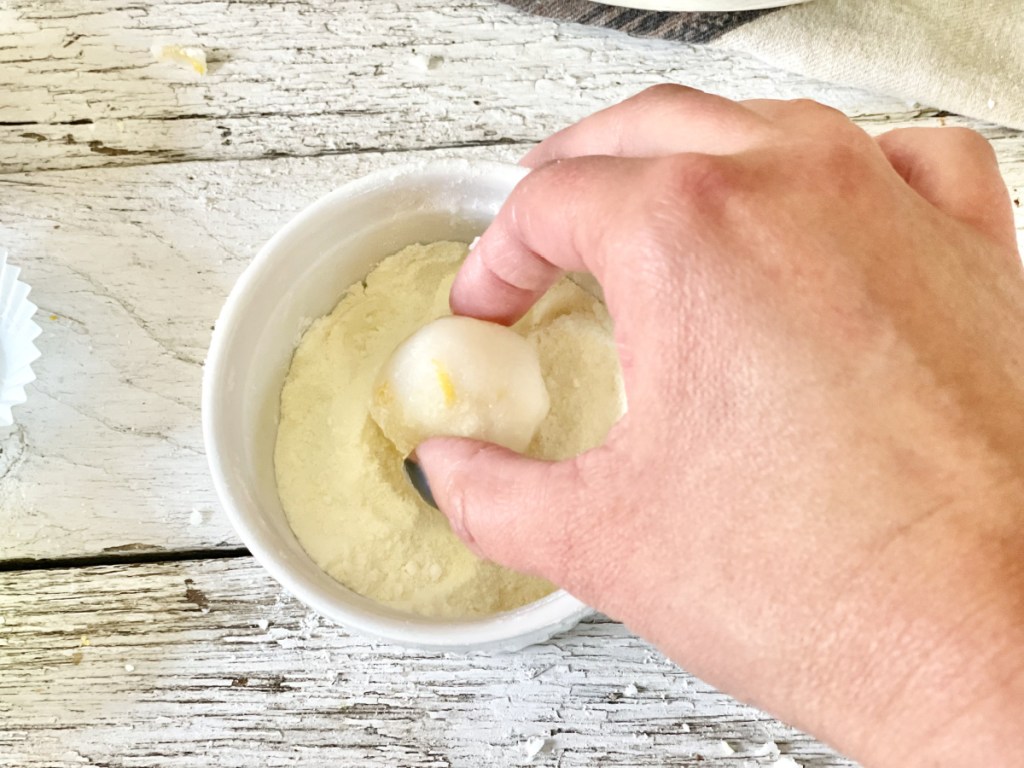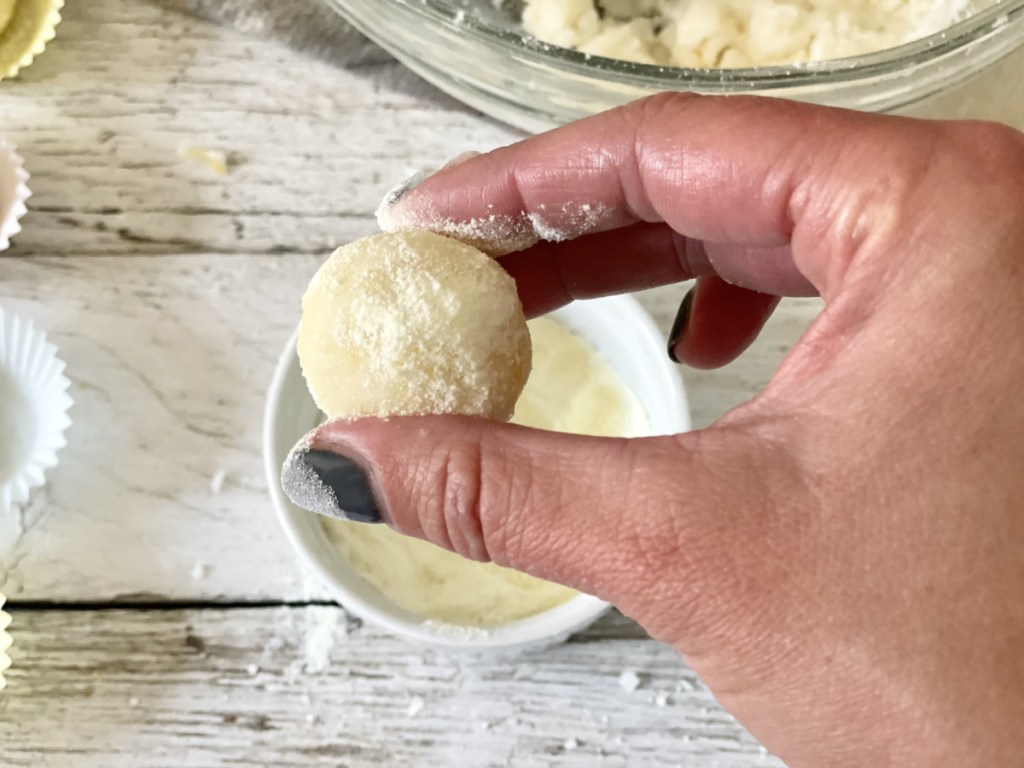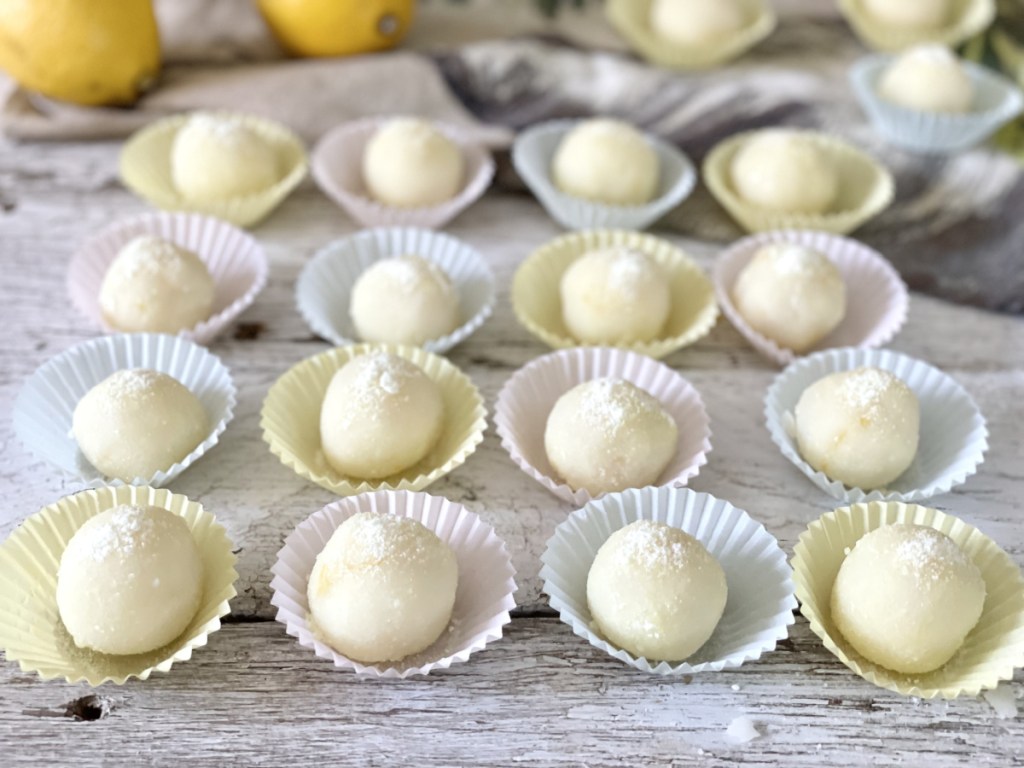 ---
Print
Keto Lemon Fat Bombs
yield: 23 SERVINGS
prep time: 15 MINUTES
total time: 15 MINUTES
Made with only fresh lemons, coconut butter, keto confectioners sweetener, and crystalized lemon powder.
Ingredients
Lemon Fat Bombs:
1 tablespoon lemon zest
4 tablespoons lemon juice
Coating:
Directions
1
Melt coconut butter. This can be done in a saucepan on the stove, or in the microwave, or you can run the jar under hot water.
2
Once the coconut butter is melted, place it in a medium-sized bowl and mix in lemon zest, lemon juice, and keto confectioners sweetener. Stir until well combined. If your mixture is very soft, place it in the freezer for about 15 minutes to harden up so you can form it into balls.
3
In a small bowl, prepare the fat bomb coating by mixing together the keto confectioners sweetener and True Lemon powder.
4
Make the fat bombs by taking a tablespoon of the coconut butter mixture and rolling it between your hands to form a ball. Roll the ball in the coating mixture.
5
Place the fat bombs in mini cupcake paper liners or a baking sheet lined with wax paper or parchment paper. You can freeze the fat bombs and then store them in a ziplock bag or a sealed container. Fat bombs can also be placed in the fridge. They are good for two weeks in the fridge or three months in the freezer.
Nutrition Information
Yield: 23, Serving Size: 1 fat bomb
Amount Per Serving: 105 Calories | 9.4g Fat | 6.5g Total Carbs | 2.1g Fiber | 1.1g Sugar | 3.1g Sugar Alcohol | 1.1g Protein | 1.2g Net Carbs
---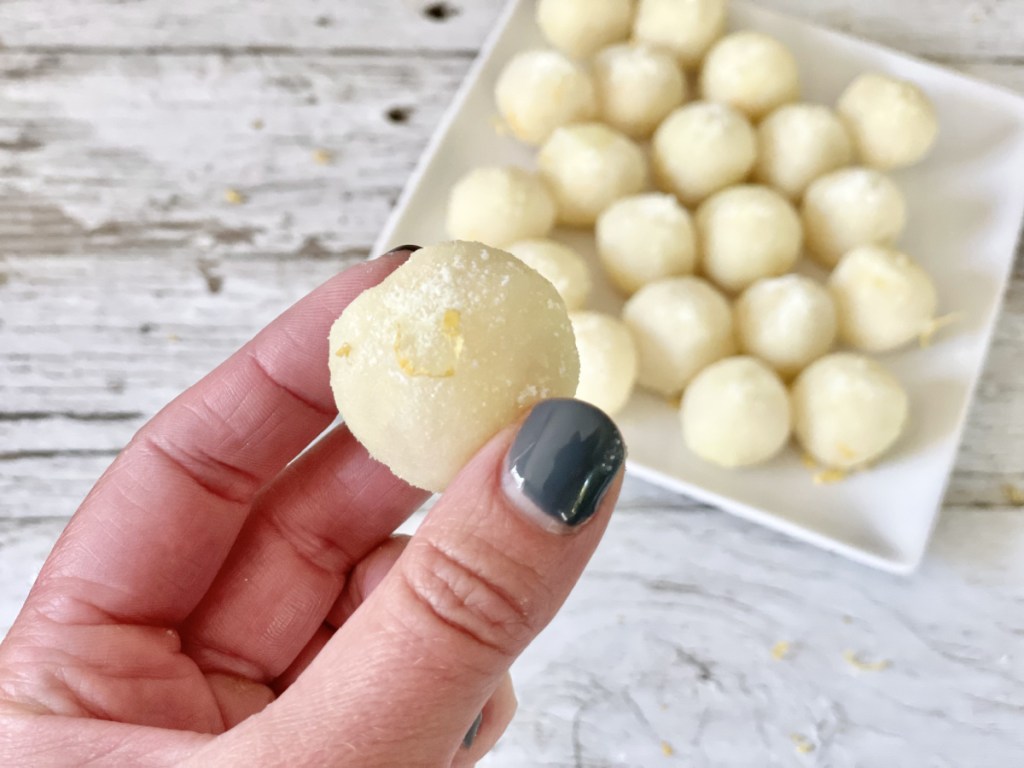 Tips for making the best keto lemon fat bombs:
True Lemon can sometimes be hard to find at grocery stores. I could only find the True Lemon Lemonade flavor, which does have a few grams of carbs in it, so be aware! If your grocery store doesn't have True Lemon, best to order it online. The nutrition information for these is using the original lemon powder.
Softening the coconut butter makes it easier to mix all the ingredients for the fat bombs together. I softened it in a saucepan on the stove but you could also microwave it or run the jar under hot water. It's normal for coconut butter to be dry and a little bit difficult to work with when it's cold or even at room temperature.
If you want an even stronger lemon flavor, you could mix some of the True Lemon in with the fat bombs in addition to rolling them in it.
You might need to place the fat bomb mixture in the freezer for about 15 minutes or the refrigerator for about 30 minutes, if you have a hard time rolling it into balls. Sometimes it can soften too much and won't hold its shape.
Store these in the fridge for two weeks or freezer for up to three months. I like to eat them straight out of the freezer. 😋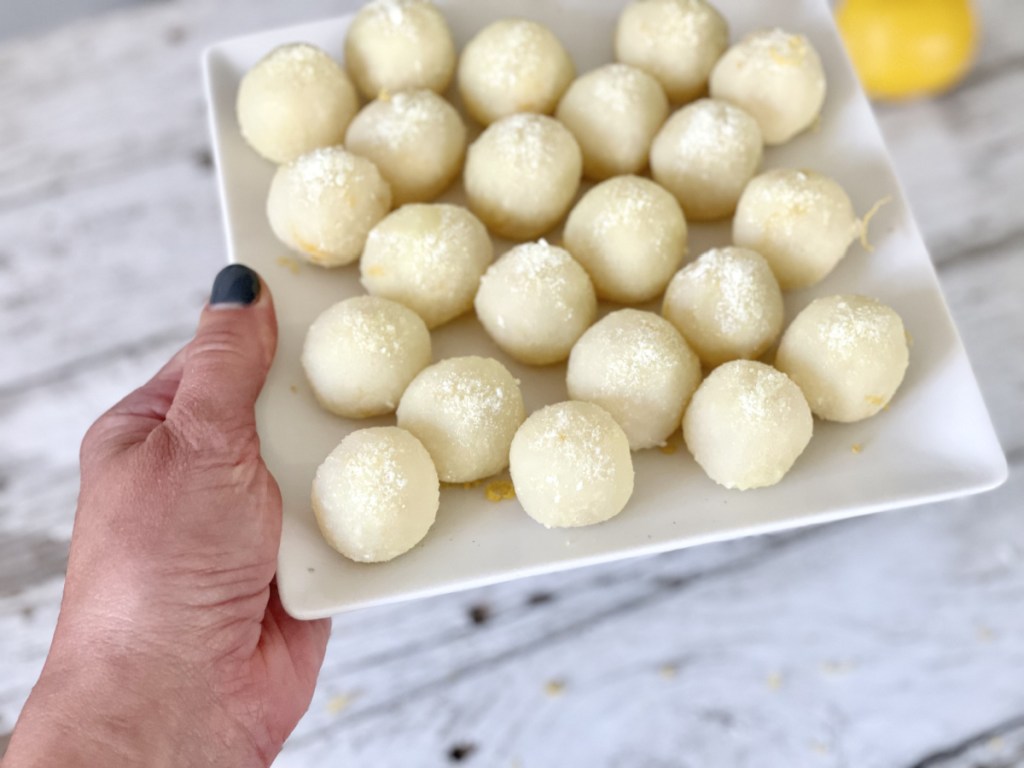 The tastiest tart treats!
Fat bombs make for the perfect keto treat. I found these to be pretty rich and one was plenty for me, but if you love lemony desserts, it might be easy to get carried away!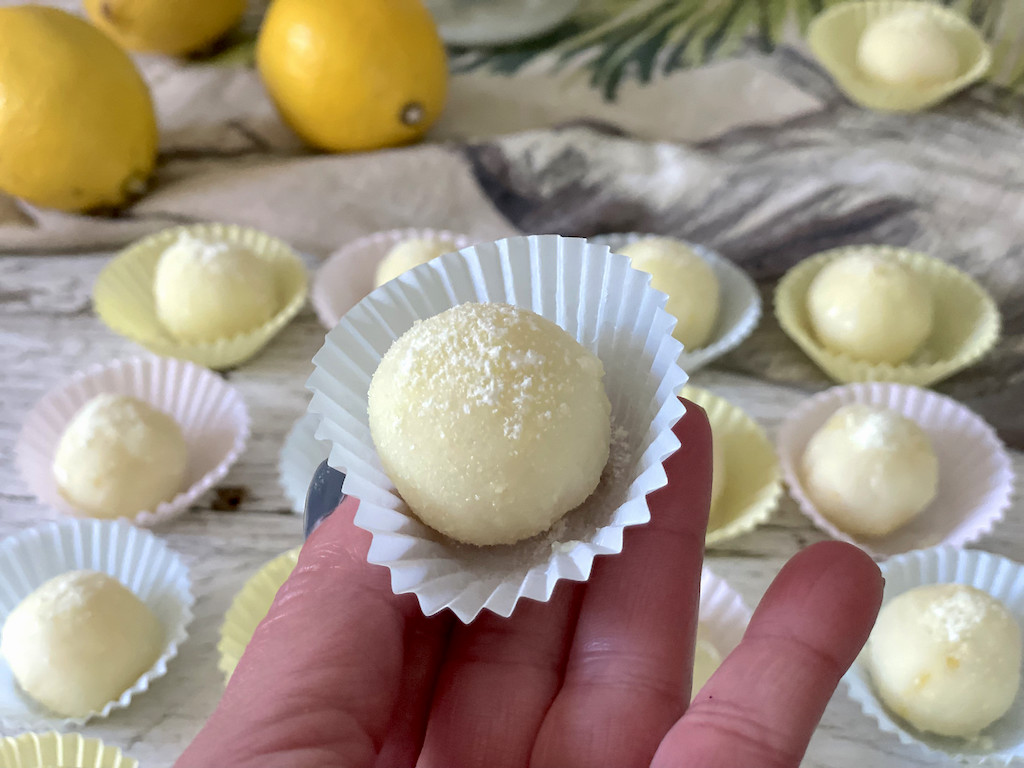 My Hip sidekick Jenna had this to say about these keto lemon fat bombs:
"I LOVE that these are only 4 ingredients! So simple and so FULL of flavor, I loved every bite of these. So fun using the True Lemon on the outside as a tangy coating. I don't have a ton of experience with coconut butter, but that sure was a fun base to work with! These are awesome!"
---