Keto "Kitchen Sink" Brownies – Every Bite is Perfection!
The most decadent, over-the-top keto everything-but-the-kitchen-sink brownies.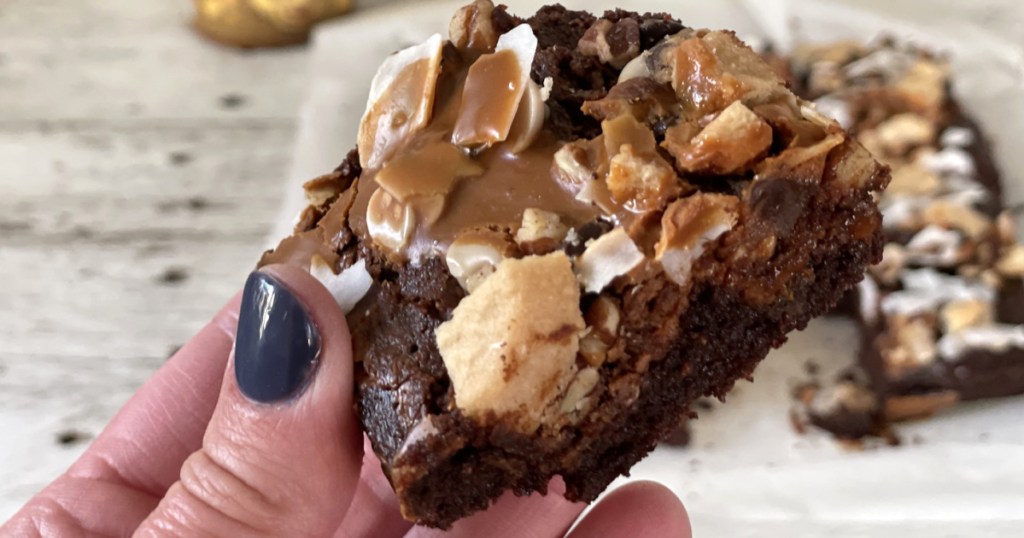 These keto kitchen sink brownies are AMAZING!
Imagine biting into the fudgiest, richest brownie that you've ever had, and then that brownie has chocolate chips and cookie spread baked into the batter. As if that wasn't enough, imagine it's topped with more cookie spread, dark chocolate chips, peanut butter chips, pecans, coconut flakes, keto shortbread cookies, and just a touch of sea salt.
Now imagine that this dessert is keto-friendly. 🤯 With the help of ChocZero, your wildest brownie dreams can finally come true…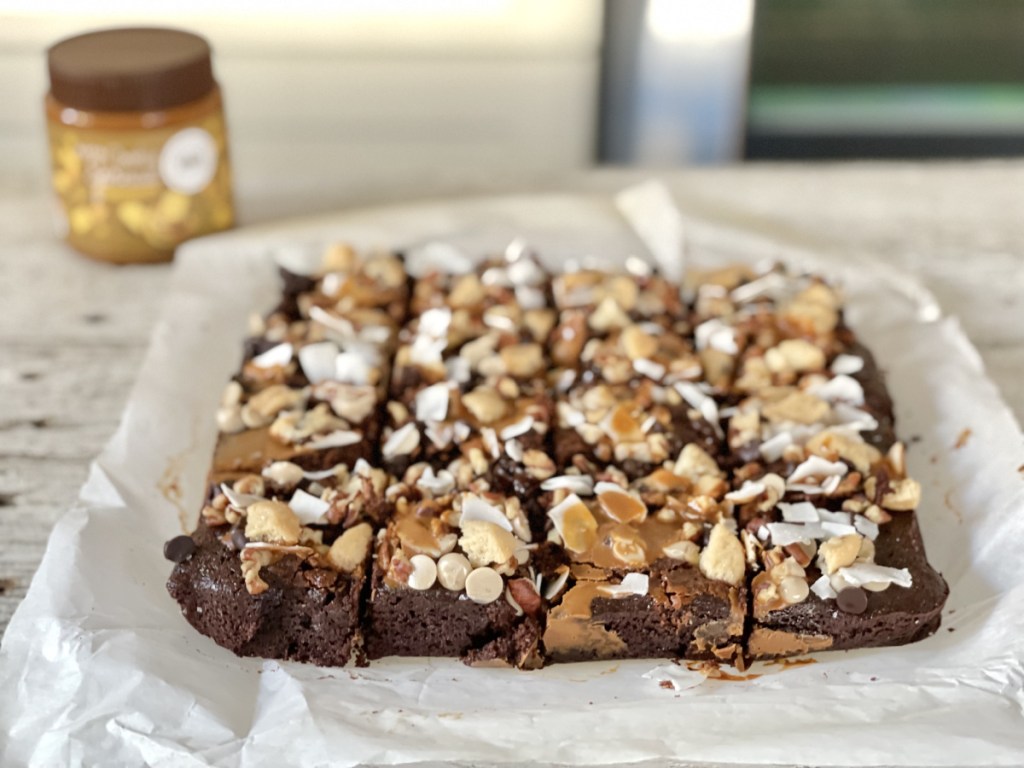 Every bite is perfection!
If you've been on the search for the perfect keto brownie, this is it! Honestly, I think these keto kitchen sink brownies would be amazing without all the extras but still highly recommend swirling in ChocZero's Keto Cookie Spread to give it that extra somethin'-somethin'. Better yet, it's currently on sale and you guys, it is HEAVENLY!
Grab this deal while it's available…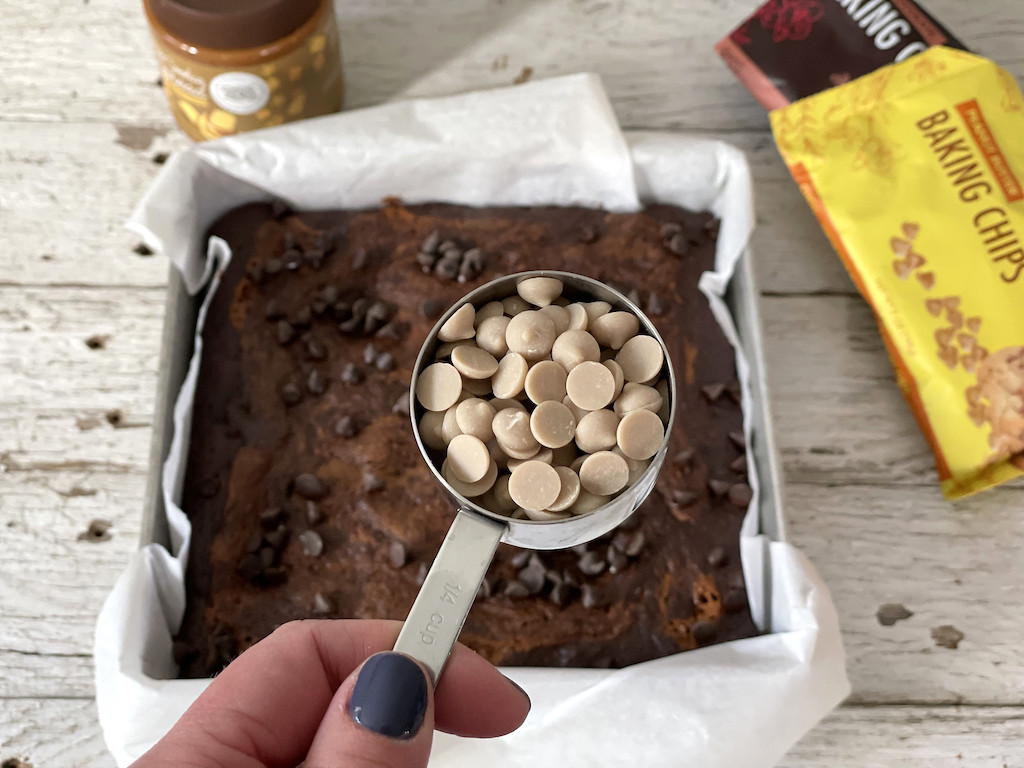 As for the "kitchen sink" toppings, well, you can really go crazy here. Use whatever keto treats and items you have stocked in your kitchen. I had a bunch of ChocZero keto chocolate chips, so that's what I used, and I think their peanut butter cups would be amazing broken up and sprinkled on top too!
These brownies are a good reason to stock up on some ChocZero items, especially their keto cookie spread! Don't forget to use our exclusive promo code HIP2KETO to score 10% off your entire order!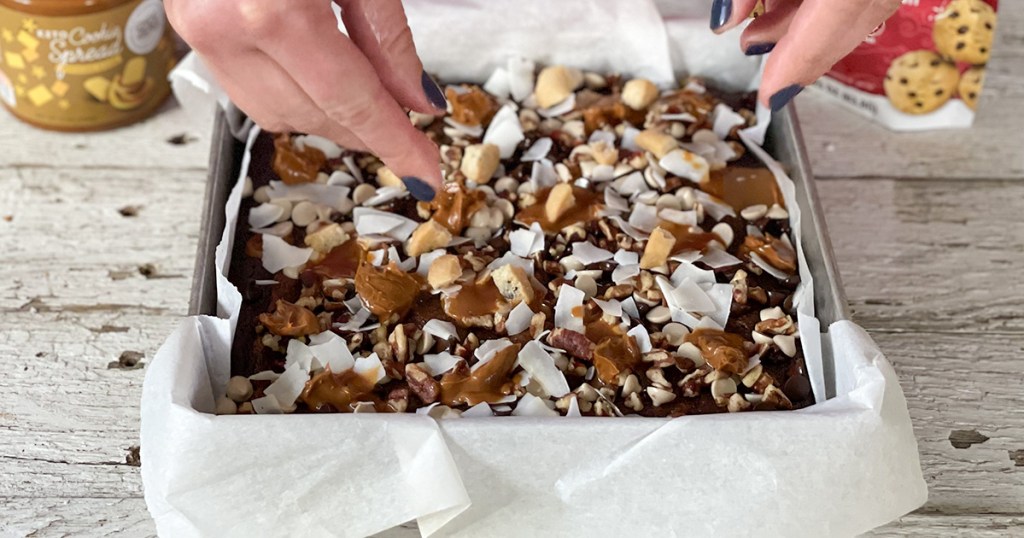 Tips for making the most amazing Keto "Kitchen Sink" Brownies:
I melted the butter and no-sugar-added milk chocolate chips together on the stovetop but you could definitely do this in a microwave-safe bowl by heating in 20-second intervals and stirring.
Don't leave out the espresso powder! It complements the chocolate and adds an incredible depth of flavor to the brownies. If you can't find espresso powder, you can use instant coffee but increase the amount to 1 tablespoon.
You don't need to let the eggs come to room temperature if you're in a rush, but it makes them easier to mix into the batter.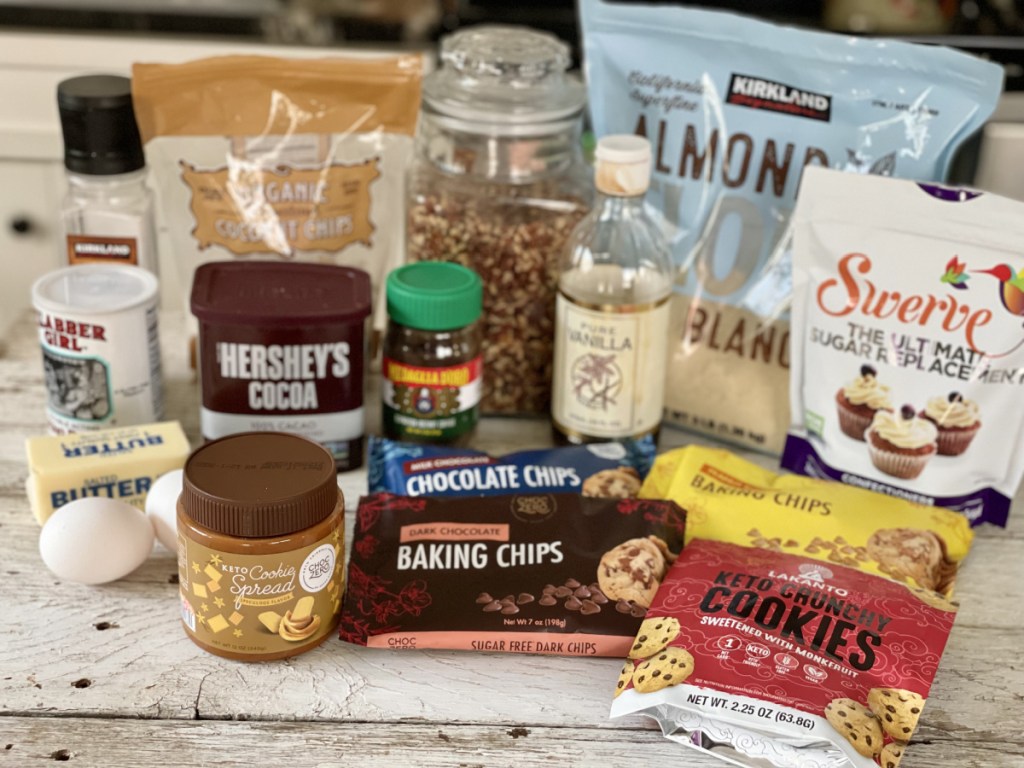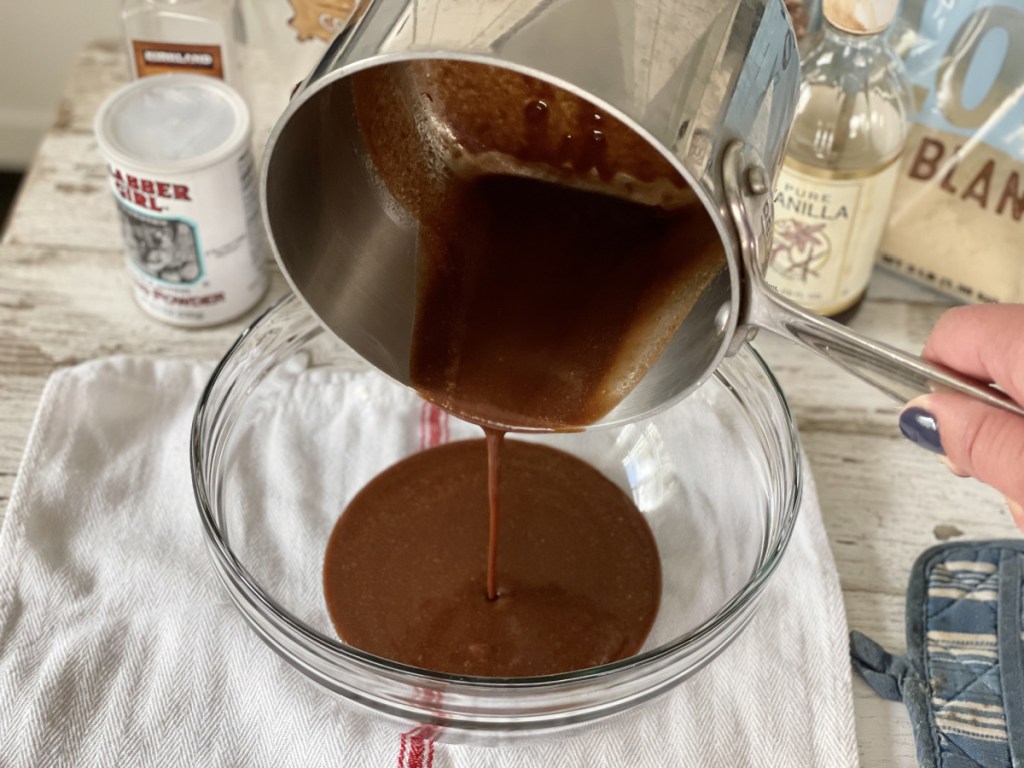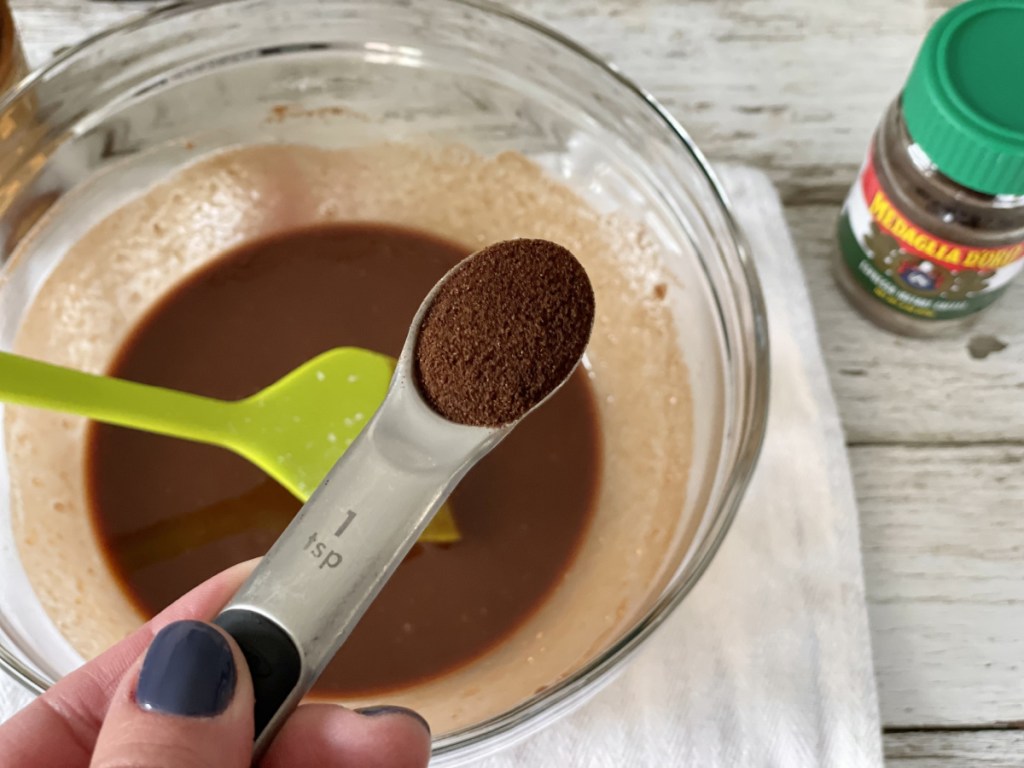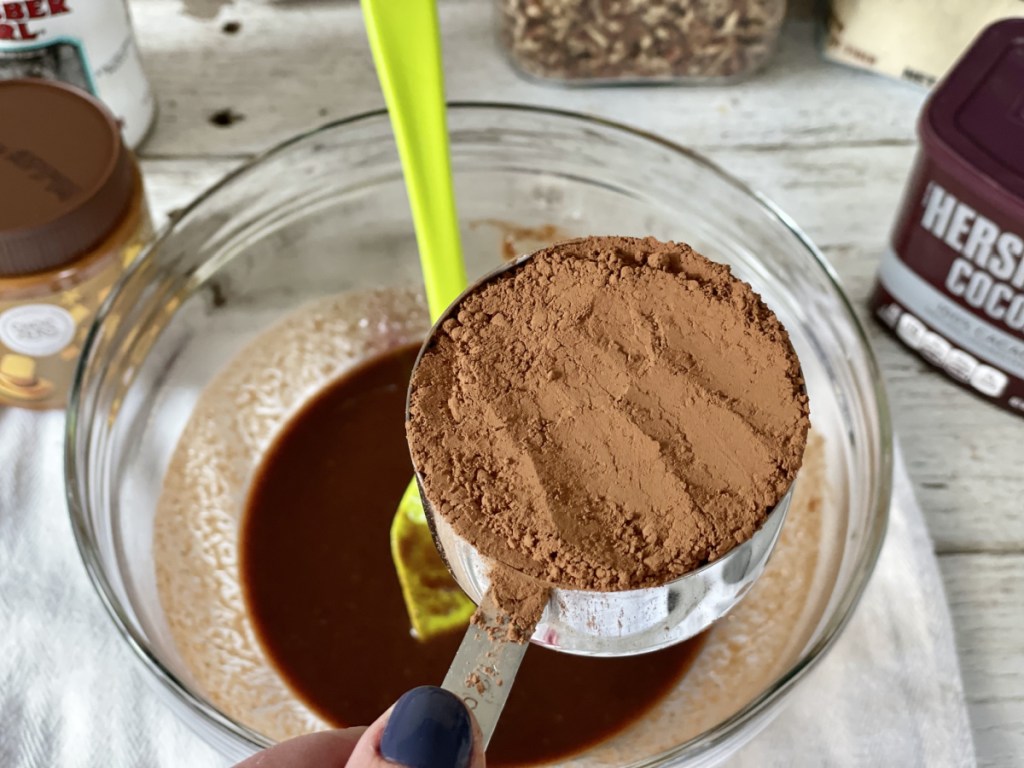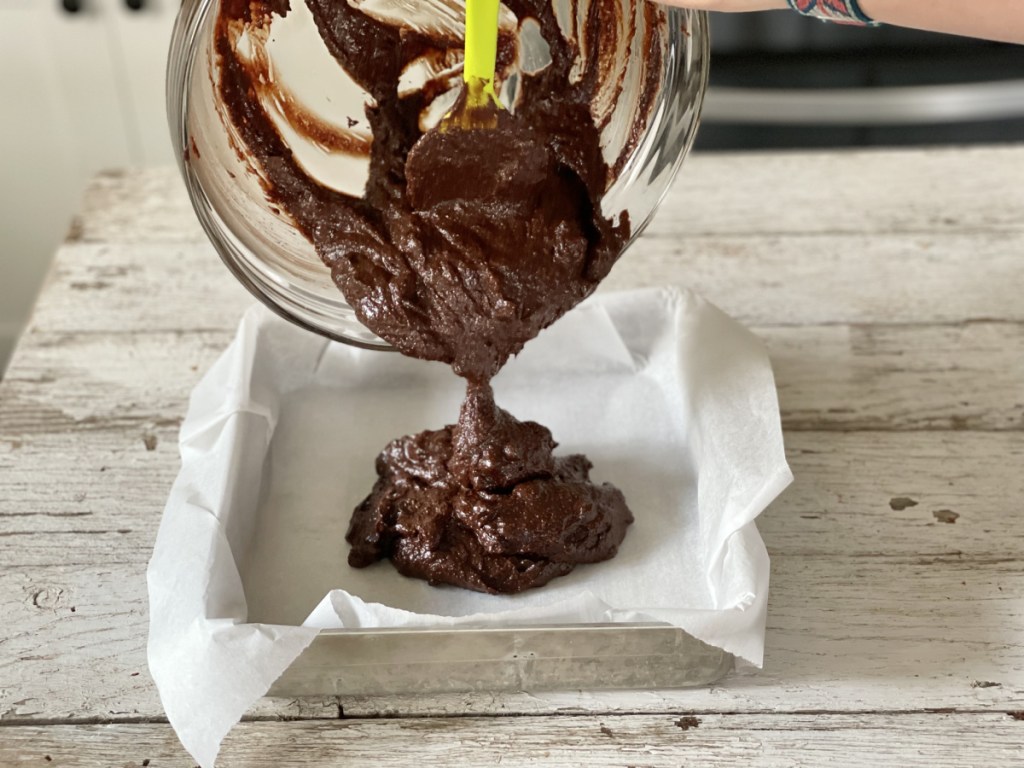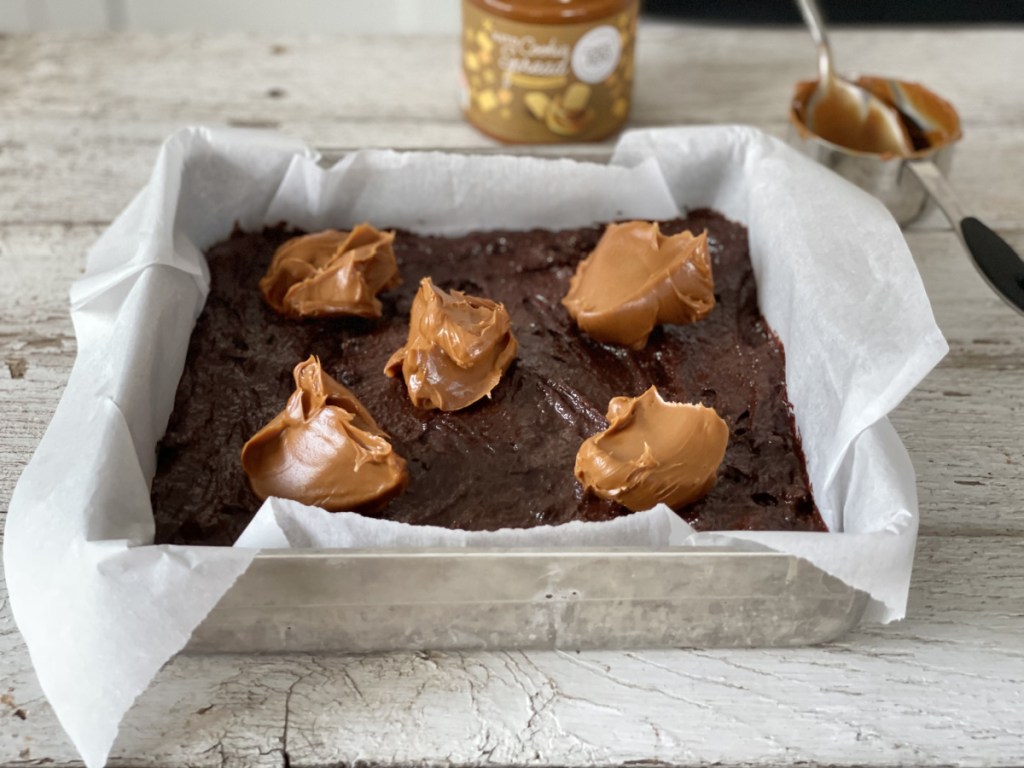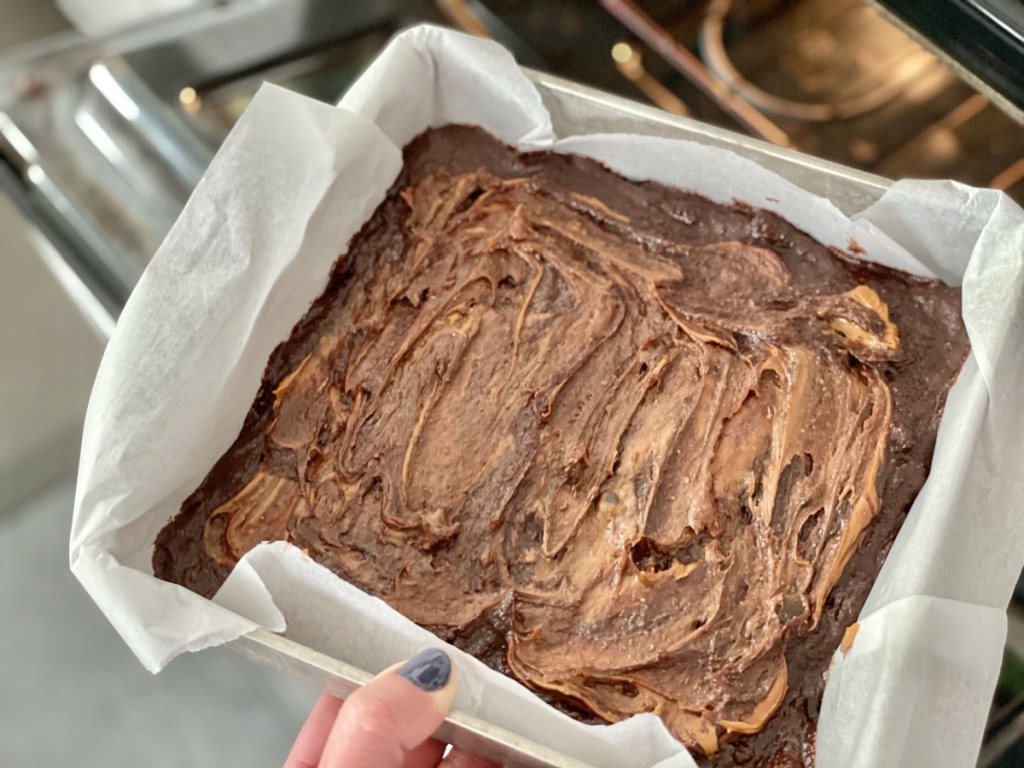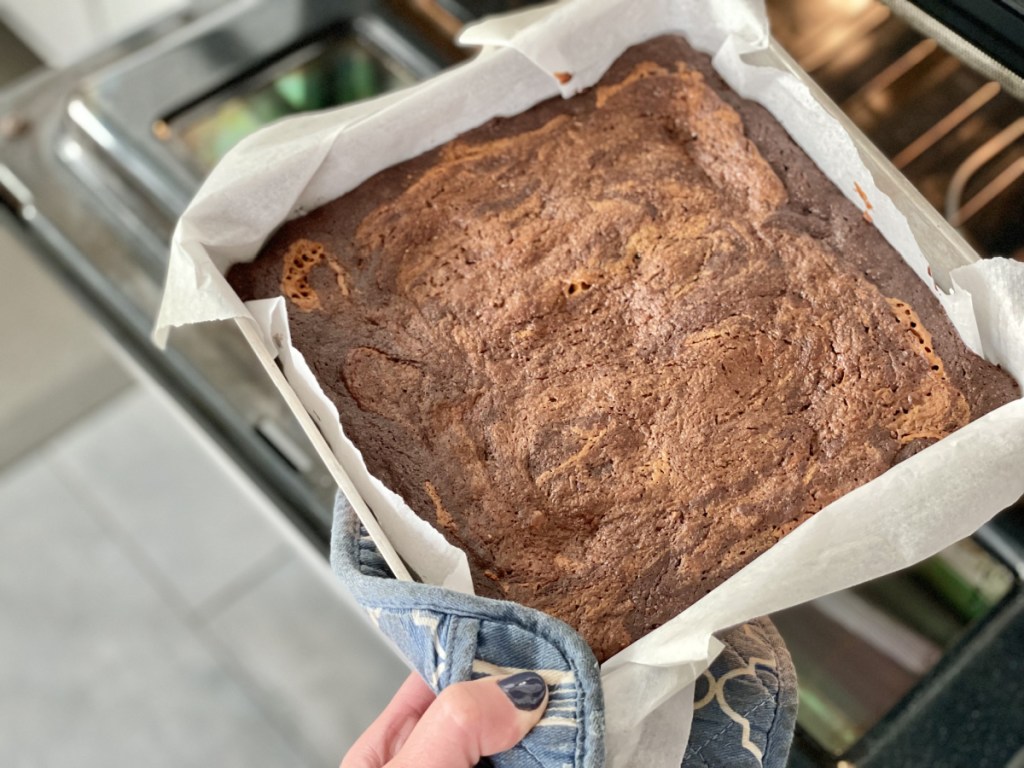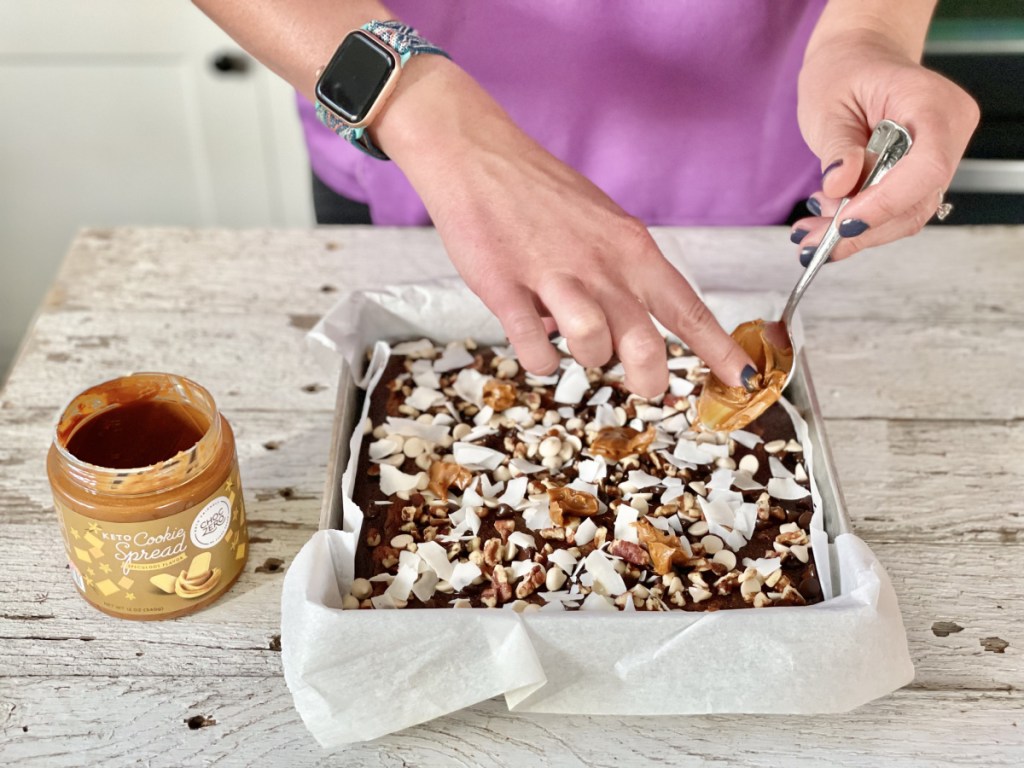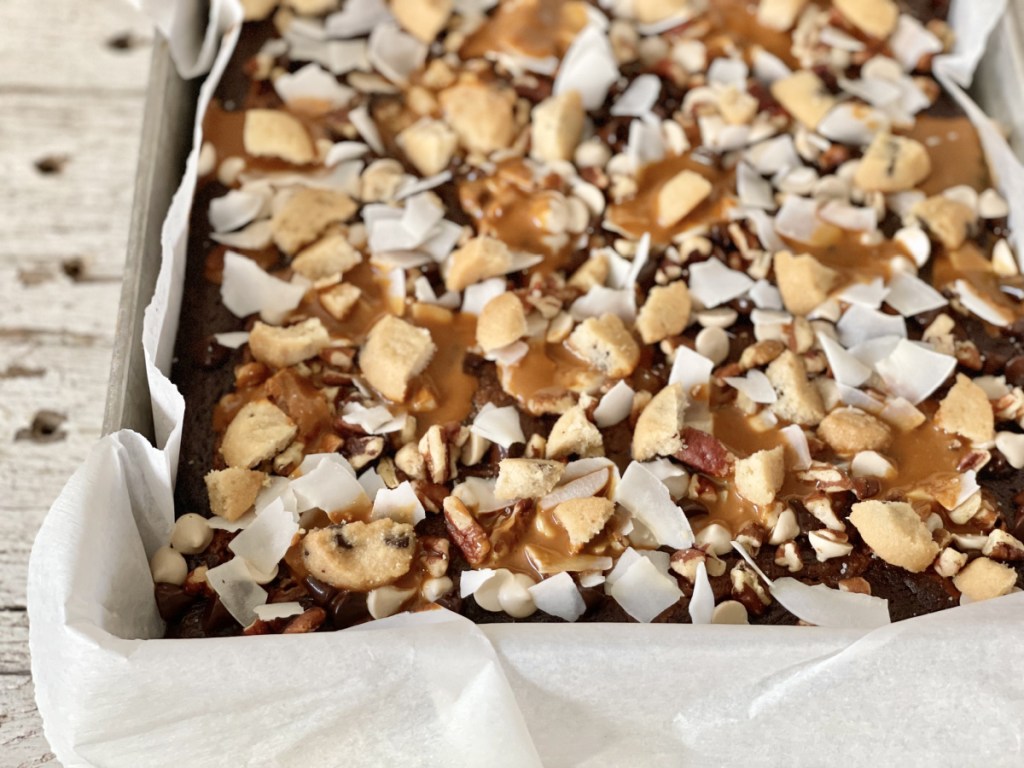 ---
Print
Keto Kitchen Sink Brownies
yield: 16 SERVINGS
prep time: 20 MINUTES
cook time: 30 MINUTES
total time: 50 MINUTES
Decadent keto brownies with cookie spread swirled into the batter and melted on top with chocolate chips, peanut butter chips, pecans, coconut, and cookies.
Ingredients
Brownies:
1/2 cup butter (1 stick), salted
2 teaspoons vanilla
1/2 cup cocoa powder
2 eggs
1 teaspoon baking powder
Toppings:
Directions
1
Preheat oven to 350 degrees. Line a 9 x 9-inch baking dish with parchment paper. Take the eggs out of the fridge to bring up to room temperature.
2
In a small saucepan, melt butter over low heat. Add in keto milk chocolate chips and continue to heat until melted. Stir well to combine the chocolate chips and butter. (This can also be done in a microwave-safe bowl in 20-second intervals until melted.)
3
Pour the chocolate-butter mixture into a medium-sized bowl. Stir in vanilla extract and keto confectioners sweetener until the sweetener is fully incorporated and you can't see any small lumps.
4
Next stir in the espresso powder and cocoa powder. Stir well to combine.
5
Add the eggs one at a time and stir well after each addition.
6
Mix in the baking powder. Add the almond flour and mix well to fully incorporate. Fold in the keto dark chocolate chips.
7
Pour the brownie batter into the prepared dish. Heat the keto cookie spread in a microwave-safe bowl for 20 seconds to make it easier to swirl into the brownie mixture. Then dollop the cookie spread on top of the batter in at least five places. With a spoon or butter knife, swirl the keto cookie spread into the brownie batter.
---
If you don't have the cookie spread on hand, another option would be peanut butter or another nut butter mixed with some keto confectioners sugar. You could then use that mixture to spread on these keto brownies.
8
Place in the oven and bake for 25 to 30 minutes. The center will still slightly be bubbly and the edges will feel crisp.
9
Immediately after taking the brownies out of the oven, top with no-sugar-added dark chocolate chips, sugar-free peanut butter chips, pecans, coconut, additional keto cookie spread, keto cookies, and a sprinkle of sea salt. The chocolate chips and keto cookie spread will melt and "glue" all the toppings to the brownies.
10
Let the brownies cool before slicing. These will keep at room temp for 3 days, in the fridge for up to 10 days, or freeze for up to 3 months. Enjoy!
Nutrition Information
Yield: 16 brownies, Serving Size: 1 brownie (includes toppings)
Amount Per Serving: 272 Calories | 23.4g Fat | 18.9g Total Carbs | 12g Fiber | 1.6g Sugar | 3.3g Sugar Alcohol | 5.1g Protein | 3.6g Net Carbs
---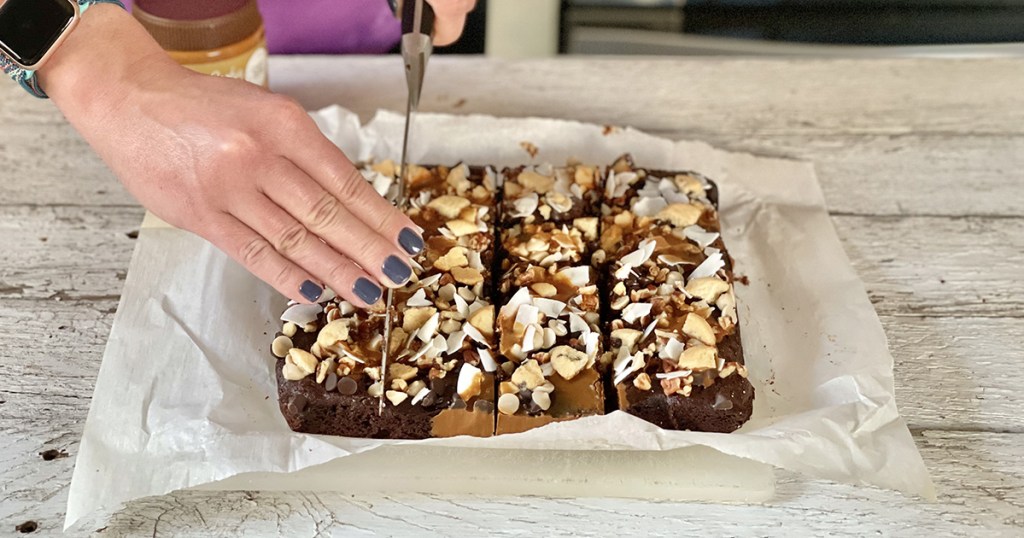 You won't believe these are *actually* keto!
And to be honest, when I was creating this recipe and then when I tasted the brownies, I wasn't sure they were actually going to be keto! How can something this good be keto!? But at only 3.6 grams of net carbs per serving, they definitely fit into a low-carb lifestyle.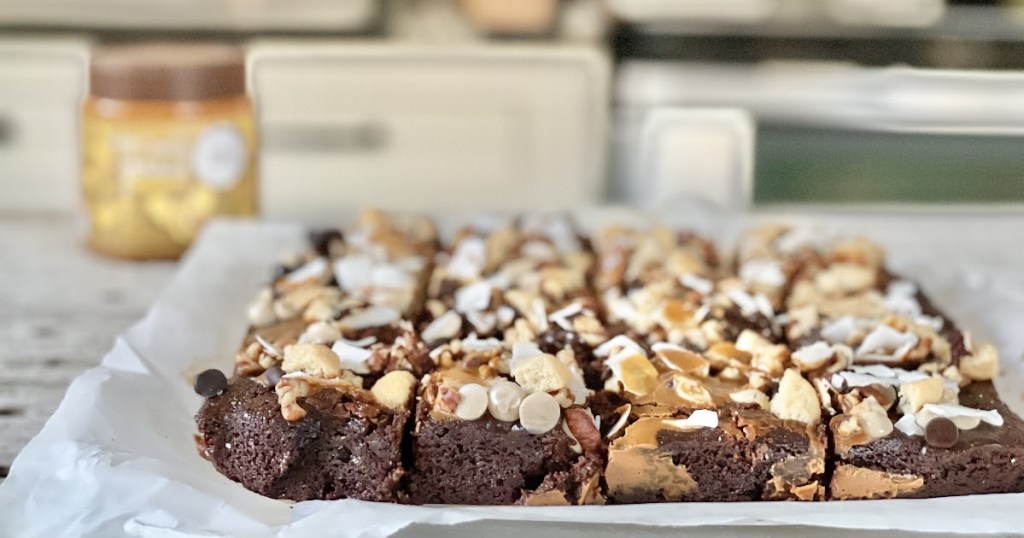 I recommend taking these to a party and not telling anyone to see if they can truly taste the difference! Hope you enjoy them as much as I do. 😋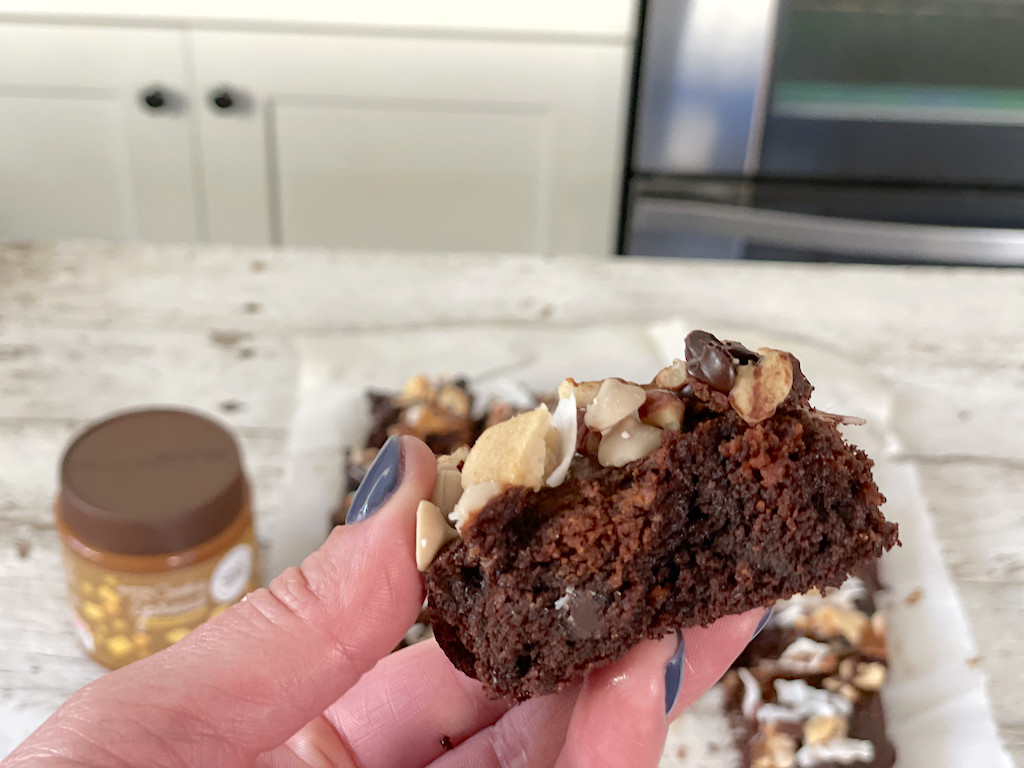 My Hip sidekick Jenna had this to say about these Keto Kitchen Sink Brownies:
"What a brilliant use of my new favorite treat – ChocZero cookie butter! 🤩 I love to eat it by the spoonful, but in these loaded brownies?! So awesome! The whole family loved these, and surprisingly yes, I actually shared! 😄 This is definitely a must-try dessert, you are sure to fall in love!"
---
Enjoy your brownies with a glass of the best dairy-free and keto-friendly milk.