Rich Keto Fudge Made With Coconut Milk
You're going to fall head over heels for this easy keto fudge recipe using coconut milk!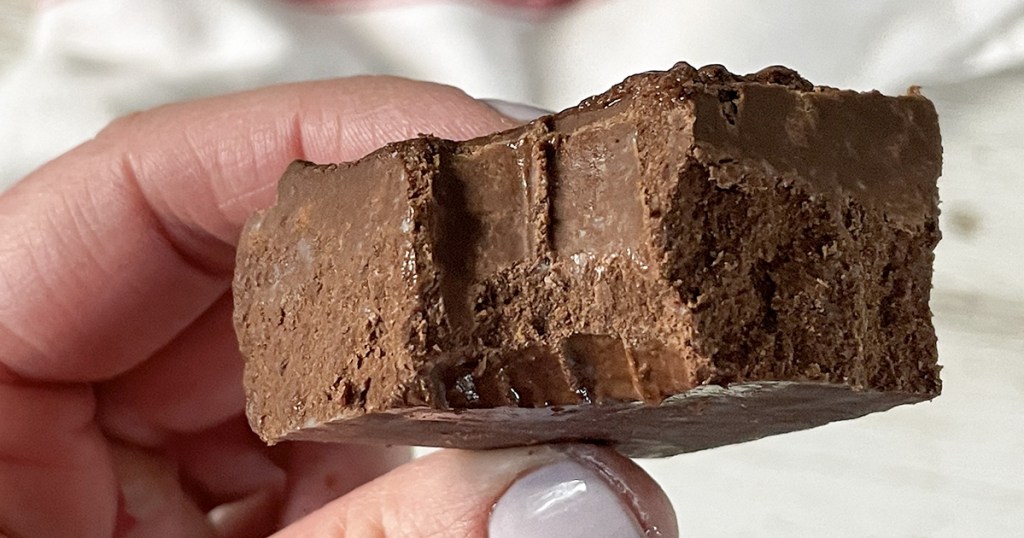 If you're a chocolate and coconut person, this recipe is for you!
Our keto fudge recipe is super easy to make, and if you've been doing keto for a while, you probably already have the ingredients on hand. It's the perfect treat when you're craving something sweet and need that chocolate fix.
For this recipe, all you need is a can of full-fat coconut milk, three cups of keto chocolate chips, keto confectioners sweetener, vanilla, and a pinch of salt! That's it!
A chocolate lover's dream!
To be honest, this is the first time I've ever made fudge but it definitely won't be the last. When I was a kid, fudge was my favorite treat. I remember getting plates of goodies around the holidays from friends and family, and I'd always go for the fudge.
Since starting keto, I couldn't tell you the last time I had a piece of fudge. I don't know why I didn't try making a keto version sooner! While his recipe for keto coconut milk fudge is simple, the hardest part is just waiting for it to set.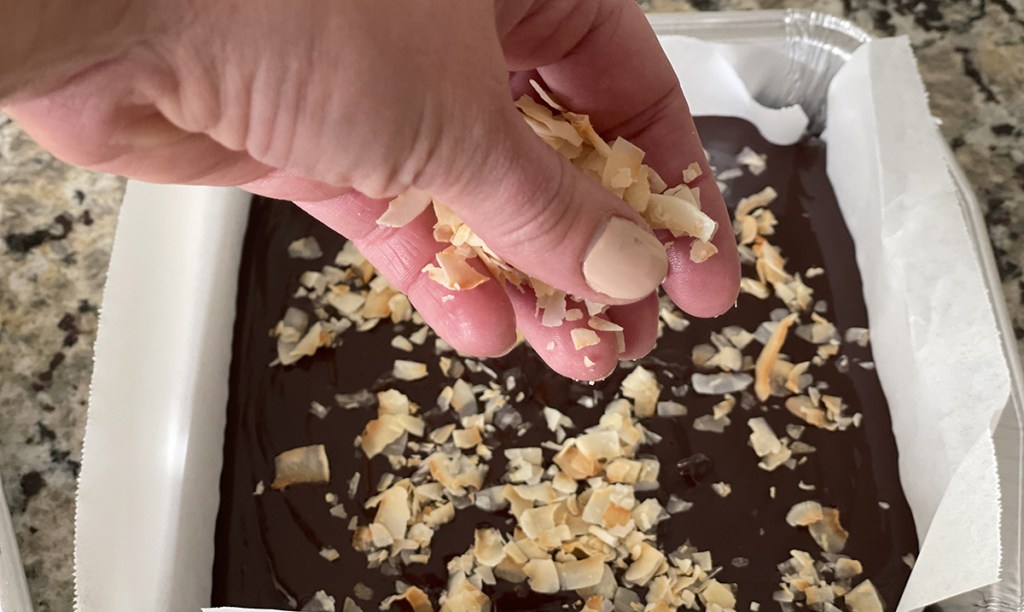 Tips for making the best keto fudge:
Drain out the liquid from the canned coconut. It doesn't have to be perfect, but if you end up with too much extra liquid, the fudge might not set up correctly. This happened to me on my first attempt. Usually, if you open the bottom of the can, that's where the liquid is and then you can pour it off. If you open the top, then use a spoon to scoop the more solid coconut milk out of the can, leaving the liquid on the bottom.
Another factor in getting fudge to set is how long you let it simmer. I also learned this the hard way and didn't cook my fudge long enough the first time around. I let the fudge simmer on low for about 15 to 20 minutes and that seemed to do the trick!
If you like a sweeter fudge, you can increase the keto sweetener to a 1/3 cup from a 1/4 cup.
I added toasted coconut flakes to one batch and that was delicious! If you're a coconut person, I highly recommend it!
This fudge is pretty rich. I cut it into 16 pieces but you could easily cut the squares in half to get 32 pieces, which I think is still a decent serving size.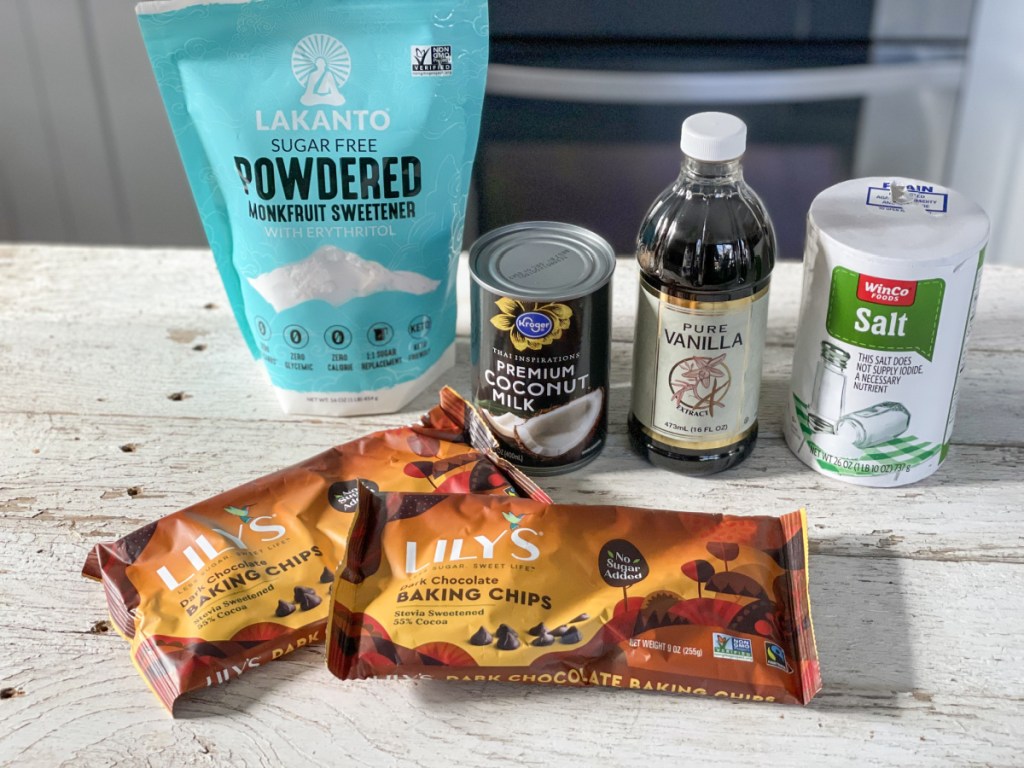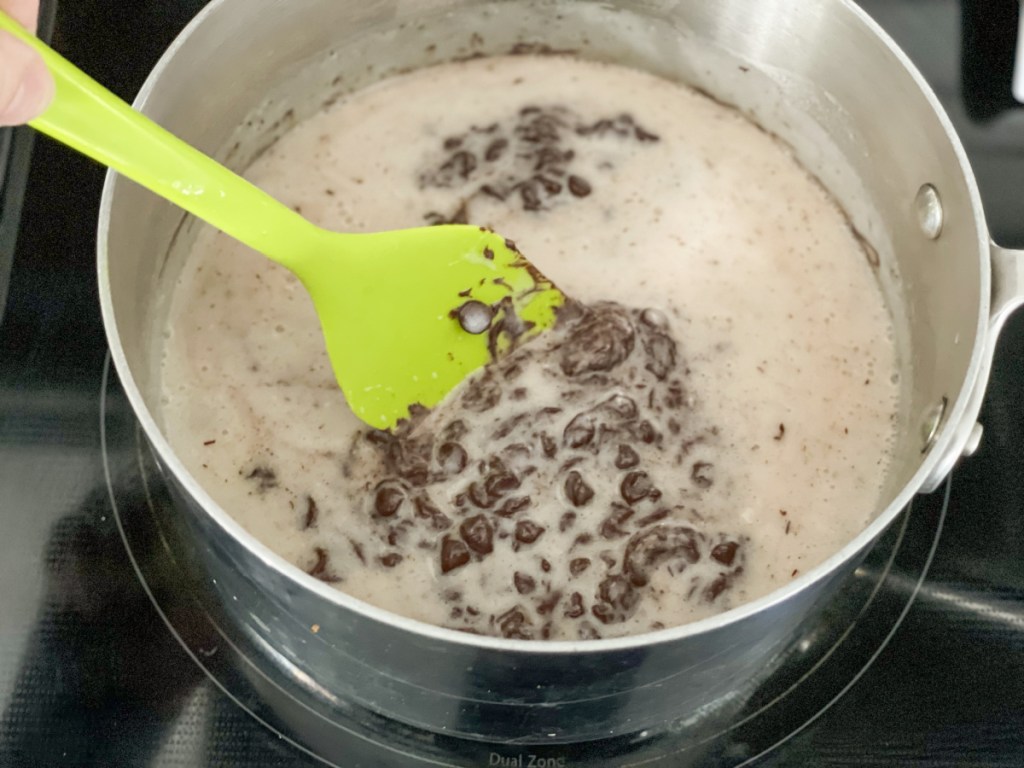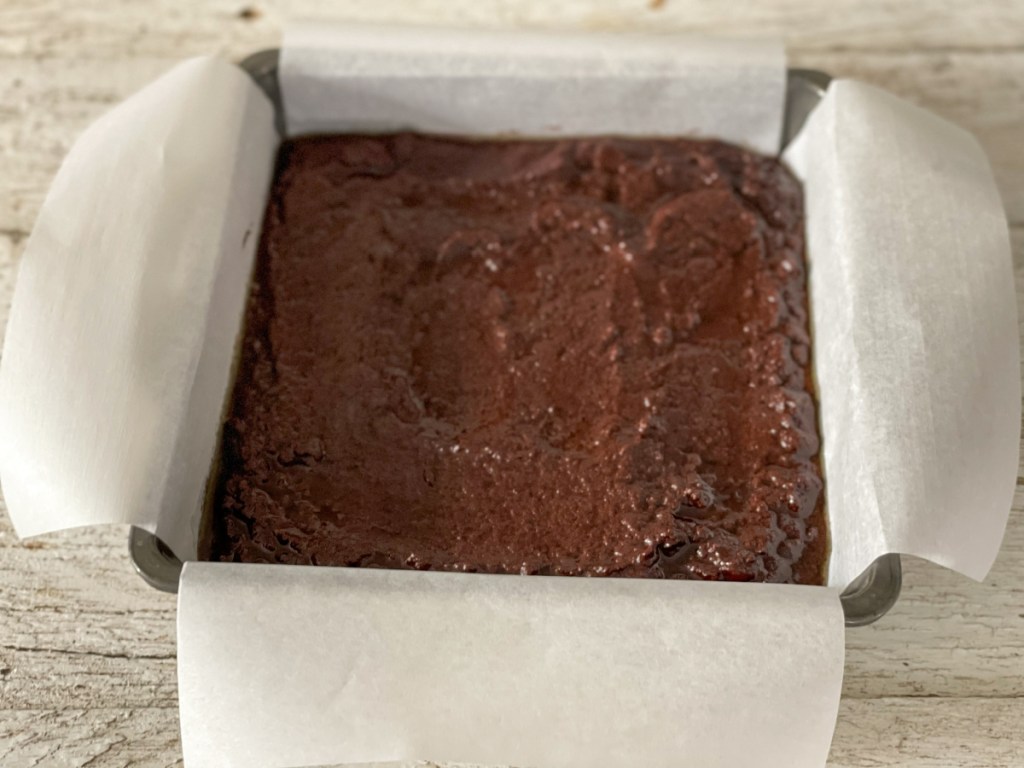 ---
Print
Keto Coconut Milk Fudge
yield: 16 SERVINGS
prep time: 5 MINUTES
cook time: 20 MINUTES
total time: 25 MINUTES
Simple keto fudge made with coconut milk, no-sugar-added chocolate chips, and keto confectioners sweetener.
Ingredients
1 - 14 oz. can full-fat coconut milk
2 teaspoons vanilla
1/4 teaspoon salt
1 cup coconut flakes, toasted, optional
Directions
1
Line an 8x8-inch pan with parchment paper. I used two pieces going opposite directions and let the parchment paper hang over the edges of the pan to create "handles" to easily remove the fudge from the pan.
2
Open the can of coconut milk and drain off the liquid the best you can or scoop out the more solid coconut milk. Place the coconut milk in a medium saucepan and heat over medium-low until the milk has melted.
*If your can of coconut milk didn't have any liquid to drain, let it simmer on low for 5 to 10 minutes to thicken it up.
3
Add in the keto confectioners sweetener and salt. Stir to dissolve. Then mix in the vanilla.
4
Reduce heat to low. Pour the keto chocolate chips into the saucepan. Stir occasionally until fully melted.
5
Let the mixture simmer for 15 minutes, stirring occasionally to prevent any burning or sticking.
6
Pour the coconut milk chocolate mixture into the prepared pan. Smooth out the fudge and then place it in the fridge for at least 6 hours or until set. Add toasted coconut flakes to the top of the fudge at this time if desired.
You can also place it in the freezer. I left mine in the freezer overnight. Let warm up for about an hour at room temperature before slicing.
7
After fudge is set, remove it from the pan and slice it into 16 pieces, or you can slice it smaller into 32 pieces, if desired. Store fudge in the fridge for up to a week or freeze for up to three months. Enjoy!
Additional Notes
*Nutrition information is with Lily's Dark Chocolate Chips and does not include coconut flakes. 
Nutrition Information
Yield: 16 pieces, Serving Size: 1 piece
Amount Per Serving: 162 Calories | 13.7g Fat | 24.1g Total Carbs | 9.5g Fiber | 0.4g Sugar | 9.4g Sugar Alcohol | 2.8g Protein | 5.2g Net Carbs
---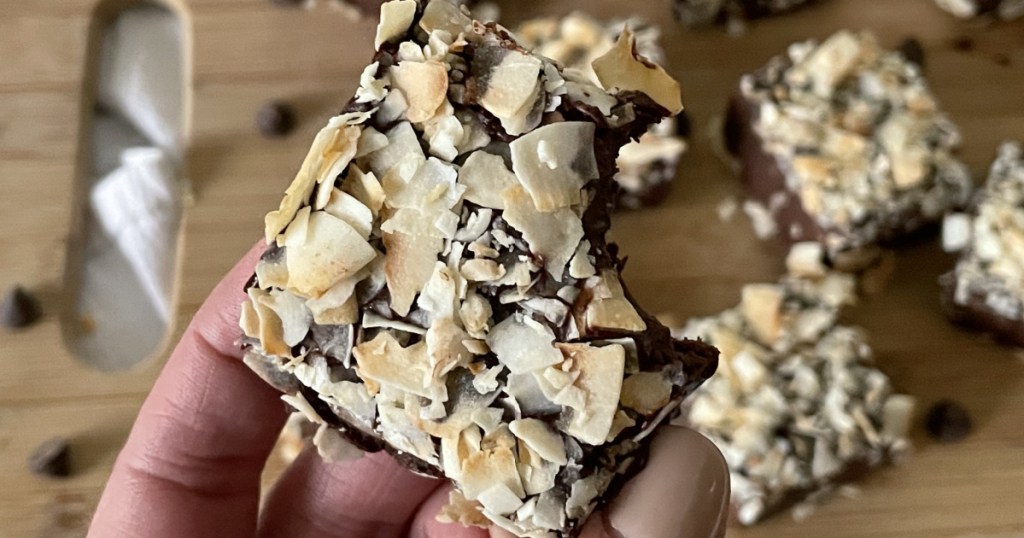 You could share, but why not keep it all for yourself!
This keto coconut milk fudge did not last long in my house. Even the batches that didn't quite set up got eaten pretty fast! And because it's so easy to make, you can have it as a treat any time of the year!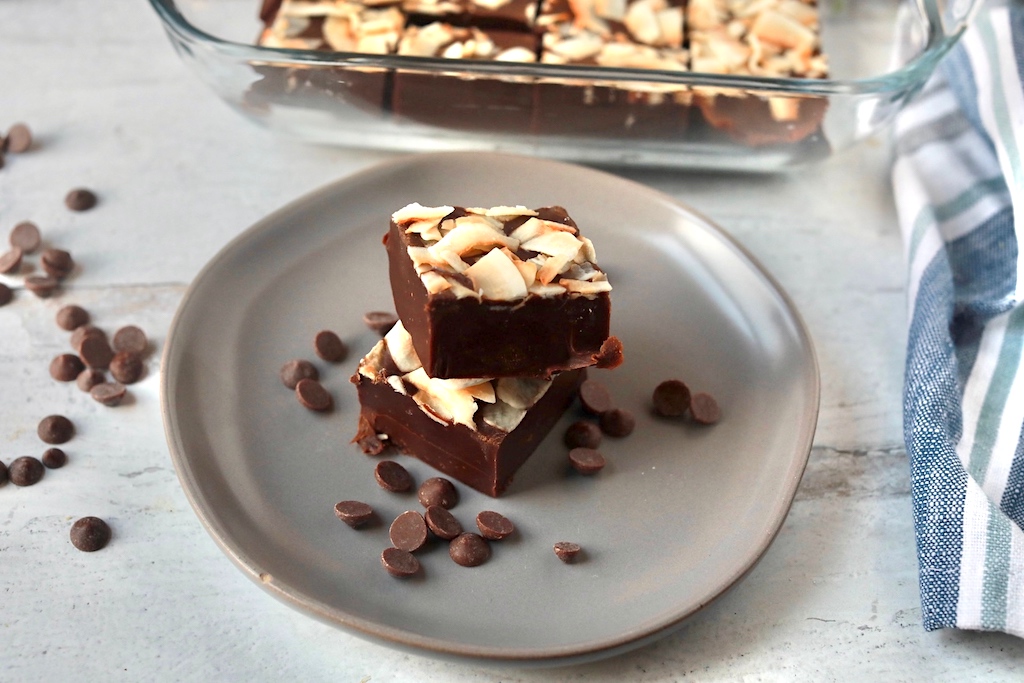 Here's what my Hip sidekick Jenna had to say about this keto coconut milk fudge:
"So creamy and good, I can't believe how fool-proof this recipe is! It's so easy to throw together, then just let it sit and wait to enjoy. I think the topping really made this stand out even more, I would suggest adding the toasted coconut or if you prefer, some sliced almonds would be yummy too. The kids loved this fudge and never once asked if it was keto so I will definitely be making this again!"
---
If you thought that was easy, here's an even simpler keto fudge recipe!