Skip Takeout and Make Easy Keto Crockpot Mongolian Beef Instead!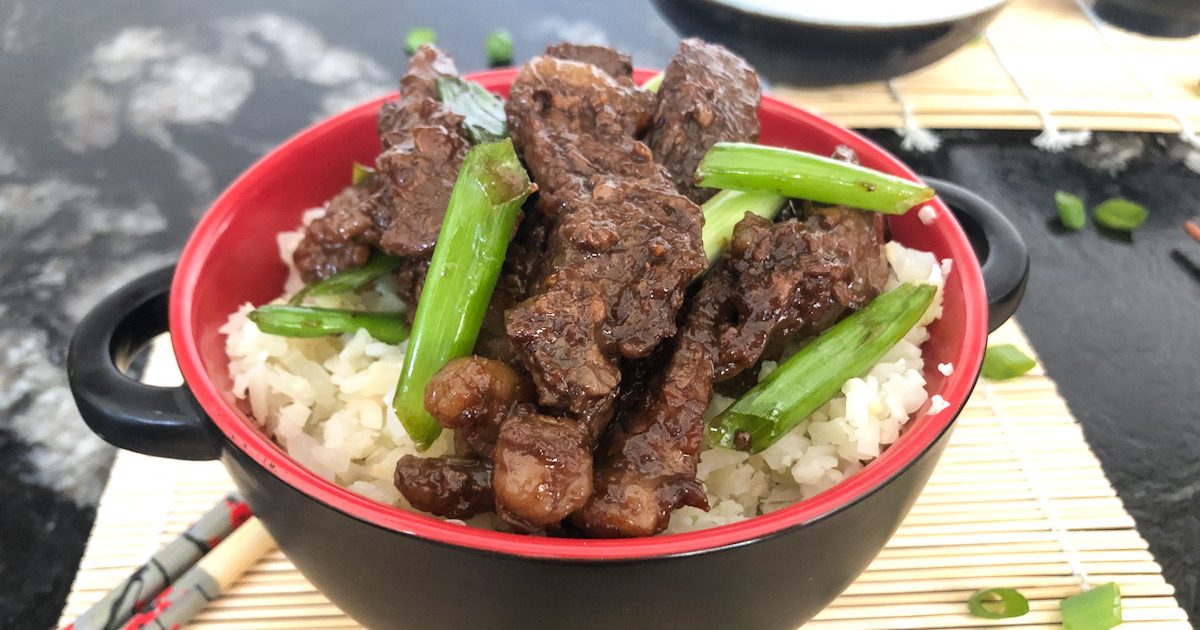 I LOVE easy takeout copycat recipes!
Who doesn't love easy weeknight dinners? That's why the concept of takeout is so popular. 🙌 But this recipe for keto Crockpot Mongolian Beef comes together quickly so you don't have to spend hours in the kitchen cooking and you can skip ordering out and save yourself some money too.
To keep things simple, you can make this in a Crockpot or Instant Pot. And stovetop actually works too! The flavor is amazing and is really just like takeout… but better, because you know everything that went into it! It even makes great leftovers as well. 🥡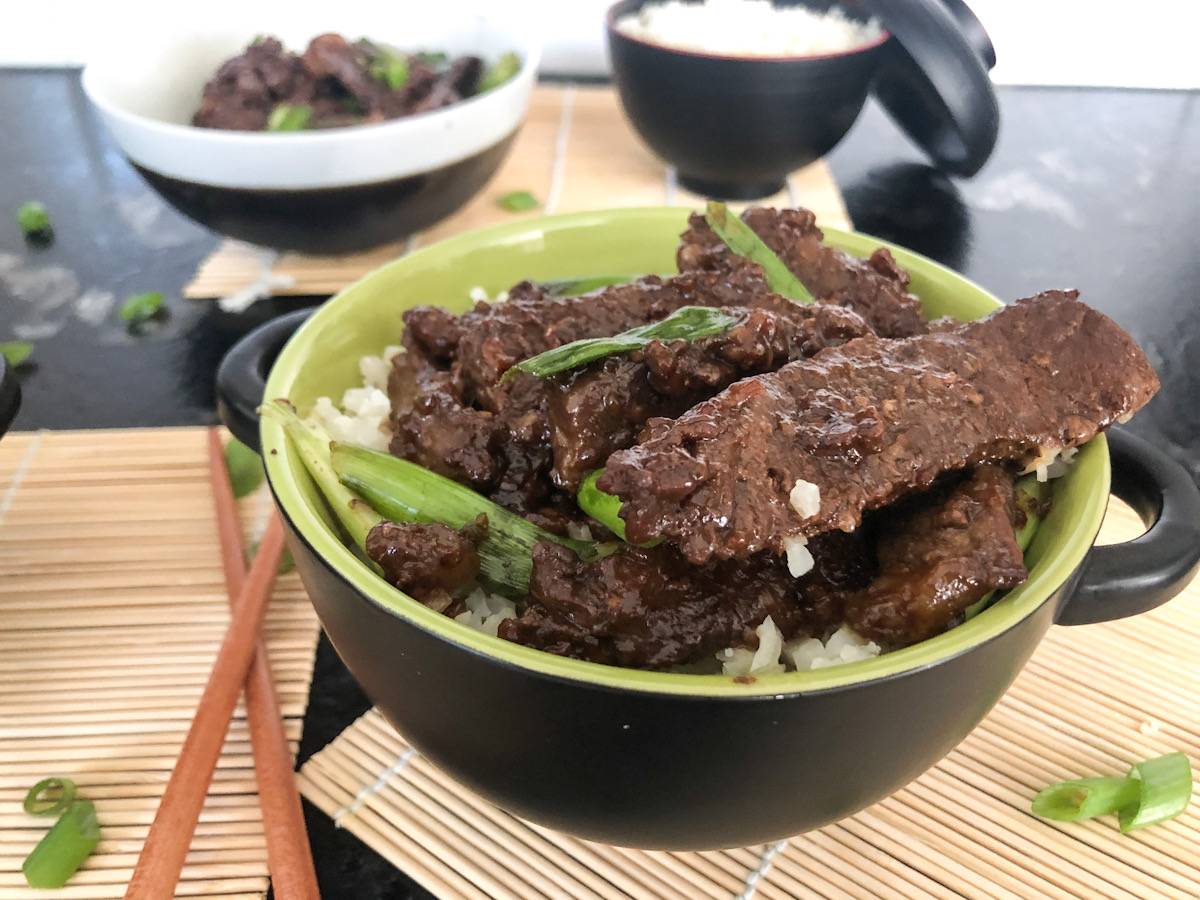 Your family won't even believe it's keto!
This keto Crockpot Mongolian Beef is adapted from our Hip2Save Instant Pot Mongolian Beef recipe. To make it keto, we switched out the brown sugar for a keto brown sweetener (I love Swerve) and used xanthan gum in place of corn starch as the thickener. We also served it over cauliflower rice instead of traditional rice.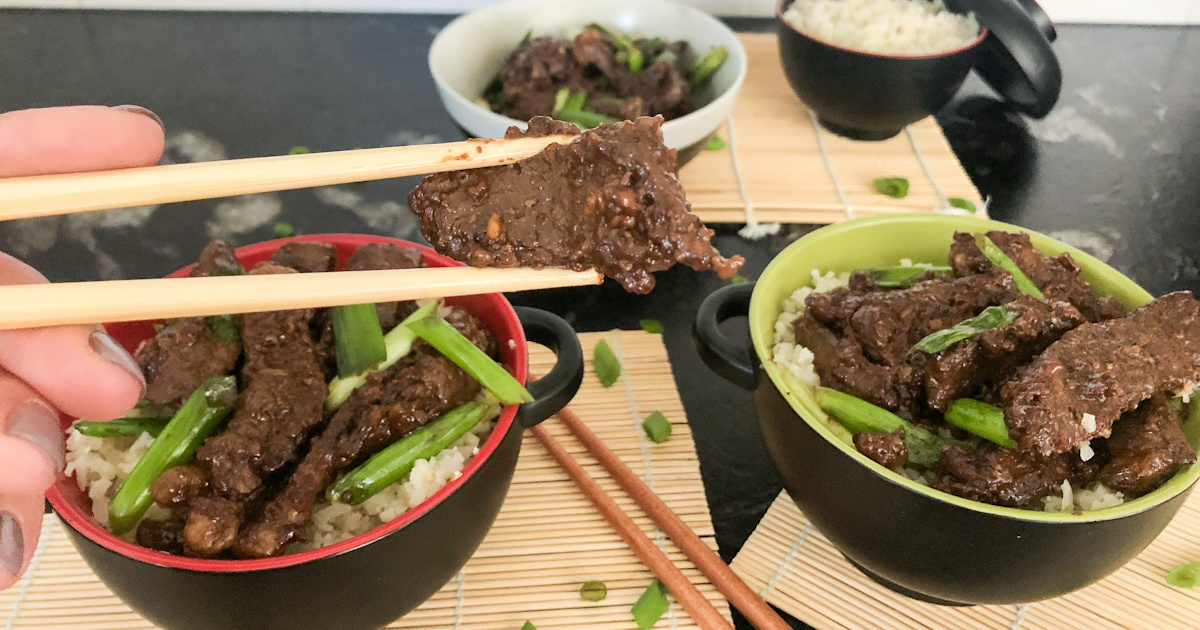 Tips for making the best keto Crockpot Mongolian Beef:
You can use flank steak or a sirloin steak to make this recipe. Flank steak is more traditional, but sirloin steaks generally tend to be more affordable.
If you're running short on time, you can cook this in a large skillet and skip the Crockpot. If opting for the skillet method, add the sauce to the meat in the skillet after you sear it and let the meat cook for about 10-15 minutes. Then sprinkle in the xanthan gum and stir in the green onions.
To make this recipe in your Instant Pot, add oil to the bottom of the pot and turn the Instant Pot to sauté. Brown the steak in the oil, and note that you may need to do this in batches. Then add the sauce, close the lid, and set the time for 12 minutes (manual) on HIGH. Carefully vent when finished to release the pressure. Turn the Instant Pot back on sauté function and sprinkle in the xanthan gum to thicken.
Broccoli also makes a great addition to this meal if you're looking to add in more veggies!
If you want to add some heat, try adding in 1/4 teaspoon red pepper flakes or top with Sriracha.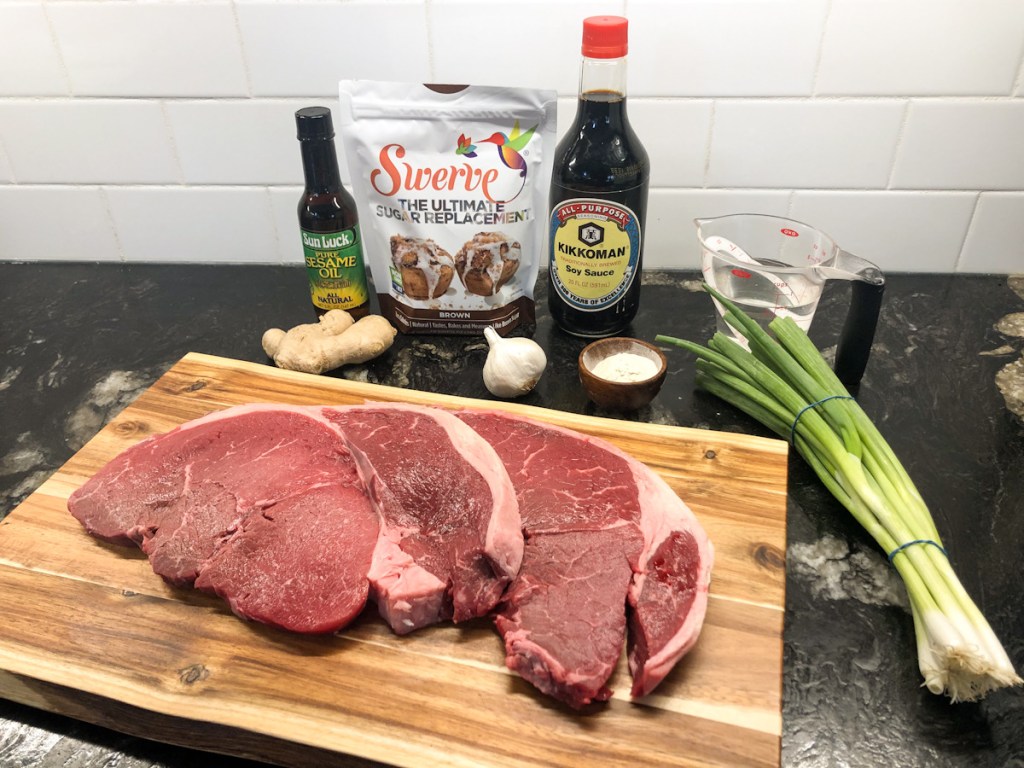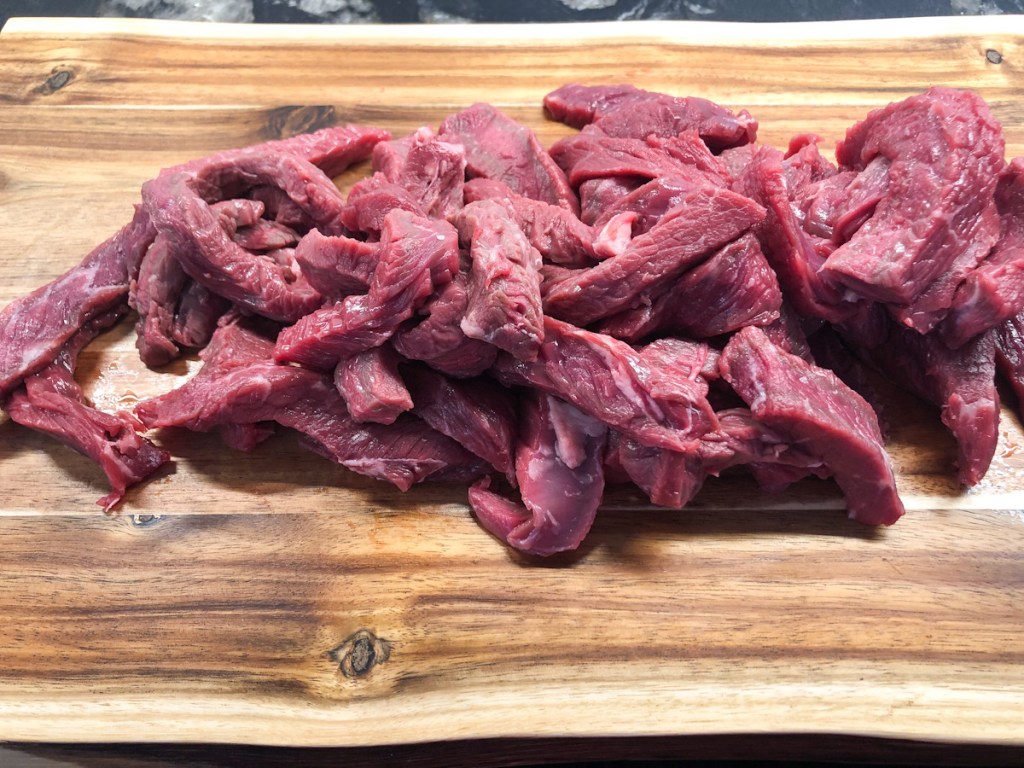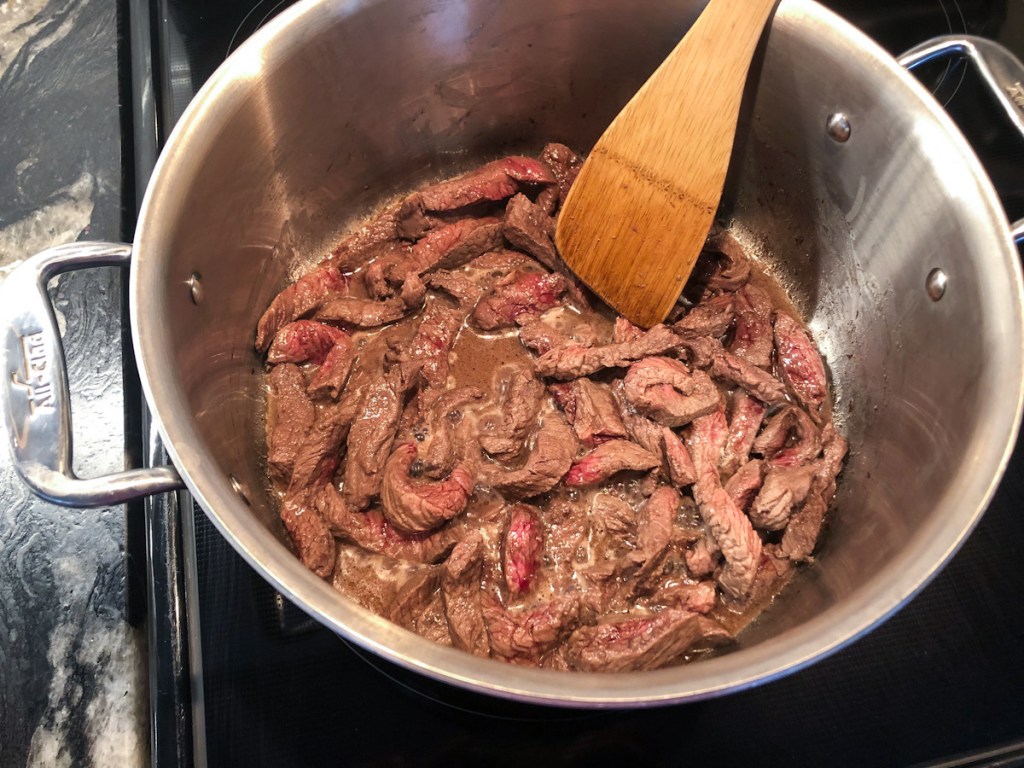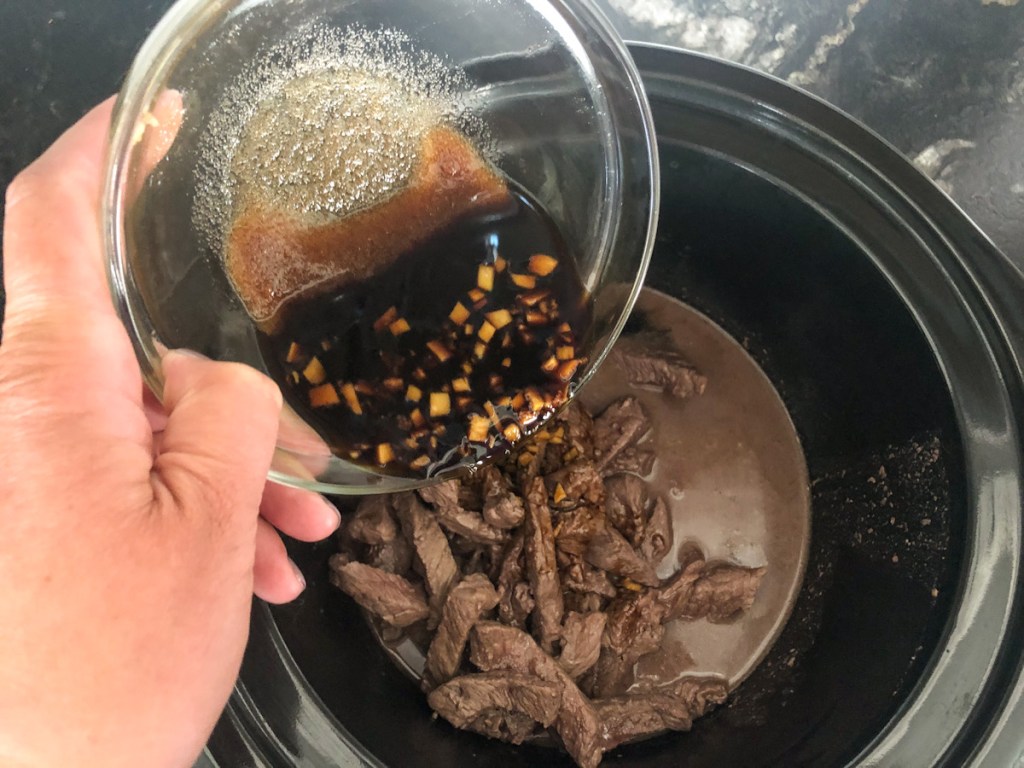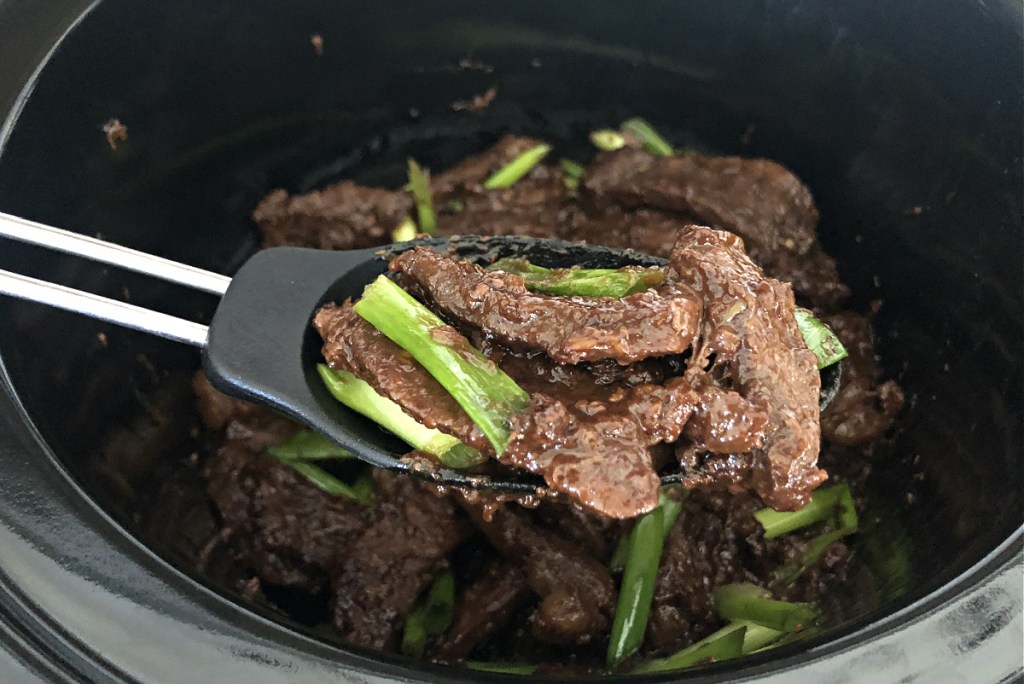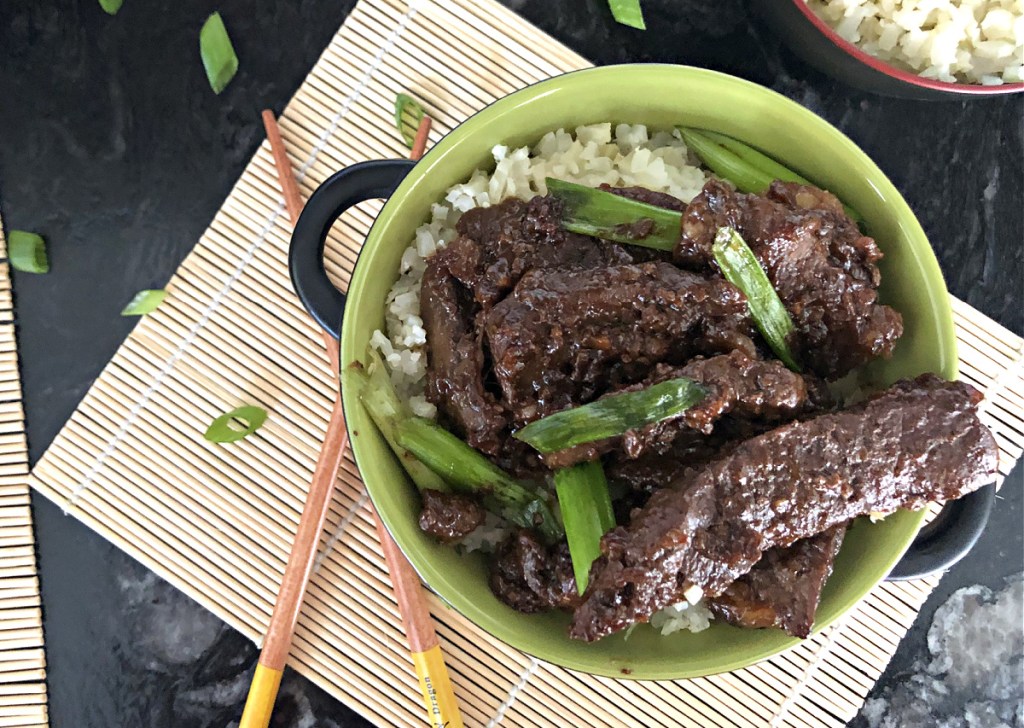 ---
Print
Keto Crockpot Mongolian Beef
yield: 6 SERVINGS
prep time: 15 MINUTES
cook time: 5 HOURS
total time: 5 HOURS 15 MINUTES
Sweet, savory, and saucy keto Mongolian Beef with green onions made simple with the slow cooker.
Ingredients
2 pounds flank steak or beef sirloin steak, cut into thin strips
1 tablespoon sesame oil
1/2 cup soy sauce or tamari
1/2 cup water
4 garlic cloves, minced
2 teaspoons fresh ginger, peeled and minced
4 green onions, chopped
2- 10 oz. bags frozen cauliflower rice (for serving)
Directions
1
Heat sesame oil in a large skillet over medium-high heat. Add beef steak strips to skillet to sear. Cook for 4-5 minutes and then place in a Crockpot. If you have any juice left in the skillet, add that to the Crockpot as well.
2
To make the sauce, mix together soy sauce or tamari, water, keto brown sweetener, garlic, and ginger. Pour the sauce over the seared steak strips in the Crockpot.
3
Set the Crockpot on LOW for 4 to 5 hours or on HIGH for 2 to 3 hours.
4
When the meat is done cooking in the Crockpot, lightly sprinkle the xanthan gum over the meat and stir well to combine. Continue to cook on low for another 10 minutes or so until the sauce thickens.
5
Once the sauce thickens, add in the green onions and cook for another minute or two.
6
While the sauce finishes, cook frozen cauliflower rice according to the package directions.
7
Serve keto Mongolian beef over cauliflower rice and garnish with extra chopped green onions if desired. Enjoy!
Additional Notes
Nutrition Information does NOT include cauliflower rice. 
Nutrition Information
Yield: 6 servings, Serving Size: 1 serving
Amount Per Serving: 332 Calories | 15.1g Fat | 20.2g Total Carbs | 0.3g Fiber | 0.3g Sugar | 18.7g Sugar Alcohol | 46.4g Protein | 1.2g Net Carbs
---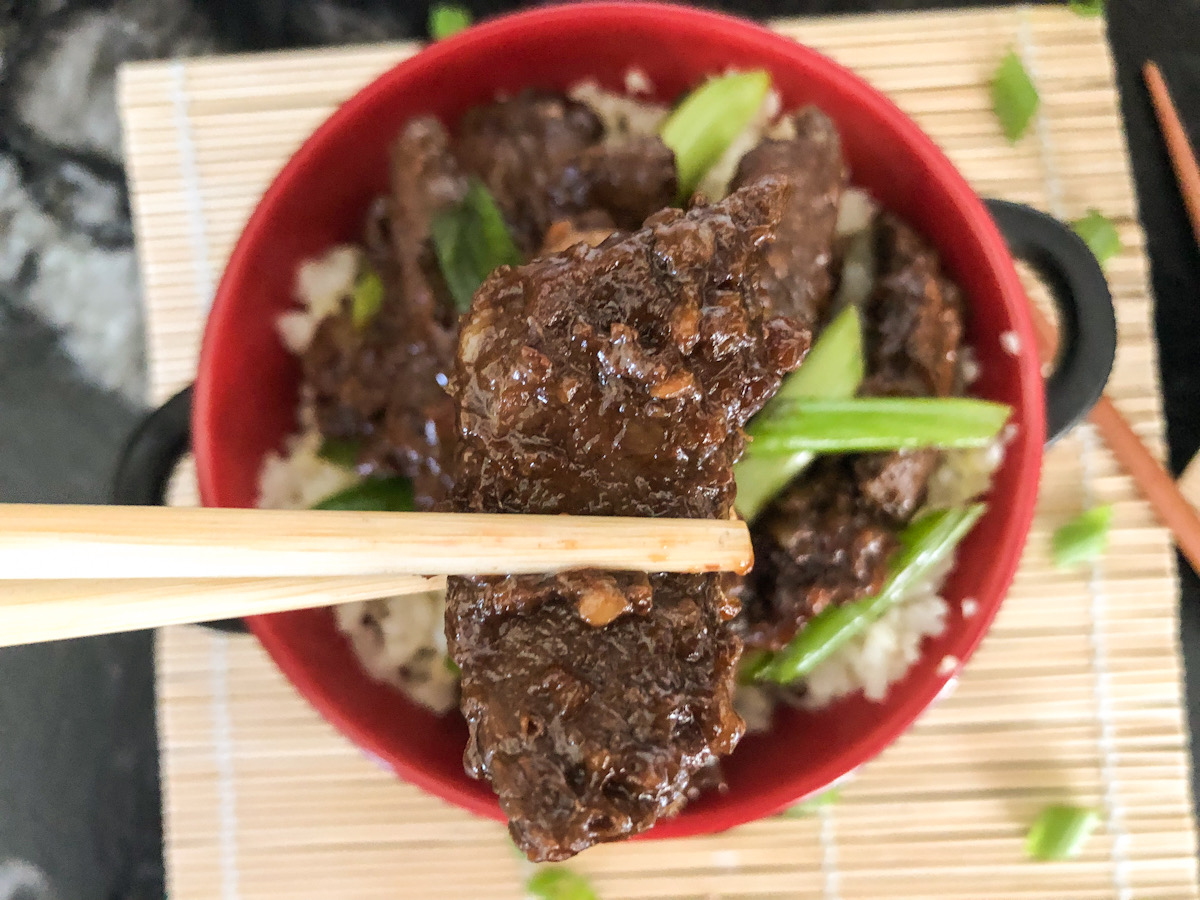 I wish you could smell the sizzling savory beef through the computer screen. 🤤
Believe me, I know how convenient and easy takeout is, but treat yourself to this keto Mongolian beef dish that brings through all the authentic flavors with none of the mystery. I promise you won't regret it after your first bite!
My Hip sidekick Jen tried out this Mongolian beef recipe and here's what she had to say:
"This was a HUGE hit in our house and it's surprisingly so fast to throw together! The meat is really tender and savory. This recipe is super versatile for people who are not eating keto. My non-keto eaters loved this because they could put theirs over regular rice while I used cauliflower rice. Another plus is that this meal is really filling and makes a lot! It's hard to keep everyone in the family happy but we all loved it!"
---
Want more go-to meals? Try this easy keto hamburger helper recipe!