Keto Cream Cheese Stuffed Chicken Breasts (Make Chicken Flavorful Again!)
Rethink the boring chicken breast by making cream cheese stuffed chicken instead!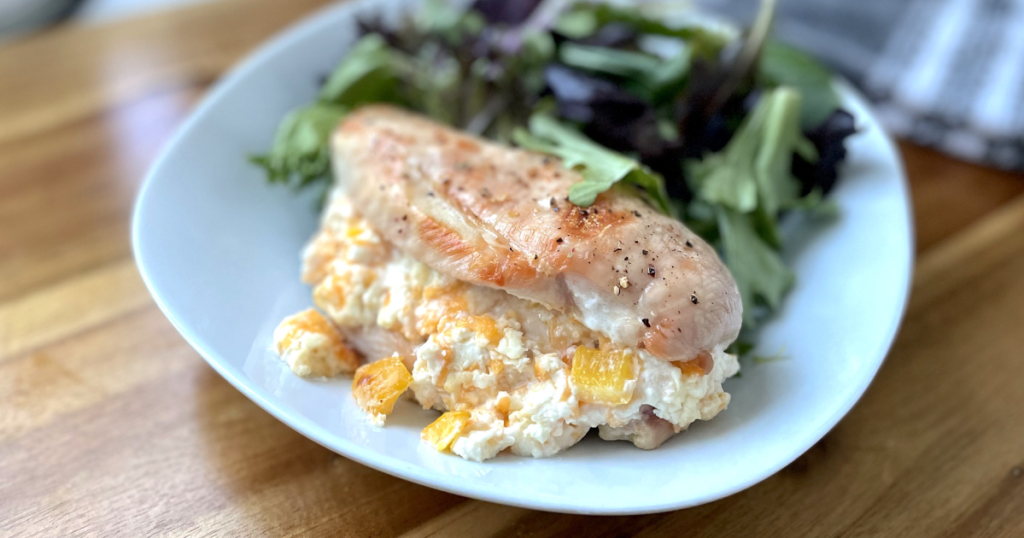 It's time to mix up your chicken game!
Do you ever get bored of eating chicken? For me, it can be a struggle to think of new and creative ways to cook it to really give it maximum flavor. I can get into a rut of throwing chicken breasts on a baking sheet and putting them in the oven for 30 minutes, but that tends to get a little old, so it's time for something new…
So that's where these keto cream cheese stuffed chicken breasts come into play. This is a great way to level up plain chicken breasts and it hardly takes any extra time. And stuffing the chicken with cream cheese helps to keep the meat perfectly moist and flavorful. Yum!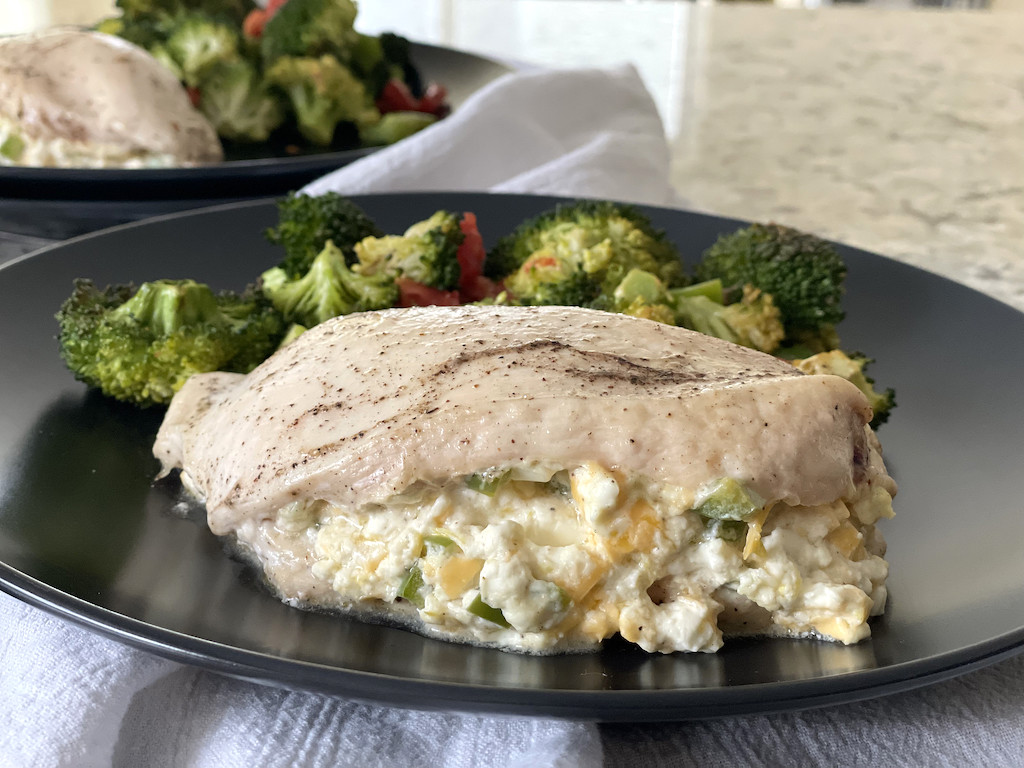 Make this your go-to method for cooking chicken!
This recipe is super easy to make. You start by almost slicing the chicken breasts in half by carefully cutting through the thick side of the breast to butterfly the chicken breast open. No need to try to cut a pocket into the chicken breast — folding the chicken over the cream cheese filling works just fine. You can secure the chicken around the cream cheese filling with toothpicks if desired, but again, not necessary.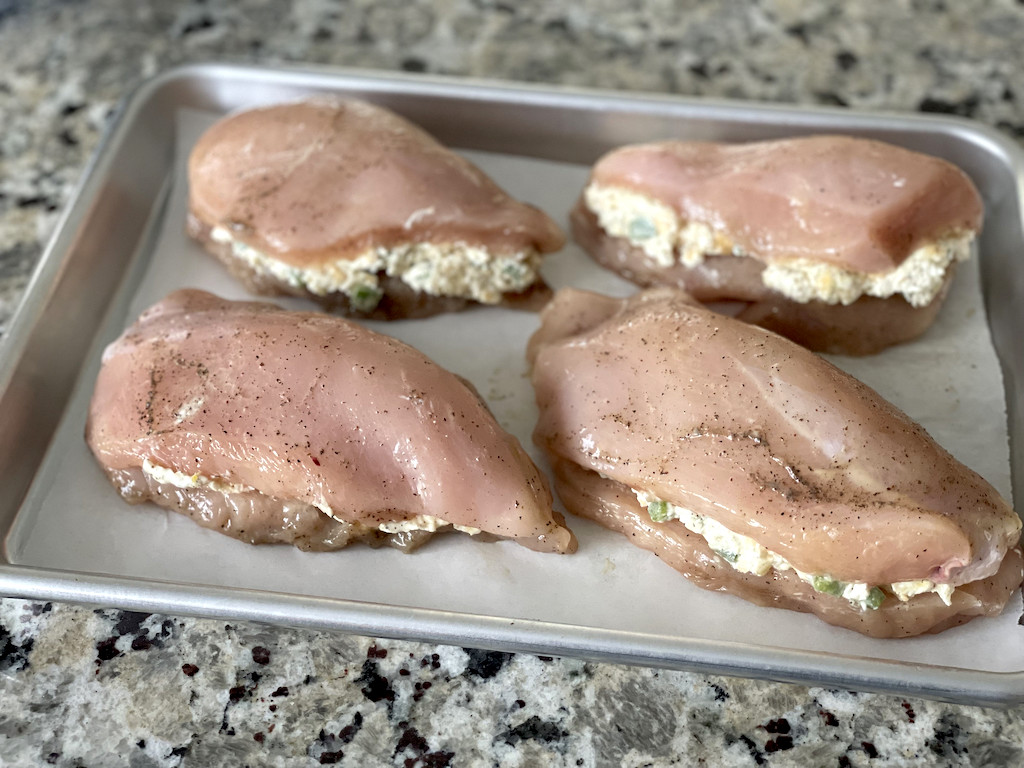 Tips for making the best keto cream cheese stuffed chicken breasts:
Be careful when you're cutting the chicken breasts in half so that you don't cut them all the way through. You also don't want to cut yourself!
Depending on the size of your chicken breasts, you might end up with leftover cream cheese filling. If you think that might happen, be careful that you don't cross-contaminate the cream cheese filling with raw chicken. Save the extra cream cheese filling for another use. I think it'd be delicious mixed in with scrambled eggs. 😋
Feel free to get creative with the cream cheese filling to use your favorite shredded cheeses or herbs — you could even add crumbled bacon, because why not! 🥓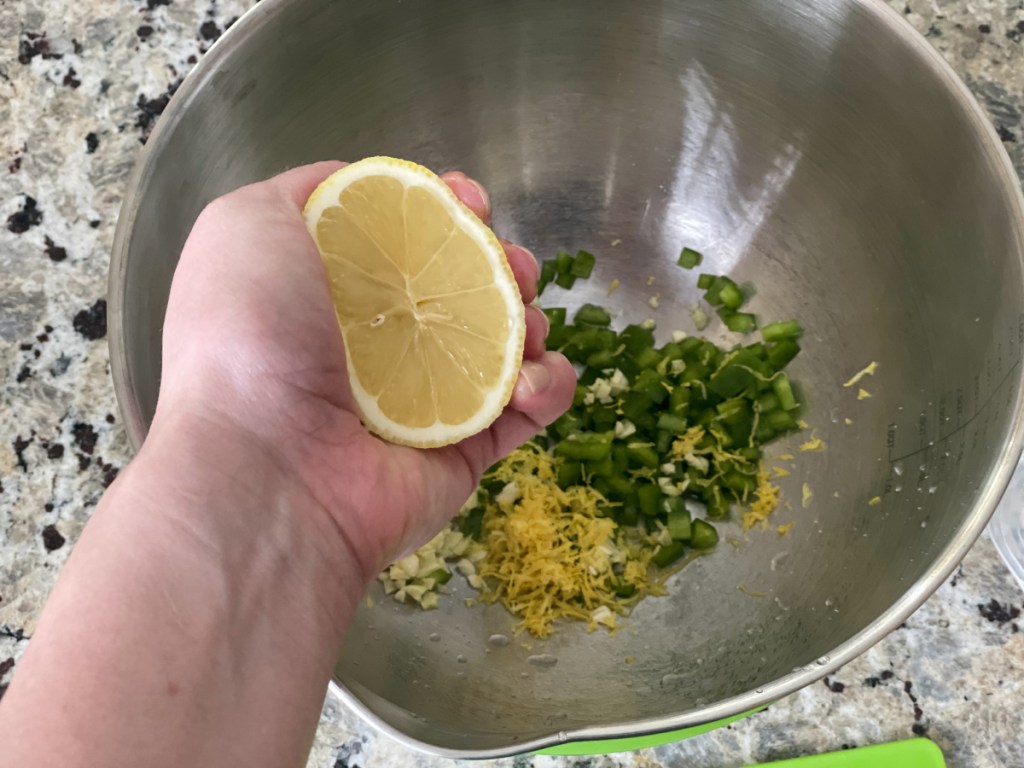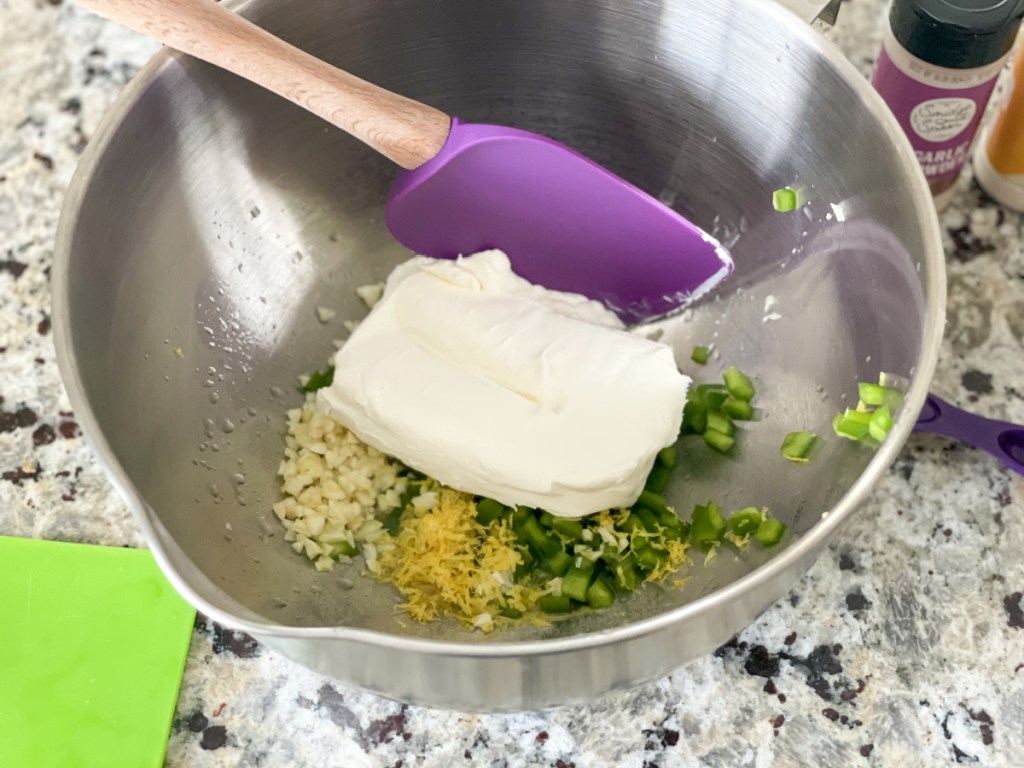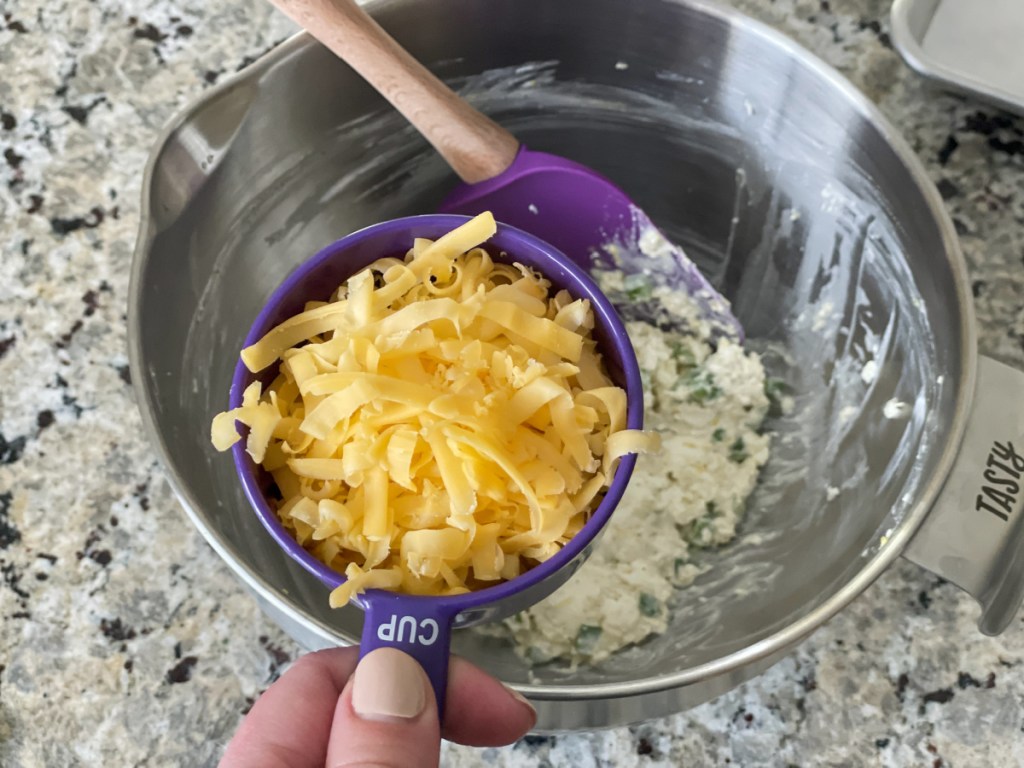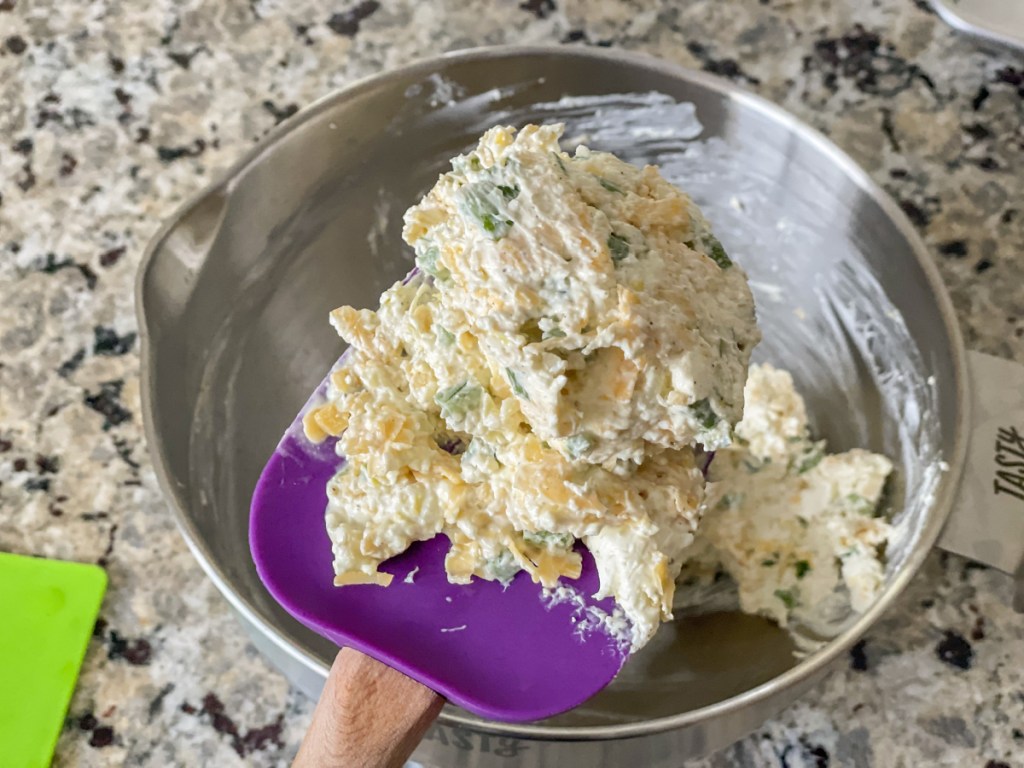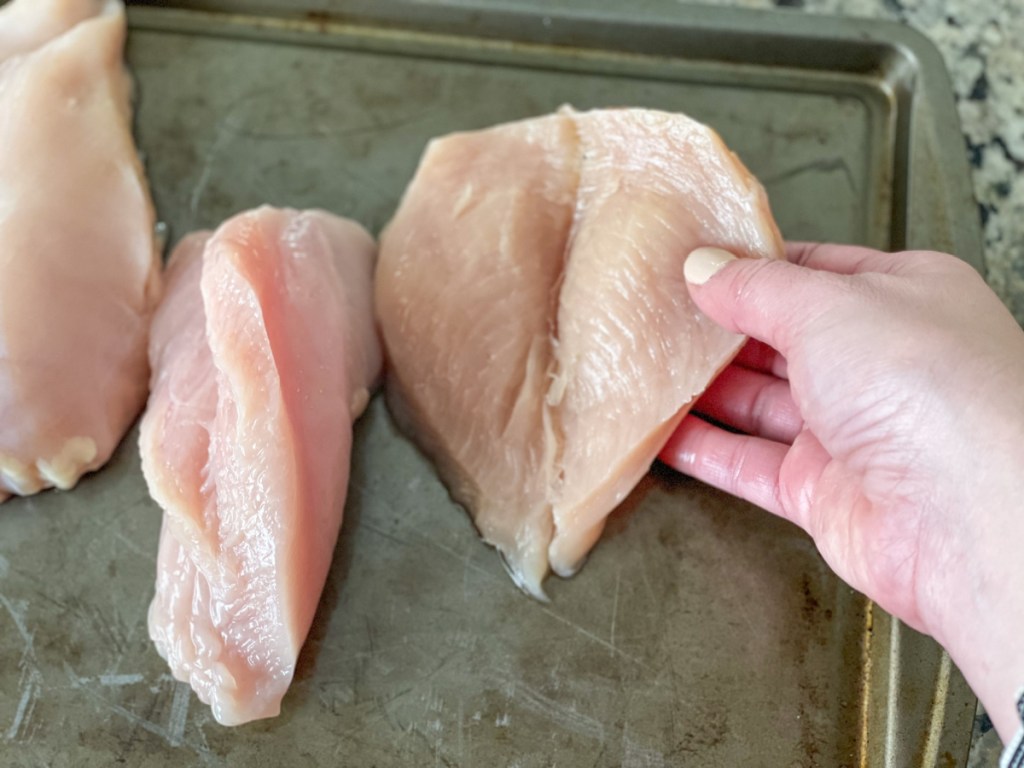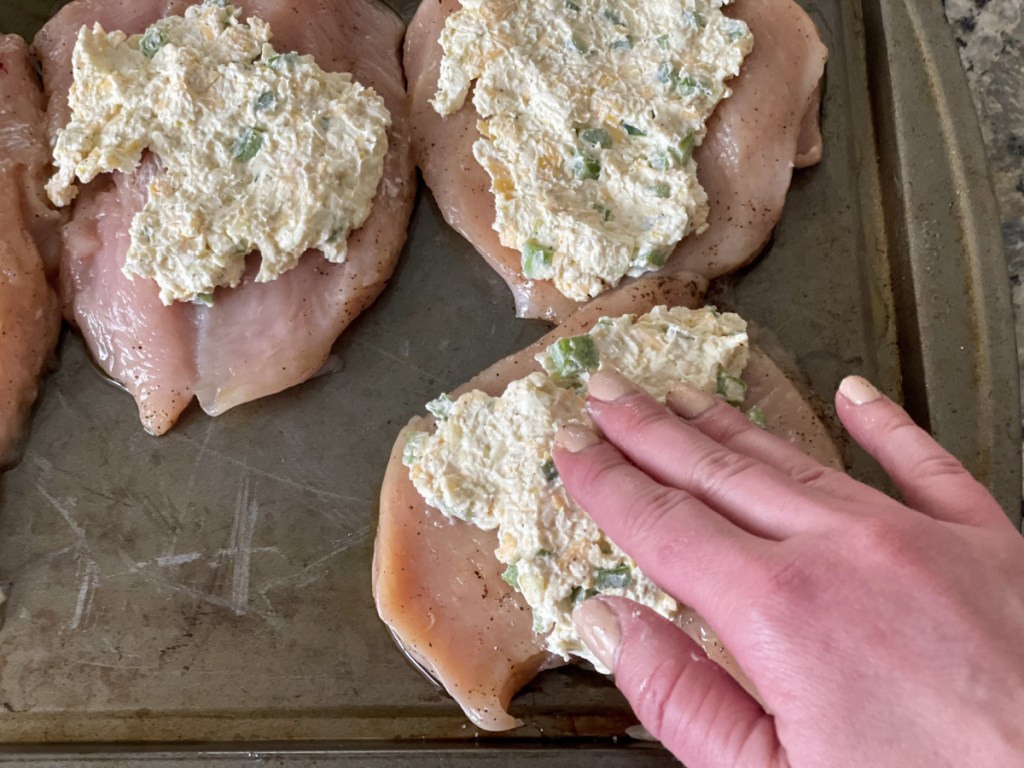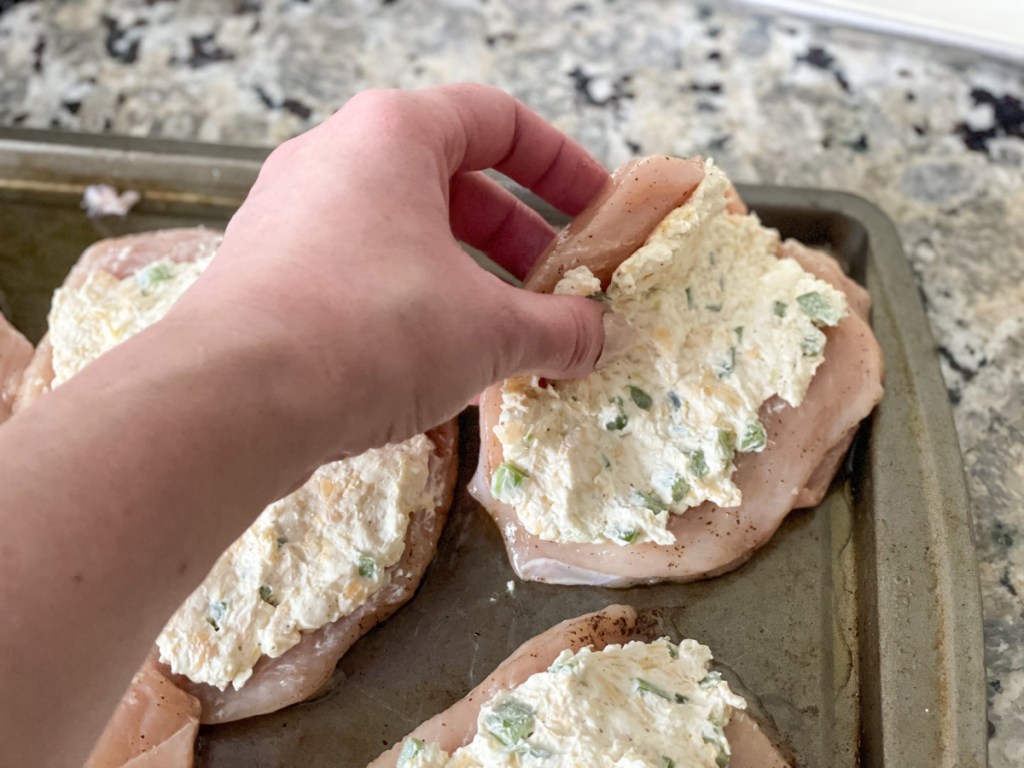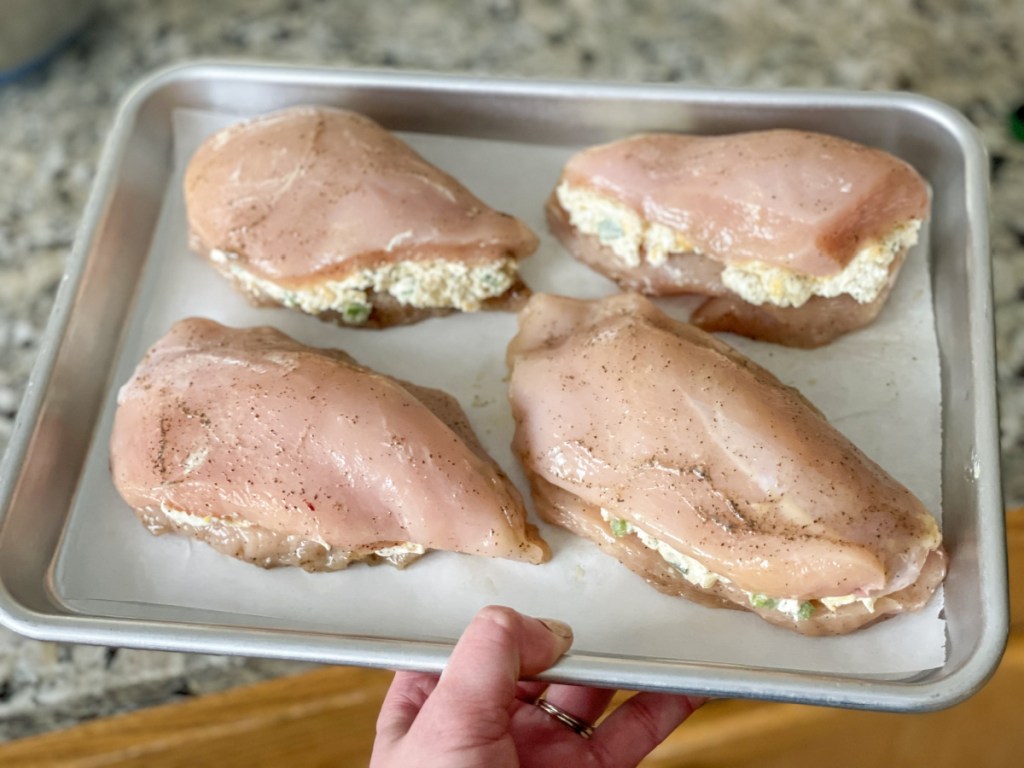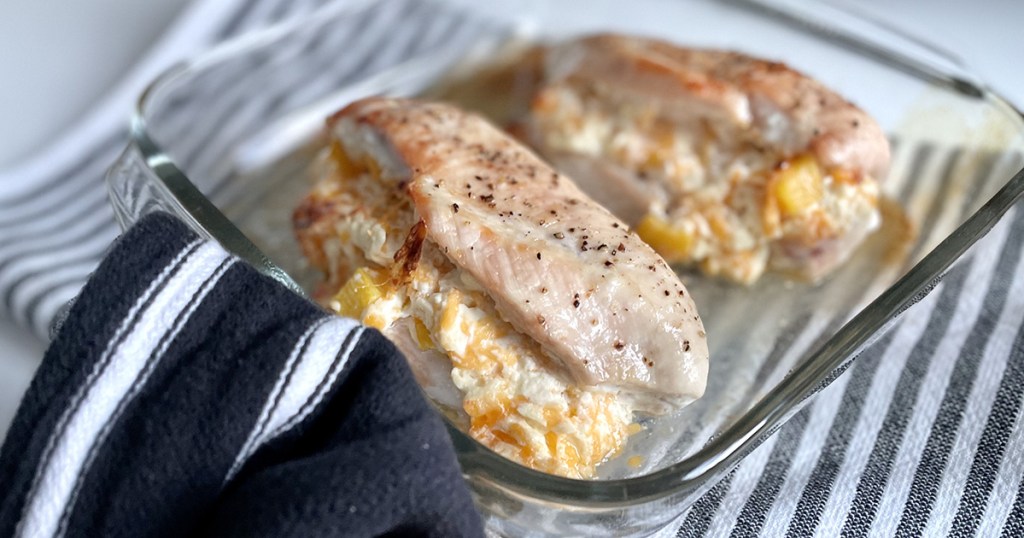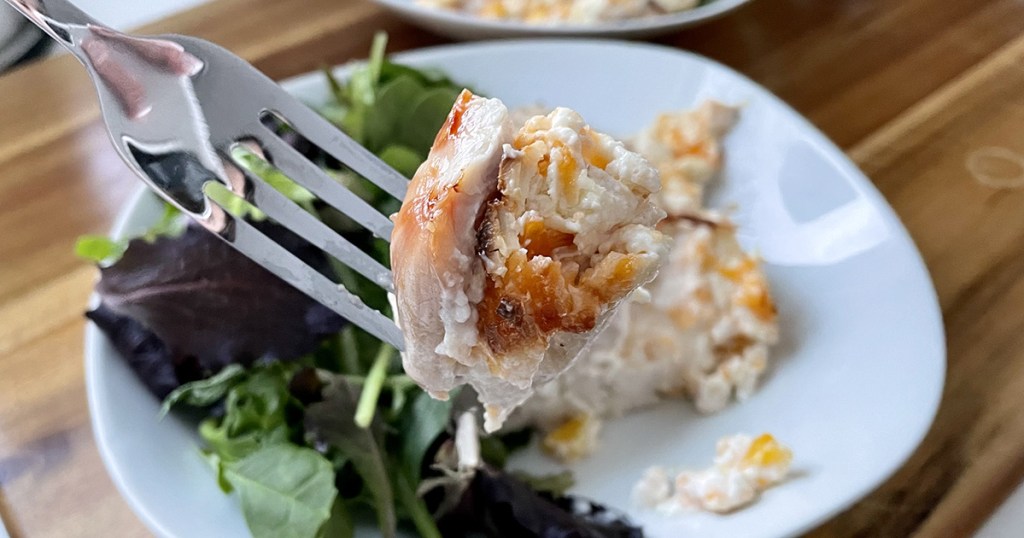 ---
Print
Keto Cream Cheese Stuffed Chicken
yield: 4 SERVINGS
prep time: 15 MINUTES
cook time: 30 MINUTES
total time: 45 MINUTES
Chicken breasts stuffed with a tasty cream cheese mixture of lemon, garlic, green pepper, and cheddar cheese.
Ingredients
1/2 bell pepper, finely chopped
4 garlic cloves, minced
zest from 1 large lemon
2 tablespoons fresh lemon juice
1 teaspoon garlic powder
1/2 teaspoon onion powder
1 cup shredded cheddar cheese
4 chicken breasts
1 tablespoon olive oil
1/2 teaspoon salt
1/4 teaspoon pepper
Directions
1
Preheat oven to 375 degrees. Line a baking sheet with parchment paper. Set the cream cheese on the counter to let it soften a little.
2
To make the filling:
In a medium bowl, mix together chopped bell pepper, garlic, lemon zest, lemon juice, cream cheese, garlic powder, and onion powder. You can also add a pinch of salt and pepper to the filling. Mix until everything is well combined. Then mix in the shredded cheddar cheese until it's fully incorporated. Set aside while you prep the chicken.
3
Carefully cut chicken breasts through the thickest part of the breast, being careful not to cut them all the way through. You want to butterfly them so that you can fold the chicken over the cream cheese filling.
4
After cutting open the chicken breasts, drizzle them with olive oil and evenly sprinkle with salt and pepper, using more if needed.
5
Now you're ready to stuff the chicken breasts.
Open up the chicken breasts and spread about a 1/4 cup to a 1/3 cup of the cream cheese filling on both sides of the inside of the chicken breast. Then fold the chicken breast back over the cream cheese filling and press around the edges to seal. Repeat with remaining chicken breasts.
6
Bake for 25 to 30 minutes until the chicken is cooked through or a thermometer reads 165 degrees. If you like your chicken a bit more browned on the outside, you can opt to broil it for a couple of minutes. Serve with your favorite vegetables. Enjoy!
Nutrition Information
Yield: 4, Serving Size: 1 stuffed chicken breast
Amount Per Serving: 519 Calories | 34.2g Fat | 4.4g Total Carbs | 0.5g Fiber | 1.6g Sugar | 48.4g Protein | 3.9g Net Carbs
---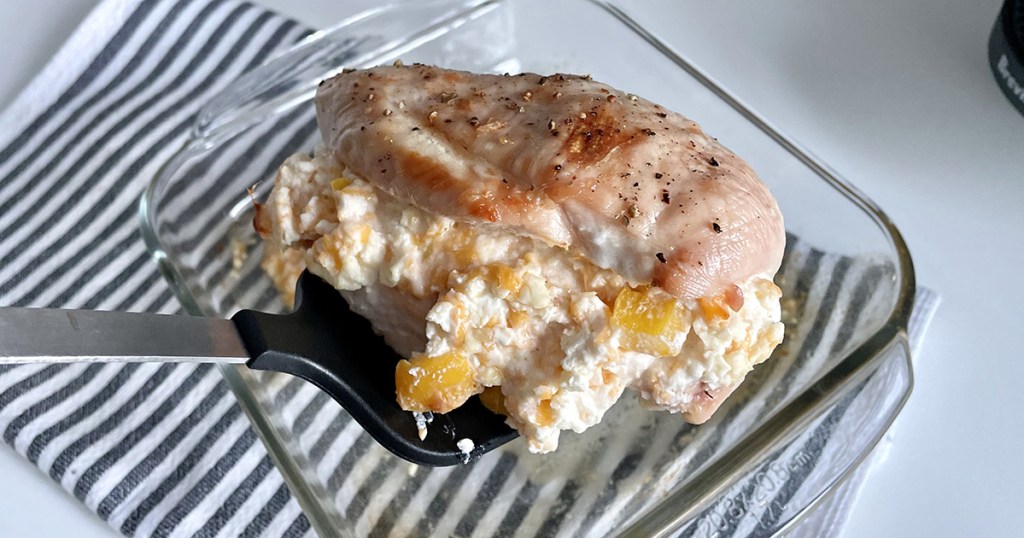 Bring chicken back into your life!
This is a great way to cook chicken. I find that the cream cheese filling elevates the plain, old chicken breast to almost a gourmet level. I hope everyone in your family enjoys this as much as I did!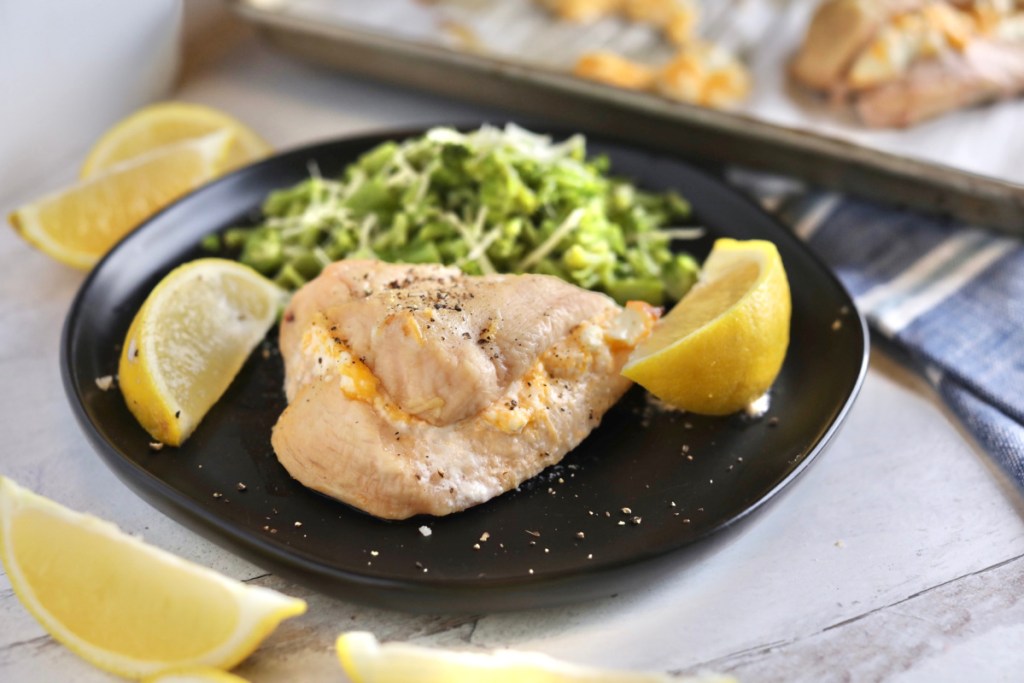 Here's what my Hip sidekick Jenna had to say about this keto cream cheese stuffed chicken recipe:
"What a great main course! I could not get enough of that filling — seriously, wow! I made it with some chopped broccoli that I topped with shredded parmesan, which was a hit with the whole family. I especially was a fan of the fresh lemon juice flavor with the creaminess of the filling. It was so perfectly balanced and made otherwise boring chicken into an irresistible and special dish, all while being pretty simple too."
My Hip teammate Emily made it too!
"Wowwww! This is such an easy meal but it tastes like a specialty dish! I was debating including the peppers but definitely don't skip them, as they add their own hint of flavor to the filling. I also broiled mine for a few minutes to brown the top and this crisped some of the edges of the cheesy filling too, super yummy!"
---
Looking for more creative ways to cook chicken? Check out all of our amazing keto chicken recipes!