Keto Cookie Butter Cookies – Melt in Your Mouth Good!
It doesn't get any better than soft keto cookie butter cookies!
These cookies = true love.
If you haven't tried ChocZero's Keto Cookie Spread, you are seriously missing out! As someone who can say they've tried their fair share of keto products, it's hands down my favorite offering from ChocZero. 🤤
After using it in some Kitchen Sink Brownies last month, I wanted to flip the script and try something new with it, so I made cookies… with cookie butter… and they're almost too good to be true!
Forget cake, let them eat cookies!
Cookies are my favorite dessert of all time, and while I typically go for cookies with chocolate, these are so good that I don't even care about chocolate at this point! 😂
These are delicious with a hot cup of coffee, or as a snack, for lunch, or for dessert. Basically, you'll want to be eating them all day long — I have! And no guilt because they're under 2g net carbs per cookie!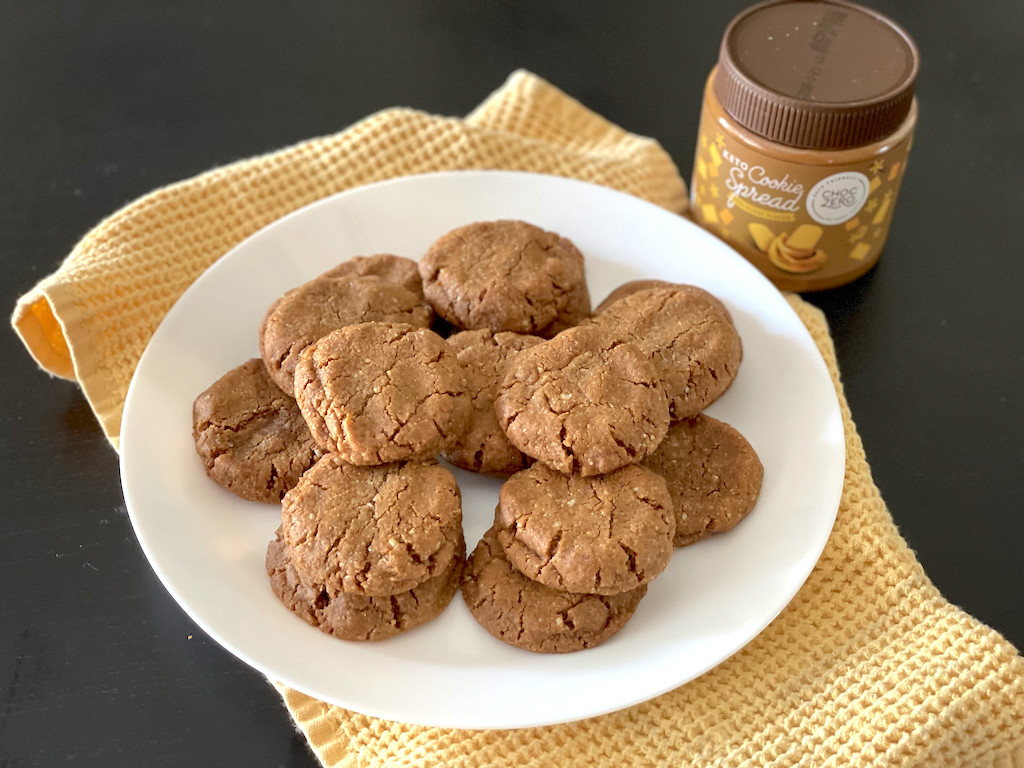 I made three batches of these keto cookie butter cookies to get the recipe just right (the sacrifices I make for work 😉). The first version ended up being dry and the cookies literally fell apart into crumbs, but that didn't stop us from eating them. The next batch was a practice of the final recipe and I only had to make a few tweaks from there to get it perfect!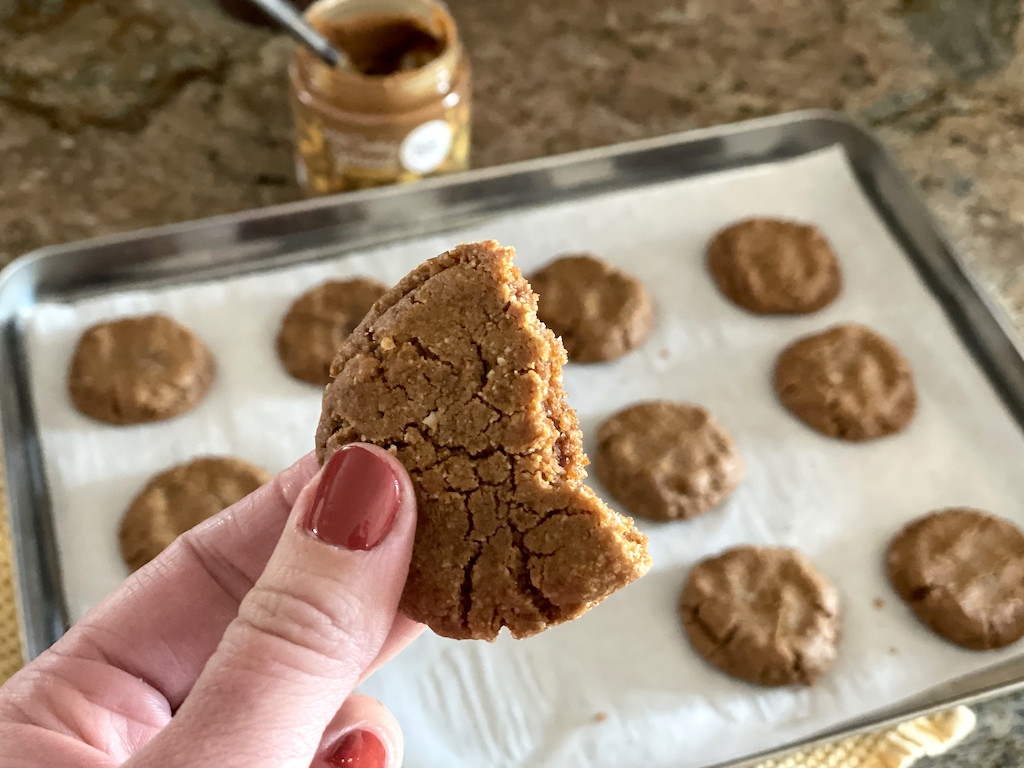 Tips for making perfect keto cookie butter cookies:
Do not overbake these cookies! They will dry out and turn into crumbs. They won't look like they're done at 8 minutes, but trust me, they are. Let them cool on the cookie sheet for at least 5 minutes before removing them.
Try not to eat all the cookie butter before you get a chance to make these cookies. It's very hard not to eat the whole jar by the spoonful!
Did you know that you can bake cookies in an air fryer? I used the bake setting on my air fryer and baked them for 6 minutes at 350 degrees. Check them around 5 minutes and then let them cool for at least 5 minutes before removing them from the air fryer. I cut out little cookie-sized circles of parchment paper to set the cookies on so they wouldn't stick to the grill.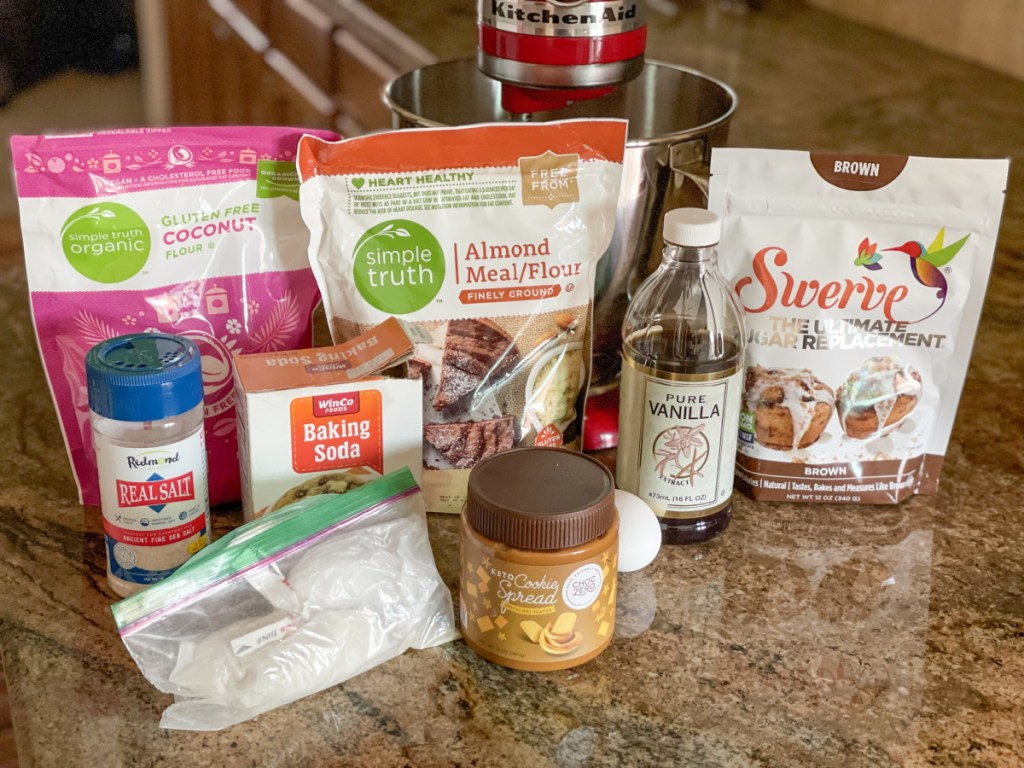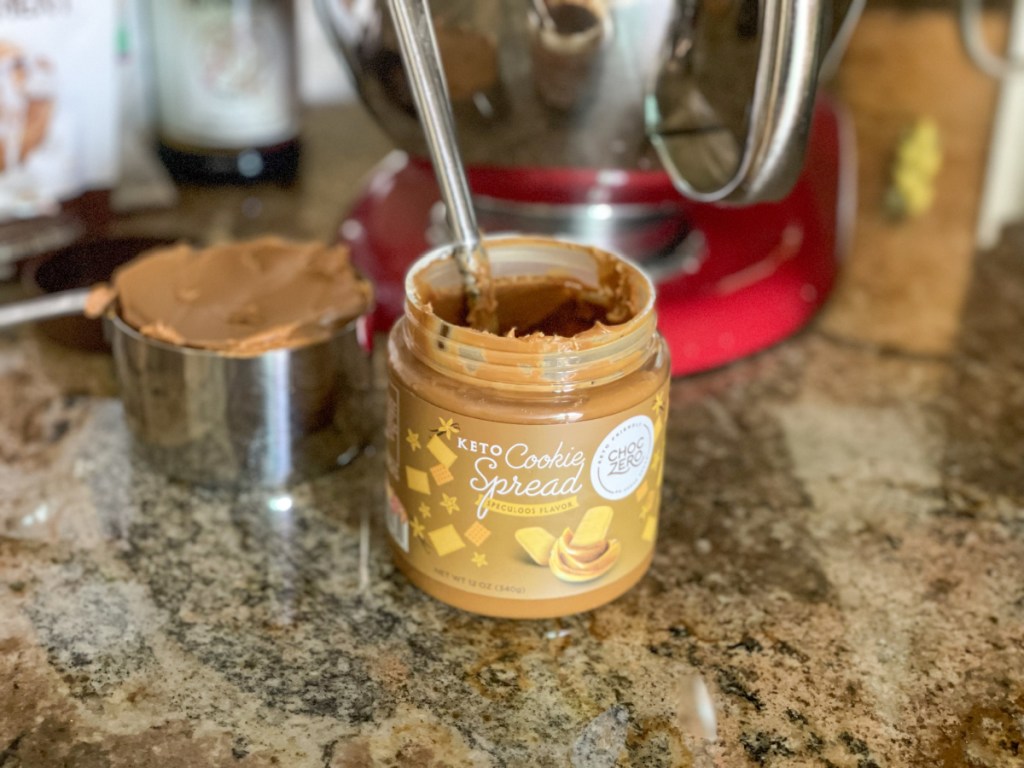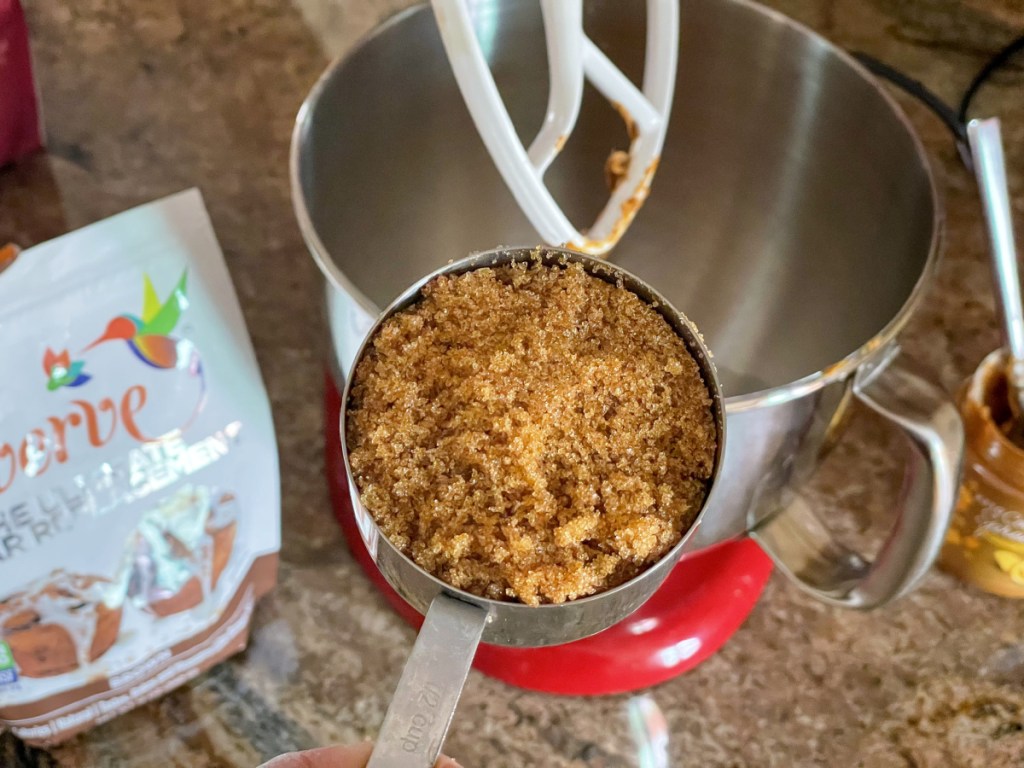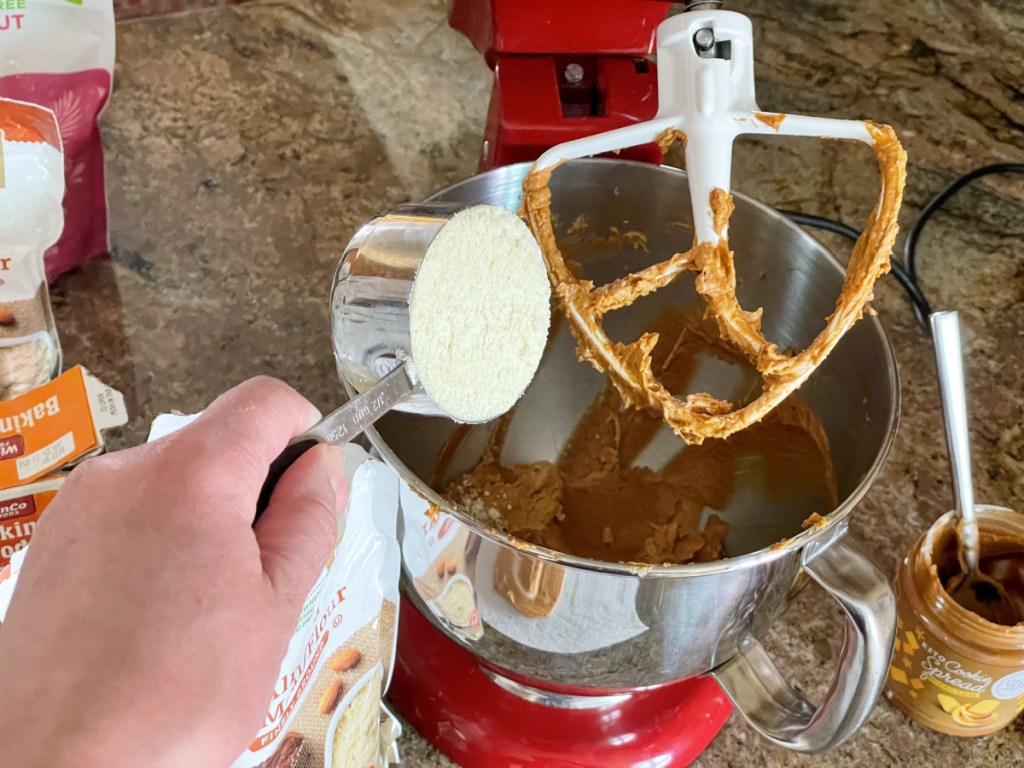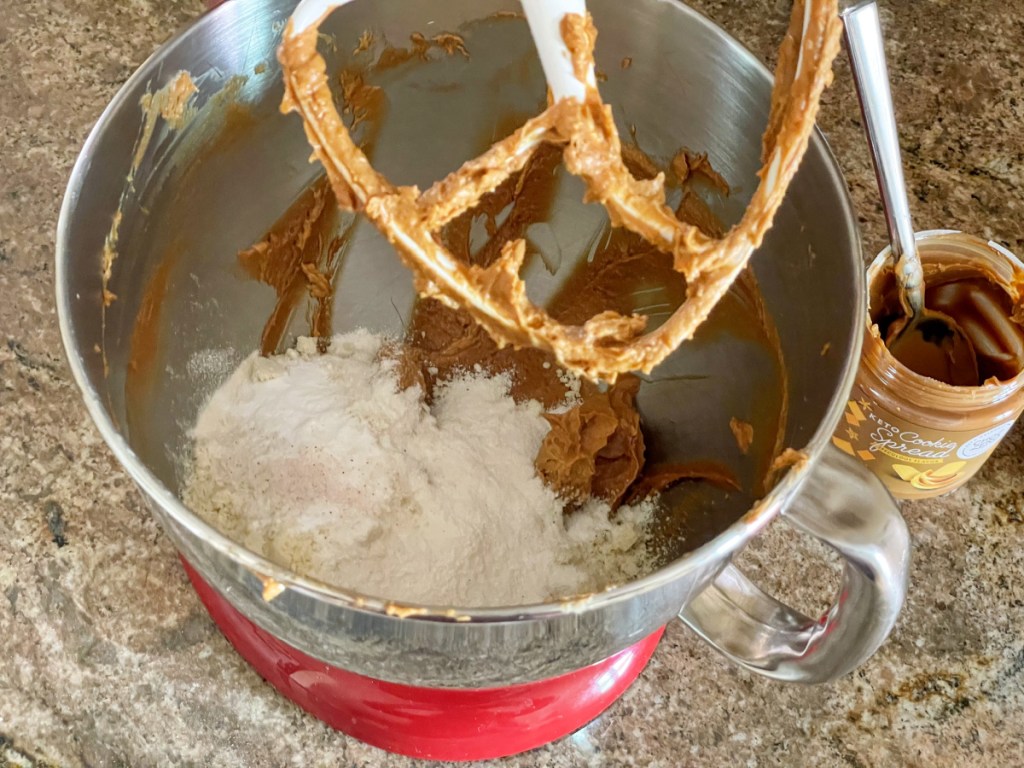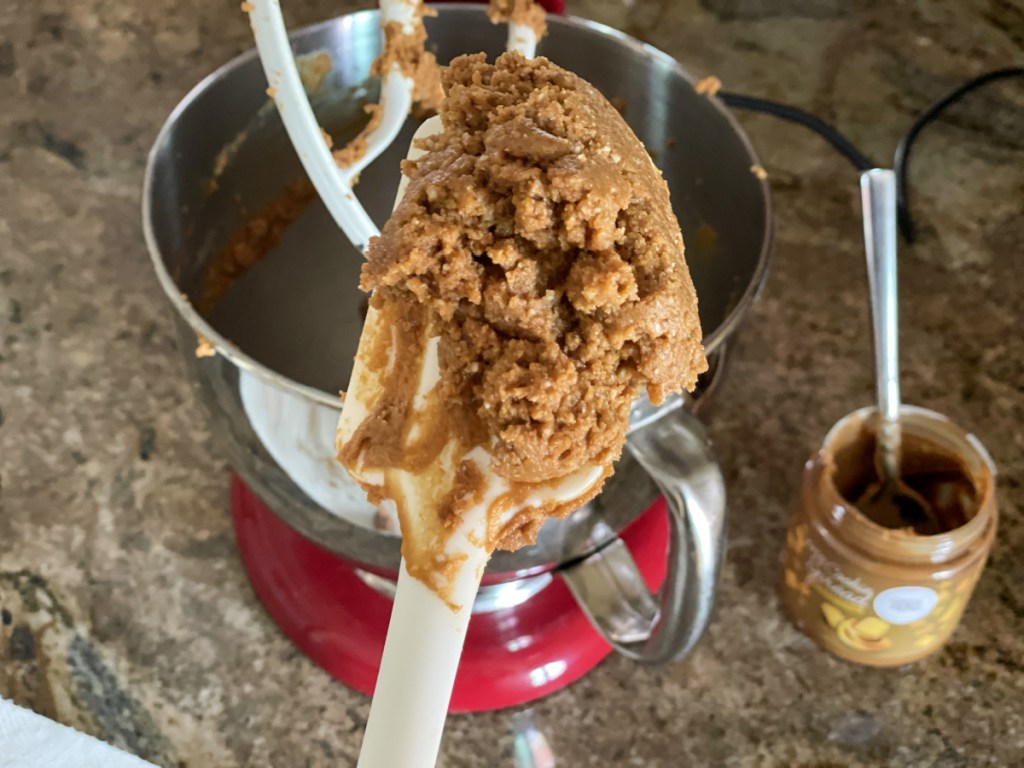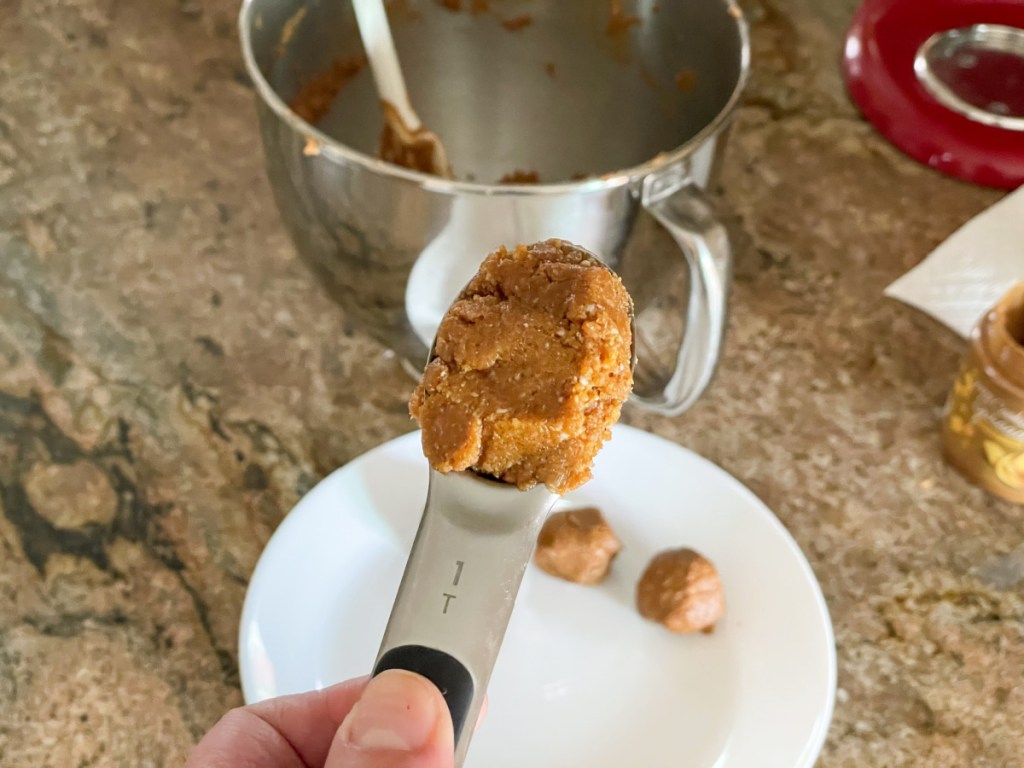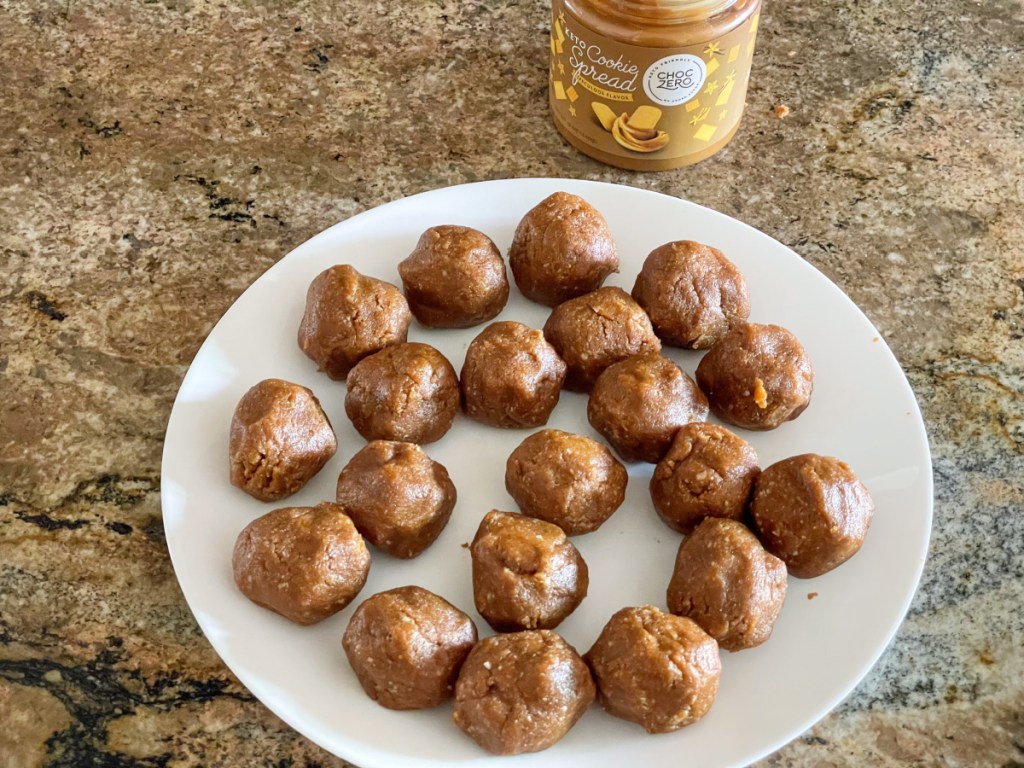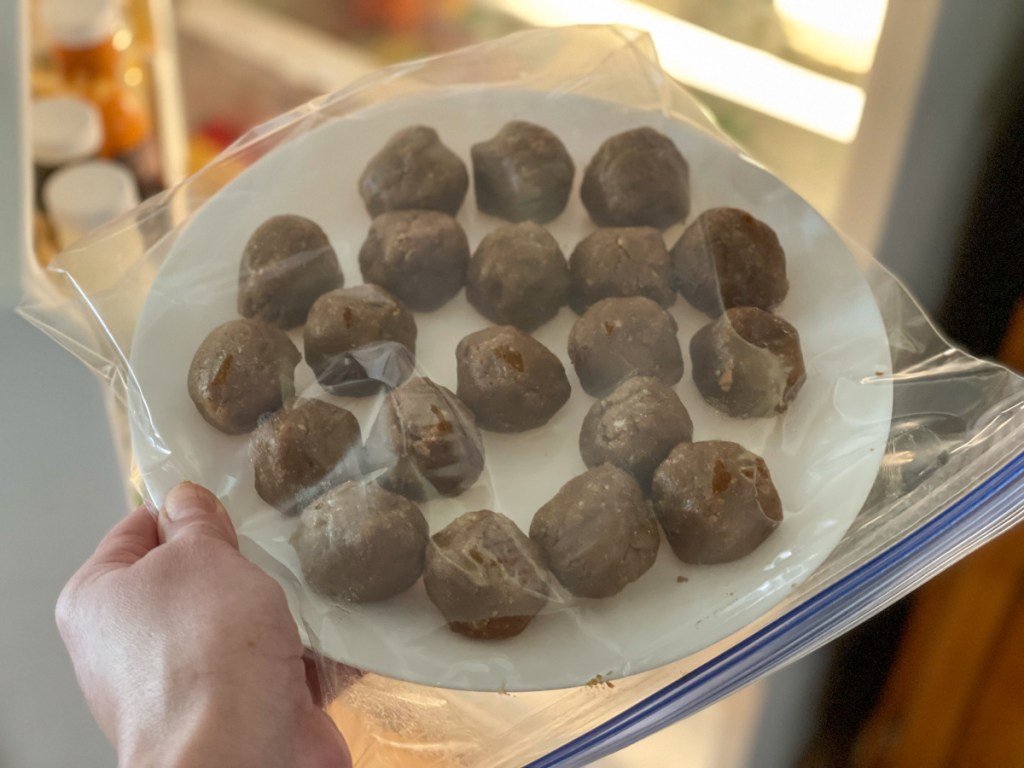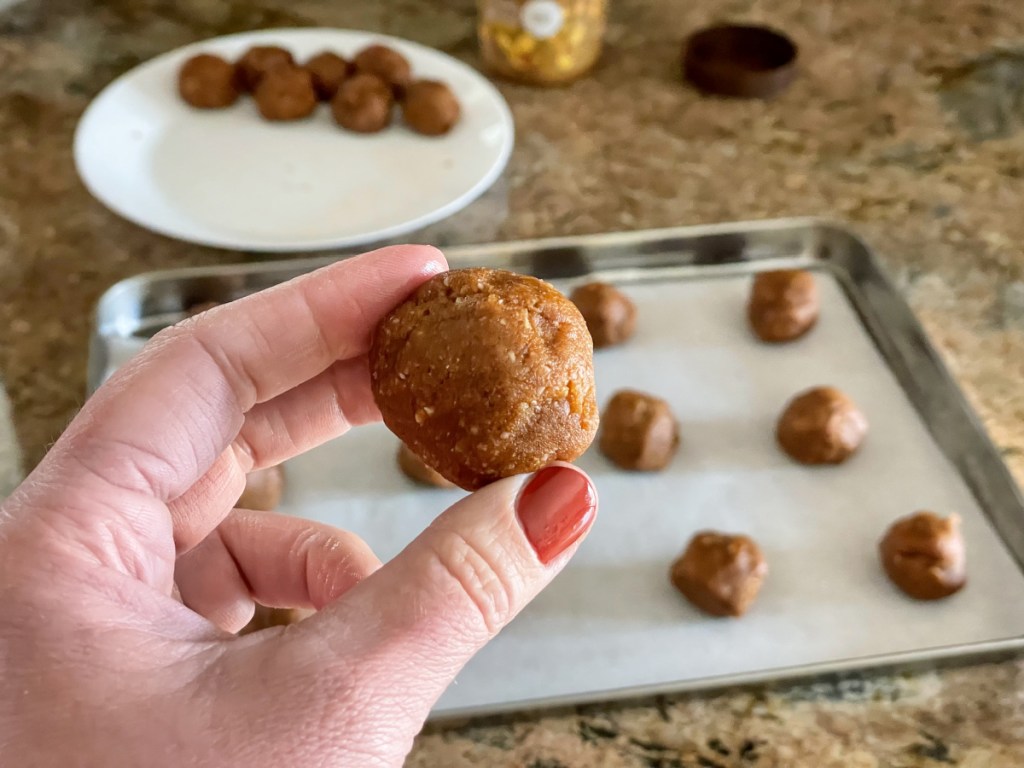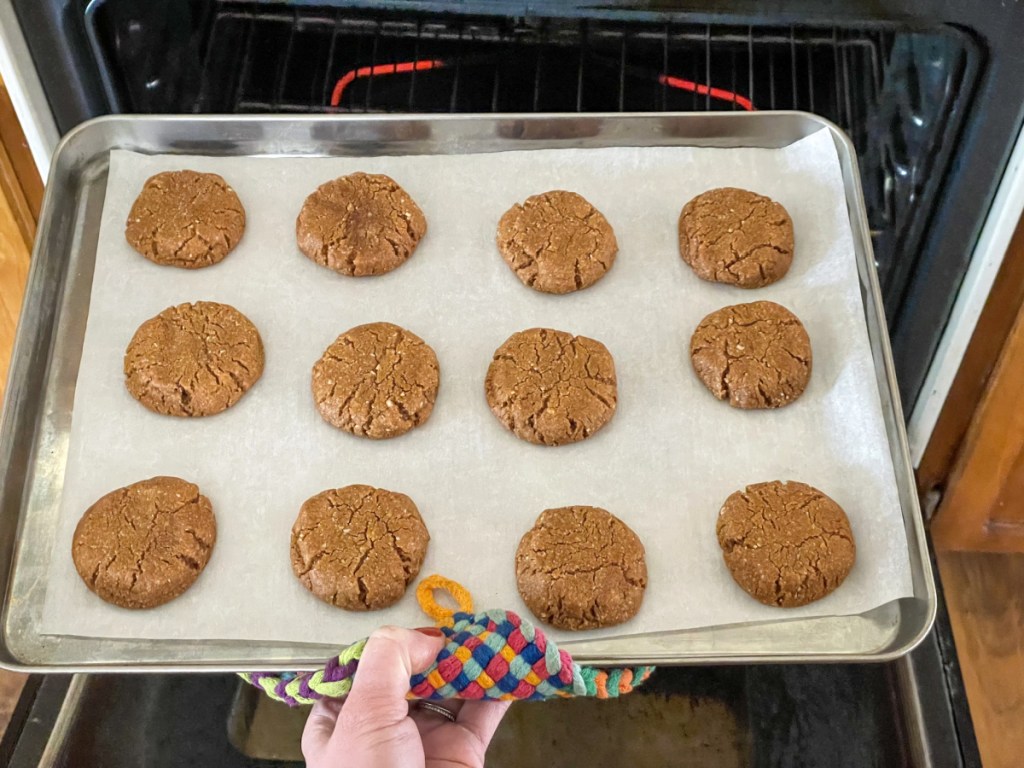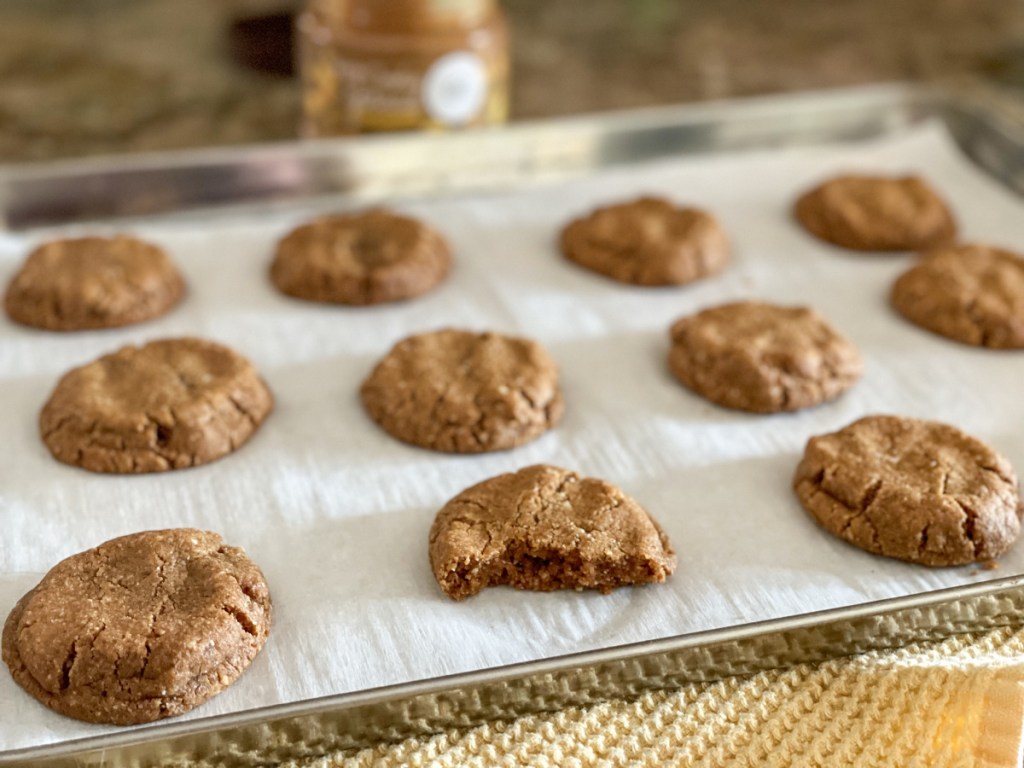 ---
Print
Keto Cookie Butter Cookies
yield: 20 SERVINGS
prep time: 1 HOUR 15 MINUTES
cook time: 8 MINUTES
total time: 1 HOUR 23 MINUTES
Melt in your mouth soft caramel spice cookies made with delectable ChocZero keto cookie butter spread.
Ingredients
1 egg
1 tablespoon vanilla extract
1 teaspoon baking soda
1/4 teaspoon salt
Directions
1
Using an electric mixer, beat together the egg, ChocZero Keto Cookie Butter, brown keto sweetener, and vanilla. Mix on high until light and fluffy, about 5 minutes.
2
Add in almond flour, coconut flour, xanthan gum, baking soda, and salt. Mix until just incorporated, about 1 minute.
3
Using a tablespoon measuring spoon, scoop the dough into balls. You should end up with 20 cookie dough balls. Place the balls on a plate or baking sheet and cover. Place in the fridge to chill for at least an hour. The dough can chill for up to 3 days before baking.
4
Once the dough has chilled, preheat oven to 350 degrees and line a baking sheet with parchment paper.
5
Place the cookie dough balls on the baking sheet (I put 12 on a large baking sheet). Slightly press down on the tops of the dough balls. Bake for 8 minutes, turning the baking sheet halfway through cook time. The cookies will look very soft when you take them out of the oven. Let them cool on the baking sheet for at least 5 minutes before moving them. Be careful not to overbake the cookies as that will dry them out and make them crumbly.
6
Repeat with the remaining cookie dough balls. Once cookies have cooled for at least 5 minutes on the baking sheet, enjoy!
Nutrition Information
Yield: 20 cookies, Serving Size: 1 cookie
Amount Per Serving: 112 Calories | 8.6g Fat | 10.2g Total Carbs | 3.6g Fiber | 1.2g Sugar | 4.8g Sugar Alcohol | 3.8g Protein | 1.9g Net Carbs
---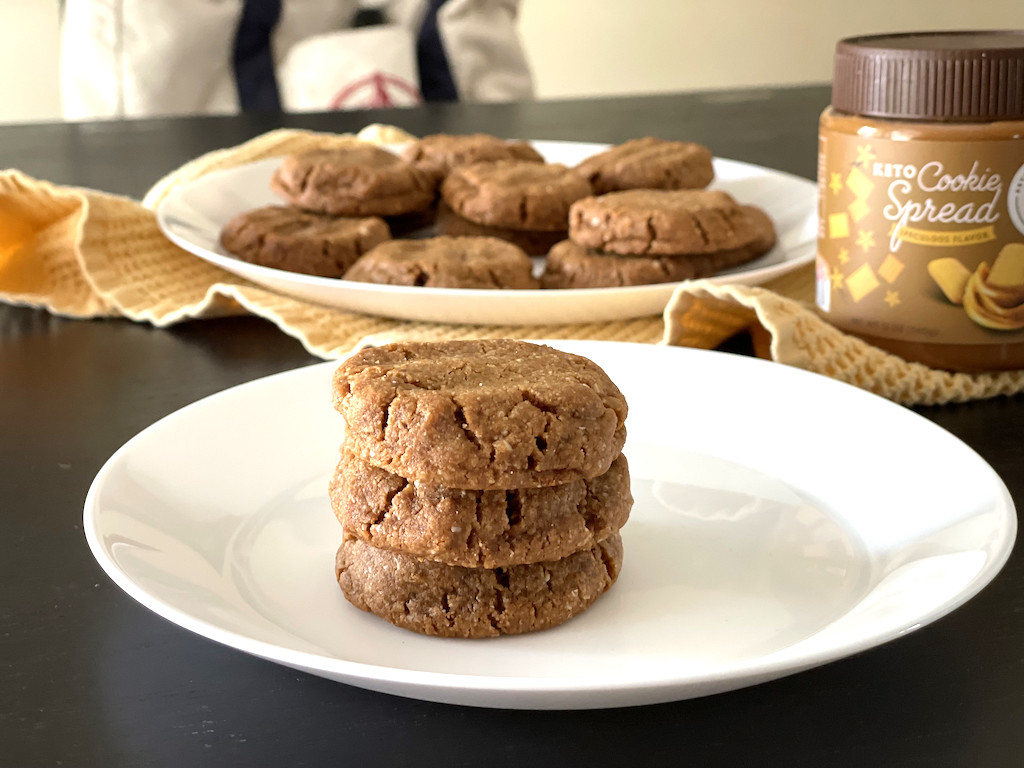 These aren't your average keto cookie — they're lightyears better!
I think these are some of the best cookies I have ever made. I mean, using a spread that's made from crushed-up cookies to make cookies? Delicious! It's almost like a two-for-one deal! 😄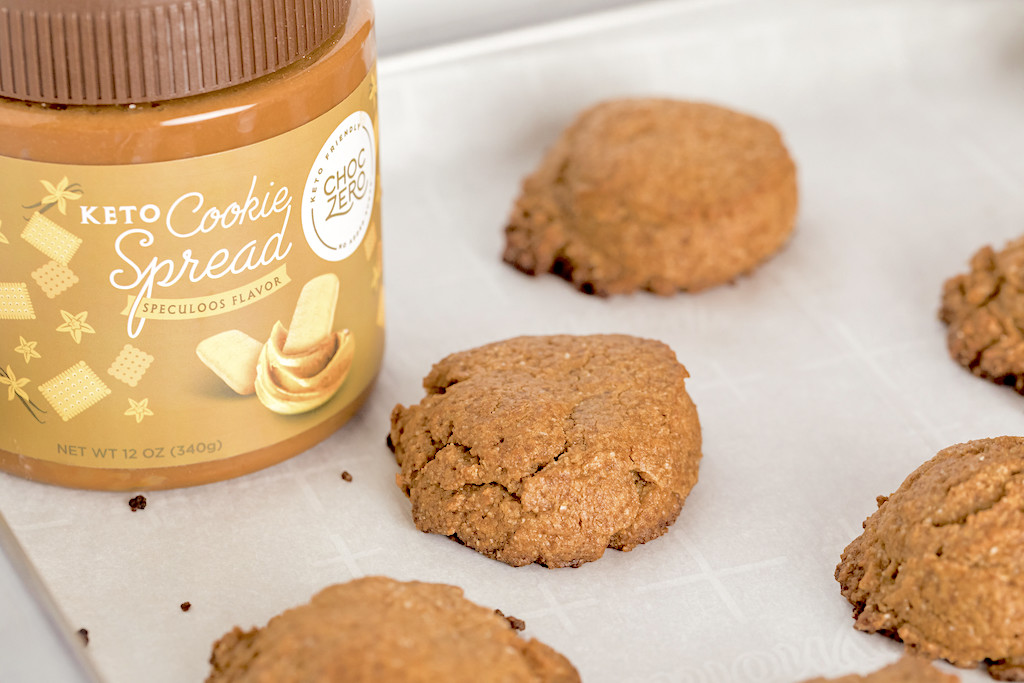 Here's what my Hip sidekick Jenna had to say about these keto cookie butter cookies:
"OMG Emily! These are THE BEST keto cookies I have ever had in my life! That's including store bought and a lot of homemade, this one takes the trophy! I am officially crazy about these cookies! The flavor is amazing and the consistency is out of this world awesome! They are creamy, delicious, and melt in your mouth! Who knew cookie butter could get any better?! My family is asking for these again already!"
---
Looking for more drool-worthy baked goods? Check out all of our amazing keto cookie recipes!