Scrumptious Keto Coconut Lemon Bars – Bet You Can't Eat Just One!
You'll go crazy over this mouth-watering keto coconut lemon bars recipe!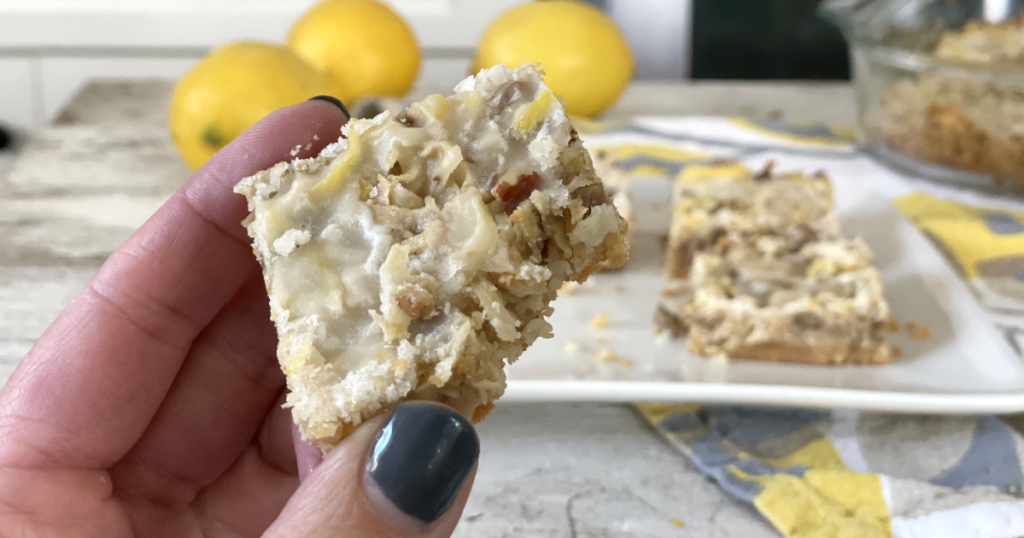 These aren't your typical lemon bars!
This is a keto version of the lemon bars I had growing up, and I'm so excited to share this recipe with you! I hope you love these keto coconut lemon bars as much as I do.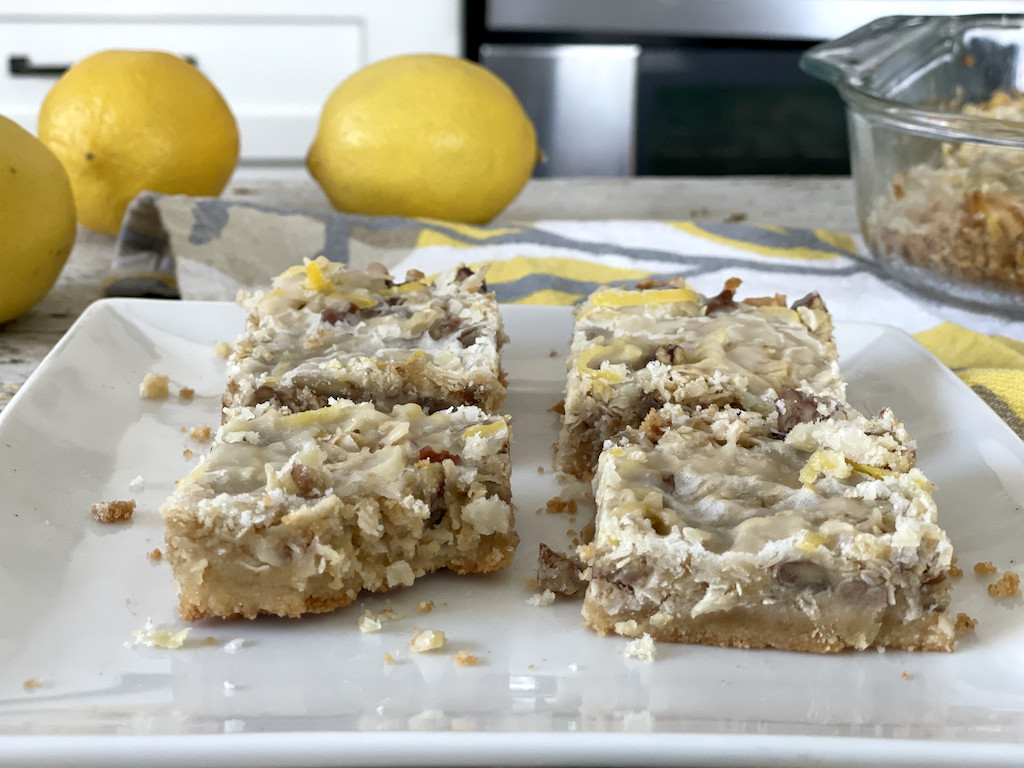 To be honest, I'm not a fan of lemon curd in lemon bars and it's probably because I never had the lemon curd kind until I was an adult. I grew up with my grandma and my mom making this type of lemon bars and that's all I knew. I think it might be a recipe my grandma got from some English relative?
So for me, I know I'm totally biased but this type of lemon bar is so much better than the lemon curd ones! 😄🍋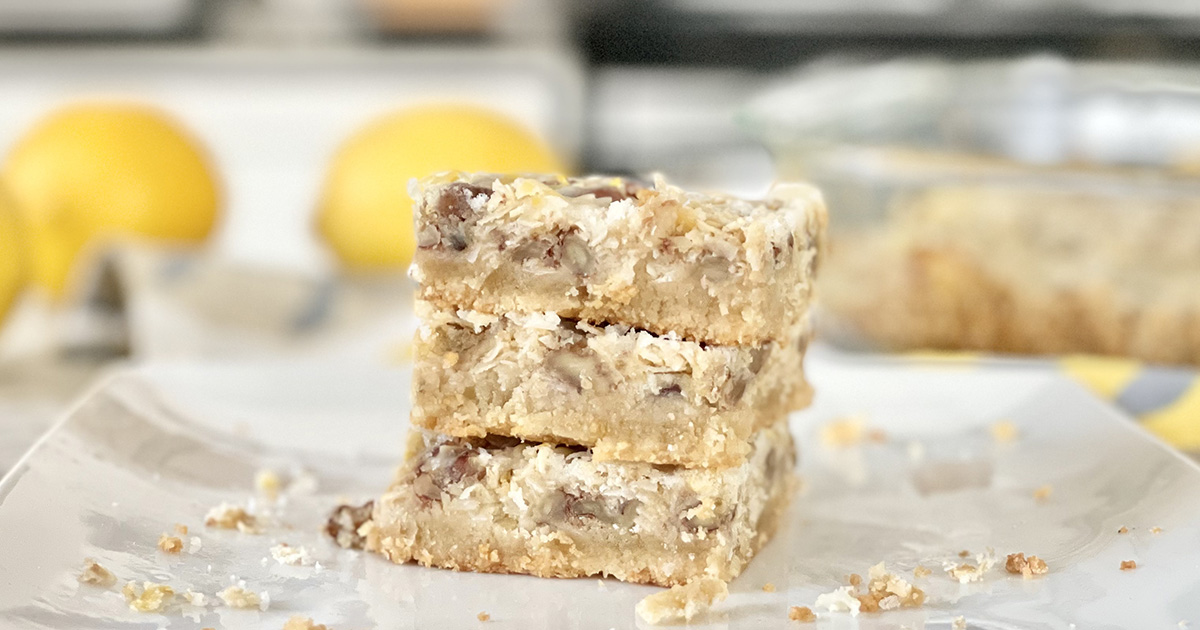 Normal lemon bars will be ruined! 😉
I'm willing to bet that you'll like my keto coconut lemon bars better than the ones made with lemon curd. My grandma's recipe I'm adapting still starts with traditional shortbread crust but then instead of being topped with lemon curd, the filling is made with pecans, coconut, brown sugar, eggs, lemon juice, lemon zest, and finished with a lemon glaze.
For comparison, lemon curd is made with eggs, lemon juice, white sugar, and flour.
To make this recipe low carb and sugar-free, I took my grandma's original recipe and made a few substitutions. The shortbread is made with almond flour and keto sweeteners are used in place of regular sugar. I also used unsweetened coconut flakes in place of sweetened coconut.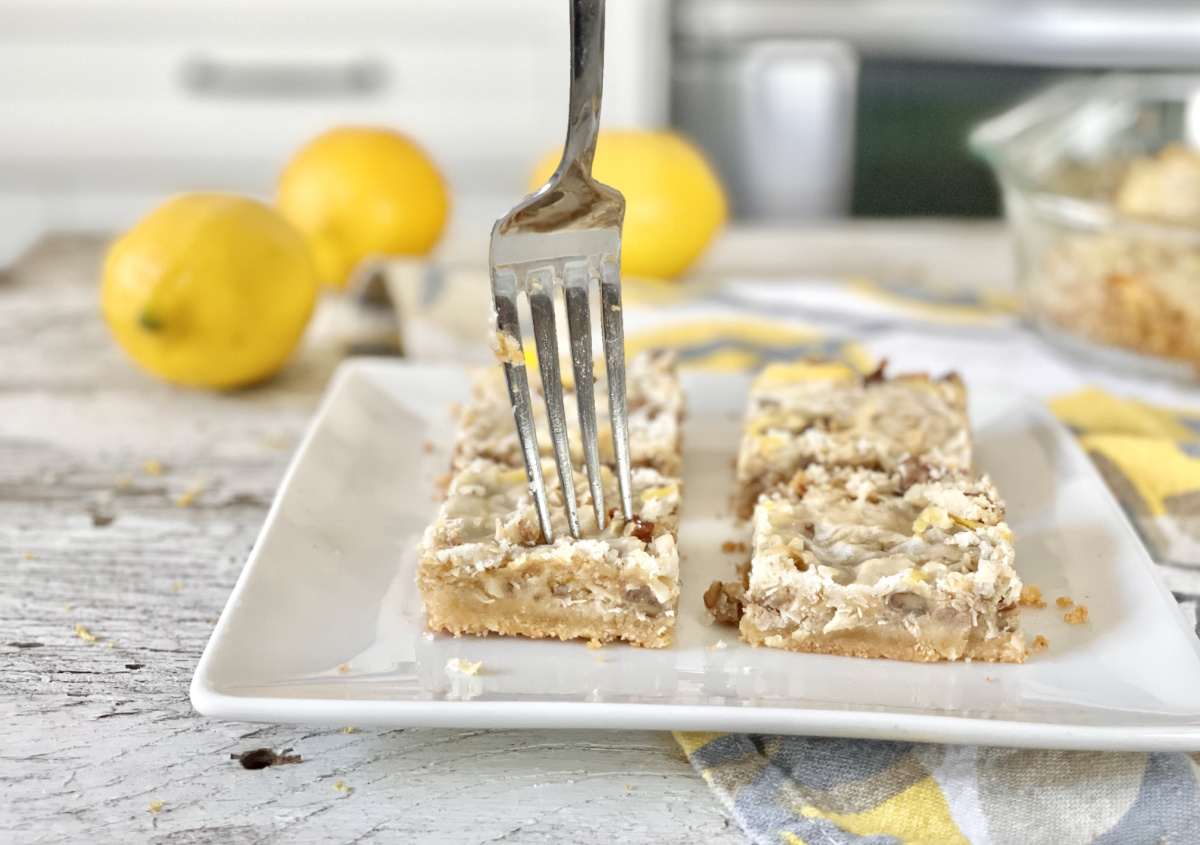 Tips for making the best keto coconut lemon bars:
If you're feeling extra coconutty, you could use coconut flour for the shortbread crust instead of almond flour, just note that the texture will be different and you'll want to increase the butter by two tablespoons. Coconut flour has a lot more fiber than almond flour, which makes it drier.
This recipe has pecans as part of the filling but you could switch those out for sliced almonds, walnuts, or even pistachios.
Depending on the size of the lemons you use, you'll need 5 to 6 small lemons or 3 to 4 large lemons to make these coconut lemon bars. I always estimate on the high side and buy extra, just in case you get an older, dry lemon. I also highly recommend using fresh lemons over bottled juice for the best lemony flavor possible!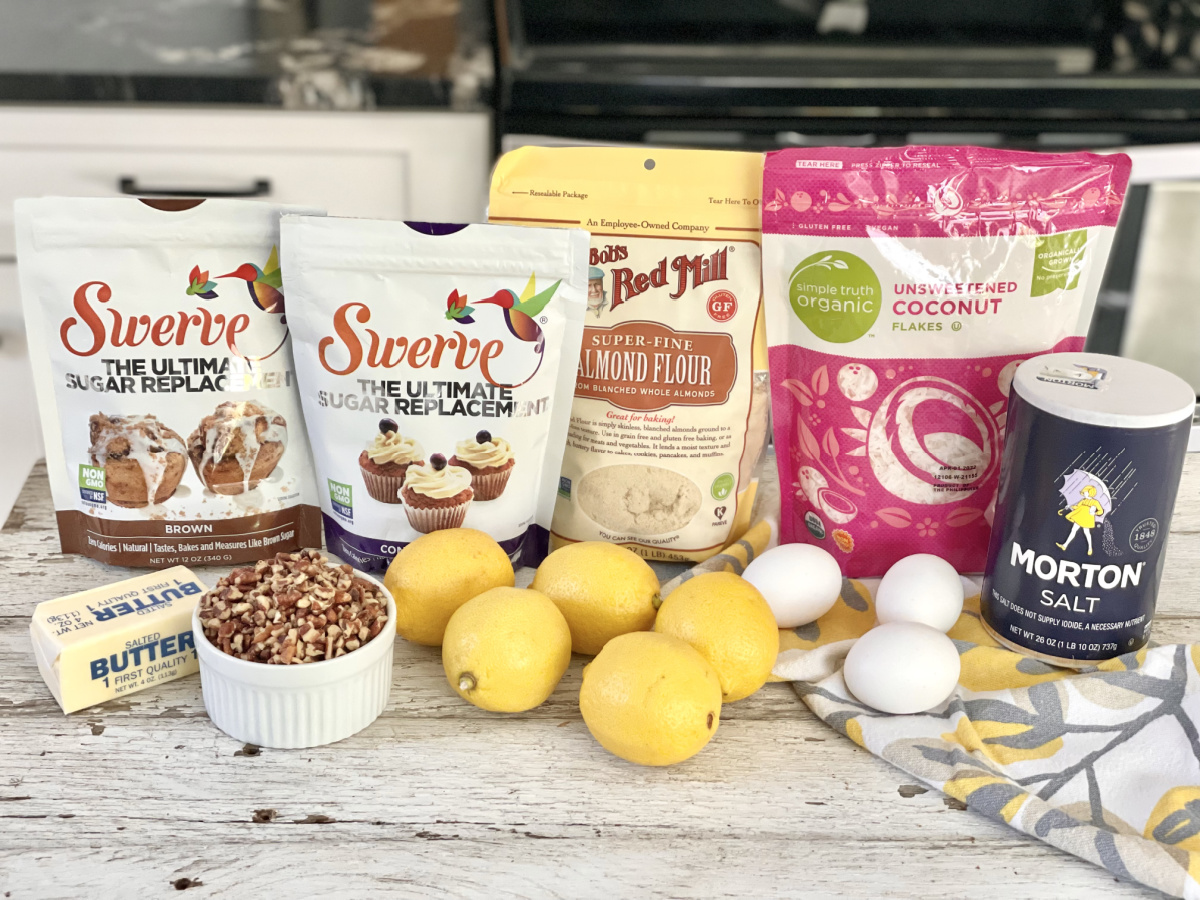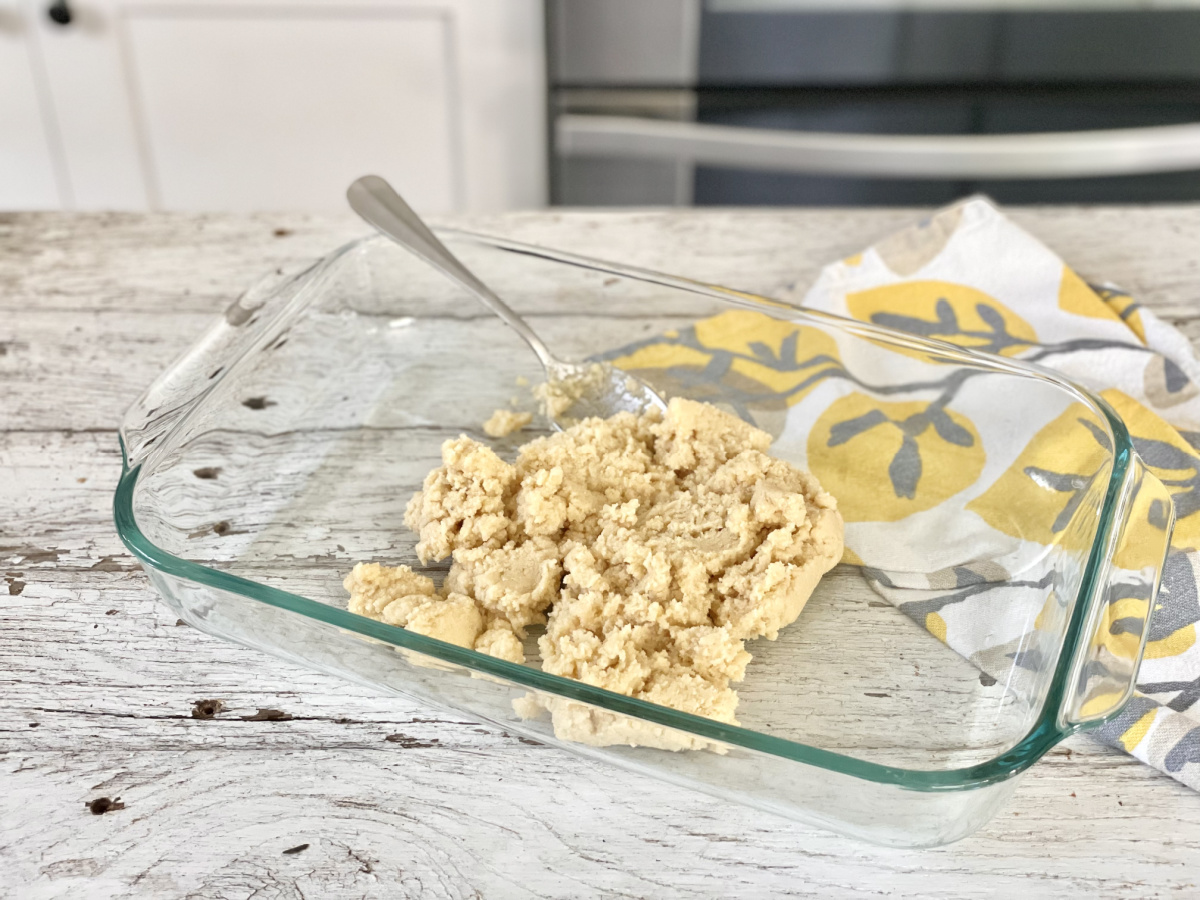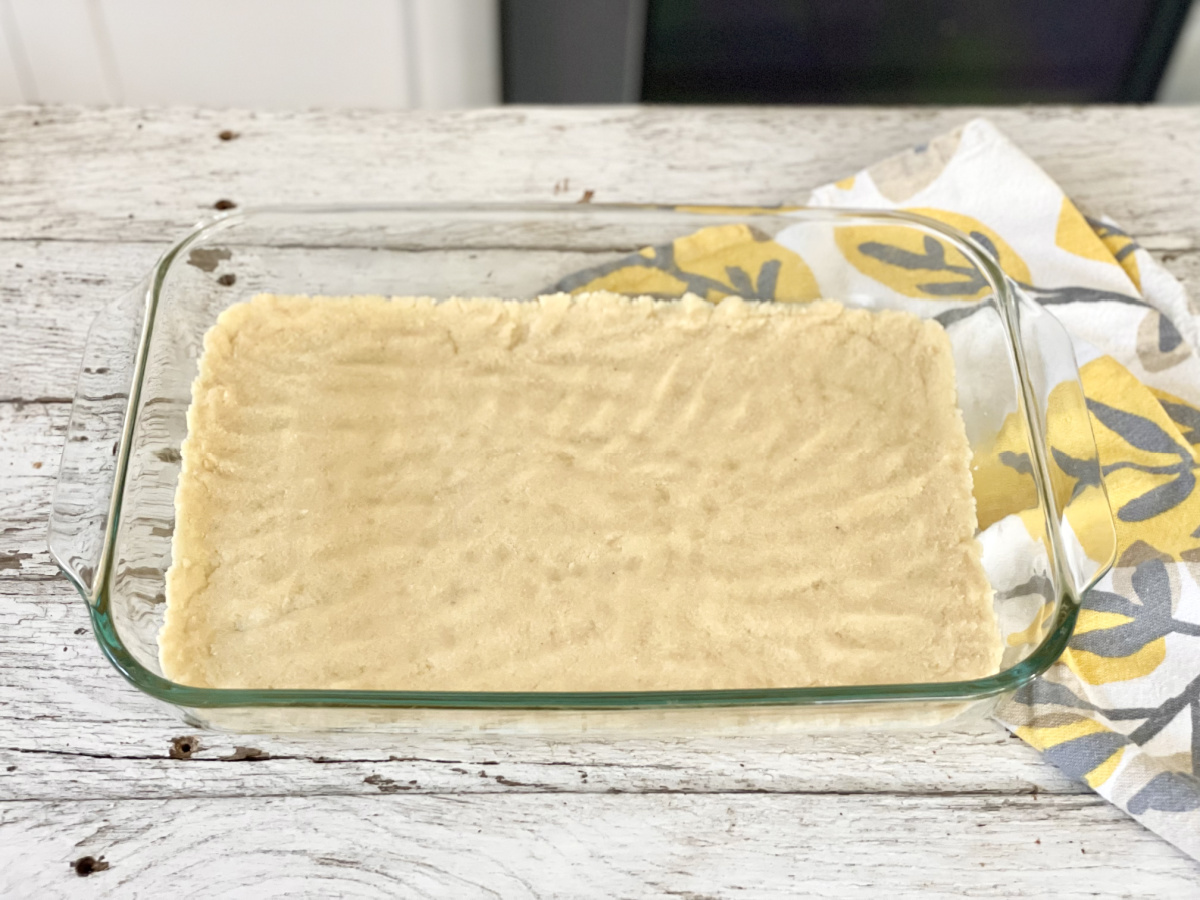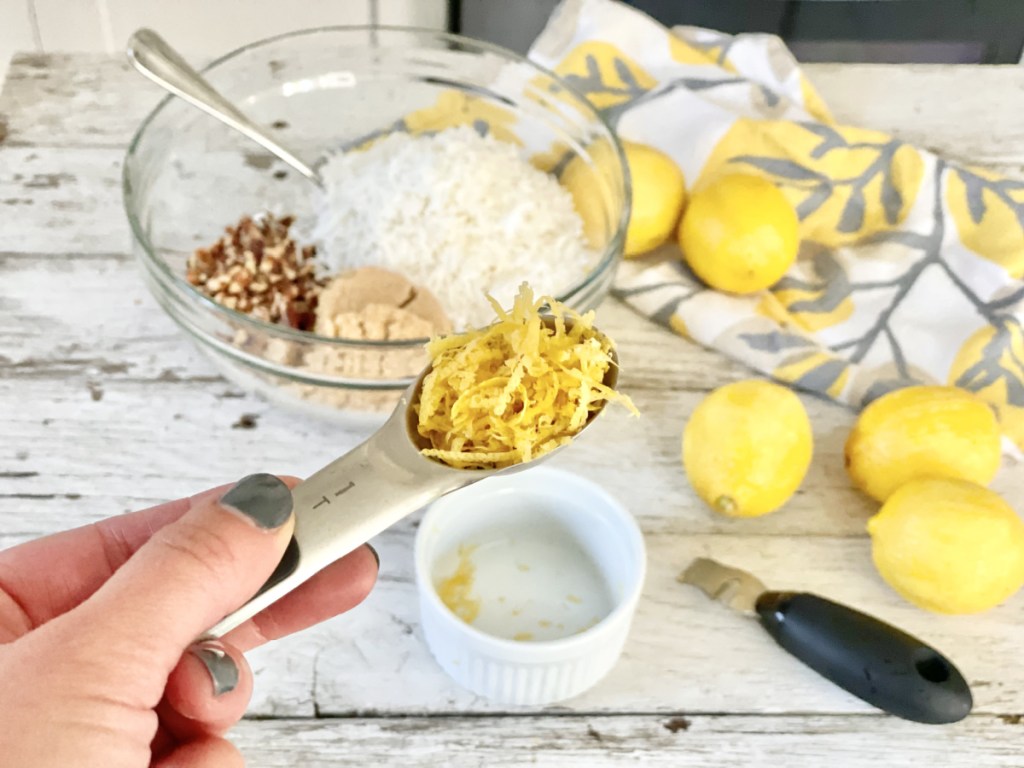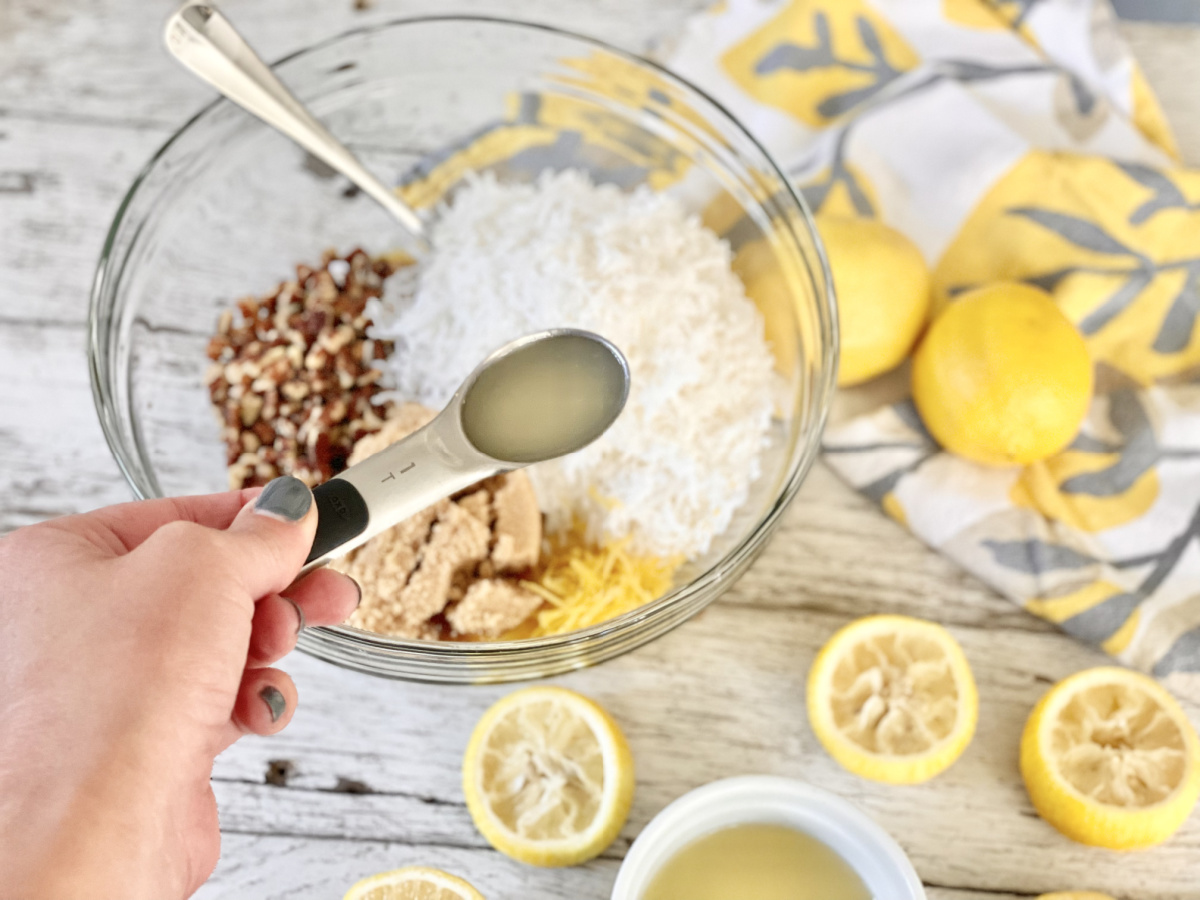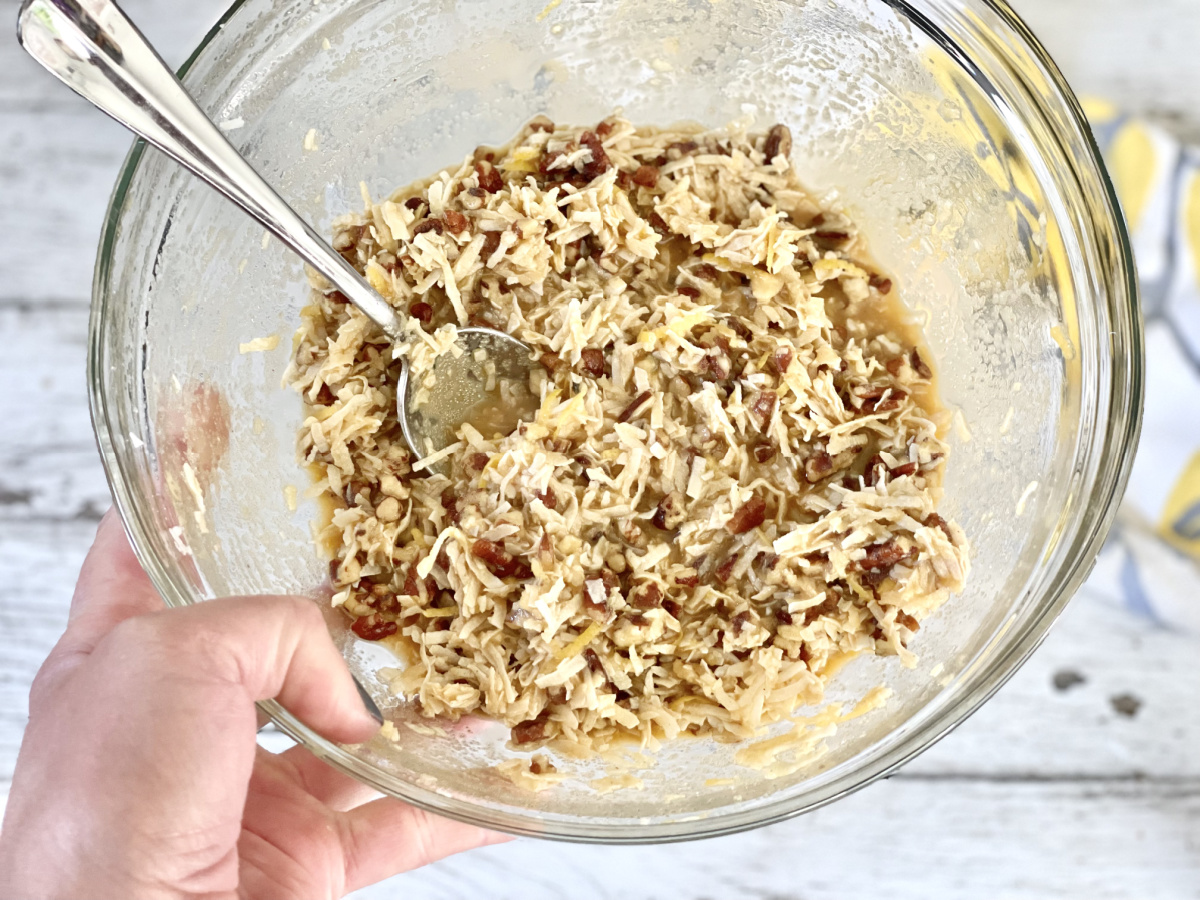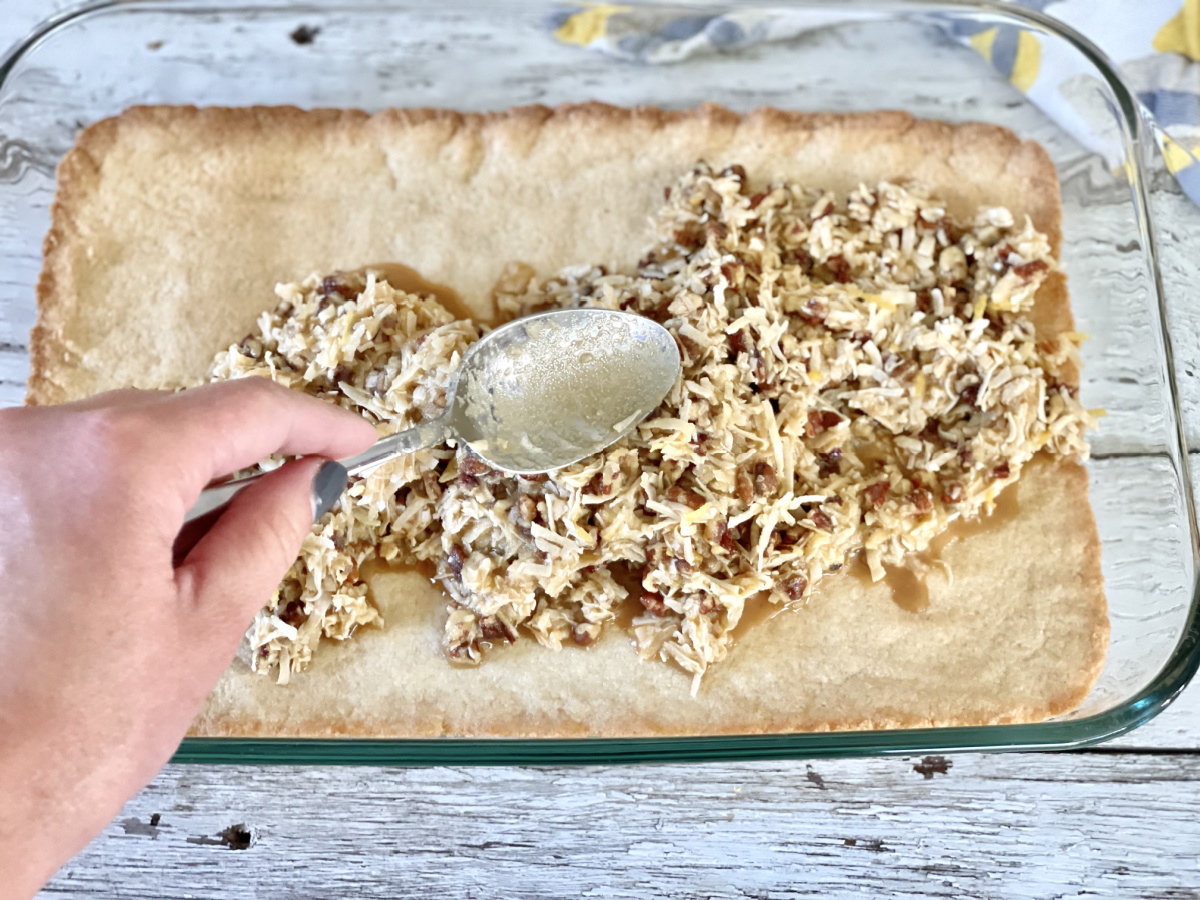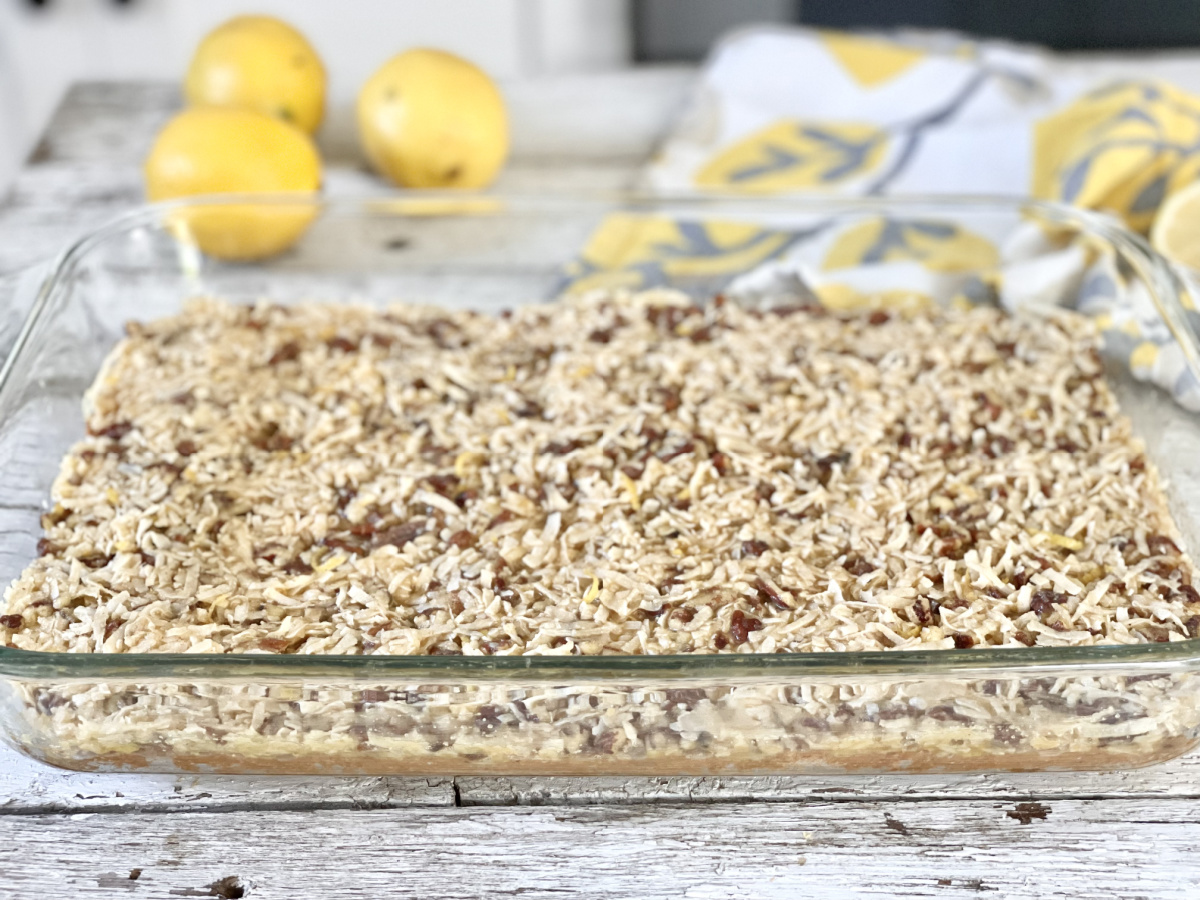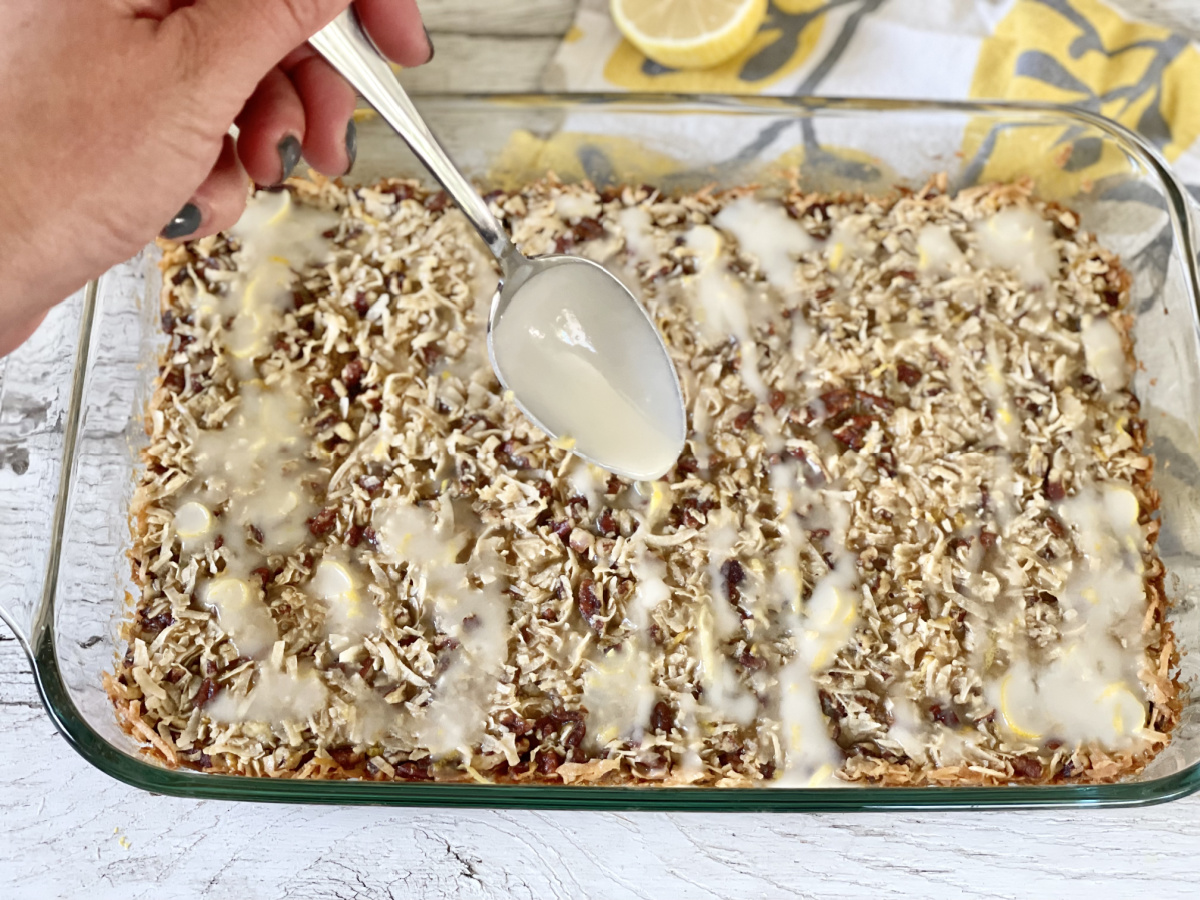 ---
Print
Keto Coconut Lemon Bars
yield: 24 SERVINGS
prep time: 10 MINUTES
cook time: 45 MINUTES
total time: 55 MINUTES
A crunchy and coconut twist on traditional lemon bars with an almond flour crust.
Ingredients
Crust:
1/4 teaspoon salt
1/2 cup salted butter (1 stick), melted
Filling:
3 eggs, slightly beaten
1 tablespoon lemon zest (1 small lemon)
3 tablespoons fresh lemon juice (2 small lemons)
Glaze:
1 tablespoon lemon zest (1 small lemon)
4 1/2 tablespoons fresh lemon juice (about 2 to 3 small lemons)
Directions
1
To make the crust:
Preheat oven to 350 degrees. Lightly grease a 9x13-inch baking dish. In a medium bowl, mix together almond flour, keto confectioners sweetener, salt, and melted butter to form a dough. Press the dough into the baking dish. Bake for 15 to 20 minutes, until lightly browned.
2
To make the filling:
Make the filling while the crust is baking. In a medium bowl mix together eggs, keto brown sweetener, pecans, coconut, lemon zest, and lemon juice. Stir well to combine. Spread mixture over the baked crust. Reduce oven temp to 325 degrees and bake the lemon bars for 25 to 30 minutes, until the coconut flakes start to turn a light golden color.
3
To make the glaze:
In a bowl, whisk together the keto confectioners sweetener, lemon zest, and lemon juice.
4
Once the bars have finished baking, remove them from the oven and loosen the edges with a knife. This will make it easier to get the bars out of the pan after you've added the glaze.
5
Evenly drizzle the glaze over the top of the bars with a spoon. Let the bars cool to room temperature or place them in the fridge for about an hour to cool before cutting into 24 bars. Enjoy!
Nutrition Information
Yield: 24 bars, Serving Size: 1 bar
Amount Per Serving: 145 Calories | 13.5g Fat | 17g Total Carbs | 2g Fiber | 0.8g Sugar | 13.6g Sugar Alcohol | 3.1g Protein | 1.3g Net Carbs
---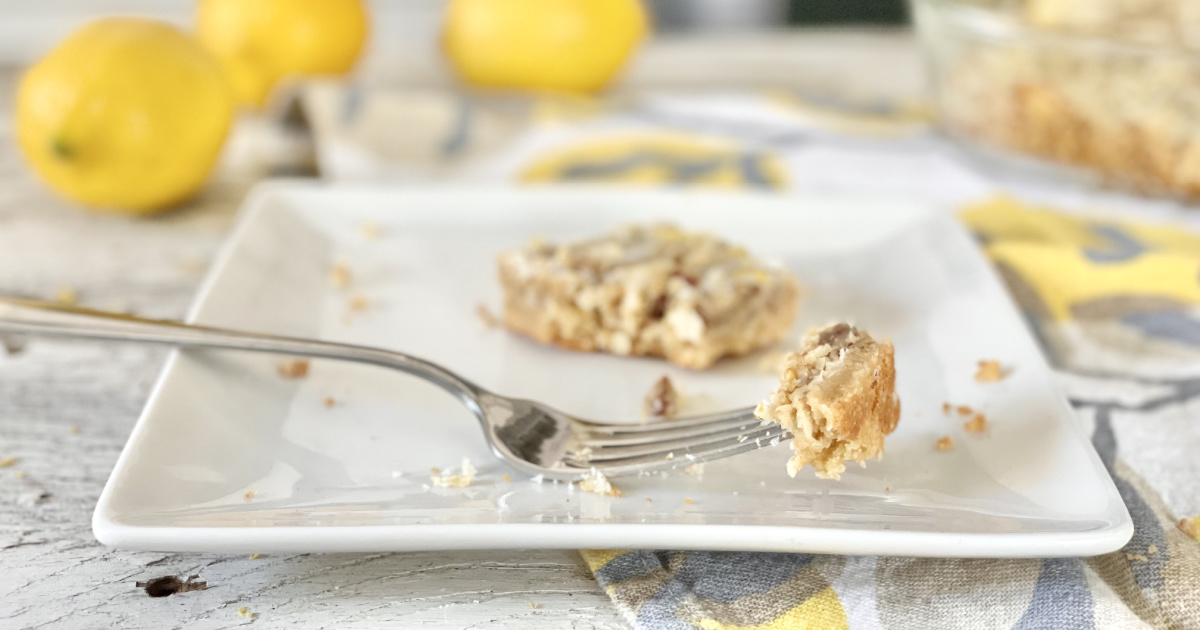 Is your mouth watering yet?
These keto coconut lemon bars have become one of my all-time favorite desserts. They taste as good, or maybe even better, than the lemon bars I grew up eating. It's definitely nice to be able to enjoy them guilt-free with this keto version!
I'm curious to know if anyone out there has ever had lemon bars with pecans and coconut like this recipe. Let me know in the comments!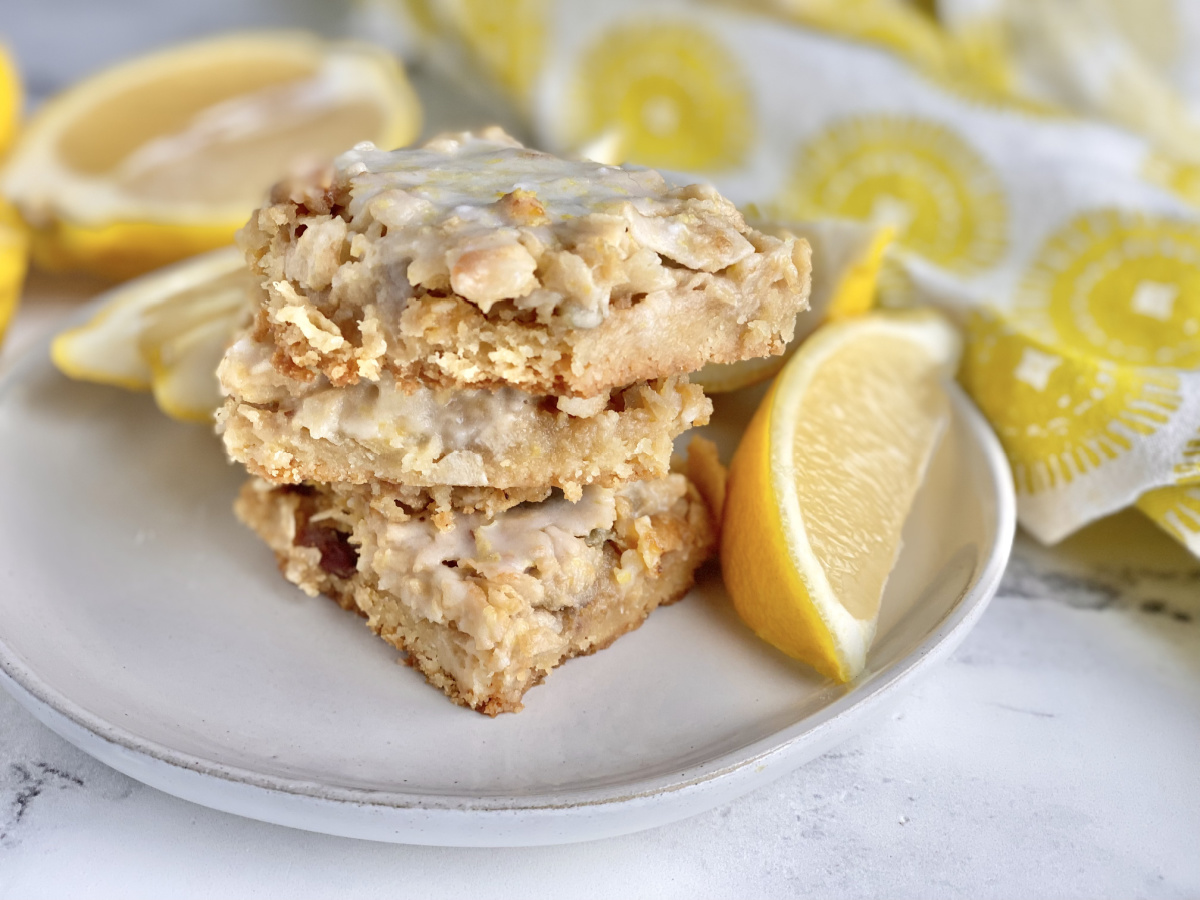 My Hip sidekick Jenna gave this keto coconut lemon bar recipe a try!
"These lemon bars are awesome! The glaze is the best part and that crust is so tasty. I love the super fresh lemon flavor and it is the perfect chewy consistency with a little crunch from the pecans! So good! These were easy to cut and serve."
---
Loving these sugar-free lemon bars? Try our Raspberry Crumble Keto Dessert Bars next!