Raspberry Crumble Keto Dessert Bars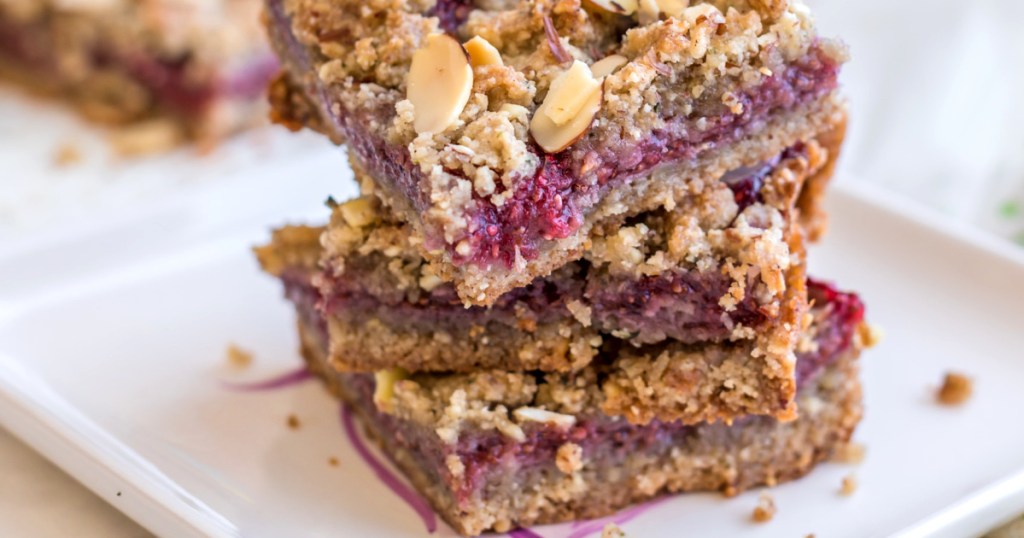 Craving a fruity keto dessert?
These raspberry crumble keto dessert bars are packed with amazing fruity flavor, but are totally low carb to keep you on track while enjoying a delicious treat.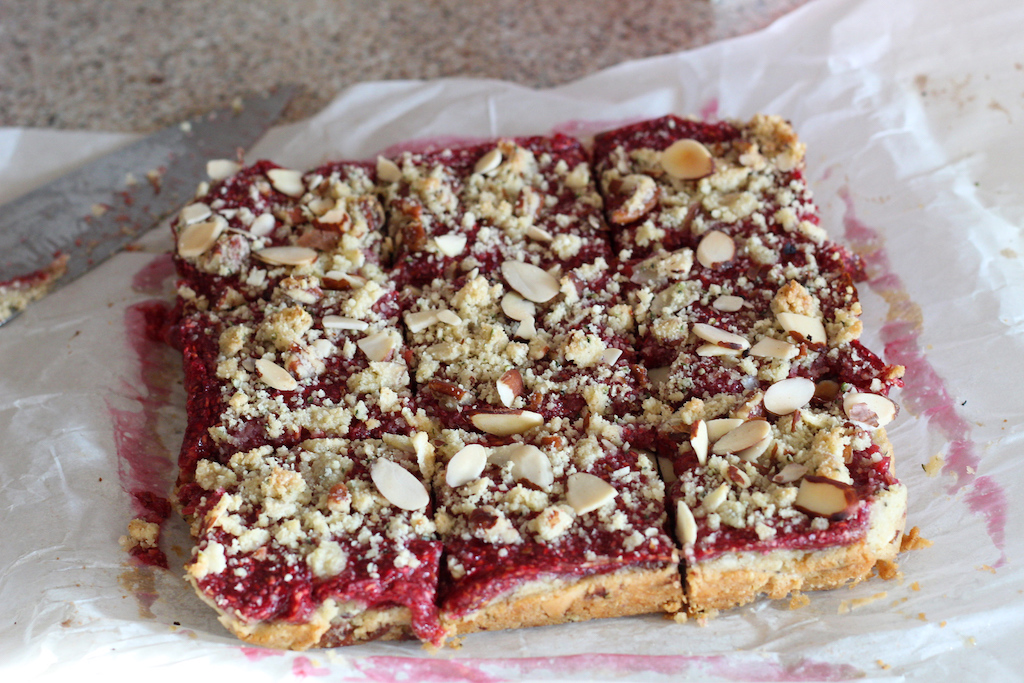 It's okay to have sweet treats on keto! In fact, we've made a ton of keto dessert recipes that my boys didn't even realize were sugar-free. I've really been trying to cut down on the amount of sugar they eat, so I love whipping up low-carb alternatives that taste just as good if not better than the sugar-filled originals.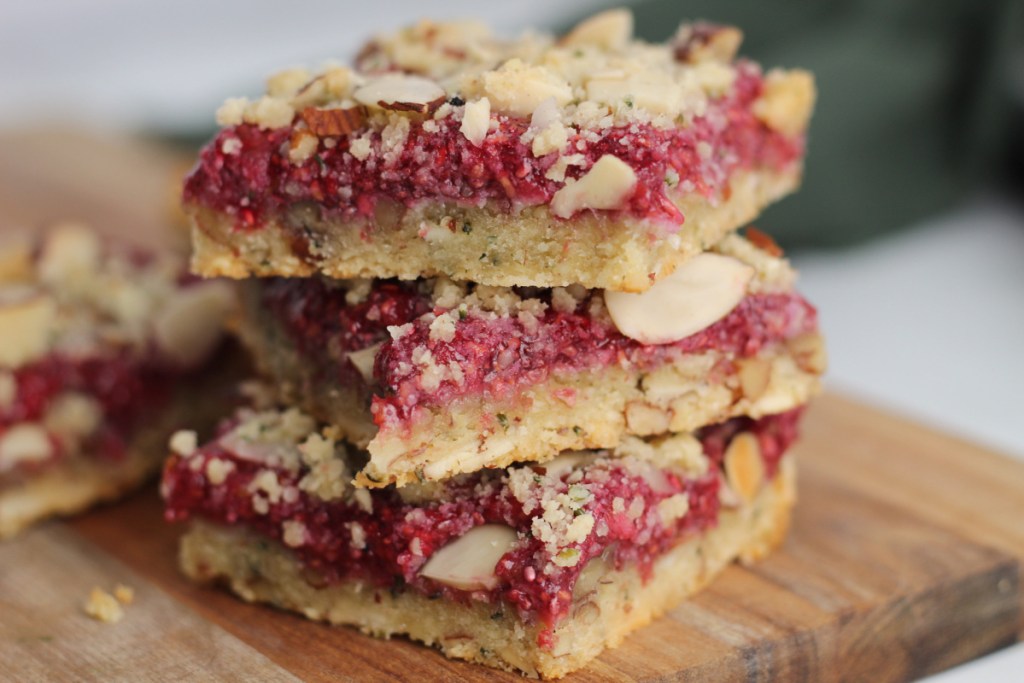 Fruity low carb goodness!
Not only are raspberries one of the healthiest berries, but they're also low carb too. Enjoy half of a cup of raspberries and they clocks in at just 3g net carbs. Even better, berries are an anti-inflammatory food! They contain antioxidants called anthocyanins that work to reduce inflammation and may help reduce your risk of disease.
We went with raspberries for this recipe, but you could easily swap them out for strawberries, blackberries, or even blueberries.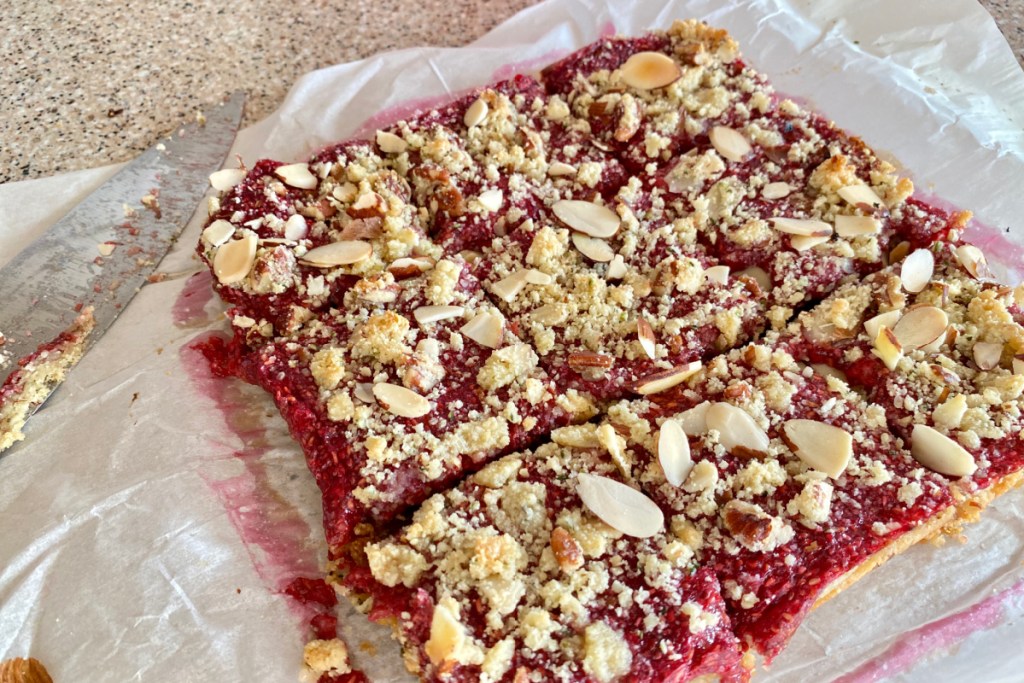 Hip tips for making the best raspberry crumble keto dessert bars: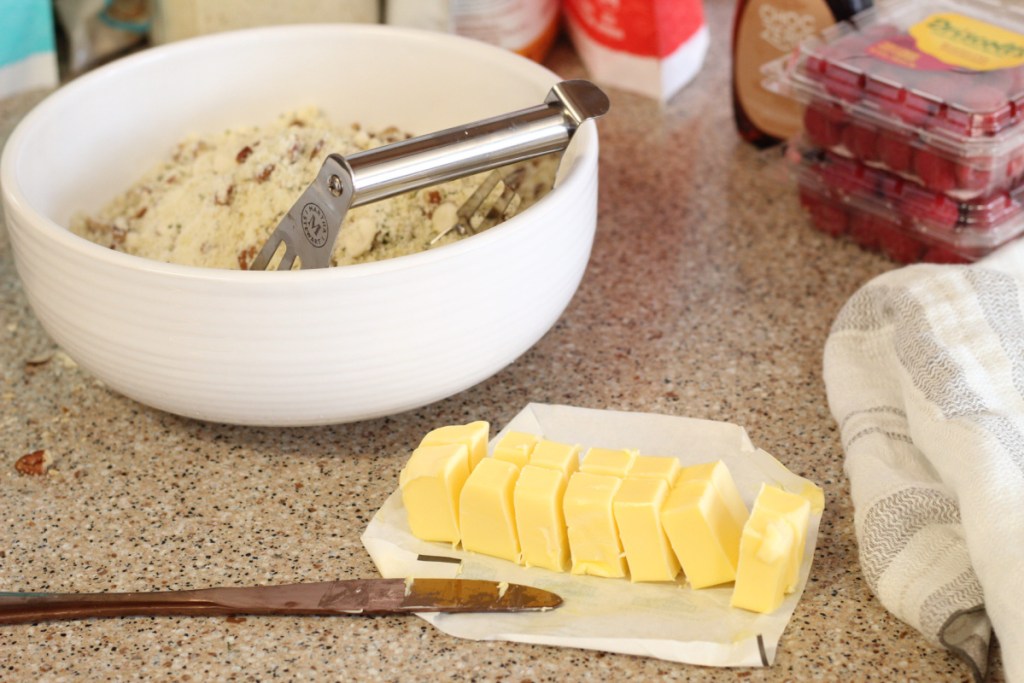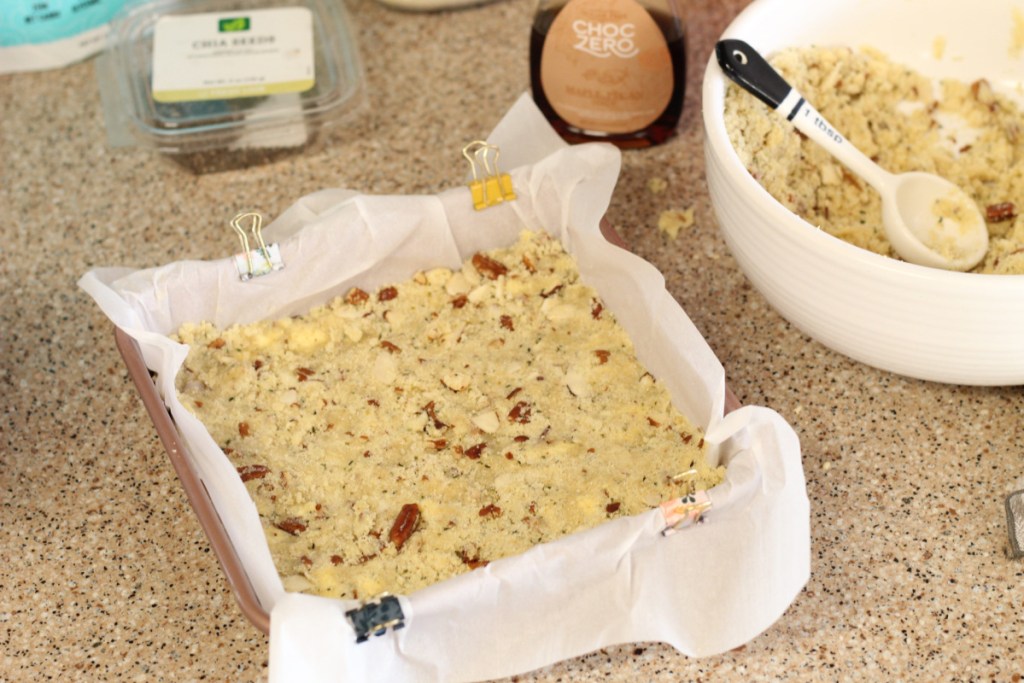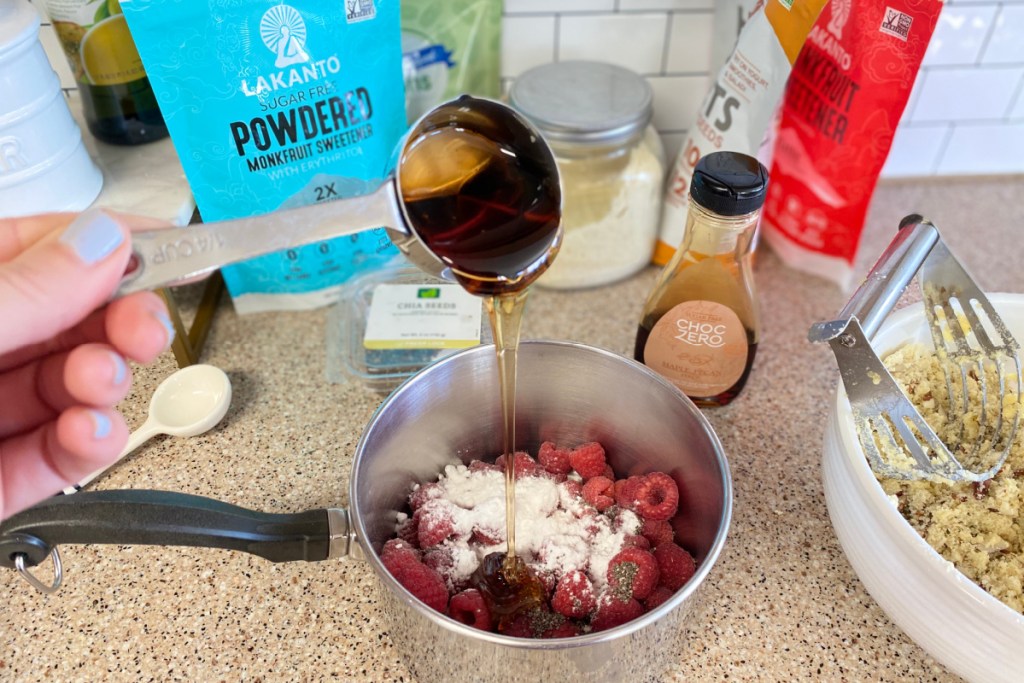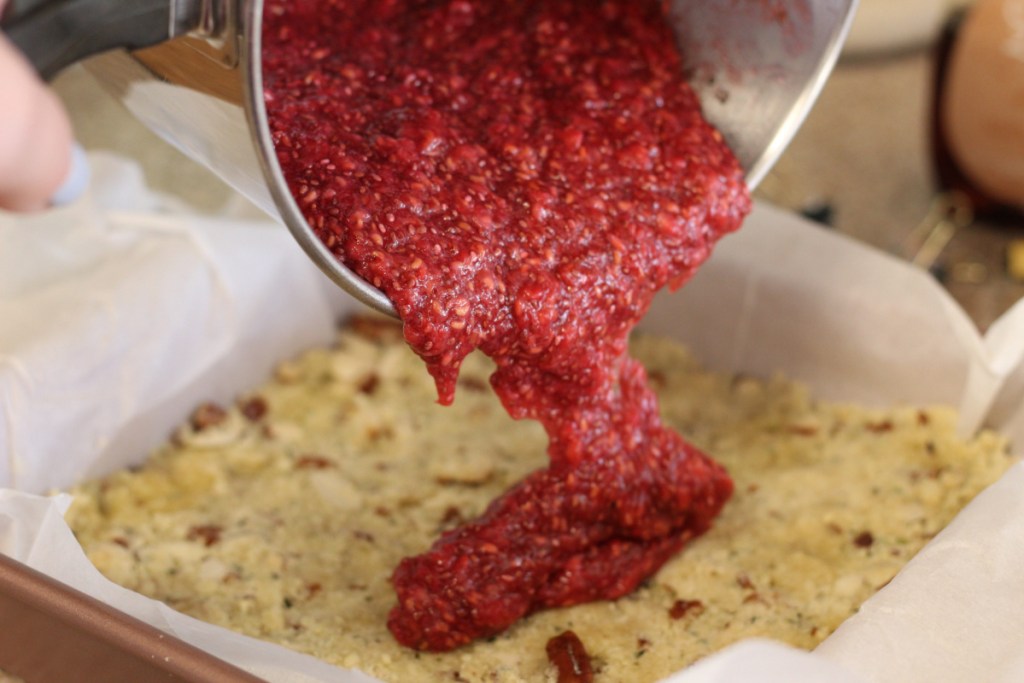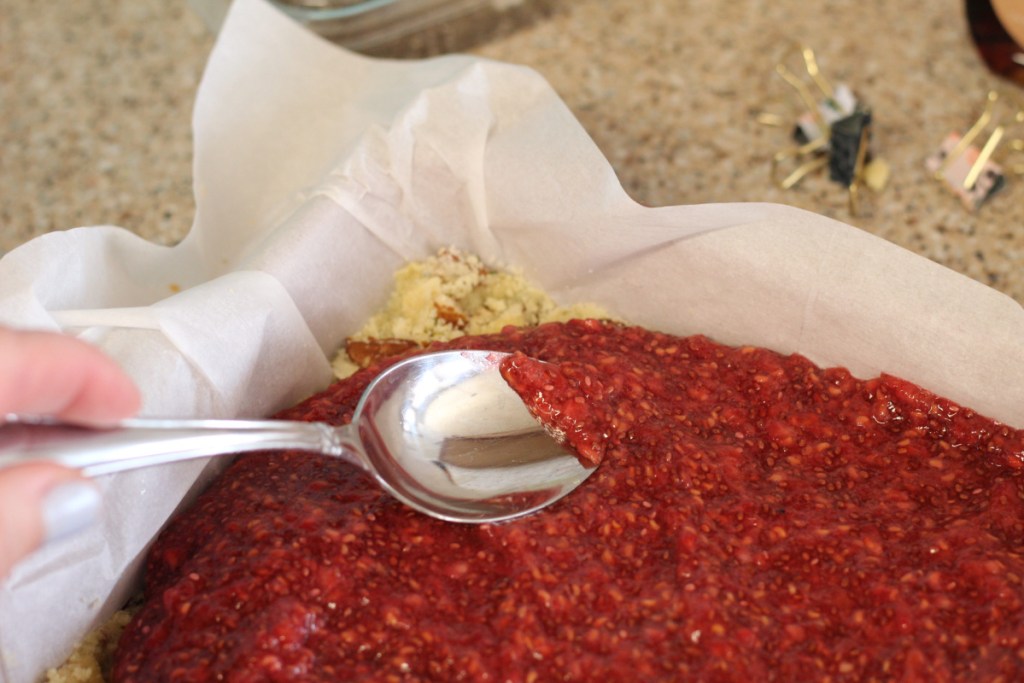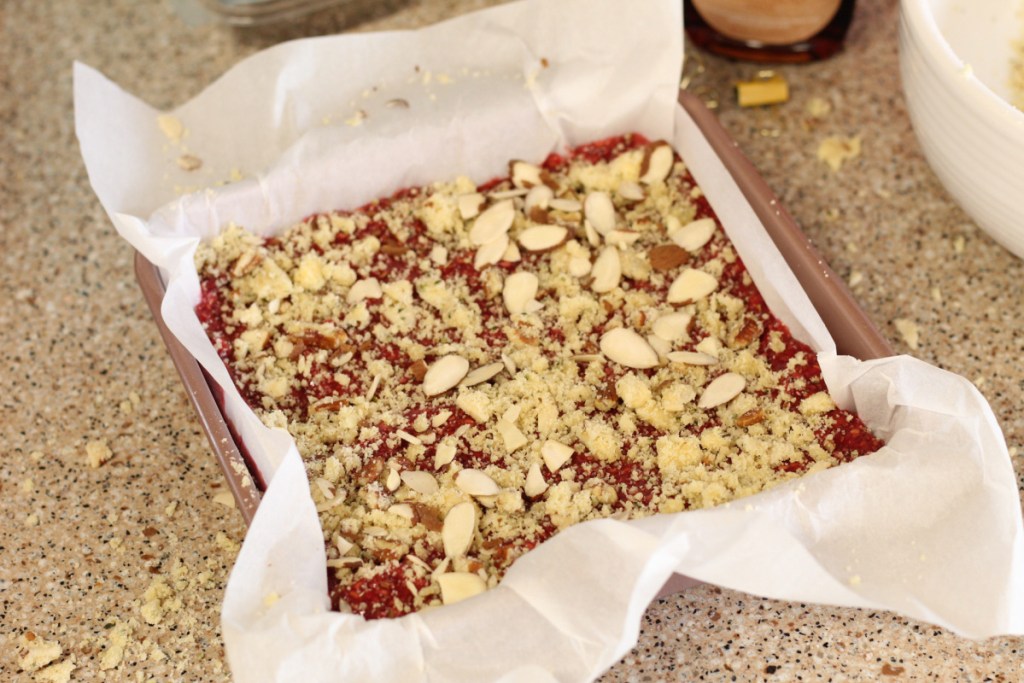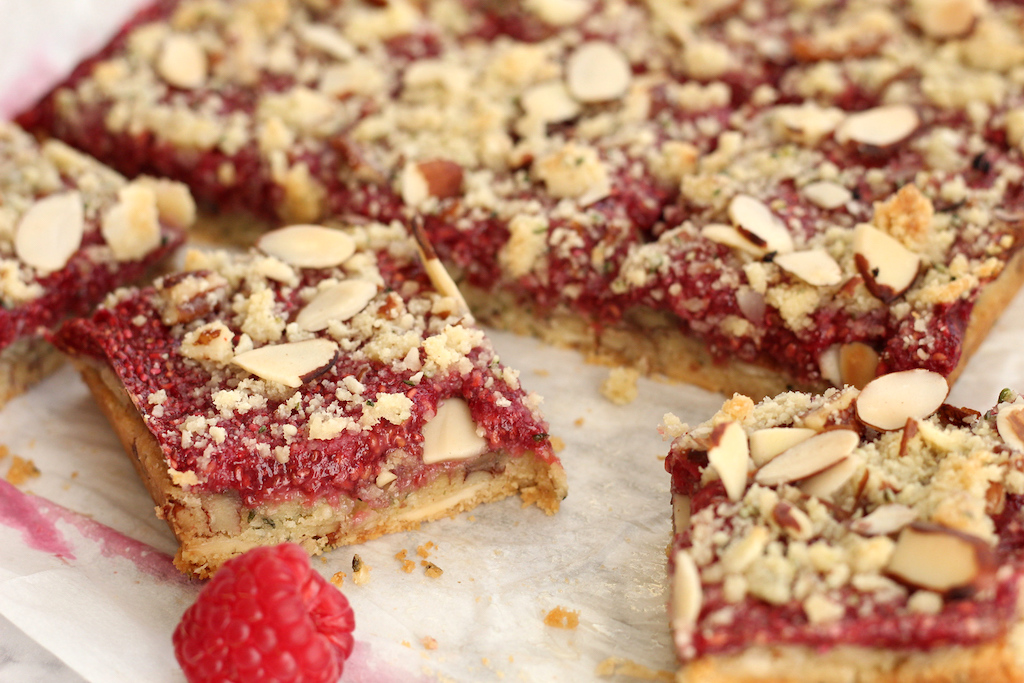 ---
Print
Raspberry Crumble Keto Dessert Bars
yield: 9 SERVINGS
prep time: 30 MINUTES
cook time: 40 MINUTES
total time: 1 HOUR 10 MINUTES
This fruity keto dessert bar is filled with raspberry flavor without all the added sugar! Made with almond flour, fresh raspberries, nuts, and more.
Ingredients
Crumble crust:
1/2 cup chopped pecans
1/2 cup almond slices
1/2 cup butter, cold cut up into cubes
Raspberry filling:
Directions
1
For the Crust:
Preheat oven to 350 degrees. Line a 9x9 baking pan with parchment paper and set it aside.
2
In a mixing bowl, add all ingredients for the crust. With a pastry blender or fork, mix together ingredients until a dough has formed. This dough will stick by pressing it together, but will also have a crumble texture. This is the ideal texture you are wanting for this crust dough.
3
Once the dough has formed, add 2/3 of the dough into the 9x9 pan and press down forming a flat crust-like bottom. Set the remaining dough aside, you will use this at the end.
4
Place the pan in the preheated oven for 10 minutes. Remove from the oven and let cool. While the crust is cooling, prepare the raspberry filling.
5
To make the raspberry filling:
In a saucepan over medium heat, add raspberries, chia seeds, sugar-free maple syrup, water, and keto confectioners sugar. Bring to a boil for 5 minutes whisking occasionally to avoid sticking. Add in xanthan gum at the end whisking quickly to thicken the filling. Remove from stovetop and let filling cool for 10 minutes.
6
Add filling to the top of the baked crust. Make sure to spread filling over crust to cover all edges. Add remaining dough from the crust to the top of the filling. I just crumbled the dough over the top evenly.
7
Place pan back in the preheated oven and bake for 30 minutes.
8
Once the raspberry bars have baked, remove them from the oven, and let the bars cool completely. You'll want to wait until these are completely cooled before you cut into them.
9
Slice into nine squares and serve. Enjoy!
Nutrition Information
Yield: 9, Serving Size: 1
Amount Per Serving: 370 Calories | 31.8g Fat | 30.3g Total Carbs | 14.6g Fiber | 2.4g Sugar | 11.7g Erythritol | 9.5g Protein | 4.0g Net Carbs
---
Your sweet tooth will thank you!
After one bite of this raspberry crumble keto dessert bar, you'll wonder if you landed yourself in keto dessert heaven. They would make a great treat to make an extra batch and share with a friend.
Make some and let me know what you think, I bet ya can't eat just one! 😋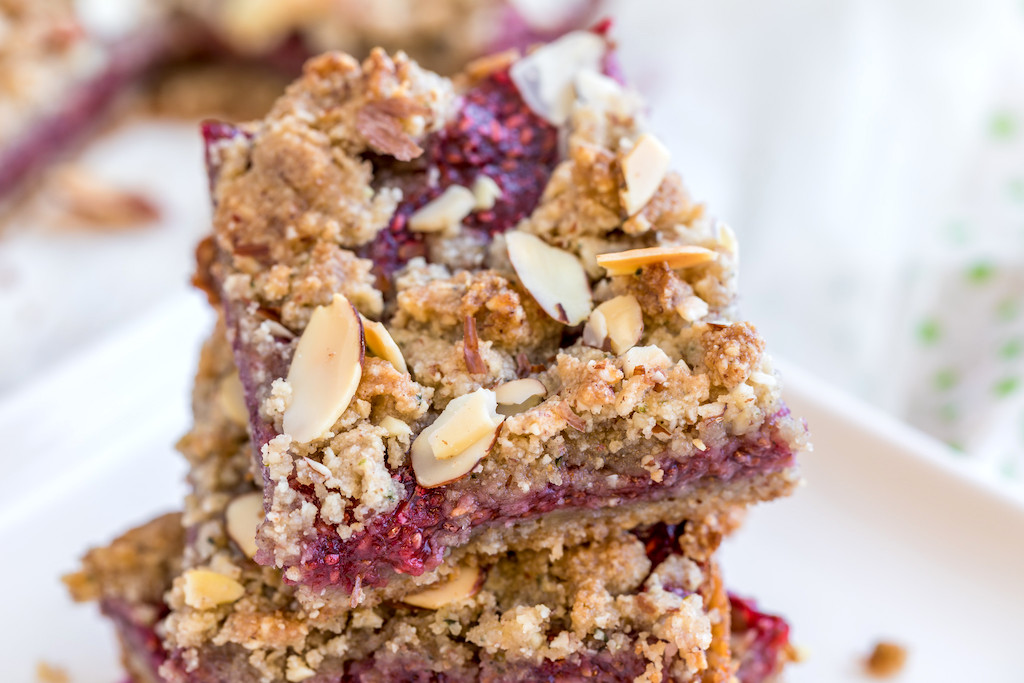 My Hip sidekick Jenna tried out this recipe and here's what she thought:
"I am so in love with these bars and that fresh raspberry flavor is a home run. These bake beautifully and were easy to cut and serve. The crust is packed with flavor, and the combination of the almonds with the raspberries is pure heaven. Recipes like this are what makes it so exciting to eat keto, you really can have delicious sweet treats while staying low carb!"
---