Keto Cinnamon Toast Crunch Cereal – Easy Breakfast Hack!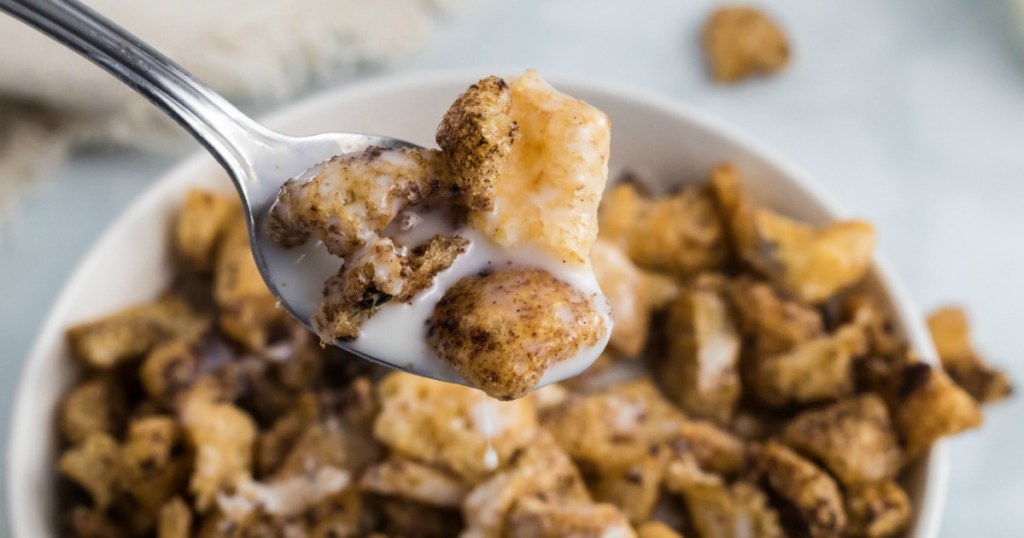 Craving cereal?!
Now you can add it back to your breakfast menu with this simple idea! I saw this hack to make keto cinnamon toast crunch cereal and had to put it to the test myself to see if it really tastes like the real deal… and WOW! I'm impressed!'
Who would have thought sweetened cinnamon pork rinds in almond milk would bring so much childhood joy?!
Don't knock it until you try it.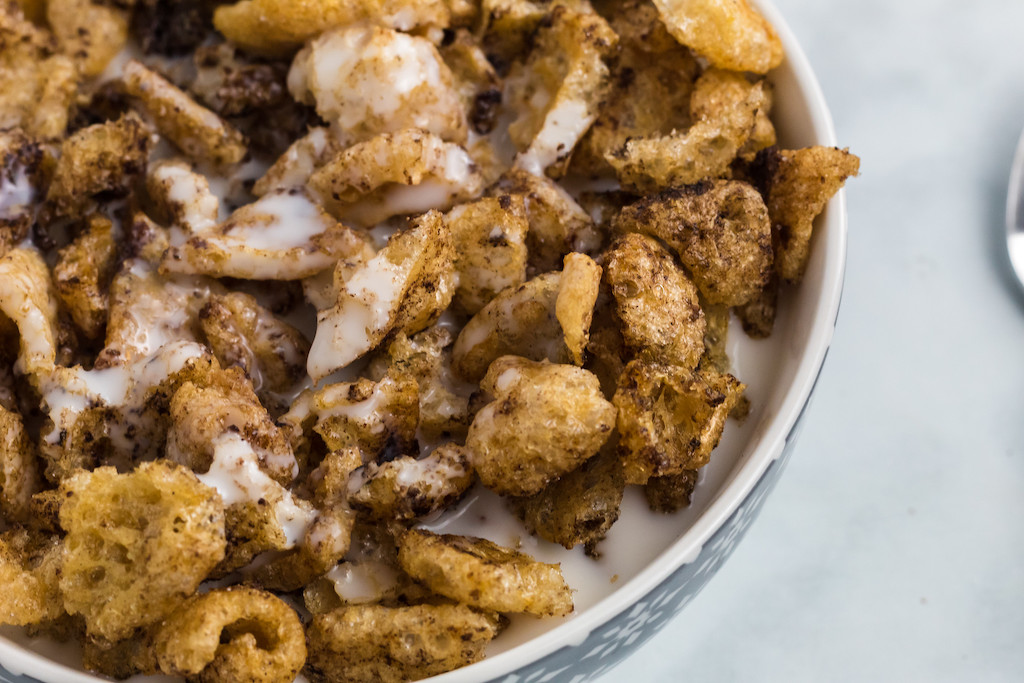 The texture and crunch of pork rinds is spot on for using as a crispy, crunchy cereal. But just like any other cereal, the pieces will start to absorb the milk once it's added so make sure you eat the bowl up right away.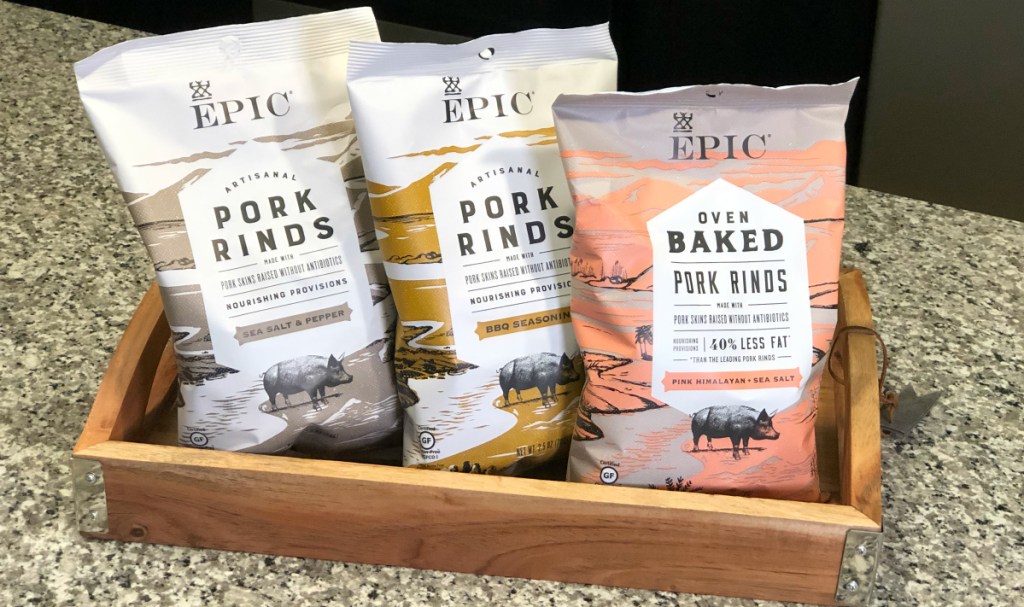 Hip Recipe Tips:
I'm a big fan of Epic Pork Rinds but any original pork rinds that you have will do.
I used a whole 2.5 oz. bag of pork rinds for this recipe, so I sealed the leftover pieces in a zip-top bag. They're a great snack, even when not enjoying them as a cereal with almond milk!
Be sure to break up the pieces for a more cereal-like effect. I kept mine slightly larger but having them broken down to be more bite-sized will be more efficient to enjoy on a spoon.
---
Print
Keto Cinnamon Toast Crunch Cereal
yield: 1 SERVINGS
prep time: 2 MINUTES
cook time: 6 MINUTES
total time: 8 MINUTES
Sweet and cinnamony crunch cereal bites that taste just like those sugar-filled breakfast favorites!
Ingredients
3 cups (or 2.5 oz bag) Sea Salt Pork Rinds
2 tablespoons coconut oil, melted
1-2 tablespoons low-carb granular sweetener (I used Switch from Thrive Market, but Swerve brown or another keto sweetener would work well too)
1/2 tablespoon cinnamon
1 cup almond milk *optional, if you are eating as a cereal
Directions
1
Preheat oven to 350 degrees. Line a baking sheet with parchment paper and set aside.
2
In a large bowl add pork rinds. Break large pieces down into bite-sized chunks.
3
In a small bowl, mix together granular sweetener and cinnamon. Add pork rinds pieces to large bowl and drizzle with coconut oil. Sprinkle cinnamon/sweetener mix over pork rinds and toss, making sure to coat all sides evenly.
4
Spread coated pork rinds onto the baking sheet. Bake in the oven on the lowest rack for 6 minutes. Remove from the oven. Enjoy while slightly warm or snack on them after being completely cooled. If using for cereal, be sure to let the pork rinds cool completely before adding with milk.
5
To enjoy as cereal: Add 1 cup of sweetened cinnamon pork rinds to a bowl and top it off with a cup of milk. Store leftovers in a zip-top bag. Enjoy!
Nutrition Information
Yield: 3 cups, Serving Size: 1 cup
Amount Per Serving: 203 Calories | 14g Fat | 4g Total Carbs | 1g Fiber | 2g Sugar Alcohol | 18g Protein | 1g Net Carbs
---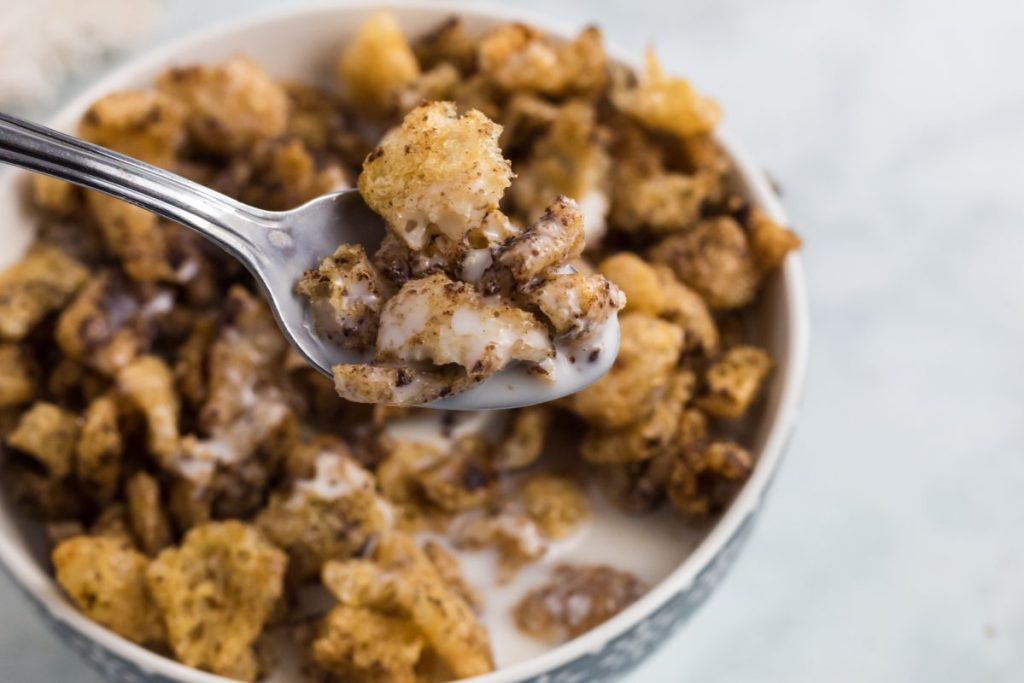 Who can resist a sweet and crunchy bowl of cereal!
I'm so glad to report this keto cinnamon toast crunch hack totally worked out and resulted in crispy pieces of sweet cinnamon flavor! Such an easy breakfast idea while staying low carb — Yum!
---
Looking for more keto cereals? Check out Magic Spoon!