Make Keto Chocolate Fudge Pecan Pie This Holiday Season!
Traditional dessert will never be the same after you make this keto chocolate fudge pecan pie.
Make room for this keto chocolate fudge pecan pie on the dessert table!
If I could be best friends with a pie, it'd be with this keto chocolate fudge pecan pie. When I dream of the perfect bite of pie, this is what I want. This pie is heavy on the pecans and loaded with rich, dark chocolate flavor. 🤤 It's the dressed-up version of the pecan pie you grew up eating.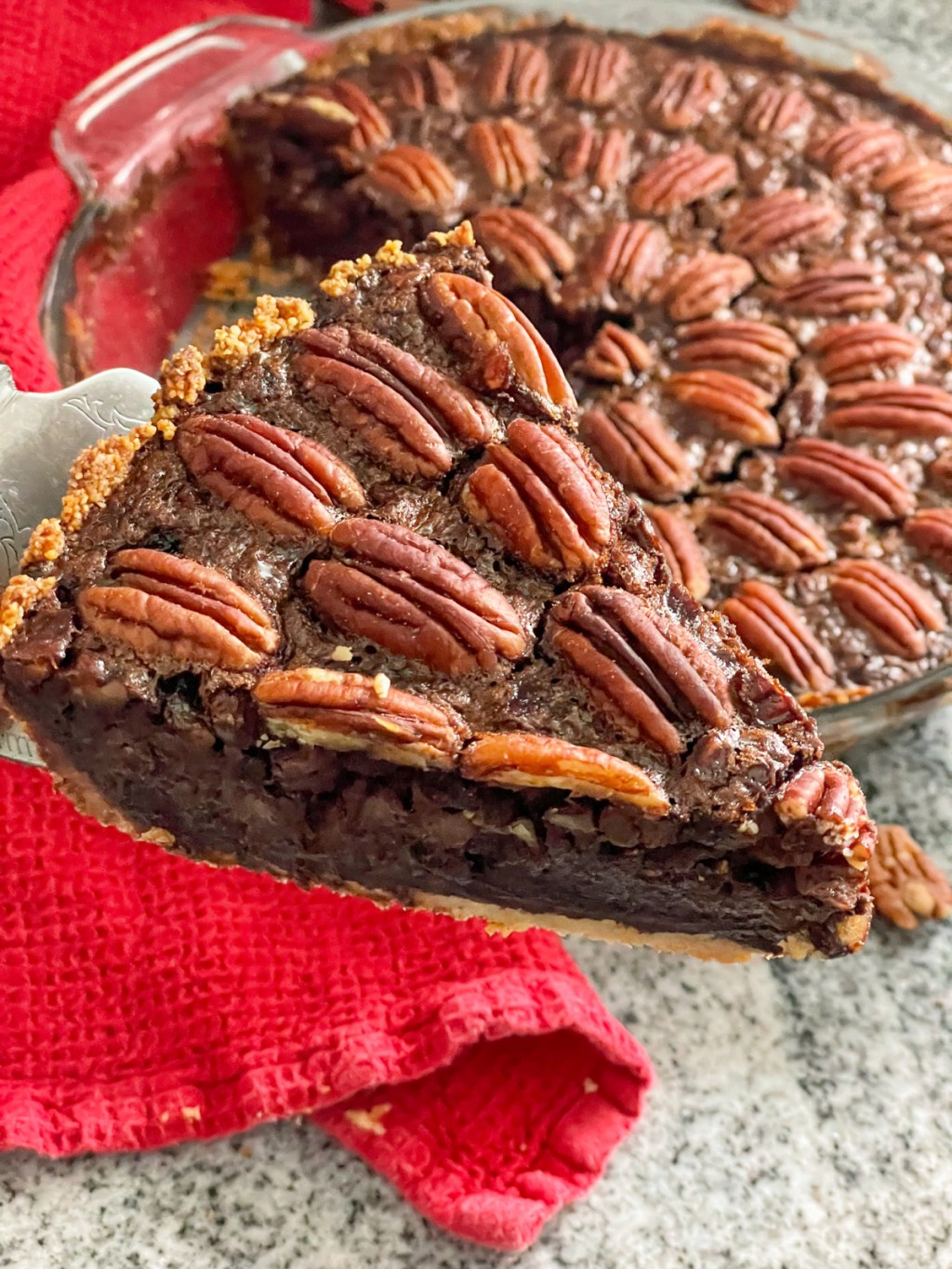 Is pecan pie keto?
Nope… traditional pecan pie is filled with sugar! However, this pie is keto through and through thanks to the amazing ChocZero keto hot fudge sauce. I couldn't have made this pie without it! Okay, and I did use ChocZero's dark chocolate chips as well. Because you can never have enough chocolate, in my opinion. The ChocZero products keep us on the road to keto. 👏
Did you know pecans are a keto-friendly nut, too? When I say this pie is loaded with pecans, I'm not joking. This pie is all nuts and dark chocolate with just a hint of that sweet, custardy filling.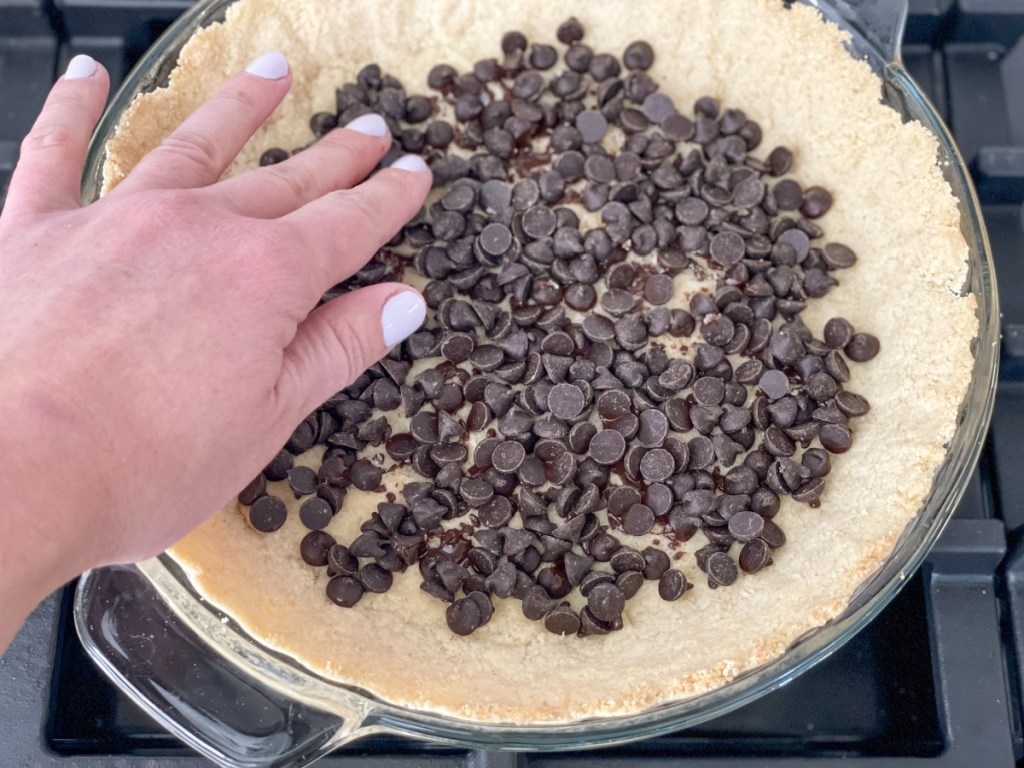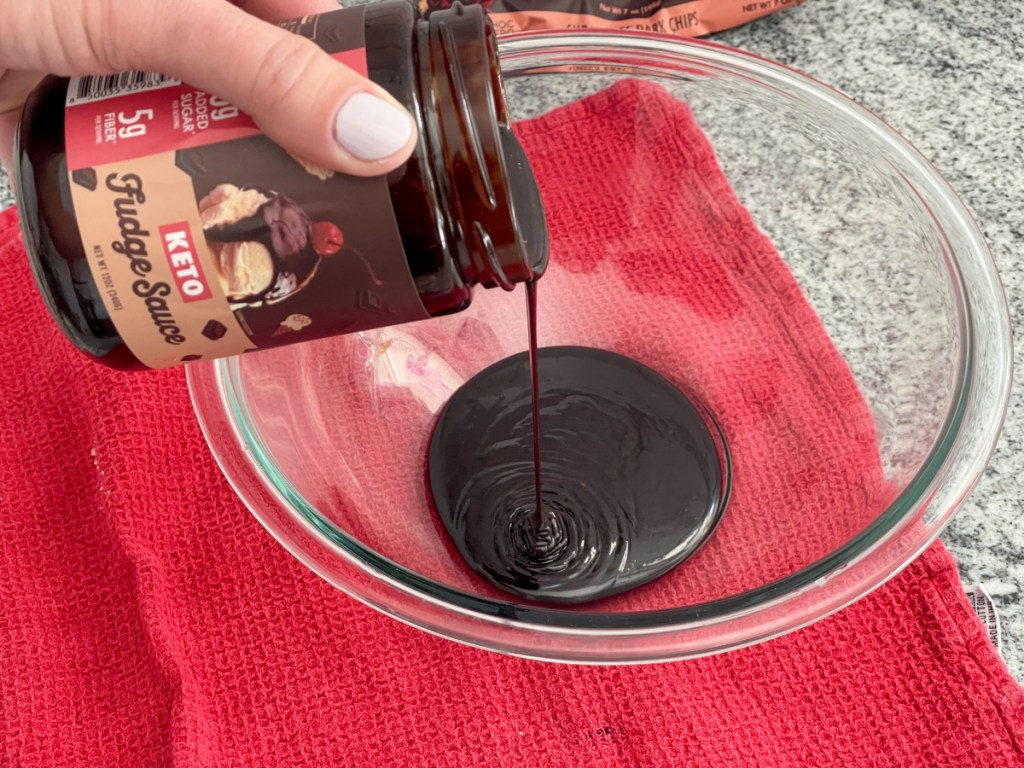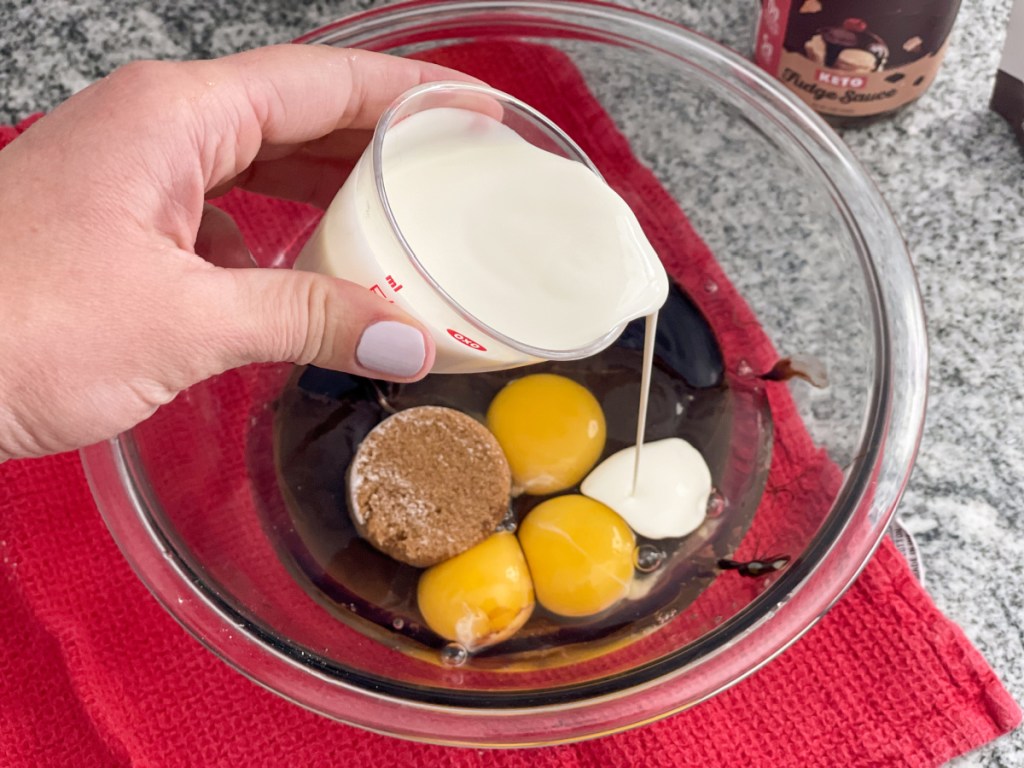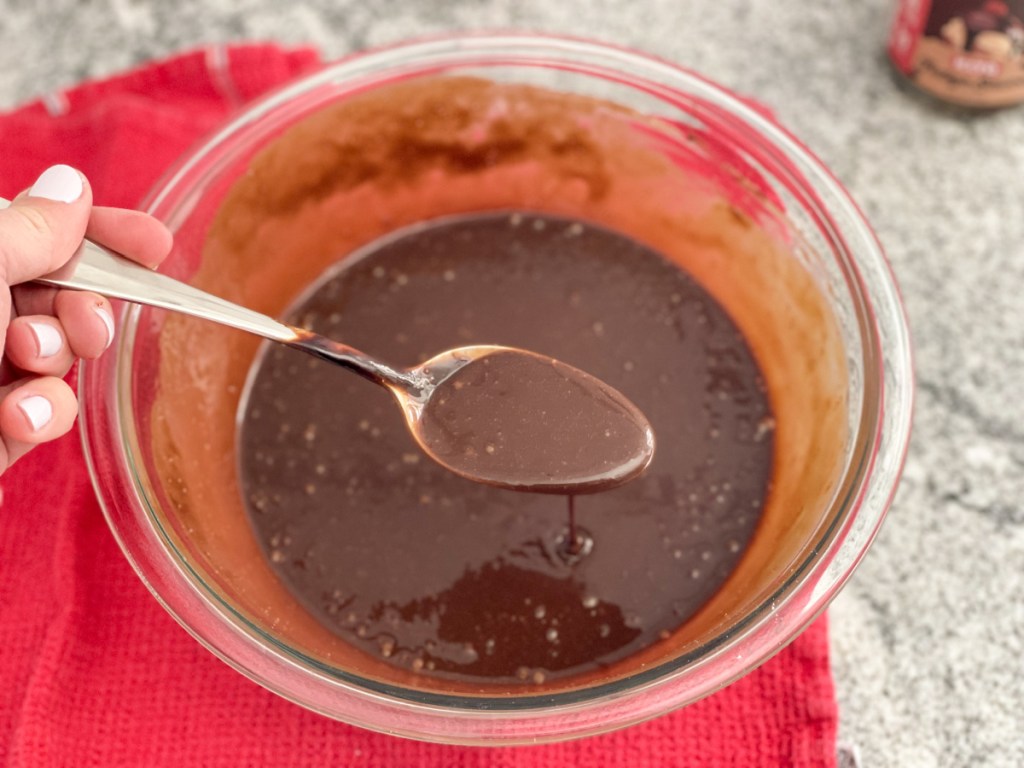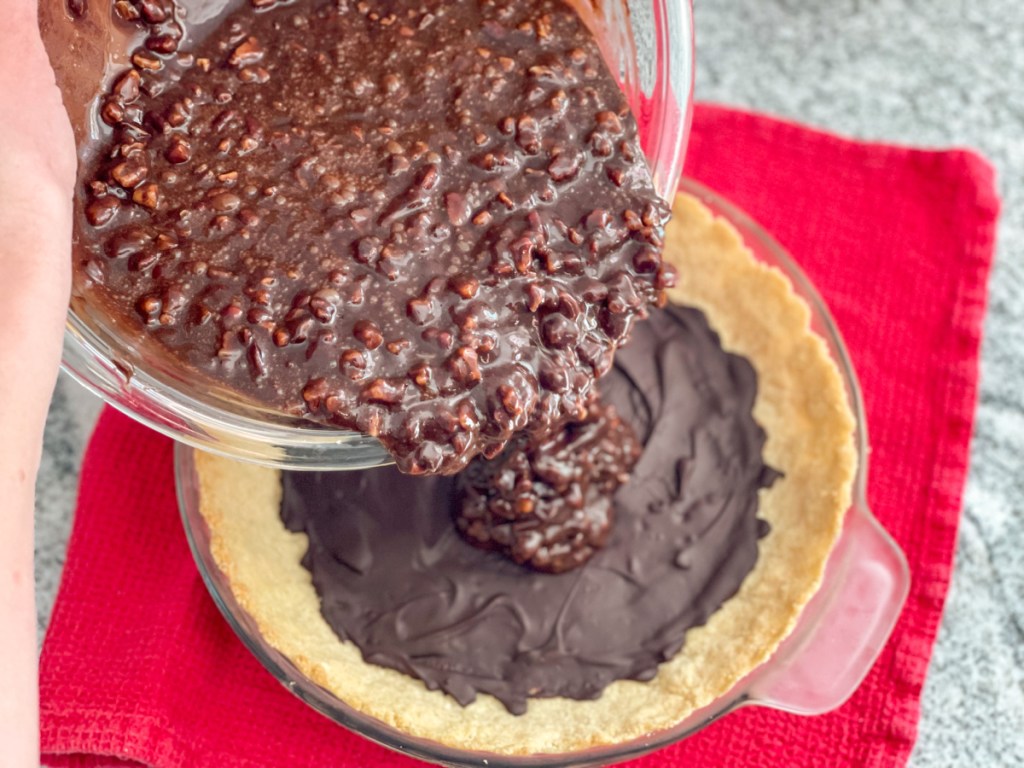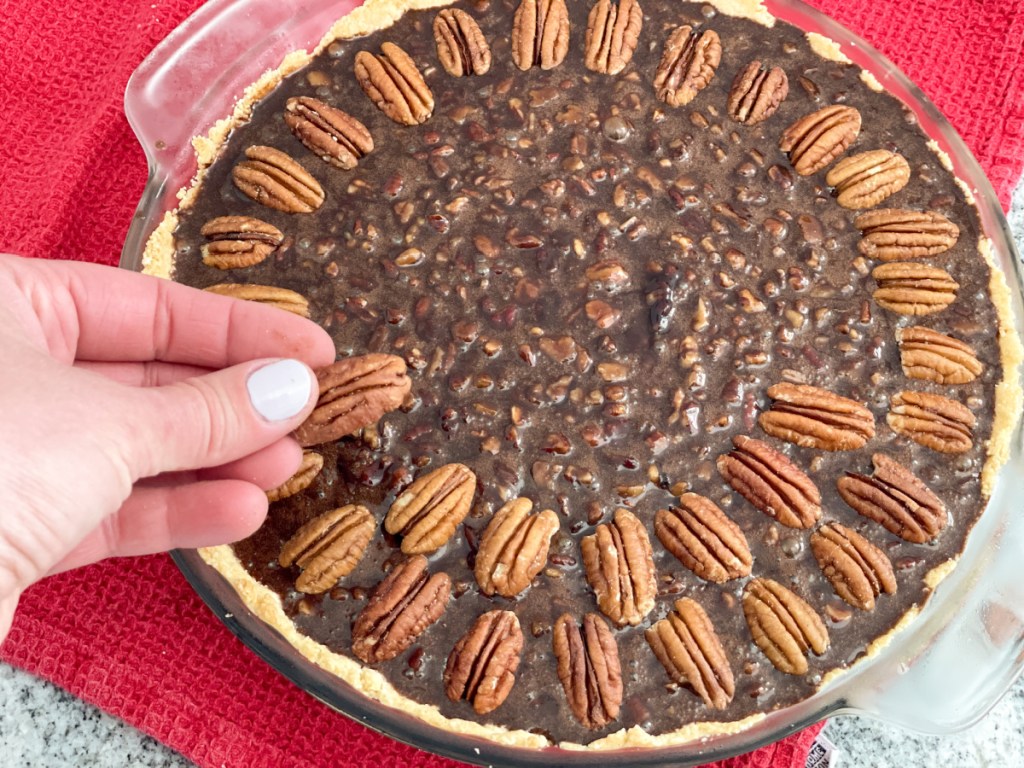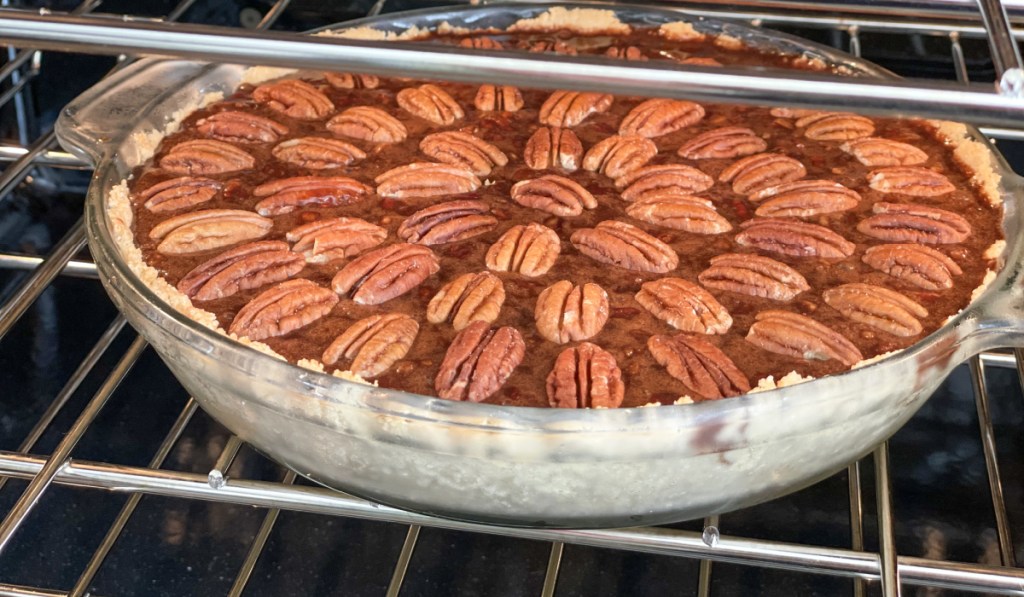 ---
Print
Keto Chocolate Fudge Pecan Pie
yield: 8 SERVINGS
prep time: 30 MINUTES
cook time: 45 MINUTES
total time: 1 HOUR 15 MINUTES
Almond flour crust pie loaded with a rich, dark chocolate fudge and chopped pecan filling.
Ingredients
Keto Pie Crust:
Chocolate Fudge Pecan Filling:
3 eggs
1/4 cup heavy whipping cream
2 teaspoons vanilla
1/2 teaspoon salt
Directions
1
To make the crust:
Preheat oven to 325 degrees. In a medium bowl, mix together almond flour, keto confectioners sweetener, and melted butter until fine crumbs form. Transfer the mixture to a pie plate and press the dough down into the pie plate and up the sides to form your crust. Bake for 12 minutes.
2
Evenly pour the keto chocolate chips onto the hot pie crust. Place back in the oven for another 3 minutes to melt the chocolate chips. Spread out the melted chocolate chips to form a chocolate layer. Let the pie crust cool slightly and then transfer it to the fridge for 20 minutes or the freezer for 10 minutes until the chocolate starts to harden.
3
To make the filling:
While the chocolate in the pie crust is hardening, make the filling. Microwave the ChocZero Keto Hot Fudge for 15 to 20 seconds to soften it and then pour it into a medium bowl.
4
Add the eggs, keto brown sweetener, heavy whipping cream, vanilla, and salt to the fudge sauce. Stir until well combined.
5
Add the chopped pecans and mix well.
6
Pour the chocolate pecan mixture into the pie crust. Top with the whole pecan half pieces, arranging them in circles around the edge first and then working your way towards the center.
7
Bake the pie for 40 to 45 minutes until the center is just slightly jiggly. Remove from the oven and let cool to room temperature before serving. The pie is best after letting it set up in the fridge overnight and then letting it warm up to room temperature before slicing. Enjoy!
Nutrition Information
Yield: 8 servings, Serving Size: 1 slice
Amount Per Serving: 713 Calories | 66.7g Fat | 42.5g Total Carbs | 26.9g Fiber | 2.5g Sugar | 10.5g Sugar Alcohol | 10.6g Protein | 5.5g Net Carbs
---
Don't be alarmed by the high total carb count!
Fiber (the main ingredient in ChocZero products) and erythritol (the main ingredient in Swerve) do not affect blood sugar in the same way that regular carbs do, so we subtracted them from the total carb count. You'll see that the net carbs are much lower once you remove the sugar alcohols and fiber.
---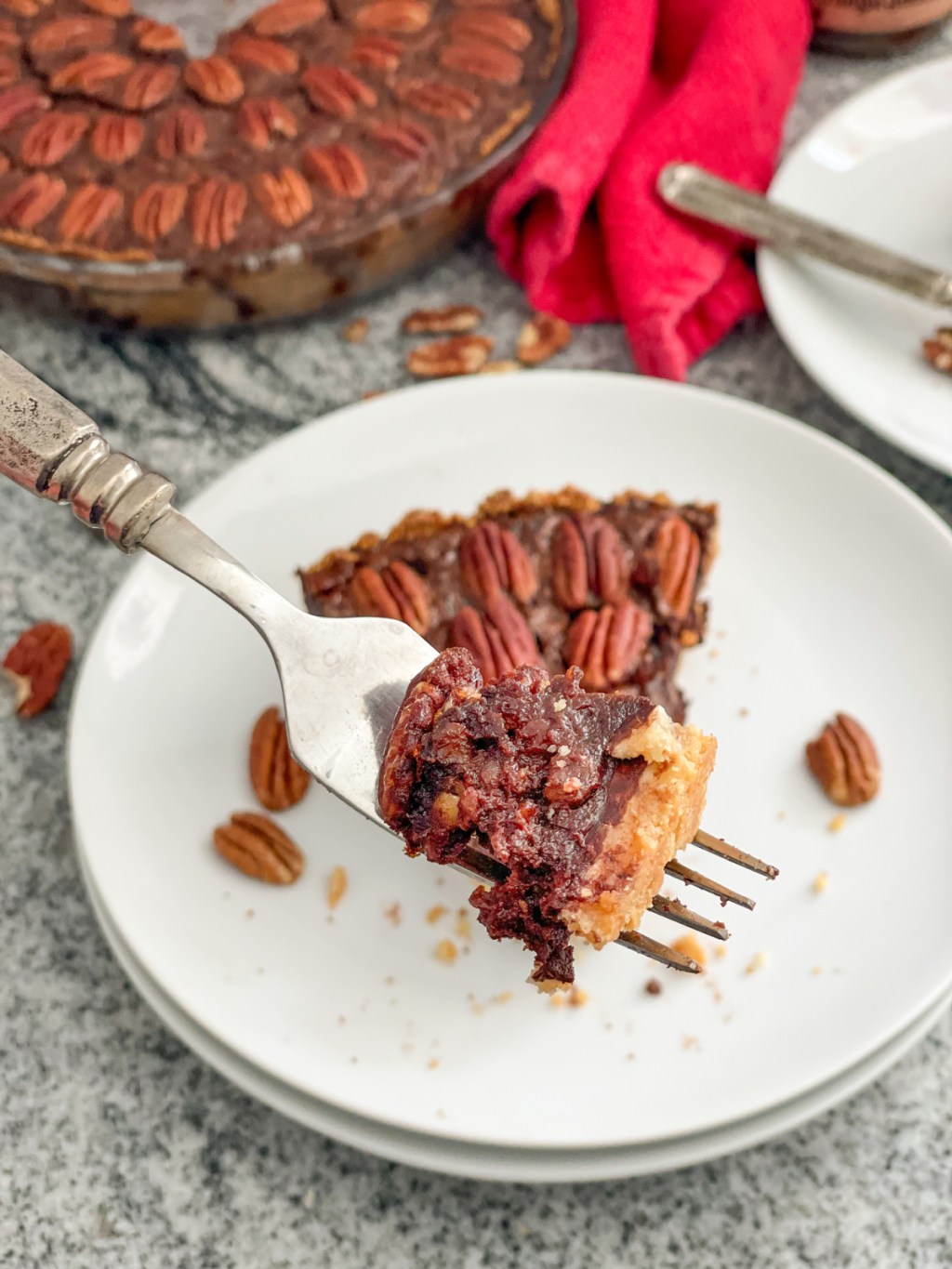 Tips for making the best keto chocolate fudge pecan pie:
Warming the ChocZero Keto Hot Fudge Sauce in the microwave makes it easier to get it out of the jar and also makes it easier to incorporate it with the other ingredients. Use our coupon code HIP2KETO to save 10% off your order of ChocZero's Keto Hot Fudge Sauce.
You might think that the layer of chocolate between the crust and filling isn't important, but trust me, it adds a surprisingly delicious element of taste and texture. And ChocZero Chocolate Chips are the best!
Let this pie cool completely before slicing. I recommend letting it set up overnight in the fridge and then letting it gradually warm to room temperature the next day before serving.
Top with whipped cream or keto vanilla ice cream if desired, although it's plenty rich on its own!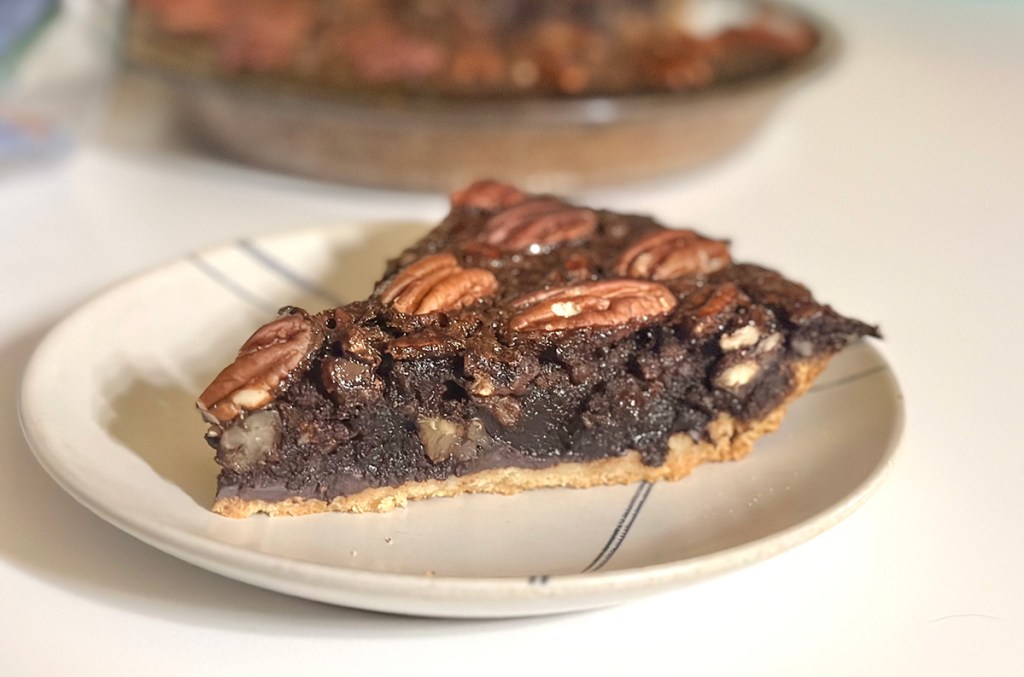 My Hip sidekick Jenna made this keto fudge pecan pie, and here's what she thought:
"This pie is so good, you have got to try it! It's fudgy and delicious with everything a pecan pie should be, but better! The crust bakes to perfection and the pie sets up beautifully. It's as pretty to serve as it is delicious to eat. I'm excited to make this for my family over the holidays!"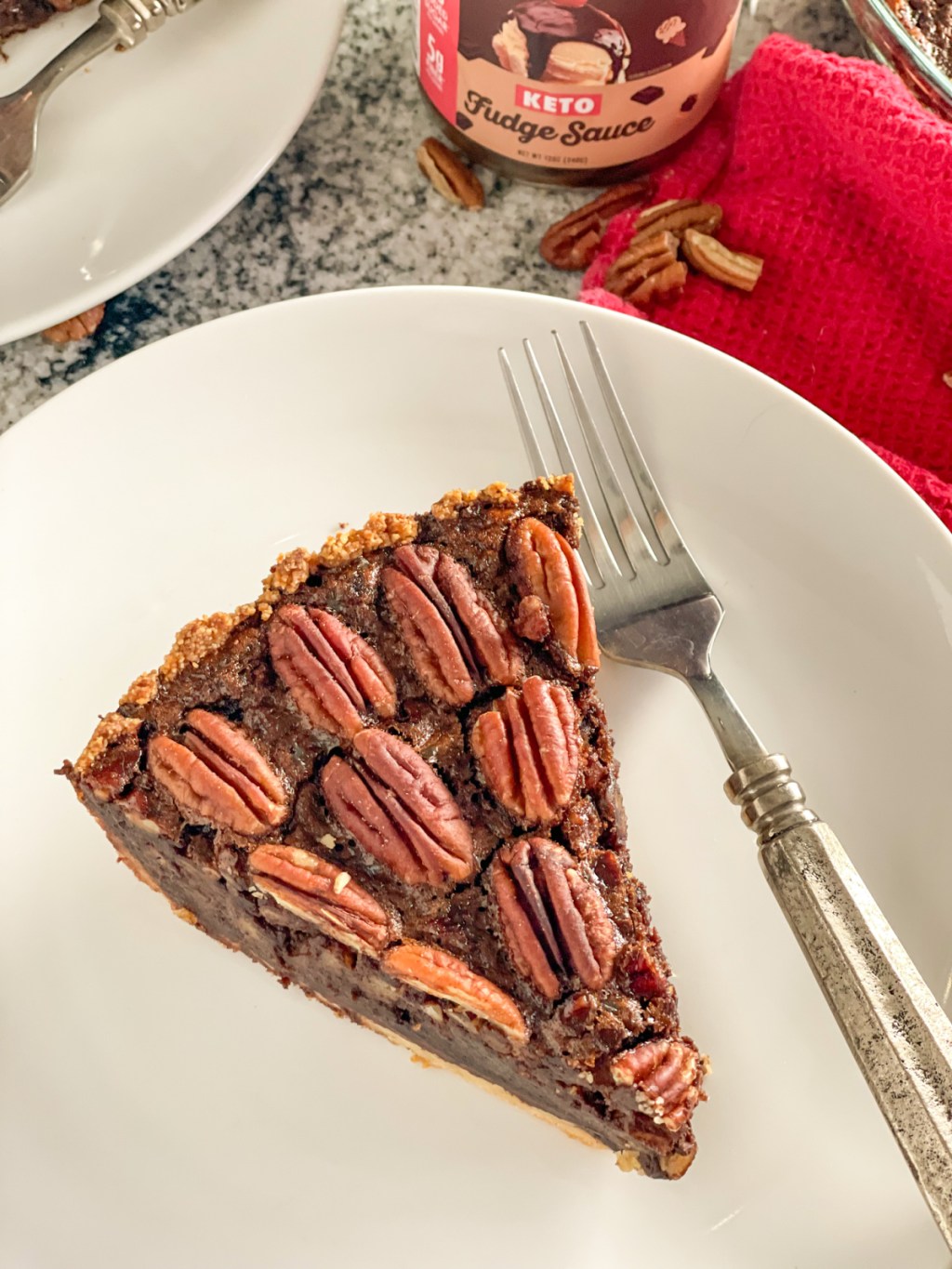 This pie will become the most requested at all your holiday parties!
If you make this once, guarantee you'll be making it again! This keto chocolate fudge pecan pie outshines all other pies. Move over traditional pecan pie, we've got a new star at the dessert table.
---
Looking for more holiday desserts? Check out our keto peanut butter pie next!