This Keto Chinese Pork Egg Roll Soup is So Flavorful!
This easy-to-make keto soup will satisfy your hunger for Chinese food!
Every once in a while I get a serious hankering for Chinese food… and that's when I make this keto Chinese pork egg roll soup.
It's a tasty union of pork, sesame, and ginger that really calms the craving. This soup is hearty and satisfying while keeping carbs low and flavors high. I really like to top mine with toasted sesame seeds, green onions, and a squirt of sriracha for an extra kick!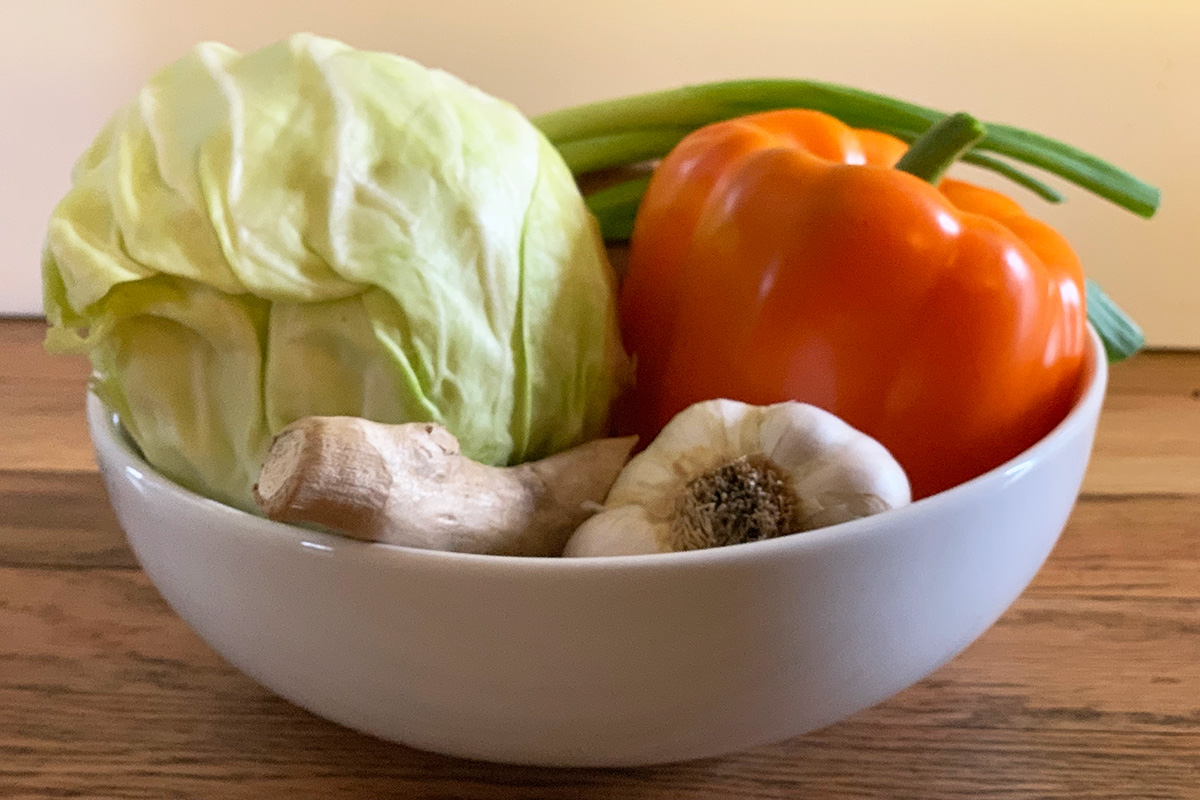 Recipe tips to keep in mind when making Keto Chinese Pork Egg Roll Soup:
If you're not a pork fan, feel free to substitute with ground turkey or ground chicken.
Vegetarians, try using a combination of TVP and finely diced mushrooms in place of the ground pork. I also recommend adding in an extra tablespoon of sesame, avocado, or coconut oil.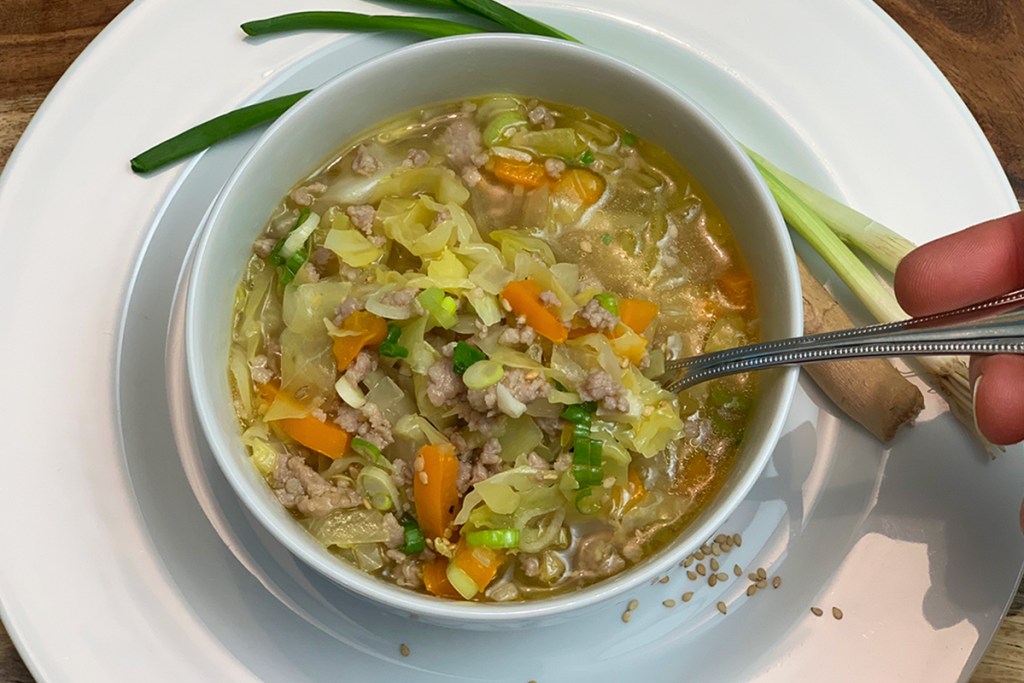 ---
yield: 6 SERVINGS
prep time: 15 MINUTES
cook time: 15 MINUTES
total time: 30 MINUTES
This easy to make keto soup really satisfies hunger for Chinese food!
Ingredients
1 pound ground pork
1 teaspoon sesame oil
1 medium yellow onion, diced
1 orange bell pepper, cut into thin, short strips (about 1" long)
3-4 cloves garlic, finely minced
1 - 1 1/2 teaspoons grated ginger
small head green cabbage, shredded (about 8 cups)
6 cups chicken broth
1 tablespoon soy sauce or tamari
1/2 teaspoon salt
1/2 teaspoon pepper
green onions, chopped (optional for garnish)
toasted sesame seeds (optional for garnish)
sriracha (optional for added heat)
Directions
1
Using a large pot, brown the ground pork on medium heat until just done. If desired, drain the fat (I choose not to).
2
To the pot add sesame oil, onion, bell pepper, garlic, and ginger. Saute for 5 minutes or until onions are slightly translucent.
3
Add the broth, cabbage, soy sauce/tamari, salt, and pepper. Mix well to combine.
4
Bring the soup to a low simmer and cook for 15-20 minutes or until the cabbage is wilted. If needed, season further with additional salt and pepper.
5
Top each bowl with sliced green onions & toasted sesame seeds. For a little spice, add a squirt of sriracha per individual serving.
Nutrition Information
Yield: 6 servings, Serving Size: approx. 1 1/2 cups
Amount Per Serving: 255 Calories | 17g Fat | 9g Total Carbs | 3g Fiber | 16g Protein | 6g Net Carbs
---
The perfect one pot meal idea!

This soup is easy to make all in one pot, and smelled delicious from start to finish. The topping suggestions are perfect, too. I especially enjoyed the green onion. I also loved the generous serving size, it definitely filled me up!
---
Love soup?! Try our Cauliflower Bacon Chowder next!