This Keto Chinese Pork Egg Roll Soup is So Flavorful!
This easy-to-make keto egg roll soup will satisfy your hunger for Chinese food!
Every once in a while I get a serious hankering for Chinese food… and that's when I make this keto Chinese pork egg roll soup.
It's a tasty union of pork, sesame, and ginger that really calms the craving. This soup is hearty and satisfying while keeping carbs low and flavors high. I really like to top mine with toasted sesame seeds, green onions, and a squirt of sriracha for an extra kick!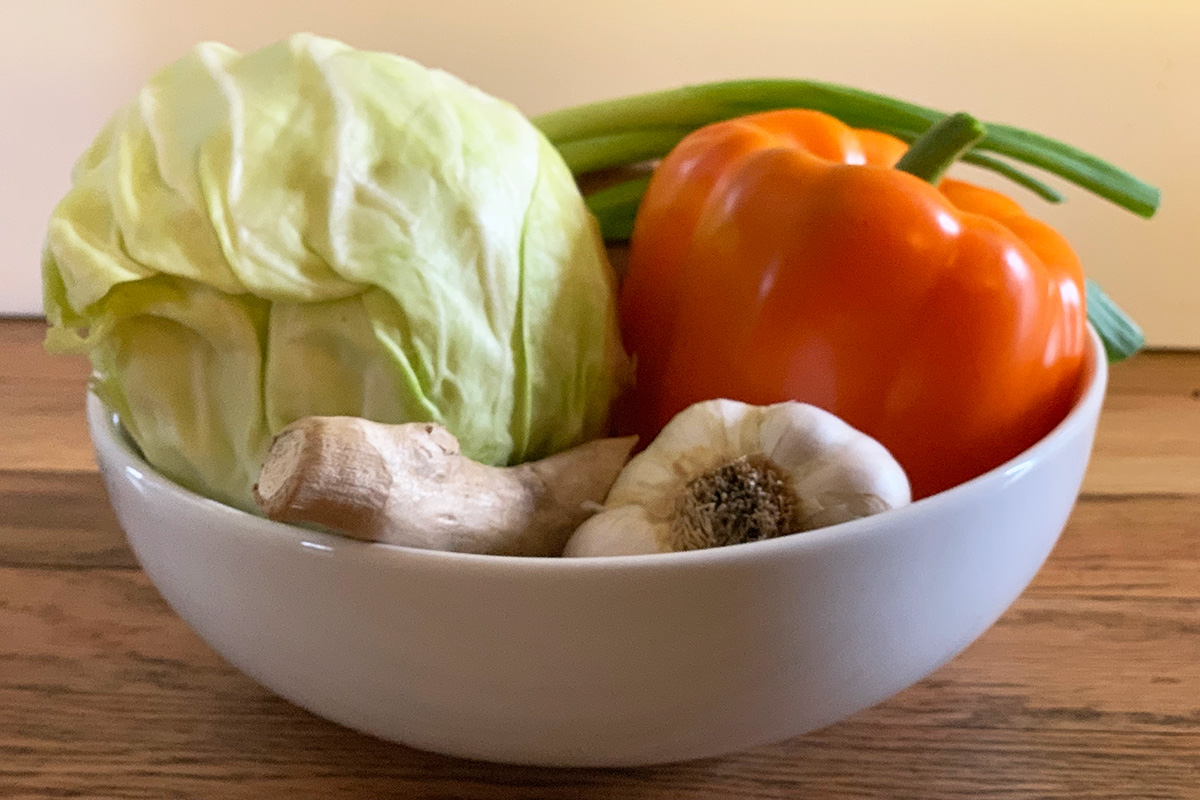 Recipe tips to keep in mind when making Keto Chinese Pork Egg Roll Soup:
Spice things up by adding a dash of sriracha to your bowl. Sriracha is a spicy sauce made with red chili and garlic that's commonly served with Vietnamese, Chinese, and Thai cuisine. My favorite brands are Huy Fong and Merfs (I love the Merfs variety pack of sauces which includes sriracha).
If you're not a pork fan, feel free to substitute with ground turkey, ground chicken, or even ground beef. When I make this soup with ground beef, I like to use beef broth instead of chicken broth to give it a richer taste.
Vegetarians, try using a combination of TVP (textured vegetable protein), and finely diced mushrooms in place of the ground pork. I also recommend adding in an extra tablespoon of sesame, avocado, or coconut oil.
Craving crackers with your soup? No problem, make our easy peasy 2-ingredient keto crackers and dunk them right in your soup bowl!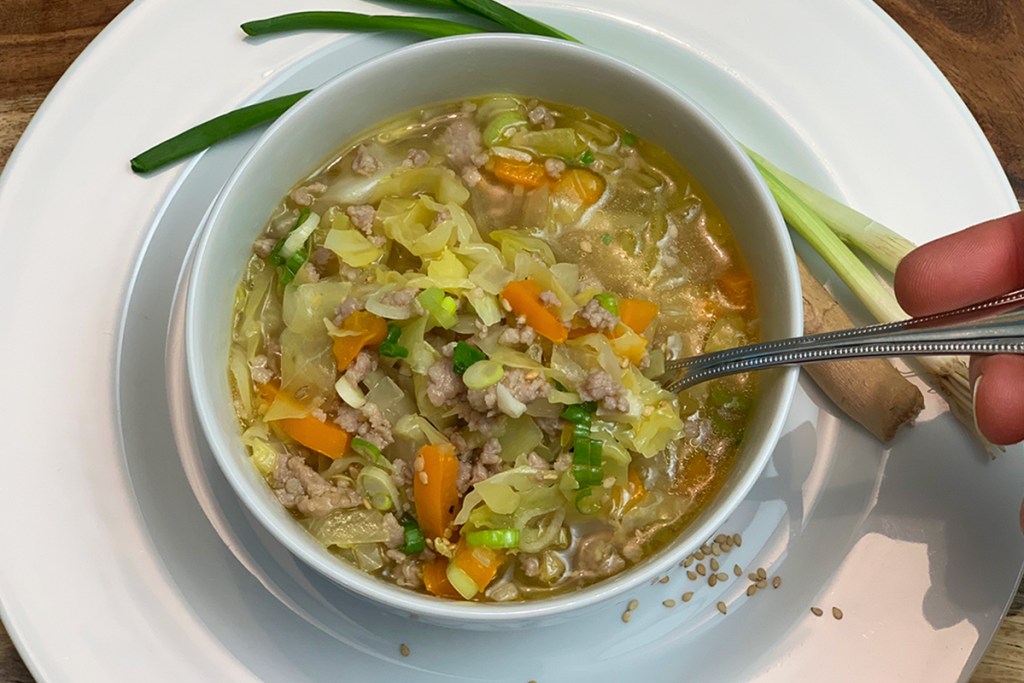 ---
yield: 6 SERVINGS
prep time: 15 MINUTES
cook time: 15 MINUTES
total time: 30 MINUTES
This delicious keto egg roll soup is the tasty union of pork, sesame, and ginger for great Chinese food flavor.
Ingredients
1 pound ground pork
1 medium yellow onion, diced
1 orange bell pepper, cut into thin, short strips (about 1" long)
3-4 cloves garlic, finely minced
1 - 1 1/2 teaspoons grated ginger
small head green cabbage, shredded (about 8 cups)
6 cups chicken broth
1/2 teaspoon salt
1/2 teaspoon pepper
green onions, chopped (optional for garnish)
toasted sesame seeds (optional for garnish)
Directions
1
Using a large pot, brown the ground pork on medium heat until just done. If desired, drain the fat (I choose not to).
2
To the pot, add sesame oil, onion, bell pepper, garlic, and ginger. Sauté for 5 minutes or until onions are slightly translucent.
3
Add the broth, cabbage, soy sauce/tamari, salt, and pepper. Mix well to combine.
4
Bring the soup to a low simmer and cook for 15-20 minutes or until the cabbage is wilted. If needed, season further with additional salt and pepper. Now it's ready to serve!
5
Top each bowl with sliced green onions & toasted sesame seeds. For a little spice, add a squirt of sriracha per individual serving.
Nutrition Information
Yield: 6 servings, Serving Size: approx. 1 1/2 cups
Amount Per Serving: 331 Calories | 20g Fat | 11.2g Total Carbs | 3.2g Fiber | 6g Sugar | 0g Sugar Alcohol | 28.1g Protein | 8g Net Carbs
---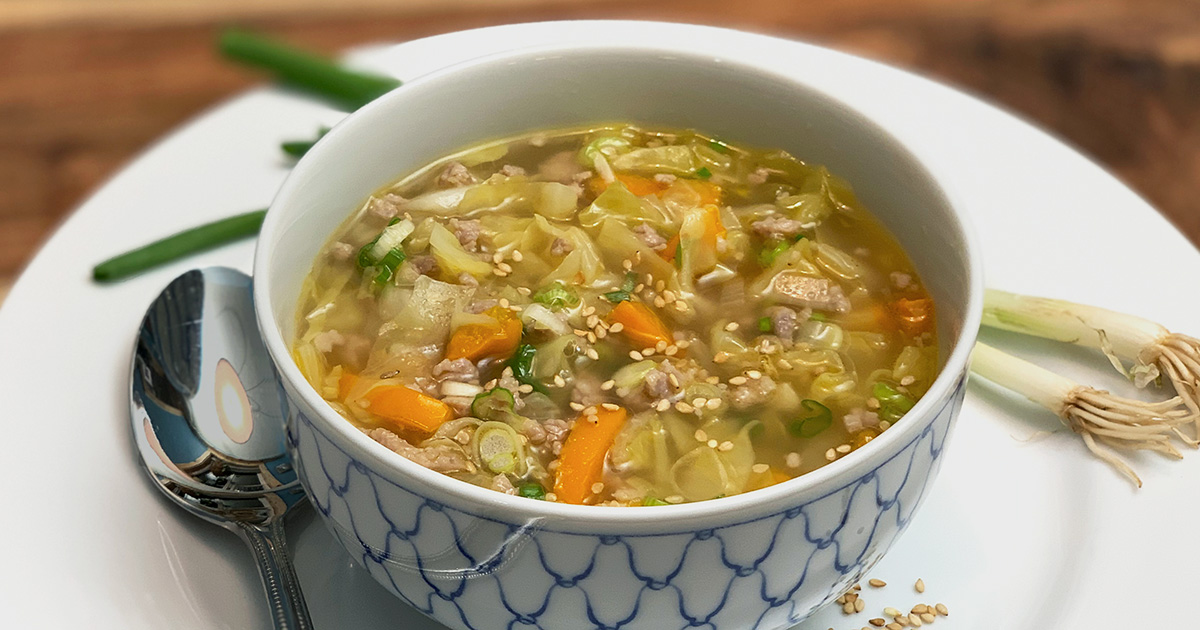 The perfect one pot meal idea!
This soup is easy to make all in one pot and smells delicious from start to finish. The topping suggestions are perfect, too. I especially enjoyed the addition of green onion. I also loved the generous serving size, it definitely filled me up!
This is one of our most popular recipes here at Hip2Keto, and trust me, it's going to be a new favorite in your home too. Even the non-keto eaters in your family will enjoy it and ask for seconds.
---
Love soup?! Try our Cauliflower Bacon Chowder next!