The Best Keto Chicken Lasagna Casserole (Without Zucchini Noodles!)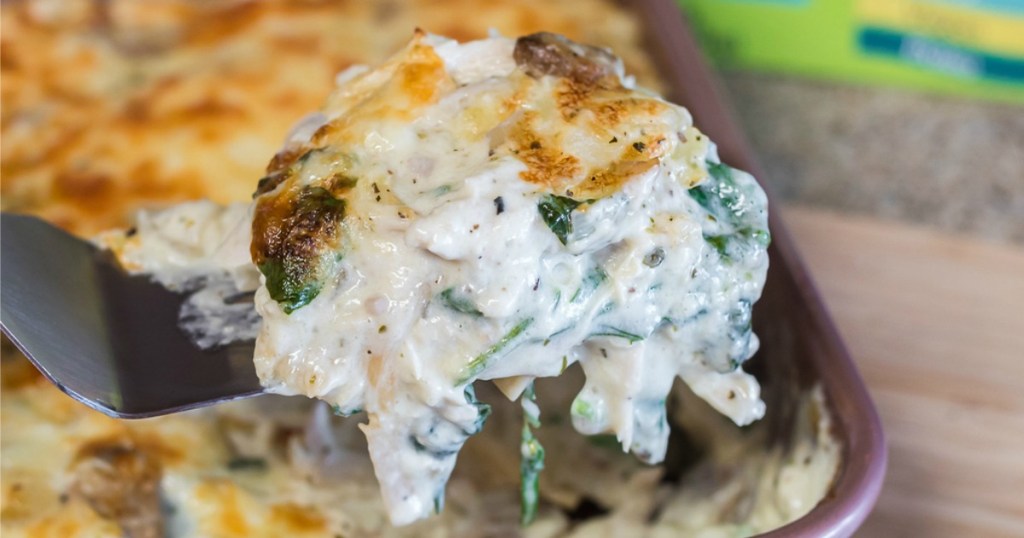 A lasagna that is keto? Yes!
Lasagna doesn't always have to be about the carb-filled noodles, red sauce, and meat. This keto chicken lasagna has a different spin, and it's a definite keeper. With a rich and creamy white sauce, this flavorful keto dish makes the best comfort food.
All you low-carb eaters are probably very familiar with zucchini noodles but maybe wanting to change things up. These Veggie Pasta Noodles from Natural Heaven (made from Hearts of Palm) will do just that. The veggie noodles bring all the pasta cravings to an end without all the carbs. Seriously, these noodles are the best!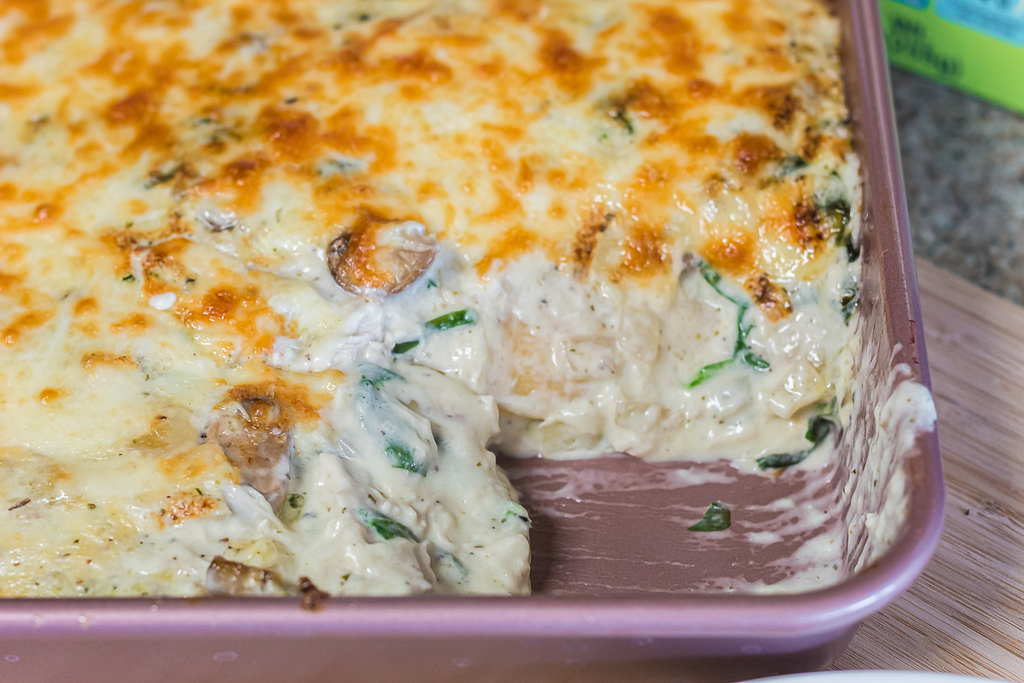 The flavors of chicken, mushroom, and spinach are a great combo, but when you add this creamy sauce to the mix, WOW! This sauce hits all the notes.
HIP TIPS:
Not a fan of mushrooms or spinach? No worries. Just omit them and instead you could add in red peppers, jalapenos, and green chilies to bring the heat!
These Hearts of Palm Pasta Noodles knock it out of the park! If you are not wanting to buy in bulk on Amazon, you may be able to find them at your local T.J.Maxx HomeGoods, or Marshalls for around $3.99 per box.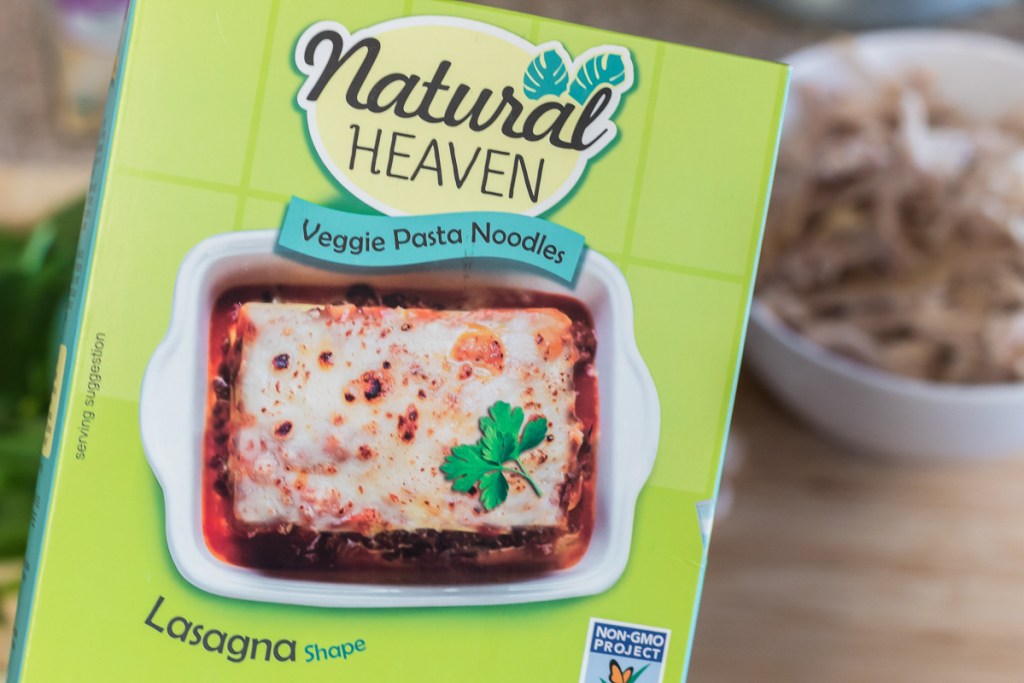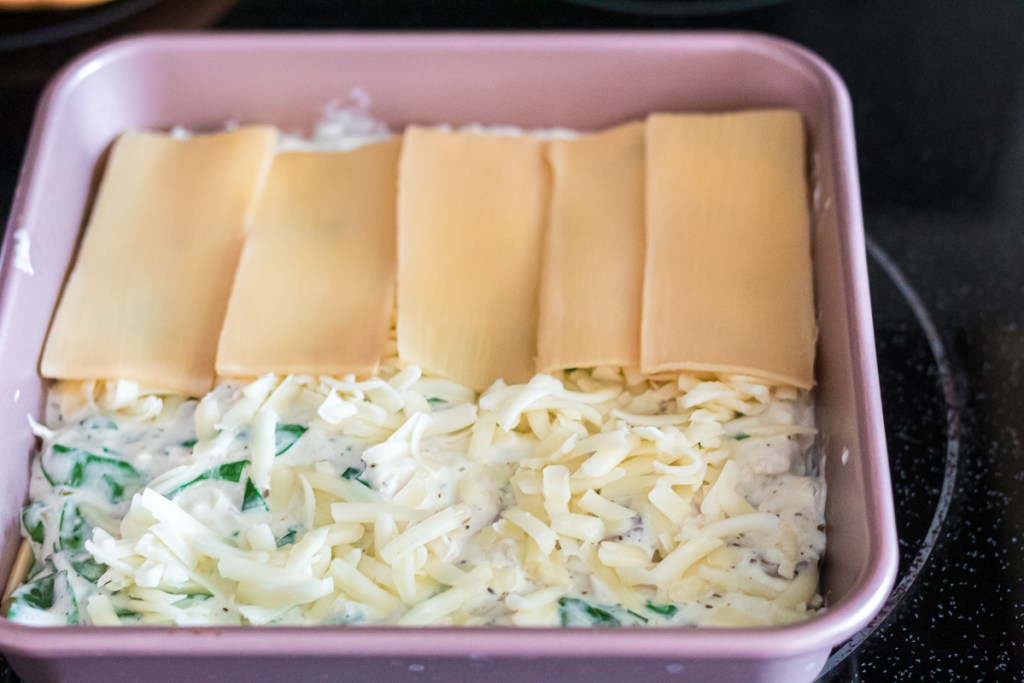 ---
Print
Keto Chicken Lasagna Casserole
yield: 6 SERVINGS
prep time: 15 MINUTES
cook time: 15 MINUTES
total time: 30 MINUTES
With a rich and creamy white sauce, this flavorful dish is for all you comfort food lovers - without all the carbs!
Ingredients
2 cups shredded chicken
4 tablespoons butter
1/2 medium onion diced
1 cup sliced mushrooms
1 cup spinach chopped
1 teaspoon garlic powder
1 teaspoon Italian seasoning
1 teaspoon salt
1 cup chicken broth
1 cup heavy whipping cream
1 teaspoon xanthan gum
2 cups shredded Monterey jack cheese
Directions
1
Preheat oven to 375 degrees.
2
In a large skillet over medium heat saute 2 tablespoons of butter, onions, mushrooms, garlic powder, Italian seasoning, and salt until mushrooms are tender (about 5 minutes). Add shredded chicken and cook for an additional 2 minutes.  Set mixture aside in a bowl.
3
In the same skillet, over medium heat, add the rest of the butter, plus chicken broth and let simmer. Slowly add in cream and simmer for another 2 minutes. Add in xanthan gum, stirring occasionally. Add in 1 cup of shredded cheese and turn heat to low. The cheese will help thicken the sauce. Stir in chicken mixture and chopped spinach. Remove from heat.
4
In an 8x8 dish, add a layer of noodles, a layer of creamy chicken mix, a layer of shredded cheese and repeat until you have reached the top of the dish. You should get two layers of noodles topped with cheese. Bake in the oven for 15 minutes or until cheese is bubbling.
Nutrition Information
Yield: 6, Serving Size: 1
Amount Per Serving: 369 Calories | 28 Fat | 5 Total Carbs | 1 Fiber | 18 Protein | 4 Net Carbs
---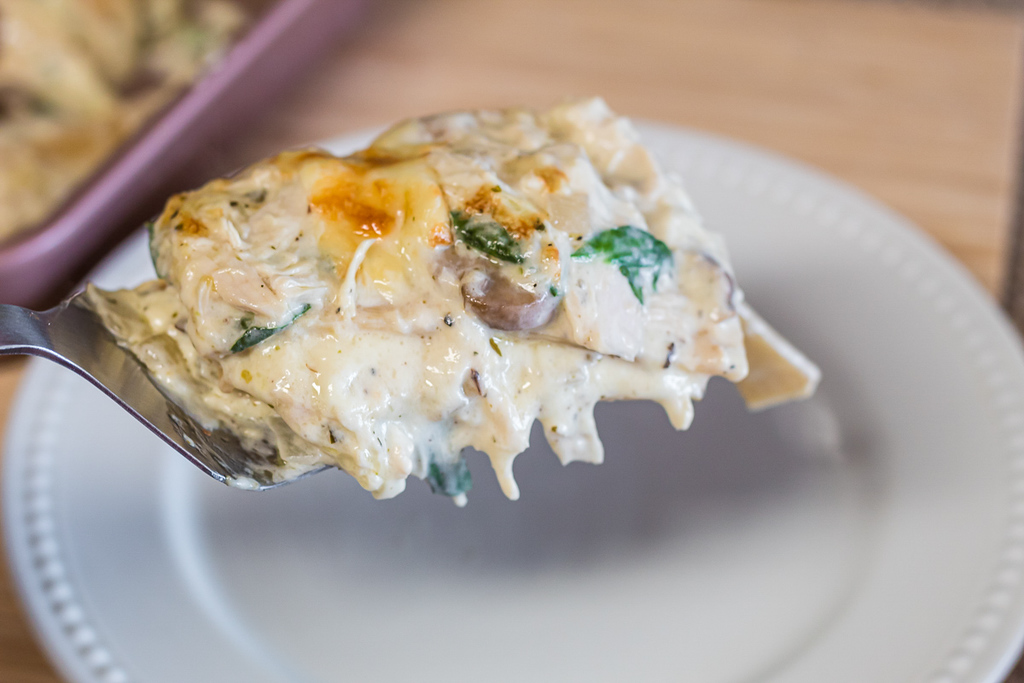 This sauce really brings this lasagna dish to the next level. Enjoy!
---
Wanting pasta back in your life? You have to try these Palmini Noodles.