This Keto Caramel Apple Cocktail is the Holiday Treat We All Need!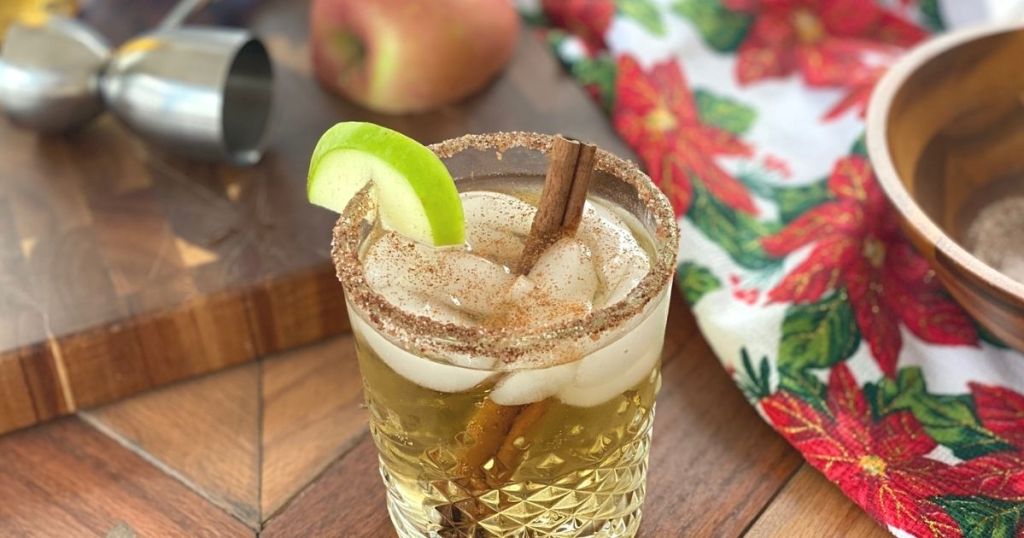 A keto cocktail with almost zero net carbs?! Cheers to that!🥂
Who says you can't have a boozy treat while on a low-carb diet?! This sugar-free keto caramel apple cocktail tastes so good, it even had my non-keto family members asking for seconds.
It's the perfect spiked holiday beverage and it won't eat up your daily carb count one bit. Whether you had a long day spent holiday shopping (even if you do it online!) or you just want to serve a yummy keto-friendly cocktail at Thanksgiving, this simple caramel apple cocktail recipe is sure to hit the spot!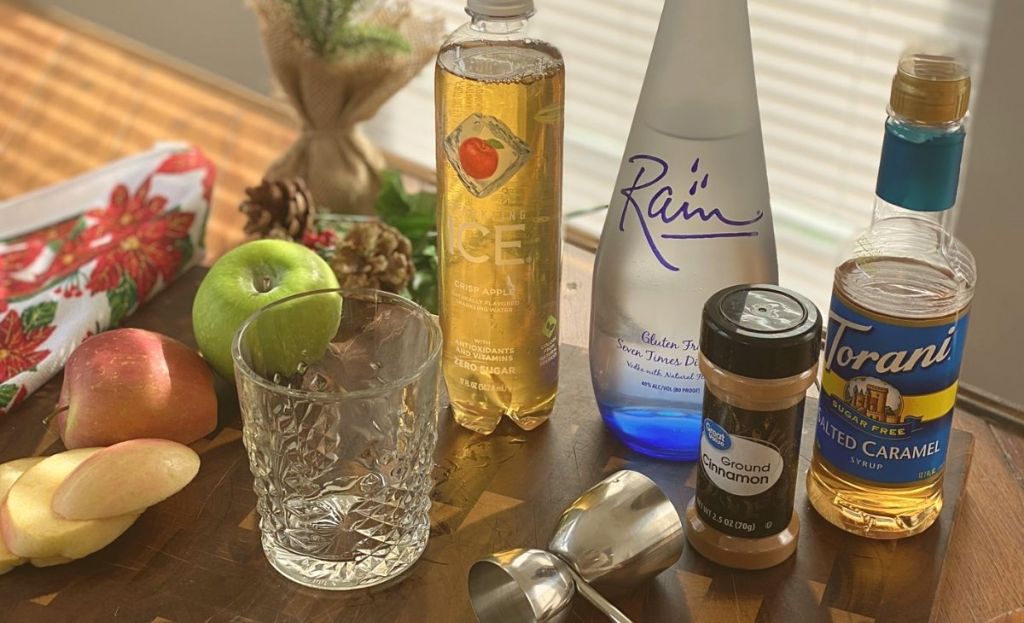 There are a few different caramel apple cocktail variations, but we'll be keeping this recipe easy peasy with 3 simple ingredients–Torani Sugar-Free Salted Caramel Syrup, Apple Crisp Ice Sparkling Water, and vodka. You'll be kicking up your feet and sipping this festive drink in no time!
WARNING – This keto drink is NOT for everyone, and does contain "dirty" keto ingredients.
While this holiday beverage is ultra-low in net carbs, the Sparkling Ice does contain sucralose, a dirty keto ingredient so be careful not to consume too many for the sake of your tummy the following day.
I used ingredients that were readily available at my local Walmart, but you can easily clean up this cocktail a bit by swapping the Torani for ChocZero Caramel Syrup and the Ice Sparkling Water for Aha Apple Ginger.
Skip the sugary egg nogs and ciders and sip on this sugar-free cocktail instead.
I'm a sucker for holiday beverages this time of year and when my mom and sister recently started embracing a low-carb diet, I thought it would be such a nice treat for us to enjoy a keto cocktail together (and it would also make us less inclined to give in and have a glass of carbolicious egg nog when everyone else in the family does).
This low-carb caramel apple beverage is crisp, sweet, and filled with holiday splendor, but what I love most about this recipe is the simple variations and modifications you can make to suit your taste buds.

Enter the 5-minute Keto Caramel Apple Cocktail.
This recipe is so easy to whip up and everything can be conveniently mixed together in one glass. In order to preserve the crispness of the sparkling water, I wouldn't recommend shaking this keto cocktail, a good stir will do the trick just fine!
The salted cinnamon sugar rim also makes the drink twice as good so definitely don't skip that part if you want the full experience! I also like to sprinkle a dash of sea salt into the drink to give it that perfect salted flavor (just don't sprinkle too much!).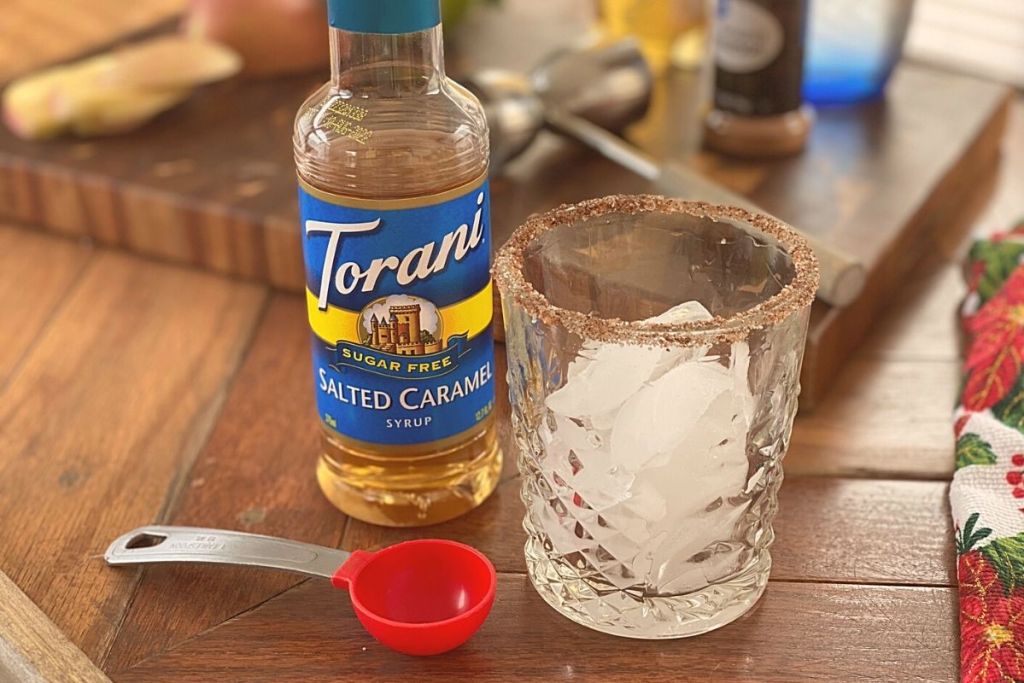 Hip tips for making this keto caramel apple cocktail:
To dilute the sweetness of your keto cocktail, cut the amount of salted caramel syrup in half, and use equal parts club soda with equal parts Apple Crisp Ice.
Fancy up your low-carb cocktail with 1-2 dollops of keto-friendly whipped cream and sprinkle with cinnamon.
To add a touch of tartness to your beverage, squeeze one lemon wedge into the mixture (this gives it more of a granny smith apple zest and is really good!). You can also add a sliced apple as an optional garnish.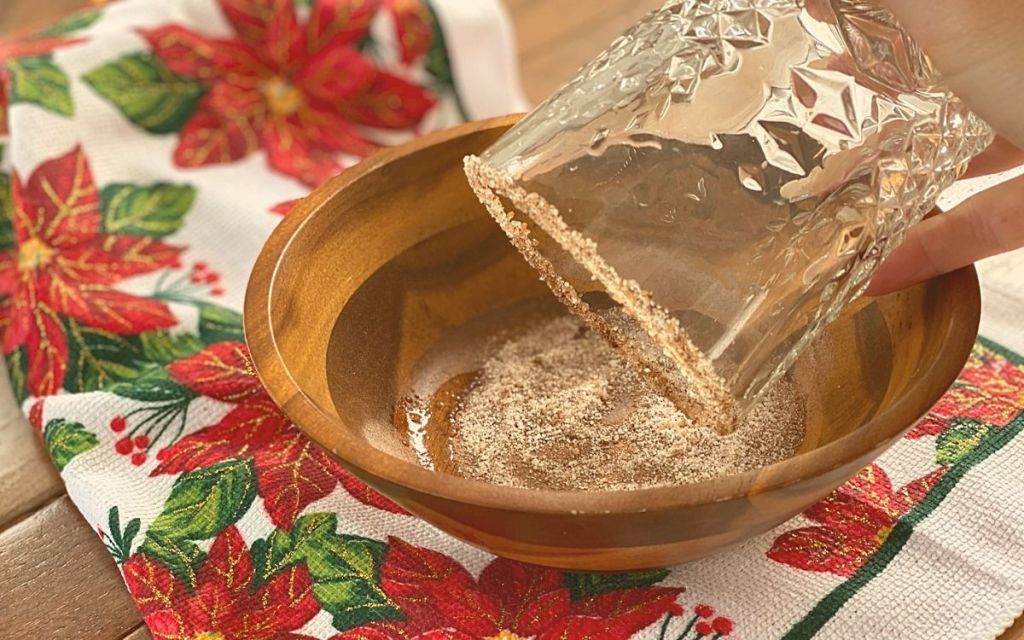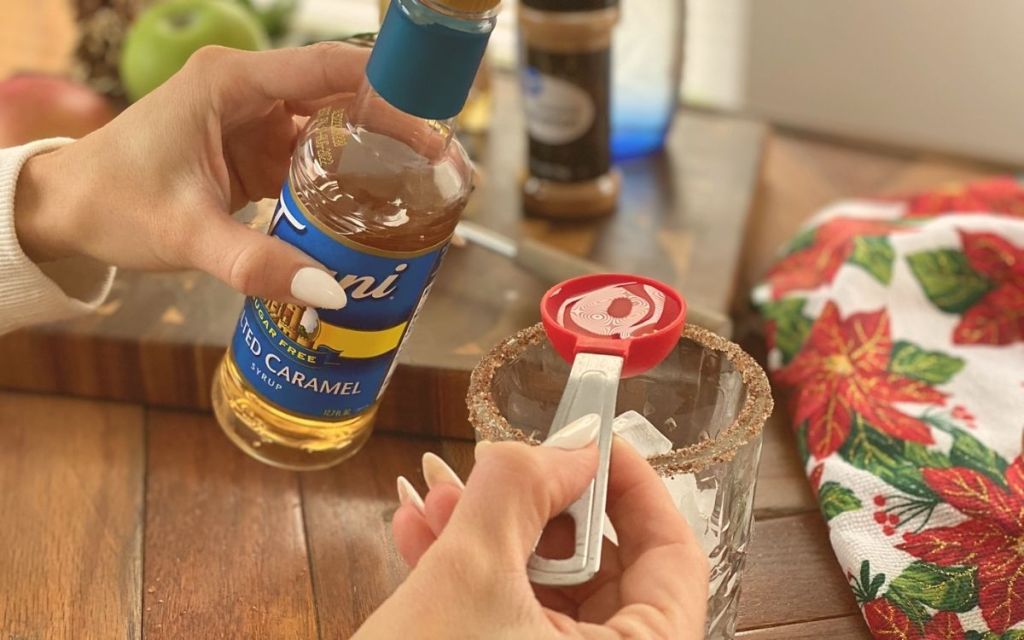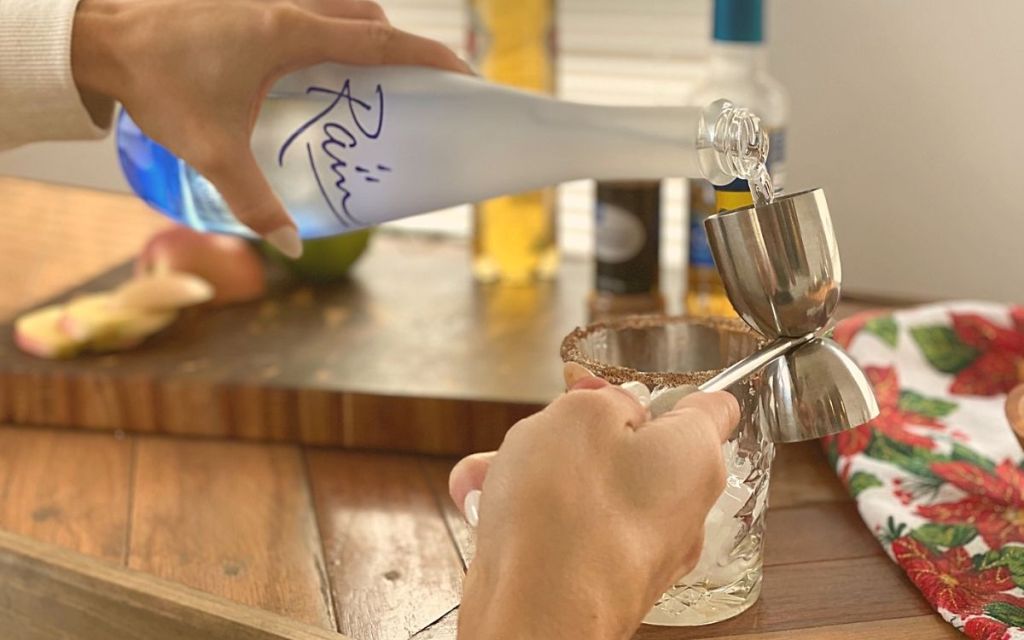 ---
Print
Keto Caramel Apple Cocktail
yield: 1 SERVINGS
prep time: 5 MINUTES
total time: 5 MINUTES
This vivacious drink brings together the sweet flavors of caramel and apple but without any added sugar!
Ingredients
For the cocktail:
For the salted cinnamon sugar rim:
Directions
1
For the salted cinnamon sugar rim:
Pour a bit of the Apple Crisp Ice or the salted caramel syrup into a small bowl (the syrup is stickier and helps the rim stay in place better but either will work). In a separate bowl, combine the cinnamon, erythritol, and salt. Dip the glass in the liquid and then into the bowl of cinnamon sugar.
2
To make the cocktail:
Fill the cup a little less than half full with ice (use less or more ice if desired). Measure and pour the salted caramel syrup, vodka, and sparkling Apple Crisp Ice directly into the rimmed glass and stir.
3
For an optional garnish, add a slice of apple and a cinnamon stick. Enjoy!
Nutrition Information
Yield: 1 caramel apple cocktail, Serving Size: 1
Amount Per Serving: 130 Calories | 0g Fat | 4.5g Total Carbs | 0.3g Fiber | 4g Sugar Alcohol | 0g Protein | 0.2g Net Carbs
---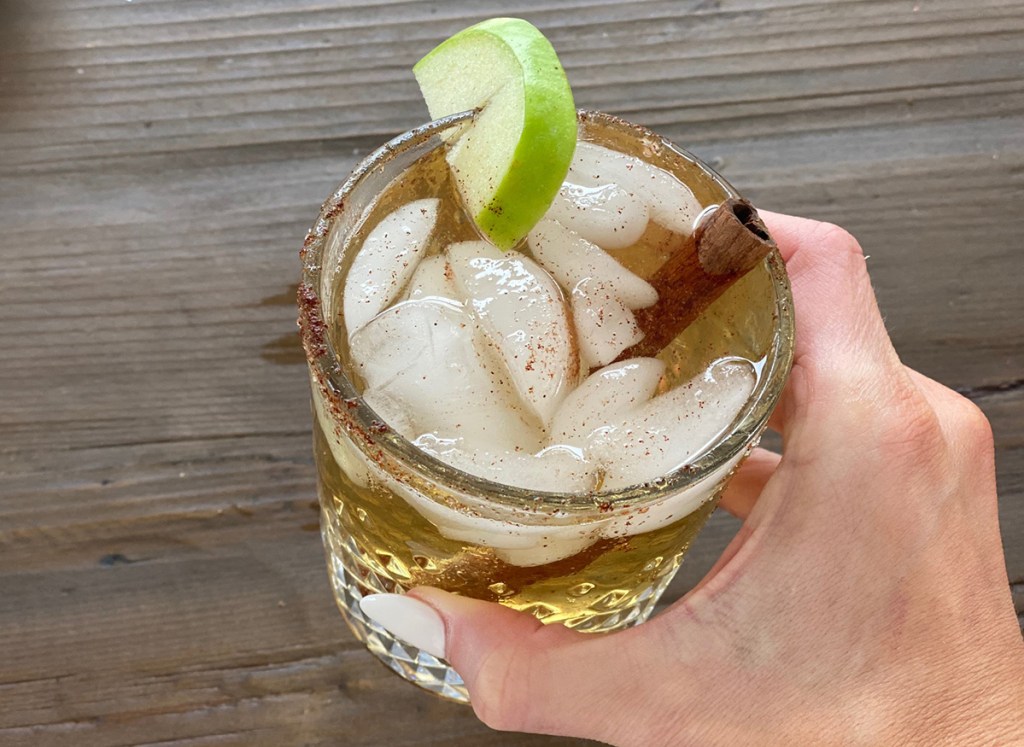 My Hip sidekick Jenna tried out this recipe and here's what she thought!
"I am not a big cocktail drinker, but this is fantastic! I am a big caramel apple fan and this has a good, natural caramel apple flavor. My favorite part was the "sugar" rim, especially with the hint of salt in there.
The cinnamon sticks make it even more beautiful and it would be a drink I'd be proud to serve to guests. I would definitely make this again and consider making it for my family this holiday season!"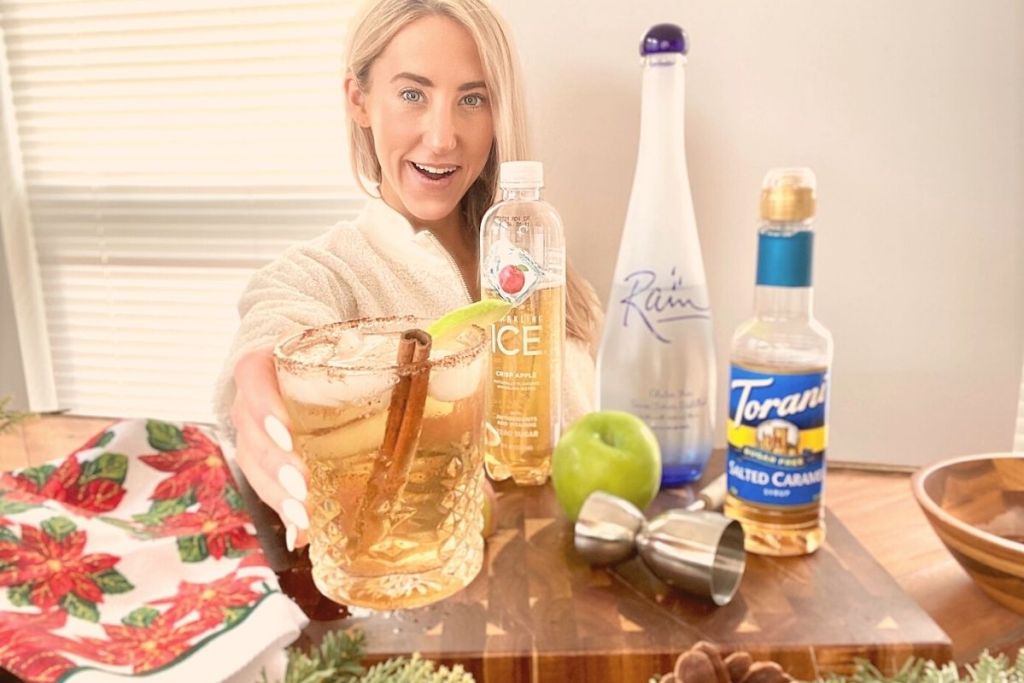 It tastes so similar to a candy apple martini, but with a bubbly twist!
Hopefully, this festive holiday sipper brings your taste buds some joy this season! Cheers!
---
Want more low-carb cocktail ideas? Try Ashley's refreshing keto margarita recipe!